Mission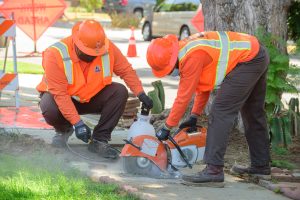 To provide safe and well-maintained roadways and sidewalks by implementing and utilizing the most advanced equipment and modern maintenance techniques.
Overview
The Street and Sidewalk Repairs Program (SSRP) is responsible for maintaining, and repairing all City of Santa Ana streets and sidewalks. In addition, the Program manages contracts for annual asphalt roadway maintenance, pothole repairs, sidewalk ramping, sidewalk offset grinding and general maintenance repairs.
Goals
The Program aims to ensure that City right-of-ways are well maintained and ensure service contractors provide rapid and effective services.
Types of Services Provided:
Asphalt Pothole Maintenance
Asphalt Street Maintenance
Sidewalk Maintenance and Repairs
Help us by reporting online by filling out this form on our website or use the mySantaAna app to submit a report. You can also call us at (714) 647-3380 between 7 am and 4 pm Monday-Thursday and every other Friday 7 am to 3 pm Holiday and Friday Closure Schedule.