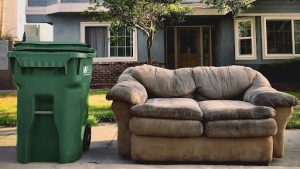 Illegal dumping is a growing challenge for the sidewalks of Santa Ana, with debris such as furniture, mattresses and appliances left out on the sidewalks near homes, schools and places of business. There is a significant cost associated with the seemingly innocent practice of unloading unwanted items and expecting that there is a service in place to pick them up.
What is illegal dumping?
Illegal dumping is dumping of any waste, whether it is oil, furniture, appliances, trash, litter or construction debris, etc., upon any public Right of Way, City Property, or visible from the Right of Way without consent of the owner.
How does illegal dumping affect my neighborhood?
Illegal dumping...
Makes neighborhoods look unsightly
Attracts graffiti and other types of vandalism
Encourages more litter and other bulky item dumping
Is very costly and takes resources away from other community programs and resources
Presents a safety hazard by obstructing pedestrians, bicyclists and motorists
Attracts vermin, bacteria and mold
It is illegal to leave furniture, appliances, garbage bags, or anything on the sidewalk at any time unless you have a scheduled bulky item pick-up from a licensed waste hauler or donation facility.
Report illegal dumping
Help us by reporting online by filling out this form on our website or use the mySantaAna app to submit a report. You can also call us at (714) 647-3380 between 7 am and 4 pm Monday-Thursday and every other Friday 7 am to 3 pm Holiday and Friday Closure Schedule.
How to schedule a bulky item pickup
Depending on where you live, you may have options to work with your waste hauler.
Santa Ana residents with curbside trash collection
If the items you have to discard can't be donated and are too large to go into your trash cart with the dark-grey lid, you can request a bulky-item pickup.  Santa Ana residents who have curbside trash collection are eligible for two free bulky-item pickups each calendar year, with up to four items accepted at each pick-up. Bulky items include refrigerators, beds, sofas, chairs, dishwashers, dressers, bookcases, washers, dryers, stoves, and other items that take at least two people to move.  Computer monitors, TVs and laptop computers are also accepted during bulky-item pickups. To arrange your bulky-item pickup, fill out the Bulky Request Form or call Republic Services at 657-467-6220.
Non-acceptable items include tires, batteries, paints, oils, construction debris, chemicals of any kind, Freon, rocks, sand, gravel, dirt, logs, carpet, hazardous or medical waste.
Apartment and condominium residents
Apartment and condominium residents who have oversized items for pick-up should contact their property manager or home owner's association to schedule bulky item pick-up.  Once your pick-up is scheduled, place the item(s) in the area designated in your complex no earlier than the evening before.  Please check with your complex to confirm the fee for the service.
---
Waste removal resources for Santa Ana residents with curbside trash collection
Used motor oil pick-up
Santa Ana residents who have curbside trash and recycling service are eligible for free curbside residential pickup service for used motor oil and oil filters. Simply call Republic Services at (657) 467-6220 to request a collection jug for the oil and a bag for the filter. The free jug and bag will be placed at your curb. When you have filled them, call Republic Services to schedule a pickup. On that day, place the jug and bag at the curb, next to your carts (not inside). When your oil and filter are picked up, an empty jug and bag will be left for your next oil change.
Waste removal resources for all Santa Ana residents
Household hazardous waste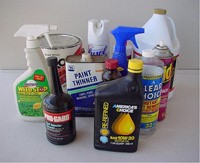 All Santa Ana residents can take their Household Hazardous (lawn & garden, cleaning & automotive products, painting supplies, and more) to the County of Orange Household Hazardous Waste Collection centers for FREE disposal.  Visit  http://oclandfills.com/hazardous/ to learn more about the hours of operation, center locations, and the complete list of items accepted.  NOTE: A maximum of 15 gallons or 125 pounds may be transported per vehicle, per trip (Department of Transportation Requirement). It is illegal to exceed these limits.
Used motor oil drop-off
Free used motor oil drop-off for all residents can be dropped off year-round at a Certified Used Oil Collection Center.  For locations, visit CalRecycle.ca.gov/usedoil, or call 1-800-CLEANUP.
Medical waste disposal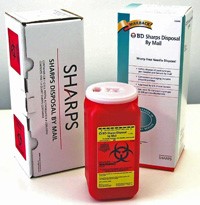 Free disposal of medical sharps, needles, syringes and lancets is available for all residents.  Residents can pick up a free, convenient and easy-to-use Sharps Disposal-by-Mail Kit. Once the container is filled with used sharps, residents simply mail it back in the postage-paid mailing box. You can receive up to three kits per year at no charge. The kits are available at these Santa Ana stores:
CVS Pharmacy
Rite-Aid
Walgreens
Wagner Pharmacy