Your sewage system is connected to the City sewer main through a sewer lateral. As an owner, you are responsible for maintaining the lateral from the property all the way to the connection with the sewer main.
In the event of a blockage in your sewer line, immediately stop using water and call a licensed plumber. Never let sewage overflow into the street or storm drain.
Usually after clearing the lateral, a licensed plumber will assess the condition of the pipe by televising it. If the pipe has a break or a crack, you are required to repair the portion of pipe that lies between the house and the property line.
If the plumber finds a break in or collapse of the lateral beyond the property line, or if you need assistance to contain a spill, call Public Works for help at (714) 647-3380.
Overflow protection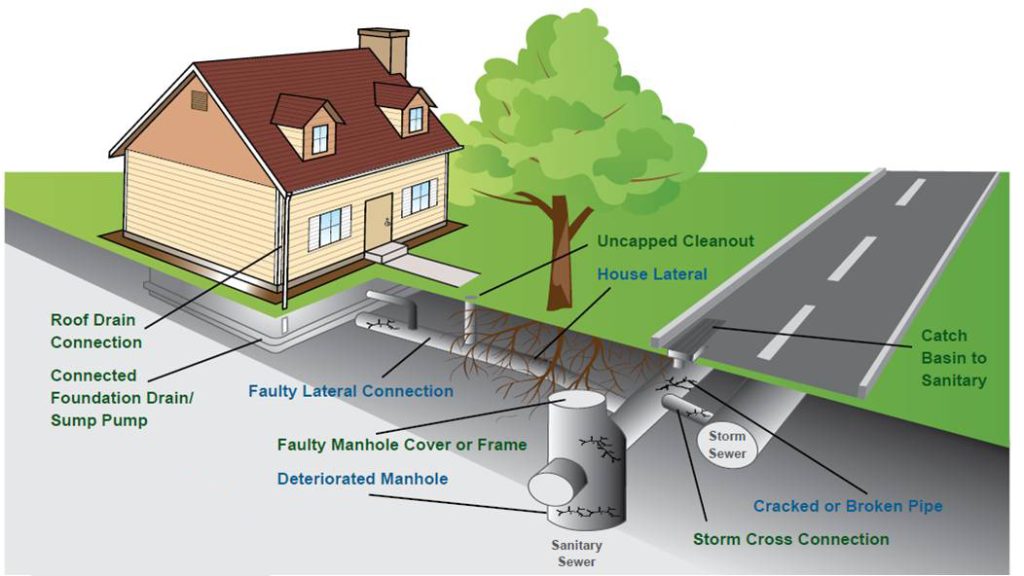 An overflow protection device can prevent sewage from backing up into your home. If a clog occurs in the public sewer main or in your private sewer lateral, an overflow protection device keeps the spill outside. While you want to avoid any type of overflow, an outside spill avoids property damage, reduces health risks, and can be cleaned up more quickly and easily.
If you have an overflow protection device, inspect it periodically to make sure it is working correctly and not covered with dirt. If an overflow occurs and the device is not operating properly, your insurance might not fully cover the cost of property damage.
If you don't have an overflow protection device, consider having one installed by a licensed plumber.
Avoiding stoppages
The leading causes of stoppages are tree roots and cooking grease. Maintaining your home's plumbing system clean and open can save you a great deal of money and eliminate the aggravation of a sewage backup. Here are a few simple tips:
Never pour cooking grease down the drain. Freeze it in a suitable non-recyclable container and dispose of it in the trash.
If any cooking oil or grease gets in your drain, immediately flush the drain with cold water, not hot. Visit

Fats, Oil, and Grease (FOG)

for more information.
Never flush non-soluble objects down your toilet. This includes food, tampons, sanitary napkins, cleaning rags, diaper wipes, etc.
Don't plant trees and large shrubs near sewer lines. Roots grow toward sewer line cracks in search of water, often forming root balls that clog the line.
If you are having problems with tree roots breaking into your sewer lateral, many plumbing and drainage companies can use 'root saws,' high pressure jet wasting equipment, and special chemicals call "rooticides" to clear the blockage. Keep in mind, the City will not clear blockages caused by private trees or other debris in private sewer laterals.
If you have a property cleanout, flush your lateral through the cleanout using a high pressure hose at least once a year.
Be sure to use a licensed plumber when having your sewer lateral televised or repaired.