A story of collaboration, environmental stewardship, and community engagement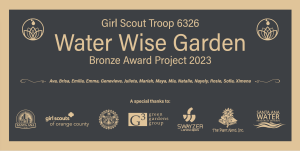 Nestled at the Center Street entrance of the City Yard in Santa Ana, a remarkable collaboration has blossomed between Girl Scout Troop 6326 and the City of Santa Ana's Water Resources Division, giving rise to the Girl Scout Water-Wise Garden.
As you explore the garden, you'll step into a tapestry of California-friendly, drought-tolerant plants that thrive in our Mediterranean climate, providing essential habitat for local wildlife, including butterflies and pollinators. The garden showcases sustainable landscaping practices such as drip irrigation and rainwater capture features like berms and swales to conserve water. With permeable surfaces guiding your path, we invite you to be inspired by this collaborative project and embrace the beauty of water-wise landscaping.
A vision takes root
This journey began when Troop 6326 envisioned earning their "water conservation bronze" award. Sixteen spirited 5th graders set out to cultivate their skills and champion environmental stewardship by creating a special garden at the City Yard. Their goal was clear – to inspire water conservation practices and promote sustainable landscaping within our community.
Water Resources Division staff played a pivotal role in the project's success. After identifying the perfect site for the demonstration garden, they organized a team of landscape contractors and worked tirelessly alongside the Girl Scout troop. Together, they cleared the site, assisted with planting, and installed drip irrigation and rainwater capture elements.
Planting the seeds of knowledge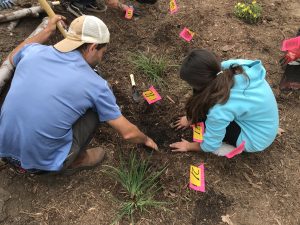 City staff not only provided all project materials and resources but also organized Hands-On Workshops (HOWs) covering essential topics such as soil health, plant selection, efficient irrigation techniques, and plant care. The Troop actively participated in these workshops presented by G3 (Green Gardens Group) and even voted on their preferred California-friendly plants during an introductory design webinar, ensuring the garden truly represents Santa Ana's unique ecosystem.
Nurturing commitment
The Girl Scout troop is producing a video documenting their journey, from the project's inception to the final garden. This video will serve as a powerful tool to raise awareness, inspire the community, and encourage Santa Ana residents to adopt water-wise practices.
In recognition of the Troop's dedication to environmental stewardship and community engagement, the Water Resources Division will present each Girl Scout with a certificate of participation at a special ceremony, expressing gratitude for their commitment to making our community more sustainable.
Our grateful thanks
This project owes its success to the unwavering support of the following valued partners:
G3-Green Gardens Group
Girl Scouts of America
Metropolitan Water District
Swayzer Landscapes
Together, we are cultivating a sense of environmental responsibility and inspiring our community to commit to water conservation. Thank you for joining us on this journey towards a more sustainable and beautiful Santa Ana.
Click here to view the plants found in the Girl Scout Water-Wise Demonstration Garden.