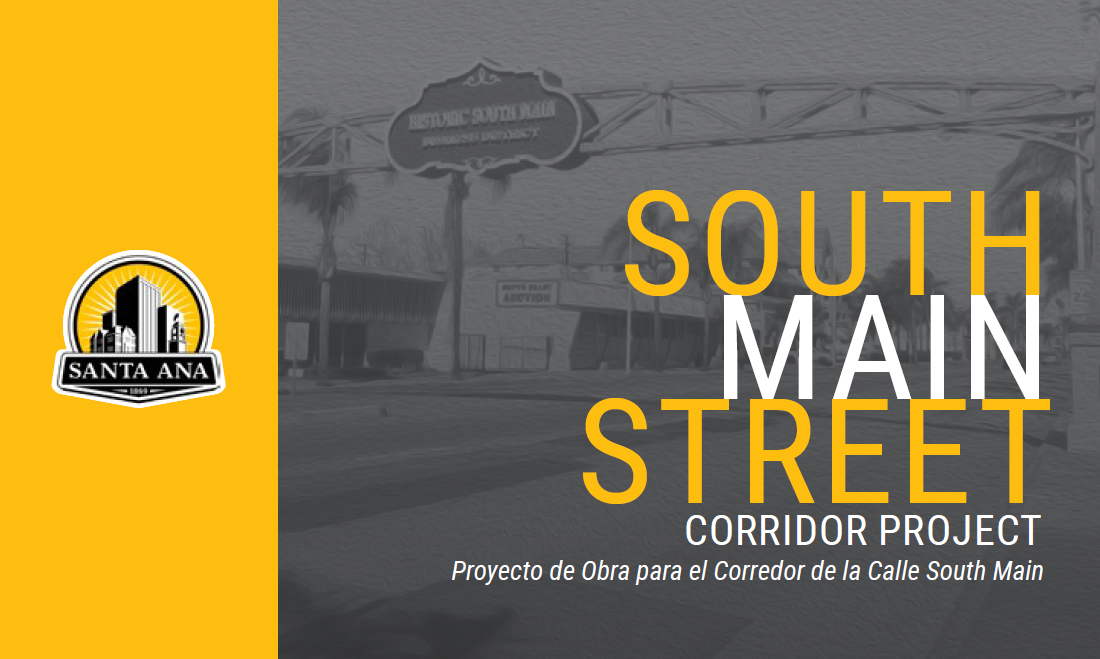 About
The South Main Street Corridor project is 2.5 miles along South Main Street between First Street and Dyer Road. The construction for the project has started and will continue through Fall 2022.  The proposed improvements throughout the entire corridor consists of delineated parking spaces and tree planters, new bus shelters, ADA curb ramps, Edwardian style street lighting, and pavement rehabilitation. The project contains a focus area in the North from 1st Street to Chestnut Avenue and in the South from Stanford Street to St Andrew Place. The two Focus areas improvements include sidewalk extensions ("bulb-outs"), enhanced crosswalks, delineated parking spaces, street trees and landscaping, concrete intersections, sidewalk furniture, monument signage, and decorative string lighting. The project also includes sewer and water line improvements.
Project schedule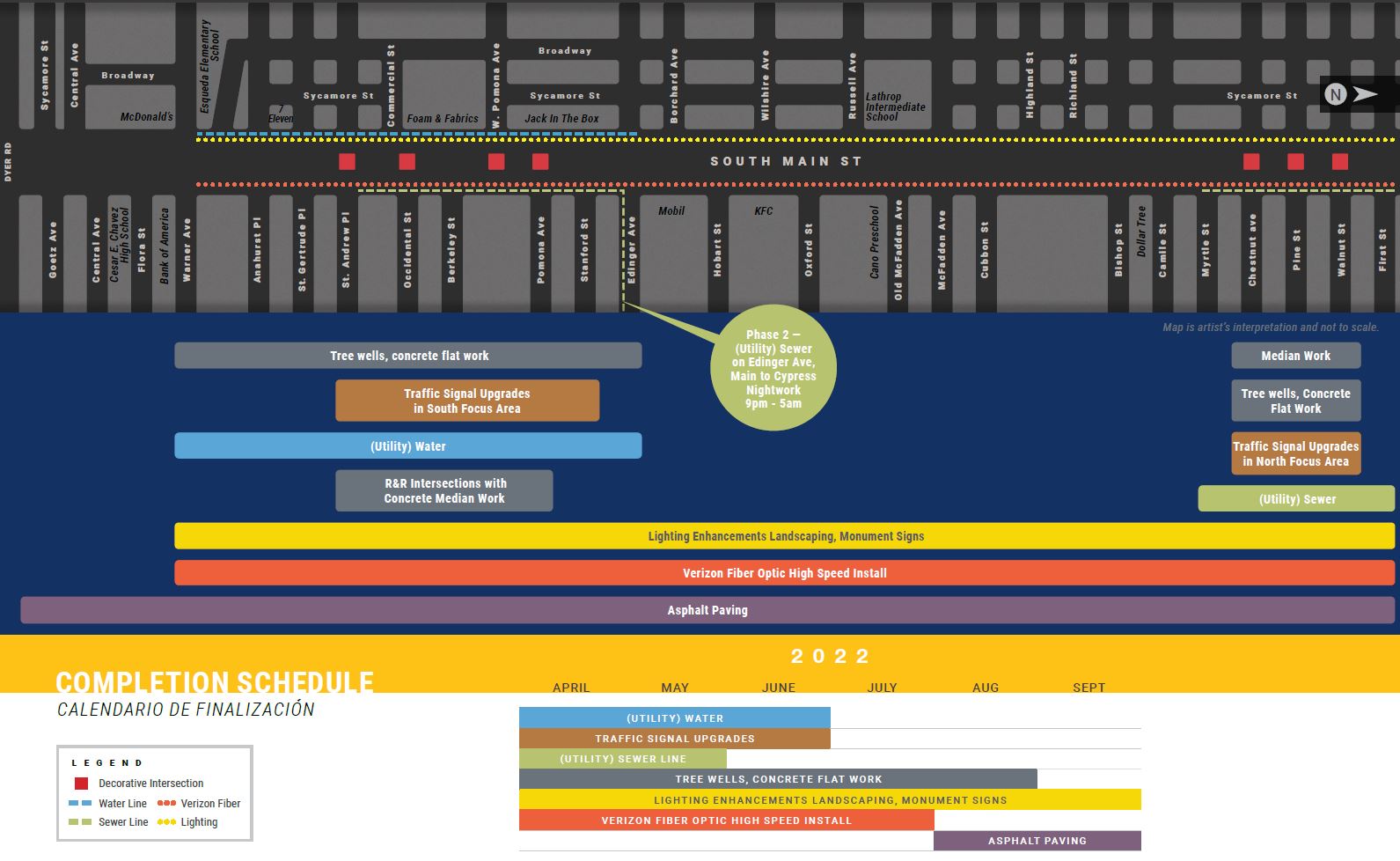 South Main Public Arts Initiative: Phase 2 - Guidelines and Application

The Public Works Agency is teaming up with the Arts and Culture Commission to integrate public art into the community's daily life along the South Main Street corridor. The City of Santa Ana's Public Works Agency is issuing a Call for Public Art Proposals (CFP) to artists or art teams with connections or ties to Santa Ana for original designs embedded into the reconstruction along South Main Street between 1st Street and Dyer Street. The timeframe for project completion is 1 year or less from full execution of the agreement. A panel will review completed proposal submittals and award multiple artists/teams for their designs.
The deadline for online proposal submission is Monday, June 6, 2022, at 11:59 PM (PST).
Please visit the following link for application and additional information: South Main Public Arts Initiative Phase 2
Underground fiber optic conduit
During the City's extensive community outreach efforts for the South Main Construction Project, the community voiced concerns about adding high-speed communication lines (fiber) to the infrastructure during construction. Although the City had shared plans of the project with communication companies throughout the years leading up to this project, there were no plans for fiber to be installed.
After hearing from the community, the City reached out to several communication companies and urged them to take advantage of our construction and install new infrastructure. To incentivize the companies to act quickly, the City offered to perform their final paving obligation with the South Main Project, resulting in major costs savings for the communication companies. Verizon Wireless agreed to participate and has now installed over 2.5 miles of fiber throughout the corridor!
FAQ
Frequently Asked Questions asked by the community Click here for English or Spanish. Don't see your question? Feel free to contact us and we'll make sure to get back to you within 2 to 3 business days.
Previous Community Meetings
More information
Phone: (714) 565-MAIN (6246)
Email: southmainconstruction@santa-ana.org
Contact the project team
Project Manager

Name: Sean Thomas
Email: sthomas5@santa-ana.org

Project Engineer

Name: Isabel Gomez
Email: igomez@santa-ana.org

Project Liaison

Name: Michelle Micallef
Email: mmicallef@santa-ana.org

Construction Manager

Name: Omar Dandashi
Email: odandashi@blue-mt-development.com

Arts and Culture Office

Name: Tram Le
Email: tle5@santa-ana.org

Outreach Manager

Name: Nick Biro
Email: nbiro@blue-mt-development.com

Outreach Administrator

Name: Justine Flores
Email: jflores@blue-mt-development.com