Thank you for your interest in submitting a request for a New Project Review appointment, including conditional use permit (CUP) requests for alcoholic beverage control (ABC) and restaurant after-hours projects.
Projects that require appointment requests
New construction over 2500 square feet (excluding single-family homes, room additions to duplexes, tenant improvements not involving a change of use, facade improvements, equipment covers)
Tenant improvements involving an intensification of use or change in occupancy classification
New construction, reconstruction or alteration of a service station
Major wireless communication facilities
Projects requiring discretionary approval
For additional information, please see Santa Ana Municipal Code Sec. 41-668
Setting up an appointment with us
Appointments are scheduled via email.
Please use this email format when making an appointment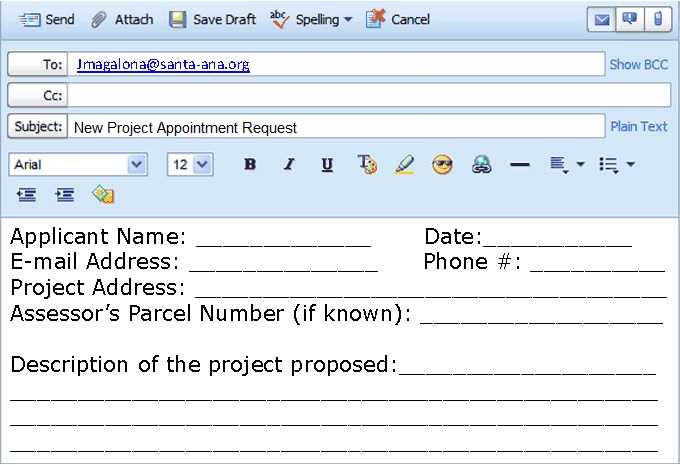 Once you send your appointment request email, your request will be received by the Planning Division clerical staff. Appointment requests are assigned to case planners every Wednesday morning. For further information, zoning inquiries, or if you are experiencing problems with submitting your request by email, please call the Planning Counter at (714) 647-5804.