Project Address: 918-920 N. Bewley Street
Project Manager: Cristian Santana, Assistant Planner I
Phone: (714) 667-2728
Email: CSantana@santa-ana.org
Project description:
The Richard Lehn Intergenerational Campus is a permanent supportive housing development with two residential buildings for families and seniors and a preschool. The project includes the rehabilitation of two (2) two-story residential buildings into eleven (11) rental units comprising two (2) one-bedroom units, seven (7) two-bedrooms units, and two (2) three-bedroom units. Eight (8) units are restricted to transitional age youth (TAY), two (2) units are for seniors, and one (1) unit for a property manager. An existing preschool building will be renovated and will continue to be a preschool operated by Head Start. At the meeting, we will provide general information as well as answer questions and receive input from the community. This project has been provided a pre-commitment letter by the City Council for $2,021,319 in Homeless Housing, Assistant and Prevention funds, and eight (8) project-base vouchers.
Current status:
Important documents:
Upcoming meetings:
Second Sunshine Ordinance Meeting - Wednesday, October 4th, 2023, beginning at 6:30 p.m. at 918 N. Bewley Street, Santa Ana, CA 92703. Virtual Link: https://us06web.zoom.us/j/89482748022

If you have questions regarding this event or if you require language interpretation services in a language other than English, please contact Jordan Hoiberg at jhoiberg@ifhomeless.org or (949) 273-0555 x378. Requests must be made in writing and submitted at least 48 hours before the meeting.
Past meetings:
First Sunshine Ordinance Meeting - Wednesday, September 6th, 2023, beginning at 6:30 p.m. at 918 N. Bewley Street, Santa Ana, CA 92703. View recording here: https://youtu.be/_SuD70heAg8
Site plan: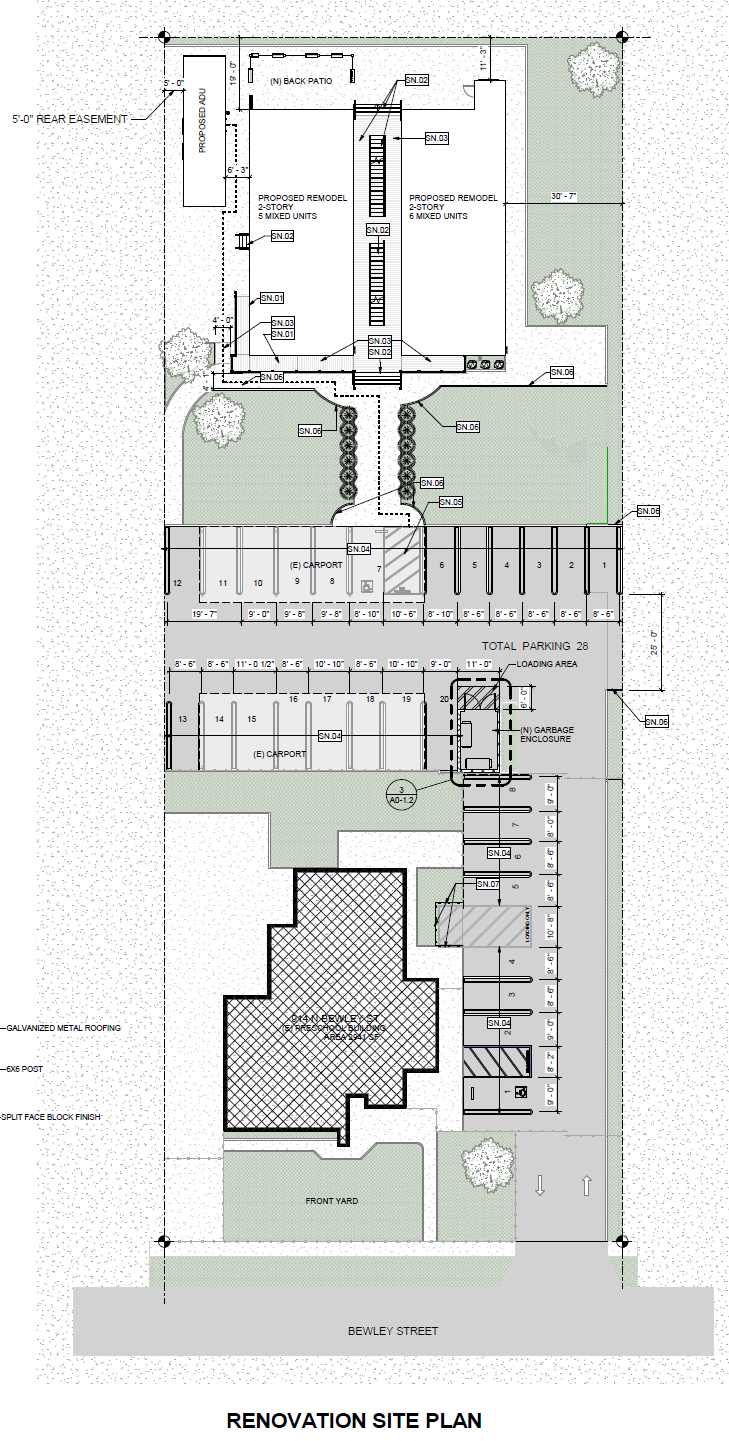 Building elevations: