A new park
Parks and Recreation is responsible for our Capital Improvement Program (also known as "CIP"), construction projects at our parks and facilities, as well as general maintenance projects. To learn more about the Parks and Recreation projects, please click on the link below.
Santa Anita Project
Project description: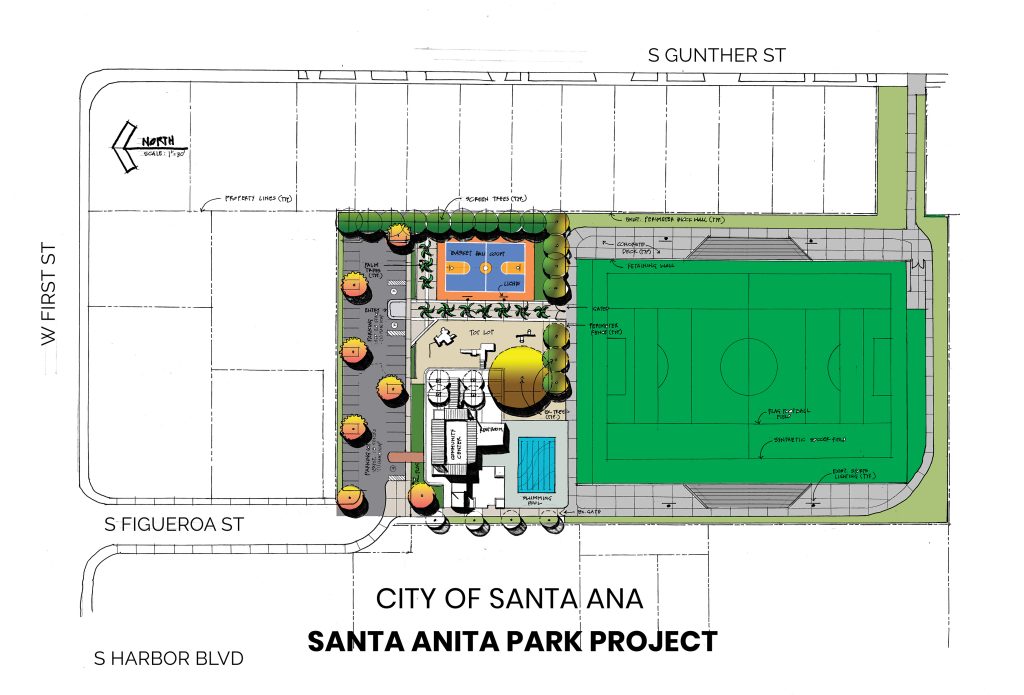 Synthetic turf sports fields are needed in order to increase the program time on grass fields. Experience shows if grass fields are used more than 20 hours per week they will end up as a dirt field. At Santa Anita Park we have the ability to change an existing grass field to a synthetic turf field for the community.
The Parks, Recreation, and Community Services Agency were successful in obtaining a multiple grants to make this happen. The new synthetic field project will also include other park improvements that will help make the park patron's experience at Santa Anita Park enjoyable. Below is a project description of the proposed improvements.
The project will include:
Community center
Pool renovation
Installation of a synthetic Turf Soccer/Football Field
Concrete Bleachers and decking
Shade Screen over Bleachers
Parking Lot Expansion
Renovation of Basketball Court
Sports and Security Lighting
Irrigation and Landscaping
Playground equipment
Construction Period:
Fall 2022 to Spring 2024
Official Groundbreaking Ceremony:
Wednesday, May 31, 2023 from 11:00am - 1:00pm
Funding:
California Youth Soccer and Recreation Development 2002 Bond Act
Community Development Block Grants
Park Acquisition and Development Fees
Cannabis Public Benefit Fund
American Rescue Plan Act of 2021
Total Project Cost:
Project Cost: $16 million
---
Santiago Gashouse
Project Description: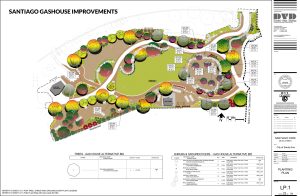 The project area is on the south side of Santiago Creek between Valencia Street and the existing park restroom. This area has been undeveloped for many years. The approved project will remove a portion of Valencia Street and connect this area with the existing Oak Grove picnic area. Improvements will include an outdoor natural amphitheater, renovation of the existing gashouse to include a small kitchenette for community rental, picnic facilities/tables, ADA accessible concrete walkways, decompose granite jogging trail connections, security lighting, irrigation, and landscaping. The project will also renovate the existing park restroom to relocate the doorway for better visibility to the log cabin and play equipment area.
Years ago, the community suggested improvements in this area and provided a sketch of their ideas. This did not move forward until funding became available through the California Coastal Conservancy. Meetings were held with the Santiago Neighborhood Association and the Santiago Park Committee to discuss the concept plan. The plan and estimates were submitted to the California Coastal Conservancy for grant funding. The PRCSA was successful in obtaining a $1 million dollar grant for the park development and provided additional funding from Park Development fees and Capital Outlay Funds.
The project will include:
Outdoor natural Amphitheater
Gashouse Renovation including kitchenette
Picnic facilities/tables
ADA accessible concrete walkways
Decompose Granite Jogging trail
Security Lighting
Irrigation and Landscaping
Park Restroom Renovation
Playground equipment
Construction Period:
Summer 2021 – Spring 2023
Funding:
California Youth Soccer 2002 Bond Act
Community Development Block Grant
Park Acquisition Development Fees
Cannabis Funding
Federal ARPA (American Rescue Plan)
Total Project Cost:
Project Cost: $16 million
---
New park  / Raitt and Myrtle streets
Project Description: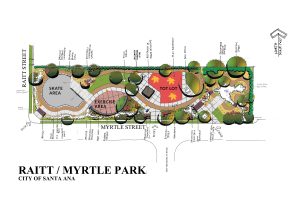 This project will bring to the city a new 1.18-acre neighborhood park on two City-owned parcels at the northeast corner of Raitt Street and Myrtle Street. This project is unique because the storm water Best Management Practices (BMPs) on site are designed to infiltrate storm water runoff not only from the park itself, but also from the surrounding neighborhood. Storm water infiltration is very beneficial to the environment, as it helps improve water quality, increases local water supplies, and helps to reduce flooding.
The project will include:
Skatepark
Playground equipment
Exercise area
Drought-tolerant landscaping
Walkways
Security Lighting
Restroom
1,600sq. ft. storm water Bioretention basin
Off-site right-ow-way improvements
Construction Period:
Fall 2021 – Spring 2023
Funding:
State of California Proposition 68 Statewide Parks Grant
State of California Proposition 1 Integrated Regional Water Management (IRWM) Grant
Cannabis Funding
Total Project Cost:
Project Cost: $16 million
---
Santa Ana Zoo Giant River Otter/Primate Trails
Project Description: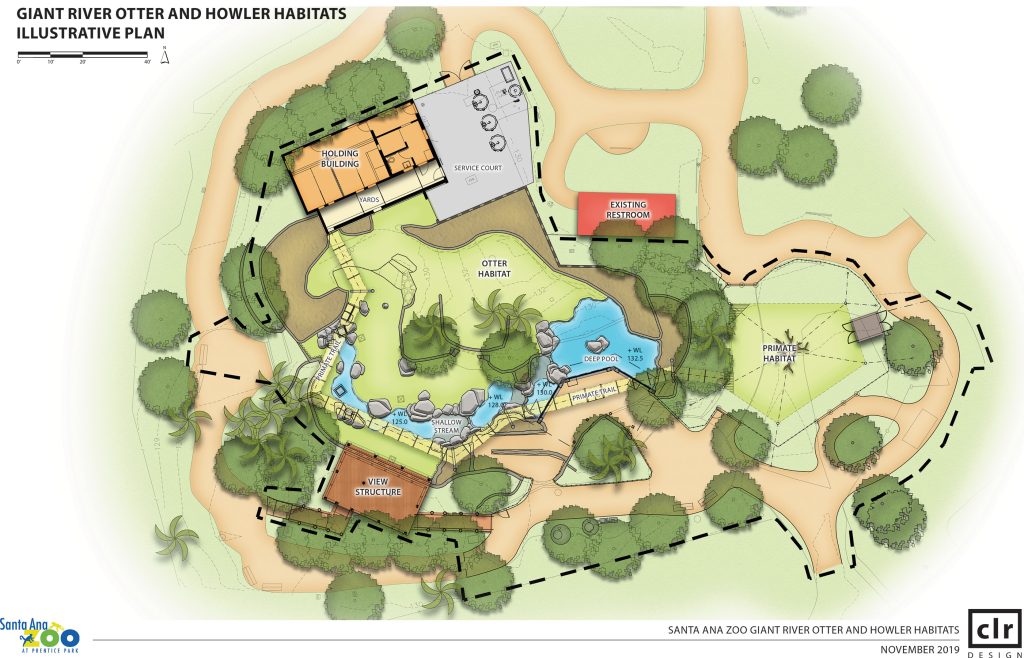 The Santa Ana Zoo's premier exhibit, "Amazon's Edge" built in 1990, is currently undergoing a complete renovation of its water filtration system, moat, and visitor observation area. The project is an extensive transformation that is a redesign and reconstruction of existing facilities, installation of an underwater viewing area, and incorporation of an elevated primate trail system that opens up to large mesh habitats. Once complete, the exhibit will be a multi-species habitat that is home to Giant River Otters and large primates.
Construction Period:
Fall 2021 – Spring 2023
Funding:
Acquisition & Development Funds
Friends of Santa Ana Zoo (FOSAZ) donations
Cannabis Funding
Total Project Cost:
Project Cost: $7.4 million
---
NEW PARK RESTROOMS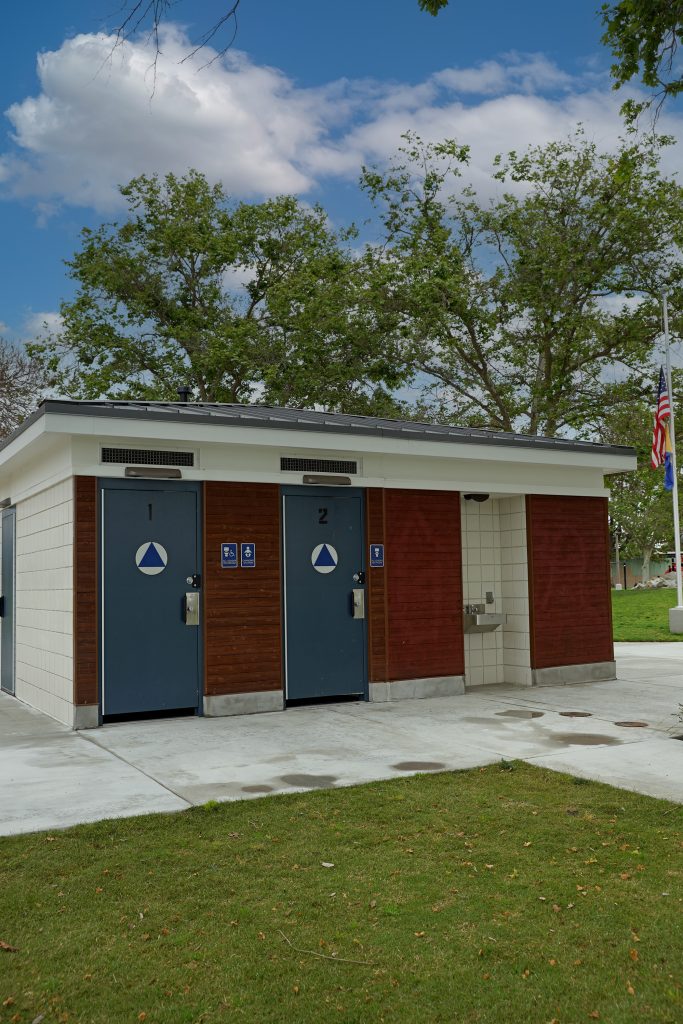 New pre-fabricated park restrooms are coming to a park near you! This $5.1m project will bring seven new restroom buildings to our city parks. Five of the six new restrooms are funded by Revive Santa Ana.
COMPLETED RESTROOMS:
These new restroom buildings replaced existing bathrooms that we over 50 years old.
Cesar Chavez Campesino Park
Memorial Park
Madison Park
RESTROOMS COMING SOON:
Four additional restrooms to be installed by the end of 2024.
Angels Park
Heritage Park
Riverview Park
Windsor Park