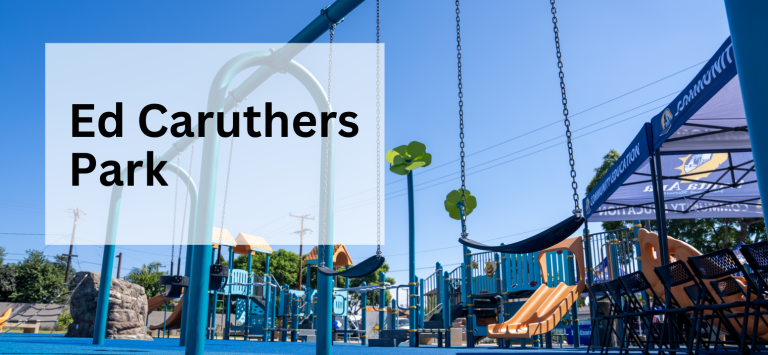 About
Ed Caruthers Park, is a 1.18-acre neighborhood park located on the northeast corner of Raitt Street and Myrtle Street.  The park offers picnic tables, an exercise area, a playground for tots/youth, and a skate area. The park is located at 423 S Raitt Street.
Amenities
Neighborhood Park
1.18 acres
Skatepark
Playground equipment (tots/youth)
Exercise area
Drinking Fountain
Park Benches
Picnic Tables
Restroom
Walkways
Security Lighting
Activities
Skateboarding
Walking
Full-body workout
Additional information
Ed Caruthers project
Visit our Parks projects webpage to learn more about the Ed Caruthers project.
Park rules
The park is closed from 11:00 p.m. to 5:00 a.m. every day.
Prohibited activities:
Defacing park property (Santa Ana Municipal Code (SAMC) 31-2.4)
Alcohol and drunkenness (SAMC 31-2.1)
Smoking (SAMC 31-2.19)
Gambling (SAMC 31-2.7)
Fires (SAMC 31-2.6)
Firearms and dangerous instruments (SAMC 31-2.5)
Motor vehicles (SAMC 31-2.16)
Events and vending without a permit (SAMC 31-3)
Amplified noise (SAMC 31-2.10)
Unleashed animals and animal waste (SAMC 31-2.2)
Camping (SAMC 31-2.3)
Skateboarding, except in designated areas (SAMC 31-5)
Do not use this park if hazardous conditions exist. Report any hazards or damage immediately at (714) 571 - 4200.
Explore Ed Caruthers Park