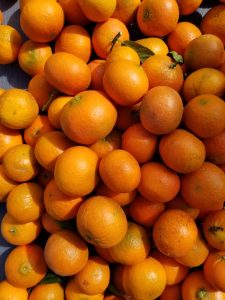 The City of Santa Ana Community Garden program consists of five community gardens where all ages can gather, learn, relax, connect with nature and practice mindfulness. The purpose of these gardens are to promote wellness through encouraging the growth of fruits and vegetables at home and discovering the everyday nature that inhabits urban environments. Each garden acts as their own nature oasis, where interconnections between diverse plant and animal life are observed. We have seen everything from a Cooper's Hawk diving down to capture a mouse out of the compost pile to ladybugs eating the aphids from the kale.
Program staff, volunteers and community members work together to cultivate and maintain the beauty growing in the gardens. The gardens are utilized collectively by the community for educational and recreational activities, such as: improving soil, growing food, composting, observing nature and collecting seeds. When it is time to harvest, all of the food, herbs and seeds are shared amongst those who volunteer their time and labor.
We encourage the community to join us during our hours of operation to participate in free workshops, volunteer or observe the nature that exists in their urban environment. Workshops are free, informal and flexible. They focus on seed collection, composting and identifying what plants need to survive and thrive. The workshop topics vary based on what needs to be accomplished in the garden, and what our audience would like to learn. The program focuses on teaching and encouraging the community to grow their own organic fruits, herbs and vegetables through hands-on experiences.
Benefits of community gardening
Great source of physical activity!
Improved mood and mental health
Ability to produce traditional crops otherwise unavailable locally
Inter-generational exposure to cultural traditions and recipes
Social interaction with neighbors
Cultural exchange with other gardeners
The food you grow, is the freshest food you can eat
Eating locally produced food reduces asthma rates, because children are able to consume manageable amounts of local pollen and develop immunities.
Exposure to green space reduces stress and increases a sense of wellness and belonging.
All garden sessions are free and intended for all ages! Please call (714) 571-4253 or email vdevolroach@santa-ana.org for more information and to sign-up for one of the following days and locations:
Pacific Electric Community Garden
317 McFadden Ave.
| | |
| --- | --- |
| Day | Time |
| Tuesday | 3 PM - 7:30 PM |
| Thursday | 9 AM - 11 AM |
Madison Park Community Garden
1434 S. Standard Ave.
| | |
| --- | --- |
| Day | Time |
| Tuesdays and Thursdays | 3 PM - 5 PM |
El Salvador Park Community Garden
1825 W. Civic Center Drive
| | |
| --- | --- |
| Day | Time |
| Monday | 4 PM - 7:30 PM |
| Wednesday | 9 AM - 11 AM |
Jerome Park Community Garden
2201 W. McFadden Ave.
| | |
| --- | --- |
| Day | Time |
| Tuesday | 9 AM - 11 AM |
| Thursday | 3 PM - 8 PM |
| Saturday | 9 AM - 1 PM |
Roosevelt Walker Garden
816 E. Chestnut Ave.
| | |
| --- | --- |
| Day | Time |
| Mondays and Wednesdays | 3 PM - 5 PM |