Owners, managers, or individuals in lawful possession of private property may at some point in time, experience problems with subjects who trespass on their property. These subjects may be involved in illicit activities such as "Drugs, Gangs, Prostitution, and/or Panhandling."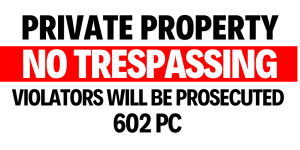 Trespass citations have become an important tool for Officers of the Santa Ana Police Department. There are various sections of  the California State Penal Code which specifically address subjects who trespass and/or loiter without lawful business and/or owner's consent.
In most situations, a trespasser must first be told to leave by the Santa Ana PD Officer. If the subject refuses he may be arrested. If he does leave when asked to by the Officer, but returns later that same day, he may be arrested without further warning. If the Orange County District Attorney files the case, you the owner or manager of the property are treated as the victim, in these types of cases.
Limited authorization for arrest
Due to the frequency upon which Santa Ana PD officers are called on to enforce trespassing laws, you the property owner/manager, will be asked to sign a Limited Authorization for Arrest Form, for each of your affected properties. This authorization provides authority for the Santa Ana PD Officers to act on behalf  of the owner/manager and addresses the issue of consent. By signing this authorization in advance, you enable the Santa Ana PD Officers to patrol your properties and enforce, if necessary, any and all applicable violations which occur.
Once you have signed a written authorization for arrest and a Santa Ana PD case number has been assigned to your property, it will remain valid for 6 months. If your property is otherwise vacant, boarded up and posted, your written authorization will remain valid for up to 6 months from the date it is signed.
It is the responsibility of the property owner or manager to renew this authorization every 6 months for continued enforcement.
How to submit the Limited Authorization for Arrest Form
Submit the form online
Use the button below to access the online form. Make sure to follow the instructions and fill out all required portions of the form.
Print, fill out, and return it to us
Download, print, and complete the Limited Authorization for Arrest Form and fax or mail it to us:
You can fax the completed form to (714) 245-8095.
You can also mail it to us:
Santa Ana Police Department M-18
Police Service Officer
60 Civic Center Plaza, P.O. Box 1981
Santa Ana, CA 92702
Reminders
If an arrest is made, the individual that signs the 602 authorization will be treated as the victim, therefore can be called in to court.
Please remember to post all of your affected properties with "No Trespassing" signs. Signs must be visible at all entrances and alleyways adjoining your properties.
For more information, contact us
Westend Division 
Police Service Officer E. Baca
(714) 647-5062
EBaca@santa-ana.org
Eastend Division    
Police Service Officer M. Ortega
(714) 245-8508
MOrtega@santa-ana.org