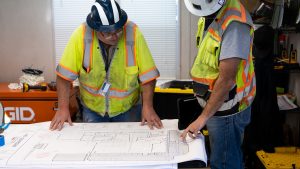 Contact
20 Civic Center Plaza
Ross Annex, M-20
Santa Ana, CA 92701
---
Public Counter Hours
Monday - Thursday: 8 a.m. to 3 p.m.
Wednesdays: 8 a.m. to 2 p.m.
Alternating Fridays: 8 a.m. to 3 p.m.
Saturdays and Sundays: closed
---
Promoting and maintaining safety
The City of Santa Ana wants to maintain and promote the safety of its residents through ethical, timely, and transparent processes to ensure its built environments are compiling with all local and state building codes.
The Building Safety Division is responsible for issuing; building, plumbing, heating/cooling, and electrical permits. This also includes reviewing plans and conducting inspections for the work allowed under these permits. It maintains construction records for all buildings in the city as well.
Public counter assistance and services will be handled by appointment only. You can also get assistance by phone, email, or via teleconference.