Dear Ward 1 Residents,
I can't believe it's been 2 years since I was elected to serve Ward 1! It's been truly an honor and a privilege to work alongside the community, staff, and stakeholders to craft policies and implement programs that improve residents' lives. This year, we've had so many first-time events to bring families and community out to our parks, to spend time with each other, and to reclaim our public spaces, including the first-ever Mid-Autumn Festival, Chicano Heritage Festival, and concerts in the park.
I always strive to support our community with thoughtful and deliberative policy-making, build bridges between those with different ideas or beliefs, and create a more welcoming City Hall. Please don't hesitate to reach out if you have any questions, issues, concerns, or ideas. I'm happy to hear them and work with our team to bring solutions.
Also, remember to get your flu shot and COVID-19 booster and to vote by November 8th!
Yours Truly,
Thai Viet Phan, Councilmember – Ward 1
---
---
In this issue…
General Election 2022
————————
City of Santa Ana opposes cold weather shelter
————————
City-sponsored events
————————
Parks and Rec new logo and activities guide
————————
Sister city resolution signing
————————
Happy Birthday Santa Ana
---
Know your dates
November 8: Election Day!
November 19: First Time Homebuyer Workshop and Down Payment Assistance
December 8 – January 8: Winter Village
---
Know your Ward & City
Don't forget to vote by November 8!

Tomorrow is the Nov. 8 general election, so I encourage everyone to learn about what's on the ballot and vote! You can vote in person, by mail, or by dropping off your ballot at a drop box. Learn about the two City of Santa Ana ballot measures, local candidates, and how to vote at the links below.
Santa Ana General Municipal Election
Orange County Registrar of Voters
---
We oppose court's decision to allow County cold weather shelter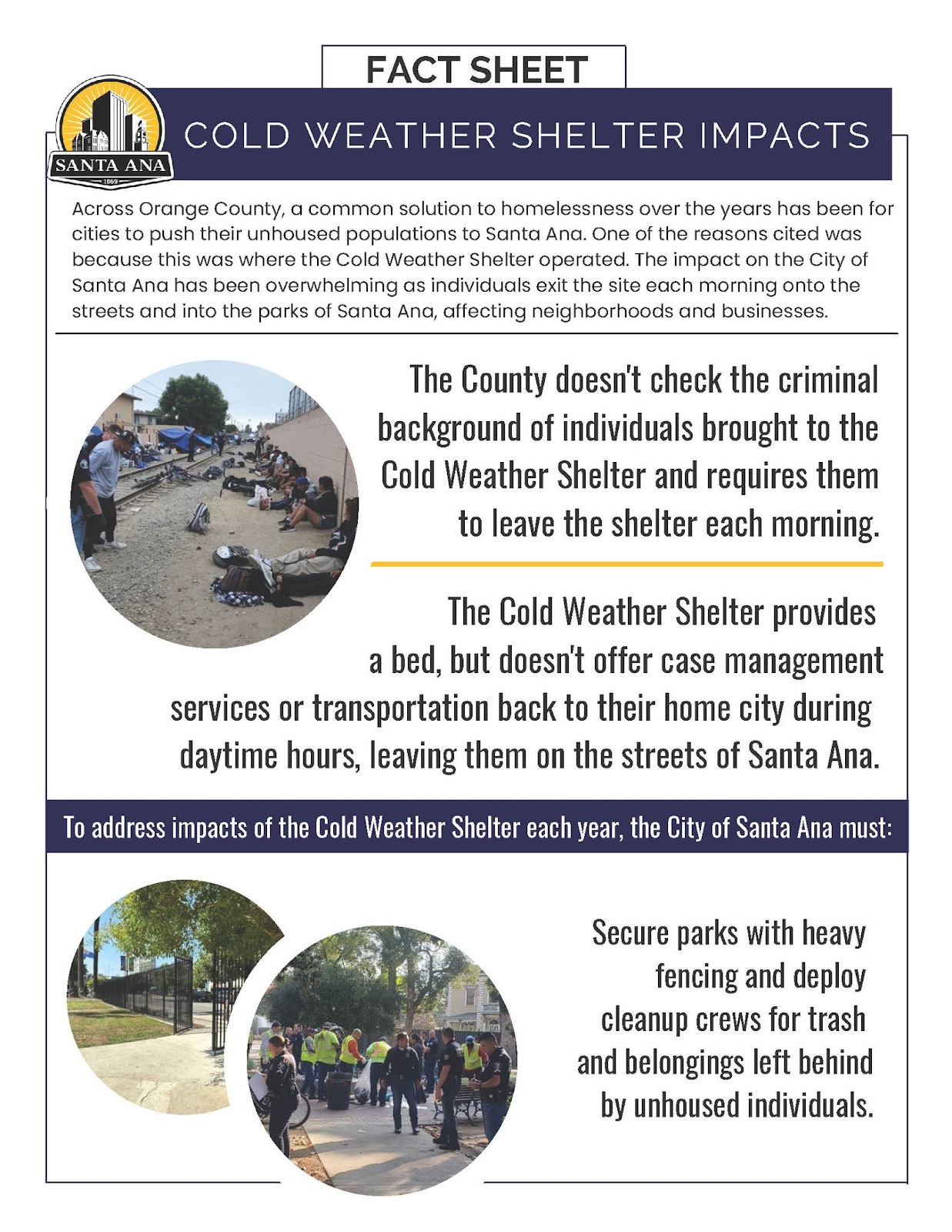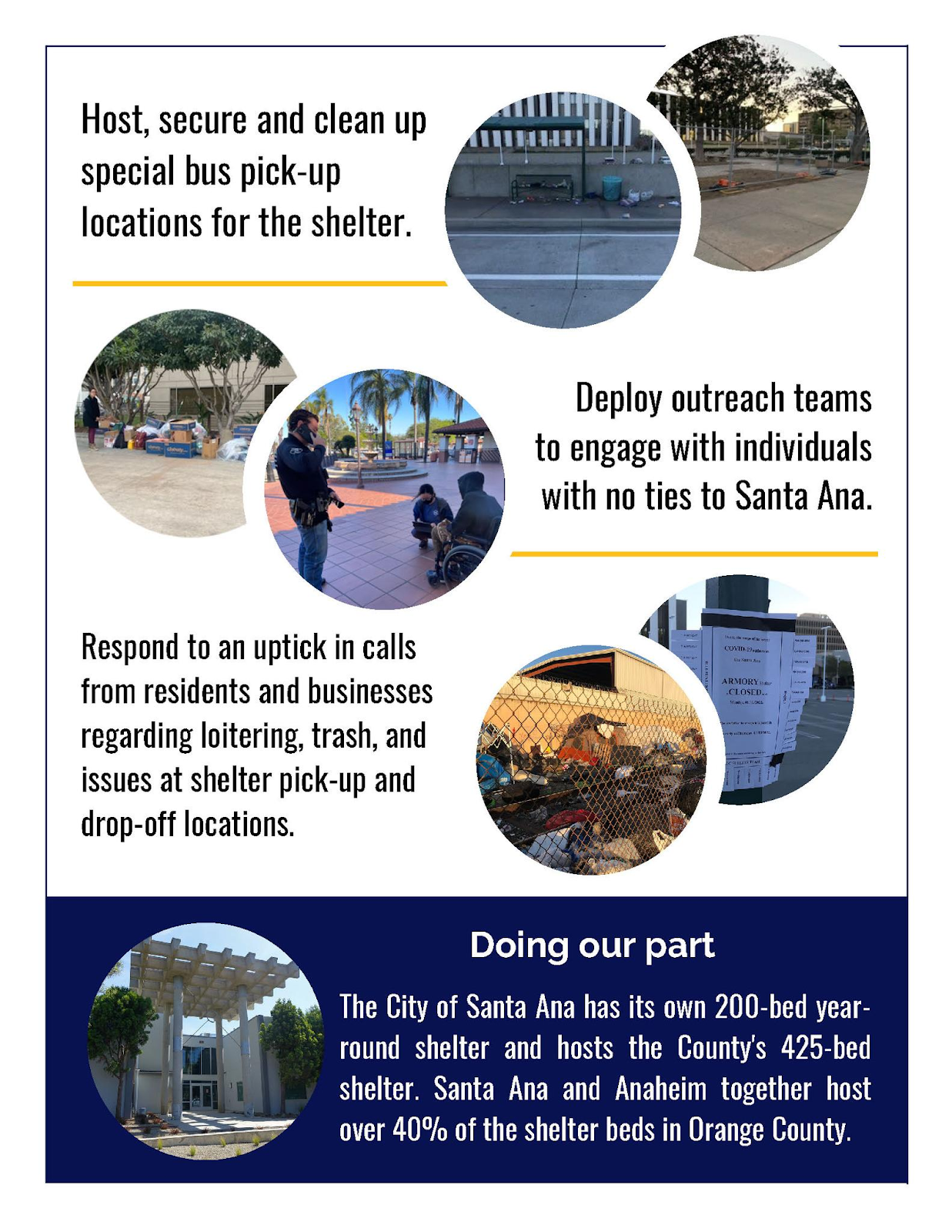 The Santa Ana City Council voted on a resolution urging the County of Orange to operate a cold weather shelter outside of Santa Ana and encouraging South Orange County cities to more equitably participate in efforts to combat the homelessness crisis. The City of Santa Ana already has a 200-bed shelter and hosts the County's 425-bed Yale shelter, while many other Orange County cities have done nothing to address this regional problem. The City opposes a federal court's decision to allow the County to open the cold weather shelter within city limits.
---
Parks and Rec unveils new logo and activities guide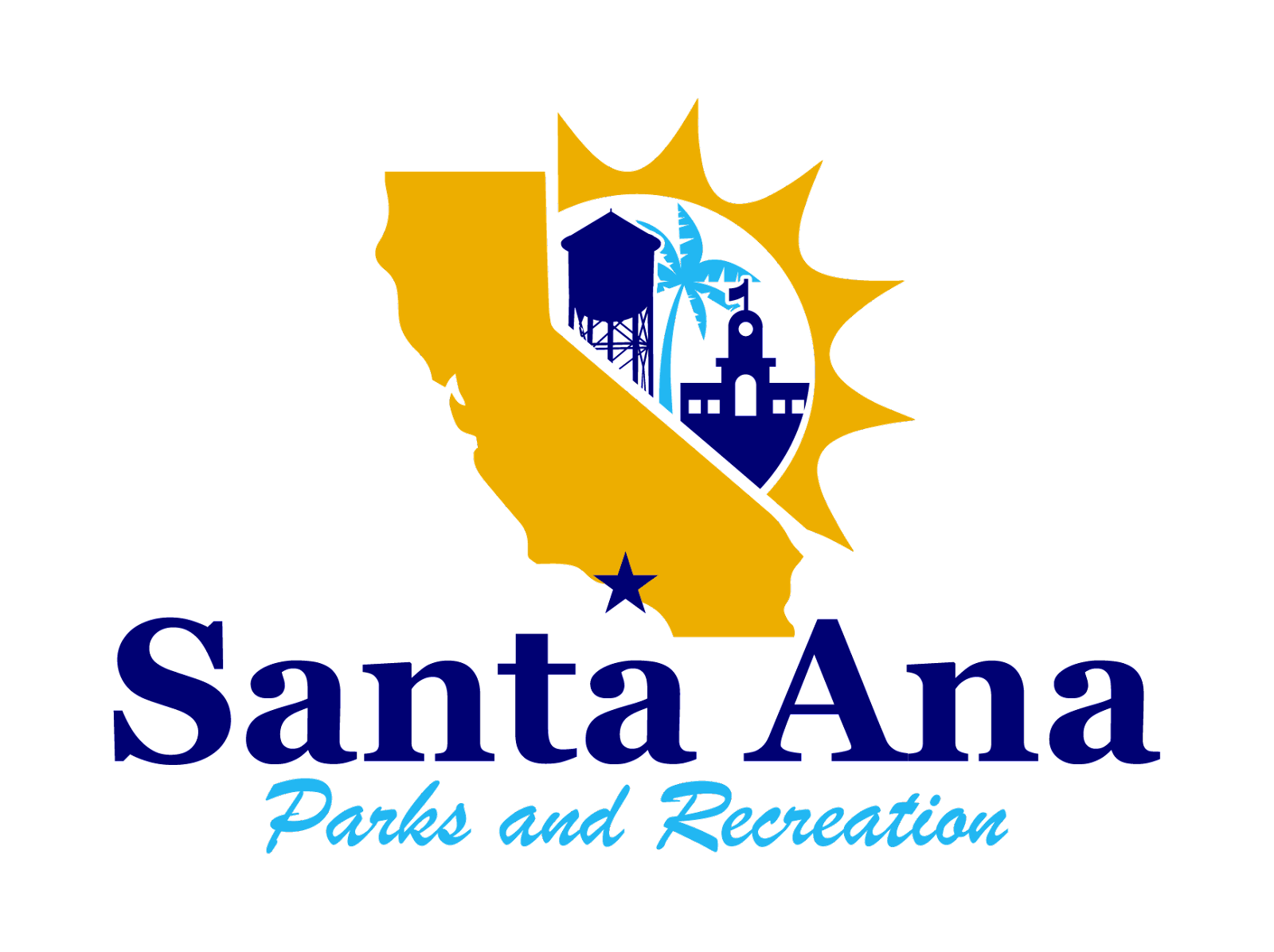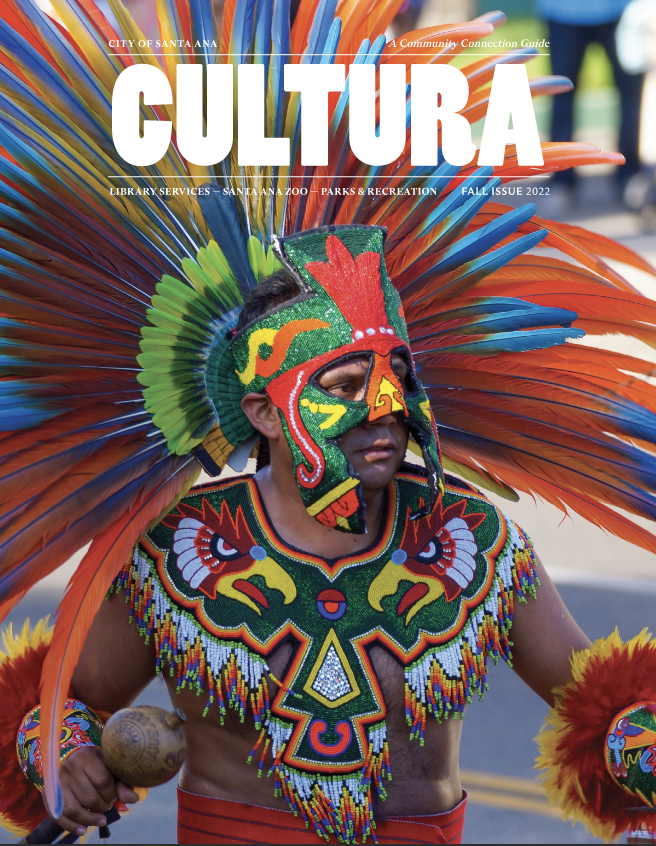 Our Parks, Recreation, and Community Services Agency (PRCSA) has a brand new look! They recently adopted a new logo in addition to revamping their program and activities guide in a joint effort with Santa Ana Public Library and Santa Ana Zoo. PRCSA staff ensured that the new logo paid homage to the City's seal and historic sites like the Santa Ana Water Tower and the Santa Ana Regional Transportation Center. They have also rebranded their program and activity guide as the Cultura Community Connection Guide. The quarterly guide is available digitally for the first time ever and features a beautiful new design. View the guide through the link below and see what's happening now through December!
---
Mid-Autumn Festival celebrates Asian cultures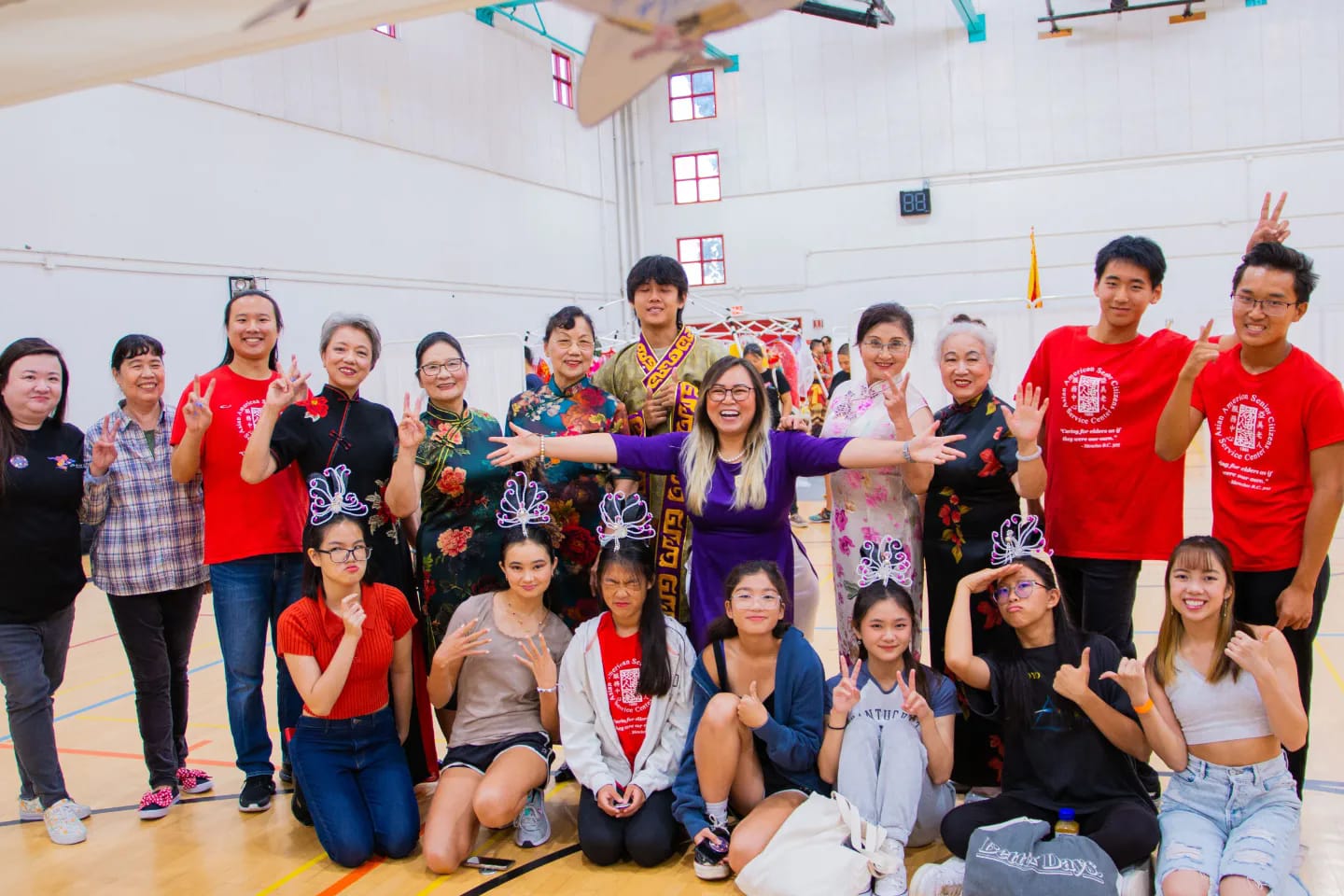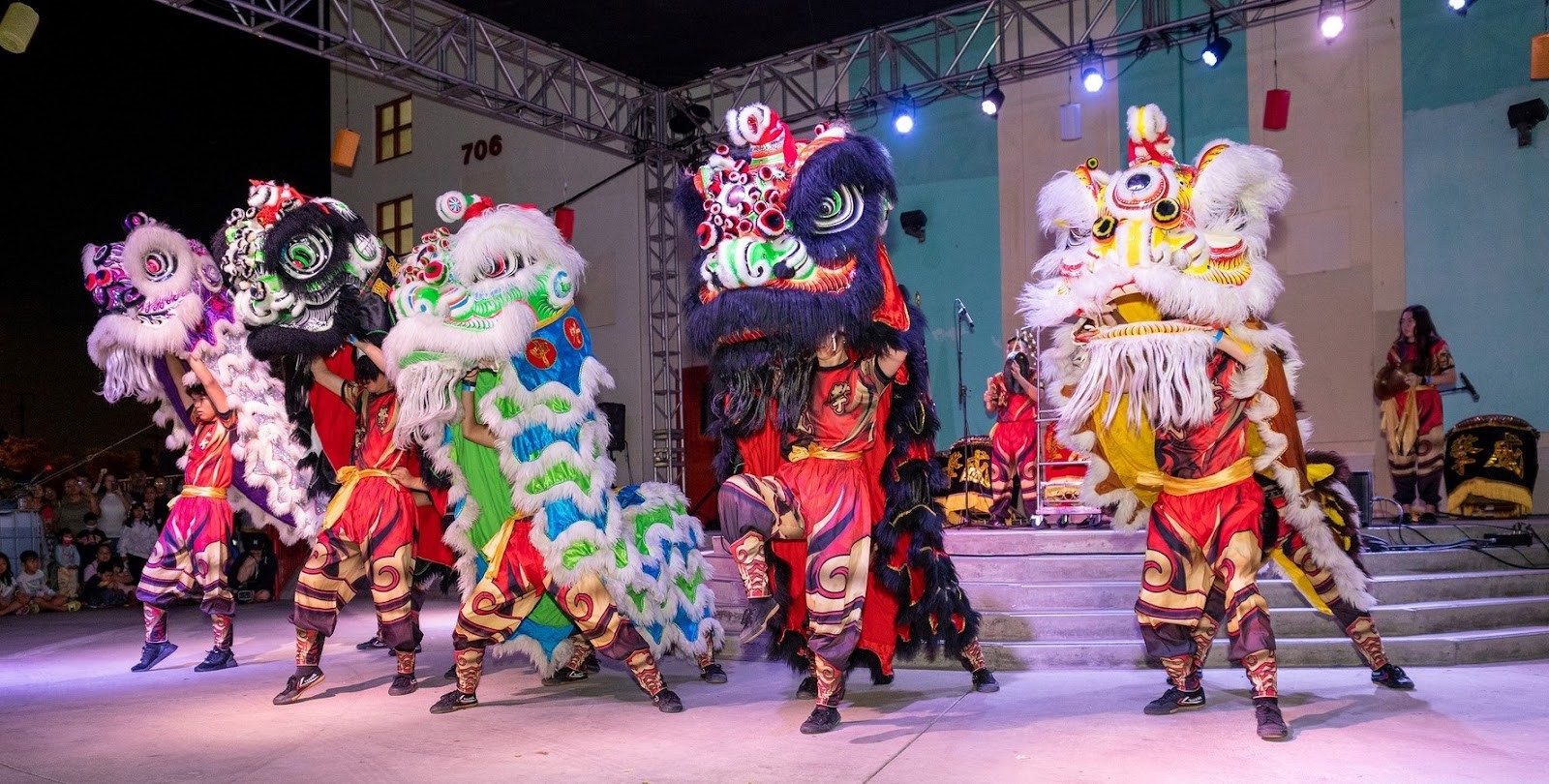 Our inaugural Mid-Autumn Festival on Oct. 1 was an incredible success! The event celebrated Asian cultures and traditions that can be found across the world and right here in Santa Ana. It took place at Rosita Park on the west side of town, where our largest Vietnamese neighborhoods are located.
My heart is so full, and I had such a fun time. I can't wait to make it even bigger and better next year! Thank you to all the staffers, performers, volunteers, and sponsors for supporting this historic event!
Watch the Mid-Autumn Festival video
---
Chicano Heritage Festival draws a crowd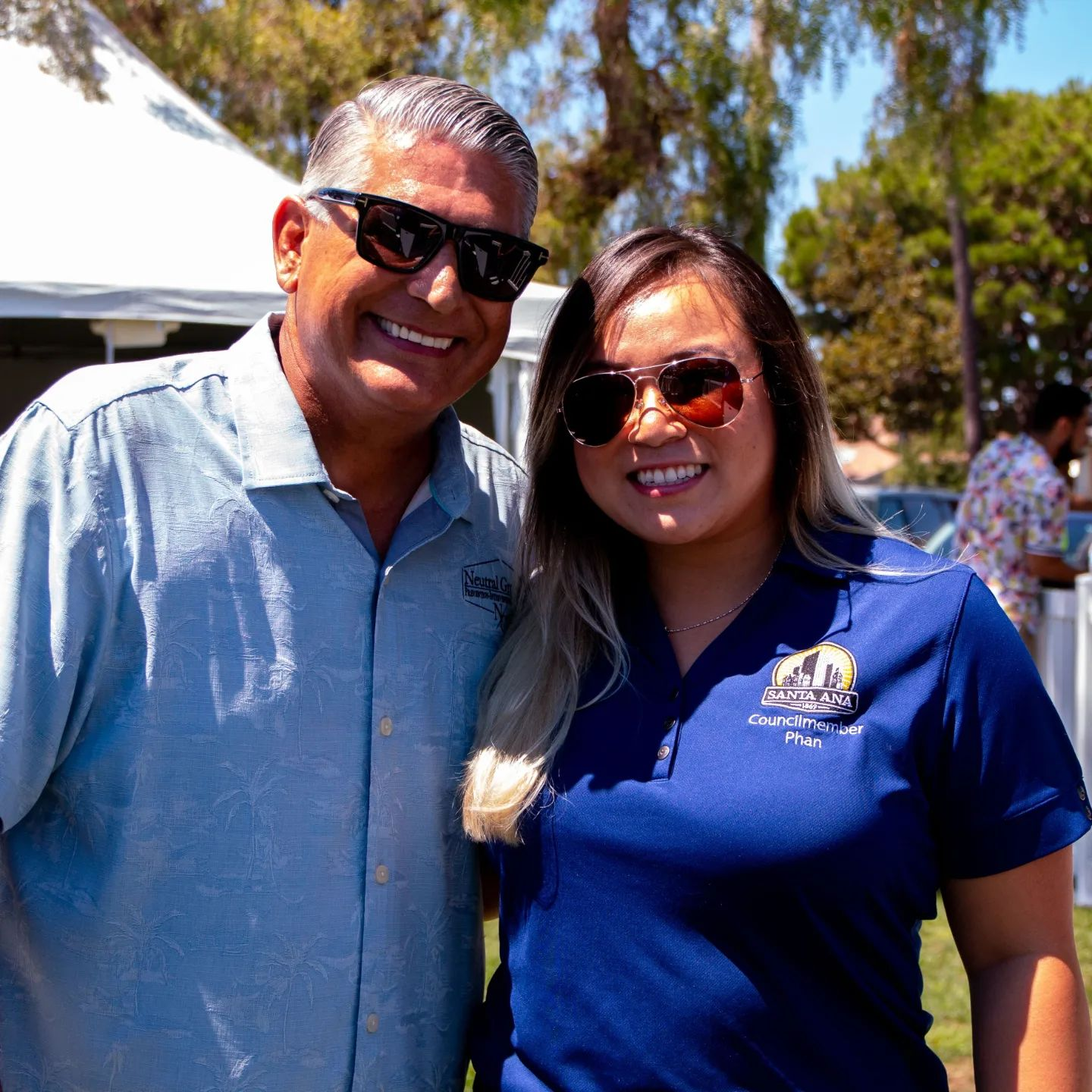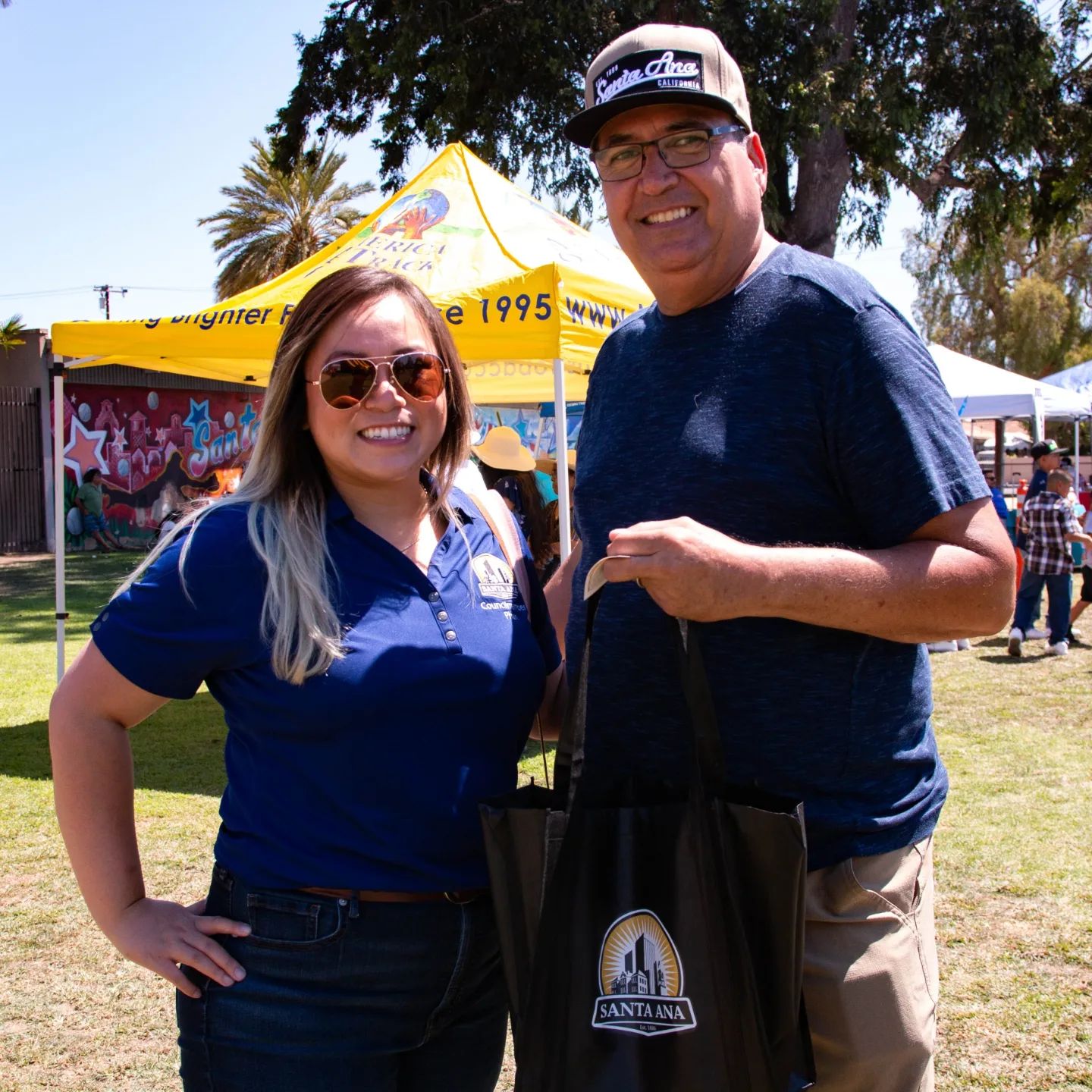 I had such a fun time at Santa Ana's first Chicano Heritage Festival! I got there earlier in the day and families were out enjoying the performances by local artists, DJs, and incredible Aztec dancers! Since I've been on the City Council, I've worked to build relationships throughout our community, learned more about our different neighborhoods, and tried to build bridges. This event was one of those great days. I'm so honored to have these learning opportunities. See y'all again next year!
Watch the Chicano Heritage Festival
---
A fun-filled Fiestas Patrias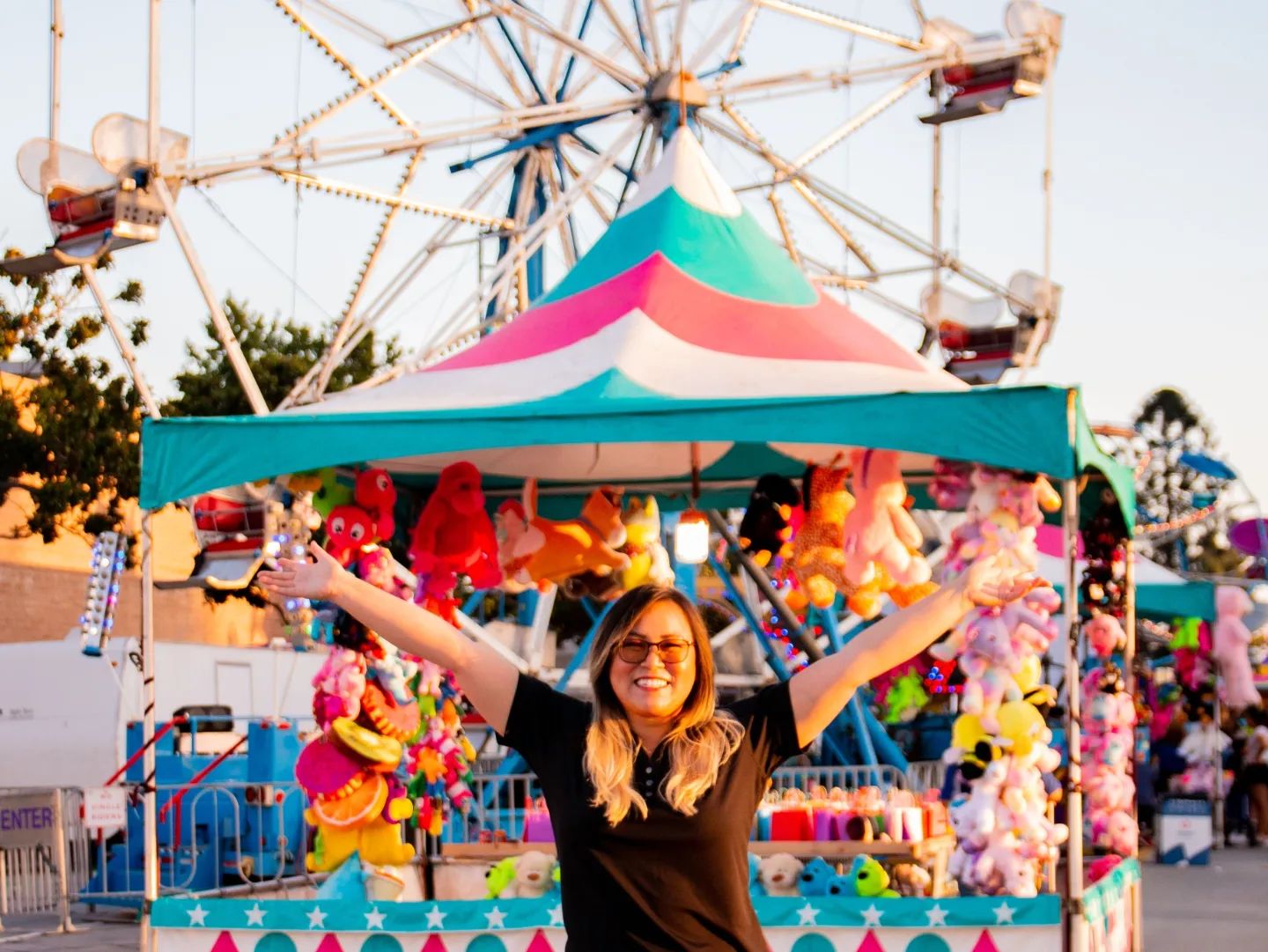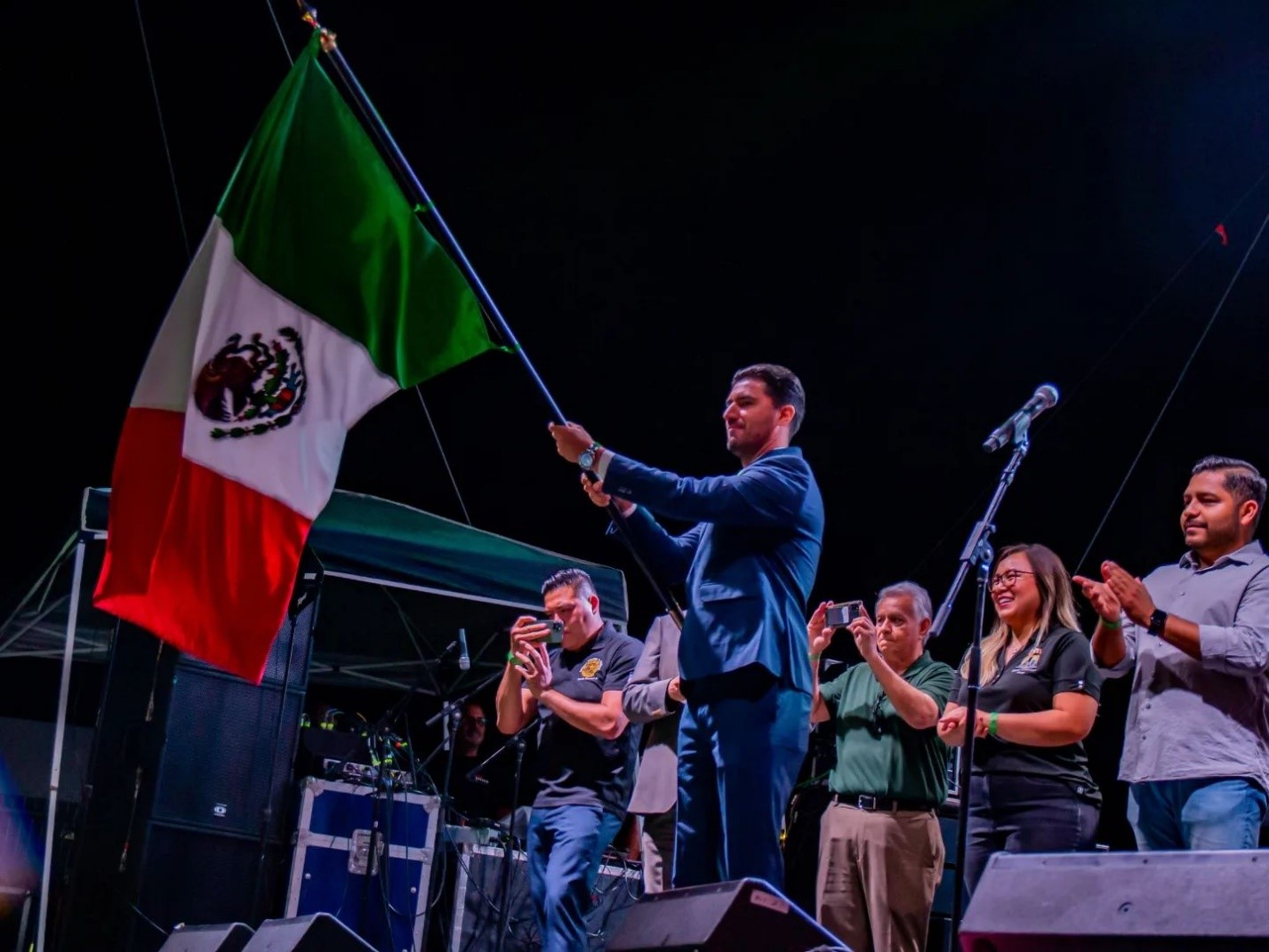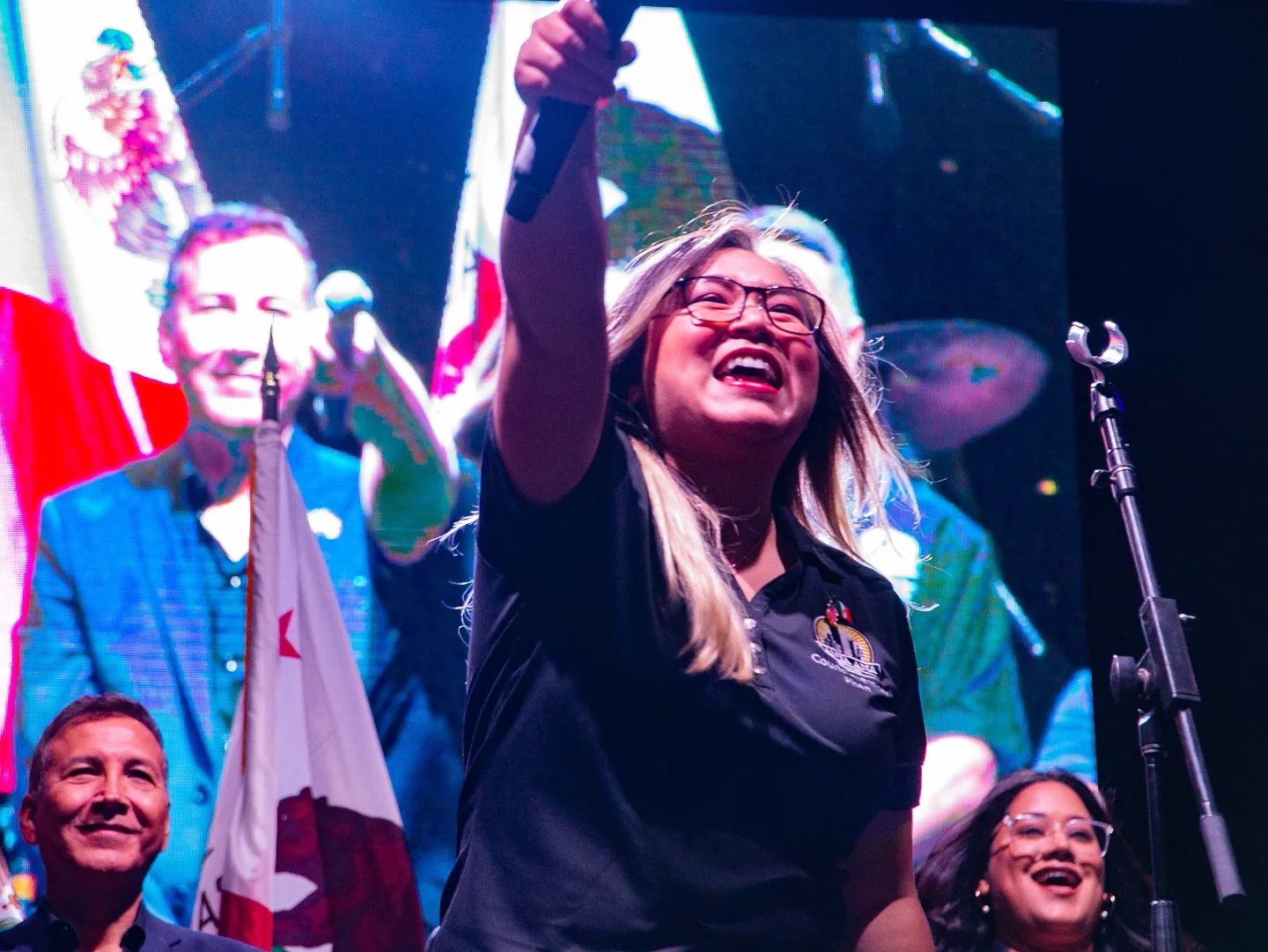 I had an INCREDIBLE time at Fiestas Patrias! It was the closest I'm ever going to get to headlining my own concert. It was invigorating and humbling to see our vibrant Santa Ana community celebrating Mexico's independence from Spain! Thank you to our amazing city staff and volunteers for working around the clock to put this together. It was a day not to forget! Watch the video below to see highlights of this year's event.
Watch the Fiestas Patrias video
---
Celebrating Indigenous Peoples Day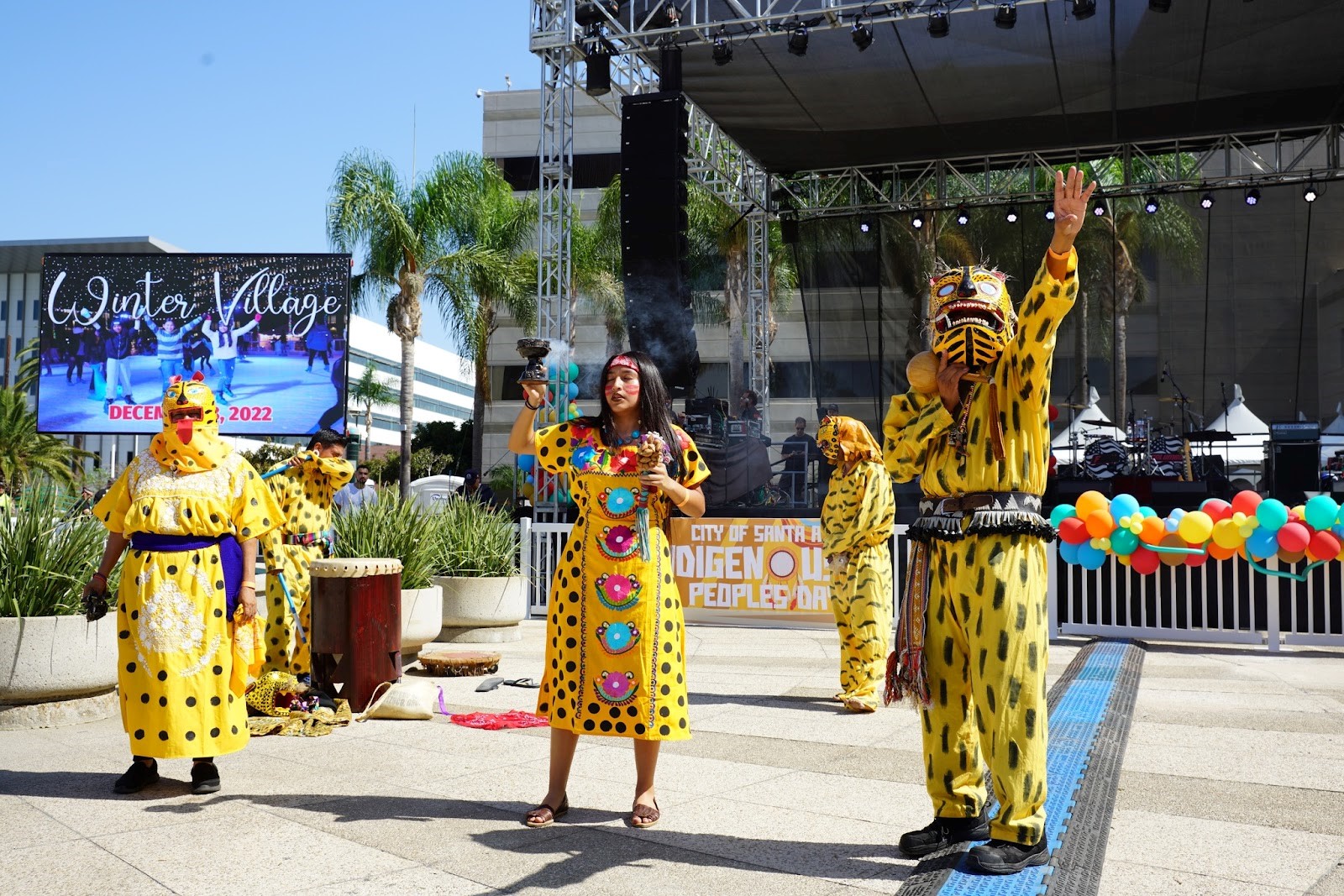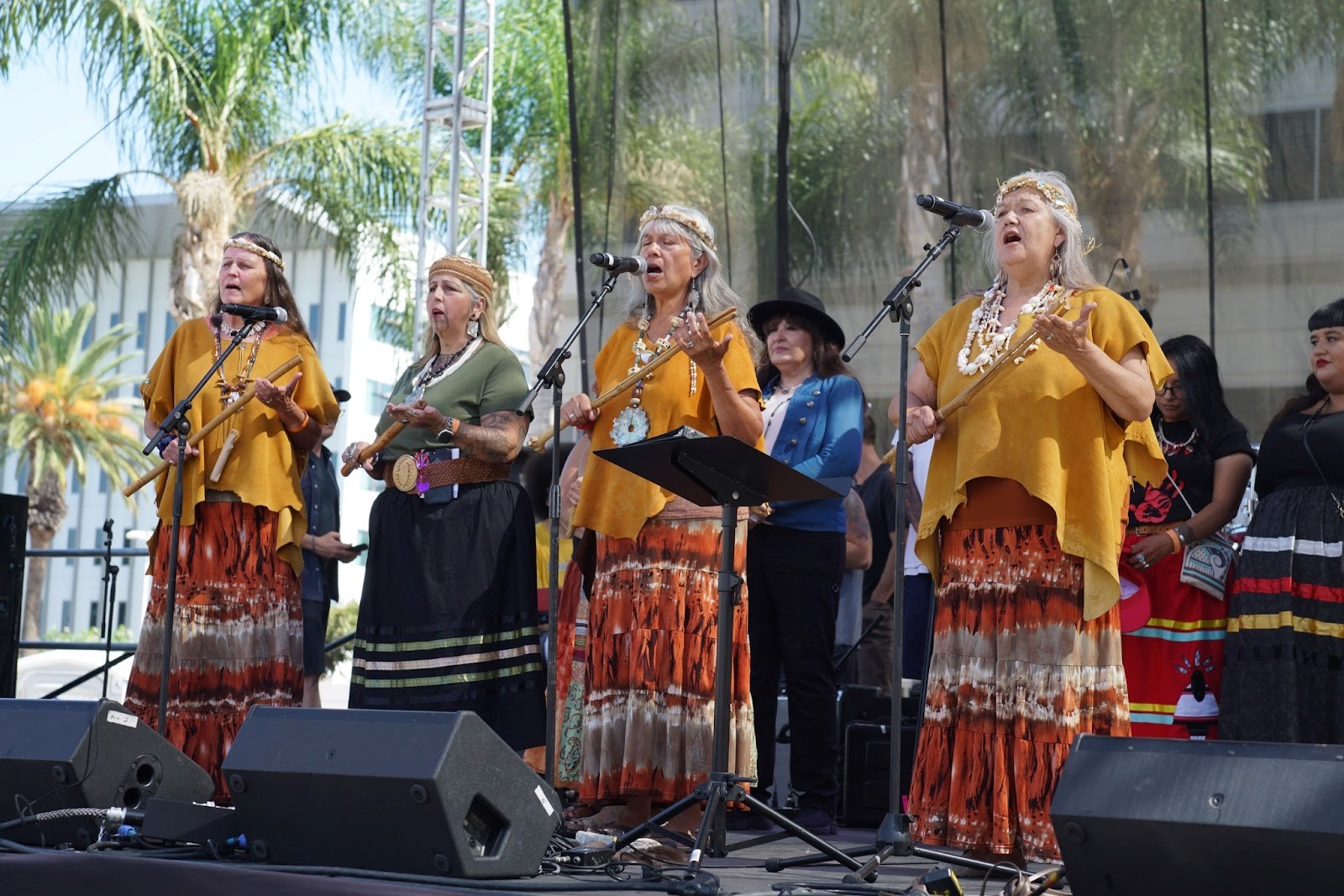 It has been a year of firsts, as we also celebrated Indigenous Peoples Day on Oct. 8 right next to City Hall in the Plaza of the Sun. It was a fun, music-filled day to recognize our indigenous cultures and communities and remember that the city we now call Santa Ana was once indigenous land.
Watch the Indigenous Peoples Day video
---
Meet our new sister city – Sahuayo, Mexico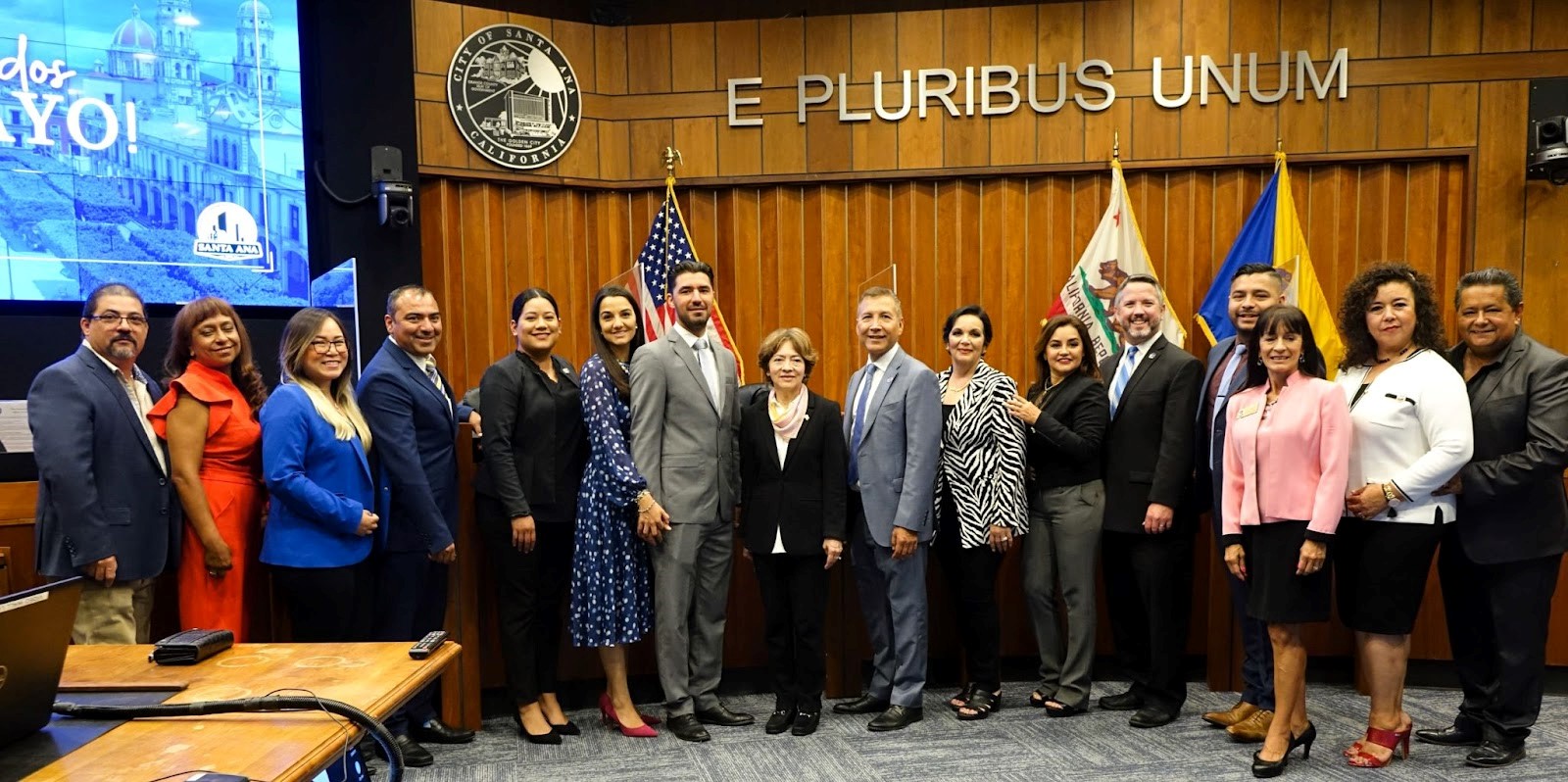 The City of Santa Ana celebrated its new sister city relationship with Sahuayo, Mexico, on October 20 with a ceremonial signing of the sister city resolution that was unanimously approved by the City Council. Mayor Vicente Sarmiento was joined by Sahuayo Mayor Dr. Manuel Gálvez Sánchez to sign the resolution. My fellow City Councilmembers and I attended and welcomed several City Councilmembers from Sahuayo who made the trip for this historic moment. Mexican Consul Audrey Rivera Gomez and members of the Santa Ana-based Fundación Sahuayo also joined in the ceremony.
Watch the sister city signing ceremony
---
Santa Ana WORK Center joins #CaliforniansForAll campaign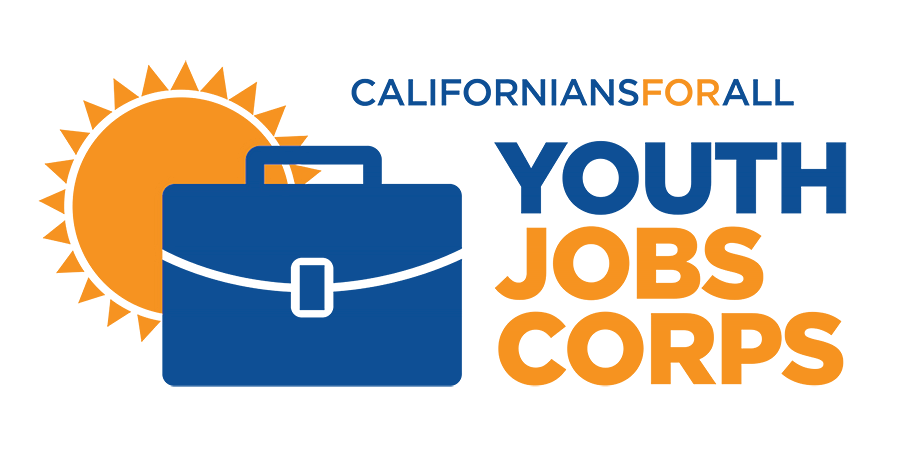 The City of Santa Ana's WORK Center has created a Youth Jobs Corps Employment Program as part of the statewide #CaliforniansForAll initiative that aims to help train and develop young people for public service careers. The employment program will provide paid work experience to Santa Ana youth residents ages 16-30. Selected youth participants will work 20-29 hours per week at $17 per hour. For additional details and to apply online, click on the link below.
---
Get a free book or hamburger with fall reading program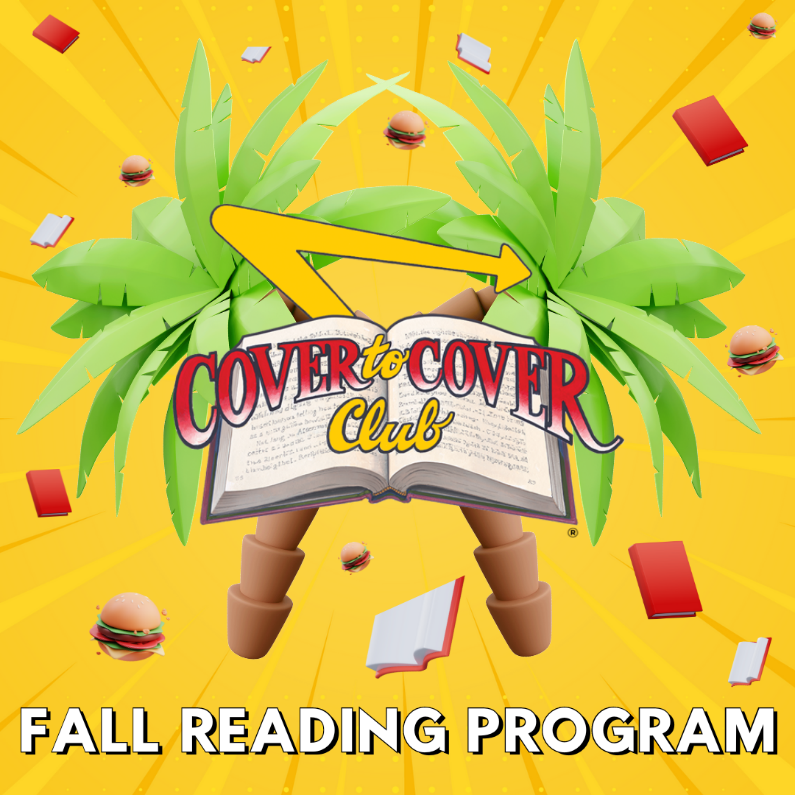 Burger or Book? You decide! Youth up to 8th grade are invited to participate in the Santa Ana Public Library's Cover to Cover Fall Reading Program. Participants will have an opportunity to receive a free hamburger from In-N-Out or a book! Beginning October 1, sign up online or register in person at the Main Library, Newhope Library, or the Knowledge Mobile. The last day to register and claim prizes is November 19, 2022.
Register for the fall reading program
---
Home help: Get mortgage, earthquake retrofit and water bill assistance
California residents can apply for financial help with their mortgage, an earthquake retrofit and their past due water bill with local and statewide resources.
California Mortgage Relief Program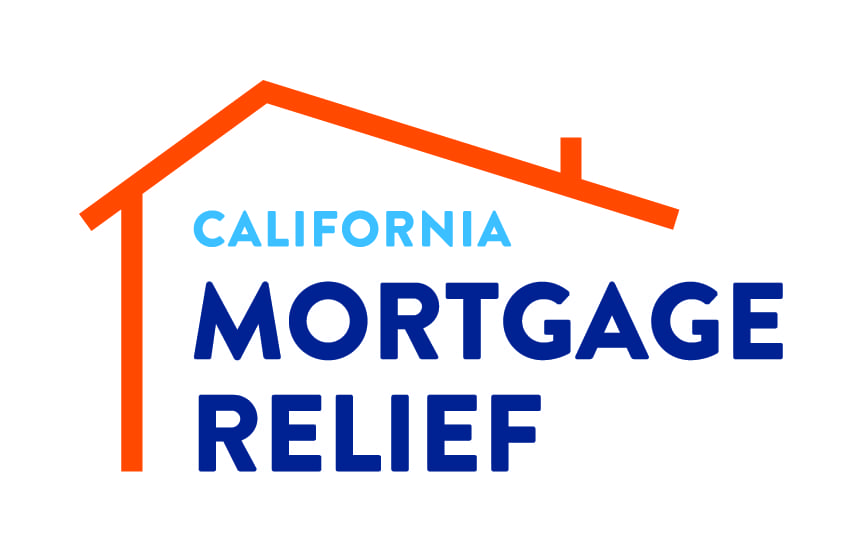 Homeowners may be eligible for mortgage relief funds if they have missed payments for their primary residence, faced a financial hardship during the pandemic and are at or below 100 percent of their county's Area Median Income. Funds awarded to qualified homeowners through this program will be given directly to their mortgage servicers and do not need to be repaid.
Earthquake Brace+Bolt Retrofit

Earthquake Brace + Bolt (EBB) helps homeowners lessen the potential for damage during an earthquake. EBB offers a grant of up to $3,000 toward a seismic retrofit for qualifying older houses. In addition to the $3,000 grant, they have a new grant specifically for low-income homeowners (income up to $72,080 per household), as funding permits.
Apply for a retrofit https://www.earthquakebracebolt.com/
Apply for the new low-income grant https://www.earthquakebracebolt.com/How-Our-Program-Works/EBB-Supplemental-Grant-For-Low-Income-Homeowners
Water Bill Assistance Program

The federally-funded Low Income Household Water Assistance Program (LIHWAP) provides a one-time benefit of up to $2,000 to cover past-due drinking water, wastewater/sewer, and/or stormwater costs for eligible, low-income customers. Community Action Partnership of Orange County is currently taking applications.
Download the water bill assistance application
---
Santa Ana Public Library receives $9 million grant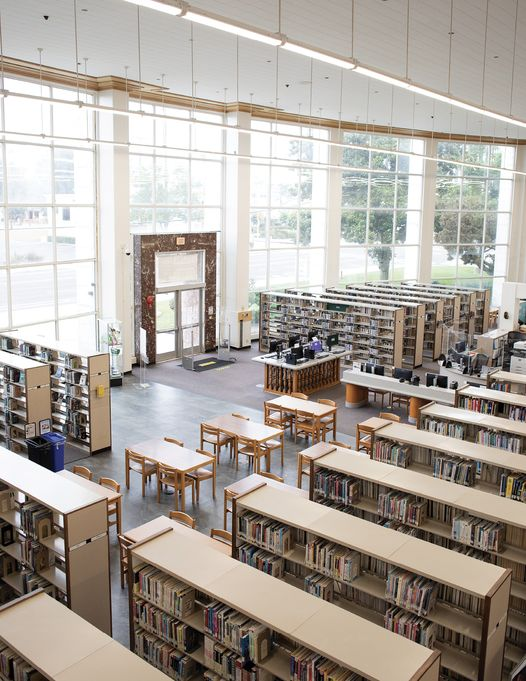 The Santa Ana Public Library has been awarded over $9.3 million from the California State Library "Building Forward" grant program to fund a variety of critical maintenance and infrastructure needs at the Main Library.
This grant will supplement the federally funded Revive Santa Ana pandemic recovery program and other funding sources, allowing us to revitalize the historic library. We are planning a modernization and restoration project over the next 2 1/2 years, transforming the Main Library into a community hub for interactive learning and technology.
---
Happy Birthday Santa Ana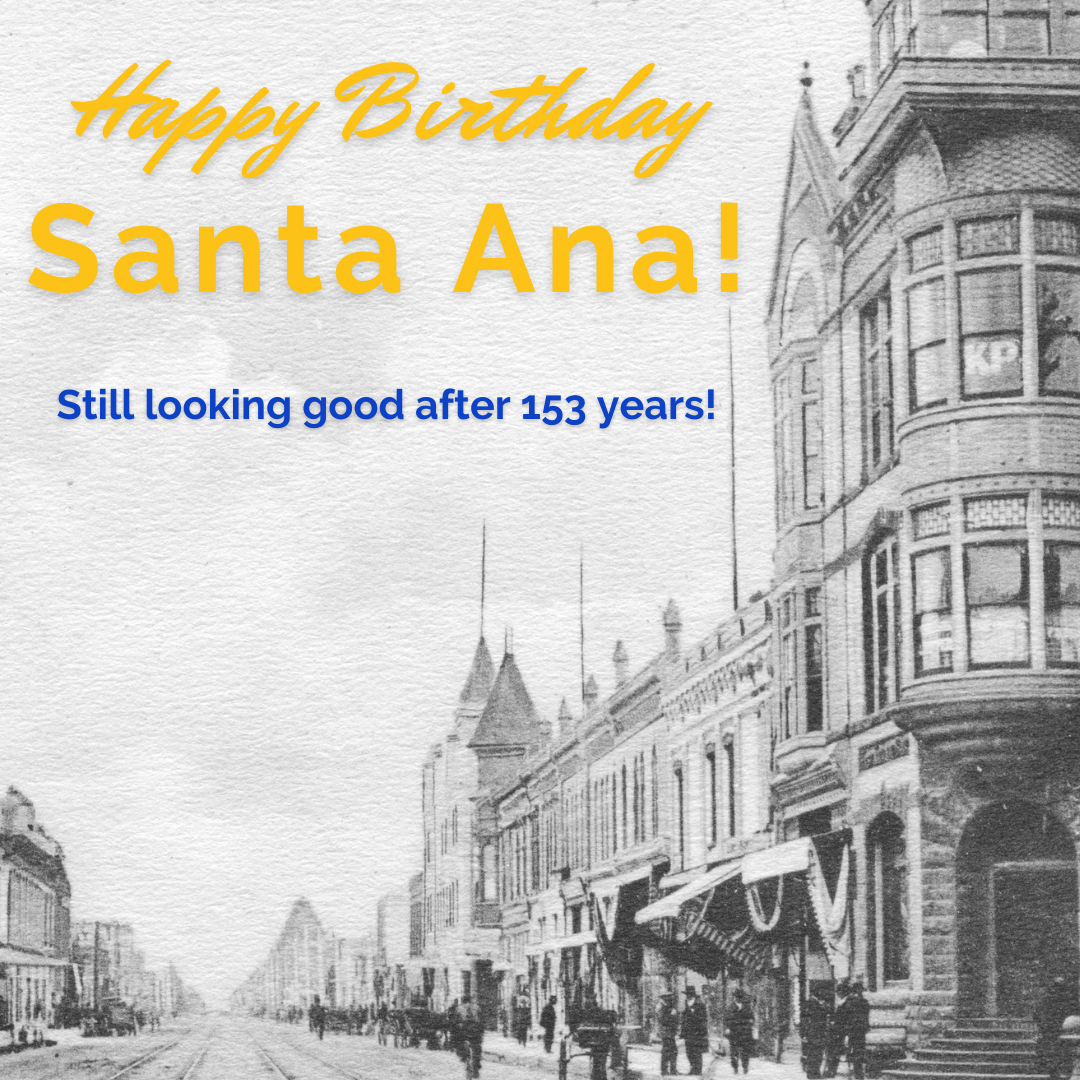 Did you know that October 27 was the City of Santa Ana's 153rd birthday? On October 27, 1869, William Spurgeon purchased 74 acres from Jacob Ross and mapped out a 24-block town site that he named Santa Ana. The original town boundaries were First Street, Spurgeon Street, 7th Street and West Street (now Broadway). Happy birthday Santa Ana! This photo is a turn of the century postcard of 4th Street looking west.
---
Know your resources
Free bulky item pickup available

Residents with curbside cart collection may schedule up to four bulky item pickups, up to four times per pickup, or four 30-gallon bags of trash, or 20 30-gallon bags of yard waste, at no charge, annually. Apartment and condominium residents with bin collection may schedule ten items per unit per quarter per year at no charge.
Call Republic Services at (877) 328-2074 to schedule a pickup.

Items will be collected within five working days after a request is received.

Customers that exceed the number of free pickups may receive bulky item collection for a fee.
Bulky item pickup requirements
---
New commercial property signage requirements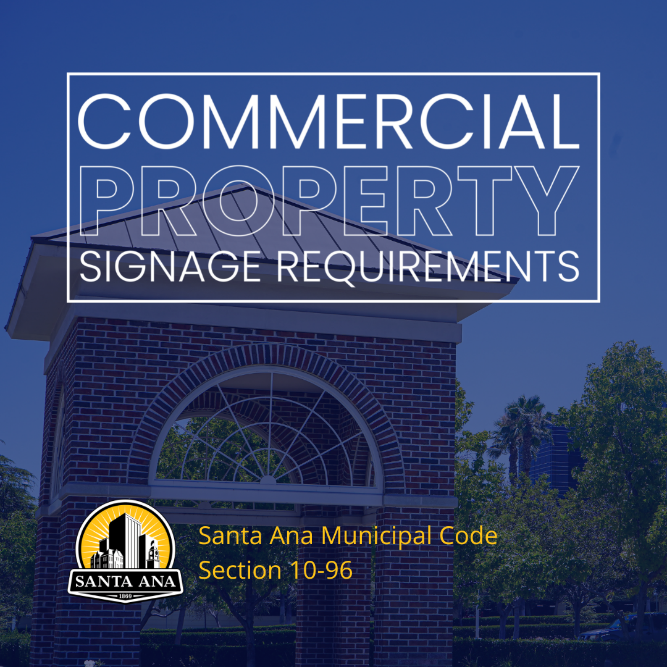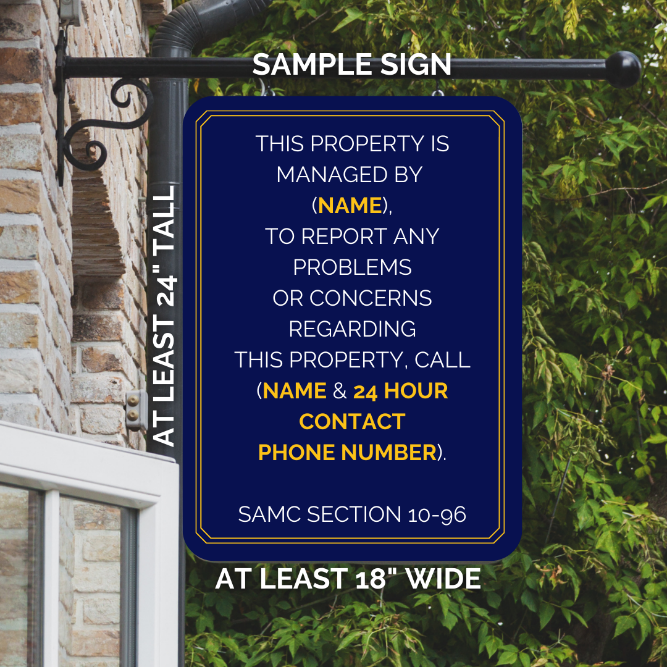 Every commercial center in Santa Ana is now required to post a sign at each entrance and exit providing 24-hour contact information of the property owner/property management company. The City Council approved an ordinance amending the Municipal Code to add this requirement on Aug. 2. This will allow members of the public to easily report any concerns about a property's maintenance or appearance directly to the owner.
Learn about commercial property signage:
---
Free food distributions in Santa Ana

As part of one of our ongoing Revive pandemic recovery initiatives, we have partnered with various local organizations to host free food distributions throughout the City. The free food distributions are available in Santa Ana for anyone in need. The food is distributed on a first-come, first-served basis, while supplies last.
Partnering organizations currently include Delhi Center, Santa Ana Elks Lodge 794 and Latino Health Access. Other local organizations are also distributing free food, including Orange County First Assembly and Seva Collective.
---
Know Thai's projects
Recognized youth volunteers from the Santa Anita Neighborhood

I was so glad to recognize some youth volunteers from the Santa Anita Neighborhood during the Council meeting on August 2 with my colleague Councilmember Hernandez (we both represent Santa Anita)! They volunteered their time and energy to help make the Lucky Center Market mural celebrating Chicano heritage a reality along with our volunteer artists. Always happy to encourage young people to help our community!
---
Concert in the Park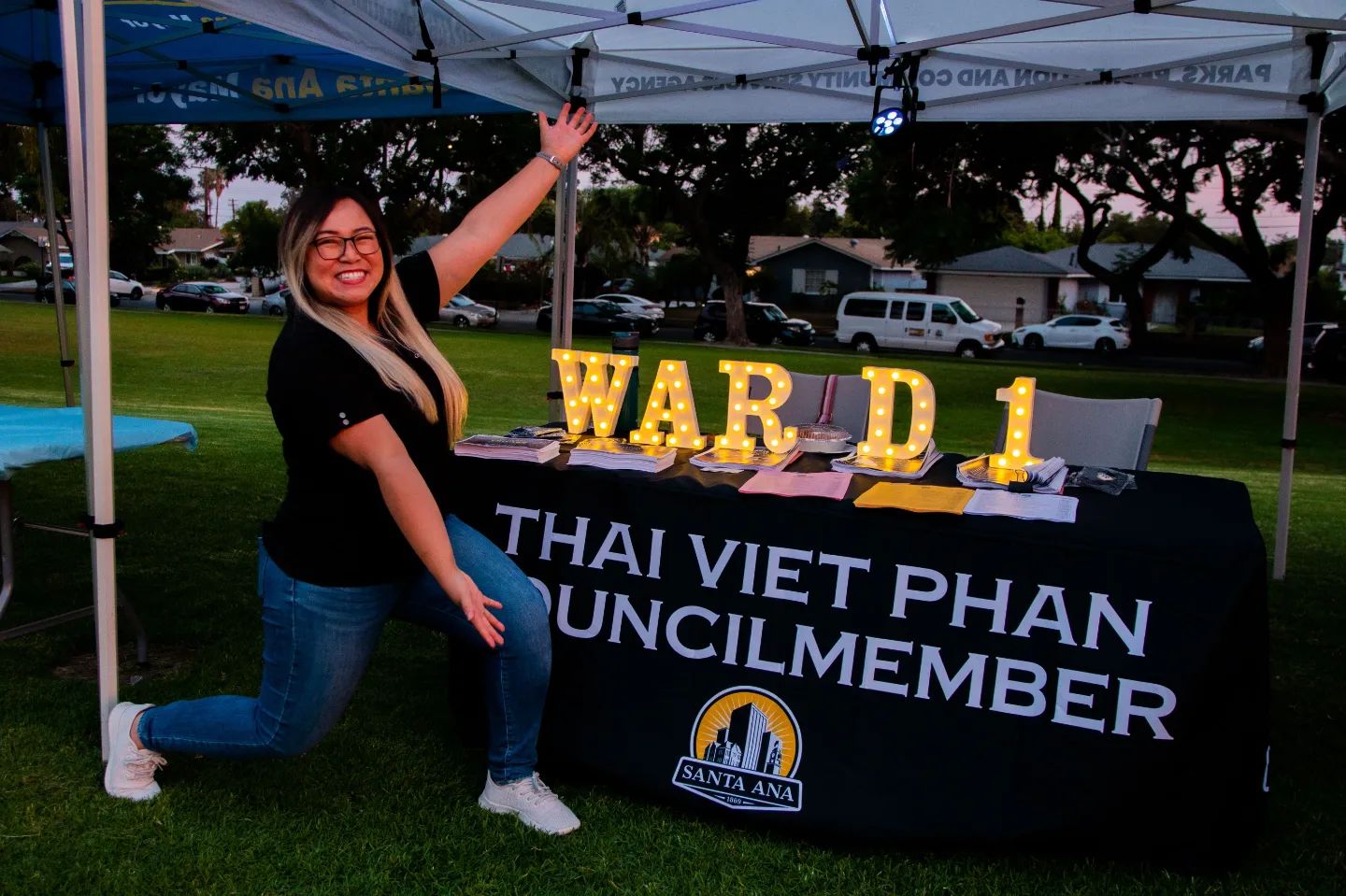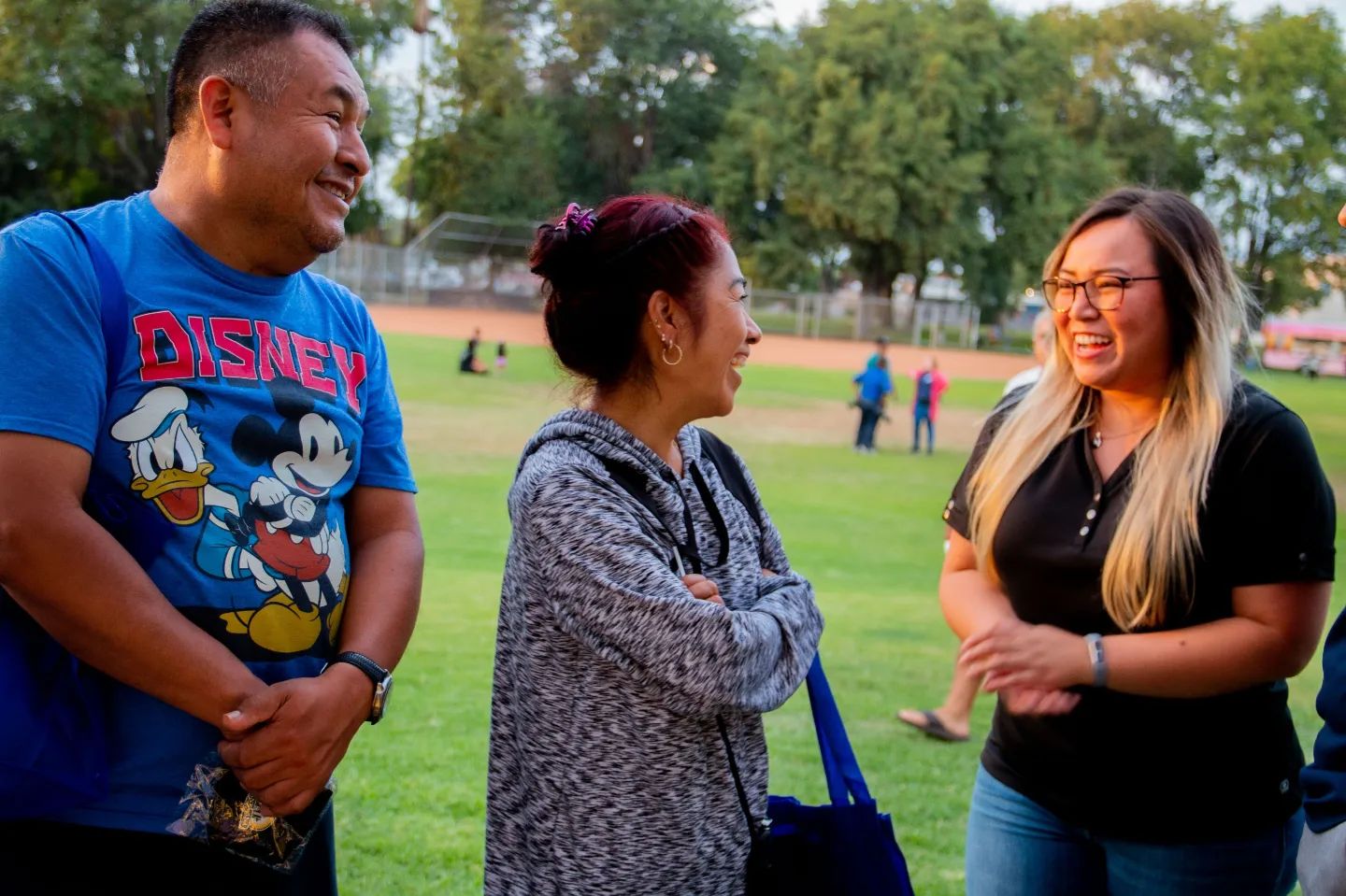 I had such a fun time chatting with residents and enjoying The Smokin Cobras at Windsor Park on August 4! It's so great to see kids and families out enjoying our green spaces and the amazing weather! Huge thanks to our incredible staff who are working tirelessly to bring these city-sponsored events to the public. We cannot do it without them!
---
Proclamation to recognize Mid-Autumn Festival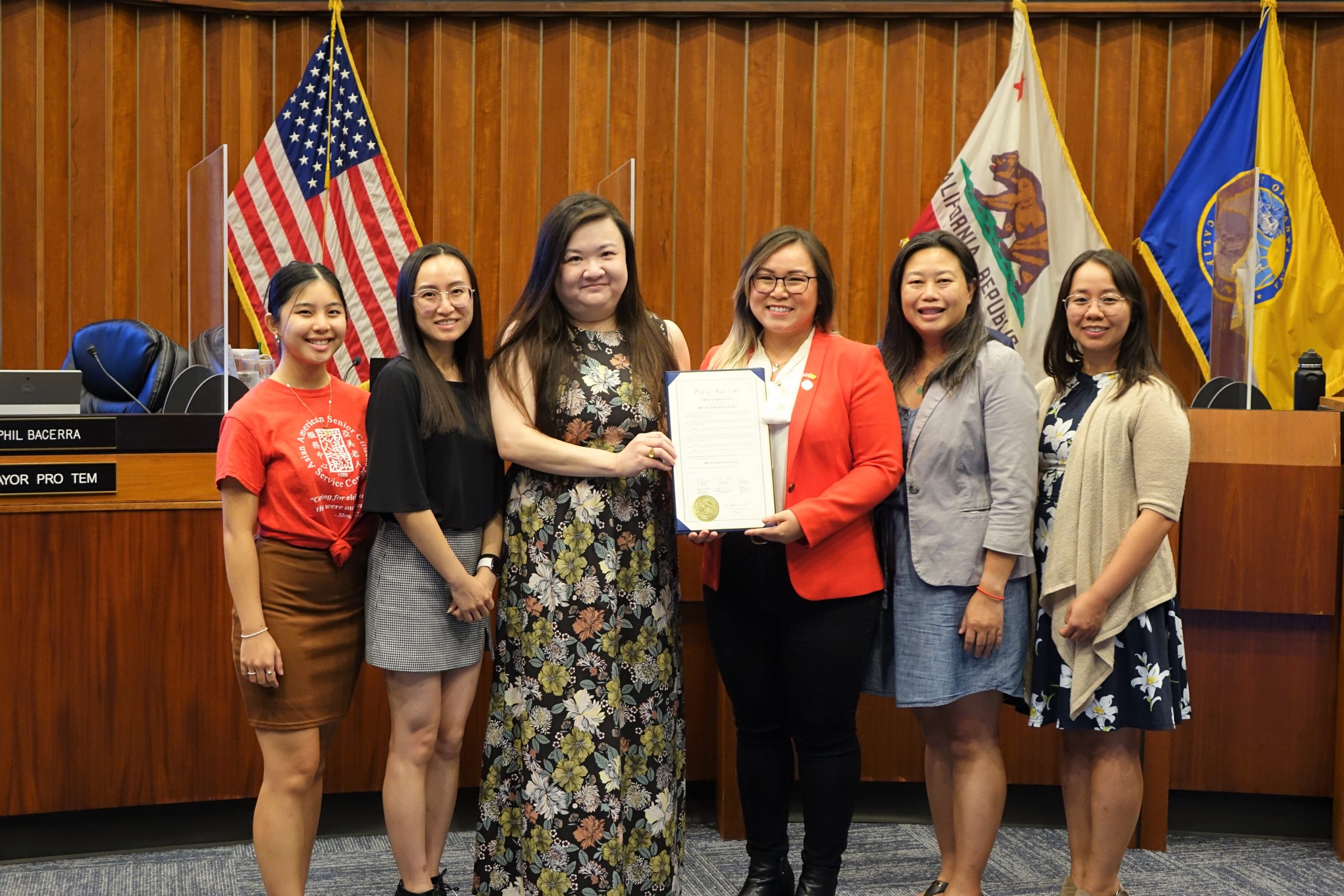 Mid-Autumn Festival, or Moon Festival, or Tết Trung Thu is celebrated by many cultures around the world and is considered the second-most important holiday in many Asian cultures, after the Lunar New Year. Tết Trung Thu is kept alive by the hard work of dedicated community members and elders who strive to educate future generations about Asian culture and heritage. It was my honor to award the proclamation to recognize Tết Trung Thu/Mid-Autumn Festival to Asian American Senior Citizens Service Center (AASCSC), a nonprofit organization that was founded in 1989 in the City of Santa Ana that has provided COVID-19 vaccinations throughout our City as well as numerous senior resources.
---
Supporting Orange County Justice Fund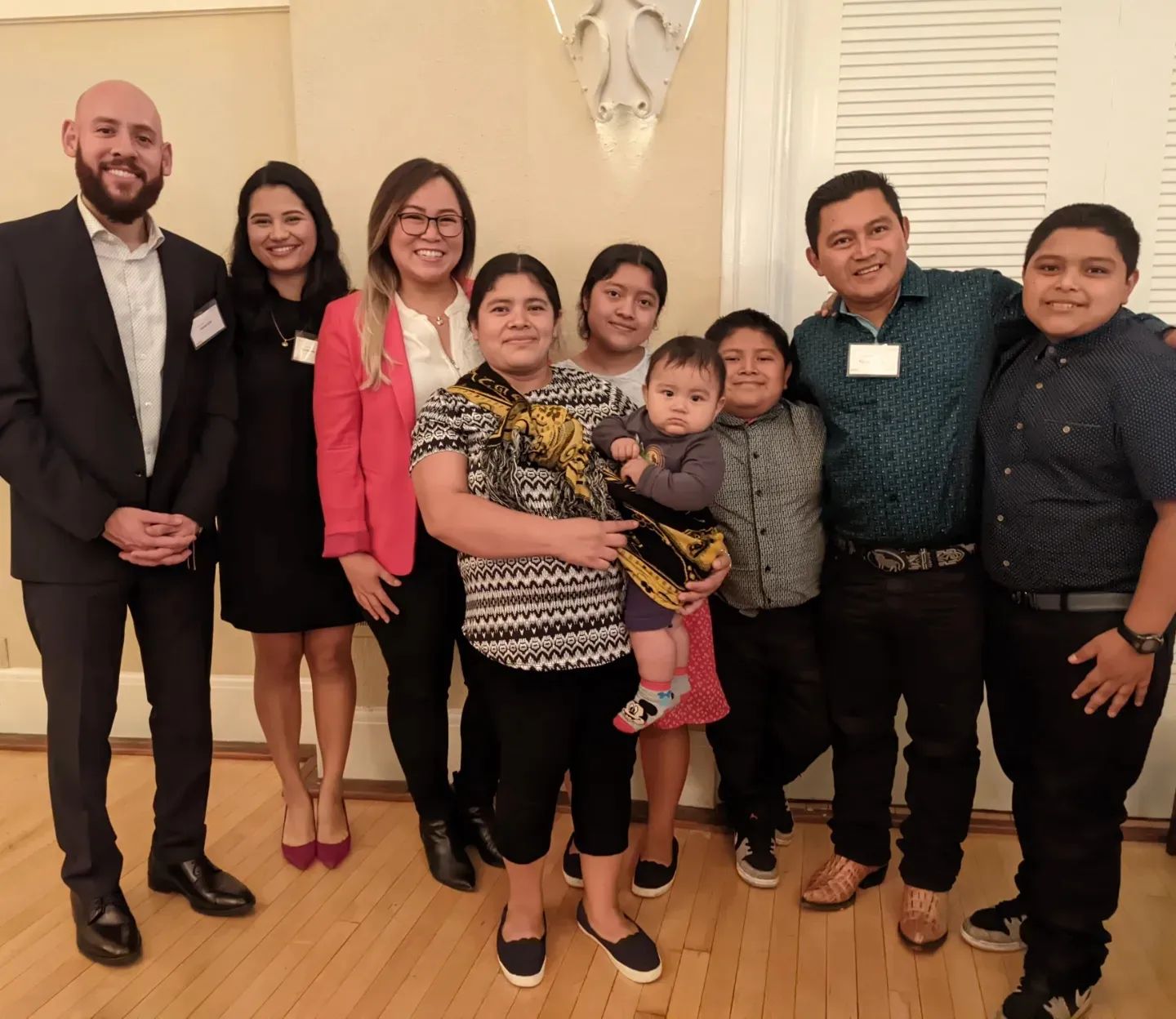 It was my honor to support the Orange County Justice Fund and their mission to help immigrants facing deportation. It was particularly incredible to reconnect with Magdalena and her family and see that they're doing well, even if their journey isn't over. I was a pro bono attorney with the Public Law Center and took on Magdalena's case during the height of the child separation policy. When Magdalena was detained by ICE for missing her check-in by one day, Orange County Justice Fund helped raise her bond and brought her home from the Adelanto Detention Center. Thank you to everyone who works tirelessly to support our immigrant community.
---
Keeping an eye on our water supply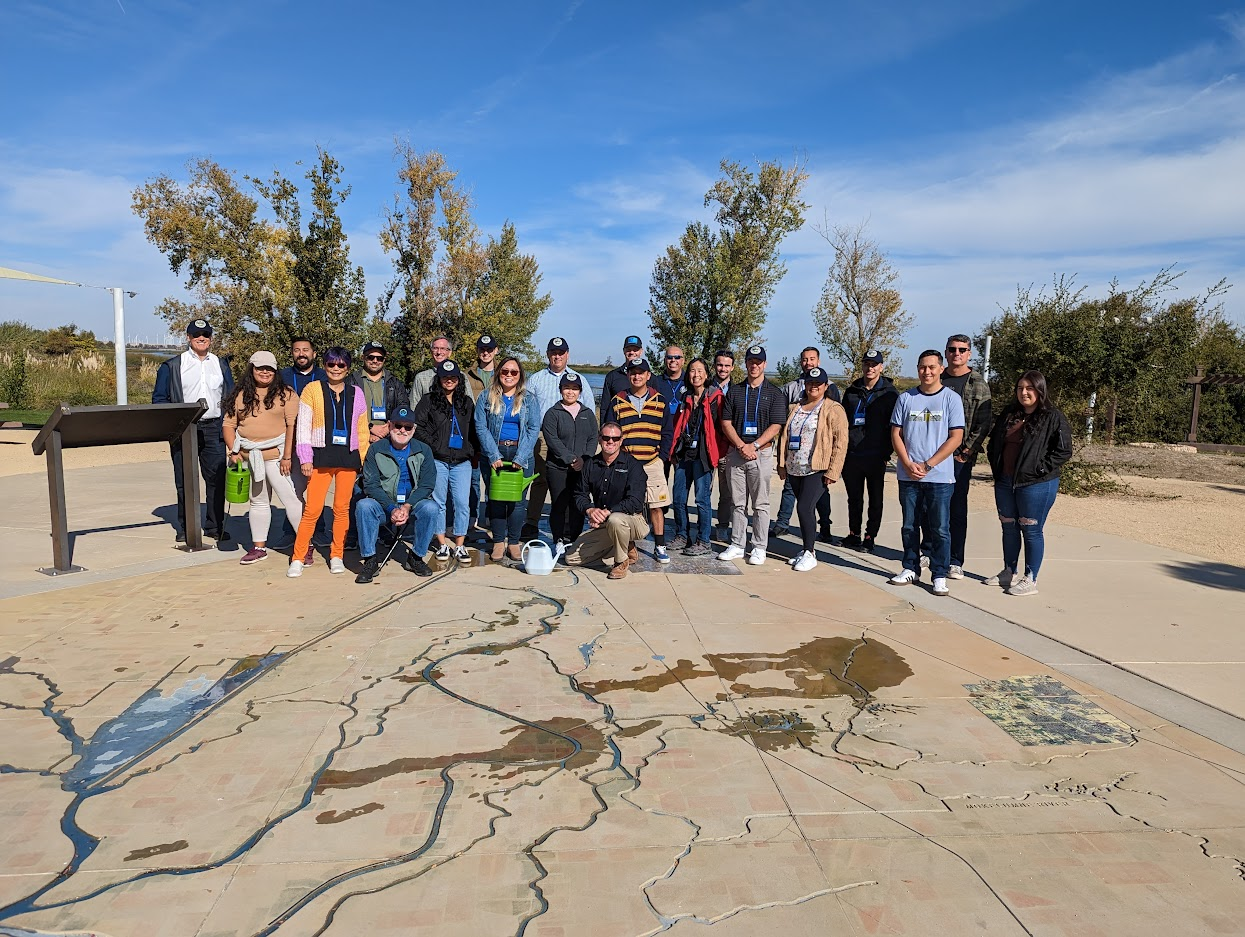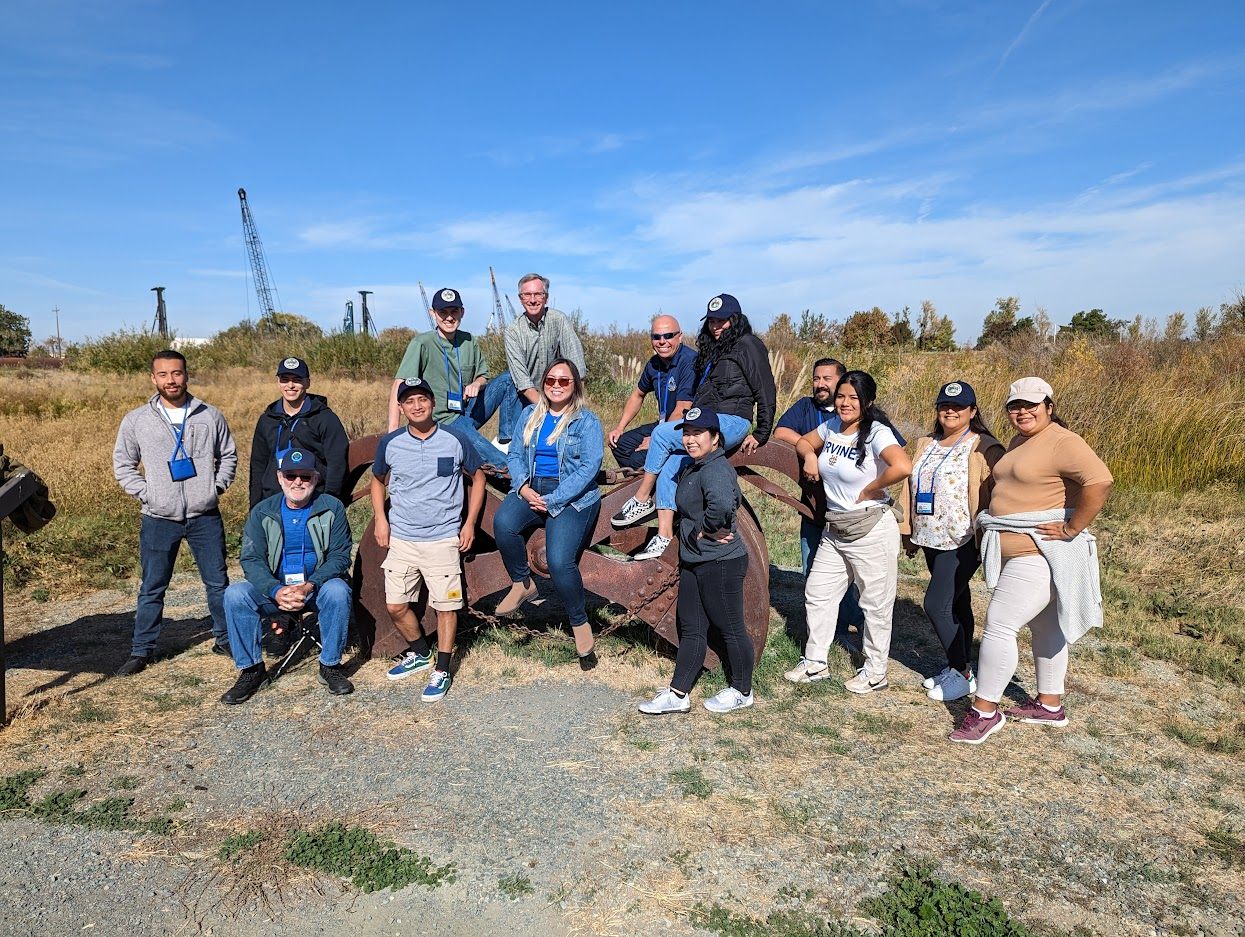 As the City's representative on the Board of Directors for the Metropolitan Water District of Southern California (Met), I am committed to addressing challenges to water supply reliability and educating our residents about the value of this critical resource.
In October, I was honored to lead an Met-sponsored inspection trip of the State Water Project and the Sacramento-San Joaquin Delta, which are central to delivery of the water that Santa Ana receives to supplement our valuable groundwater supply.
Four Santa Ana residents and college students as well as our Ward 1 Community Representative were able to join the tour, all expenses paid. They each expressed appreciation for gaining a better understanding of the water delivery system and the work involved in providing a dependable supply to Southern California. I encourage other college students to keep an eye out for future tours, because the water industry is growing and water knowledge is always important!
Keep an eye out for details about our next tour in spring 2023 – a one-day visit to Met's Diemer Water Treatment Plant in Yorba Linda.
---
Vietnamese Legal Clinic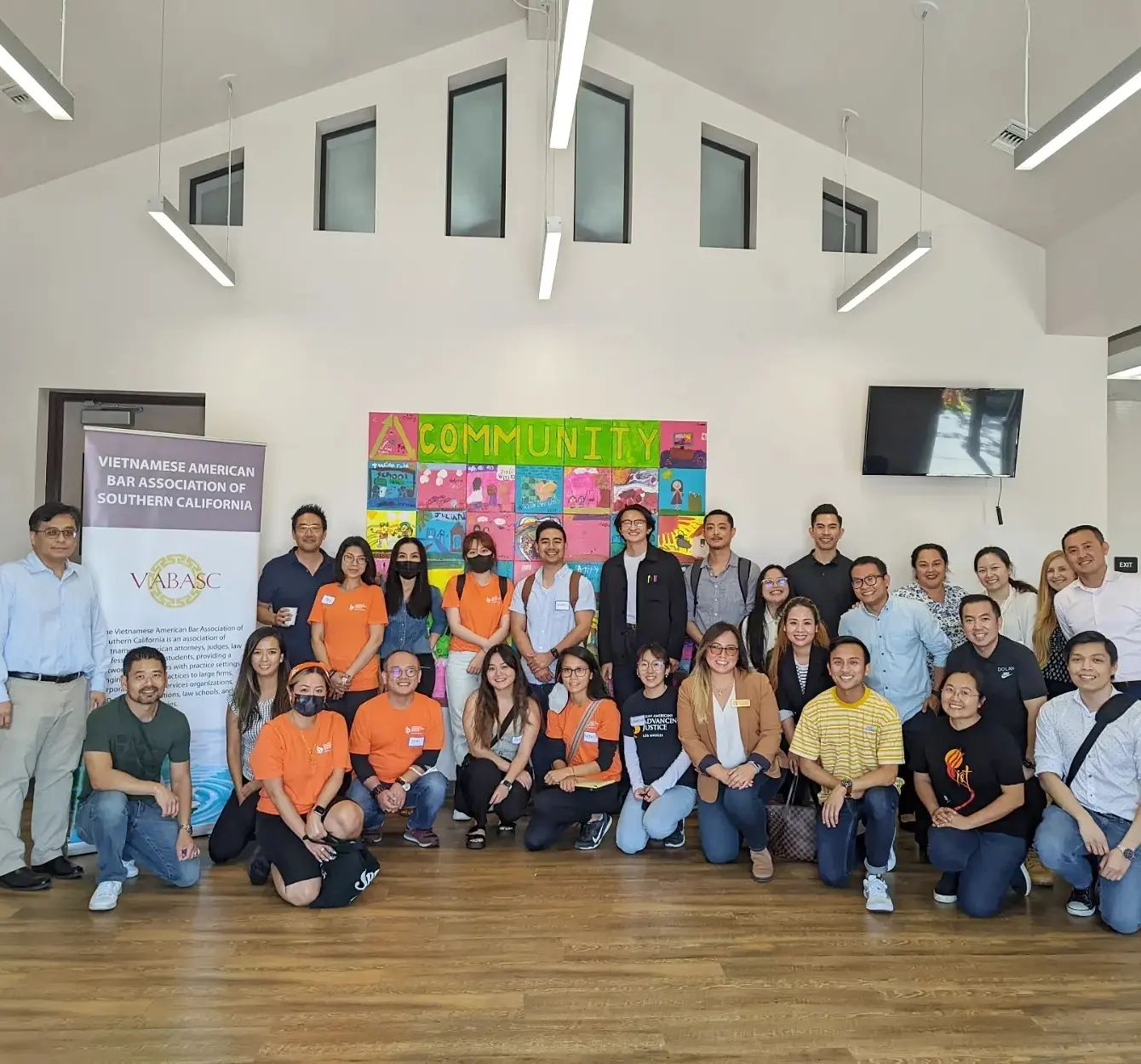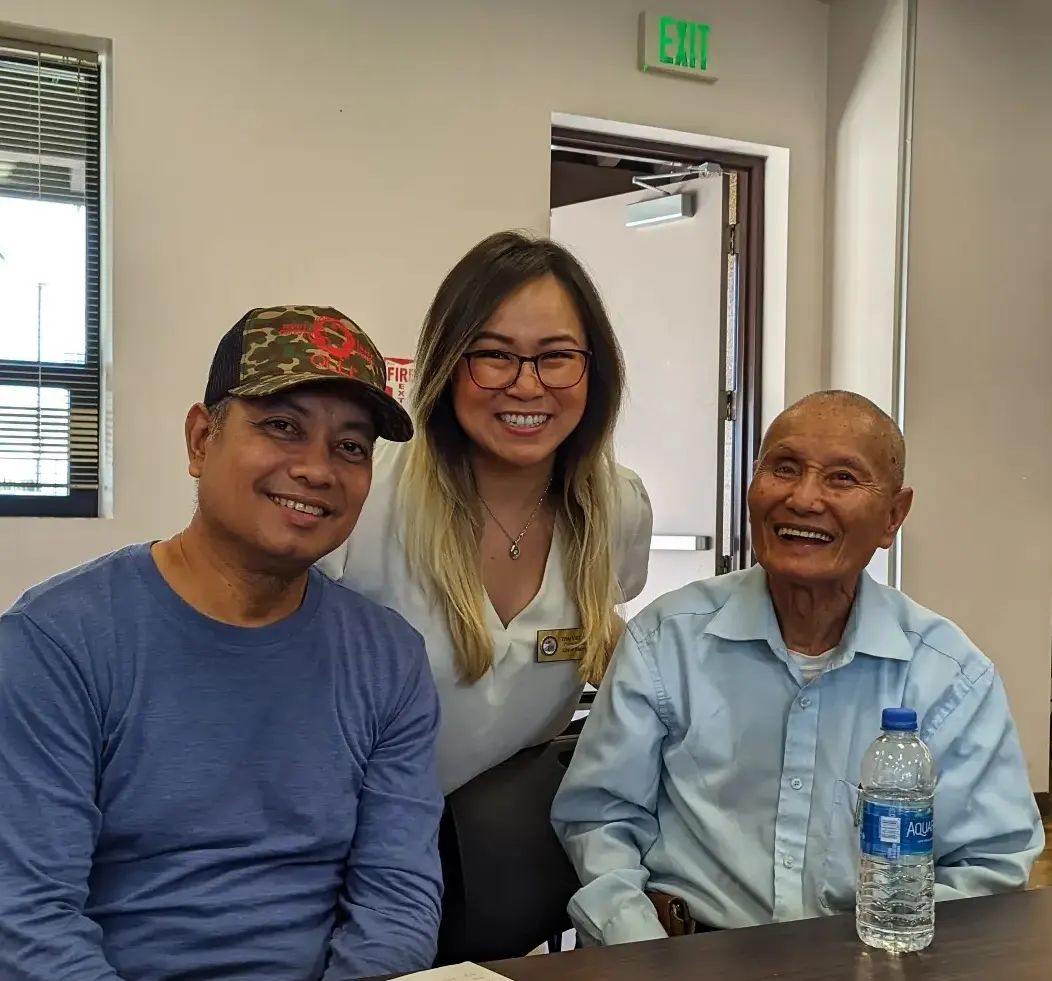 As Vice President of the Vietnamese American Bar Association of Southern California, I partnered with my friend Stanton Councilwoman Alyce Hong Van to host a free Vietnamese legal clinic on Oct. 8 at Stanton Central Park and it was a huge success. Many thanks to the attorneys from VABASC, Public Law Center, Asian Americans Advancing Justice SoCal, Community Legal Aid, Stanton Community Foundation, and all of our incredible volunteers for coming out to help residents with pro bono legal issues. We even had Santa Ana residents drive to Stanton for this free service. I can't wait to bring these incredible partnerships to Santa Ana! Stay tuned!
---
Know our meetings & events
First time homebuyer workshop – November 19

Are you trying to buy your first home? I am happy to work with VIETLA, a nonprofit organization, to host the My First Home Program workshop in Vietnamese at Salgado Community Center on Saturday, November 19, from 10 a.m. to 12 p.m. This program offers down payment assistance loans of up to $120,000 with a 0% interest rate to first-time home buyers purchasing a home in Santa Ana.
---
Winter Village – December 8 to January 8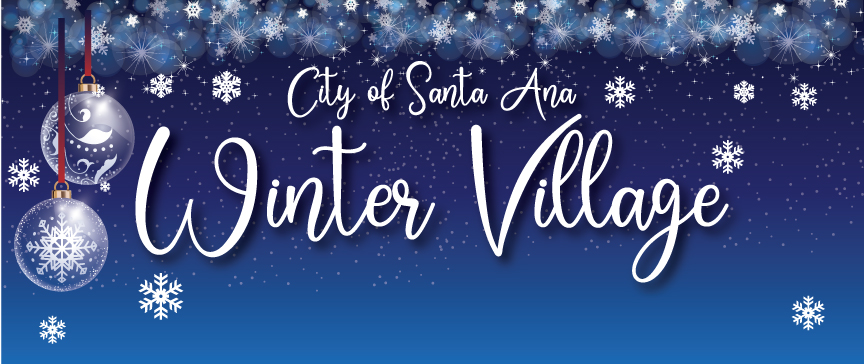 Winter Village is back! Join us for the second annual family-friendly holiday attraction right in the heart of Downtown Santa Ana. Open from December 8, 2022, through January 8, 2023, in the Santa Ana Civic Center Plaza. More information to come.
---
Local events
Resident Days at the Zoo • Third Sunday of each Month
Bowers Museum free Sundays • Santa Ana residents are free each Sunday
Discovery Cube Waste Free Days • Santa Ana residents get free admission to the Discovery Cube on the first Tuesday of the month
Bowers Museum free Sundays: http://bowers.org/images/pdf/Bowers_Museum_Free_Programs.pdf
Cube on the first Tuesday of the month: https://www.discoverycube.org/promotions/
---
Useful resources
Parking Tickets: https://www.santa-ana.org/parking-enforcement/
Public Works: https://www.santa-ana.org/departments/public-works/
Neighborhood Initiatives: https://www.santa-ana.org/departments/neighborhood-initiatives/
Utility Services: https://www.santa-ana.org/municipal-utility-services/
Schedule a bulky item pickup: Call Republic Services (877) 328-2074
Police Non-Emergency Line: (714) 245-8665
Emergency Water Services: (714) 953-8026
Who Do I Call? https://www.santa-ana.org/who-do-i-call
---
Stay connected!
Follow the City on social media
Get involved in our City! Follow the City of Santa Ana on Instagram, Facebook, and Twitter, get community alerts on Nixle, and join your neighborhood community on Nextdoor.