The City of Santa Ana Treasury Division administers Municipal Utility Services (MUS). The MUS office is open Monday through Thursday 7:30 am to 5:30 pm and on alternating Fridays from 8:00 am to 5:00 pm. The MUS office is closed every other Friday and legal holidays. The office telephone lines are open from 8:00 am to 5:00 pm. To contact the Municipal Utility Services office during office hours please call (714) 647-5454.  For emergency water service outside of normal business hours please call (714) 953-8026.
MUS includes basic service charge, water consumption, utility users' tax, refuse, sanitation, and sewer service charge.
How to Find Your Checking Account Information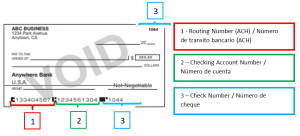 Please verify that you are using the correct Routing Number and Checking Account Number for payment. Por favor verifique que está usando el Número de transito bancario y el Número de cuenta correcto.
If the electronic check payment is returned for any reason, then you will be charged a Return Check Fee of $25.00 for the first return or $35.00 for subsequent returns. Si el pago electrónico es rechazado por cualquier razón entonces se cobrara un cargo de $25.00 por el primer cheque devuelto y $35.00 por cada subsiguiente cheque devuelto.