David's Story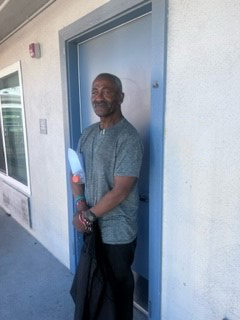 Homeless Liaison Officers and outreach workers are in the business of advocating for those that cannot advocate for themselves. Sometimes individuals are forgotten and slip through the cracks. We are grateful for our partnerships and for dedicated staff who don't give up. The individual depicted in this picture (photo and story are shared with his permission) is one of those individuals.
Everyone is different. Some unhoused individuals need to be case-managed from a shelter environment and others need to be case-managed from the streets. David was one of those individuals who needed to be case-managed from the streets. The Santa Ana Quality of Life Team spent years taking David to the shelter, in fact, over two dozen times. Sometimes David would last days, other times, he would last just hours, but one thing is for certain, no one ever gave up on him.
As Outreach workers case managed David in preparation for housing, QOLT not only kept him safe while he was on the streets, but spent time counseling him and ensuring he had clothing and food. Despite David's transient nature, Orange County Outreach and QOLT never gave up.
All this hard work has paid off. After 30 years of homelessness, David has received keys to his new home at The Orchard in Santa Ana.
---