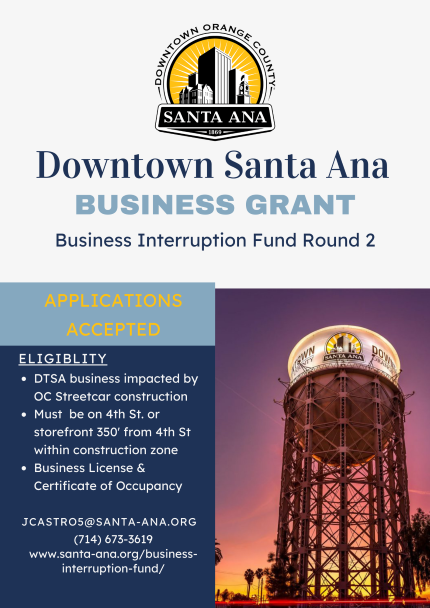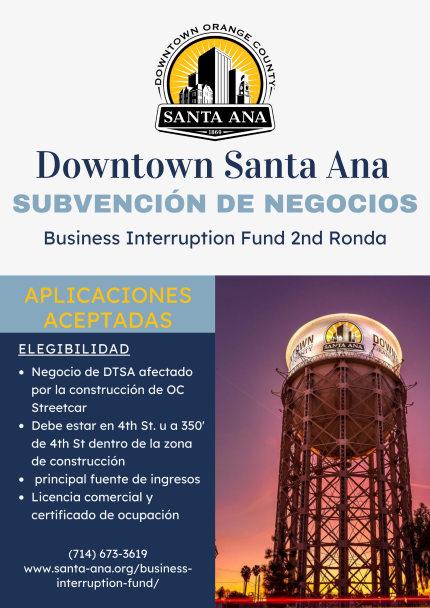 Santa Ana Business Interruption Fund Application 2nd Round
The Santa Ana Business Interruption Fund 2nd Round (SABIF) program provides financial assistance to small "mom and pop" businesses located along the OC Streetcar transit project that are impacted by transit rail construction. SABIF is a demonstration of the City of Santa Ana's commitment to being a trusted partner and stakeholder.
The City of Santa Ana has designated a second round of $1,500,000 for the SABIF program for Santa Ana small businesses with 25 or less employees that rely on foot traffic flow as their main source of revenue and are directly impacted by the OC Streetcar construction on 4th Street or have a business within 350 feet of 4th Street within the construction zones.
Grant Amounts:
The grant amount will be limited to 50% of rent/lease for 6 months, not to exceed $10,000 per business. Pre-approved pushcart peddlers qualify for $2,500 and independent contractors qualify for $1,300.
The grant amount will be limited to 50 percent of rent/lease for six months, not to exceed $10,000 per business.
What's needed to apply
This application must be submitted in its entirety along with copies of the following documents, submitted in person at City Hall or via email (as PDF only) to jcastro5@santa-ana.org:
Business License from the City of Santa Ana
Certificate of Occupancy
Identification or Driver's License of business owner(s)
Lease Agreement or Lease Letter
Independent Contractor must also submit:

1099 Form
Letter from DTSA business owner
Small businesses that are approved must be able to receive funds directly deposited to a checking or savings account. Applicants are required to submit the following forms:
Vendor Information Form
Automated Clearing House (ACH) Form
W-9 IRS Form
Voided Check
Need help? Contact us
If you have any questions about the BIF or need assistance with completing the application, please contact Julie Castro at jcastro5@santa-ana.org or (714) 673-3619.
Additional Grant for Independent Contractors: