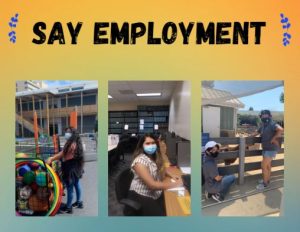 The Santa Ana WORK Center is happy to announce that we are now accepting applications for the Santa Ana Youth Employment Program (or "SAY" for short).  The City of Santa Ana has allocated funds to operate the Santa Ana Youth (SAY) Employment program. The SAY Employment Program administered by the Santa Ana WORK Center will provide paid work experience to youth ages 16-21 years old. Youth must complete the application and upload the required documents. Selected participants can work 20 to 40 hours per week. Hours are flexible around your school schedule.
The selection process is first-come, first-served, and must meet the following criteria:
Questions
For questions, call (714) 565-2682 or e-mail SAYEmployment@santa-ana.org.
For businesses who are interested in becoming a worksite and provide meaningful work experience to our Santa Ana Youth, please contact us at (714) 565-2683 or e-mail SAYEmployment@santa-ana.org.