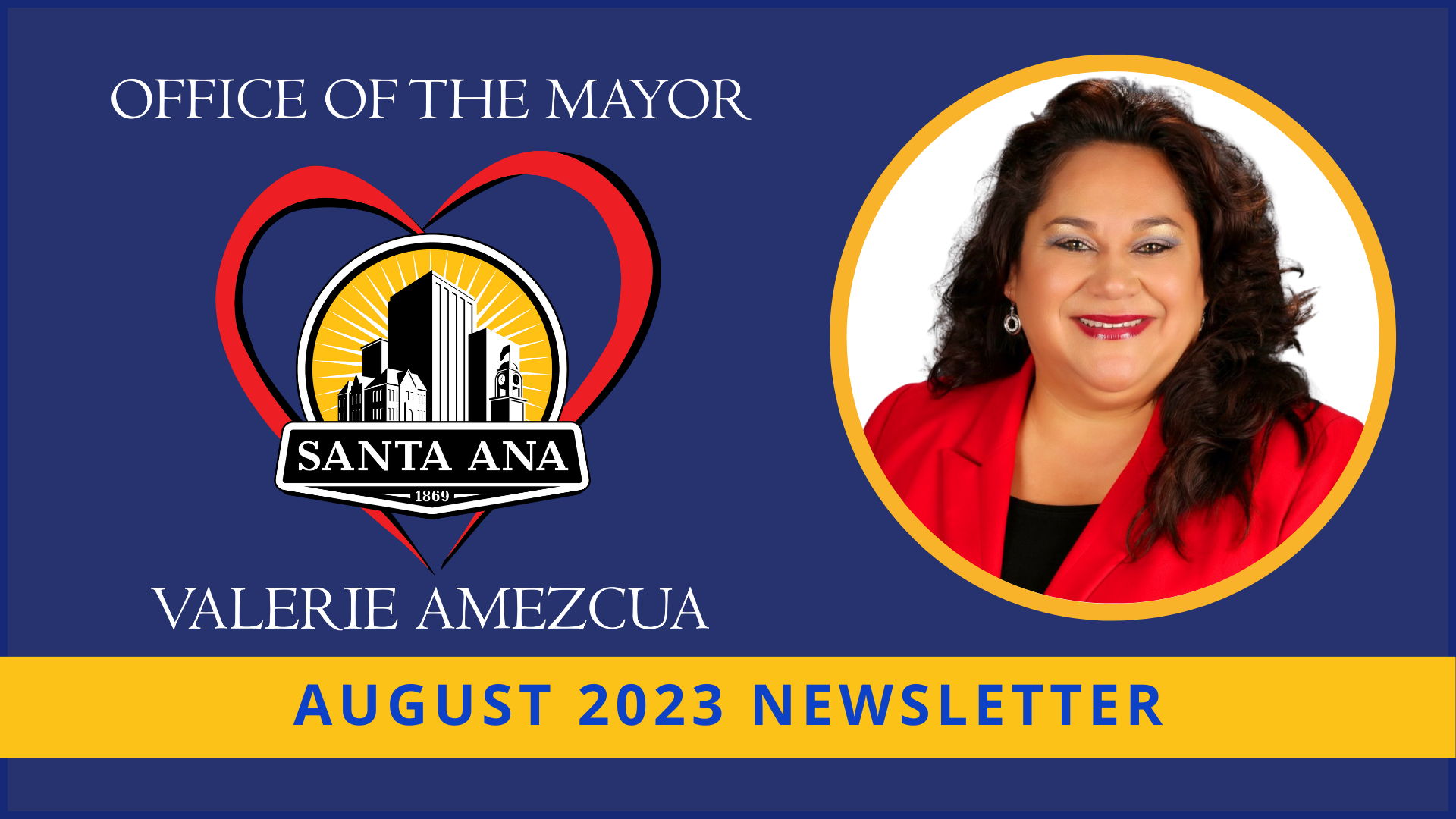 Official newsletter of Santa Ana Mayor Valerie Amezcua.
Keeping the community informed about local events, City news, and resources.
Dear Community,
As we step into August, it's hard to believe how quickly summer has passed, and now the new school year is upon us. I want to extend my best wishes to all our students for a fantastic academic year ahead!
To ensure our students are well-prepared for a healthy school year, I invite you to join the City of Santa Ana, along with the American Heart Association and OC Health Care Agency, for a Health Fair on Saturday, August 12th, from 10 a.m. to 1 p.m. at our Main Library. This event is free and will offer preventive heart screenings, nutrition resources, and dental check-ups, and, thanks to our event partners, we'll also be adding Blood Pressure Monitoring Kits to our Library of Things Collection. You can find more details about the event by visiting this link.
In other city news, I had the pleasure of speaking at the City of Santa Ana and Republic Services press conference, where we unveiled the company's first electric collection vehicle (EV) in Republic's California fleet. This is a significant milestone, as it marks the first EV trash truck for the City of Santa Ana and Orange County. You can read more about this exciting event by reading the press release here.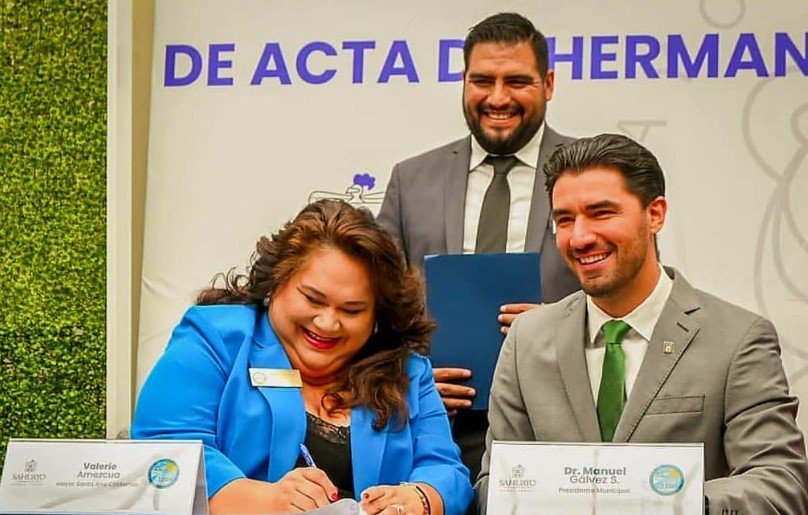 Lastly, it was a tremendous honor for me to sign the City of Santa Ana's first Sister City proclamation with Mayor Dr. Manuel Galvez Sanchez in Sahuayo, Mexico. The Sister Cities process began a few years ago, and I am grateful to Mayor Galvez Sanchez for inviting me to finalize this process during his visit earlier this year. During my time in Sahuayo, I was deeply touched by the warmth and affection shown by the people I met. Mayor Galvez Sanchez expressed his happiness, saying, "We are family and friends." I responded by emphasizing that this is just the beginning of what I hope will be a long-lasting friendship between our cities. Read more about my visit and see photos here.
Wishing all of you a wonderful day, and as always, I am eagerly looking forward to meeting and engaging with you in the community.
Sincerely,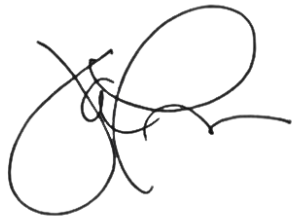 Mayor Valerie Amezcua
Email: vamezcua@santa-ana.org
---
City Hall
Upcoming Holiday and Closed Friday schedule: (City Hall non-essential offices are closed on alternating Fridays throughout the year):
Friday, August 18, 2023 – City Hall closed

Friday, September 1, 2023 – City Hall closed

Monday, September 4, 2023 – City Hall closed for Labor Day
The next City Council meeting will be held on Tuesday, August 15, at 5 p.m. at Santa Ana Council Chamber, 22 Civic Center Plaza, Santa Ana. Official City meetings are open to the public and I encourage you to participate. Council agendas and minutes may be accessed here.
---
City resources
City Hall main line

Code Enforcement

Emergency Water Services

Graffiti Hotline

mySantaAna app

Report various issues: (714) 647-6900

Public Works dispatch (street sweeping, trees)

Homeless Services

SMART program for non-emergency homeless-related issues
(714) 242-3706

The city will offer down payment assistance loans to first-time home buyers to aid in the purchase of a home within the City of Santa Ana.

Employment Opportunities
Have you downloaded the mySantaAna app?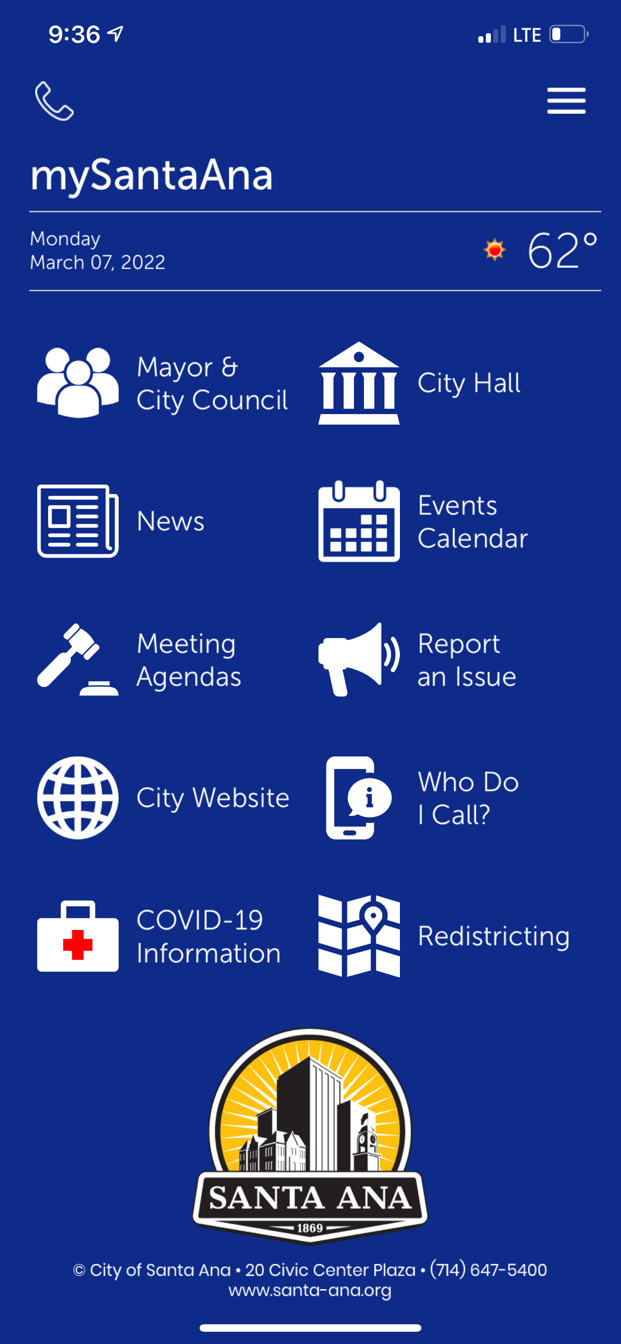 Report issues like:
illegal dumping, graffiti removal
homeless encampments
trash and recycling missed pickups
park issues
potholes
and more!
Community Resources
Homelessness support for families and children.

Provides assistance with housing placement.

Free Drive Through Food Pantry

(714) 647-3380

Open positions available at Irvine locations.

Provides and ships nutritious, farm fresh produce to communities who need it most.

Assistance Fund to support customers having issues with their gas bills.

LIHEAP is a federally funded program that helps low-income households pay for heating or cooling in their homes.
---
City Council Meetings Highlights
Highlights of the July 18 and Aug. 1, 2023, City Council meetings:
Approved $2 million in Homeless Housing Assistance and Prevention funds and 8 project-based vouchers for the Intergenerational Housing Project

Approved and awarded a construction contract of $5.2 million to Onyx Paving Company, Inc. for the Fremont Elementary and Spurgeon Intermediate Safe Routes to School Projects

Awarded a construction contract of $1.6 million to Onyx Paving Company, Inc. for residential street repairs.

Held a public hearing on recovery of uncollected costs for abatement of dangerous and abandoned buildings.

Increased the contract for asphalt pothole repairs by $200,000 with All American Asphalt

Approved a $350,120 agreement with LOC Architects for professional services for the Santa Ana Zoo Education Hub

Accepted a $210,000 grant from the U.S. Department of Justice for improving criminal justice response to domestic violence, dating violence, sexual assault, and stalking

Accepted a donation of a Police K-9, equipment, and supplies for the Santa Ana Police Department's K-9 program
---
Non-profit highlight
Girl Scouts of Orange County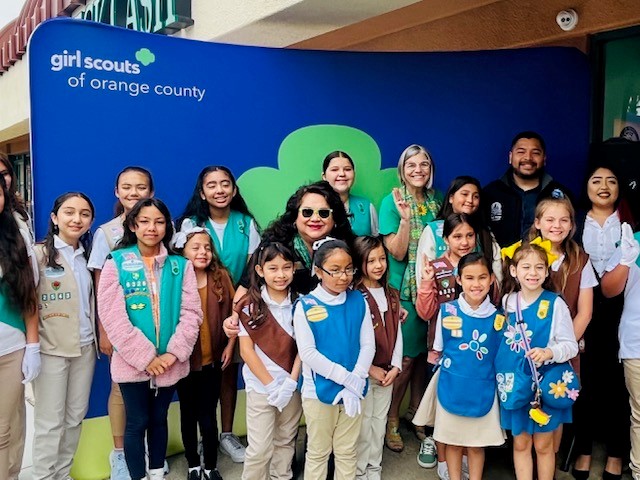 Girl Scouts of OC opened a new center in Santa Ana! This non-profit helps make our community a better place to live by contributing more than 500,000 hours each year to community service. 
---
Small business spotlight
Hummus Way Restaurant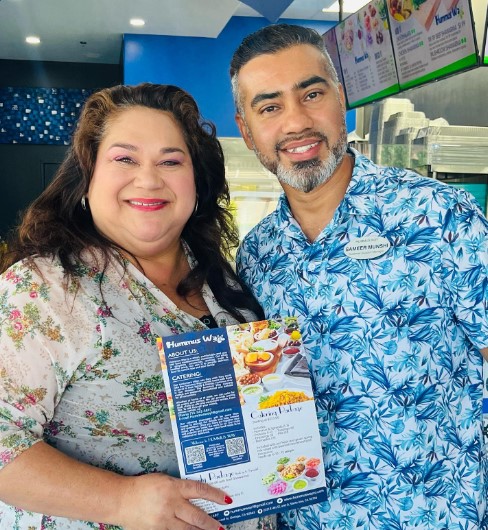 Love supporting small businesses! Found this new Middle Eastern restaurant on the corner of 4th and Tustin. Plus, I got a chance to meet the owner Sameer who was happy to open his second restaurant here in Santa Ana.
---
City News and Recognitions
Santa Ana Boulevard Grade Separation Project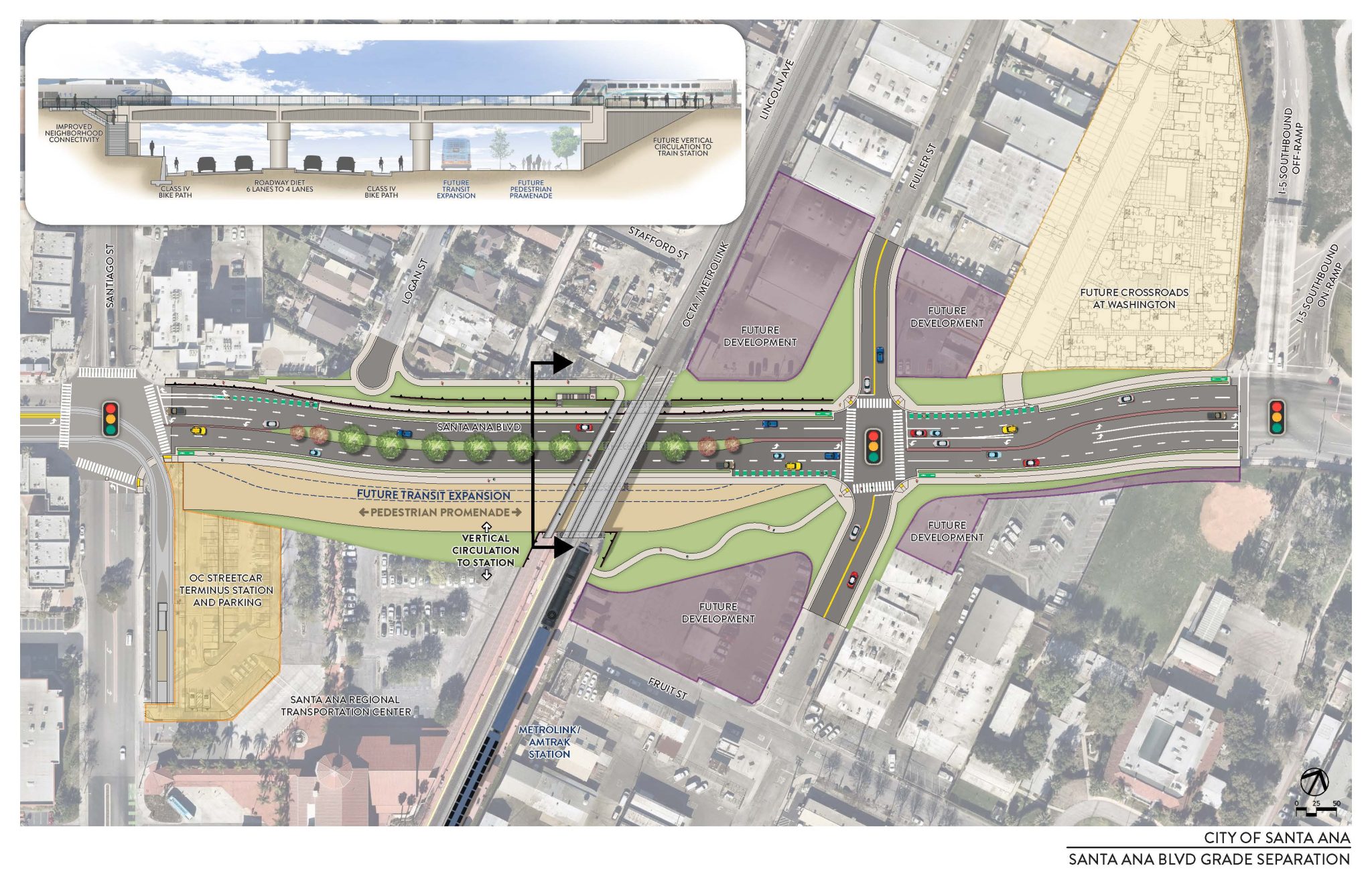 Exciting news! The California State Transportation Agency (CalSTA) awarded the CIty of Santa Ana Public Works Agency $7 million for the Santa Ana Boulevard Grade Separation Project as part of the Transit and Intercity Rail Capital Program (TIRCP). This project will improve pedestrian and bicycle user safety, enhance traffic operations, improve emergency response times and reduce existing traffic congestion along Santa Ana Boulevard. The $7 million in TIRCP funding will allow the City to move forward with the preliminary engineering, environmental planning, and final design phases of this highly anticipated project.
Learn more about the Grade Separation Project
---
Residential Parking Permit Study and Survey

Our Public Works Agency is revamping the Residential Permit Parking Program and we are seeking your input, comments, and suggestions to define the program for years to come. The study will consist of tasks and objectives to develop a citywide permit parking program to provide balanced parking to support residents' quality of life, visitors, businesses, and commuters.
The survey is available in three different languages. Take the parking survey and learn more about the program through the links below.
---
Save the Date and Join Me
Housing Authority Forum – August 19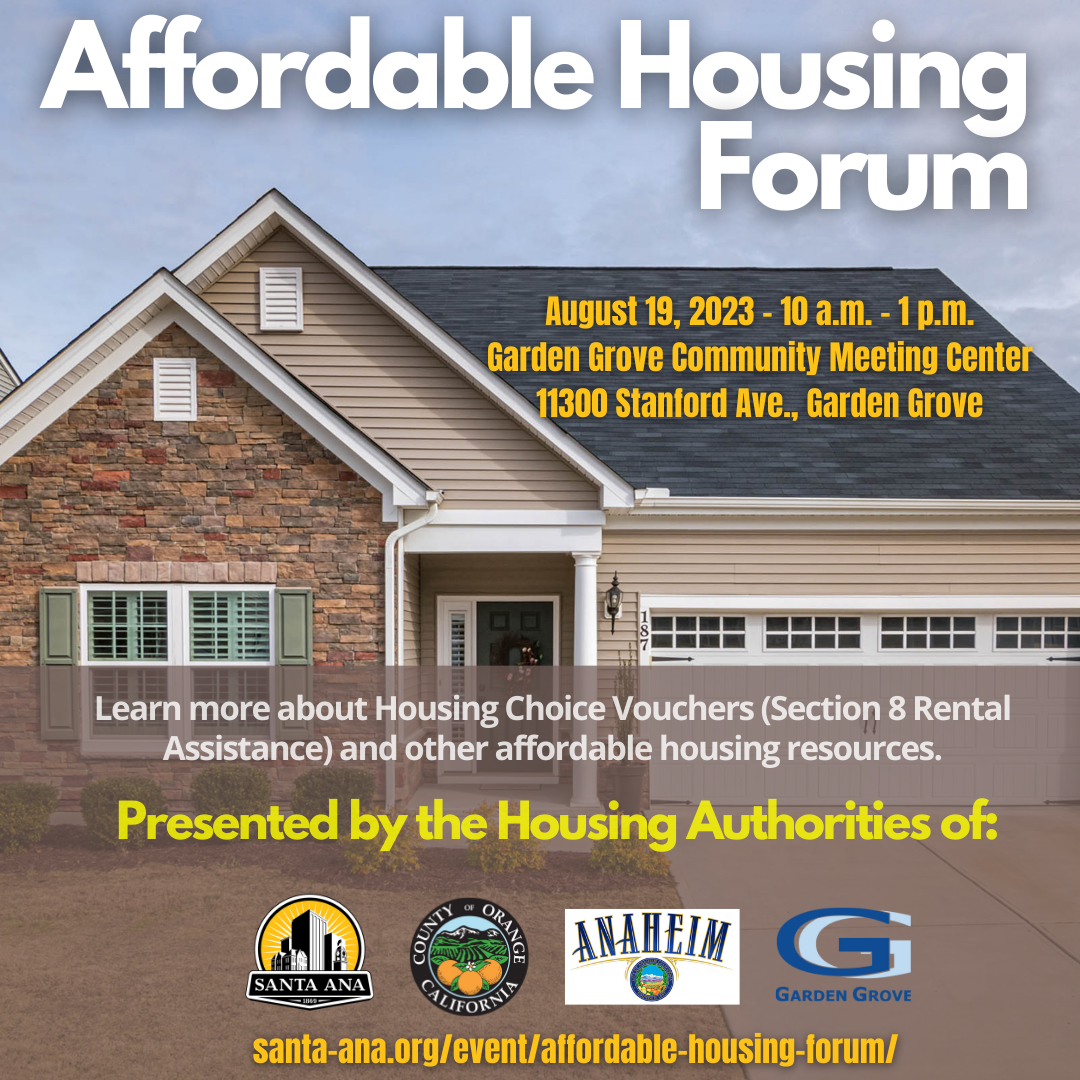 It's my honor to join other leaders from the County and neighboring Cities to host an Affordable Housing Forum. The City of Santa Ana Housing Authority is partnering with the housing authorities of Orange County, Anaheim and Garden Grove to present information about Housing Choice Vouchers (Section 8) and affordable housing projects. Participants will be able to ask questions and learn about how to apply for new housing opportunities.
Saturday, August 19
10 a.m. – 1 p.m.
Garden Grove Community Meeting Center, 11300 Stanford Ave., Garden Grove
---
Coffee with the Mayor – August 26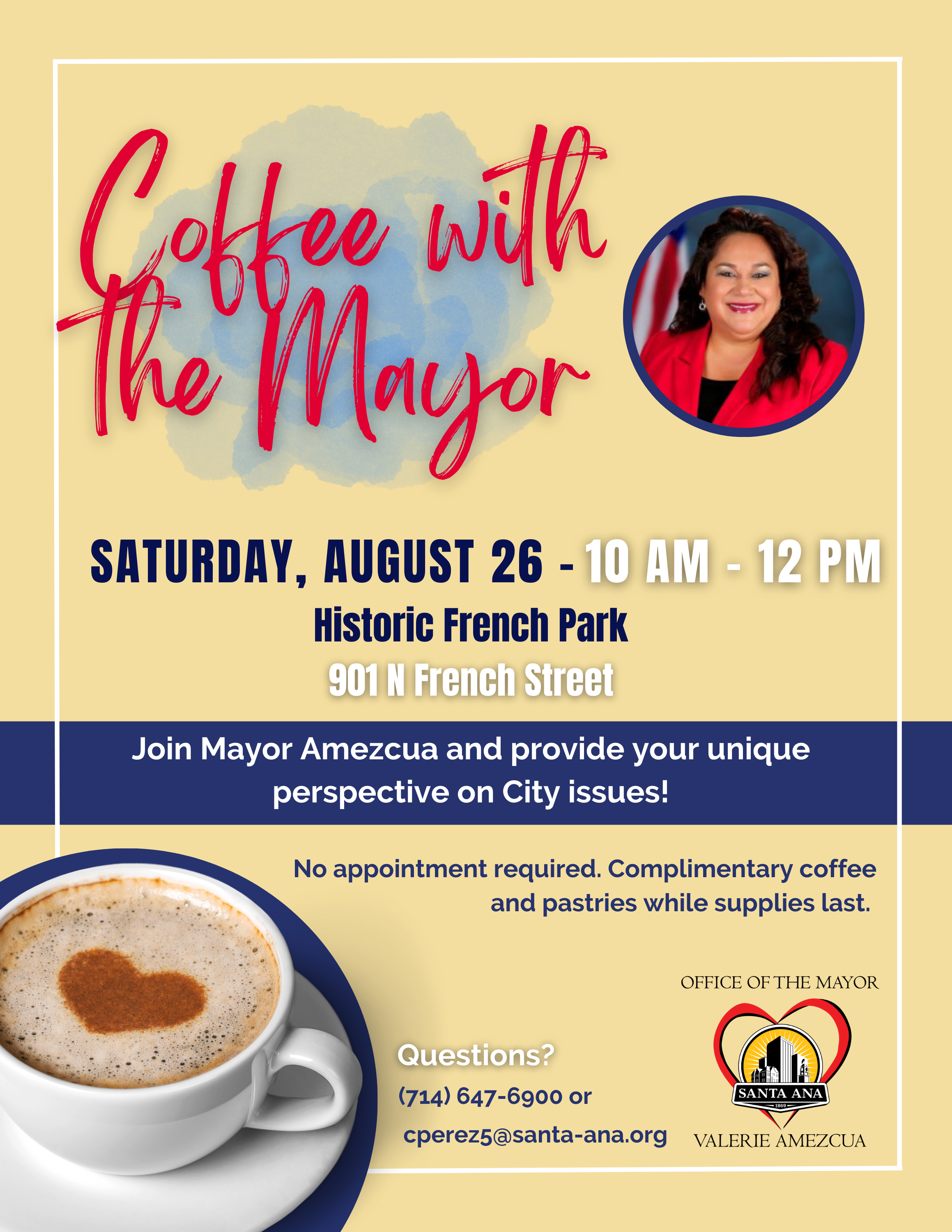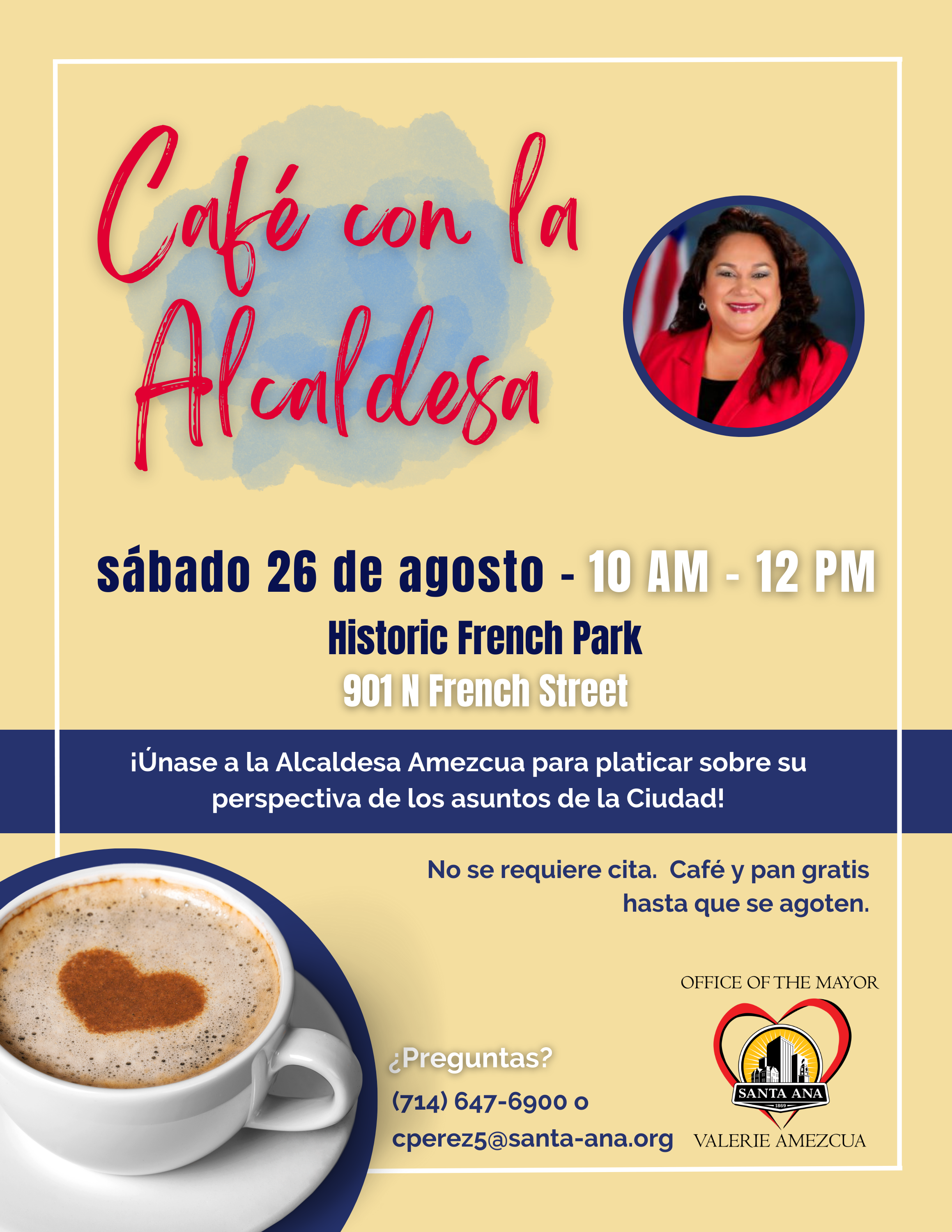 Saturday, August 26
10 a.m. – 12 p.m.

Historic French Park, 901 N. French St., Santa Ana
---
Upcoming Community Events
Summer Concerts in the Park – Thursday, August 10

Summer Concerts in the Park will have the final performance on Thursday, August 10! Join us from 5:30 to 8 p.m. at Memorial Park for the next concert in the series to sing and dance along with headliner Sangria Band.
---
Libraries with Heart health fair – Saturday, August 12

In partnership with the American Heart Association and OC Health Care Agency, the Santa Ana Public Library will be the first library in Orange County to add blood pressure monitoring kits to our Library of Things collection. Join us as we celebrate this important community resource with a health fair at our Main Library. Featuring preventive heart screenings, health-focused Library of Things items, nutrition resources, dental screenings, and more! This event is free and open to all ages.
---
Free Resident Day at Santa Ana Zoo – Sunday, August 20

Free Resident Day at Santa Ana Zoo: The Zoo is free for residents every third Sunday!
Sunday, August 20
10 a.m. to 5 p.m.
Santa Ana Zoo, 1801 E. Chestnut Ave.
---
Chicano Heritage Festival – Sunday, August 27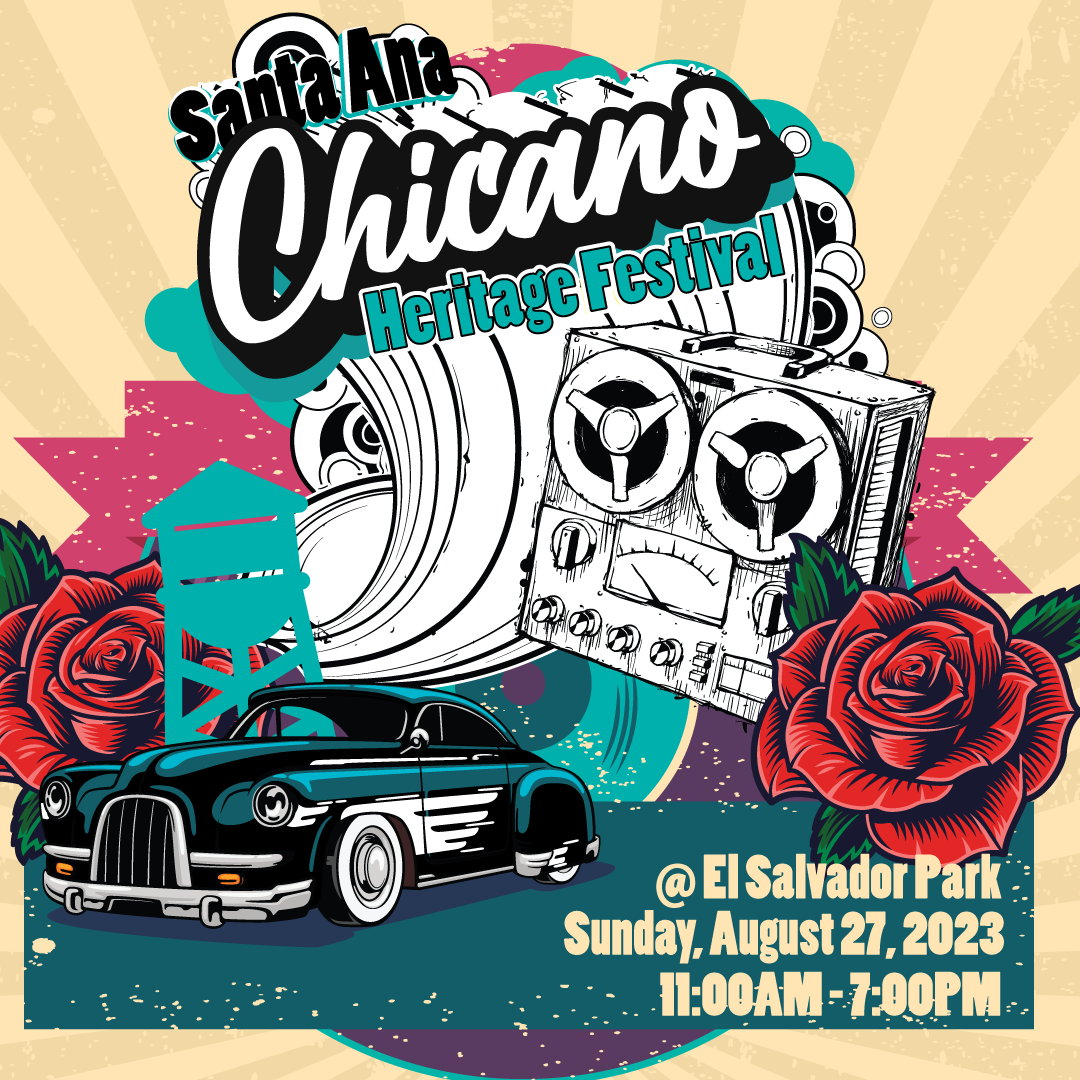 Chicano Heritage Festival is back to celebrate our community's Chicano culture. Admission is free. This second annual special event will include festivities celebrating all aspects of Mexican American culture, including live performances, car cruise and show, carnival rides, kids zone, cultural exhibitors, and so much more.
Sunday, August 27
11 a.m. to 7 p.m.
El Salvador Park, 1825 W. Civic Center Drive
---
Fiestas Patrias Parade – Sunday, September 17

The traditional Fiestas Patrias parade is back and will be held on Sunday, Sept. 17! The Fiestas Patrias festival takes place Sept. 16-17.
---
Flight! A Live Butterfly Experience – Through September 30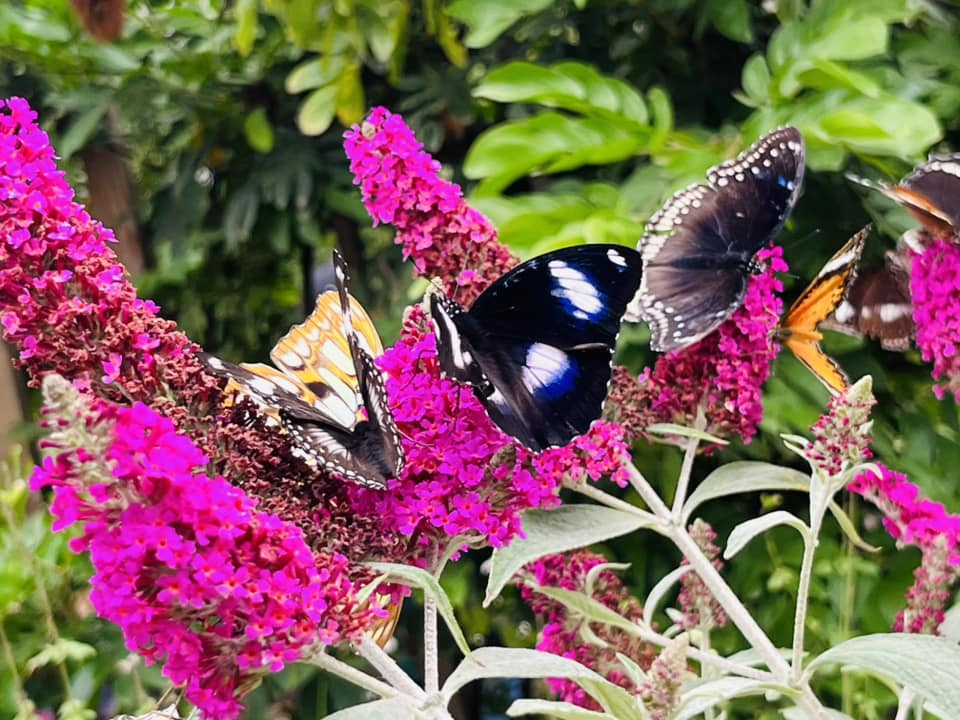 Flight is now open for the 2023 season at the Santa Ana Zoo at Prentice Park. Flight runs through September 30.
Flight! A Live Butterfly Experience
---
Mayor on the Move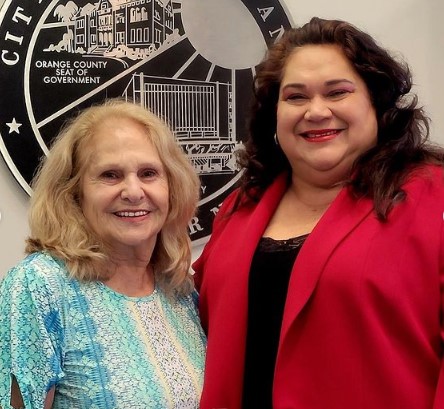 Thank you, Silvia Ichar, with ParaTodos magazine for interviewing me.
---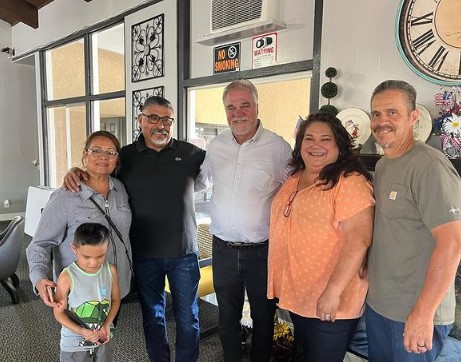 My monthly Coffee with the Mayor at Fairview Village Mobile Home Park.
---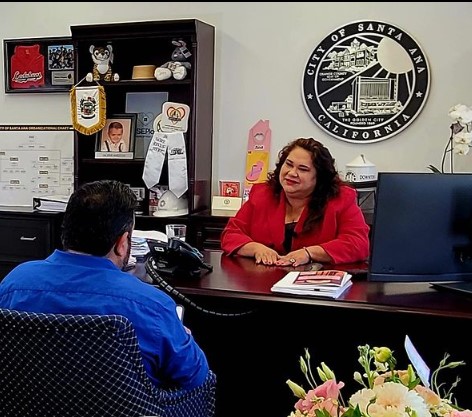 Thank you, Mekahlo Medina with NBC4 News for interviewing me. Watch the NBC4 story
---

Thank you, Diedre Thu-Ha Nguyen with Vietnamese America Television (VNATV) for interviewing me.
---
Victoria's Corner: Community Outreach Fundraiser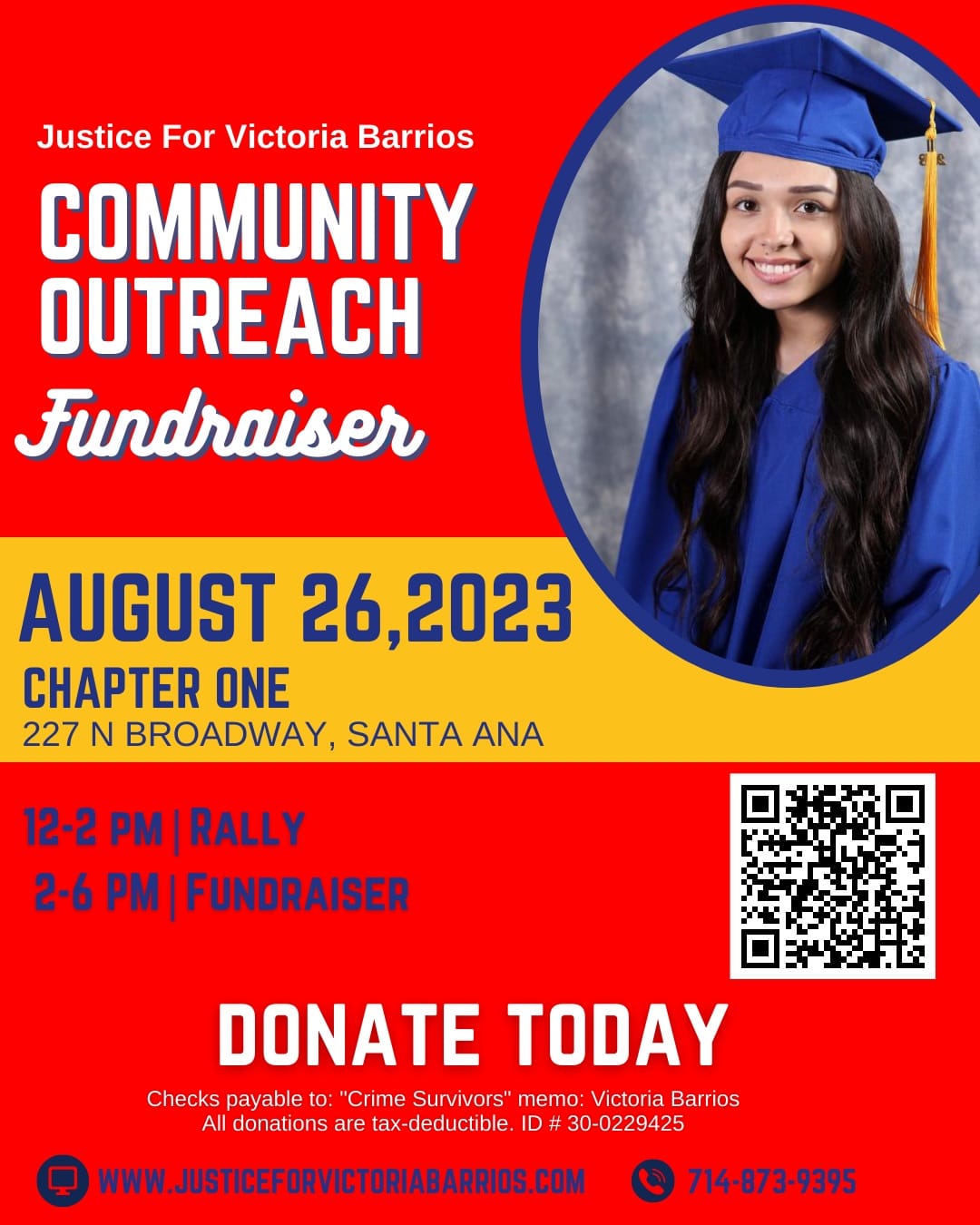 This section was created after meeting with Eva Barrios, a Santa Ana resident, whose daughter Victoria Barrios was killed in 2019. With Eva's support, the goal of Victoria's Corner is to bring additional attention to active homicide cases. This month's spotlight is on the upcoming Justice for Victoria Barrios Community Outreach Fundraiser. Join the event and donate to this important cause from 12-6 p.m. on Aug. 26 at Chapter One, 227 N. Broadway, Santa Ana.
---
Invite me
If you'd like to invite me to attend an event in your neighborhood or in connection with your organization, please feel free to make that request. Use this form to contact me.
For more City news, please follow the City of Santa Ana on Facebook, Twitter and Instagram, and share my newsletter with friends and family.
Share my newsletter with family and friends
---