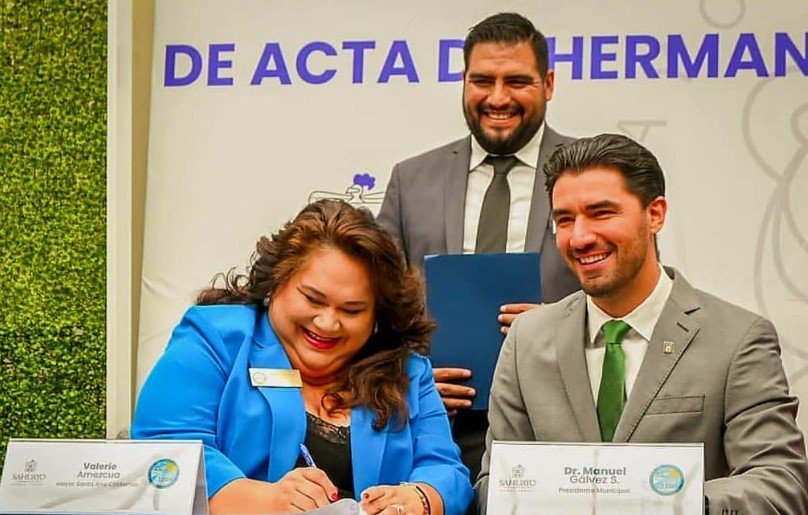 Santa Ana Mayor Valerie Amezcua visited Sahuayo, Mexico, from July 28 through July 31 to formalize an agreement establishing Sahuayo and Santa Ana as sister cities.
Dr. Manuel Gálvez Sánchez, Mayor of Sahuayo, extended the invitation to Mayor Amezcua after his recent visit to Santa Ana in June. A signing ceremony was held at Santa Ana's City Hall on October 20, 2022, for the sister city resolution that was unanimously approved by the Santa Ana City Council that same month. Santa Ana has a large population of immigrants and residents with roots in Sahuayo.
"Getting the opportunity to visit Sahuayo to formally sign a Sister City agreement was both a privilege and an honor," Mayor Amezcua said. "Although I was not serving on the City Council when we established this partnership, I know of its significance to our community, having so many residents with ties to Sahuayo."
Her itinerary included various tours of Sahuayo and neighboring towns, participation as the keynote speaker at a Women in Business Leadership Forum, a tour and reception of the Fire Department of Sahuayo, and the formal signing of the agreement at City Hall.
Under the agreement, both cities "may use reasonable efforts and work collaboratively to develop cooperative projects, specifically directed, but not limited to, the promotion of business, culture, and tourism, government development, education, science and technology, environment, and health." However, this agreement does not commit either city to expend public funds, including staff resources, in furtherance of the objectives outlined in the agreement.
Santa Ana looks forward to working with the City of Sahuayo and developing their relationship in the future.
Photos of the signing ceremony and Mayor Amezcua's visit to Sahuayo can be found here: https://bit.ly/3OmZESp.
# # #
About Santa Ana
Santa Ana is downtown for the world-famous Orange County, California. It is the County Seat and home to a vibrant evening scene and arts community. Over 1,400 City employees work hard every day to deliver efficient public services in partnership with our community to ensure public safety, a prosperous economic environment, opportunities for our youth, and a high quality of life for residents. Learn more at www.santa-ana.org.