Community Resource Fair and Flag Raising Ceremony
4:00pm - 7:00pm
City Hall
20 Civic Center Plaza, Santa Ana, CA 92701
---
Join the City of Santa Ana for a Pride Flag raising ceremony on June 1, 2022 at 4:00 p.m.! Following the flag raising, stick around for a Community Resource Fair with booths from local nonprofits and community partners, listed below.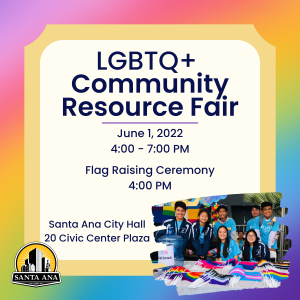 Participating Organizations:
AASCSC

Health programs for those 5+

APAIT

Trauma Recovery and Empowerment Model tailored for the LGBTQ+ population

BPSOS Center for Community Advancement

Health and Civic programs.

Community Action Partnership of Orange County

Financial Empowerment Programs and free enrollment assistance for Medi-Cal, CalFresh,
CalWORKs, Covered California

Community Legal Aid SoCal
Delhi Center

Youth Programs, Senior Programs, Financial Education for Families, Food Distribution, and much more

Fair Housing Council of Orange County

Resource table providing information on tenant rights and housing discrimination.

Girls Inc of Orange County

All Girls Inc. of Orange County summer program and volunteer opportunities.

Hope Builders

Medical Assistant, Behavioral Therapy and Construction skills training

KidWorks

After school and summer programs for kids K-12, and preschool.

Latino Health Access

Information and flyers on COVID Clinics/Vaccines/ Testing, Emotional Wellness, Youth Related Programs and Tenants Rights

LGBTQ Center OC

Youth programs, immigration services n, trans health & wellness, tobacco cessation, mental health, and HIV/STI testing informational materials

Lutheran Social Services

The CalAIM program and The Victims Intervention Program (VIP). And, all other LSS services.

MOMS Orange County

MOMS Orange County provides access to prenatal care, health screenings, infant developmental screenings, health education and referral services to low-income pregnant women and babies in Orange County through monthly visits and group classes.

Neutral Ground

Programs promoting health and wellness for children and adults. Summer Night Lights: 8-week summer intervention program designed to reduce crime while engaging the most at risk in our communities.

Padres Unidos

Early Education and Youth Violence Prevention program.

PureGame

After school programs and summer camps for sports and friendships.

Radiant Health Centers

Radiant Health Centers provides compassionate care for all, including free HIV testing, LGBTQ+ health services, and other specialized medical and comprehensive social services.

Santa Ana College/Santa Ana College School of Continuing Education

SAC Credit- College certificates, degrees, Dual Enrollment for High School students. NonCredit- Free classes for adults in ESL, High School Diploma, GED/HiSET, Career Education.

Santa Ana Family Justice Center

A comprehensive center for survivors of domestic violence, sexual assault, child abuse, human trafficking, and elder abuse.

Santa Ana Human Resources

City Employment Opportunities

Santa Ana Animal Services
Santa Ana Housing Division

My First Home – Down payment program. Residential Rehabilitation. Rent Stabilization Ordinance

Santa Ana Police Department  

The Community Engagement Team will provide resources about our outreach programs/ upcoming events, safety tips, traffic safety and police contact phone list. Giveaways will be provided.

Santa Ana Public Library

Literacy, Educational, Arts and Cultural programs

Santa Ana Public Works

Neighborhood Block Transformation Contest, Drought Water Usage, Reporting using the MySantaAna App, Permit Parking, Trash & Recycling, Pedestrian and Bicycle Safety
Santa Ana Public Works Water Services Water Service Display providing cups of Santa Ana award winning water from the tap

Santa Ana Zoo

Zoo programs including Santa Ana Resident Day, Community Connections programs, new exhibits coming to the zoo.

The Coalition of Orange County Community Health Centers

Enrollment to Medi-Cal and Covered CA

United Across Borders Foundation

Distribution of grocery assistance, diapers, and medical supplies and equipment.

Viet Rainbow of Orange County (VROC)

Promotion of VROC 2022 Pride event and summer youth programs.