In this edition of City of Santa Ana Stories (COSAS), read about our new pedestrian safety signals, the graffiti arts program, the Police Department's 2022 review, how to join the Santa Ana Fun Run, and lots of other City news, events and resources!
Spotlight photo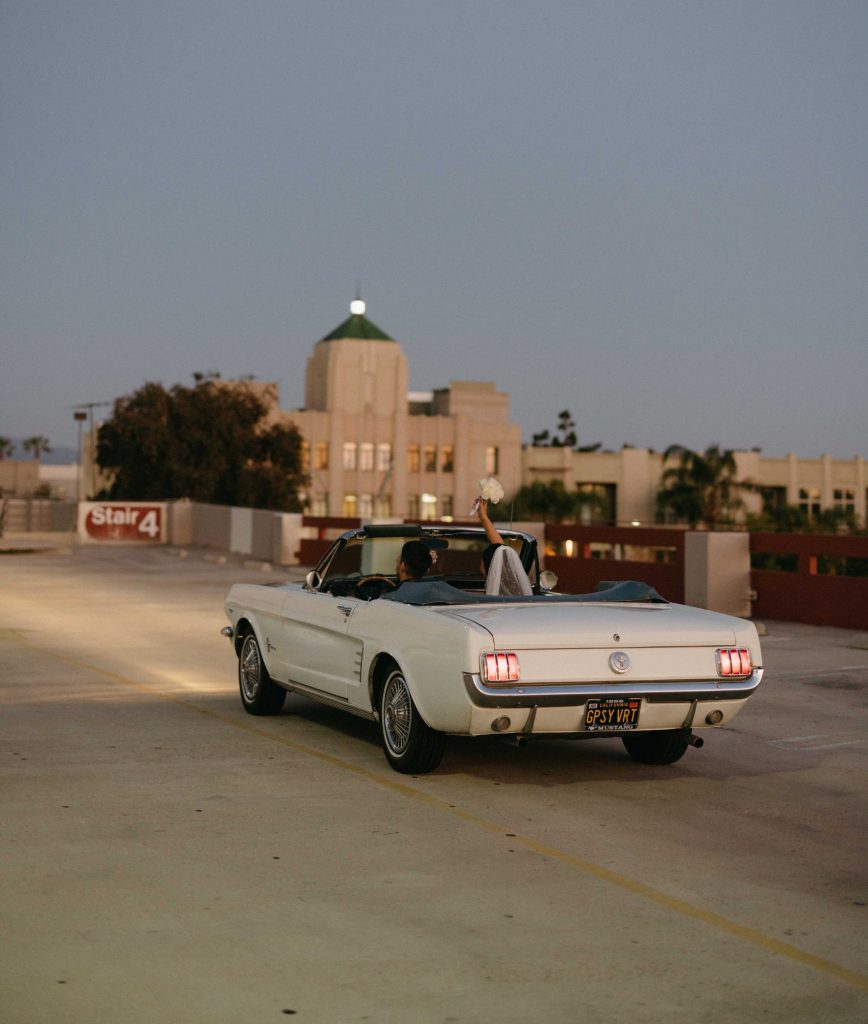 Engaged!
Photo Credit: Klaui V. @KLAUIVARADI
To submit your own original photo of Santa Ana to be featured in the next newsletter, complete this form.
---
City Manager's highlights
Keeping our community safe

The Santa Ana Police Department has released its 2022 Year End Review report, which shows great progress on many fronts. SAPD has focused on training and de-escalation tactics, building community trust and engaging with our residents, removing guns from streets, solving homicides, hiring new officers and staff, and many other efforts to improve public safety. I'm proud to say that for the third consecutive year, our officers' response times to emergency calls for service have decreased by over 20%. Read the full report at the link below.
---
GROW conference highlights economy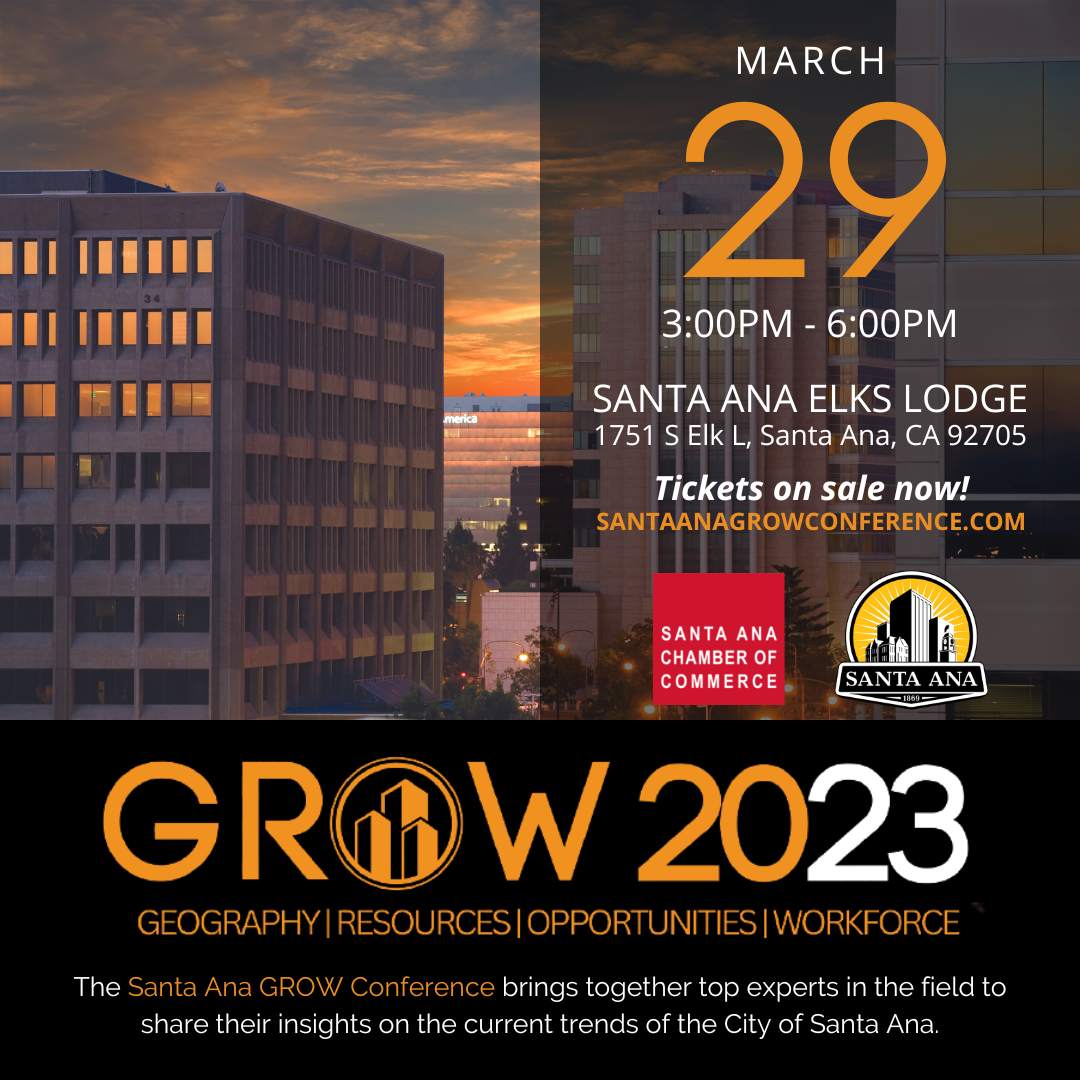 I will have the pleasure of speaking on March 29 at the 8th annual Santa Ana GROW Conference, hosted by the Santa Ana Chamber of Commerce and the City of Santa Ana. This ticketed event brings together top experts to share their insights on the current economic and development trends in Santa Ana. We have so much economic and business growth to celebrate, and I'm looking forward to sharing what lies on the horizon.
---
News
Ready, set, register for the Santa Ana Fun Run!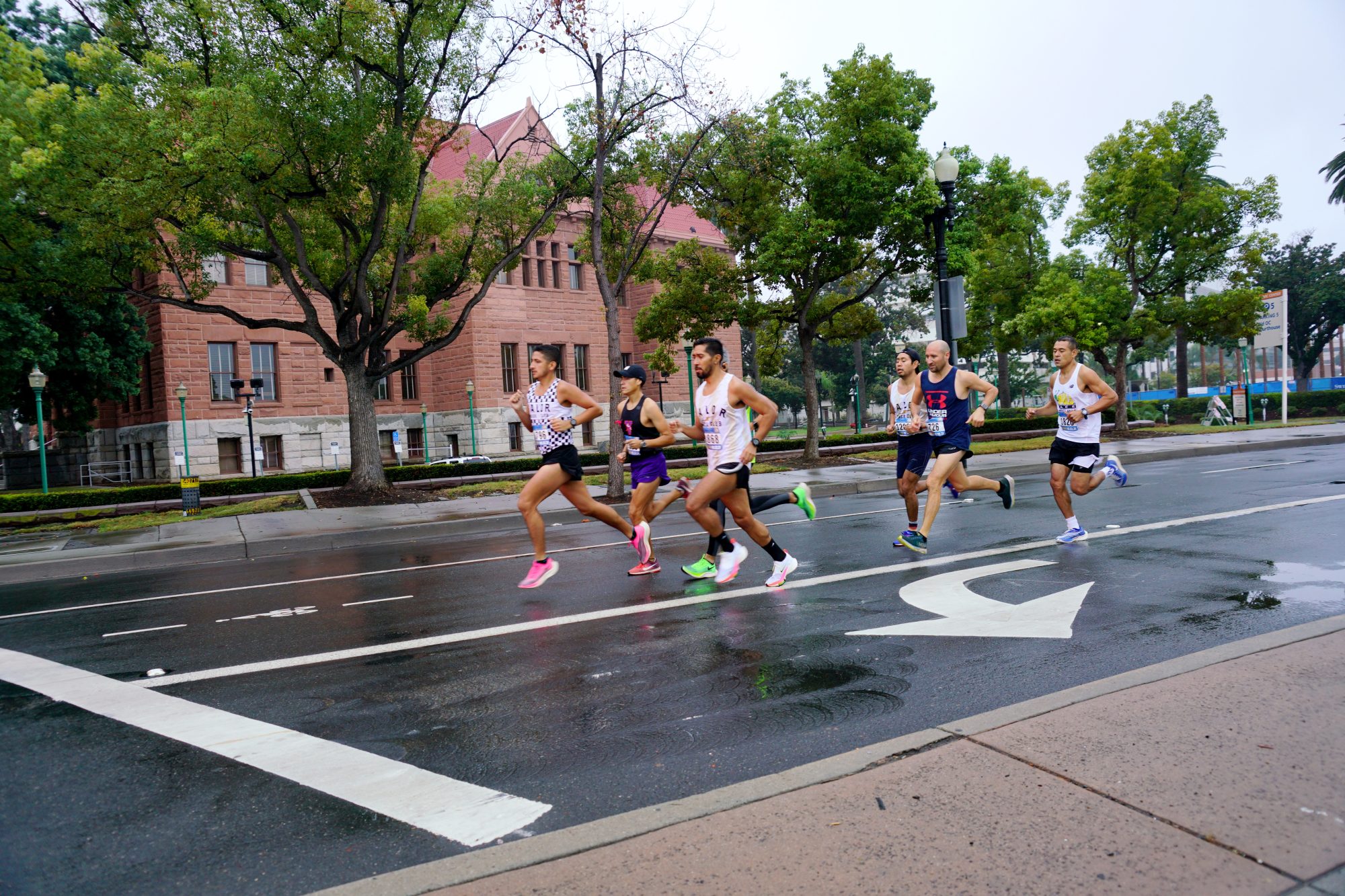 We are bringing back the annual 5K with some fun new twists. Don't miss this year's Santa Ana Fun Run with an added 10K and Fit Fest on Saturday, April 22. Not only that, you can also register the little ones, ages 3-10 years, for the new Kids Dash during pre-race 5K/ 10K bib pick-up on Friday April 21! Registration is now open and all races remain free thanks to our partnership with Northgate Gonzalez Markets. Sign-up early and don't miss your chance to celebrate health and wellness expo FIT FEST.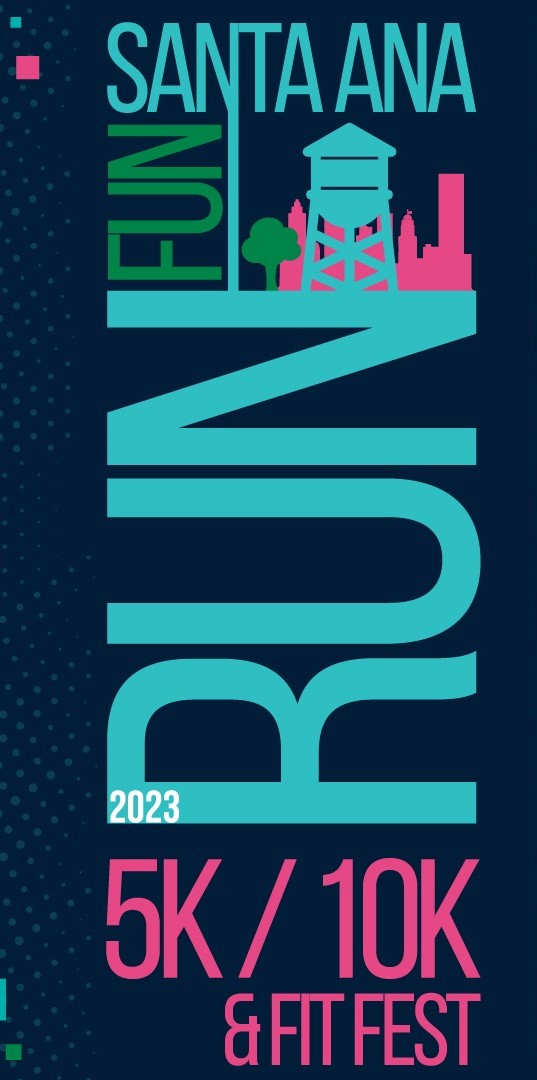 Register for Santa Ana Fun Run
---
Reviving our park restrooms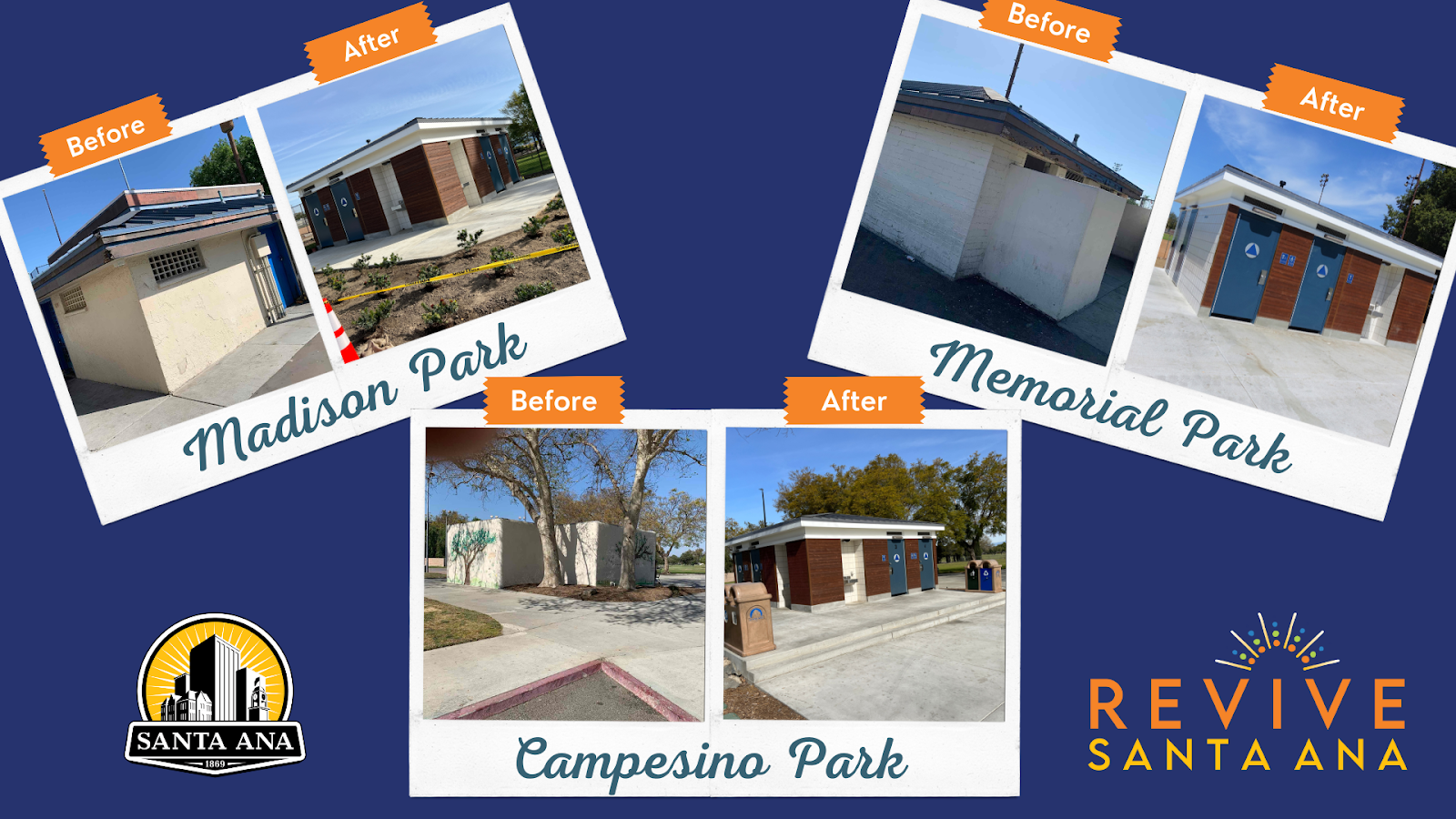 I am excited to announce that we have completed more upgrades to our parks facilities! The Public Works Agency built new restrooms at Campesino, Memorial and Madison parks thanks in part to our federally funded Revive Santa Ana pandemic recovery program. The total cost was $1.6 million, including over $900,000 from Revive, which is funded by the American Rescue Plan Act. Did you know that the oldest of these restrooms was built in 1948 at Memorial Park? The bathrooms at Campesino and Madison were built in 1975 and 1983, respectively. Check out these before and after photos!
---
New signals improve pedestrian safety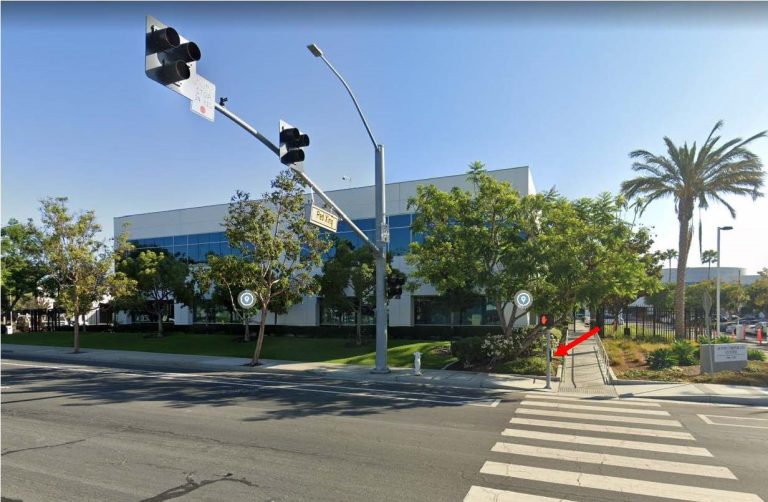 Our Public Works Agency's Traffic Engineering Division is busy installing new walk signals called "pedestrian hybrid beacons" to assist people with safely crossing busy streets. The beacons are being installed on streets with regular traffic signals as part of the City's coordinated signal system. Hybrid beacons are similar to regular traffic signals except they are only active for pedestrians crossing the street.
Pedestrian hybrid beacons are now operational at Alton Parkway between Daimler Street and Red Hill Avenue, and will be operational at Main and Walnut streets on March 27. Learn more about how these new signals work at the link below and watch this informative video!
Learn about pedestrian hybrid beacons
---
Now accepting proposals for Graffiti Arts Program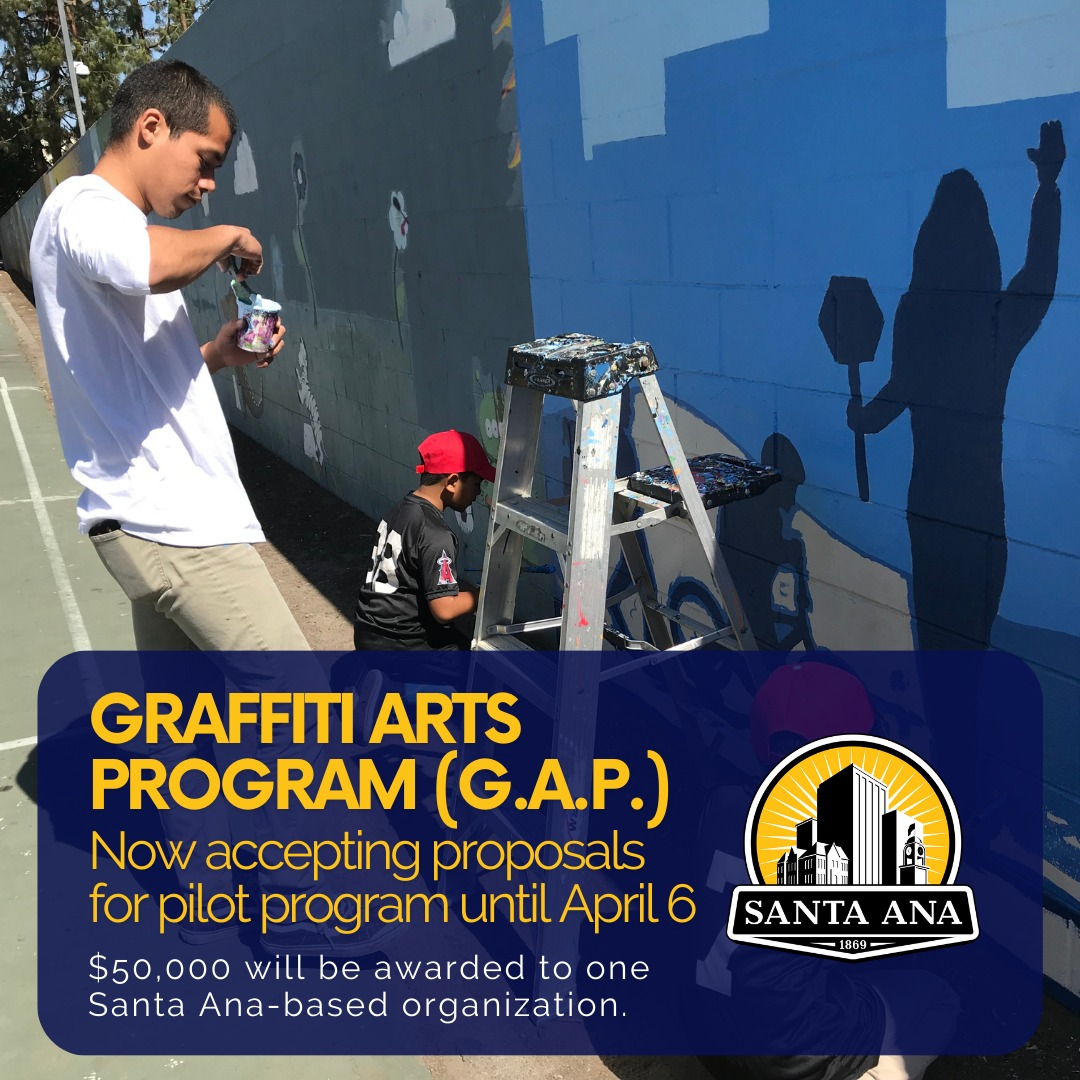 The City of Santa Ana's Arts & Culture Office is seeking a Santa Ana-based organization to design and implement a pilot for Bridging the G.A.P. (Graffiti Arts Program), a year-long interactive, multi-disciplinary public arts program that will inspire civic leadership and community pride in youth through the creation of murals across the city. A panel will review completed proposal submittals and award one organization for their proposal. Applications are accepted online only and are due by Thursday, April 6, 2023 at 4 p.m.
Submit a Graffiti Arts Program proposal
---
Street closures and permitted events for March 16-22

Here are the locations of upcoming permitted events and road closures so you can plan accordingly. Please drive slowly and safely in construction zones and around crowded events.
Street Closures and Permitted Events
---
Tales of the City
Finding our future public servants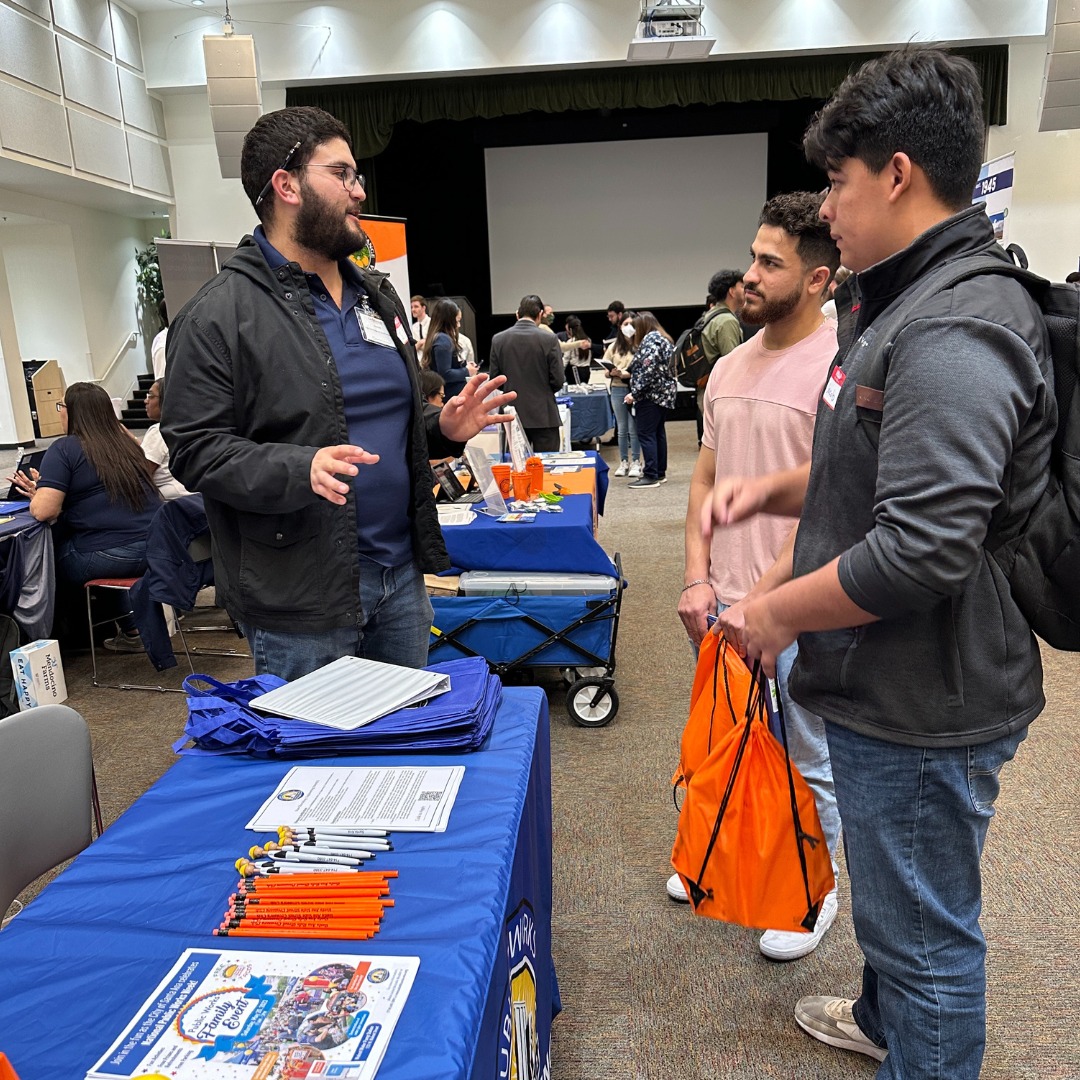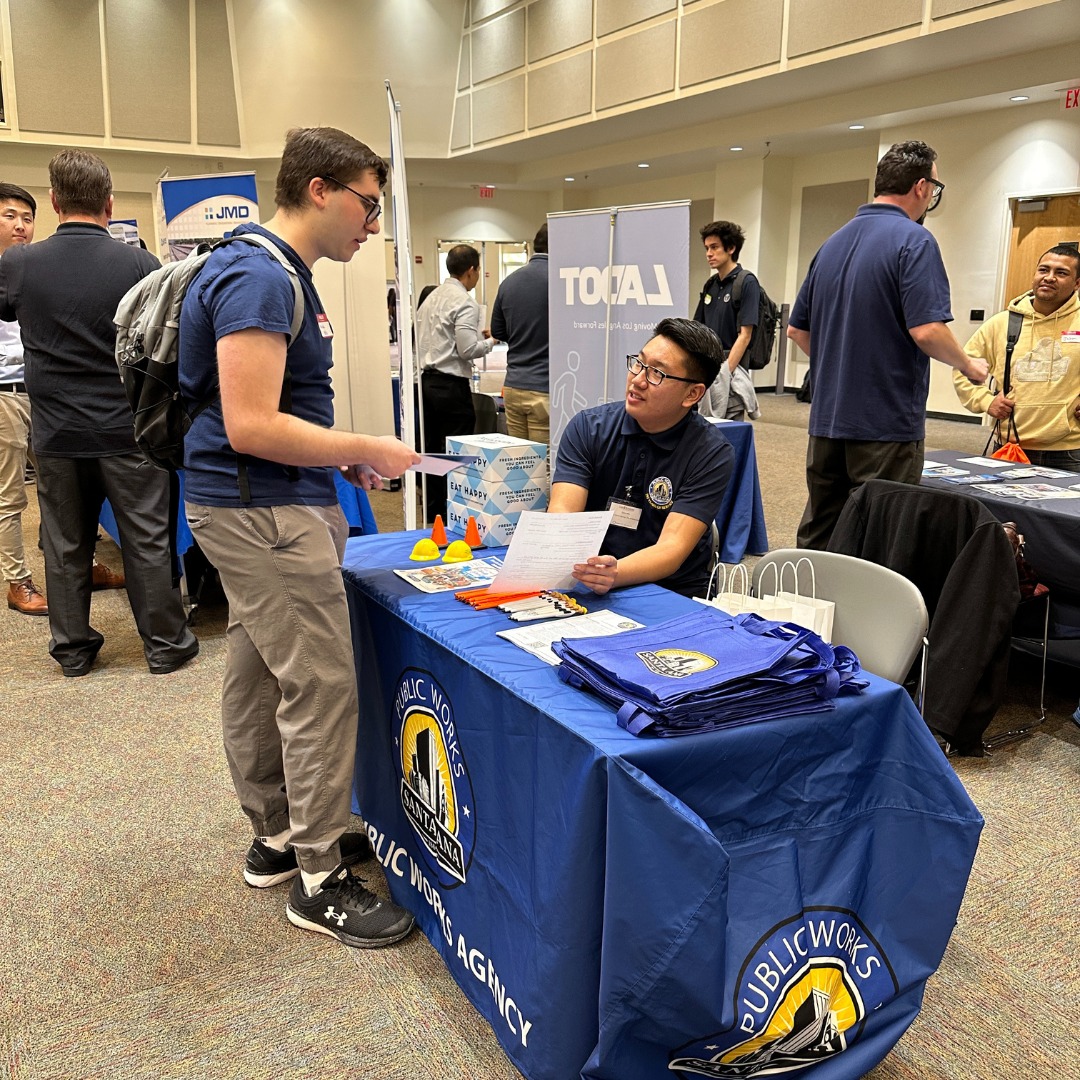 Did you know that there are about 1,400 employees working for the City of Santa Ana? We are always looking for individuals who wish to serve the public and make Santa Ana a better place to live. Our staff actively seek out potential job candidates at hiring events and we host job fairs for a variety of positions.
Recently, our Public Works engineering interns participated in the 23rd Annual Civil Engineering Career Fair hosted by Cal Poly Pomona Chi Epsilon. The interns distributed recruitment flyers on the qualifications and functions of an engineering intern for the City of Santa Ana. They did an outstanding job recruiting numerous applicants!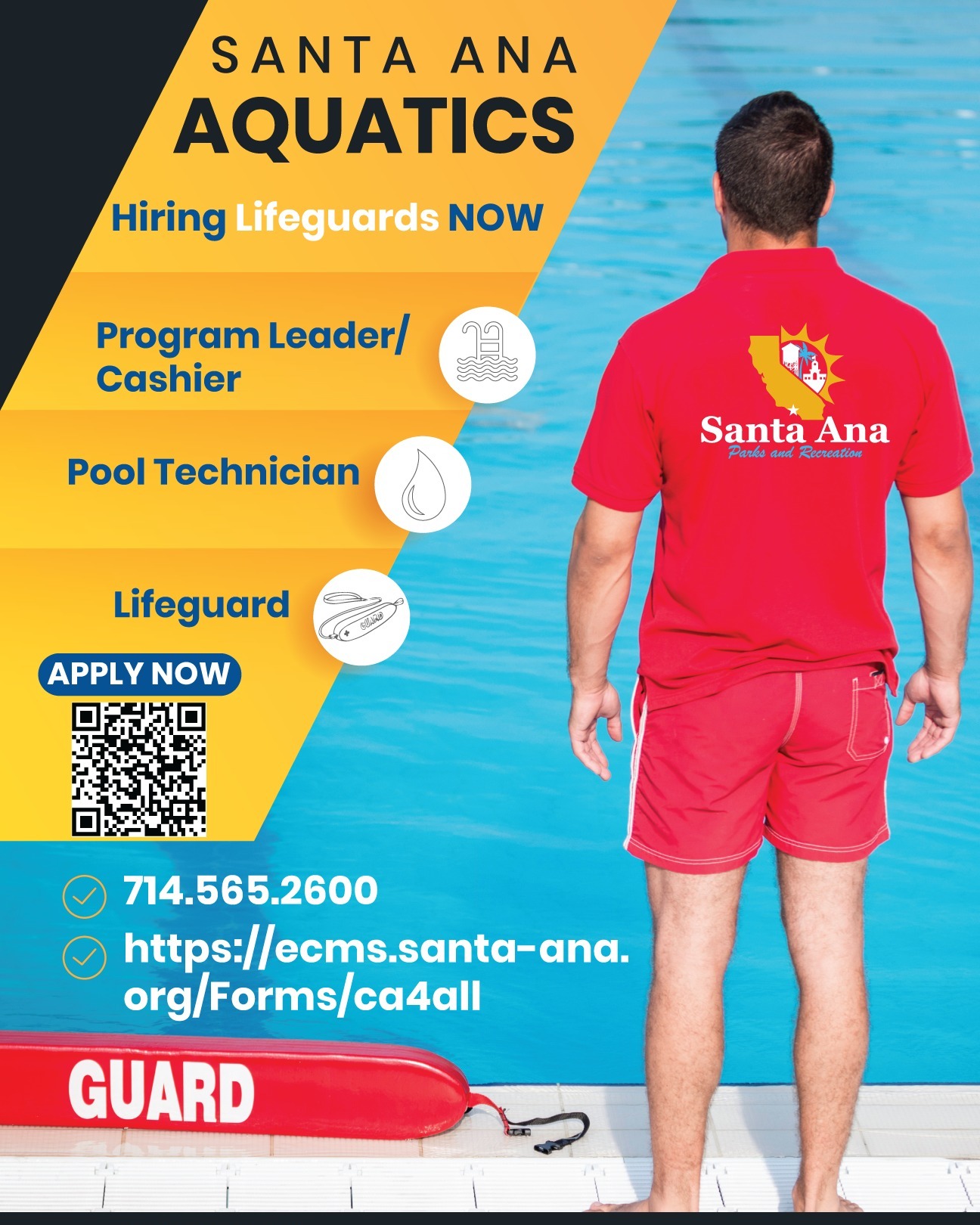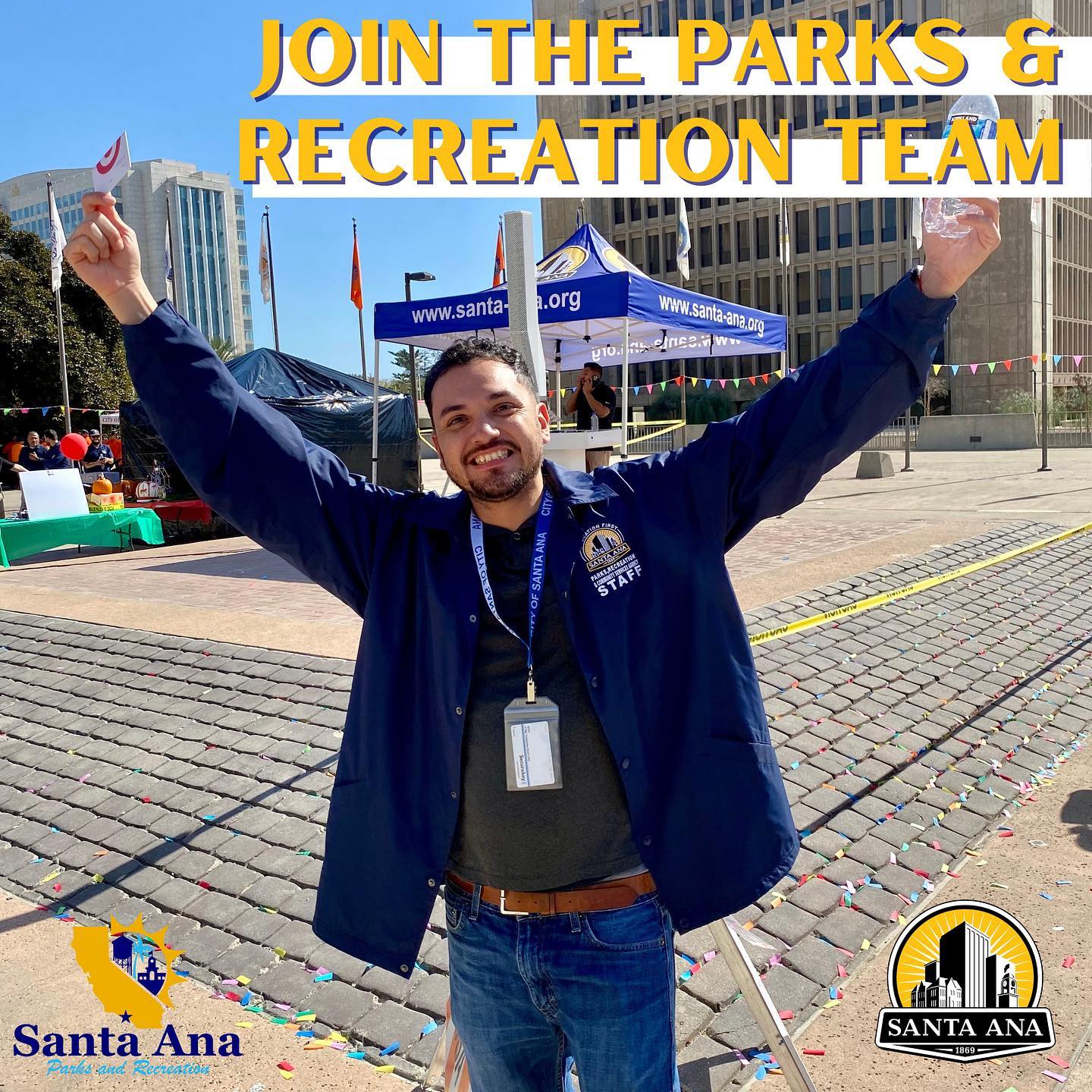 Besides the Public Works Agency, our Parks, Recreation and Community Service Agency is hosting two in-person job fairs to hire for various positions ranging from aquatics program specialists to youth camp leaders, program leaders and more. Selected applicants will contribute their skills and enthusiasm toward aquatics, youth and teen services, special events, senior services, youth and adult sports, and zoo programming. Stop by either job fair to apply in person and get hired on the spot!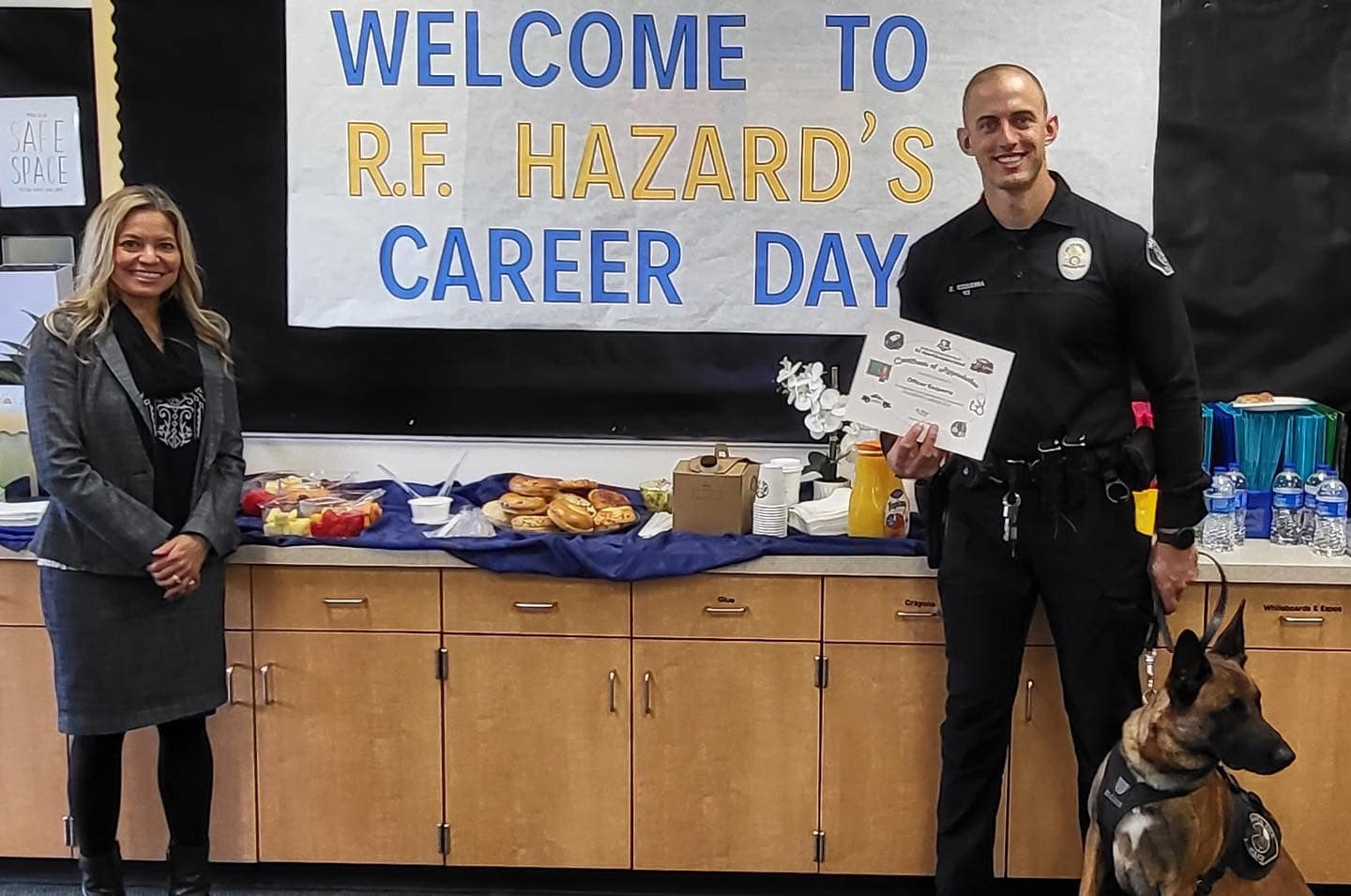 The Santa Ana Police Department is also out in the community working to recruit new officers and staff as well as inspire future police officers, such as at this recent visit to R.F. Hazard Elementary's career day.
On April 22, SAPD is hosting an open house and hiring expo at their headquarters. If you are interested in learning more about our Police Department or interested in a career in law enforcement, please stop by! This is the same day as the Santa Ana Fun Run 5K/10K, so you could go for a run then stop by to meet our police officers and staff from different divisions.
SAPD Open House and Hiring Expo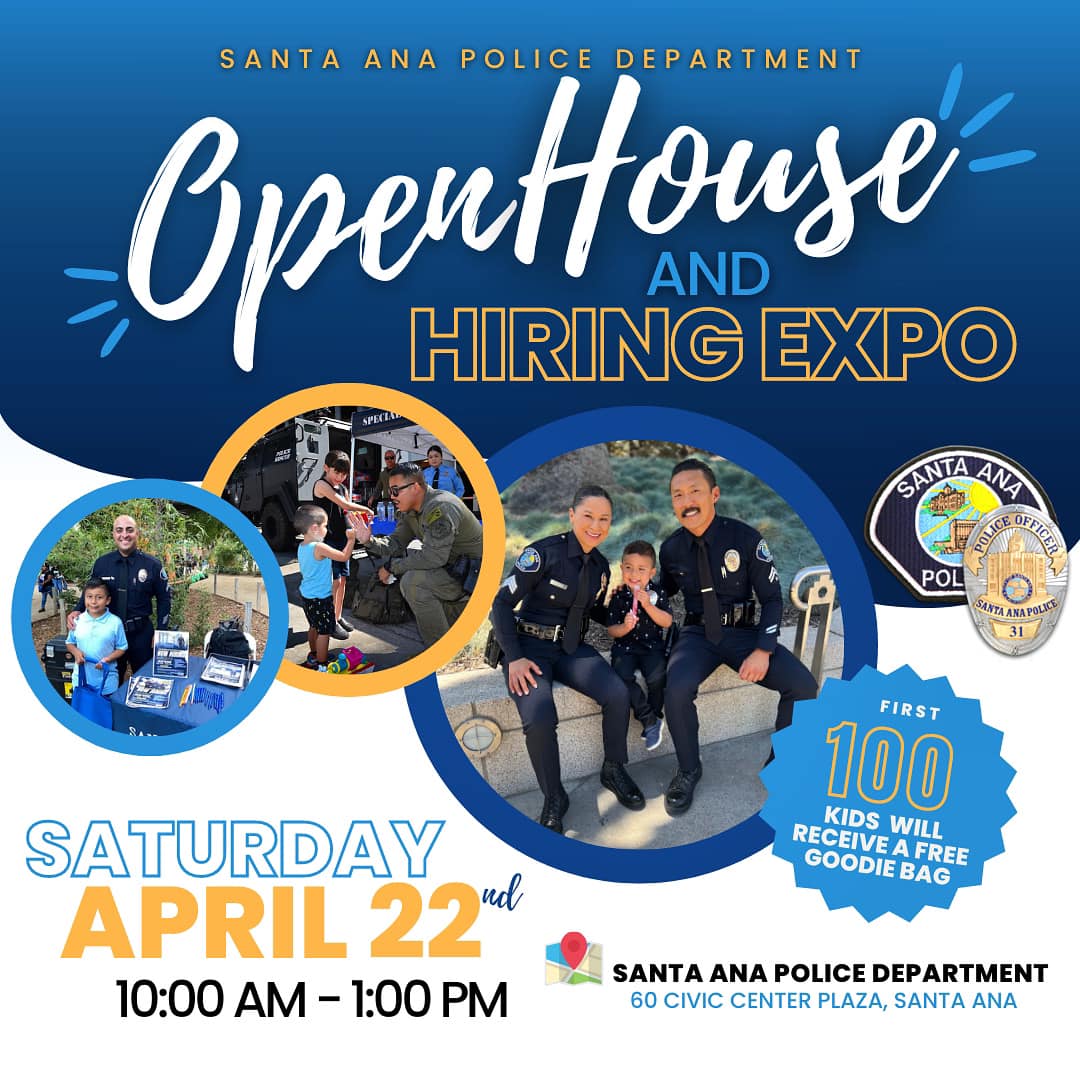 At the City of Santa Ana, we are committed to providing our employees a stable working environment with equal opportunity for learning, personal growth and career development. Employees are the backbone of our City operation!
---
City Council meetings
At their March 7, 2023, meeting, the Santa Ana City Council:
Awarded a construction contract for the Saddleback View Neighborhood Street Lighting Project to International Line Builders, Inc. for $601,977, with an estimated project delivery cost of $752,471
Awarded a $1.79 million construction contract to Excel Paving Co. to build protected bike lanes on West Willits Street from Fairview to Raitt streets
Approved a loan agreement of $5.2 million with North Broadway Housing Partners LP for the development of the WISEPlace Permanent Supportive Housing Project at 1411 North Broadway
Accepted a donation from Project Backboard for the repair and resurfacing of the basketball court at Portola Park, valued at $75,000
Approved a resolution affirming the City's priority to protect public health in the enforcement of state sidewalk vendor regulations and urging the state Legislature to allow local sidewalk regulation
City Council meetings are typically held on the first and third Tuesdays of each month, with the closed session beginning at 5 p.m. or earlier. The open meeting session begins at 5:45 p.m. Meetings have both in-person and virtual participation and attendance and are live streamed on the City's YouTube channel and our TV channel, CTV3 (channel 3 on Spectrum.) If you'd like to provide public comments on agenda and non-agenda items, you can email, attend in person, or join the Zoom webinar online or by phone.
---
Events
Women's History Month at Santa Ana Public Library – March 18 and 23

In celebration of Women's History Month, the Main Library will host an event for kids to learn how to make their own self-portraits with a bit of inspiration from an iconic female artist, Frida Kahlo. All supplies will be provided. Call 714-647-5250 for more information.
Saturday, March 18
2-3:30 p.m.
Main Library, 26 Civic Center Plaza
Thursday, March 23
4-5 p.m.
Newhope Library, 122 N. Newhope St.
---
Santa Ana Zoo Birthday Party and Free Resident Day – March 19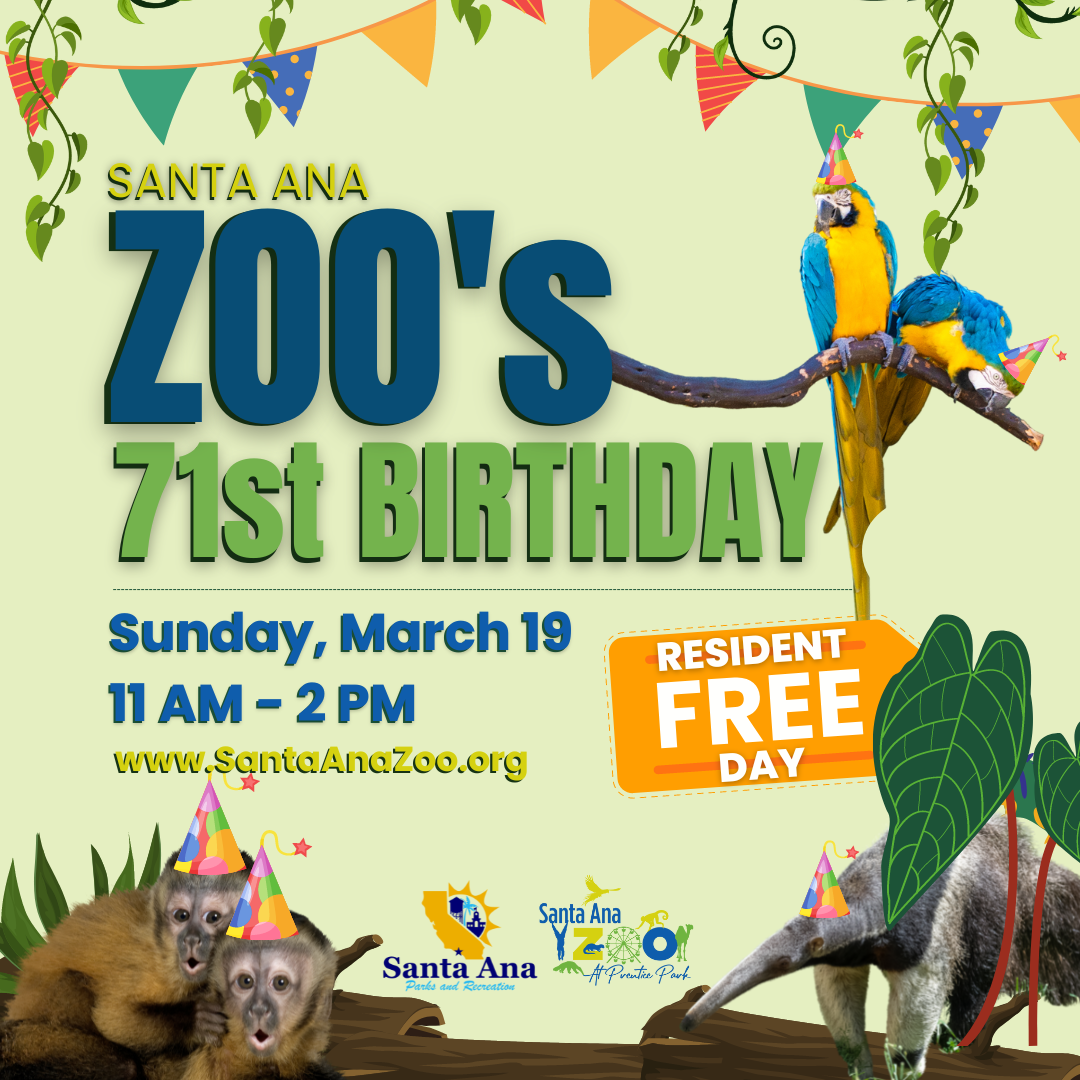 Join the Santa Ana Zoo at Prentice Park to celebrate the Zoo's 71st birthday from 11 a.m. to 2 p.m. March 19. The event takes place on Free Resident Day, when Santa Ana residents get free admission to the Zoo. The birthday celebration includes an all-zoo scavenger hunt with animal education activities and birthday enrichment treats for the animals.
Santa Ana residents receive free admission to the Zoo on the third Sunday of every month. Proof of residency (such as ID or a utility bill) is required.
Sunday, March 19
10 a.m. – 5 p.m. (last admission is at 4 p.m.)
Santa Ana Zoo, 1801 E. Chestnut Ave.
---
Community Budget Meetings – March 22, 23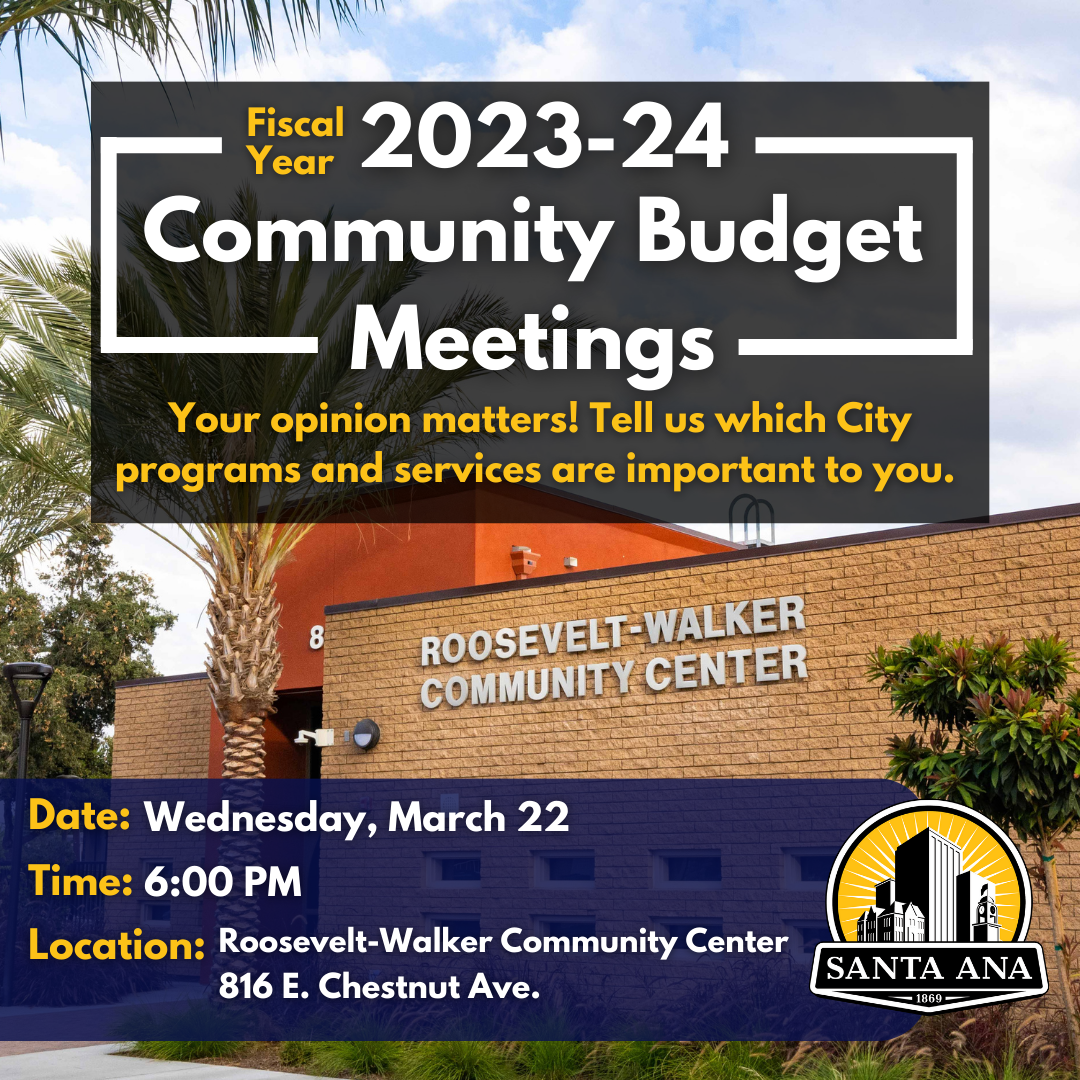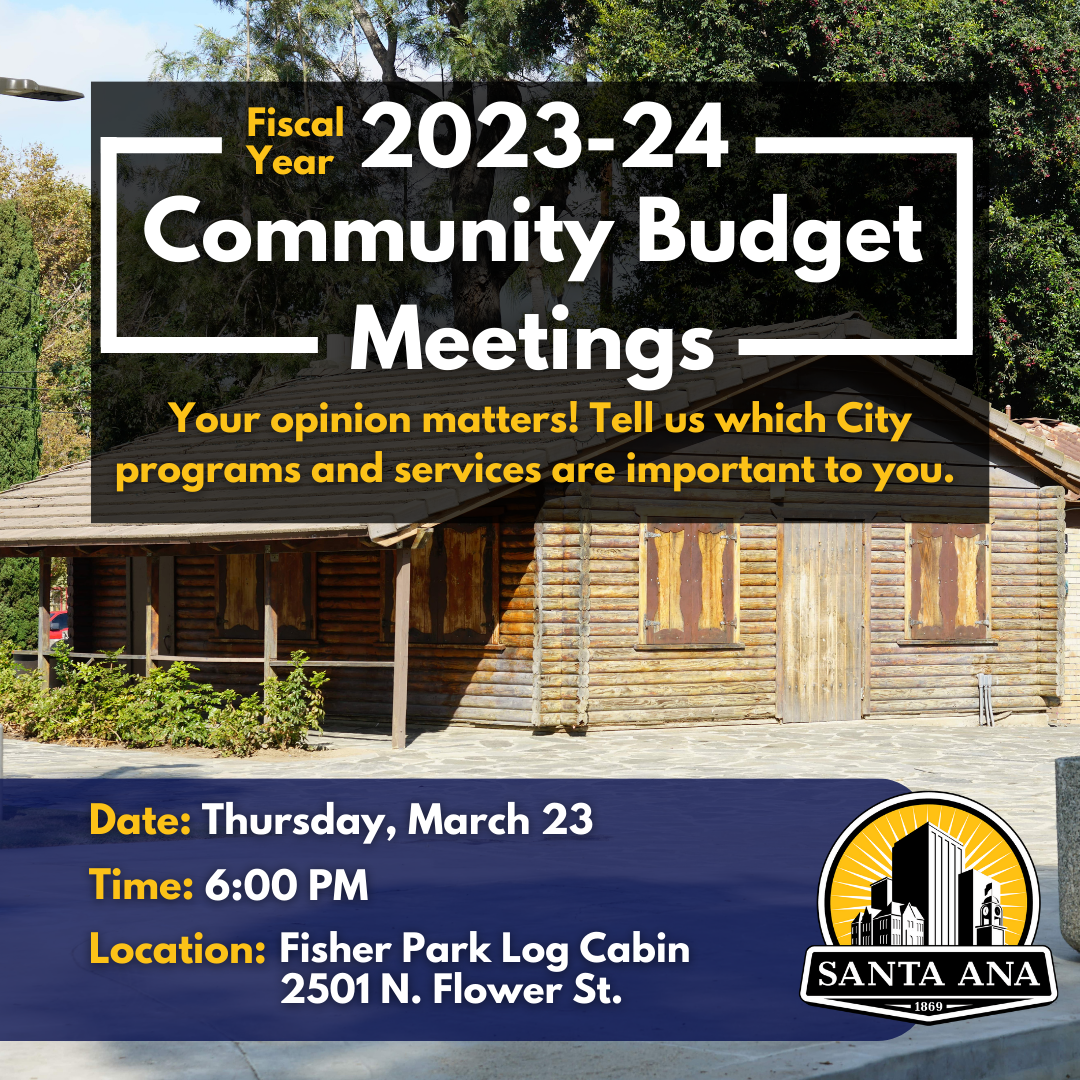 Please join our community budget meetings and take our online survey to share your ideas about how the City should prioritize spending on programs and services. These meetings are hosted by the Finance and Management Services Agency, and everyone is welcome to attend. Spanish and Vietnamese interpreters will be available.
Wednesday, March 22

6-7 p.m.

Roosevelt Walker Community Center, 816 E. Chestnut Ave.
Thursday, March 23

6-7 p.m.

Fisher Park Log Cabin, 2501 N. Flower St.
Participate in the City budget
---
Free Household Hazardous Waste Drop-off – March 25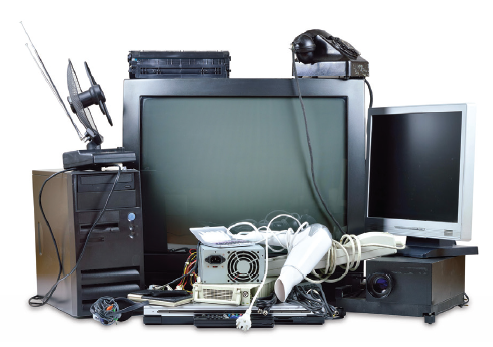 The Public Works Agency is sponsoring a free household hazardous waste collection event that's free to Santa Ana residents. No appointment is required. This is a wonderful opportunity for you to safely dispose of unwanted household chemicals that cannot be disposed of in the regular trash.
What can you bring to the household hazardous waste collection? Automotive products, adhesives, aerosols, art supplies, batteries, garden chemicals and fertilizers, household cleaners, flammables, paint, and electronics are accepted. Up to four tires per vehicle are also accepted (no commercial tires accepted). Proof of Santa Ana residency is required (CA driver's license, water bill, utility bill, etc.).
Saturday, March 25
8 a.m. – 2 p.m.
Saddleback High School, 2802 S. Flower St.
For details on what items are acceptable to bring to the household hazardous waste collection click here.
---
Spring Fest: Open House and TeenTime opening – March 25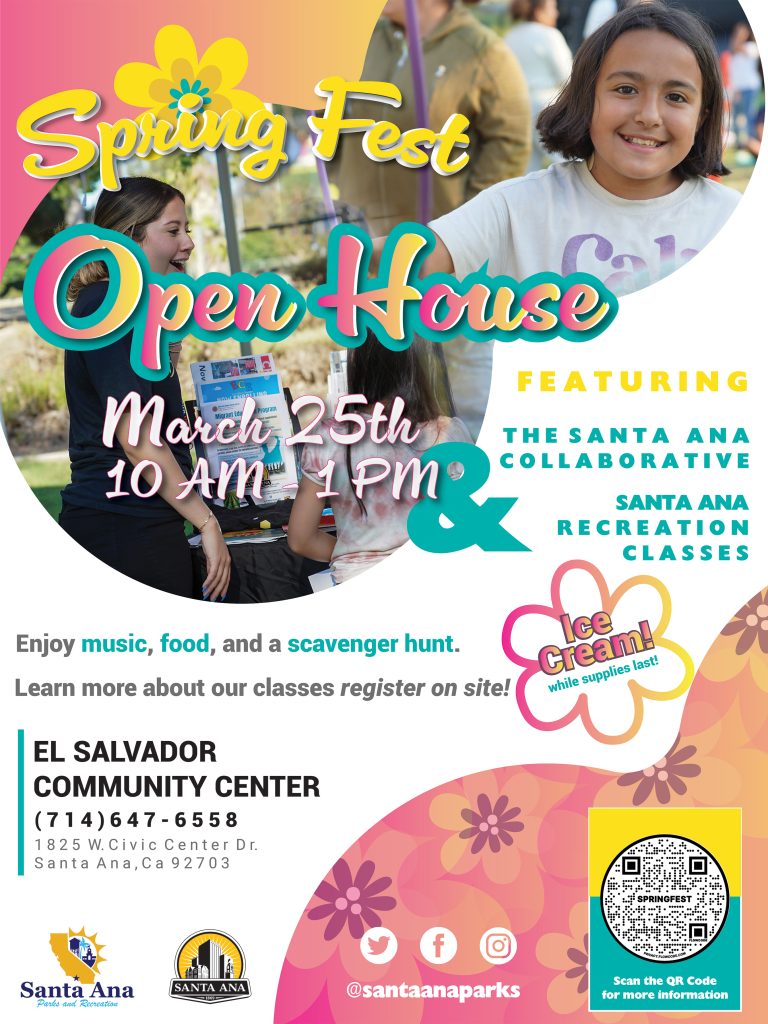 In partnership with Santa Ana Collaborative members, we are excited to re-introduce Santa Ana recreation classes! Join Santa Ana Parks and Recreation in person for this free event and learn more about classes, resources, and other programs available throughout the city.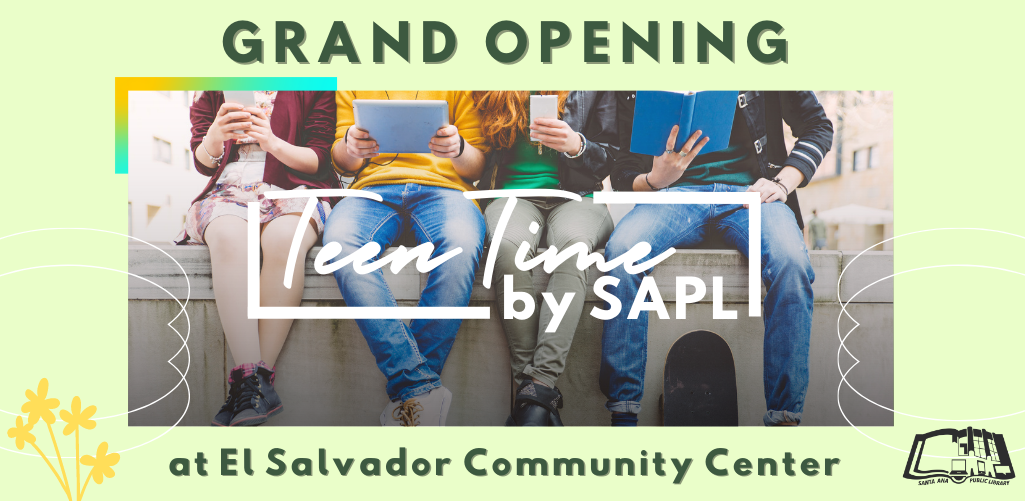 Also, Santa Ana Public Library will celebrate the grand opening of the new TeenTime program at El Salvador Community Center! This special event will feature a preview of this new space for teens with games, food, a STEAM petting zoo and opportunity drawing prizes.
Saturday, March 25

10 a.m. – 1 p.m.

El Salvador Community Center, 1825 W. Civic Center Drive
---
EGG-cellent Adventure – April 8

Join us for the "Egg-cellent Adventure" egg hunt. This free community event will include egg hunts, entertainment, pancake breakfast, pony rides, petting zoo, game booths, inflatables, and much more! Details at the link below.
Saturday, April 8

9 a.m. – 1 p.m.

Centennial Park, 3000 W. Edinger Ave.
---
Resources
Who do I call at City Hall?
Important phone numbers:
City Hall main line: (714) 647-5400
Code Enforcement: (714) 667-2780
Graffiti Hotline: (877) 786-7824
Emergency Water Services: (714) 953-8026
Public Works dispatch (street sweeping, trees): (714) 647-3380
Find more phone numbers for all City services.
---
Utility services
---
Starting a small business?
---
Food assistance: 
---