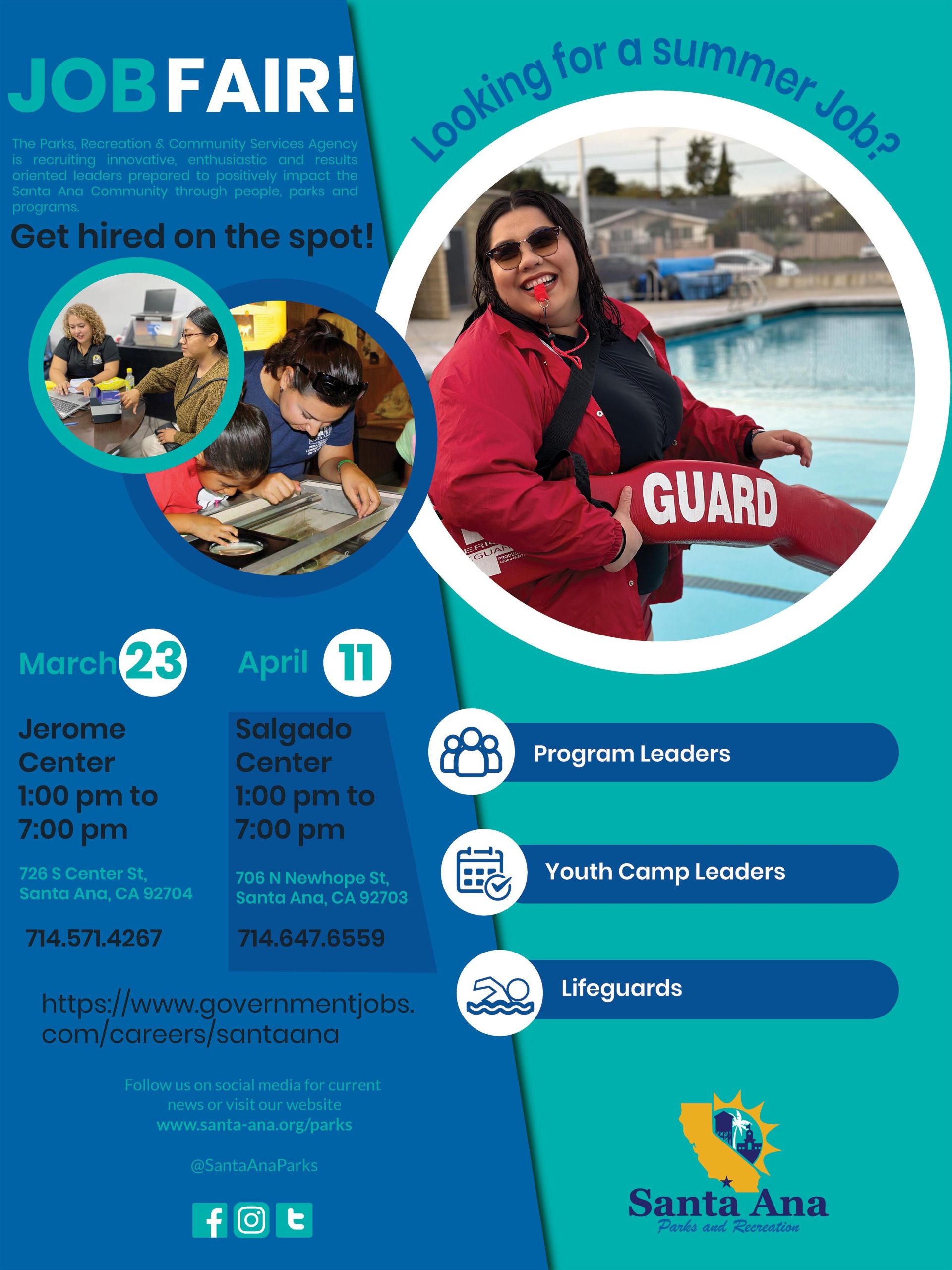 Now hiring for summer jobs!
The Santa Ana Parks, Recreation & Community Services Agency (PRCSA) is currently seeking summer applicants who are innovative, enthusiastic, and results oriented individuals prepared to make an impact in their community. PRCSA is hosting two in-person job fairs to hire for various positions ranging from aquatics program specialists, youth camp leaders, and program leaders to name a few. Selected applicants will contribute their skills and enthusiasm towards aquatics, youth & teen services, city special events, senior services, youth & adult sports,  and zoo programming. Stop by either center to apply in-person and get hired on the spot!
Date: Thursday, Mar. 23rd, 2023
Time: 1 p.m. to 7 p.m.
Address: 726 S Center St, Santa Ana, CA 92704
Date: Tuesday, Apr. 11th, 2023
Time: 1 p.m. to 7 p.m.
Address:  706 N Newhope St, Santa Ana, CA 92703
*Please bring acceptable forms of ID for work authorization purposes.
One of:
U.S. passport, permanent resident card, foreign passport with temporary I-551 stamp, employment authorization document with photo (Form I-766), OR foreign passport with form I-94 or for I-94A.
OR
Two of (one from each list):
 Driver's license, government issued identification card with photo, school identification card with photo, voter's registration card, U.S. military card, military dependent's identification card, U.S. Coast Guard Merchant Mariner card, Native American tribal document, or driver's license issued Canadian government authority.  For those under 18 who are unable to present a document from the list can provide: school record or report card, doctor record, or day-care record.
Social security account number card, birth certificate, Native American tribal document, U.S. citizen identification card form I-179, employment authorization document issued by the Department of Homeland Security.
For more information on the list of acceptable identification documents, please call 714-571-4200.