In this issue of the City Manager's newsletter, learn about new business assistance programs, nominate neighborhood heroes, see photos of our Fun Run, learn about a new urban greening project, and find more news and events.
---
Spotlight photo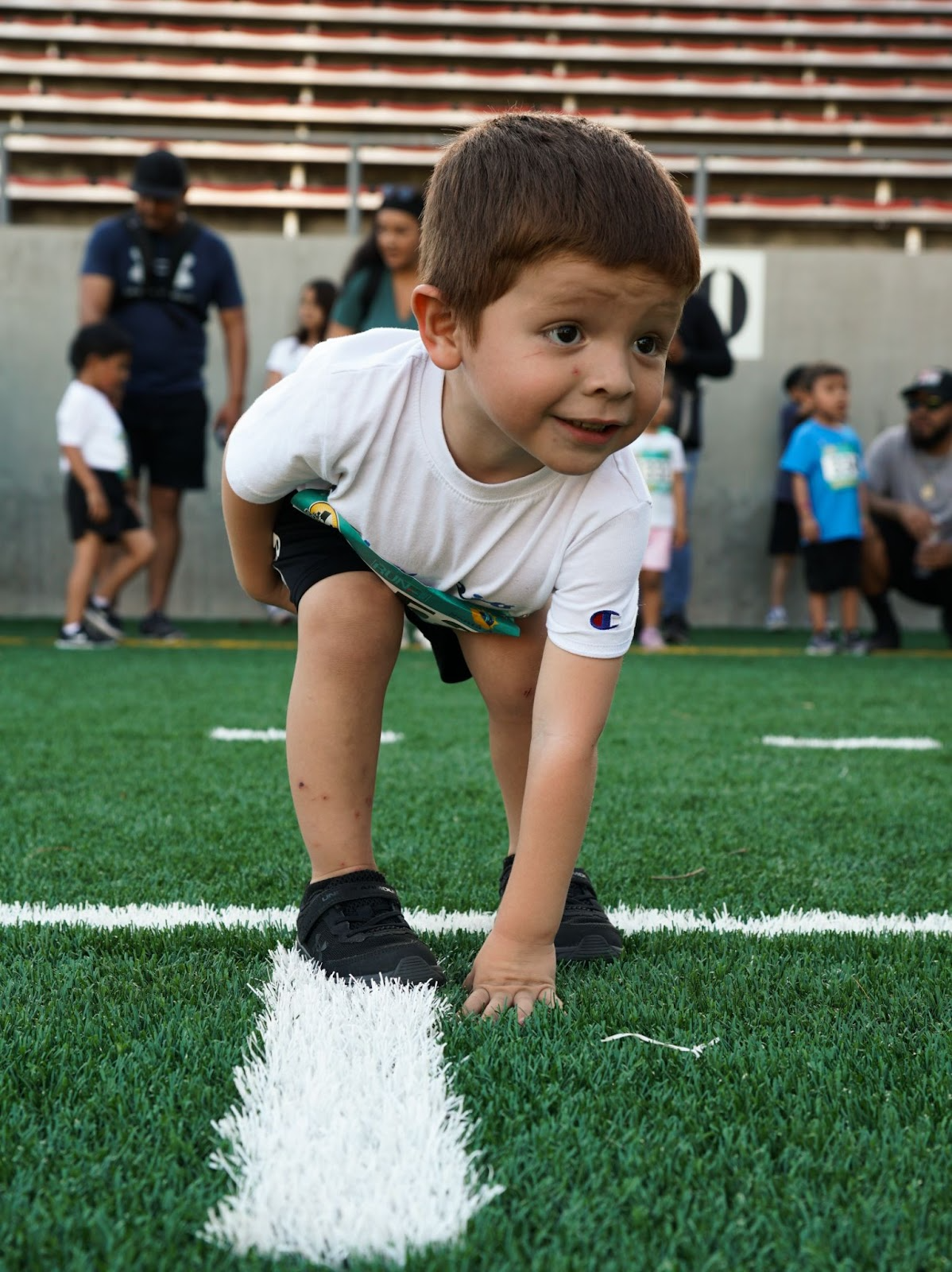 On your marks…
Photo Credit: Hiram U.
To submit your own original photo of Santa Ana to be featured in the next newsletter, complete this form.
---
City Manager's highlights
What a Fun Run!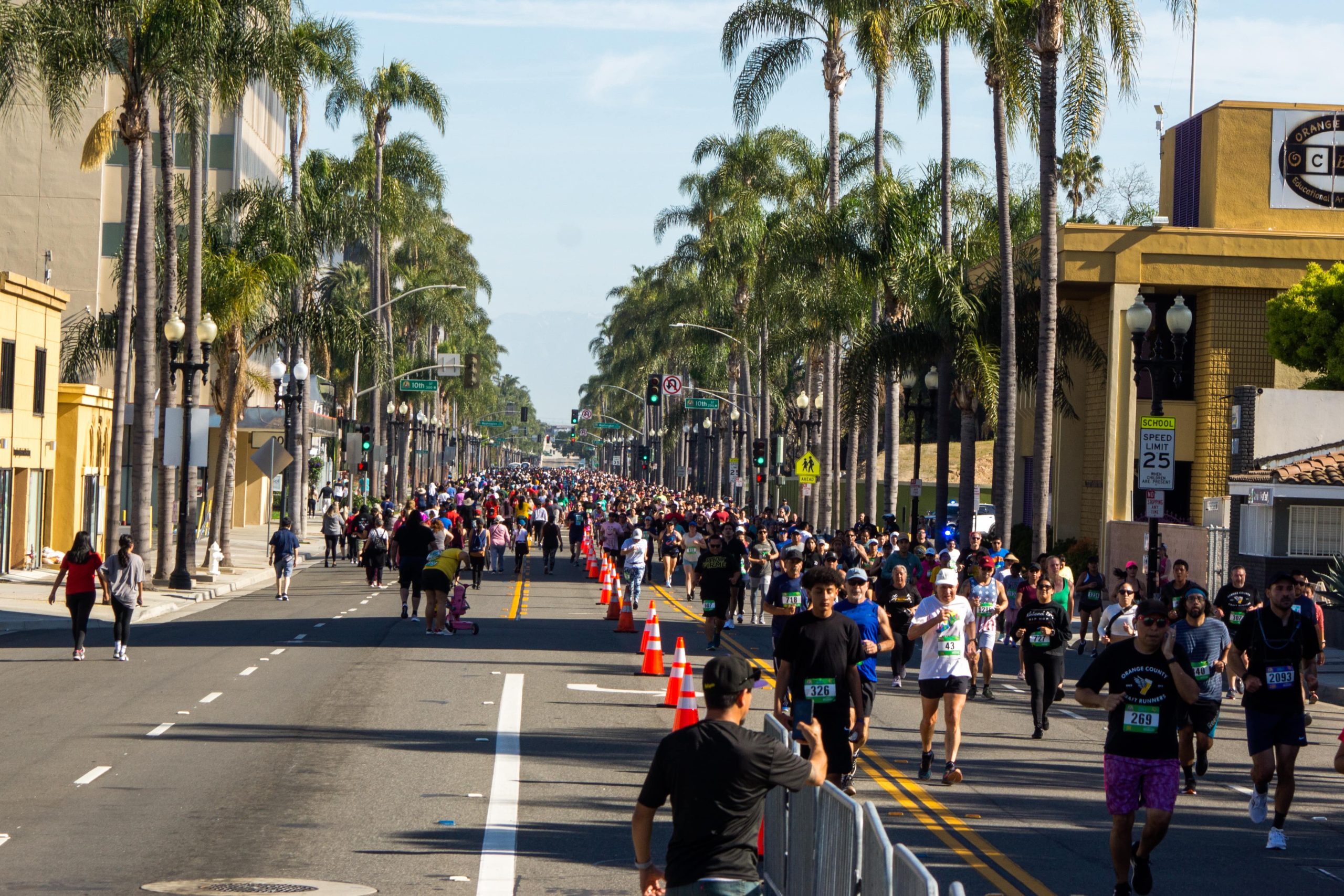 Last Saturday, we had an amazing turnout on a beautiful, sunny day for the Santa Ana Fun Run. This year's traditional 5K race added a 10K, Fit Fest and Kids Dash. An estimated 2,500 runners participated in the race, including over 1,800 registered runners for the 5K/10K and many unregistered folks who just showed up to join in the fun. Congratulations to all of our winners, including five Santa Ana residents who were among the top 3 finishers in the men's and women's categories for both races. See more photos and all of the race results at the links below.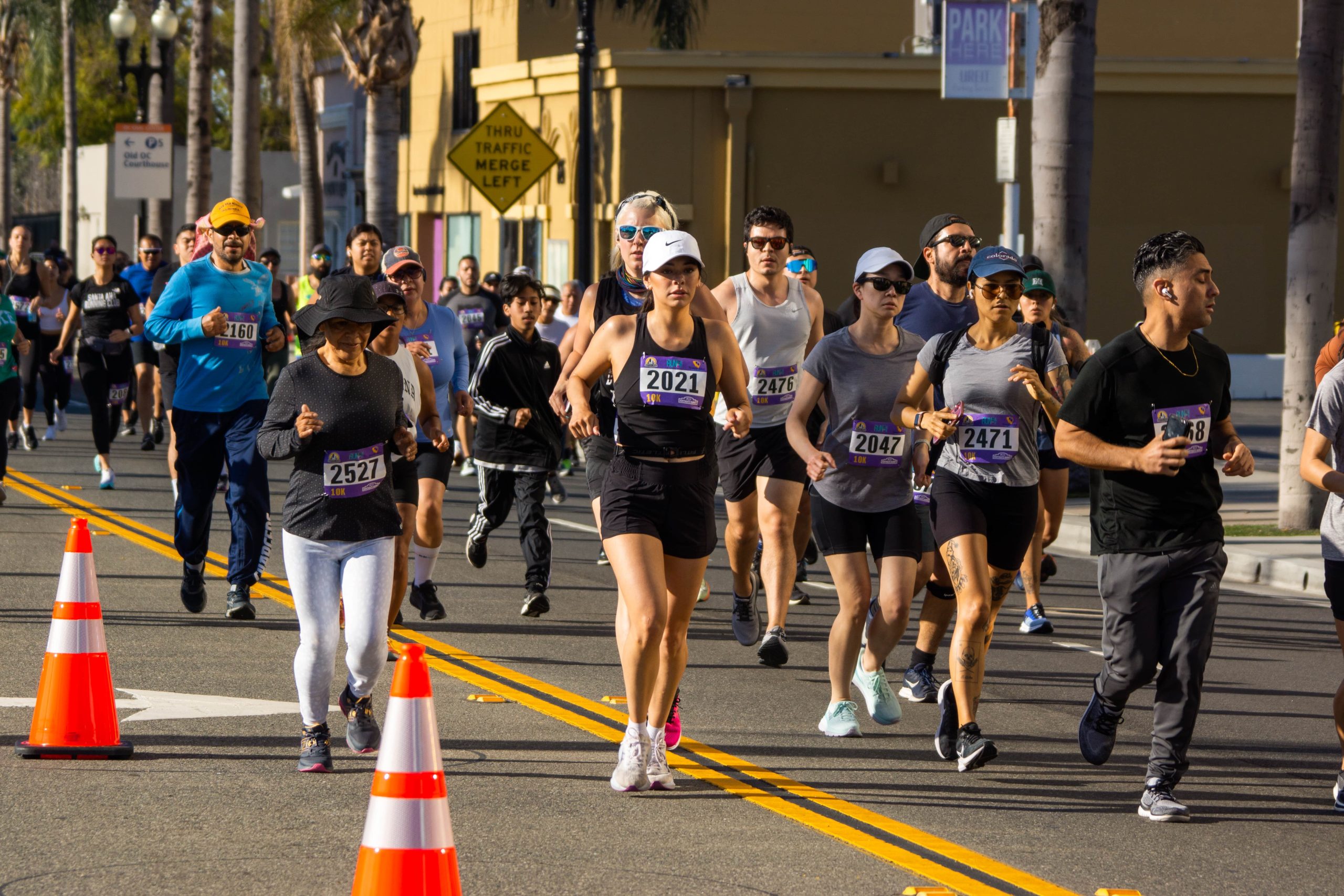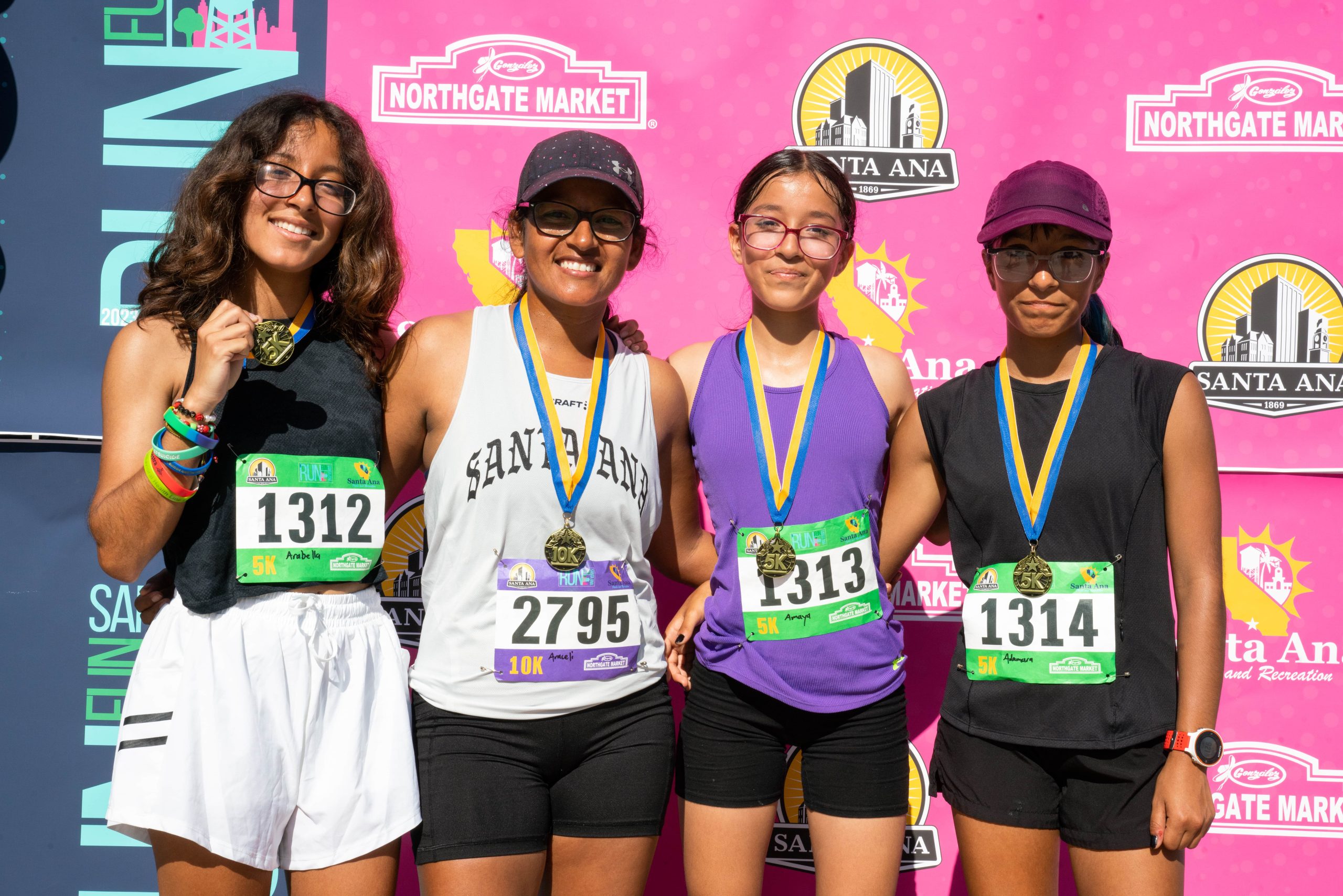 ---
Revive Santa Ana supports KidWorks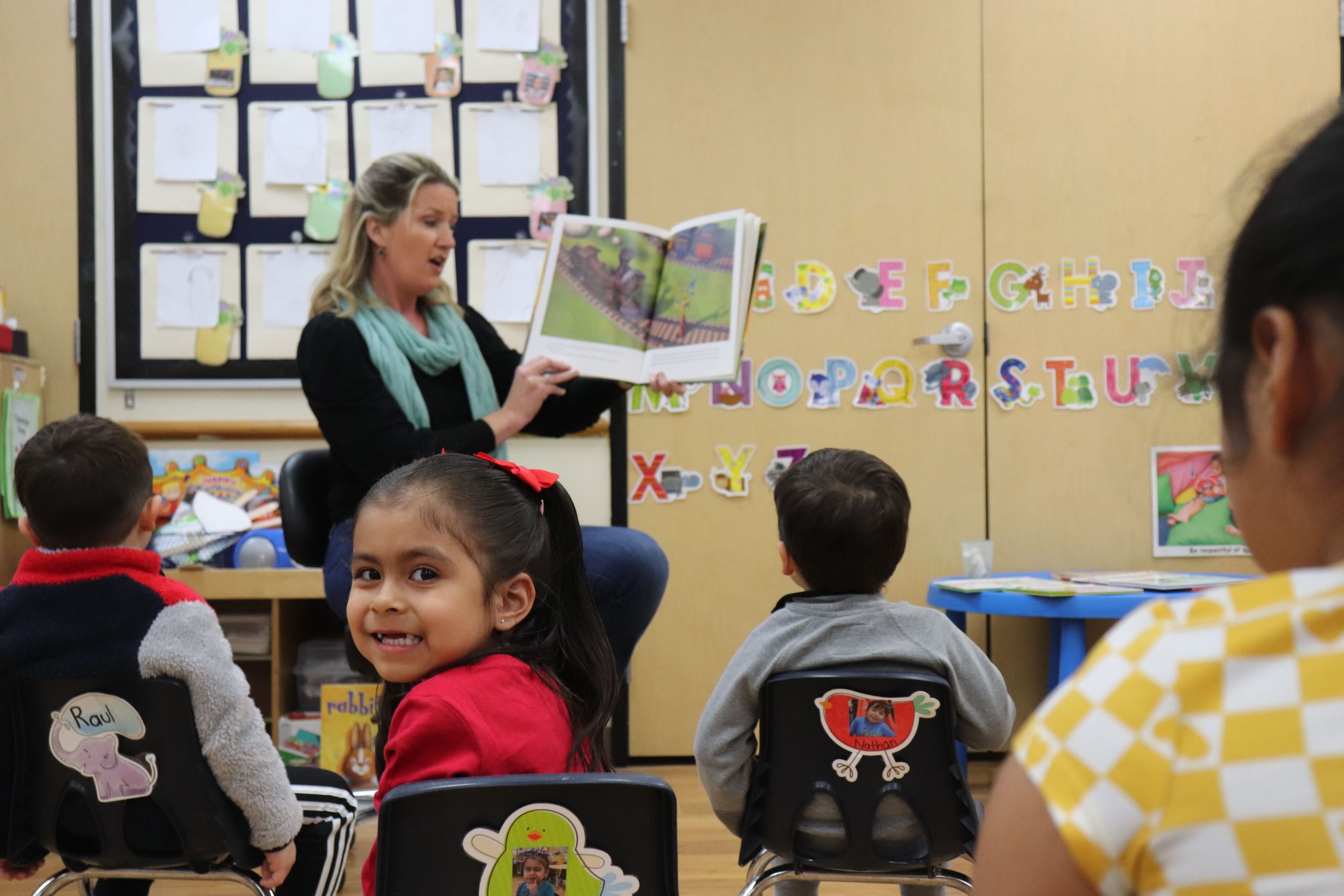 I recently took a tour of an amazing non-profit youth organization called KidWorks that is celebrating 30 years in Santa Ana. KidWorks serves over 500 students every year in preschool, K-12 and college, providing early childhood education, after-school programs and college prep. That has resulted in 100% of KidWorks high school students graduating on time and pursuing higher education. The organization has helped over 6,000 youth in Santa Ana over the past 30 years.

KidWorks is one of many local non-profits to apply for and receive one of our Revive Santa Ana grants, funded through the federal American Rescue Plan Act. The grant is helping KidWorks build an outdoor preschool classroom and fund an after-school program that provides tutoring and leadership development.
---
News
Tax Holiday Program helps businesses get licenses, pay off past-due taxes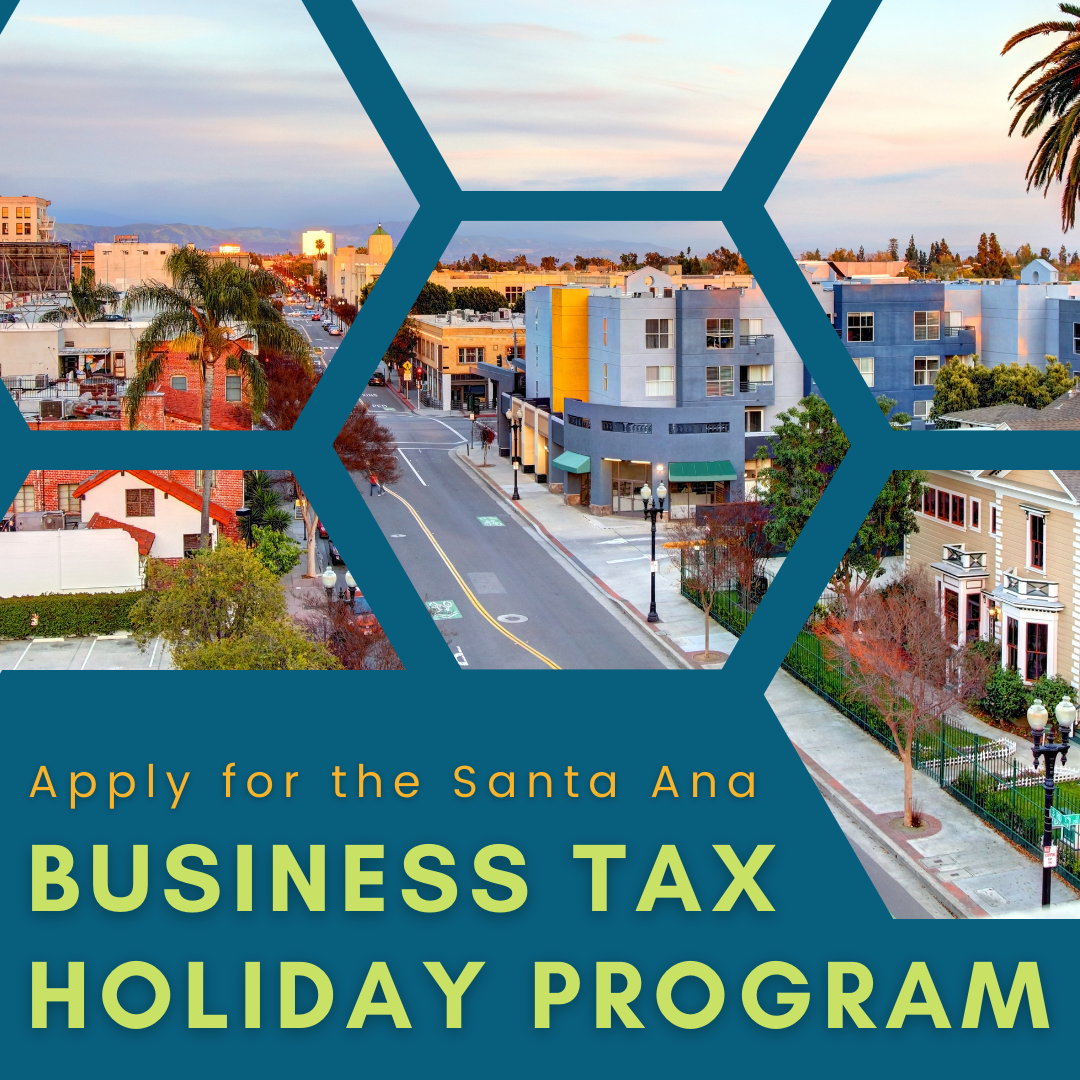 Local businesses can now pay off their business license taxes without penalties or interest while unlicensed businesses can get licensed without having to pay past-due taxes, thanks to the new Business License Tax Holiday Program. This program was created under voter-approved Measure W and went into effect on Jan. 1, 2023. The program allows:
Unlicensed Santa Ana businesses to get a business license without having to pay past-due taxes, penalties or interest
Licensed businesses to pay their past-due taxes without penalties or interest
Businesses to pay off underreported or misfiled tax obligations without penalties or interest
Businesses have until Dec. 31, 2023, to apply and may have longer to apply depending on your business tax category. Unlicensed businesses must pay their current year business license tax within 90 days of filing their application in order for the City to waive their back tax liabilities, including penalties and interest. Learn more and apply at the link below.
---
Eligibility expanded for commercial property improvement grants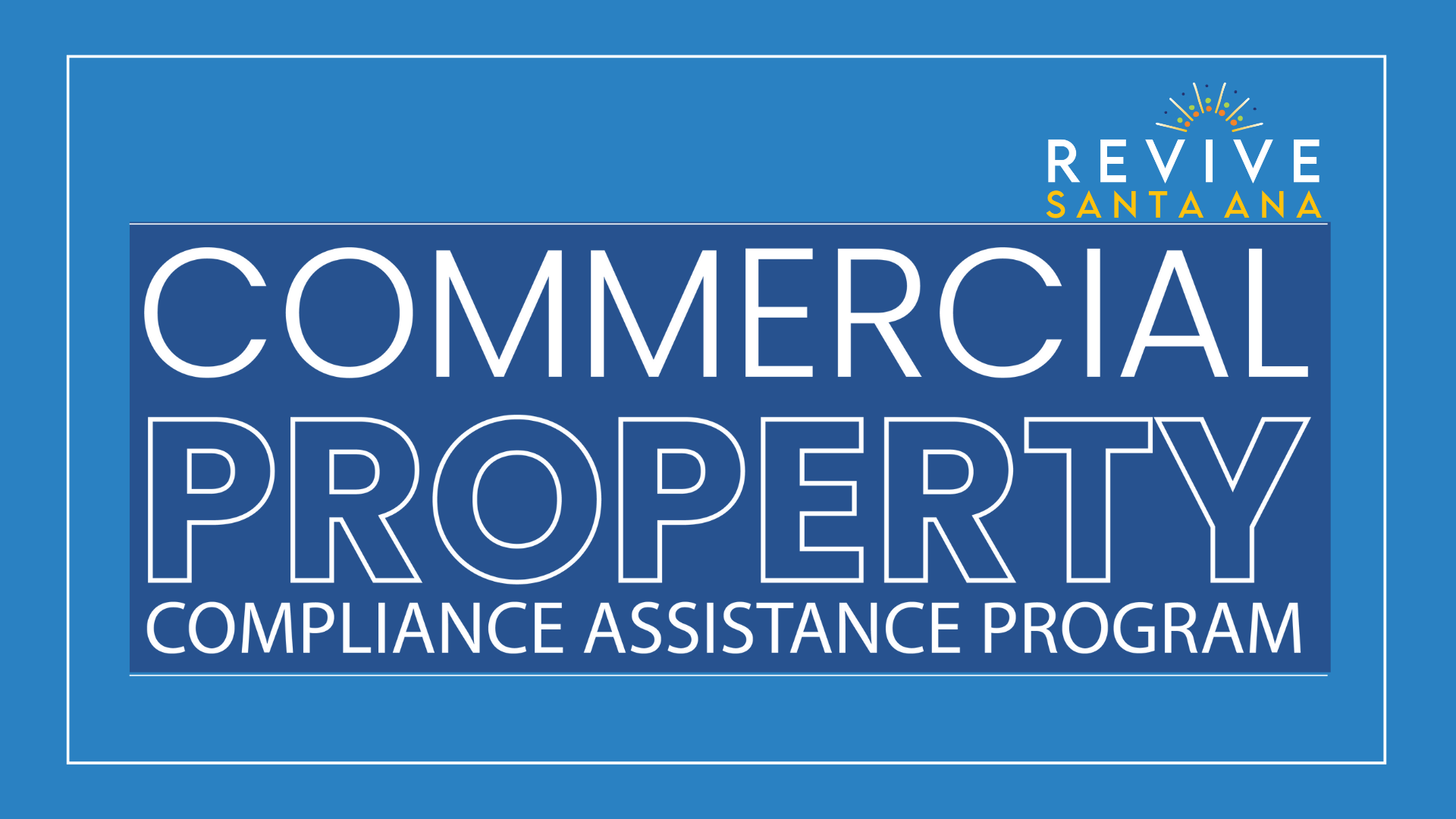 New areas of Santa Ana have been added for eligibility for the Commercial Property Compliance Assistance Program. If you are the owner of a commercial property in qualified areas of the city and you were fiscally impacted by the pandemic, you could receive up to $50,000 to help restore, beautify and enhance your property.
The goal of the program is to facilitate commercial revitalization, stimulate private investment, preserve and beautify the commercial corridors, and generate shopping and a pleasant walking environment by improving the visual aesthetics of commercial building facades. Learn more about the reimbursable grant program and submit your application through the link below.
Commercial Property Compliance Assistance Program
---
Bristol-Tolliver Street Urban Greening Project gets $3.5 million grant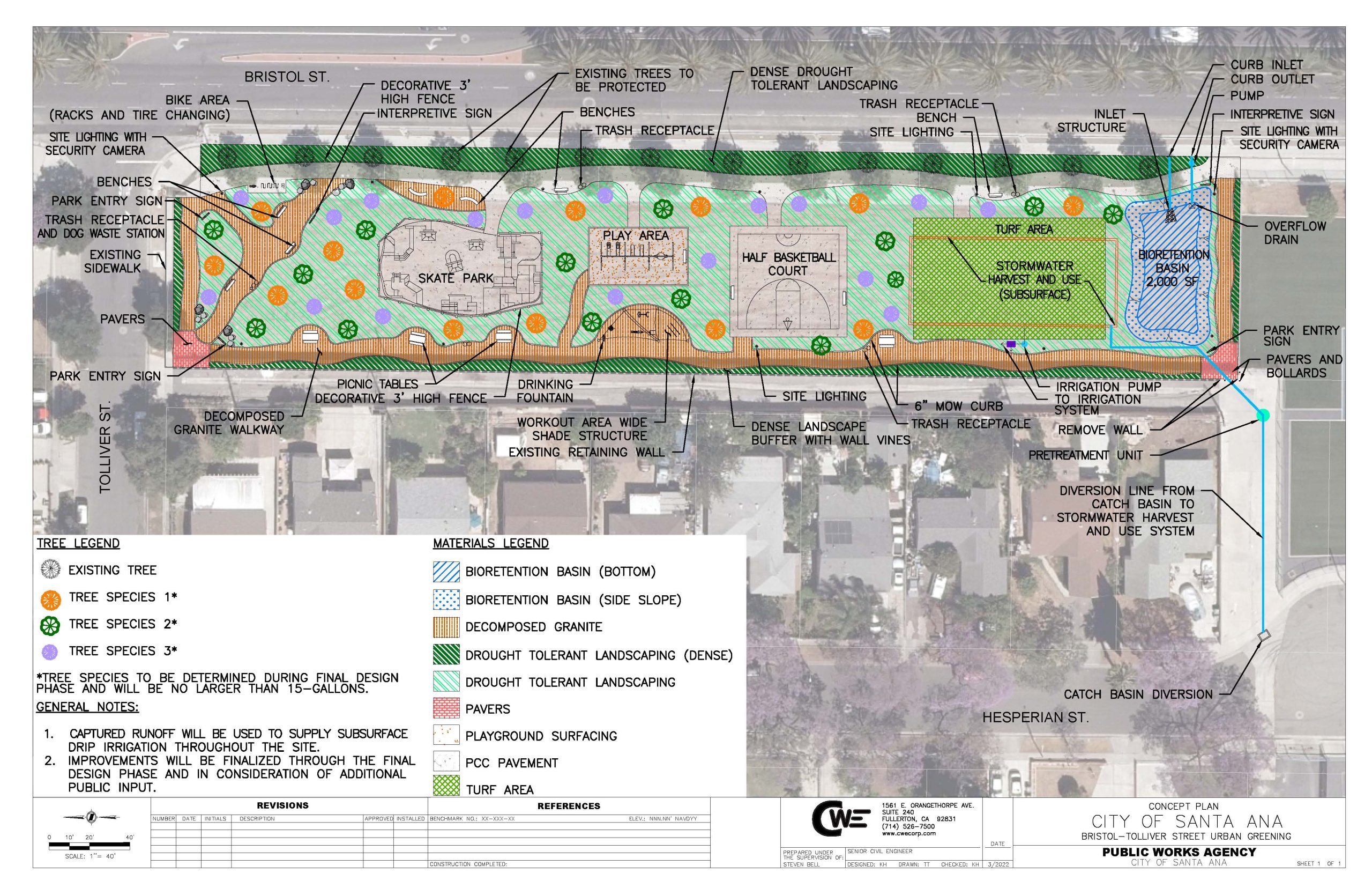 Earlier this month, our Public Works Agency was awarded $3.5 million from the California Natural Resources Agency's Urban Greening Grant Program for the Bristol-Tolliver Street Urban Greening Project. The project features the transformation of approximately 1.25-acres of vacant parcels at the intersection of Bristol and Tolliver streets into a new urban green space and public park.
The project includes pedestrian pathways, drought tolerant landscaping, lighting, waste receptacles, seating, interpretive signage, recreational features, and a stormwater treatment system that will capture stormwater runoff from the surrounding neighborhood and reuse it for park irrigation. It will provide significant aesthetic and environmental benefits to the community and further advances the City's strategy of viewing stormwater as a resource.
Final design of the project is anticipated to be complete in spring 2024. Construction is anticipated to start in summer 2024 and be completed in summer 2025.
Bristol-Tolliver Street Urban Greening Project
---
Nominate your neighbors for a Neighborhood Hero Award!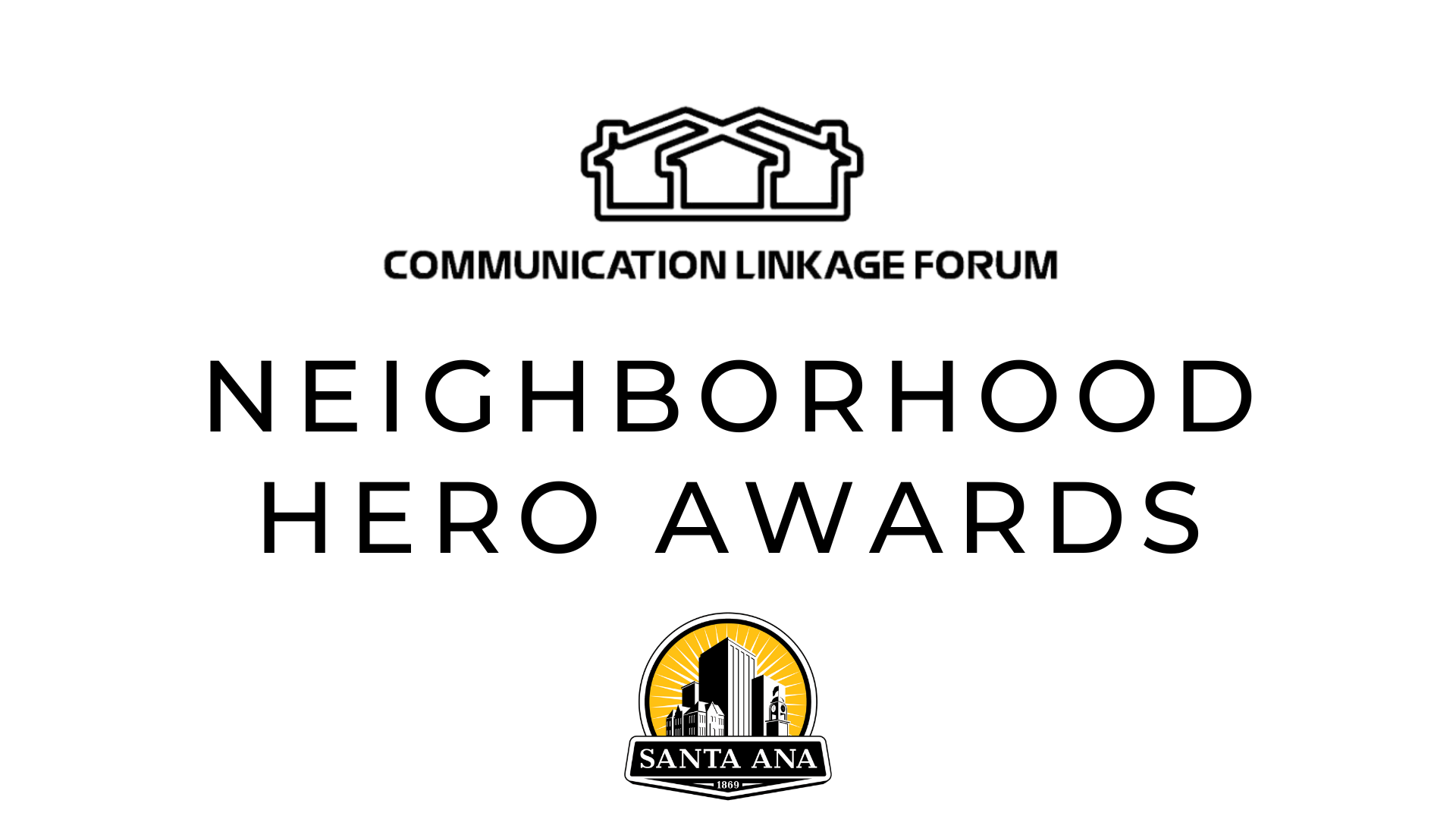 The Santa Ana Communication Linkage (Com-Link) Forum is taking nominations for the 2023 Neighborhood Hero Awards in order to honor those residents of Santa Ana who have shown commitment and enthusiasm toward improving the quality of life in their neighborhoods. Since 1997, many exceptional individuals have received this award and were subsequently recognized for their efforts by the Santa Ana City Council. Nominees must not have received an award within the past five years. The deadline for nominations is May 5, 2023. To submit a nomination, visit the link below.
---
First U.S. Lay's RePlay soccer field opens in Santa Ana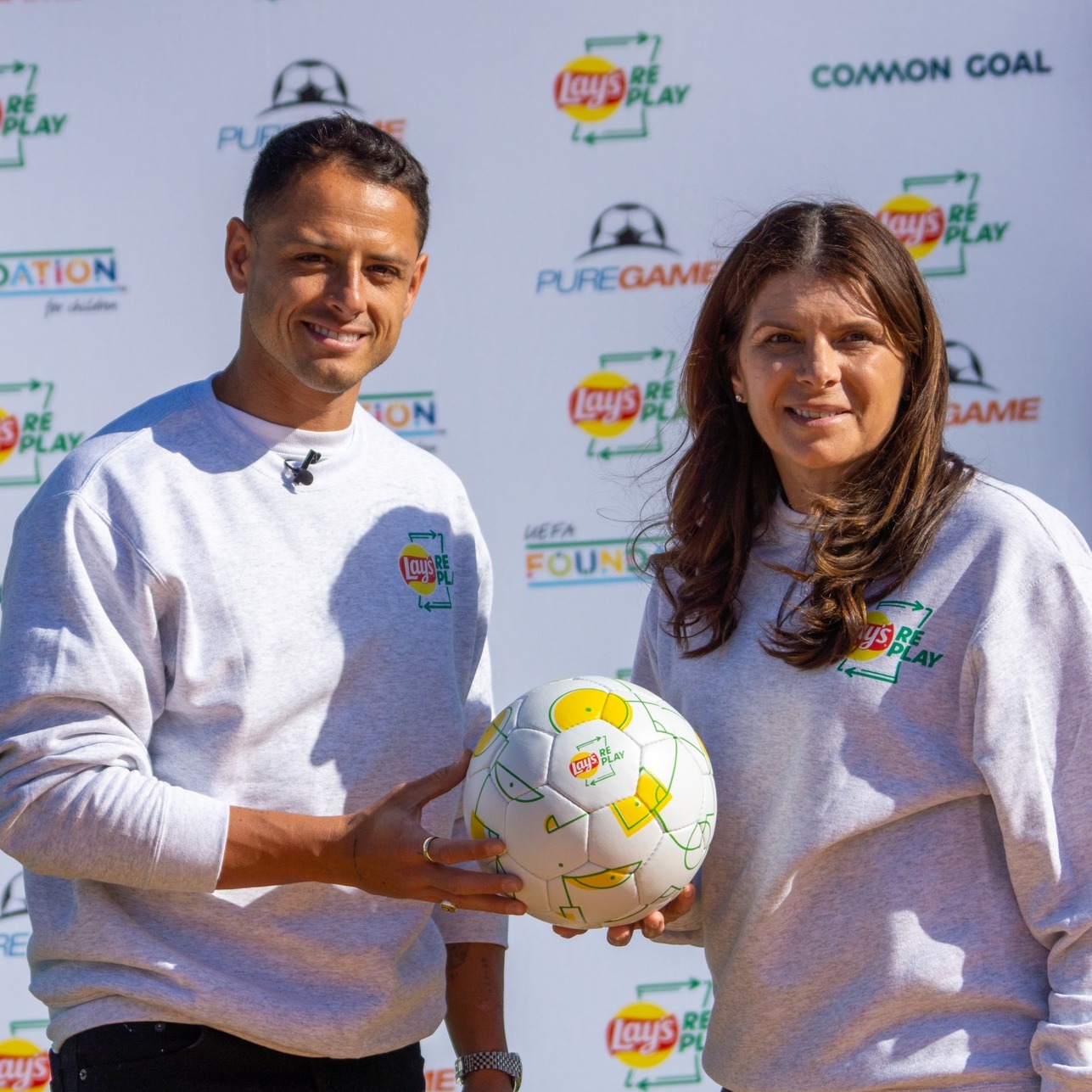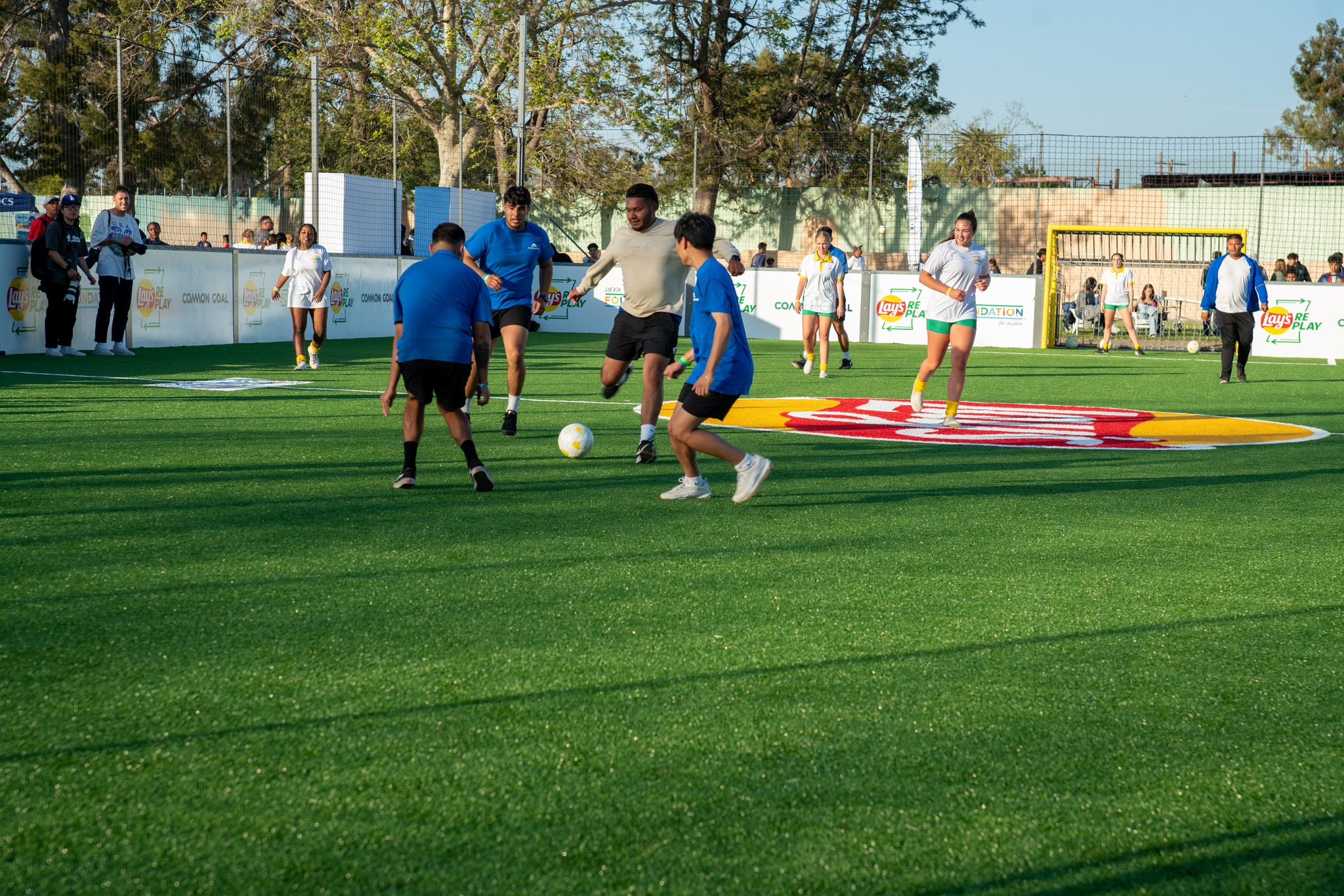 We were thrilled to join Lay's snack brand and soccer stars Mia Hamm and Javier "Chicharito" Hernández to celebrate the opening of a mini soccer field at Cesar Chavez Campesino Park this month. Lay's opened their first U.S. RePlay artificial turf field made from disposed Lay's Potato Chip bags right here in our city. By the end of this year, seven other countries (England, South Africa, Brazil, Mexico, Turkey, and Egypt) will have a similar mini-pitch installed.
Our Parks, Recreation and Community Services Agency worked with Lay's to bring this project to fruition. The soccer field is now open to the public!
---
Watch our homelessness update
Our Homeless Services staff provide regular updates to the City Council about our extensive efforts to get unhoused individuals into shelters, housing and services, and to address the impacts of homelessness on our neighborhoods and businesses. Watch the latest homelessness update at the video below and go to the Homeless Services Data Dashboard to learn more about what the City is doing.
Homeless Services Data Dashboard
---
Permitted events and street closures April 27-May 3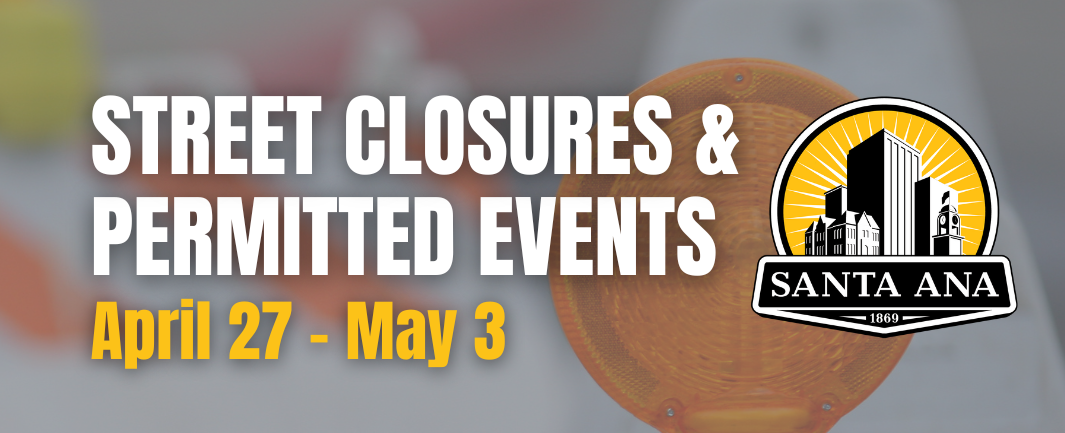 Here are the locations of upcoming permitted events and road closures so you can plan accordingly. Please drive slowly and safely in construction zones and around crowded events.
Street Closures and Permitted Events
---
Tales of the City
Santa Ana raises environmental awareness during Earth Week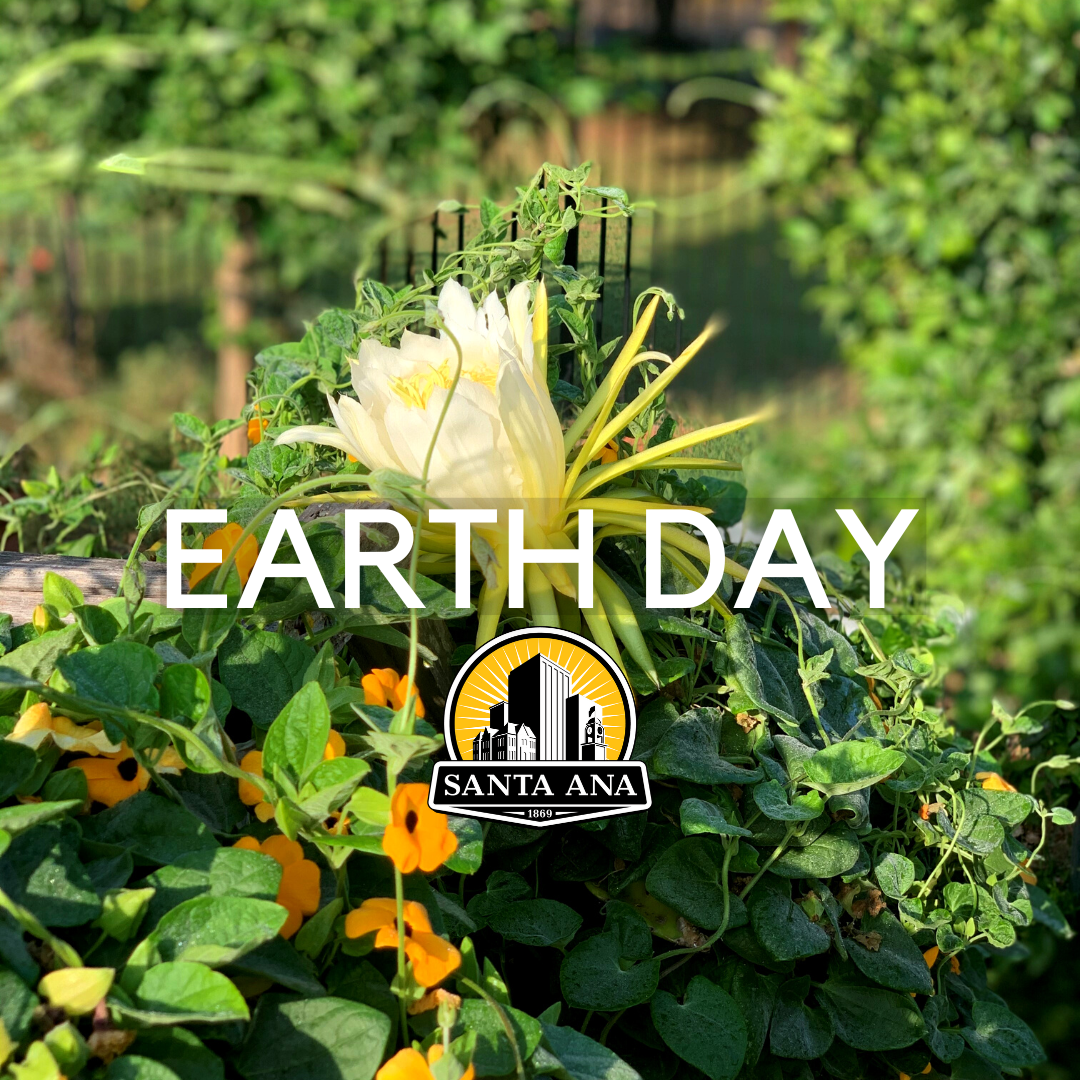 Multiple agencies in our City commemorated Earth Week and Earth Day by raising environmental awareness and promoting sustainable practices in Santa Ana.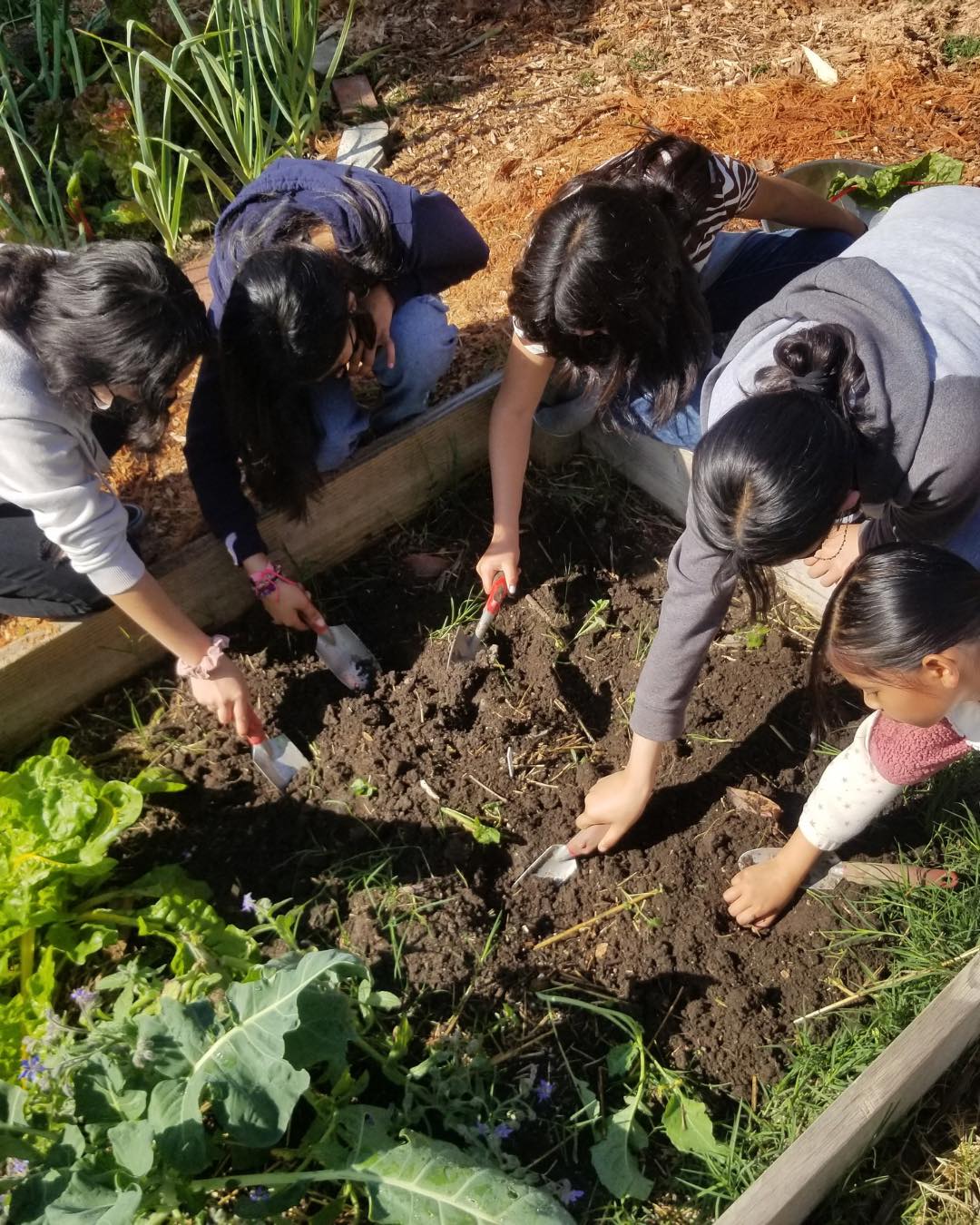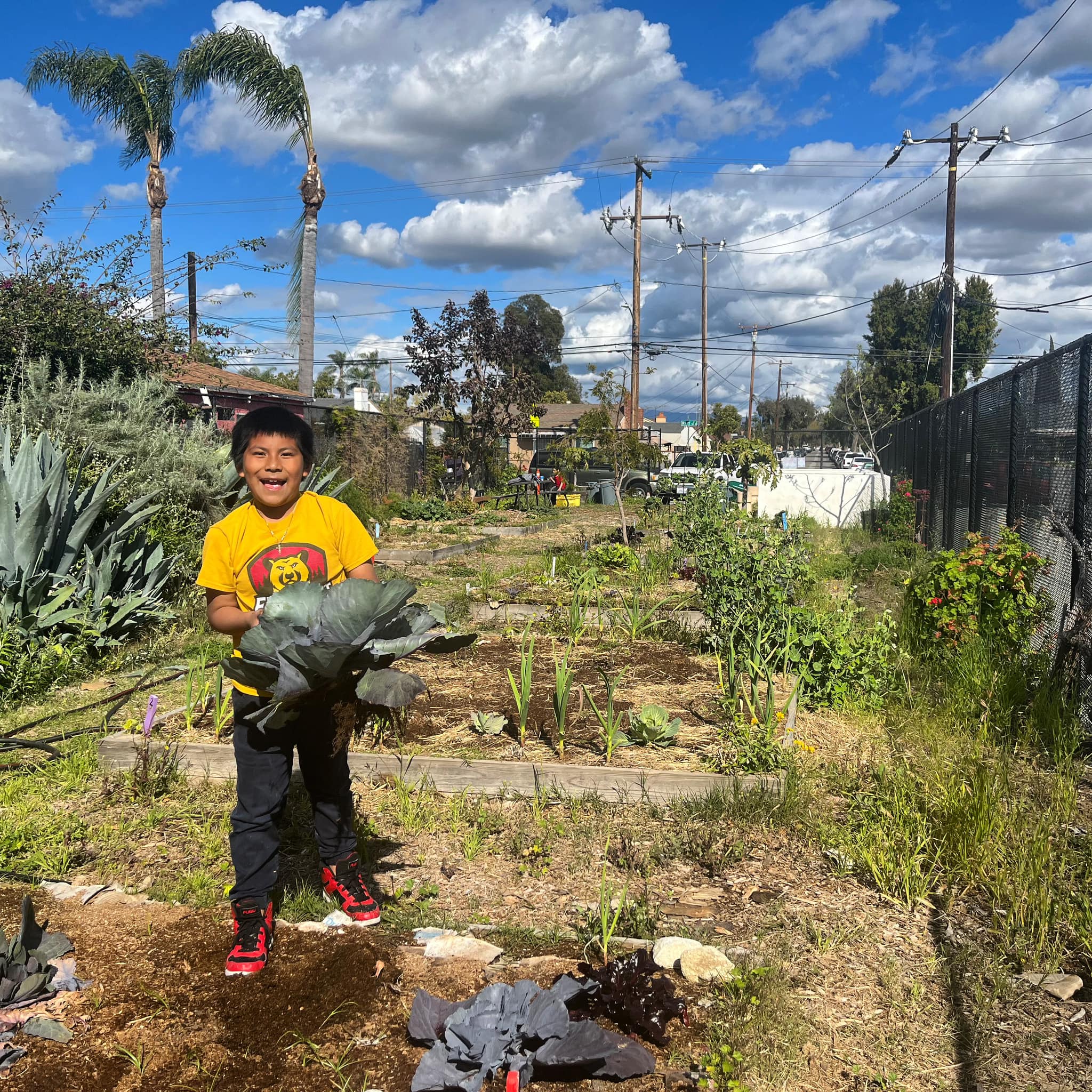 Our Parks, Recreation and Community Services Agency focused on sustainability April 17-21 by hosting the community at each of the City's five community gardens. Recreation Program Coordinator Veronica Roach helped participants take home their own planted harvest and succulents, and cleaned the organic gardens by hand. The gardens use homemade compost free of pesticides and weed-killing chemicals. Also, we want to give a very special thank you to Phillip Palmer from ABC 7 Eyewitness News for once again being our MC for this special event.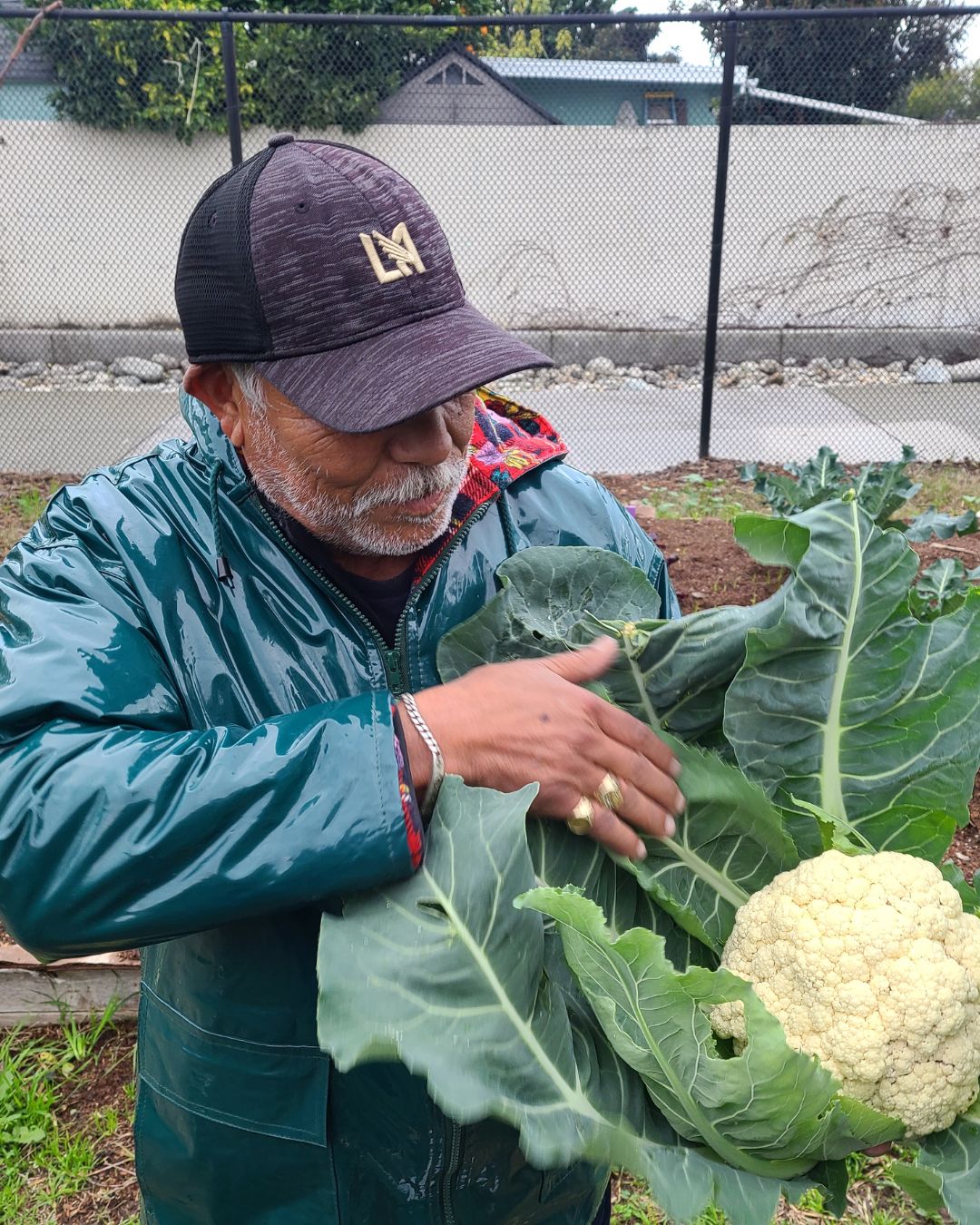 Our Public Works Agency promoted water conservation and its impact, especially in Southern California. Water Conservation Specialist Dani Lima presented at Roosevelt-Walker Academy on April 21 to teach students all about the water cycle and water conservation.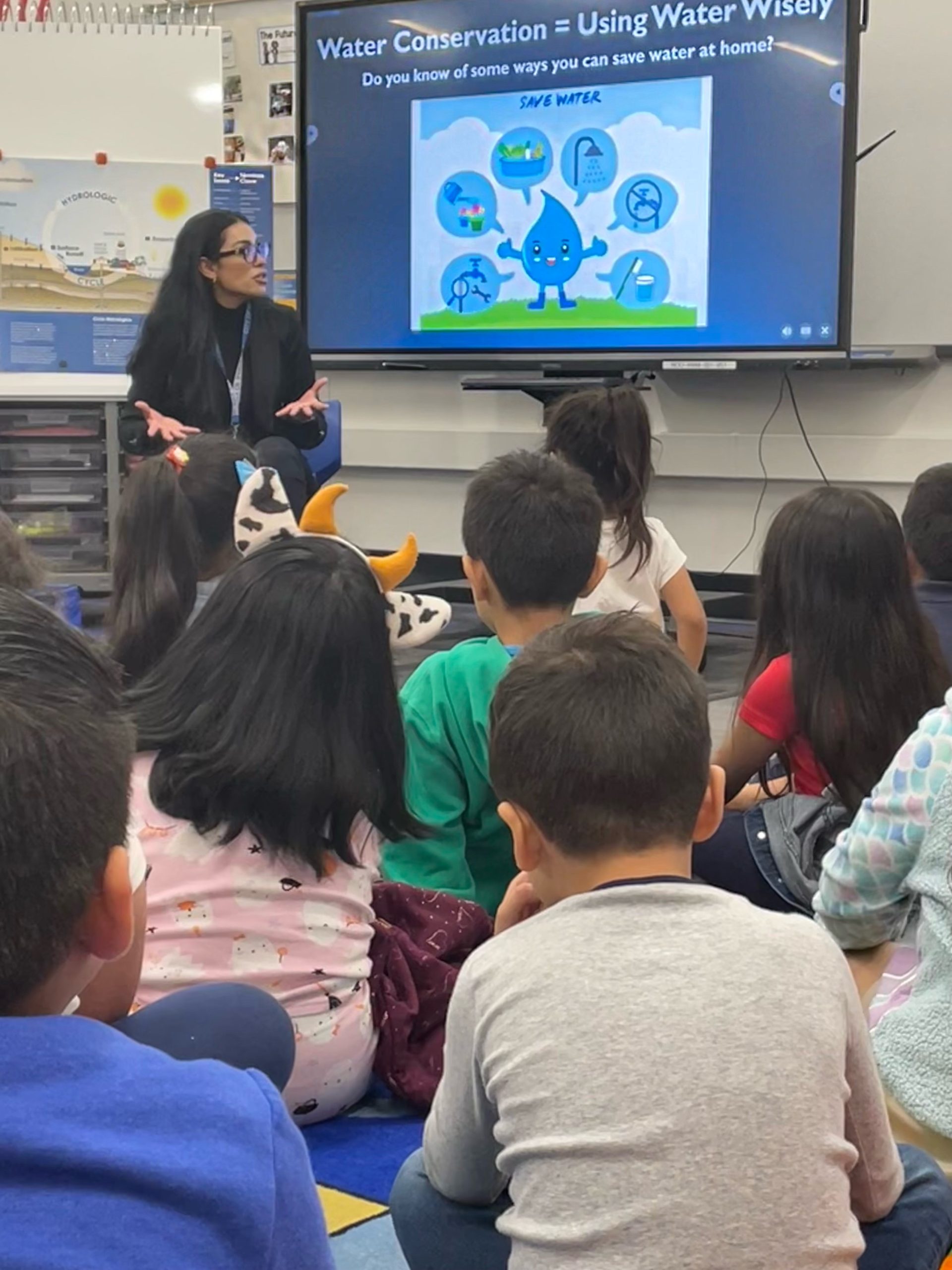 Public Works also participated in the Wyland Foundation's My Water Pledge, a month-long effort to save water and reduce pollution. Mayor Valerie Amezcua helped out by joining the National Mayor's Challenge for Water Conservation to encourage residents to take the water pledge. Cities with the highest percentage of residents who participate will be eligible to win hundreds of prizes. Take the water pledge by April 30!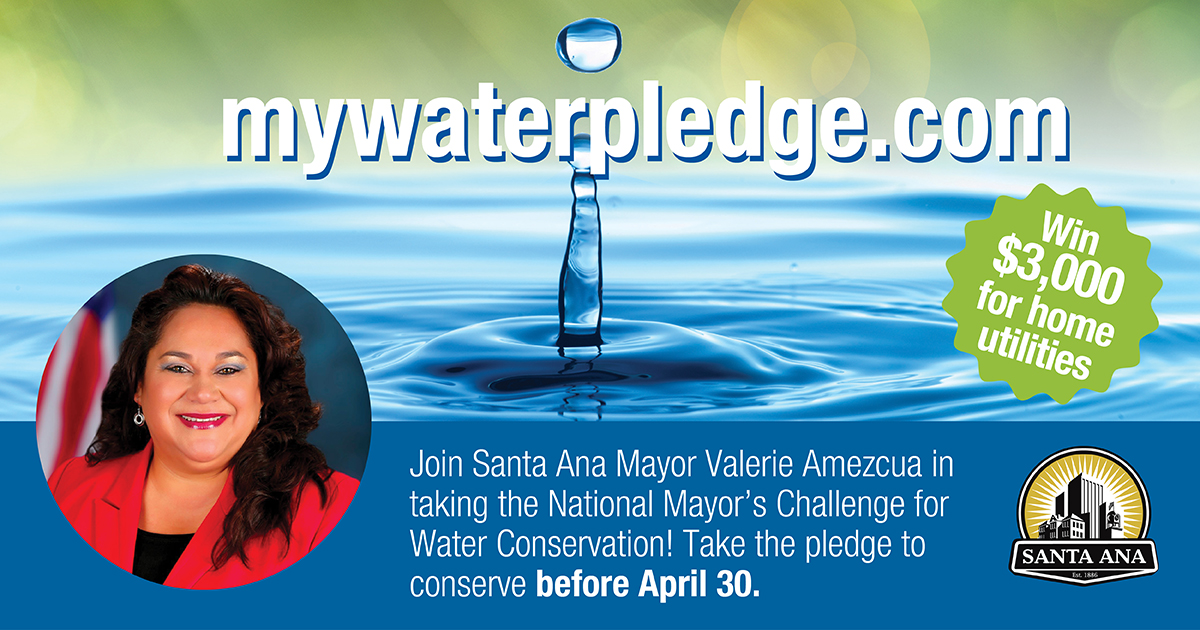 Lastly, Republic Services is hosting a free compost giveaway and paper shredding event for Santa Ana residents on April 29 to promote the importance of recycling. Scroll down to Events for more information.
We all must work together to raise awareness of environmental issues and use sustainable practices in our daily lives.
---
City Council meetings
At their April 18, 2023, regular meeting, the Santa Ana City Council:
Approved an ordinance to amend the municipal code for license requirements of contractors and subcontractors to include the collection and disclosure of information about pending or prior enforcement actions for any state or federal labor violations

Approved a resolution declaring opposition to Assembly Bill 742, which would prohibit the use of an unleashed police canine by law enforcement to apprehend a person, and any use of a police canine for crowd control

Awarded a purchase order of $439,922 for a second knowledge mobile for the library (General Fund and Cannabis Public Benefits Fund)

Authorized an additional $500,000 for asphalt pothole repairs in response to damage from rainstorms

Approved $1.2 million to build additional new primate habitats for the Santa Ana Zoo's Giant River Otter and Primate Trials Project

Awarded a construction contract to Diamond Construction & Design of $1.3 million for pedestrian and bicycle safety improvements in the Kennedy Elementary and Villa Fundamental Intermediate Safe Route to School Project
City Council meetings are typically held on the first and third Tuesdays of each month, with the closed session beginning at 5 p.m. or earlier. The open meeting session begins at 5:45 p.m. Meetings have both in-person and virtual participation and attendance and are live streamed on the City's YouTube channel and our TV channel, CTV3 (channel 3 on Spectrum.) If you'd like to provide public comments on agenda and non-agenda items, you can email, attend in person, or join the Zoom webinar online or by phone.
---
Events
Día de los Niños, Día de los Libros – April 29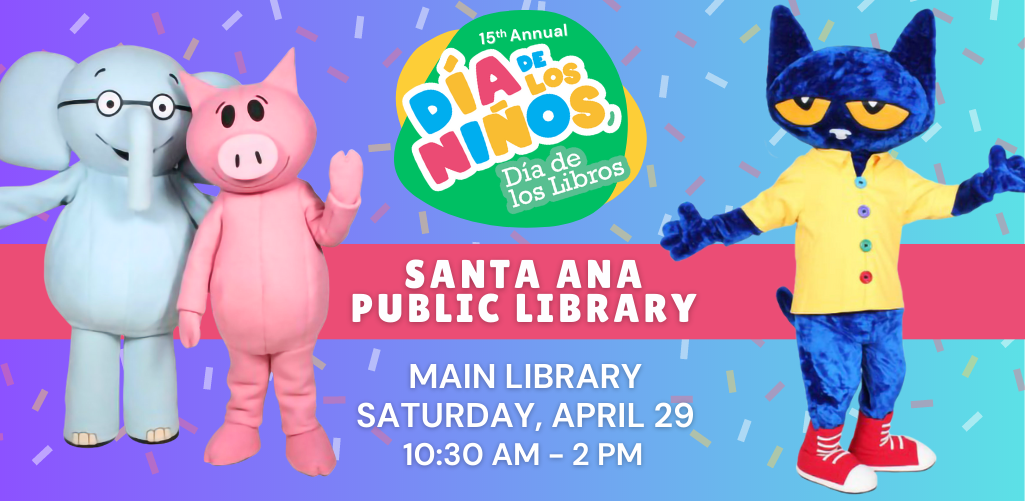 Join us for the 15th Annual Día de los Niños, Día de los Libros (Children's Day, Book Day) at the Main Library. This family-friendly event will feature a variety of fun activities, including meet-and-greets with Pete the Cat and Elephant and Piggie, and a book giveaway for youth. We will also have special performers from the community, including a magic show, dancers, and a special concert by best-selling author of the original Pete the Cat series, Eric Litwin. The City's Public Works Maintenance Services Division will also be celebrating National Arbor Day by giving away tree saplings and providing educational tree presentations at the event.
Saturday, April 29

10:30 a.m. – 2 p.m.

Main Library, 26 Civic Center Plaza, Santa Ana
---
Free Compost and Paper Shredding – April 29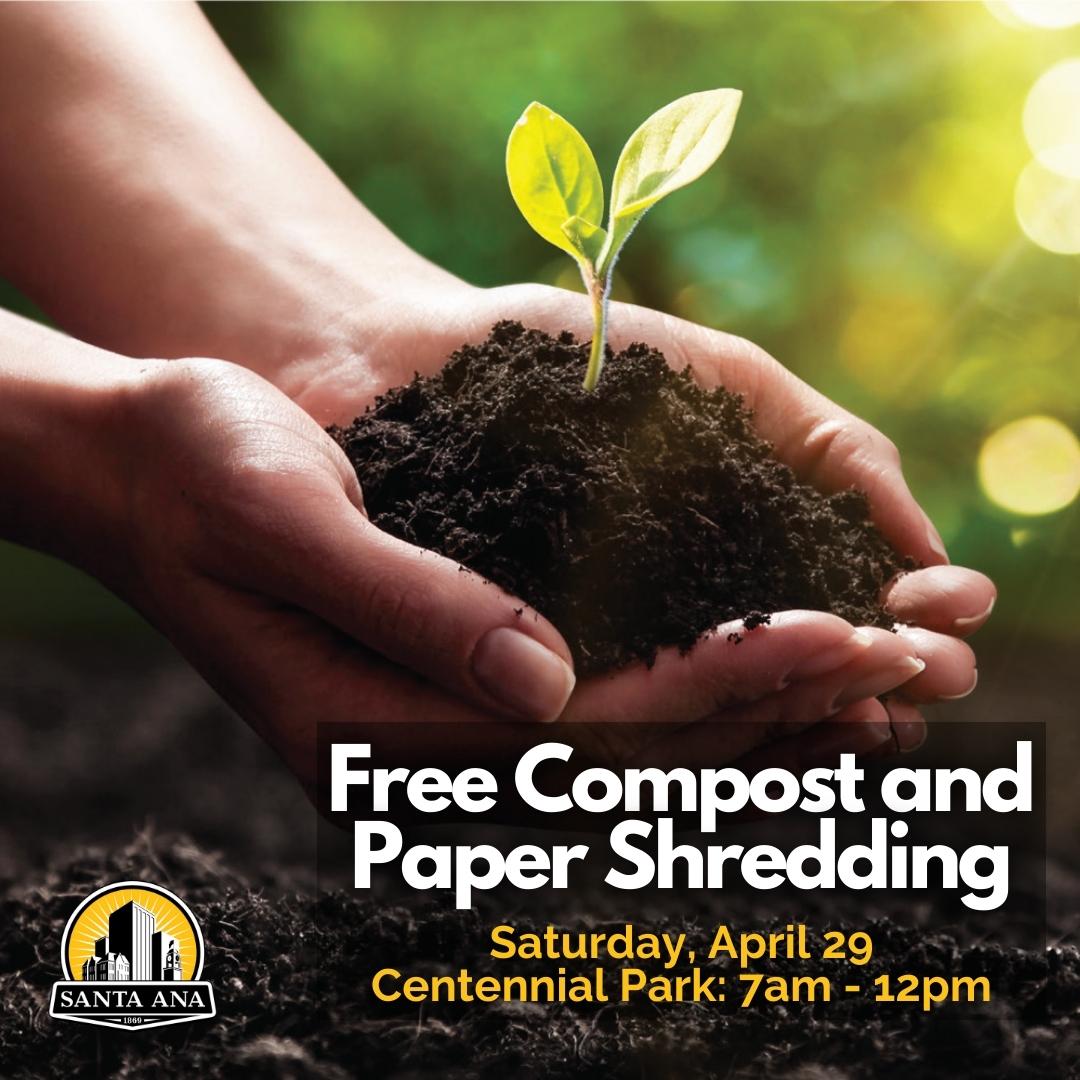 Republic Services is hosting a free compost giveaway and paper shredding event for Santa Ana residents only. Please bring your own bags or containers to receive up to 80 gallons of garden compost while supplies last.
Saturday, April 29

7 a.m. – 12 p.m.

Centennial Park, 3000 W. Edinger Ave., Santa Ana
Free Compost and Paper Shredding
---
Latino Health Access Activate Your Health – April 29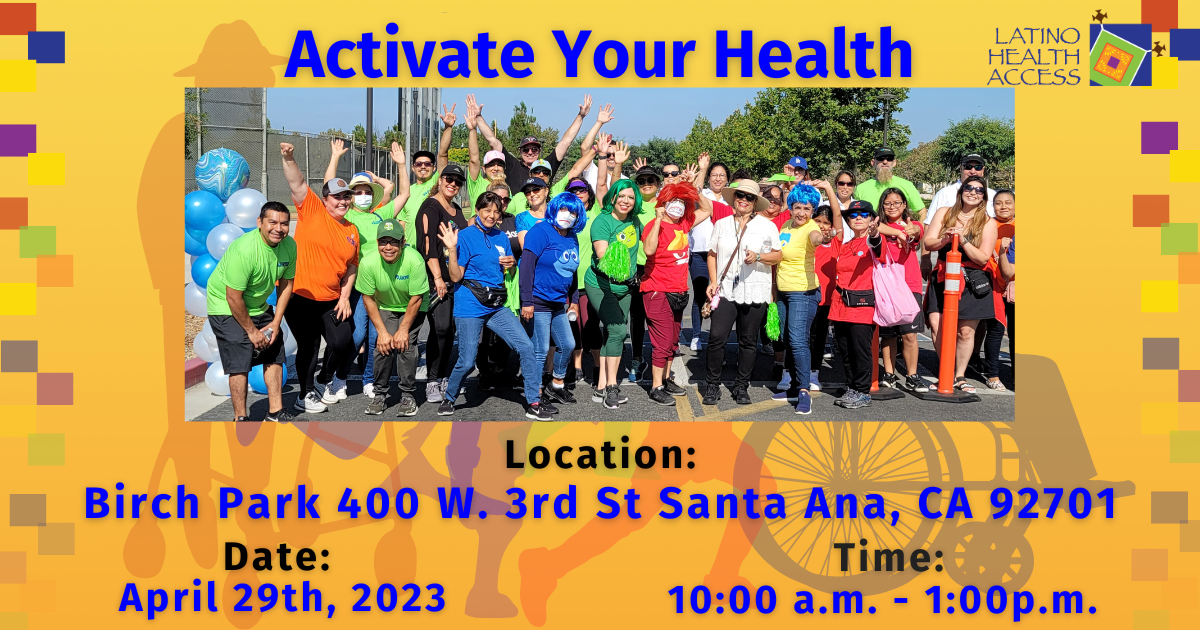 Latino Health Access if having a free health fair to provide resources and activities in a holistic space for mental, emotional, physical and spiritual well-being. Activities include dancing, yoga, Zumba, financial literacy, meditation, journaling and more.
Saturday, April 29

10 a.m. – 1 p.m.

Birch Park, 400 W. 3rd St., Santa Ana
Register to Activate Your Health
---
Public Meeting: Santiago Creek Flood Channel Proposed Improvements – May 3

Orange County Public Works and the U.S. Army Corps of Engineers are hosting a hybrid virtual and in-person public meeting on Wednesday, May 3, at the OC Public Works County Conference Center. The meeting will include public input on the proposed conceptual design of the Santiago Creek channel improvements with affected property owners and nearby residents. Zoom meeting information will be posted soon on the OC Public Works event page.
Wednesday, May 3
6 – 8 p.m.
County Conference Center, 601 N. Ross St.
---
Vietnamese Storytime – May 6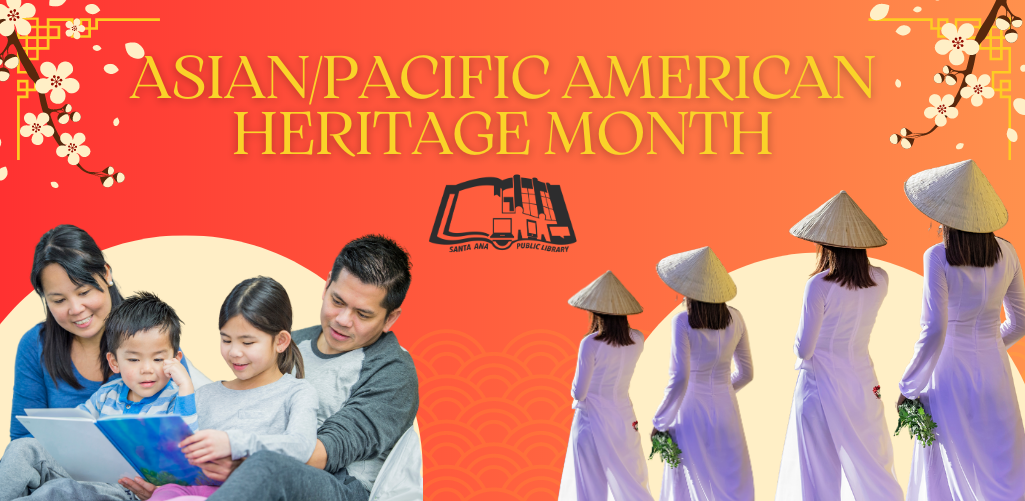 It's story time with Mr. Tony! For the first time ever, the Santa Ana Public Library will host a bilingual Storytime program in both Vietnamese and English. Children learn basic Vietnamese through songs, stories and activities. Come join us for an unforgettable experience that celebrates the richness of our community's heritage!
Newhope Library, 122 N. Newhope St., Santa Ana

Saturday, May 6, 2023

1-1:30 p.m.
---
Ao Dai Dance Performance – May 6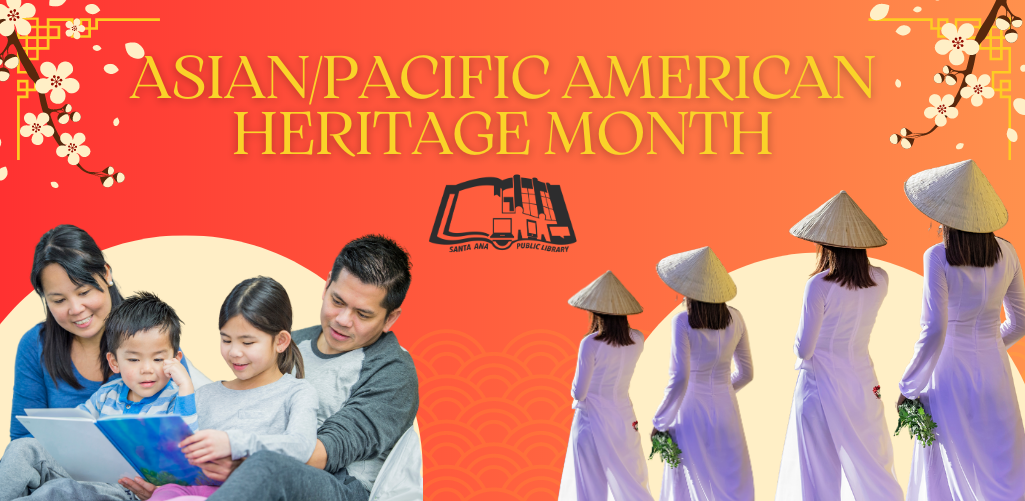 Enjoy an afternoon of spectacular Ao Dai, a traditional Vietnamese dress, through a special dance presentation. Santa Ana Public Library is excited to host this cultural performance that showcases the beauty and elegance of Vietnamese dance. Come experience the vibrant colors and graceful movements of the performers as they bring this traditional art form to life.
Newhope Library, 122 N. Newhope St., Santa Ana

Saturday, May 6, 2023

2-3 p.m.
---
OCTA Bike Rally – May 18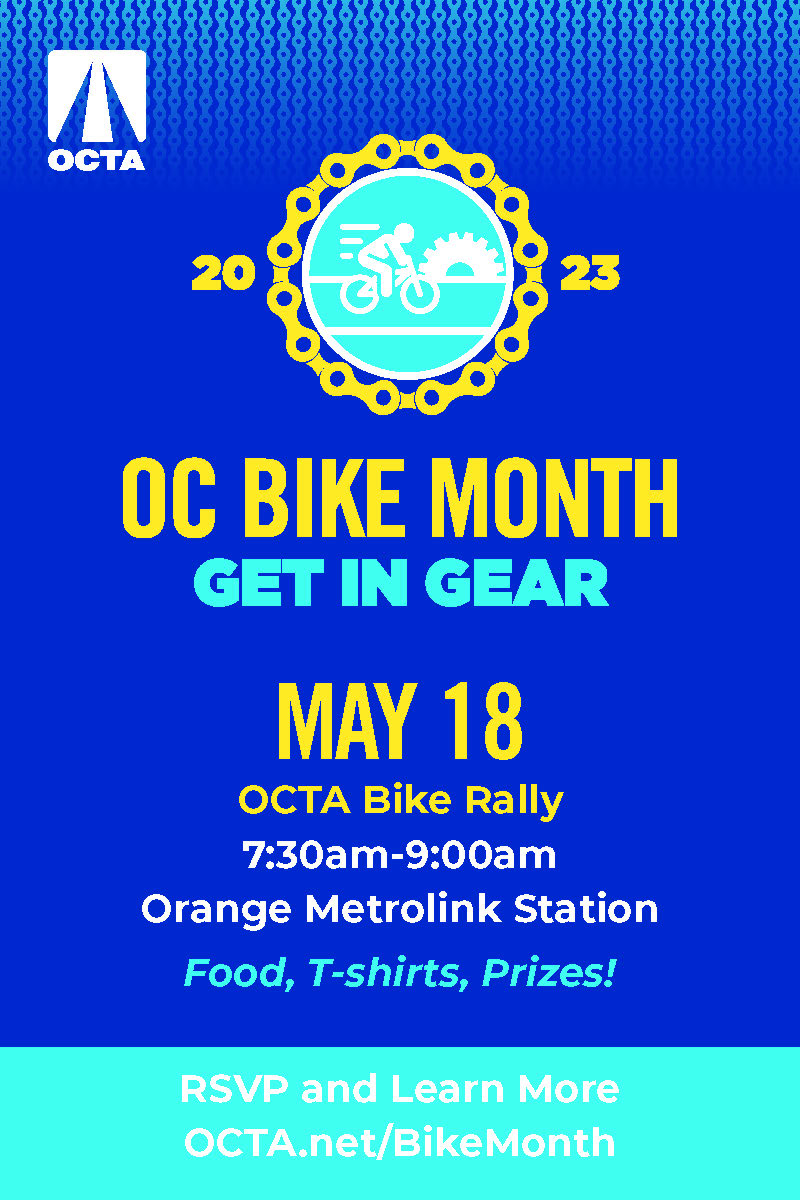 Orange County Transportation Authority (OCTA) invites all of Orange County to celebrate National Bike Month in May! OCTA is having a bike rally with a ride from the Orange Metrolink Station to the OCTA Administrative Headquarters in Orange. Participants will receive a free T-shirt, snacks and a chance to win prizes. RSVP at the link below. Throughout May, OCTA is promoting the benefits of cycling, sharing safety tips, and offering digital toolkits for employers to encourage employees to promote Bike Month on its website.
Thursday, May 18

7:30 – 9 a.m.

Orange Metrolink Station, 194 N. Atchison St., Orange
---
Public Works Week Family Event – May 20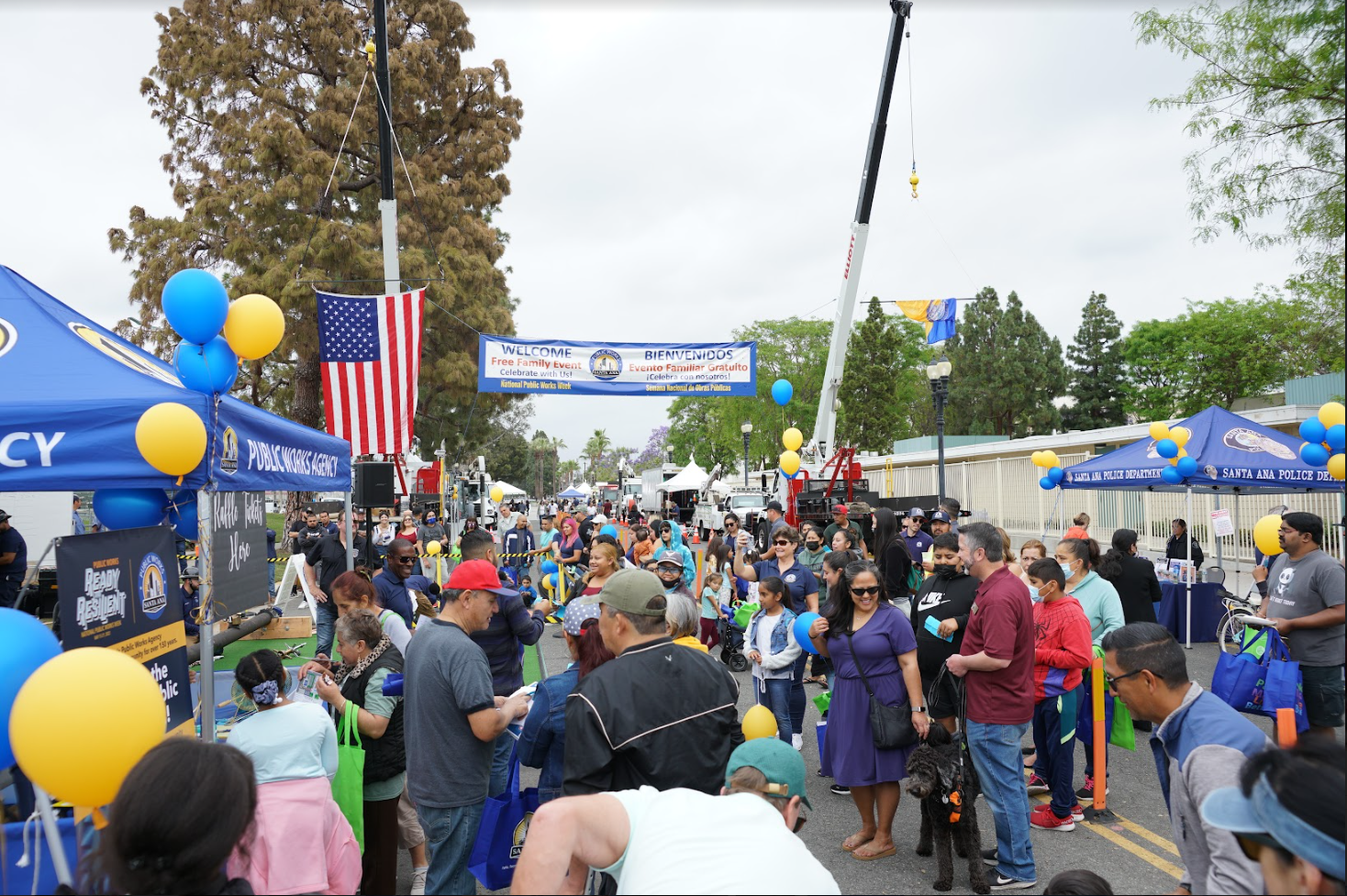 To kick off National Public Works Week in May, our Public Works Agency invites you, your family and friends to a free community event that includes free tacos for the first 500 guests, prizes, tours of the state-of-the-art water pump station, a water pipe connection competition, Public Works exhibits and large equipment displays, and exhibits from the Neighborhood Initiative and Environmental Services team, Santa Ana Public Library, Santa Ana Police Department and Orange County Fire Authority. Watch a video of last year's event.
Saturday, May 20

11 a.m. to 3 p.m.

Walnut Water Pump Station, 723 W. Walnut St., Santa Ana
Public Works Week Family Event
---
Resources
Who do I call at City Hall?
Important phone numbers:
City Hall main line: (714) 647-5400
Code Enforcement: (714) 667-2780
Graffiti Hotline: (877) 786-7824
Emergency Water Services: (714) 953-8026
Public Works dispatch (street sweeping, trees): (714) 647-3380
Find more phone numbers for all City services
Utility services
Starting a small business?
Food assistance
---