Soccer stars Mia Hamm and Javier "Chicharito" Hernández join Lay's and City of Santa Ana in opening new field at Cesar Chavez Park. 
SANTA ANA, Calif. – The City of Santa Ana joined Lay's snack brand and soccer stars Mia Hamm and Javier "Chicharito" Hernández to celebrate the opening of the first mini soccer field made from disposed Lay's Potato Chip bags to open in t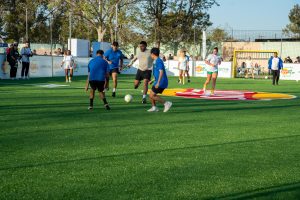 he United States on Wednesday, April 19, at Cesar Chavez Campesino Park.
To drive positive outcomes for people and the planet, the U.S. Lay's RePlay field is made with recycled Lay's chip bags and packaging materials that are washed, shredded, and converted into an underlying layer that is designed to be recycled at the end of its 10-year lifespan. The soccer field is open to the Santa Ana community for recreational play, and the City's Parks, Recreation and Community Services Agency will be introducing adult soccer leagues and other programming.
"Lay's couldn't have picked a better location for this sustainable soccer field than the proud, vibrant and soccer-loving city of Santa Ana," Mayor Valerie Amezcua said. "We are grateful for Lay's generous contribution to our community. This project will enhance the City Council's work to create more parks, open space and recreational opportunities for our residents."
Lay's is sparking joy and helping deserving communities "Stay Golden" with this global program. Santa Ana was selected by Lay's and Lay's RePlay global partners, UEFA Foundation for Children and Common Goal, as the perfect location to build the first field in the U.S. for its rich Hispanic heritage and culture. With the goal of providing affordable access to soccer programming and education, Lay's opened the field today in partnership with the City and Pure Game, a local non-profit that teaches children life skills through mentorship and sports-based character education.
"As a UEFA ambassador, I am proud to be a voice for Lay's RePlay," said Hamm, FIFA World Cup champion and two-time Olympic gold medalist. "Having access to community gathering spaces and safe playing fields must be a top priority for young people across the world. Soccer continues to see incredible growth, and with the Hispanic community being the fastest growing segment of our population – and arguably the most passionate about the game – beginning the Lay's RePlay U.S. expansion in a key area like Santa Ana is a powerful moment."
"The pipeline for healthy lives in the Hispanic community expands greatly when you have access to quality fields and equipment, and the Lay's RePlay program is a game-changer,"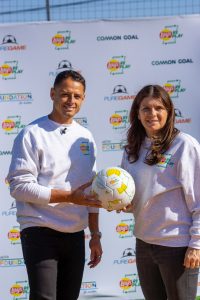 said Major League Soccer player and LA Galaxy striker Chicharito. "As someone who lives and plays in Southern California, I'm looking forward to seeing the joy this field brings to
families across the area."
"Since 2021, Lay's RePlay has had the privilege of creating beautiful soccer fields and programming to share with deserving communities across the globe. From South Africa, Brazil, and Mexico to the United Kingdom, we've been able to see the tremendous impact this program brings to aspiring athletes and families around the world – uniting people through a common love of soccer, providing a safe space to foster togetherness and minimizing our impact on the earth," said Ciara Dilley, PepsiCo's vice president of marketing for global food brands. "We are so honored to be able to play such a significant role in furthering the soccer journeys of young people here in the community of Santa Ana with the launch of our first Lay's RePlay soccer field in the U.S.!"
The new Lay's RePlay field marks the sixth to open around the world, with others in South Africa, Brazil, the United Kingdom, Italy, and Mexico, which have been utilized over 25,000 times to provide underserved communities with access to the beloved sport and state-of-the-art soccer fields since the program's launch. Lay's RePlay builds on work done by Lay's and the UEFA Foundation for Children that delivered three artificial soccer fields in the Za'atari and Azraq Refugee Camps in 2017 and 2018 and have since provided 35,000 people access to the sport.
"Lay's has been such an incredible partner to work with over the years and we are thrilled to support bringing the Lay's RePlay program into the U.S.," said Urs Kluser, general secretary for UEFA Foundation for Children. "Through our partnership, we are able to put our best resources forward and work together to gather communities around the world through the joy of the sport."
With the help of Lay's and their local partners, the City of Santa Ana strives to reimagine a part of Cesar Chavez Campesino Park as an area that can bring people together and make sports accessible at a local level. We are working together to emphasize a sense of community and teamwork in Santa Ana. Construction for this park project began on March 15, 2023, under a donation agreement with Common Goal.
# # #
About Santa Ana
Santa Ana is downtown for the world-famous Orange County, California. It is the County Seat, the second-most populous city in Orange County, and is home to a vibrant evening scene and arts community. Over 1,400 City employees work hard every day to deliver efficient public services in partnership with our community to ensure public safety, a prosperous economic environment, opportunities for our youth, and a high quality of life for residents. Learn more at www.santa-ana.org.