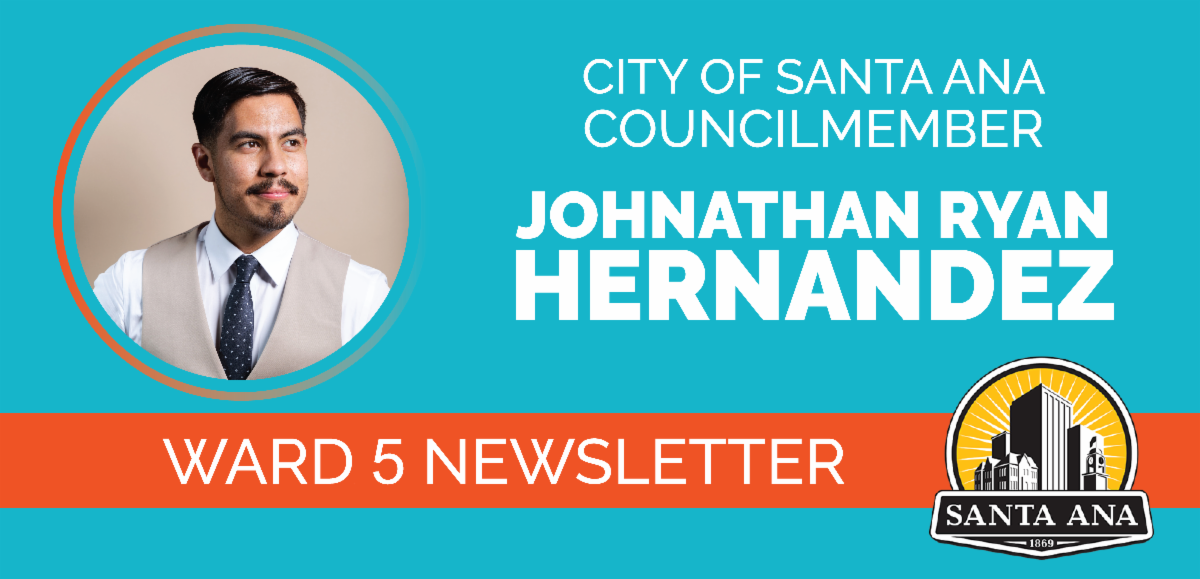 Welcome!
Dear neighbors,
Welcome to our Ward 5 newsletter, where I share news, legislative updates, community events and highlight local art, businesses, and causes that are important to Ward 5 residents.
As we approach the end of summer, I want to cover some important news that affects our community. First, I want to let you know about the City budget that was approved in June. The city's fiscal year runs from July to June, and a new budget is adopted every year that serves as a guideline for the next 12 months. I was proud and excited about this budget, which includes more programs and services for the community and money for the businesses affected by the OC Streetcar construction. The Council also passed a spending plan for our Revive Santa Ana pandemic recovery initiative that uses federal funds from the American Rescue Plan Act.
Lastly, I wanted to personally invite you to the first annual Chicano Heritage Festival happening on Sunday, August 28, at El Salvador Park in our Ward 5. Championing this event was a priority of mine in order to celebrate the culture, artistry, activism, and voice of our rich Chicano heritage that we are all proud of. Read more about the event below in the "Events & Meetings" section.
Your councilmember and neighbor,
Johnathan Ryan Hernandez
#OneOfUs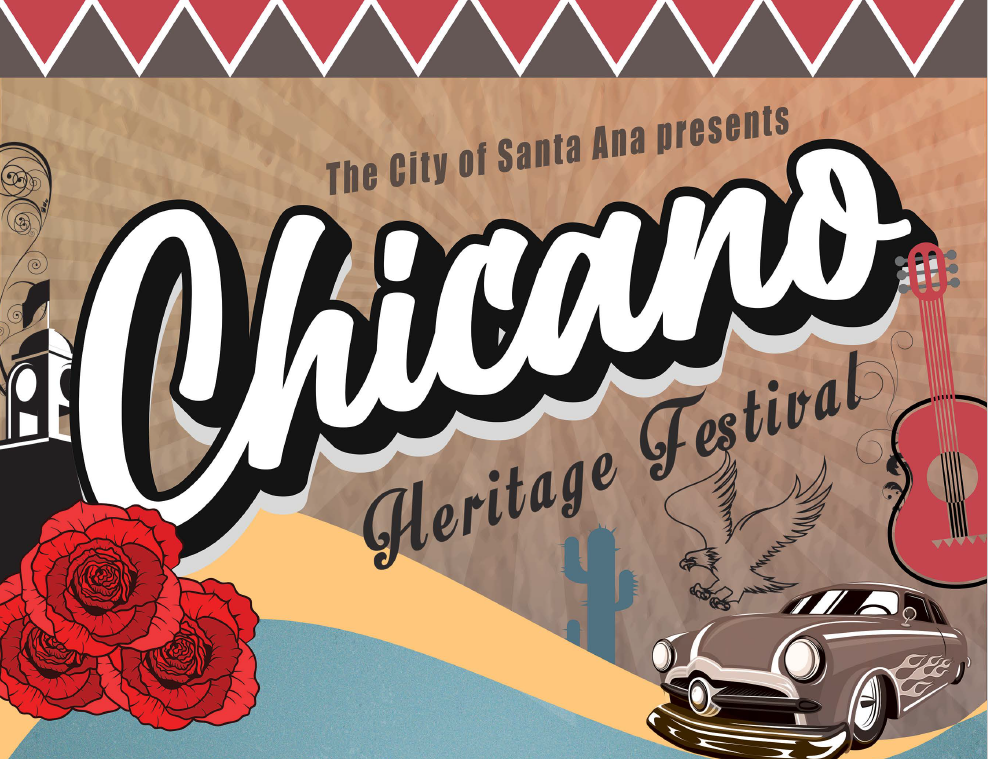 ---
Building community through the arts
Community art features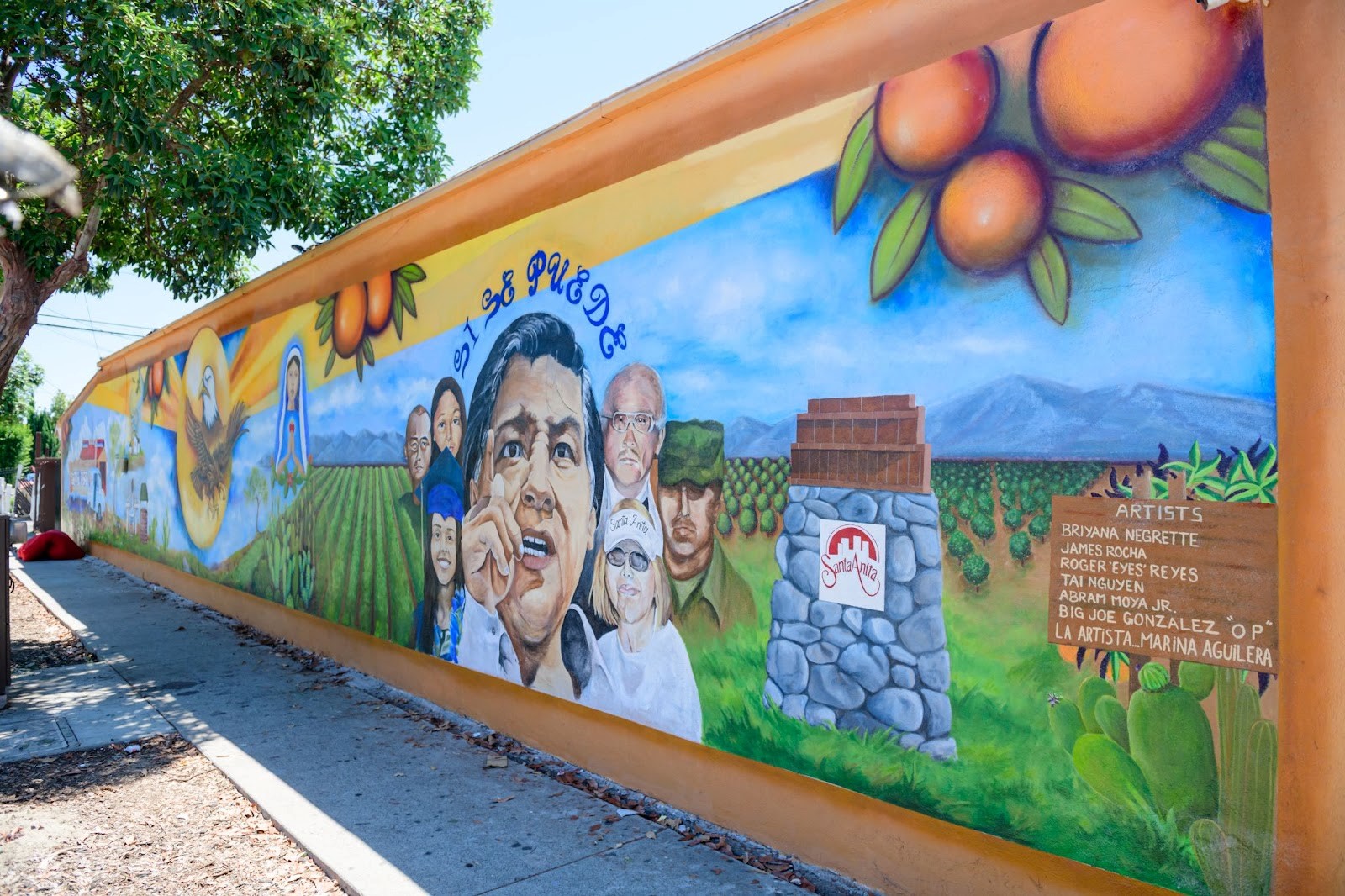 "Si se puede"
Location: 5th and Jackson (Lucky Center Market wall), Santa Anita Neighborhood
Artist: Briyana Negrete, James Rocha, Roger "Eyes" Reyes, Tai Nguyen, Abram Moya, Jr., Big Joe Gonzalez "OP", Marina Aguilera
Watch a short documentary about the creation of this mural below!
https://www.youtube.com/watch?v=Eurgf0i76Ok
In each newsletter, I would like to feature some local art from Ward 5. 
If you would like your art to be featured in future newsletters, please submit it to JRyanHernandez@Santa-Ana.org
Finding art near you
Everyone should be able to create and be creative in their own way. My daughter and I love to create art together; it's a great way for us to bond and express ourselves. I wanted to share a few Santa Ana resources for art and arts education:
Orange County Children's Therapeutic Arts Center: https://www.occtac.org/
Media Arts Santa Ana (MASA): https://www.masamedia.org/
The Wooden Floor: https://thewoodenfloor.org/
Academy of International Dance: http://www.aidancecrew.org/
Segerstrom Center for the Arts: https://www.scfta.org/
Arts and Learning Conservatory: https://www.artsandlearning.org/
---
Community news
New City Budget expands programs and services
The City Council recently approved the Fiscal Year 2022-23 City budget, which adds many programs and services you've requested. I'm excited that we are able to add more youth services, street and sidewalk repairs, other capital projects, and much more, while also maintaining a $70 million rainy day fund to protect the City's finances. Some of the highlights in our new budget include the following:
More than $26 million – a $5.5 million increase – for youth services, including after-school programs, youth employment and internships, and youth sports

Library improvements and a second Knowledge Mobile

Over $24 million for housing and supportive housing for homeless residents

Over $15 million – a $6 million increase – for street pavement, sidewalks, and traffic-calming improvements

More Code Enforcement officers and resources to address public nuisance issues

$1 million for police oversight
A special thank-you to our community members who participated in the budget process and shared their input to co-create our budget.
---
City Council approves Revive Santa Ana Spending Plan

I am proud to announce that the second half of our spending plan for the $128.3 million Revive Santa Ana initiative to protect and help our community recover from COVID-19 was approved at our August 2, 2022, City Council meeting. The total plan includes five expenditure categories:
Recovery from the Pandemic – $8,200,000

Public health equity, expansion of critical communication methods, sanitization, emergency response, mental health recovery, and support services for COVID-19 response

Direct Assistance Programs – $22,400,000

Rental assistance, housing vouchers, food supply/distribution, business and non-profit assistance, early childhood support, daycare and head start, after-school programs, youth violence, sexual assault intervention, technology skill courses, direct resident assistance

Public Health and Safety – $34,235,000

5k run, additional green/open space, healthy food access, property compliance programs, rapid response homeless services, park restrooms, increased security for parks and community centers, First Street safety enhancements

Critical Infrastructure – $51,400,000

Broadband access, community center renovations, transformation of Central Library to support early childhood learning, expansion of library accessibility, IT and process upgrades, streetlights, storm drain gates, parking structure improvements

City Fiscal Health – $12,125,000

Legal support services, contract management, unemployment fund/paid leave reimbursement, accounting and compliance for federal funding, reserve for revenue loss allocation
Review the Revive Spending Plan
Watch a video highlighting how we have spent federal stimulus money below.
Revive Santa Ana: How are we spending federal stimulus money?
---
Santa Ana partners with the County of Orange to provide direct financial assistance to local businesses affected by the OC Streetcar construction

To help the businesses affected by the construction of the OC Streetcar, the City Council approved a $1.5 million Business Interruption Fund program back in March. We added an additional $1.5 million as part of the new City budget for a total of $3 million. The City is also entering an agreement with the County of Orange to administer $1.2 million in County funding to help 4th Street businesses. Through this program, eligible businesses could receive one-time grants to support their operations.
Santa Ana Business Interruption Fund
---
Fix up your property with Commercial Property Compliance Assistance Program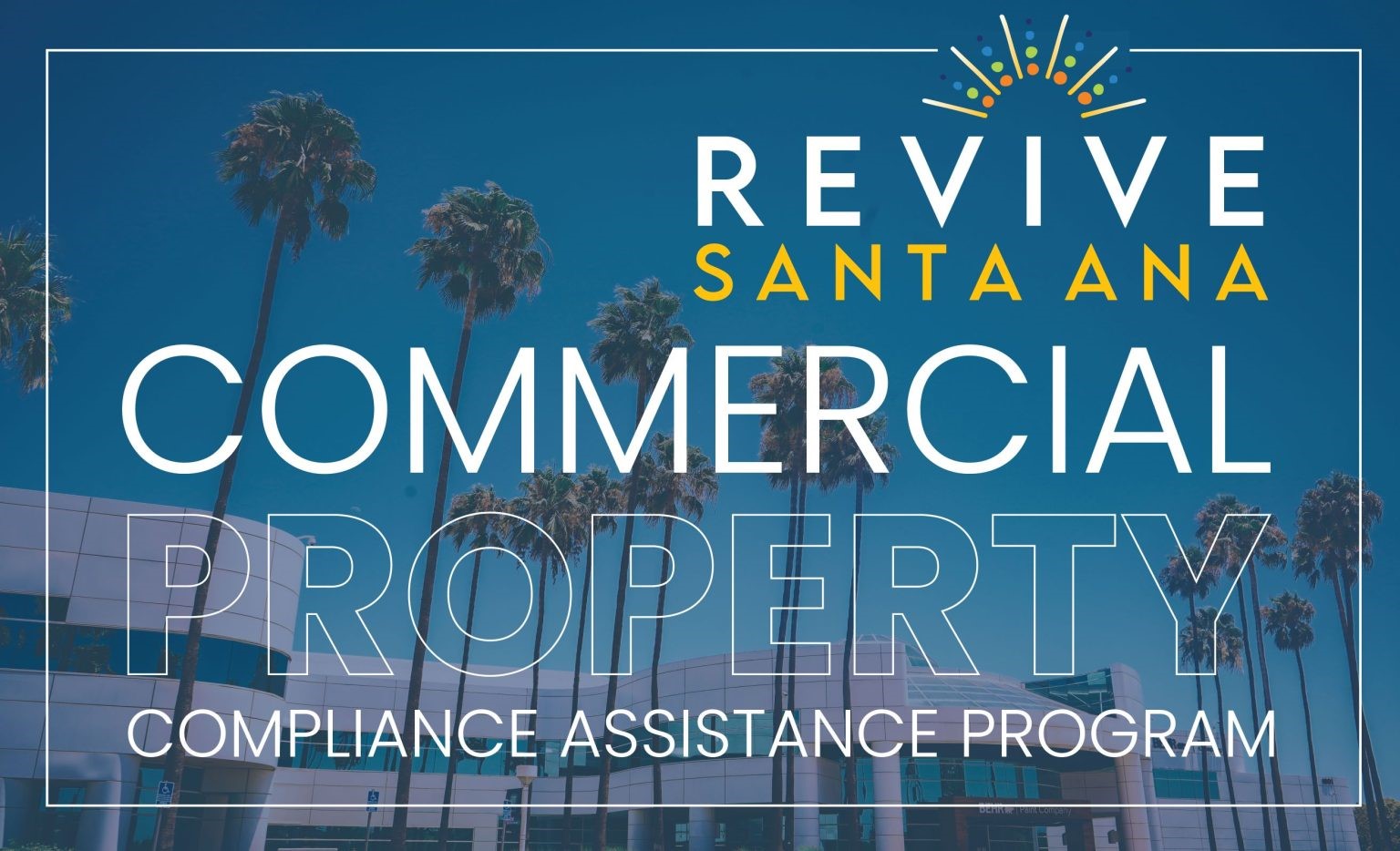 Our Planning and Building Agency has developed the Commercial Property Compliance Assistance Program as part of the Revive Santa Ana initiative. The program pays for improvements including signage, awning, steam cleaning/power washing, fencing, doors, lighting, paint, and more. If you are the owner of commercial property in qualified areas of Santa Ana and you were financially impacted by the pandemic, you could receive up to $50,000 to help you restore, beautify, and enhance your property. Learn more about the Revive Santa Ana Commercial Property Compliance Assistance Program at https://www.santa-ana.org/commercial-property-compliance-assistance-program/ or email CP-CAP@santa-ana.org.
---
Publics Works paving project in Ward 5 and nearby neighborhoods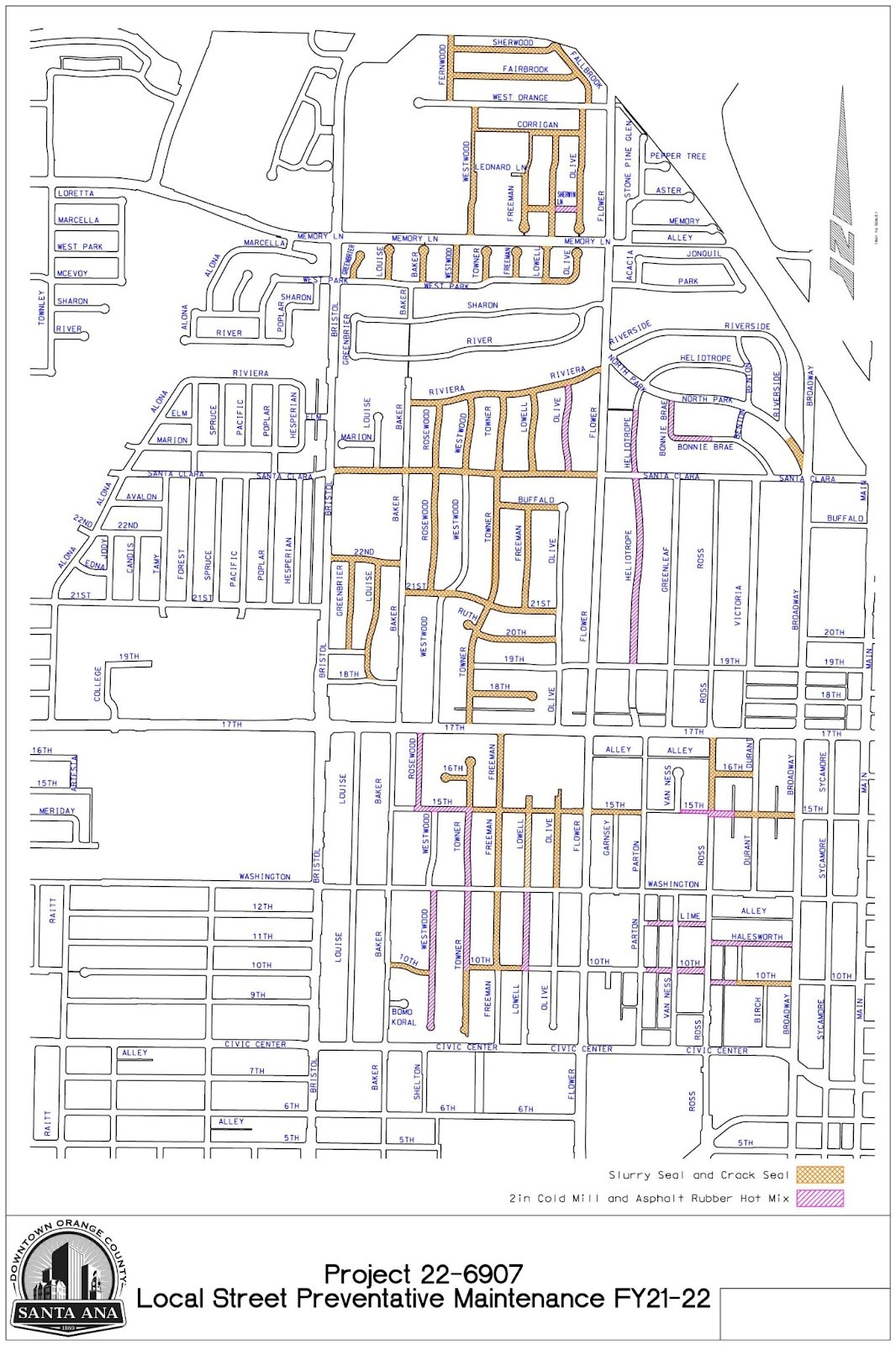 Our Public Works Agency is performing pavement preventive maintenance in the Morrison, West Floral Park, Floral Park, Washington Square, and Willard neighborhoods, the last two located in Ward 5, beginning August 22, 2022. The maintenance includes slurry, crack sealing, and pavement surface restoration of asphalt streets. Only asphalt streets will be maintained during this project and concrete streets are not included. Refer to the map above illustrating the streets that are planned to be resurfaced. The project also includes some sidewalk, curb, and gutter repairs. The value of the project is $2.7M funded by the Measure M2 Fair Share. Feel free to contact the Public Works Inspector assigned to this project at 714-713-0592 or the project manager at 714-647-5632 with any questions.
---
Community-building
First annual Juneteenth Festival at Centennial Park

This June, I was proud to have championed our City's first ever Juneteenth Festival celebrating the end of slavery in the United States. I want to thank the Orange County Heritage Council for helping create an event that brought the community together to acknowledge Juneteenth. The event was empowering, educational, and inspiring. A number of artists performed, including The Delfonics, Slum Village, J-Holiday, Howard Johnson, Knoc-turn'aI, and Nhale, to name a few. I am humbled to have been able to learn, grow, and work alongside leaders in the Black community to acknowledge Juneteenth. I'm looking forward to next year's event!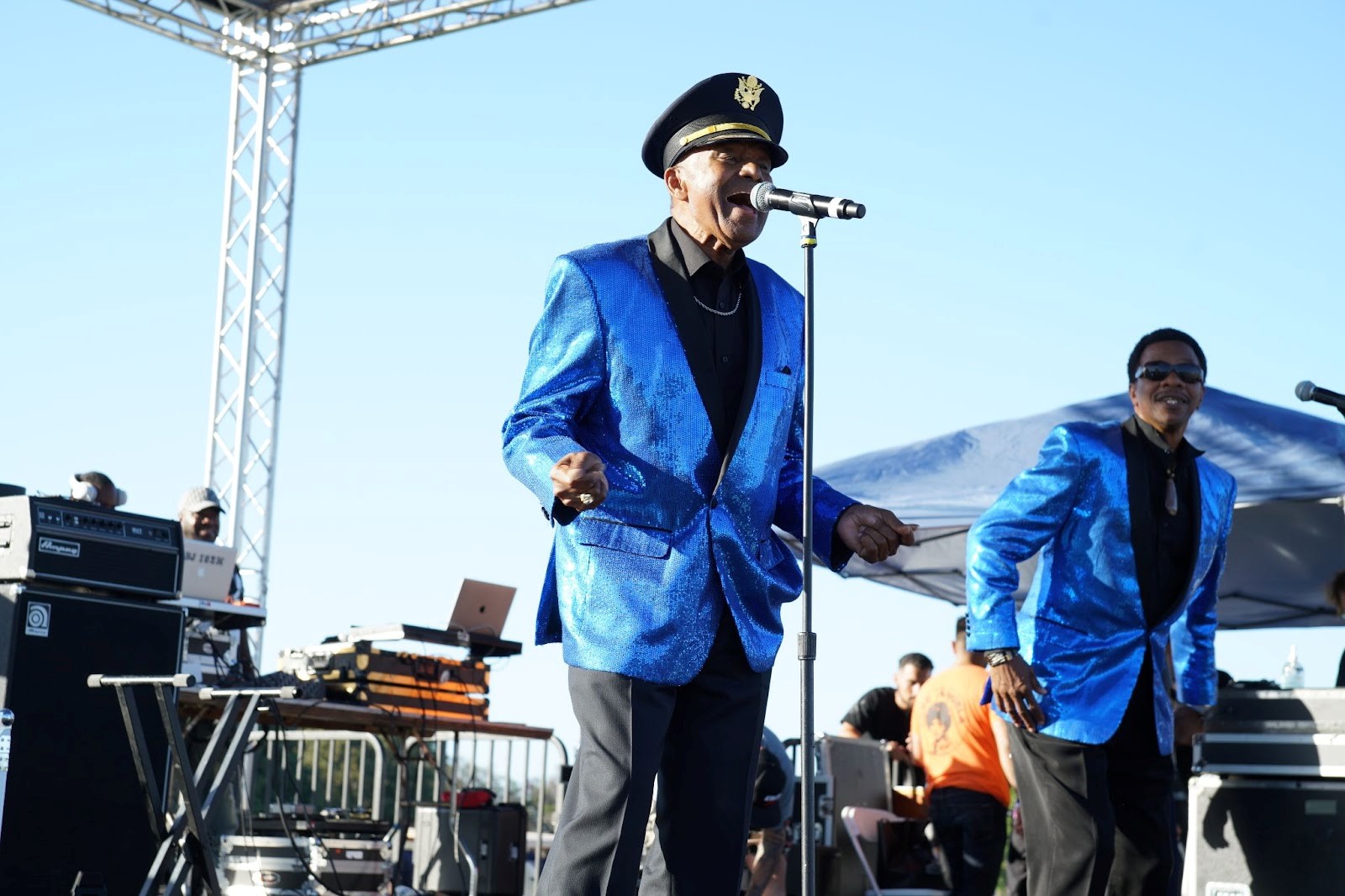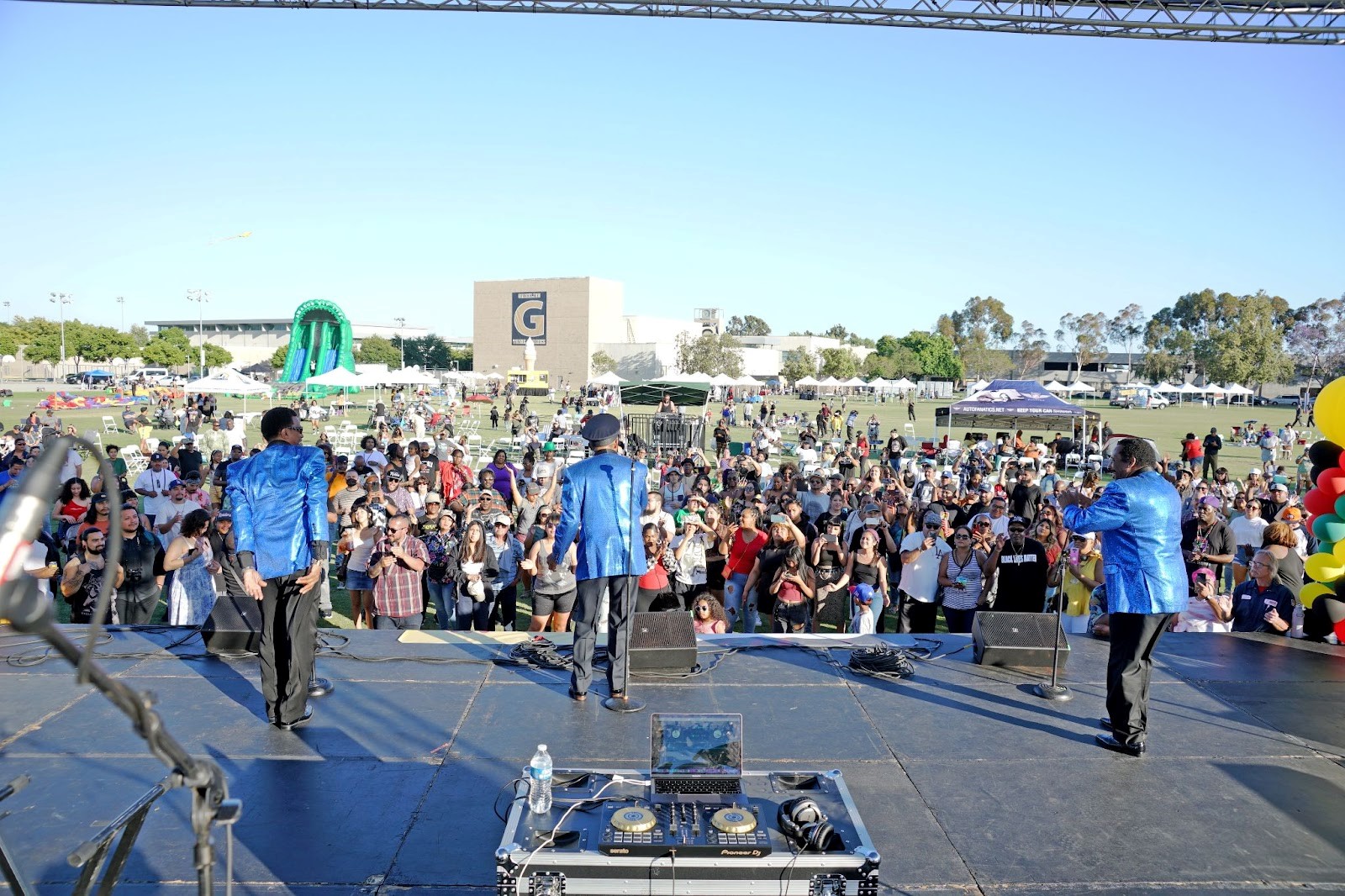 ---
Summer Night Lights 2022
Summer Night Lights 2022. El Salvador Park. Neutral Ground. Nati Alvarado
Neutral Ground hosted the Summer Night Lights series for five Fridays in July and August, bringing music, games, and other activities for children and families to our local parks. The series was funded in part by a Community Development Block Grant provided by the City. Neutral Ground reported that 2,200 adults and 1,300 children visited Summer Night Lights over five nights. I'm proud to support Neutral Ground in their important work creating a healthier and safer Santa Ana.
---
Pride Flag Raising Ceremony at City Hall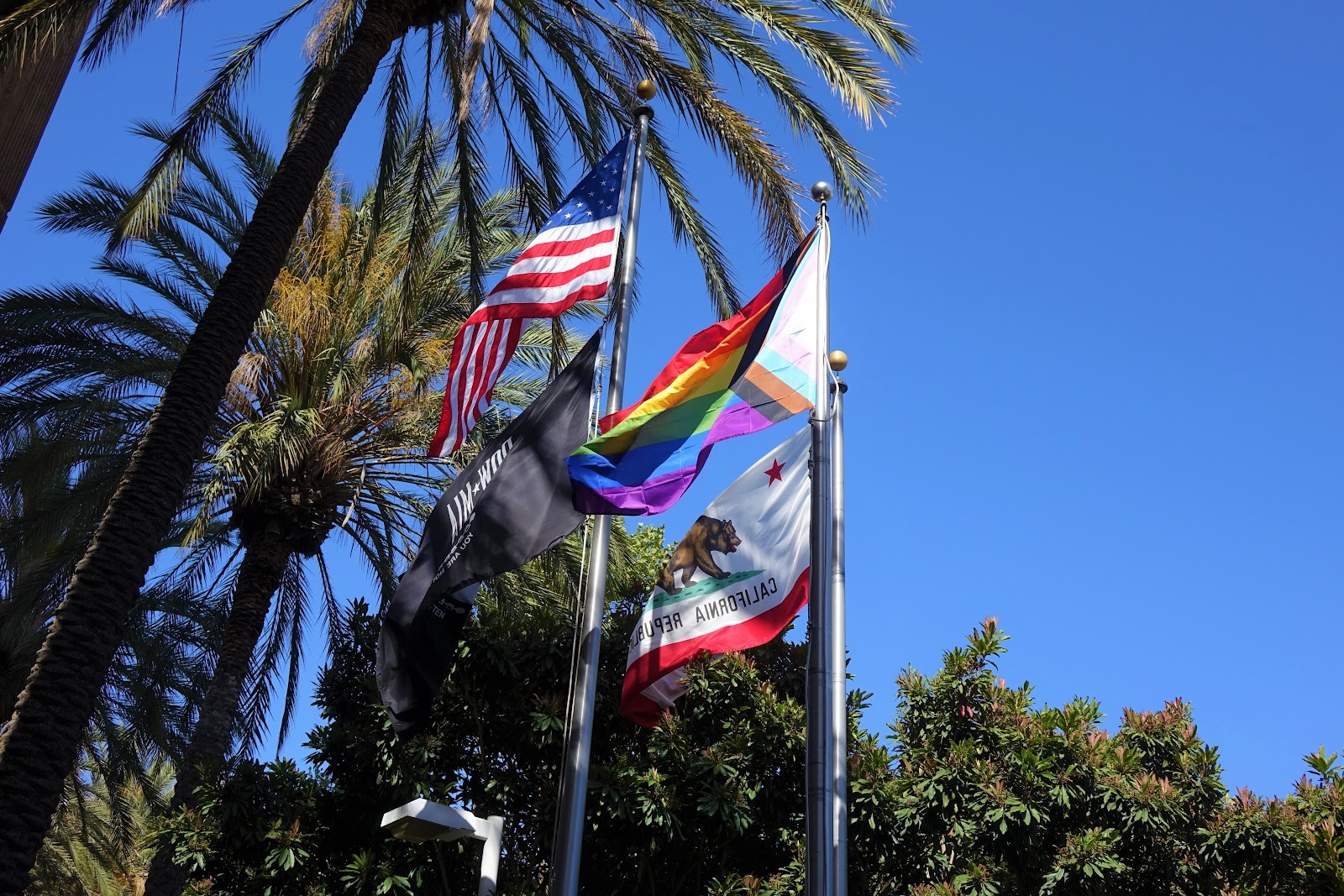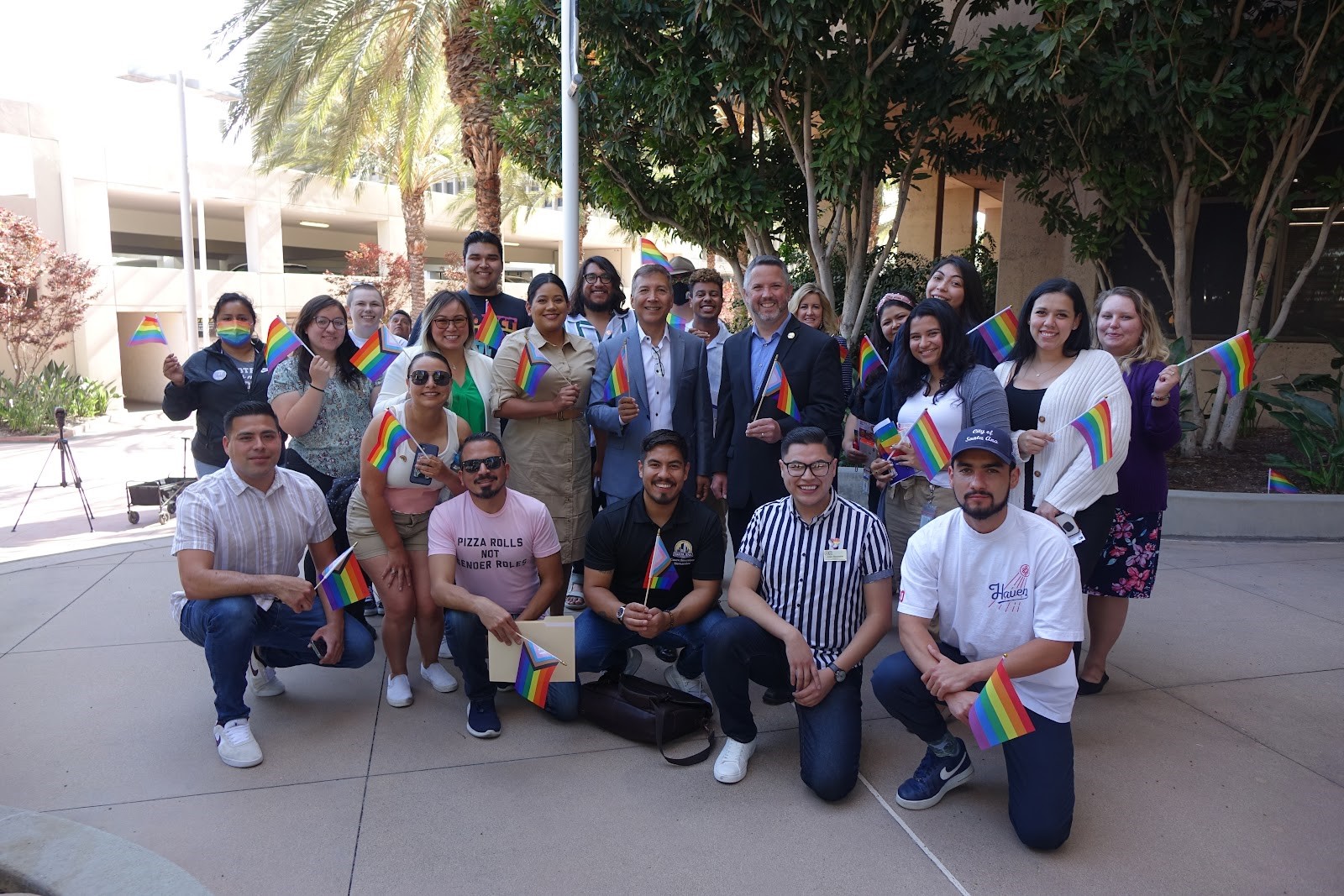 On Wednesday, June 1, we raised the LGBTQ Pride flag in front of Santa Ana City Hall on the first day of Pride Month. The City also hosted a resource fair with a food distribution, COVID-19 vaccinations and many resources from many local organizations. Santa Ana was the first Orange County city to fly the Pride flag. We are proud to be a community of diversity and inclusivity!
---
Chinatown apology resolution ceremony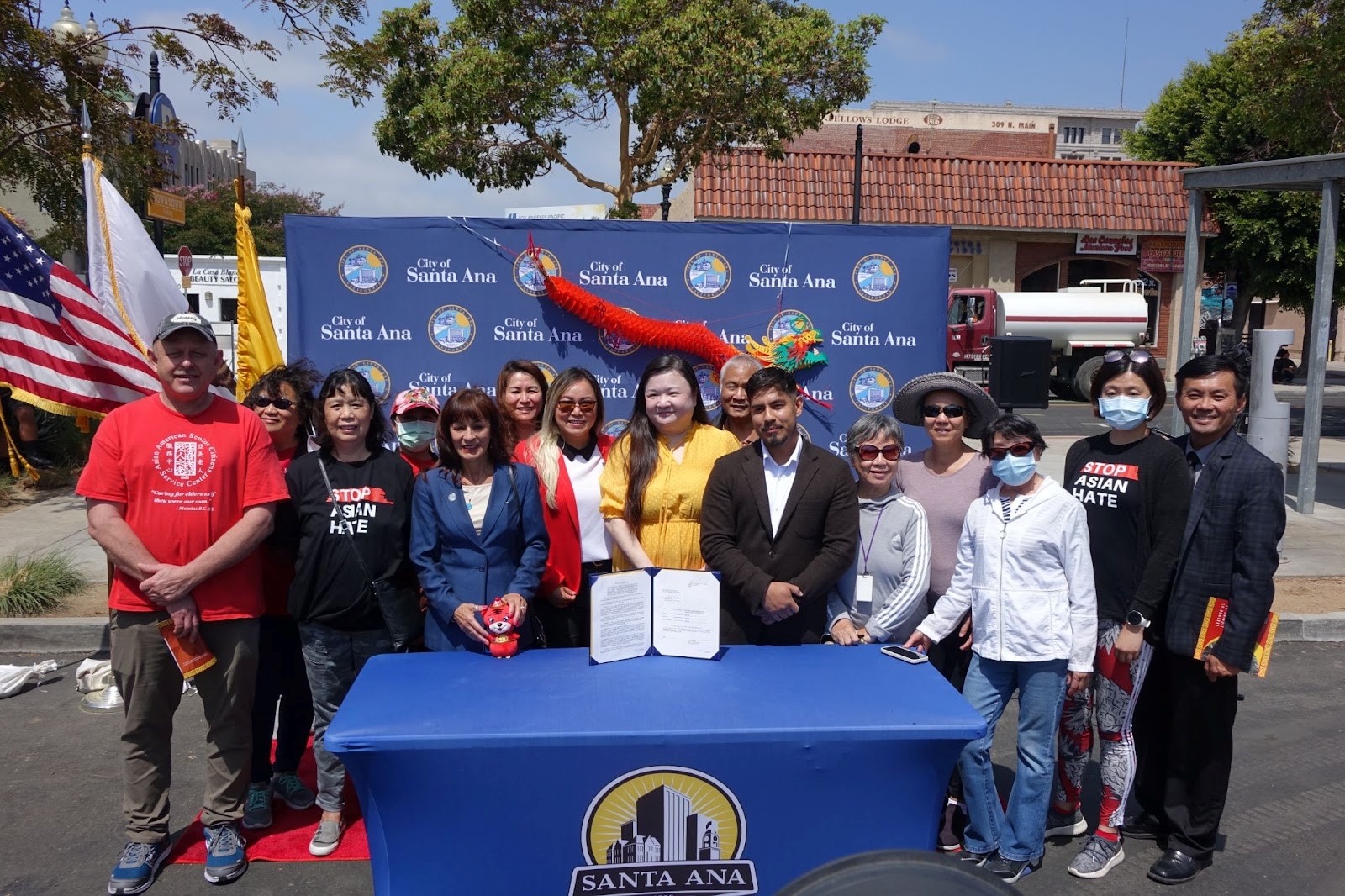 On May 17, I was proud to join the City Council in approving a resolution apologizing to Chinese immigrants and their descendants for acts of fundamental injustice and discrimination, seeking forgiveness and committing to the rectification of past policies and misdeeds. This was a response to the horrible events of May 25, 1906, when the City of Santa Ana burned down its Chinatown in an act of racism and xenophobia. We commemorated the signing of this historic resolution with a ceremony across the street from the original Chinatown site at 3rd and Bush streets (now a parking lot behind the old City Hall). I joined Mayor Vicente Sarmiento, members of the City Council, nearly 100 community members, leaders of Chinese cultural organizations from throughout the region, and other supporters gathered for the ceremony. The event featured a Chinese lion dance performance and a traditional altar.
---
Asian American and Pacific Islander Heritage Month Proclamation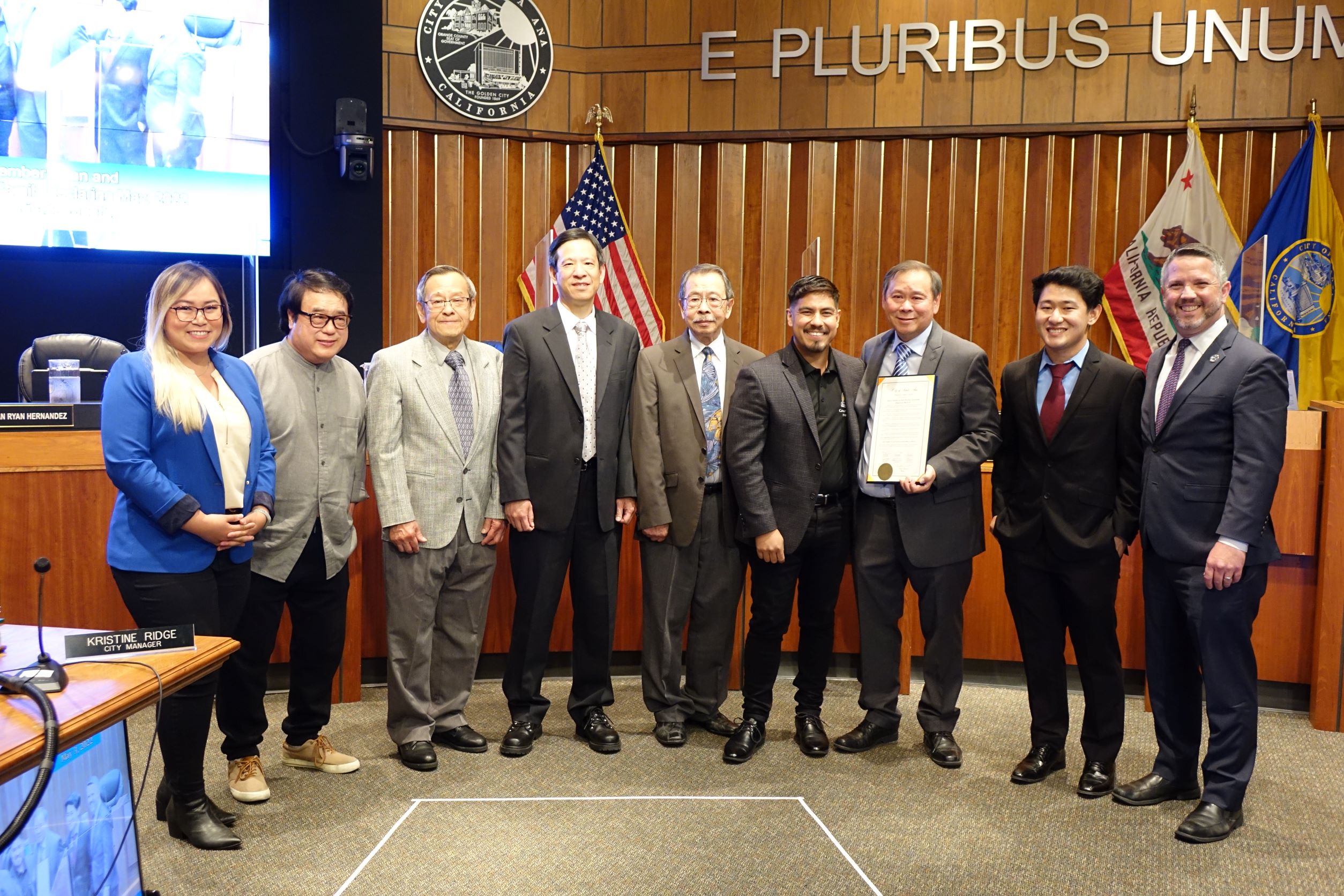 In May, the Lau family accepted a proclamation officially recognizing May as Asian American and Pacific Islander Heritage Month in Santa Ana. The Lau family's ancestors immigrated from China in the late 19th and early 20th centuries to help build connecting railroads in California and across the country. Fred Lau fought in World War II and soon after established a grocery store in Santa Ana in 1948 at 1st and Bristol streets called Santa Ana Food Market. The Lau Family is rooted in the history, culture, and achievements of Asian Americans and Pacific Islanders in Santa Ana and are one of many families we are proud to represent.
---
National Mental Health Awareness Month Proclamation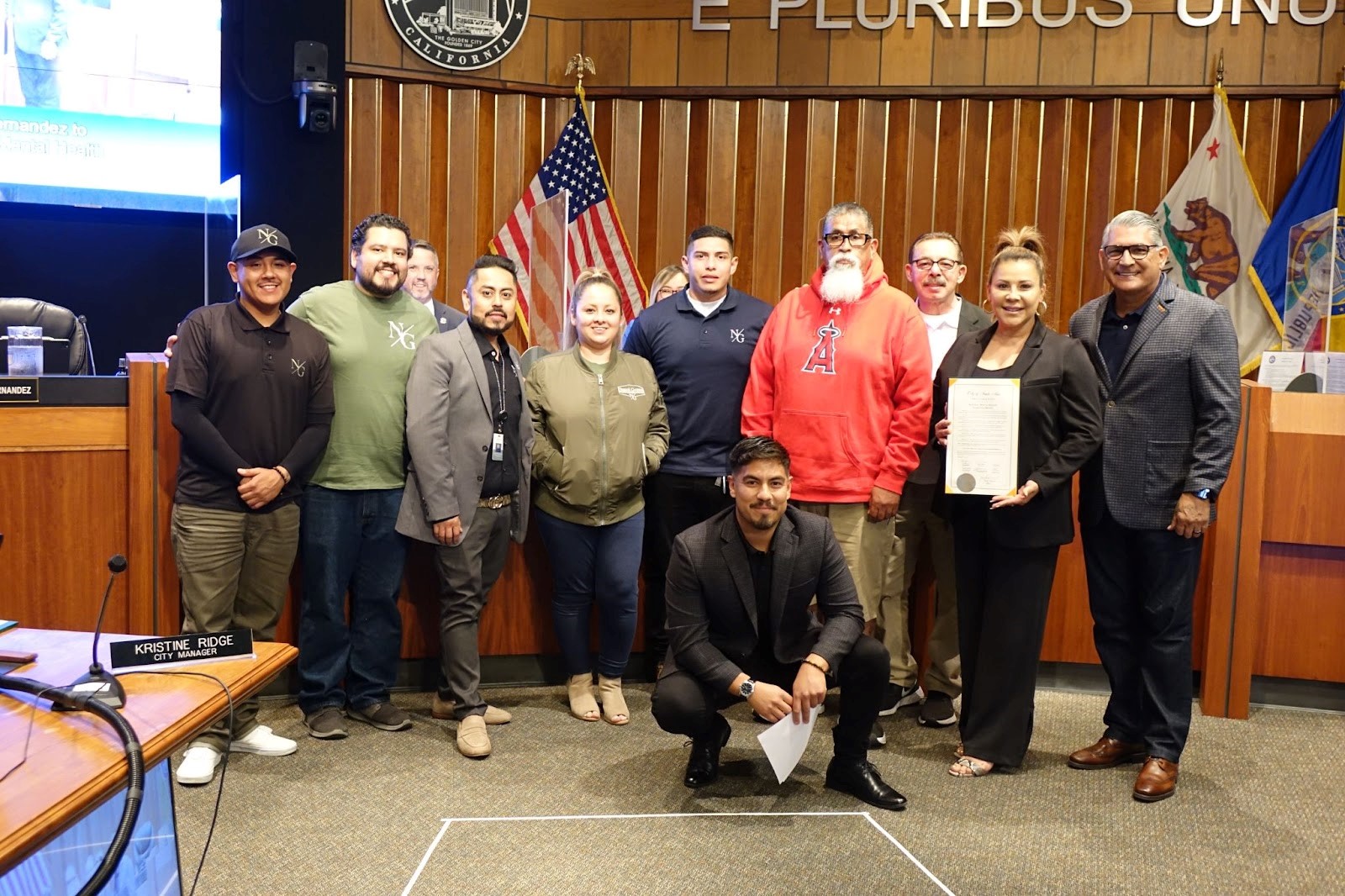 I had the privilege of presenting Neutral Ground with a proclamation recognizing May as National Mental Health Awareness Month. Neutral Ground is a nonprofit organization that centers its services on prevention, intervention, and mediation for young people ages 14-24 in Santa Ana. Their services help address areas found in the hierarchy of mental health needs by providing treatment and support. They have partnered with The Life Center, Orangewood Foundation, and Pathways of California and Orange County Superior Court's Youth Development Court program to help manage and operate a transitional living/housing program called Nati's House. It was an honor to be joined by Nati Alvarado, founder of Neutral Ground and Nati's House.
---
United Fathers of America recognized by City Council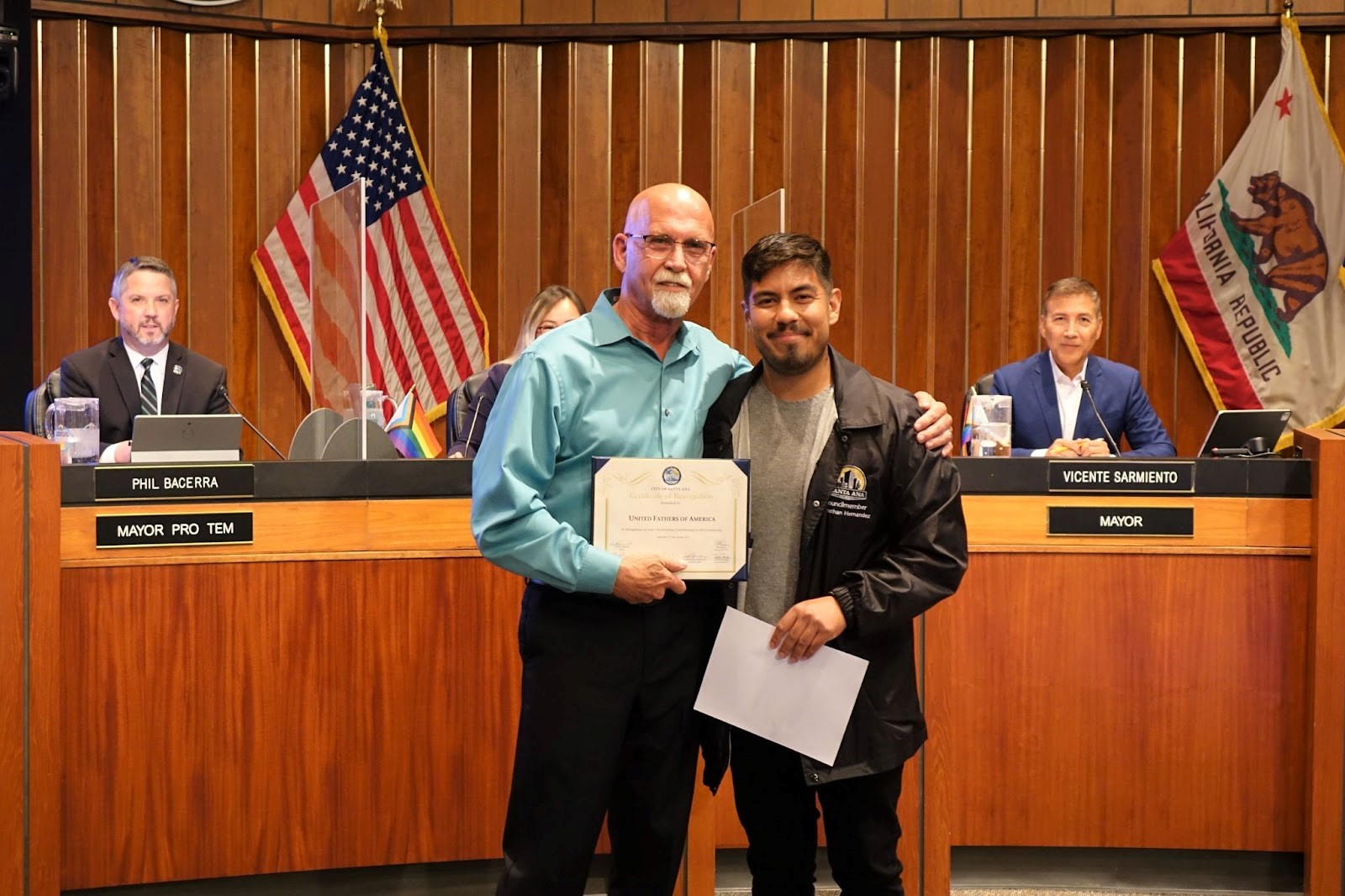 In June, Dr. Marvin L. Chapman, president and co-founder of United Fathers of America, joined me to accept a certificate celebrating their outstanding contributions to the community. United Fathers of America is a nonprofit organization dedicated to enhancing the quality of life for children, whose rights are often ignored during and after the breakdown of their parent's relationship. Dr. Chapman has positively impacted many lives in our community and continues to make a positive difference in the lives of fathers and their children.
---
East End Block Party recognized by City Council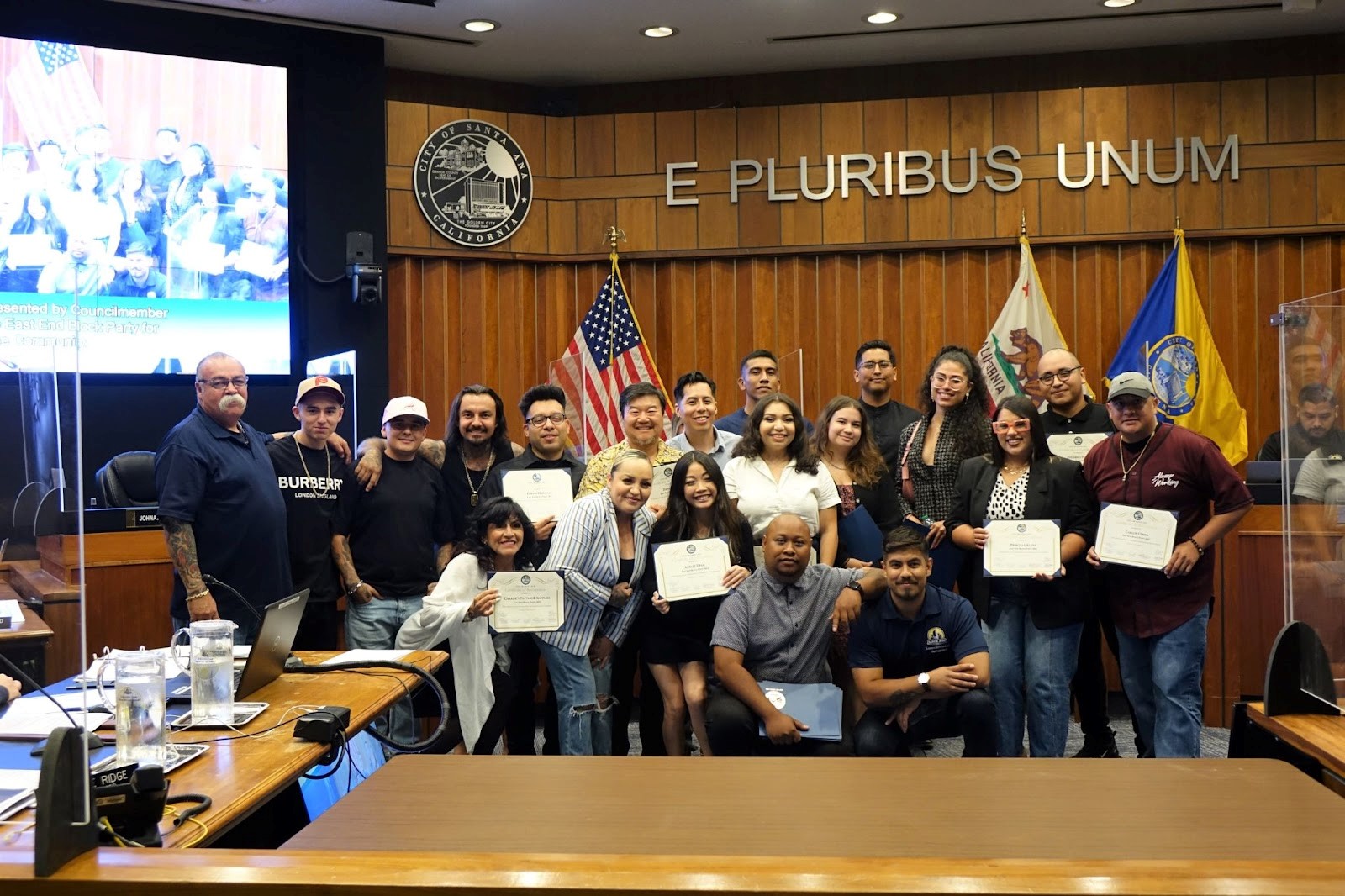 The East End Block Party was held on June 10, 2022, as a free community event that included local artists, businesses and vendors, music, food, a beer garden, car show, and more. The majority of the people involved as performers and organizers were local Santa Ana residents. Sponsors and volunteers spent six months planning the event. At the July 19 City Council meeting, I presented certificates to Charlie's Tattoo & Supplies, Gallitos, Gus' World Famous Fried Chicken, OC Ramps, Suavecito, Tres Noir, Gunthers, and many other volunteers for their contributions. Thank you for all your efforts and for hosting a successful community event!
---
A Lighter Shade of Brown member helps recognize Chicano Heritage Month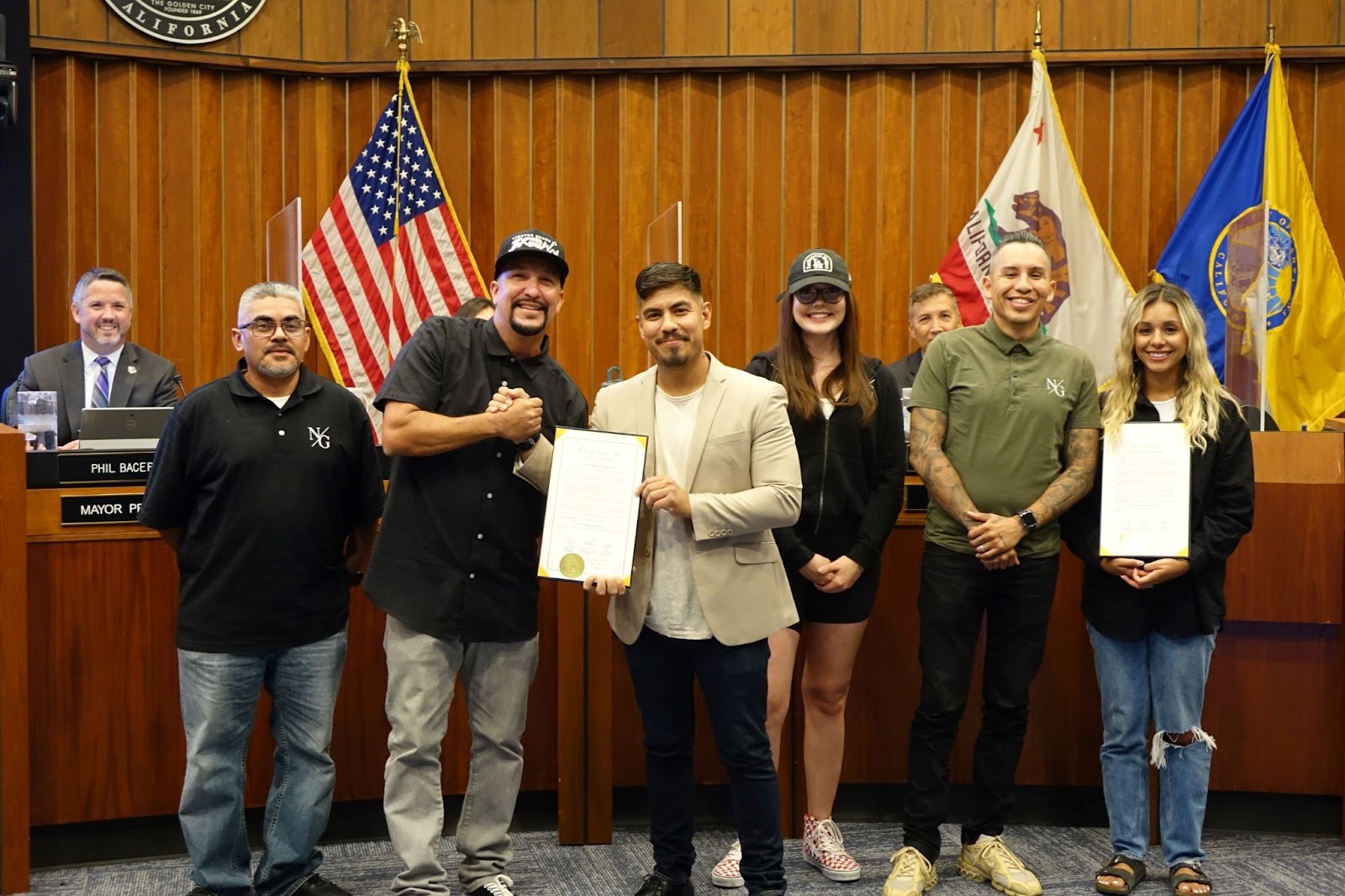 On August 2, I had the honor of proclaiming the month of August as Chicano Heritage Month alongside Robert Gutierrez aka One Dope Mexican (ODM) of A Lighter Shade of Brown and Bree Lazalde of Neutral Ground. We wanted to acknowledge the wealth of achievements of Chicanos that included culture, civil rights, artistry, and community work in Santa Ana. Nonprofit organization Neutral Ground has been making our community better for 20 years through their mental health and housing services while Robert Gutierrez of the hip-hop duo A Lighter Shade of Brown were in attendance to accept the proclamation.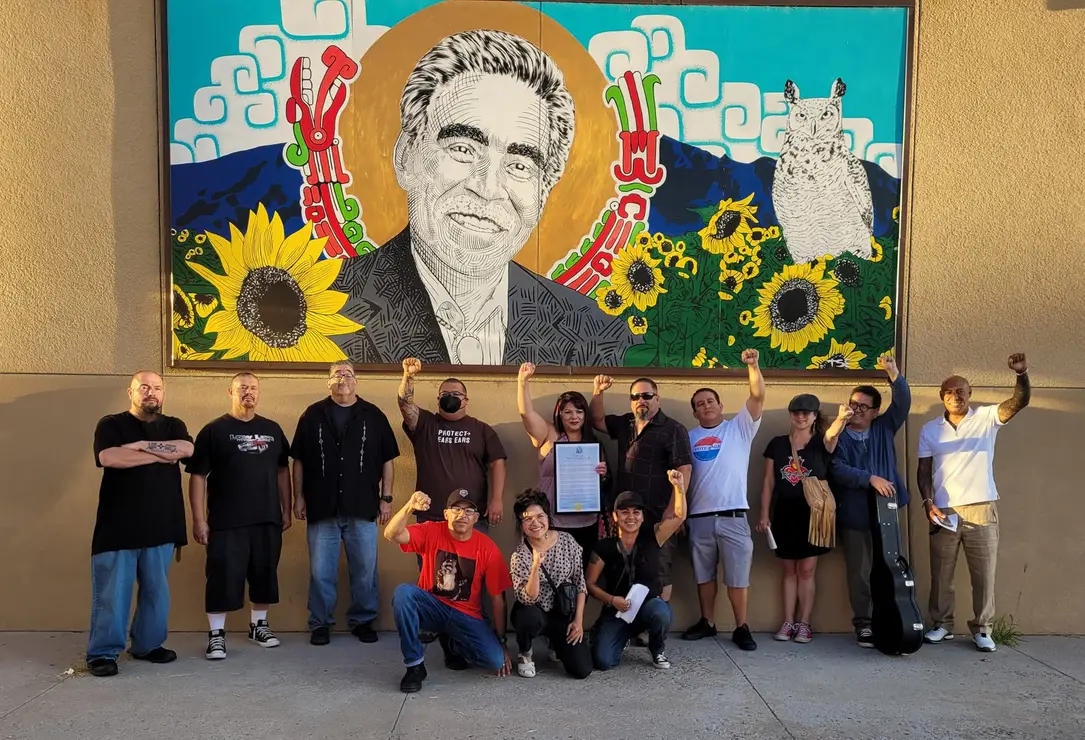 Our proclamation also inspired the City of Española, New Mexico to make a Chicano Heritage Month proclamation for the month of August. A resident from the City of Española reached out to me and our City staff was able to provide details about our August 2 Chicano Heritage Month proclamation. On August 23, 2022, the City of Española proclaimed August as Chicano Heritage Month. I'm proud to inspire other cities to embrace their heritage.
Community resources
Report issues with the FREE mySantaAna app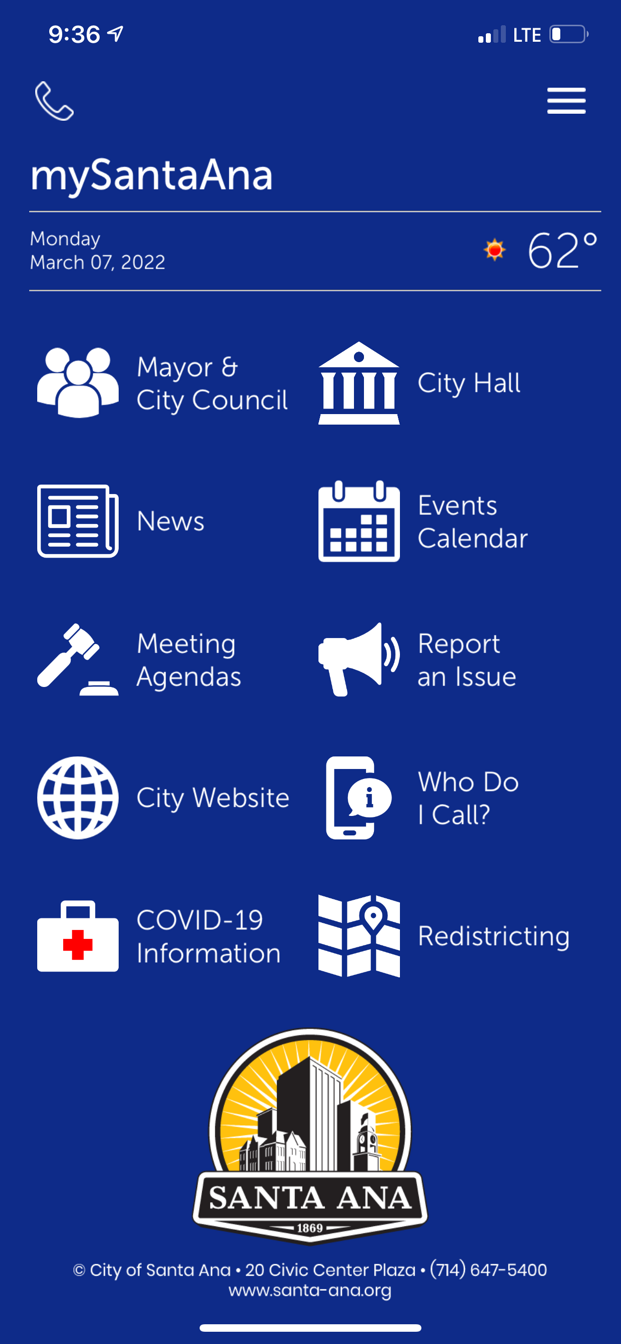 Download the mySantaAna app to report Issues such as graffiti, encampments, illegal dumping, saving parking, potholes and more! Last year, our Public Works Agency received over 200,000 service requests, 55,000 of which were reported through the app. Many reports are resolved within a week. City workers can't be everywhere all the time, but you can help keep our City beautiful by reporting issues with the app.
---
Events & meetings
Chicano Heritage Festival – August 28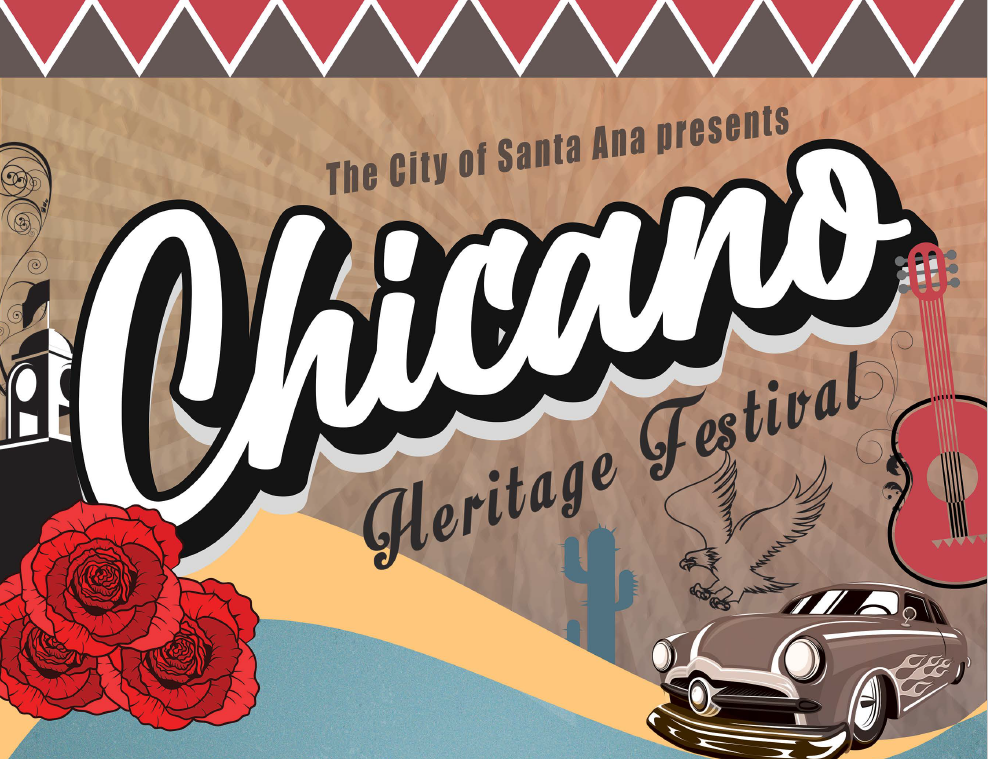 The City of Santa Ana's inaugural Chicano Heritage Festival will take place on Sunday, August 28, 2022, from 12 to 8 p.m. at El Salvador Park, 1825 W Civic Center Dr. This free community event will include live music, kids' activities, food trucks, exhibitors, and a car show.
---
Movies in the Park series: Encanto – August 31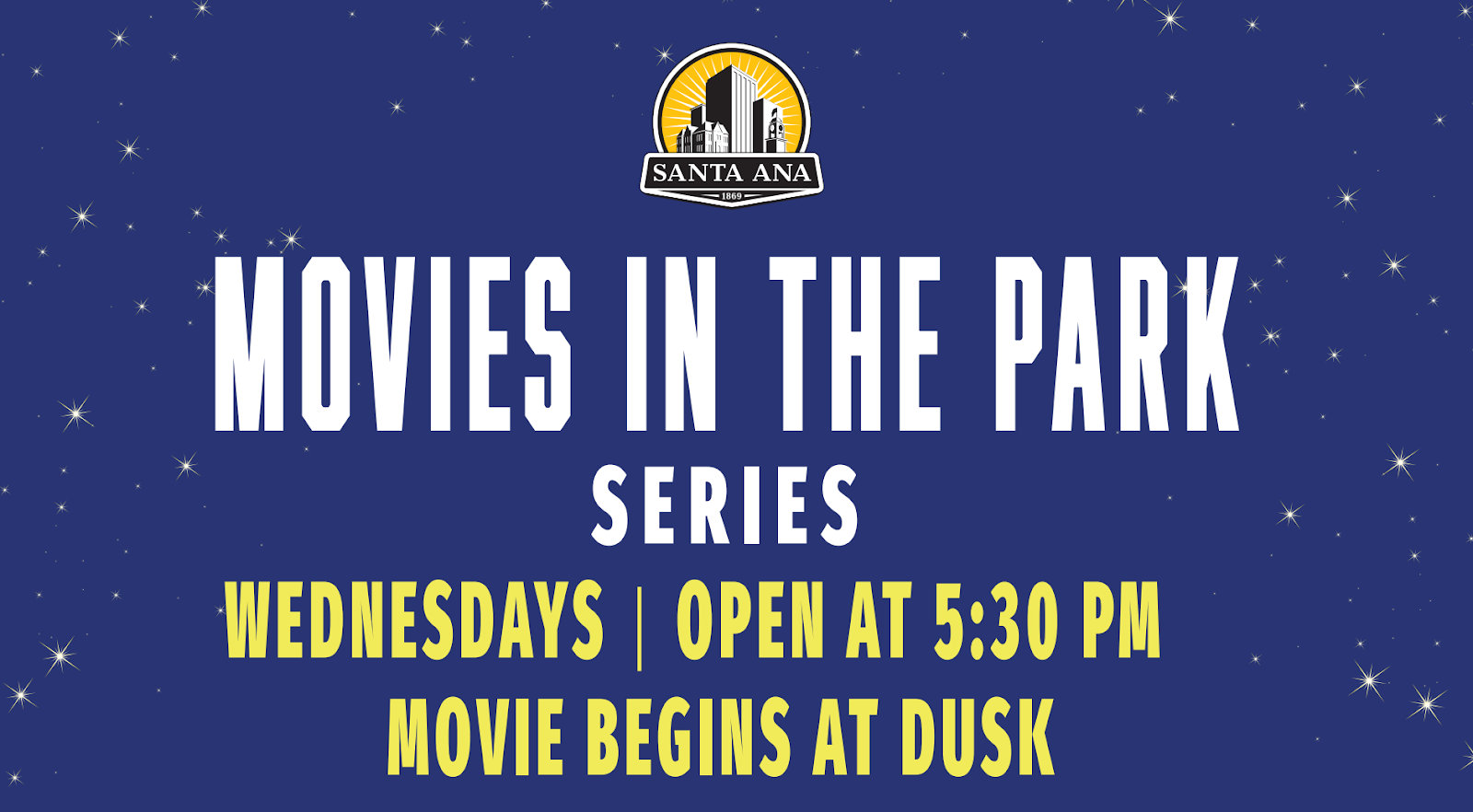 The last event of the Movies in the Park Series will take place Wednesday, August 31, 2022 at Memorial Park, 2102 S Flower St. Pre-movie festivities will begin at 5:30 p.m. and will include exhibitors, jumpers, and arts and crafts for kids. Movie screenings will begin promptly at dusk. Free popcorn will be provided to the first 500 guests each night, while supplies last. Food vendors will also be offering affordable and delicious dinner and dessert options. The series is free to attend.
---
Fiesta Patrias – September 17 & 18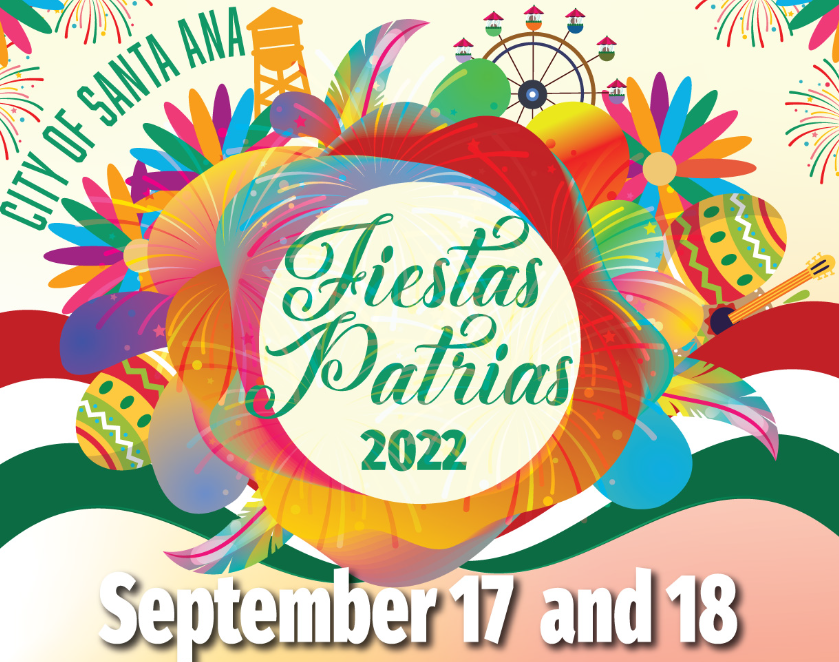 Join us on September 17 and 18 to celebrate Fiestas Patrias, a series of holidays that mark the independence of Mexico and other Latin American countries. We'll be celebrating with street fair festivities that include live music, food, cultural exhibitors, carnival rides, and more. We'll be featuring musical performances by Beatriz Adriana on Saturday, September 17, and El Chapo de Sinaloa on Sunday, September 18.
Mid-Autumn Festival – October 1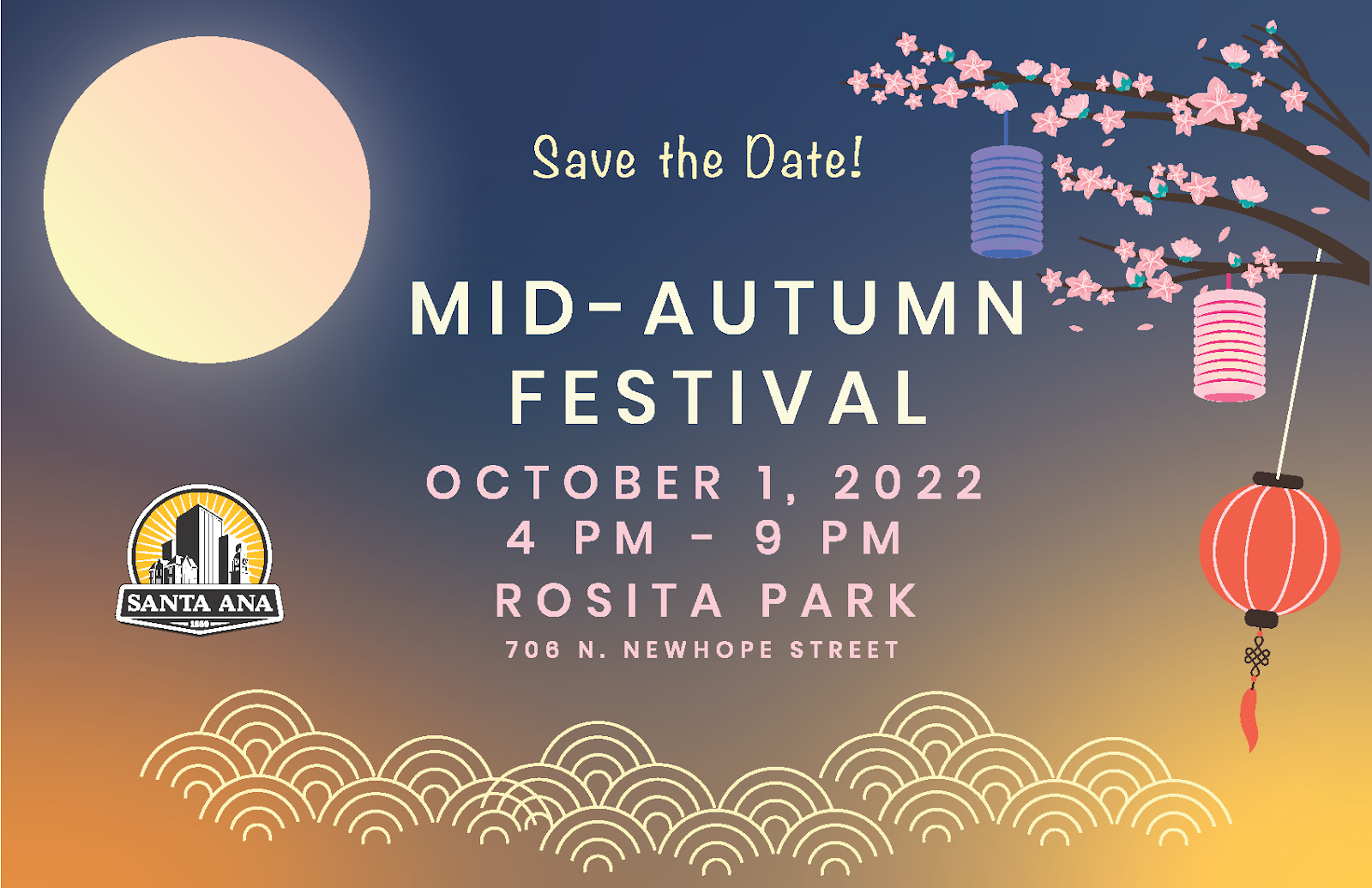 Save the date for the City of Santa Ana's first Mid-Autumn Festival, which will celebrate our Asian heritage. The festival will take place at Rosita Park on Saturday, October 1, 2022 from 4 to 9 p.m. Stay tuned for more details!
---
Free Santa Ana days
---
Free food distribution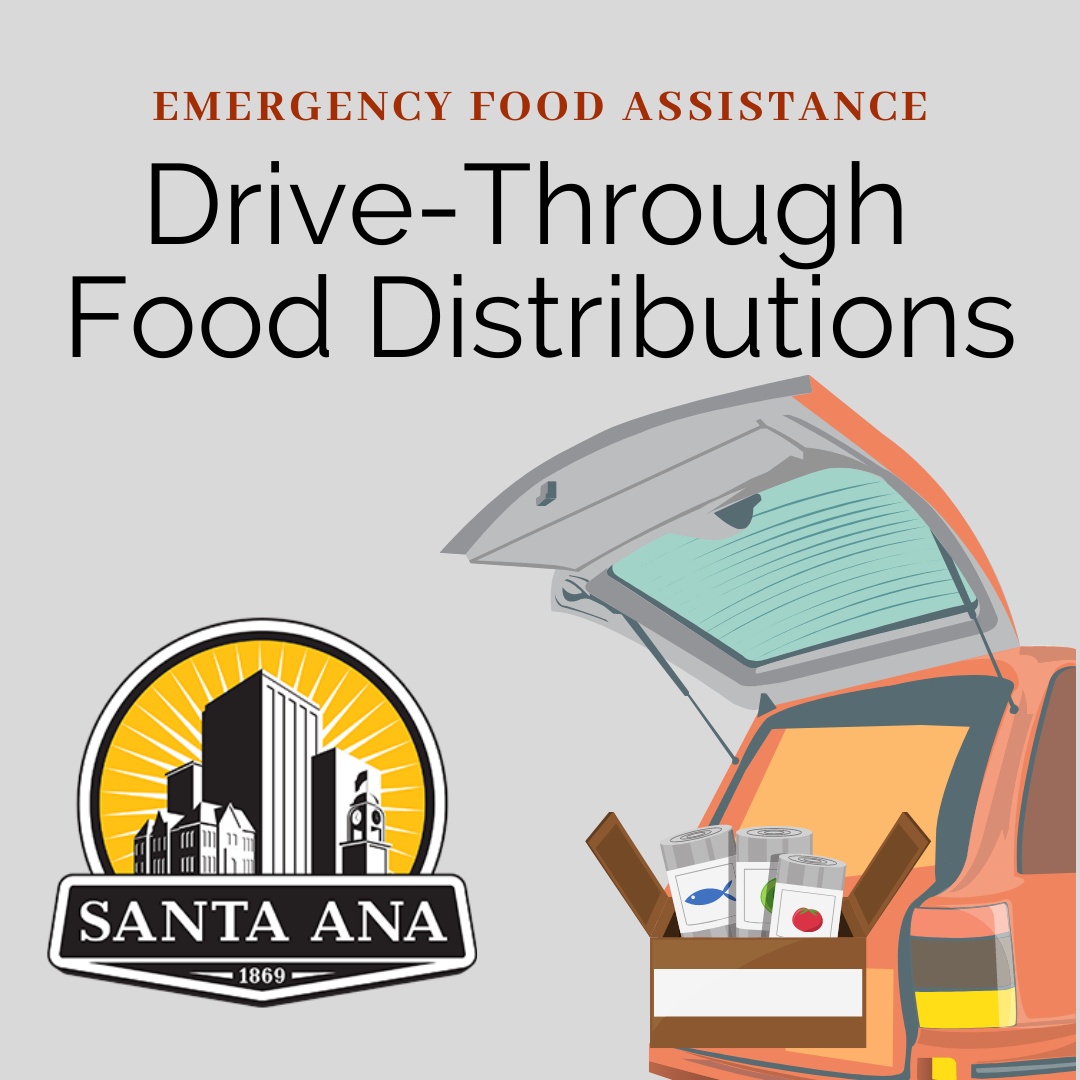 Weekly food distributions are available for those in need.
---