In this edition of the City Manager's newsletter, it's Fiestas Patrias weekend, learn how to get grants for special events, read about the Santa Ana Zoo helping an endangered frog species, and find more Santa Ana news and events.
---
Spotlight Photo

Chicano Heritage Festival 2023
Photo Credit: Hiram U.
To submit your own original photo of Santa Ana to be featured in the next newsletter, complete this form. 
---
City Manager's Highlights
Celebrate Fiestas Patrias!

It's time once again for the City of Santa Ana's biggest event of the year, Fiestas Patrias! This weekend we will celebrate Mexican Independence Day and commemorate our City's vibrant Hispanic and Latino cultures with two days of music, food and fun. We're excited to bring back the popular Fiestas Patrias parade for the first time since 2019.
The 43rd annual Fiestas Patrias festival and parade will take place on Saturday, Sept. 16, from 12 to 11 p.m. and Sunday, Sept. 17, from 12 to 10 p.m. on Flower Street between Civic Center Drive and Santa Ana Boulevard, in Santa Ana. The Mexican "shout" for independence, el Grito de Independencia, will take place at 7 p.m. Saturday. The parade will begin at 3 p.m. Sunday, Sept. 17, at the cross streets of Main Street and Washington Avenue, and will continue along Main Street to Civic Center Drive, ending by the festival.
Visit the Fiestas Patrias website for the musical lineup, parade route, parking information and more.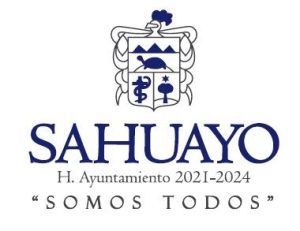 Sahuayo Sister City visit
This weekend we will be joined at Fiestas Patrias by a delegation from Santa Ana's sister city, Sahuayo, Michoacán, Mexico. The mayor of Sahuayo and other officials will participate in the Grito ceremony on Saturday night, will be in the parade on Sunday, and will be honored by the City Council at their meeting Tuesday night. Please help me give our friends from Sahuayo a warm Santa Ana welcome!
Parade livestream
Everyone is welcome to come out to enjoy the parade on Sunday, but if you can't make it, then watch at home! For the first time, we will be livestreaming the parade on the City's YouTube channel, Facebook page and TV channel (Channel 3 on Spectrum.)
---
News
Special Event Sponsorship Program offers up to $15,000

The City of Santa Ana is excited to announce the launch of its Special Event Sponsorship Program for the 2023-2024 fiscal year. Our Community Development Agency has received $200,000 that's available for special event sponsorship opportunities; up to $15,000 each is available to eligible applicants.
The Community Development Agency will review and approve sponsorship requests based on their alignment with the City's mission. Funds will be distributed on a rolling basis until exhausted, and events must be completed by June 30, 2024. Applicants may apply for only one sponsorship per fiscal year, and only one application per project will be accepted. For more information and deadlines, please visit the link below.
Special Event Sponsorship Program: https://www.santa-ana.org/special-event-sponsorship-program/
---
Public Works now accepting electronic plan check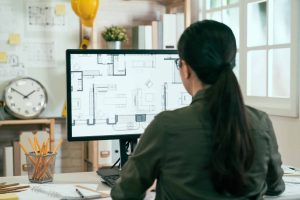 The City of Santa Ana Public Works Agency is now accepting online plan submittal for electronic plan check using our electronic plan check system ProjectDox. Public Works Agency Development Engineering staff performs a variety of plan check functions for all work in the street or public right of way requiring an encroachment permit, such as street improvement plans, utility and excavation plans, and traffic control plans for lane closures and sidewalk closures.
For more information and to submit plans electronically, visit the link below. For questions, please call (714) 647-5037.
Electronic Plan Check: https://www.santa-ana.org/electronic-plan-check/
---
Beware of fake water quality inspectors

One of the latest scams hitting residents all over the Southland are people posing as water quality inspectors from the local utility. We've received reports of individuals going door to door pretending to be City of Santa Ana Water Quality employees. These individuals might tell you that they need to check your water or come into your house to install a filter.
Please be aware that we will never come unannounced to your home to check the quality of your water. We take stringent steps to ensure the water we serve to our customers is safe, clean, and good tasting before it reaches your home. If you ever have concerns about your water quality, please call us at (714) 647-3320.
---
Read the latest edition of Cultura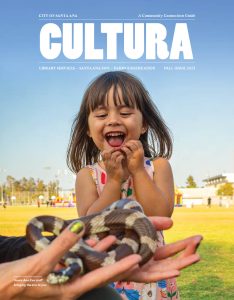 The Cultura fall 2023 issue is now available! Pick up a copy at your local recreation center or read it online to learn more about the amazing programs and services offered by Santa Ana Public Library, Santa Ana Parks and Recreation, and Santa Ana Zoo. Use this community guide to find about the latest events and upcoming improvements coming soon near you. To read Cultura online and subscribe to have the next issue mailed to your home, visit the link below.
Read Cultura: https://www.santa-ana.org/cultura/
---
Crowds come out for Chicano Heritage Festival

The City of Santa Ana hosted the second annual Chicano Heritage Festival on Aug. 27 at El Salvador Park. Despite the heat, thousands of people came out to enjoy the event honoring Chicano Heritage Month and the important contributions of our Mexican-American community. Attendees enjoyed food, vendors, children's games, a mural unveiling and a car cruise. Performers included Malo, Tierra Legacy, The Altons, The Sinseers, MOFAK, Vicky Tafoya and the Big Beat, Zackey Force Funk and Funk Freaks. Check out this video recap!
https://youtu.be/5mZ3-L3et8c?si=cDLmyy7ROvT_IQs6
---
Join Library Card Sign-up Month

Sign up for a Santa Ana library card this month and you could win a gift card! Those who sign-up for, or renew an existing, Santa Ana Public Library card during the month of September will automatically be entered for a chance to win a gift card. With our library card, individuals can borrow books, roller skates, movies, and more!
Get a library card: https://www.santa-ana.org/library-card/
---
Register for H2O for HOAs

HOA board members, property managers and landscapers are invited to the 7th annual H2O for HOAs event, organized by local water agencies. Taking place on Thursday, Oct. 26, from 8 a.m. to 12 p.m., this is an excellent opportunity to enhance your knowledge of water management and expand your professional network. It will be held at the Norman P. Murray Community Center, 24932 Veterans Way, in Mission Viejo. You can look forward to a comprehensive lineup of speakers, engaging panel presentations, vendor booths, and ample networking opportunities. This event is free, but registration is required.
Register for H20 for HOAs: https://mnwdca.seamlessdocs.com/f/H2OforHOAs2023
---
Street closures and permitted events

Here are the locations of upcoming permitted events and road closures so you can plan accordingly. Please drive slowly and safely in construction zones and around crowded events.
Street Closures and Permitted Events: https://www.santa-ana.org/street-closures-and-permitted-events-for-september-14-20/
---
Tales of the City
Santa Ana Zoo helps save endangered frogs

The Santa Ana Zoo isn't just a fun place to take the family to see animals. It also plays an important role in conservation and protection of endangered species.
Last month, approximately 170 critically endangered southern mountain yellow-legged frogs were released into their natural habitat in the Southern California mountains. Most of these frogs began as tadpoles at the Los Angeles Zoo and were later raised at the Santa Ana Zoo and the Aquarium of the Pacific, including 50 at the Santa Ana Zoo. The rest were tadpoles rescued from the 2021 Bobcat Fire and cared for by the Aquarium.
"It's been an honor working with our recovery program partners to help ensure the survival of the mountain yellow-legged frog," said Amber Suto, education specialist and key member of the Santa Ana Zoo's recovery program. "They used to be one of the most common amphibians in our mountains, and we hope to see them thriving in their natural habitat again one day. Our goal is to establish at least 20 stable populations in the wild with at least 50 frogs each to ensure this species continues on for the next one hundred years. This recent release was one more step towards making that happen."
The Aquarium and Santa Ana Zoo are continuing to care for tadpoles, with the intention of raising them for future releases. The public can view the frogs at the L.A. Zoo's seasonal habitat inside its Living Amphibian, Invertebrate, and Reptile exhibit (LAIR). It is open to the public between May and November, after the frogs move to the Zoo's bio-secure amphibian breeding facility for the breeding season.
---
City Council Meetings
City Council meetings are typically held on the first and third Tuesdays of each month, with the closed session beginning at 5 p.m. or earlier. The open meeting session begins at 5:30 p.m. Meetings have both in-person and virtual participation and attendance and are live streamed on the City's YouTube channel and our TV channel, CTV3 (channel 3 on Spectrum.) If you'd like to provide public comments on agenda and non-agenda items, you can email, attend in person, or join the Zoom webinar online or by phone.
September 19 Meeting Agenda: https://www.santa-ana.org/cc/city-meetings
---
Events
Memorial Park and Pool community design workshop – September 14

Exciting transformations are underway for Memorial Park & Pool! We are planning a much-needed, brand new aquatics center at Memorial Park and we want our residents to share their ideas by taking our survey and joining a community design workshop. This project, known as Memorial Park & Pool Reimagined, is a collaboration with ELS Architecture + Urban Design and SWA Group.
Thursday, Sept. 14

6:30 – 8:30 p.m.

Jerome Center, 726 S. Center St.
---
Free Resident Day at the Zoo – September 17

Santa Ana residents receive free admission to the Zoo on the third Sunday of every month. Proof of residency (such as ID or a utility bill) is required.
Sunday, Sept. 17

10 a.m. – 5 p.m. (last admission is at 4 p.m.)

Santa Ana Zoo, 1801 E. Chestnut Ave.
---
Fiestas Patrias – September 16-17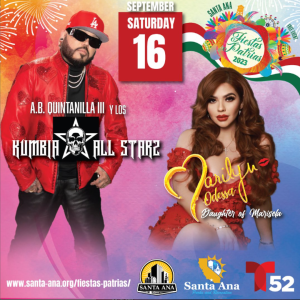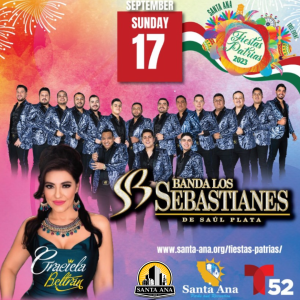 Fiestas Patrias is this weekend! You don't want to miss the performance of A.B. Quintanilla III y Los Kumbia All Starz and Marilyn Odessa on Saturday, and Banda Los Sebastianes de Saúl Plata and Graciela Beltrán on Sunday, and many more headliners. In addition, the Fiestas Patrias Parade will be back for the first time since the pandemic.
Festival: Saturday, Sept. 16, and Sunday, Sept. 17, at Flower Street and Civic Center

Parade: Sunday, Sept. 17, 3-5 p.m. on Main Street
---
Coffee with a Cop – September 28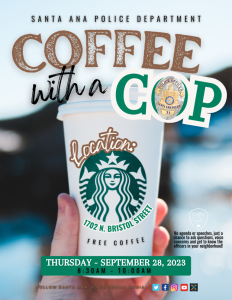 Join Santa Ana Police Department on Thursday, September 28, from 8:30 to 10 a.m. for a free cup of coffee and an opportunity to meet the officers in our community.
Thursday, Sept. 28

8:30 – 10 a.m.

Starbucks, 1702 N. Bristol St.
---
International Older Adults Celebration – September 29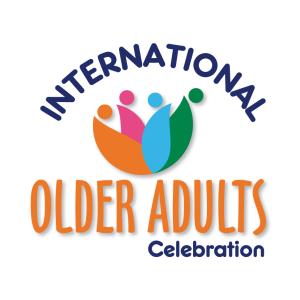 Everyone age 55 or older is invited to the International Older Adults Celebration! Come enjoy food, entertainment, health screenings and a resource fair. Spaces are limited, so make sure to register early to save your spot!
Friday, Sept. 29

10 a.m. – 1 p.m.

Jerome Community Park, 2201 W McFadden Ave.
International Older Adults Celebration
---
Mid-Autumn Moon Festival at SAPL – September 30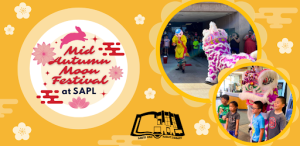 Come out and celebrate the Mid-Autumn Moon Festival at the Newhope Library. Bring the whole family to enjoy the spectacular lion dance, bilingual storytime and lantern making. Free mooncakes will be available, while supplies last. For more information, call (714) 647-6992.
Saturday, Sept. 30

2-4 p.m.

Newhope Library, 122 N. Newhope St.
---
Resources
Report issues with the mySantaAna app
    
The mySantaAna mobile app puts the power of the City of Santa Ana government in the palm of your hand! Download the app to quickly and easily report issues such as potholes, graffiti, downed trees and much more.
---
Who do I call at City Hall?
Important phone numbers:
City Hall main line: (714) 647-5400

Code Enforcement: (714) 667-2780

Graffiti Hotline: (877) 786-7824

Emergency Water Services: (714) 953-8026

Public Works dispatch (street sweeping, trees): (714) 647-3380
Find more phone numbers for all City services
Utility services
Starting a small business?
Food assistance