In this edition of the City Manager's newsletter, learn about what the City is doing to address homelessness and what you can do to help, see our new activities guide, and read about other City news, programs and events.

---
Spotlight photo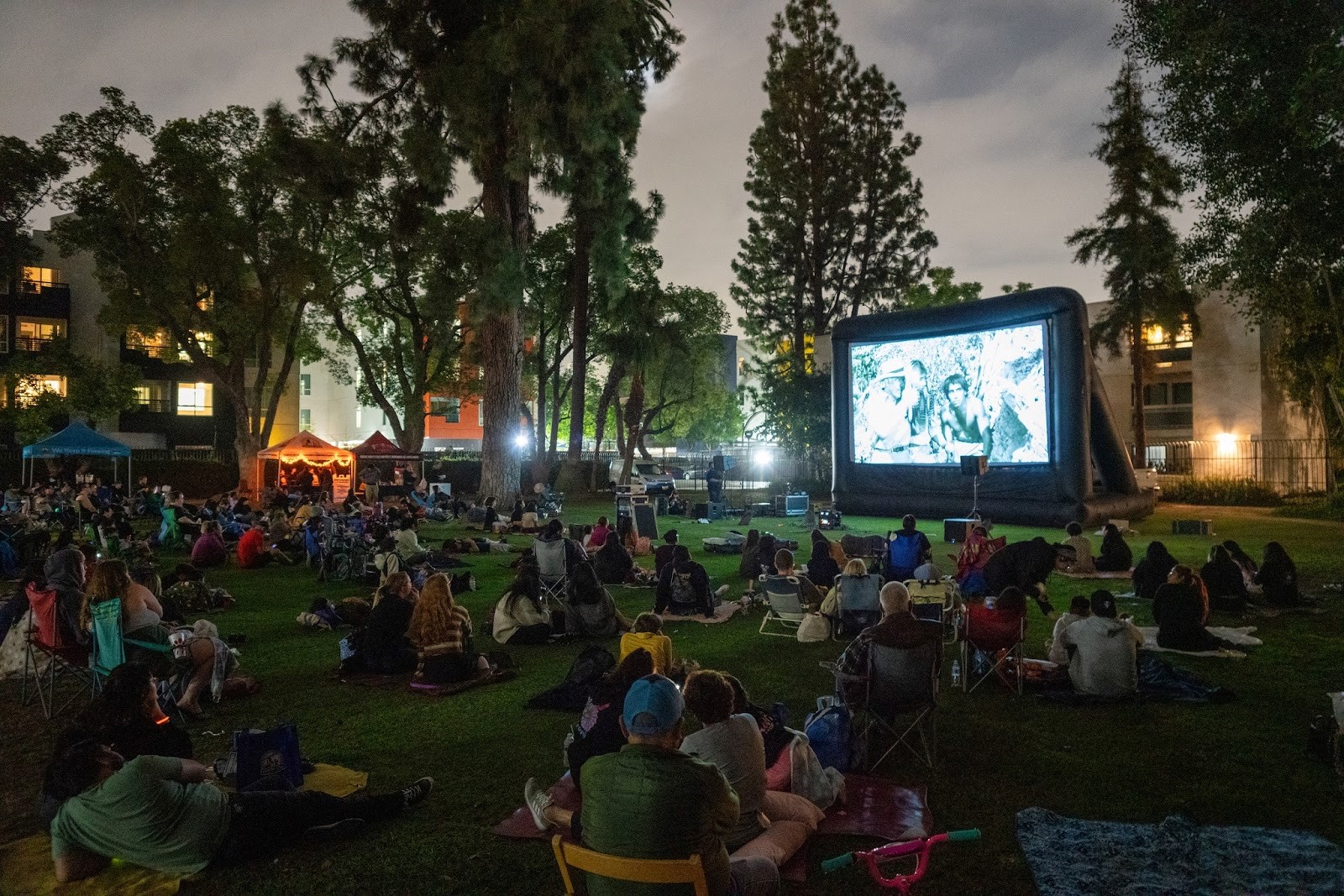 "Creature from the Black Lagoon" screening at Birch Park
Photo Credit: Hiram U.
To submit your own original photo of Santa Ana to be featured in the next newsletter, complete this form.
---
City Manager's highlights
Managing our unhoused population
At their next meeting on Tuesday, Nov. 1, the Santa Ana City Council will vote on a resolution urging the County of Orange to operate a cold weather shelter outside of Santa Ana. As you may have heard, a federal judge recently gave the green light to the County to open a cold weather shelter at the National Guard Armory on Warner Avenue, over our objections. The City of Santa Ana already has a 200-bed shelter and hosts the County's 425-bed shelter, while many other Orange County cities have done nothing to address this regional problem. Read our press release here.
We will continue to do our part to help get unhoused individuals off the streets and into permanent housing, to reduce the impacts of homelessness on our neighborhoods and businesses, and to advocate for an equitable, countywide solution to this crisis. If you need to report encampments, trash and debris, or a homeless person in need of assistance, please use the following resources:
mySantaAna app:

Easily report most issues right from your smartphone with our app.

SMART program:

Same-day response to provide social services support to homeless individuals. Contact

(714) 242-3706

or

EndingHomelessness@santa-ana.org

. 

Flood channels:

For illegal encampments, graffiti, trash, debris, or damaged

fencing along the County flood channels, contact Orange County Public Works at

(714) 955-0200

.

Railroad tracks:

For issues along Union Pacific railroad tracks, contact

1-888-UPRR-COP

(877-7267) or

UPcares@UP.com

.

Freeway off-ramps and CalTrans property:

For assistance with encampments and trash by freeway underpasses and off-ramps go to:

https://csr.dot.ca.gov

No Trespassing Program:

Property owners can sign the Limited Authorization for Arrest form to allow police officers to go onto property to enforce trespassing laws.
For public safety or medical emergencies, please dial 911.
Videos: Events and sister city ceremony
Please enjoy these videos of two of our recent City-produced events and of the ceremonial signing of the City Council's resolution establishing a sister city relationship with Sahuayo, Mexico.
Sister Cities Resolution Signing
News
Parks and Rec unveil new logo and activities guide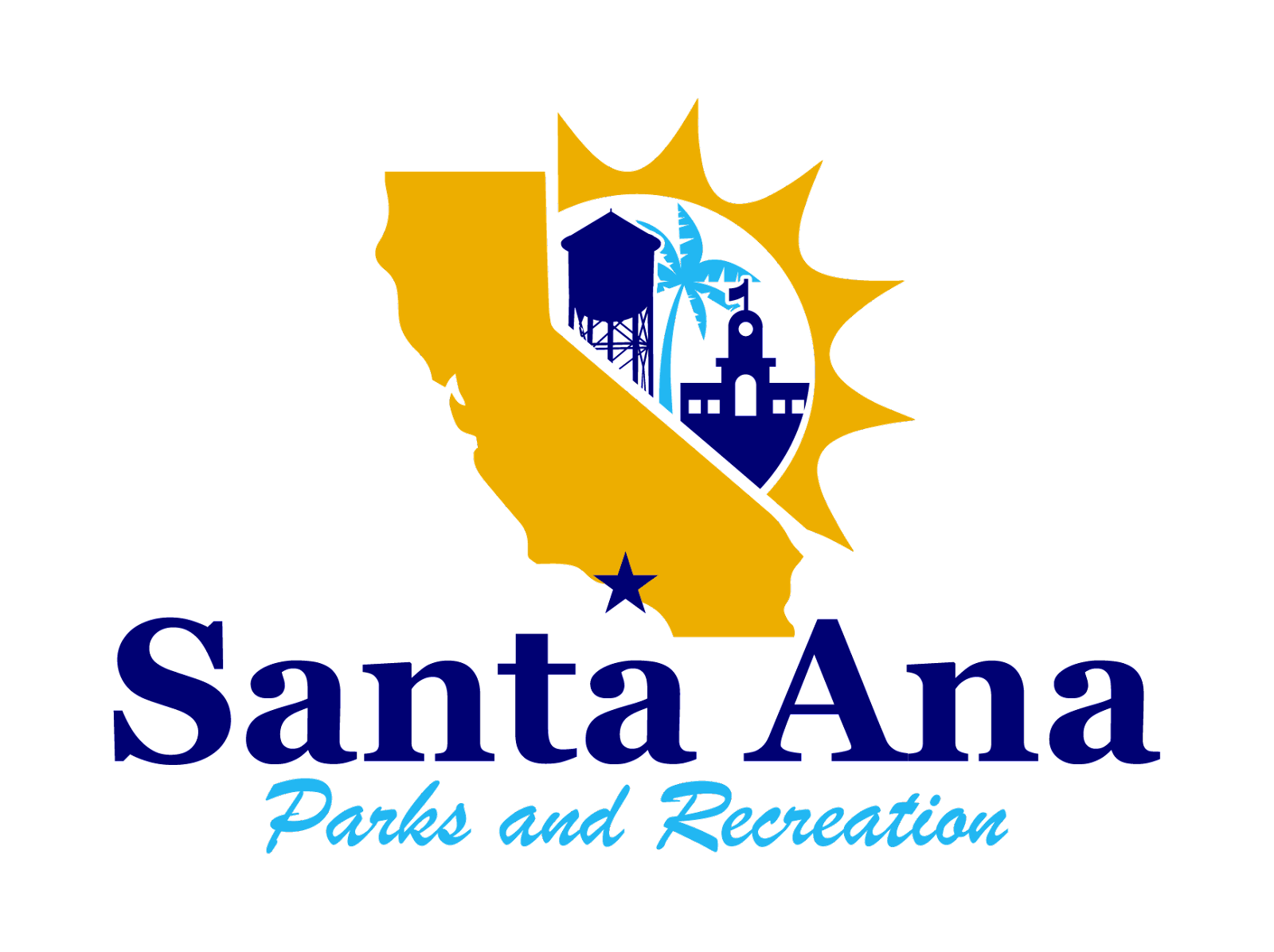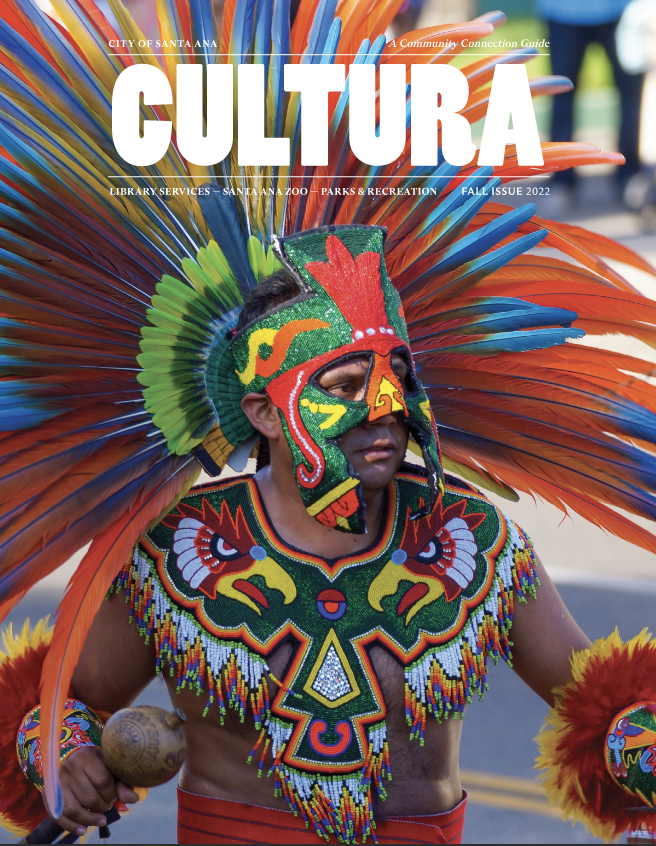 Our Parks, Recreation, and Community Services Agency (PRCSA) has a brand new look! They recently adopted a new logo in addition to revamping their program and activities guide in a joint effort with Santa Ana Public Library and Santa Ana Zoo. PRCSA staff ensured that the new logo paid homage to the City's seal and historic sites like the Santa Ana Water Tower and the Santa Ana Regional Transportation Center. They have also rebranded their program and activity guide as the Cultura Community Connection Guide. The quarterly guide is available digitally for the first time ever and features a beautiful new design. View the guide through the link below and see what's happening now through December!
---
DTSA bracing for big event weekend Nov. 4-6
The first weekend in November will be packed with several wonderful events happening in Downtown Santa Ana. These are by outside organizations and aren't City-produced events. Please plan ahead, prepare for traffic and use alternative routes as there will be several road closures. The City-owned parking garages will be charging $10 for event parking. See the event and closure details on the map and the list of events here:
Victoria Barrios Event

Blading Cup

Viva La Vida

Artwork Fest

Noche de Altares 

Artwalk
---
Library offering limited edition Baby Yoda library cards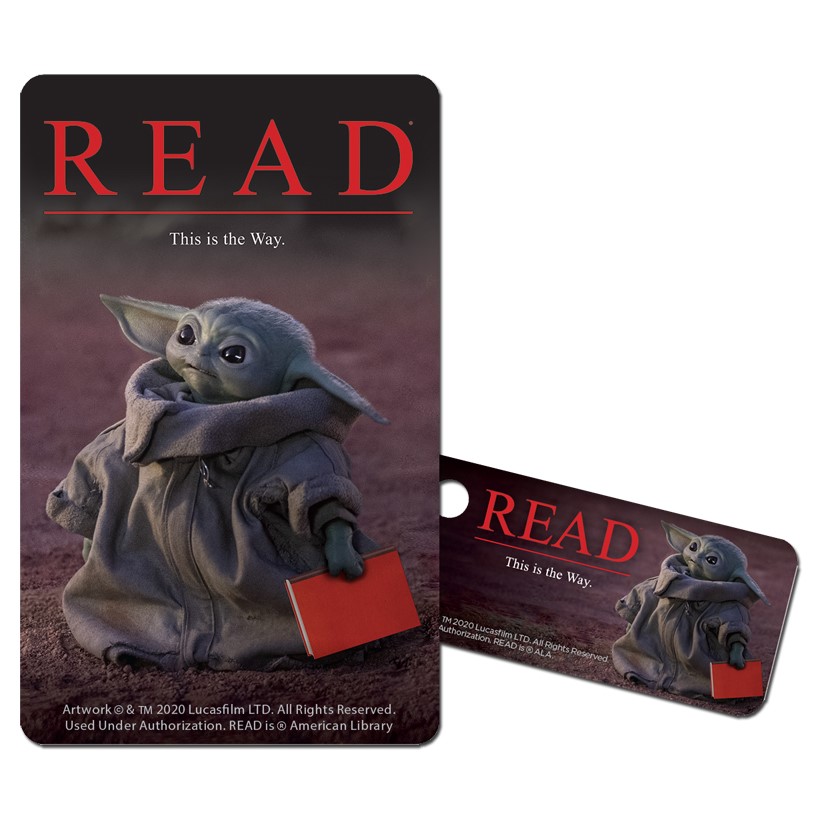 The cutest creature in all the universe has arrived at the Santa Ana Public Library! Get your very own library card featuring Grogu, aka Baby Yoda by following three simple steps:
Visit Main Library, Newhope Library, or The Knowledge Mobile to get a Grogu Program Slip.
Attend any three (3) library programs and have staff sign your slip.
Return your completed Grogu Program Slip to Main Library, Newhope Library, or The Know-Mo by December 17, 2022 to receive your limited-edition Grogu Library Card!
Program Slips and Grogu Library Cards are available on a first come, first served basis and while supplies last.
For more information, please call (714)647-5250
---
Finance wins best budget presentation award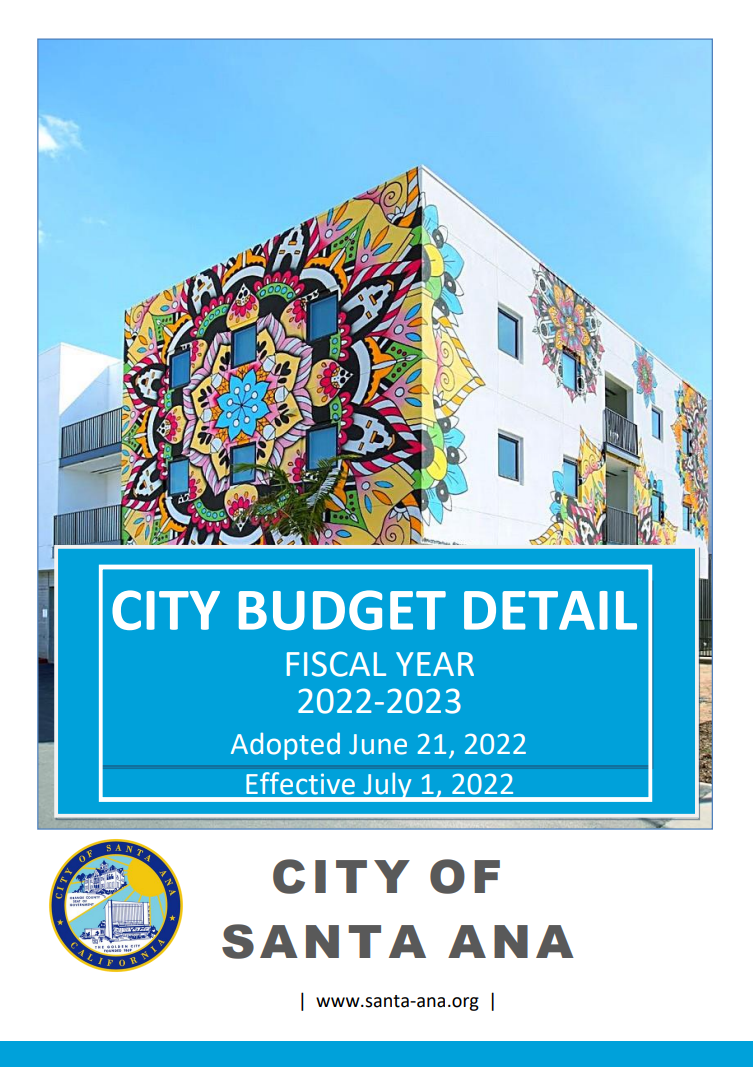 Our Finance and Management Services Agency was awarded the Distinguished Budget Presentation Award by the Government Finance Officers Association (GFOA) for our Fiscal Year (FY) 2022-23 budget! The award reflects the City's commitment to meeting the highest principles of governmental budgeting. Budget documents were rated on four categories and fourteen mandatory criteria within those categories. There were over 1,700 participants in the Budget Awards Program for GFOA for FY 2022-23. Congratulations to the entire Finance team!
---
Home help: Get mortgage, earthquake retrofit and water bill assistance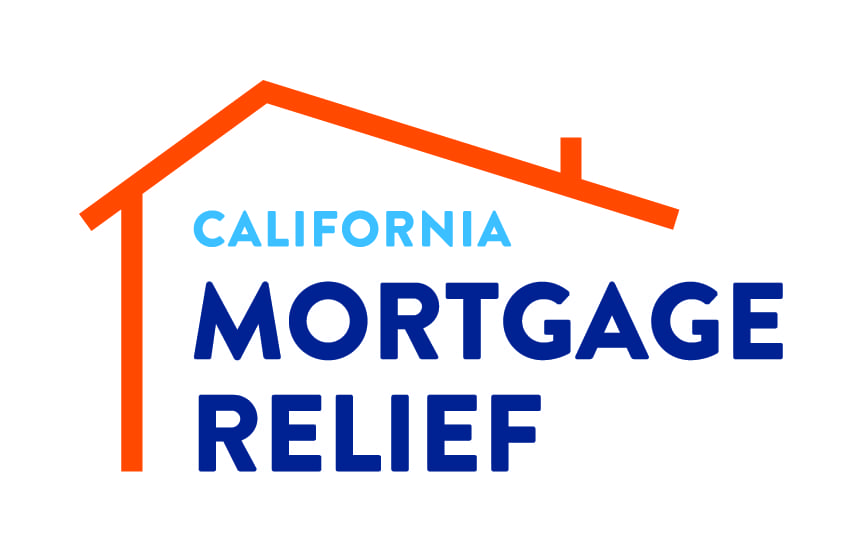 California residents can apply for financial help with their mortgage, an earthquake retrofit and their past due water bill with local and statewide resources.
California Mortgage Relief Program
Homeowners may be eligible for mortgage relief funds if they have missed payments for their primary residence, faced a financial hardship during the pandemic and are at or below 100 percent of their county's Area Median Income. Funds awarded to qualified homeowners through this program will be given directly to their mortgage servicers and do not need to be repaid.
Earthquake Brace+Bolt Retrofit

Earthquake Brace + Bolt (EBB) helps homeowners lessen the potential for damage during an earthquake. EBB offers a grant of up to $3,000 toward a seismic retrofit for qualifying older houses. In addition to the $3,000 grant, they have a new grant specifically for low-income homeowners (income up to $72,080 per household), as funding permits.
Apply for a retrofit https://www.earthquakebracebolt.com/
Apply for the new low-income grant https://www.earthquakebracebolt.com/How-Our-Program-Works/EBB-Supplemental-Grant-For-Low-Income-Homeowners
Water Bill Assistance Program

The federally-funded Low Income Household Water Assistance Program (LIHWAP) provides a one-time benefit of up to $2,000 to cover past-due drinking water, wastewater/sewer, and/or stormwater costs for eligible, low-income customers. Community Action Partnership of Orange County is currently taking applications. 
Download the water bill assistance application: https://www.santa-ana.org/water-bill-assistance-program/
---
OC Restaurant Week participation is free for Santa Ana restaurants

Santa Ana restaurants can participate free of charge during the 2023 OC Restaurant Week. Travel Santa Ana and the OC Restaurant Association are working together to spotlight the richness of Santa Ana's restaurant scene from March 5-11. OC Restaurant Week brings over 200,000 diners that are eager to taste and explore, we're putting Santa Ana front and center! 
To learn more please connect with Pam pam@ocrestaurantassociation.org and Kelli kelli@ocrestaurantassociation.org. 
OC Restaurant Week https://ocrestaurantweek.com/
---
Tales of the City
Youth Employment Program member finds his passion at the Zoo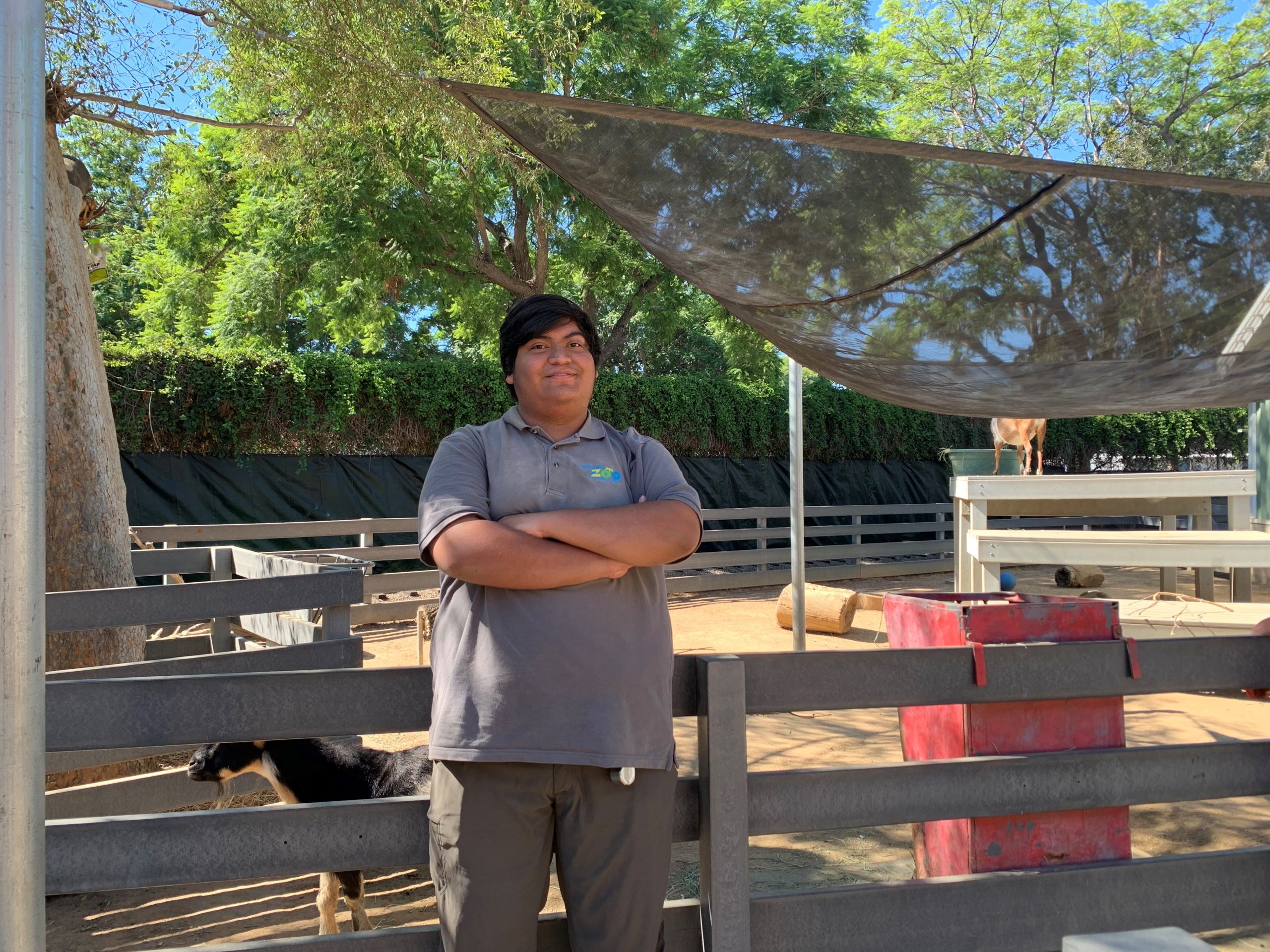 Kevin Perez recalls the stress of struggling to land a job with his family facing eviction from their apartment. Rejection emails and a lack of follow-ups were stressing him even more knowing time was against his family. He wanted to contribute as quickly as possible.
"I became even more stressed while job searching due to my family having only two months before getting evicted from our apartment," says Kevin. "I needed anything to help my parents and siblings."
After coming across the Santa Ana Youth Employment (SAY) Program, his luck began to turn. The Santa Ana Youth Employment Program is administered by the Santa Ana WORK Center and provides paid work experience to residents ages 16 to 21 years old.
The SAY program helped Kevin find a job that was meaningful to him. At orientation, he was quickly drawn to the Santa Ana Zoo and received the opportunity to complete the program working on different animal exhibits. Kevin found his true calling during his time completing the program at the Zoo. "Working at the Zoo led to my biggest discovery – my career goals."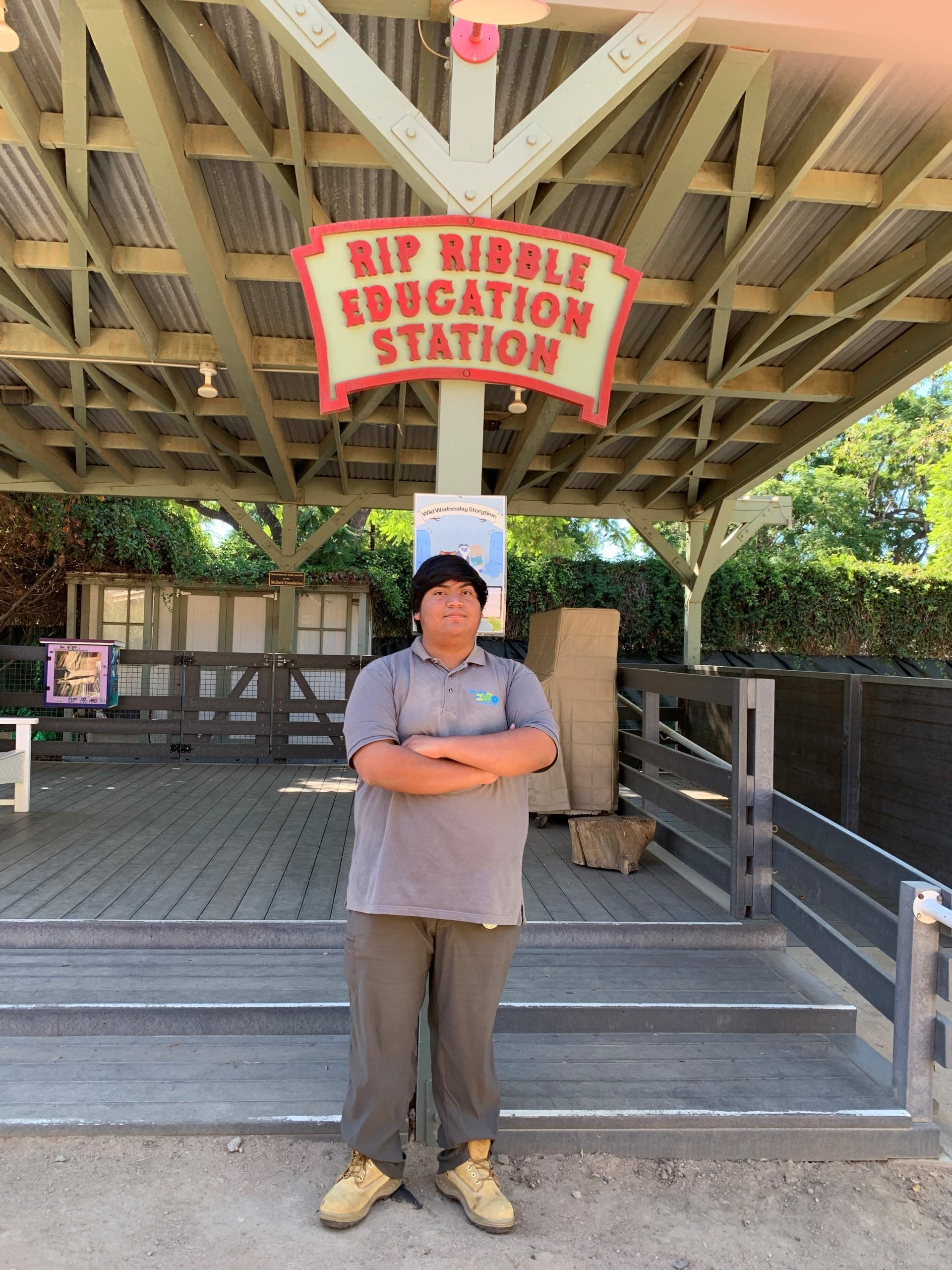 Once he completed the program, Kevin was hired permanently as a part-time program leader at the Zoo, where he intends to one day become a full-time zoo keeper. He credits the SAY program as the best decision of his life, which has allowed him to help his family today while pursuing a new-found career.
To learn more about SAY, call (714) 565-2600, email SAYEmployment@santa-ana.org or click on the link below.
Santa Ana Youth Employment Program
---
City Council meetings
City Council meetings are typically held on the first and third Tuesdays of each month, with the closed session beginning at 5 p.m. or earlier. The open meeting session begins at 5:45 p.m. Meetings have both in-person and virtual participation and attendance and are live streamed on the City's YouTube channel and our TV channel, CTV3 (channel 3 on Spectrum.) If you'd like to provide public comments on agenda and non-agenda items, you can email, attend in person, or join the Zoom webinar online or by phone.
---
Events
Birch Park Halloween Series: Dracula (Spanish) – October 27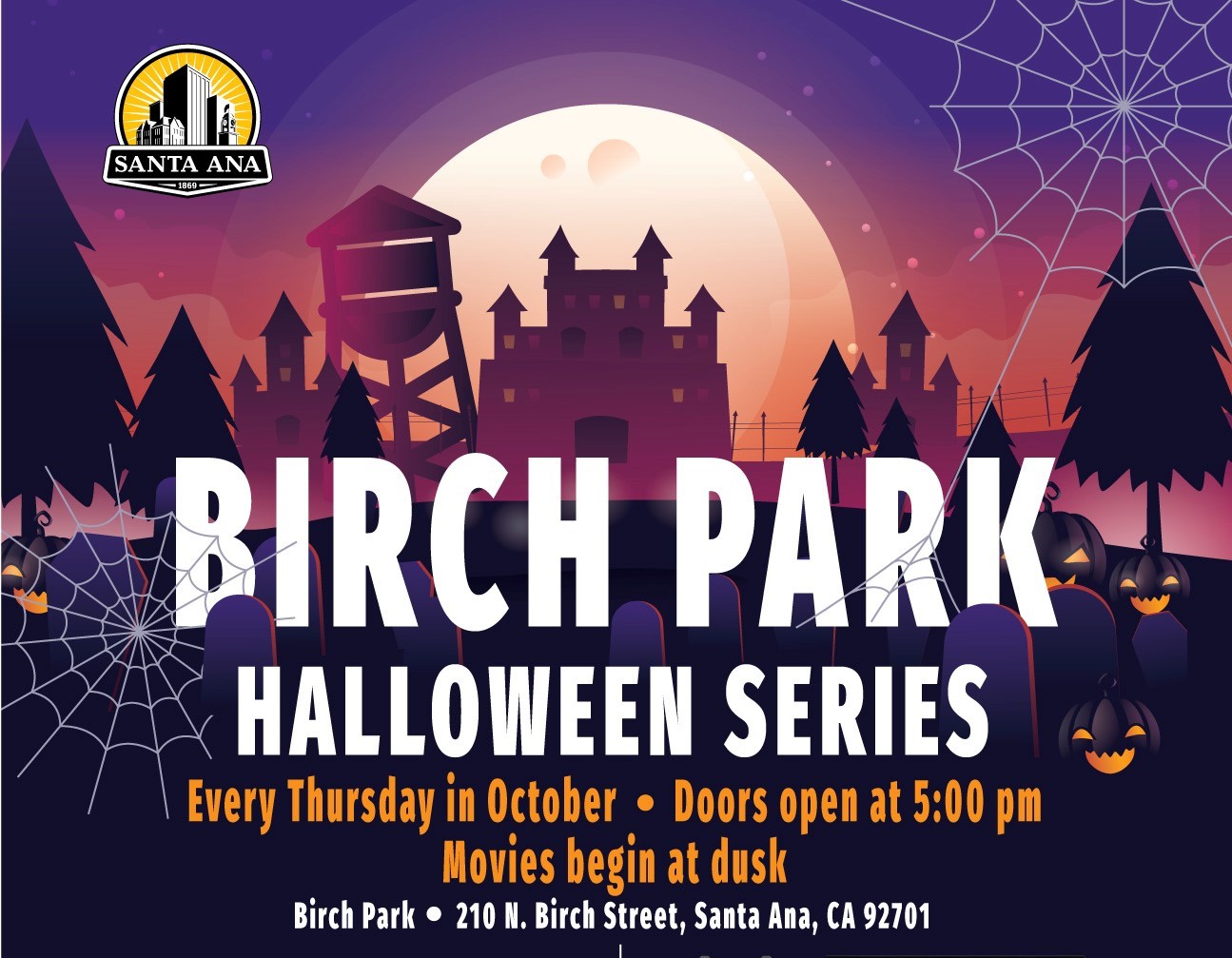 Doors open at 5 p.m. for this free community event with pre-show live music beginning at 6 p.m. and the movie beginning at dusk. Attendees can enjoy a dessert from ice cream trucks on-site. The first 50 guests will get a free bag of popcorn! Don't forget to pick up dinner at your favorite Downtown Santa Ana restaurant, bring a lawn chair and blanket, and be ready to enjoy a spooky evening under the stars!
Thursday, Oct. 27

Birch Park, 210 N. Birch St.

Doors open at 5 p.m.
---
Boo at the Zoo – October 29 & 30

Guests will have the opportunity to explore 10 prize stations on the Trick-or-Treat Trail, enjoy a variety of Halloween-themed games and activities including storytelling, sing-alongs and visits with nocturnal animals. Boo at the Zoo is a fundraiser hosted by Friends of the Santa Ana Zoo to help upgrade the primate habitats.
Oct. 29 and 30

Santa Ana Zoo, 1801 E. Chestnut Ave.
5:30 to 7:30 p.m. each night
General admission is $29.95 for ages 3 and up
$14.95 for Zoo members ages 3 and up
Children under the age of 3 can attend for free
---
Station 31 5K Run/Walk – October 30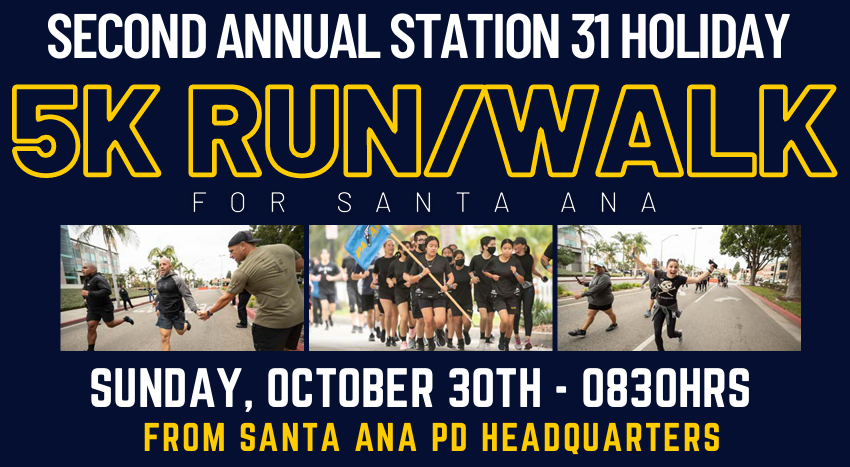 Join the Santa Ana Police Department for their second annual Station 31 5K Run/Walk on Sunday, October 30. Participants and supporters are being asked to contribute $31 upon registration. 100% of the proceeds will directly support the SAPD Explorer Post and children and families during this upcoming holiday season.
Sunday, Oct. 30

SAPD Headquarters, 60 Civic Center Plaza
Race begins at 8:30 a.m.
---
Code Enforcement Workshop – November 3 and 10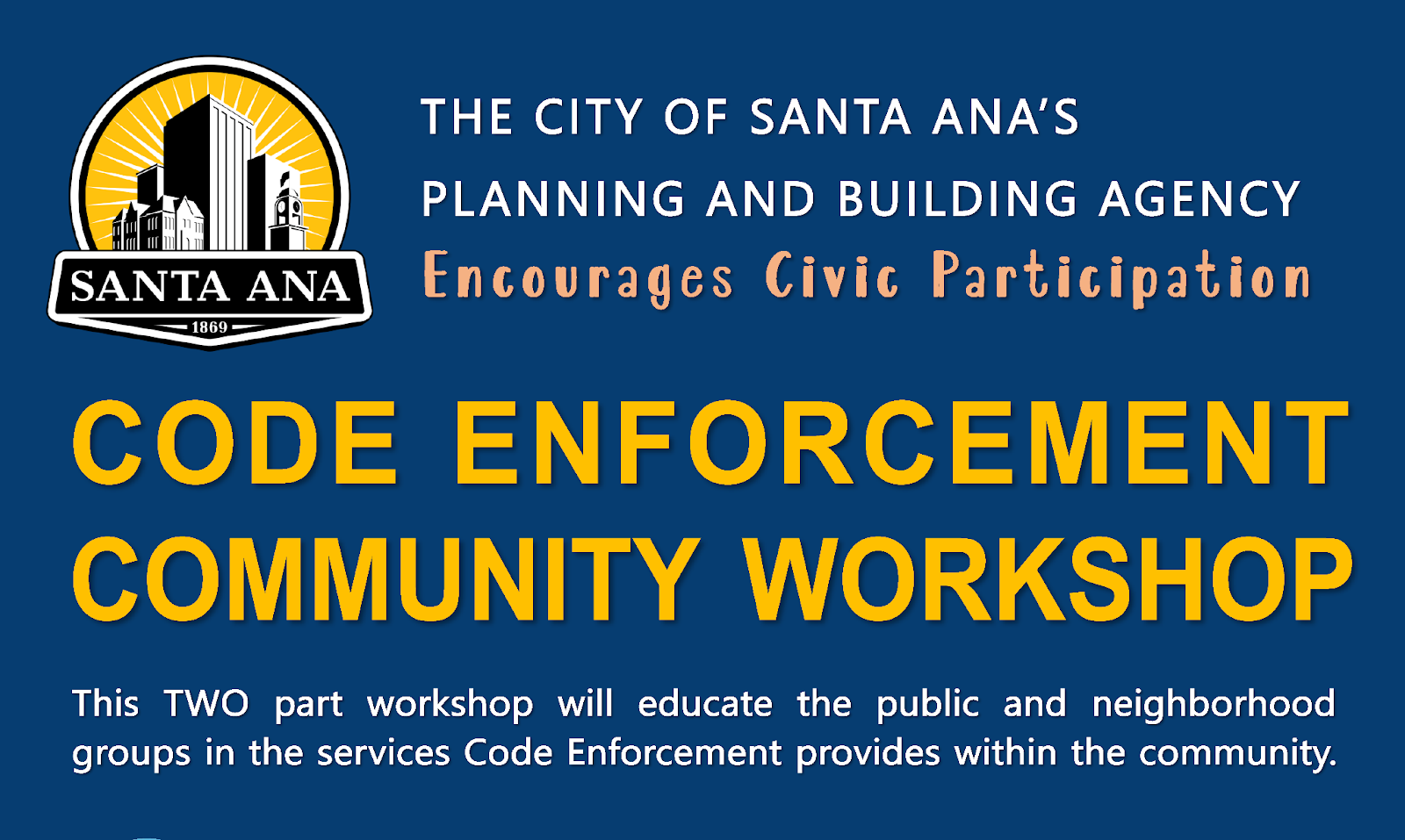 This two-part workshop will educate the public and neighborhood groups about the services our Code Enforcement Division provides within the community. Understand the importance of Code Enforcement and what they do, learn about the enforcement tools used and due process, discover how code violations affect our community, learn how to report code violations, and how to work with the Code Enforcement Division.
Part 1 – Thursday, November 3

Part 2 – Thursday, November 10

6-8:30pm
Santa Ana College Johnson Center, Conference Room JSC 219-4, 1530 W. 17th St, Santa Ana, CA 92706
RSVP by October 31 to reserve your seat. For any questions contact the Code Enforcement Division at (714) 667-2780.
RSVP for Code Enforcement Workshop
---
Bowers Museum Mexican Day of the Dead Festival – November 6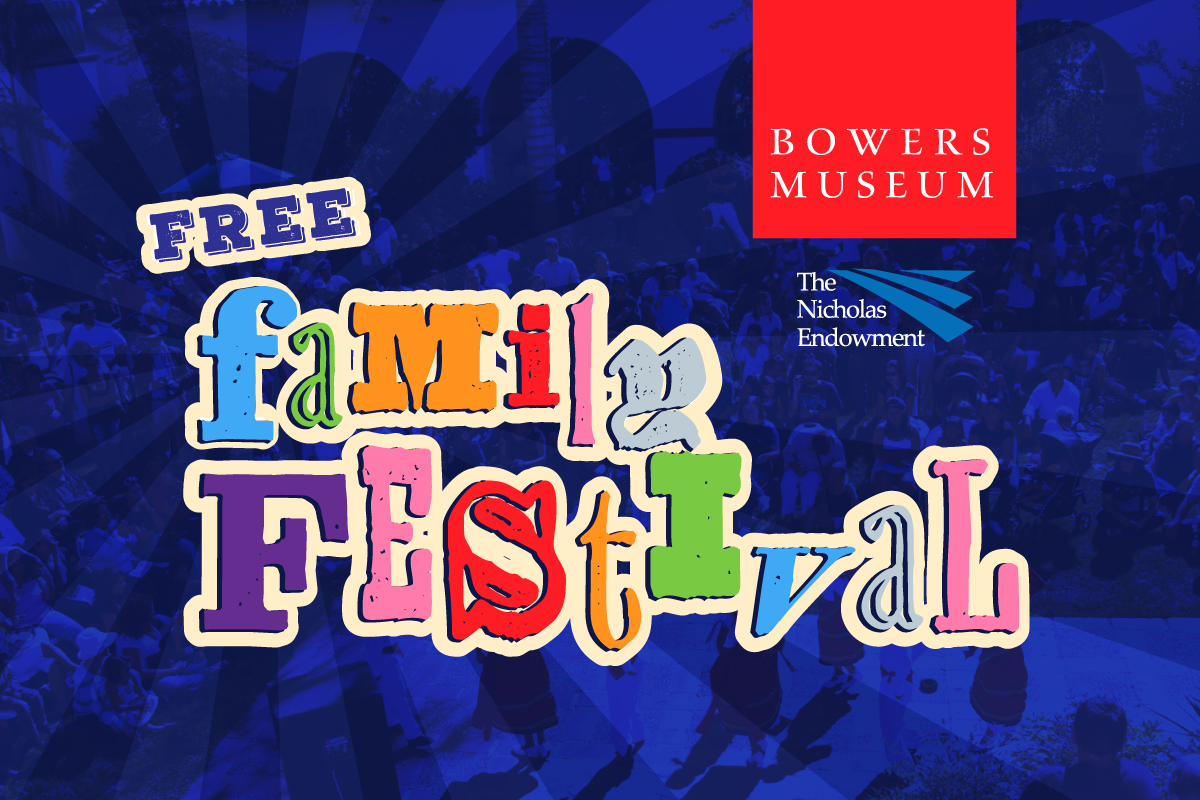 Observe Mexican Day of the Dead at Bowers Museum as we remember those friends and family members that are no longer with us. Celebrate the joy and happiness they brought into our lives with music, dance, art, and special foods. Bring a photo for the Ofrendas (memorial altar) honoring loved ones and that special pet that left too soon. Enjoy performances by Mariachi Anacatlan, Relampago del Cielo, Los Cuates, Xipe Totec and Joel Aceves.
Sunday, Nov. 6

Bowers Museum, 2002 N. Main St.
11 a.m. – 3 p.m.
Mexican Day of the Dead Festival
---