In this edition of our newsletter, read about Santa Ana's new Acting Chief of Police, learn about our Newhope Branch Library transformation, see the unveiling of a new park and clock tower, share your input on important issues like parking and public transportation, and find more Santa Ana news and events.
---
Spotlight Photo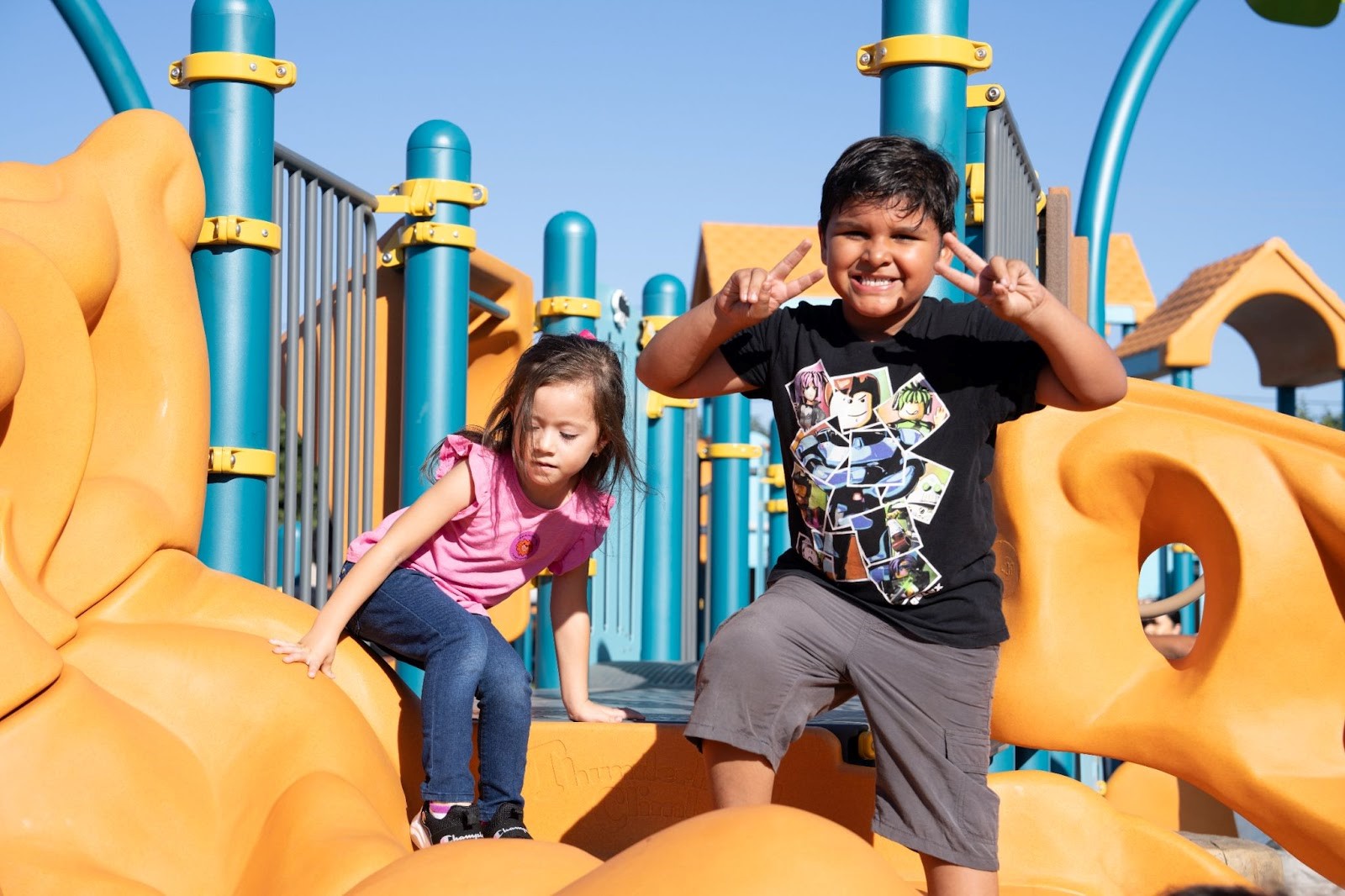 Ed Caruthers Park Grand Opening
Photo Credit: Hiram U.
To submit your own original photo of Santa Ana to be featured in the next newsletter, complete this form. 
---
City Manager's Highlights
Robert Rodriguez named Acting Santa Ana Chief of Police
We want to bid a fond farewell to Police Chief David Valentin, who retired on Thursday, Nov. 2, and thank him for his 33 years of distinguished service. Acting City Manager Steven A. Mendoza named Assistant Chief Robert Rodriguez as Acting Chief of Police, effective Nov. 2, 2023.
Acting Chief Robert Rodriguez will oversee operations of the nearly 400-officer SAPD while the City of Santa Ana conducts a national search for candidates to fill the position of Chief of Police.
Learn more about the Acting Police Chief
---
City-hosted Plaza Navideña returns Nov. 18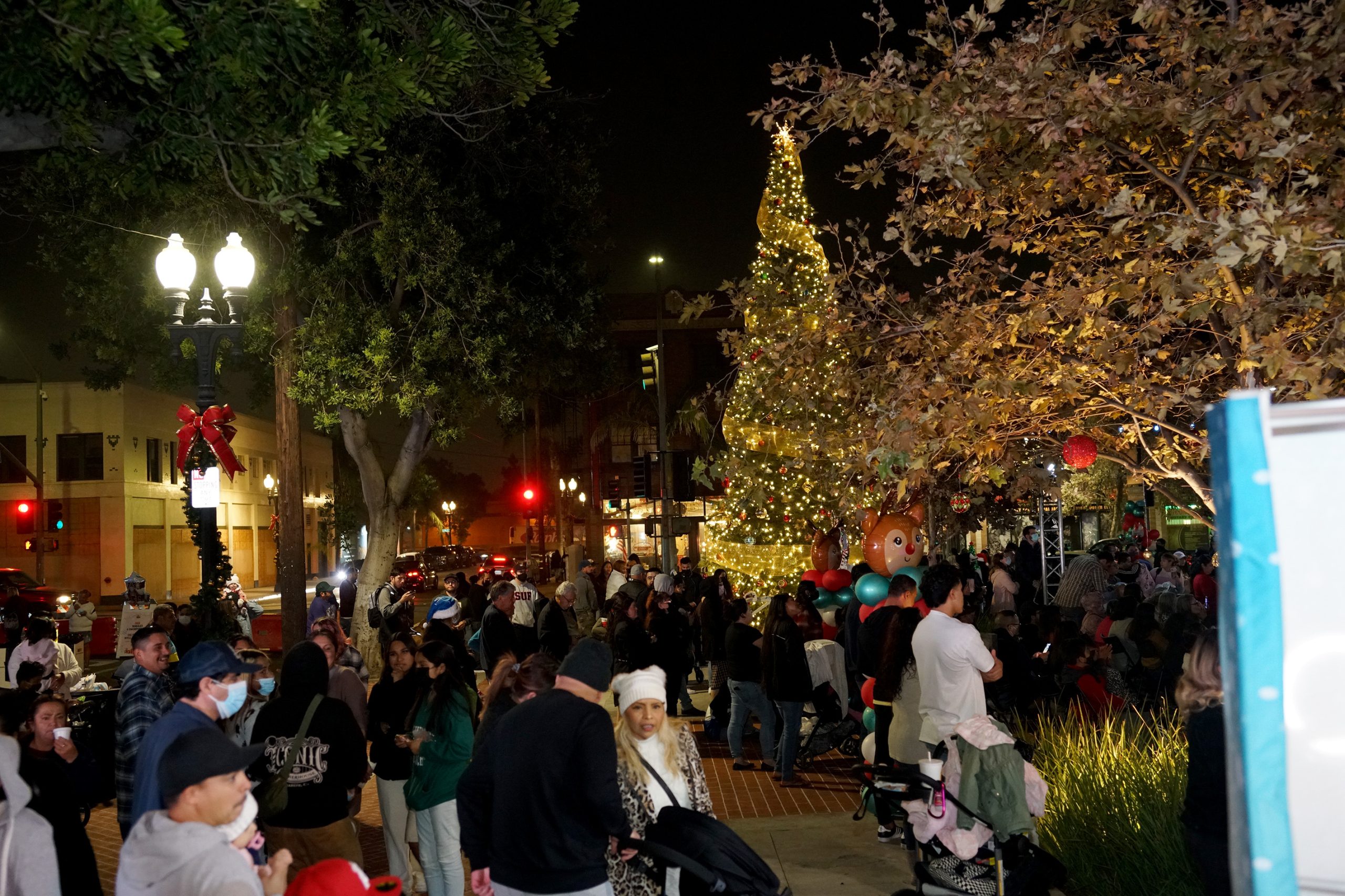 We're proud to once again kick off the holiday season by hosting the Plaza Navideña celebration on Nov. 18! The event will take place 5-8 p.m. at Plaza Calle Cuatro at 4th and French streets in downtown Santa Ana. The community can look forward to a decorated 30-foot natural fir tree, live entertainment, photo opportunities with Santa Claus, and kids crafts.
Learn more about Plaza Navidena
---
News
$1.086 million grant to fund Newhope Branch Library upgrades

The City of Santa Ana's Library Services Agency has been awarded $1.086 million from the California State Library "Building Forward" grant program to fund a variety of critical maintenance and infrastructure needs at the Newhope Branch Library.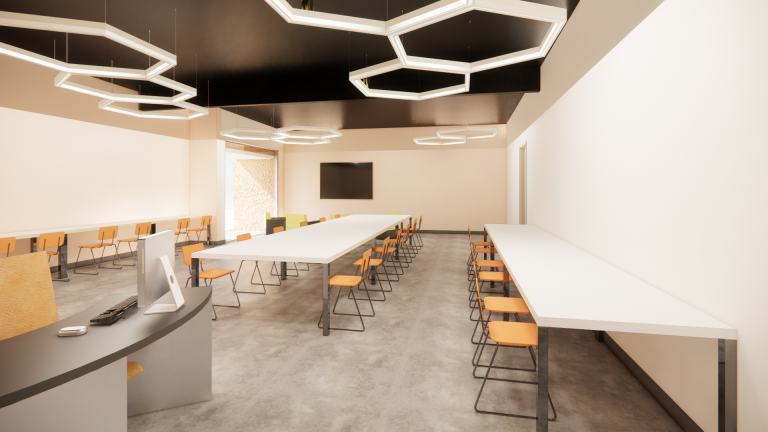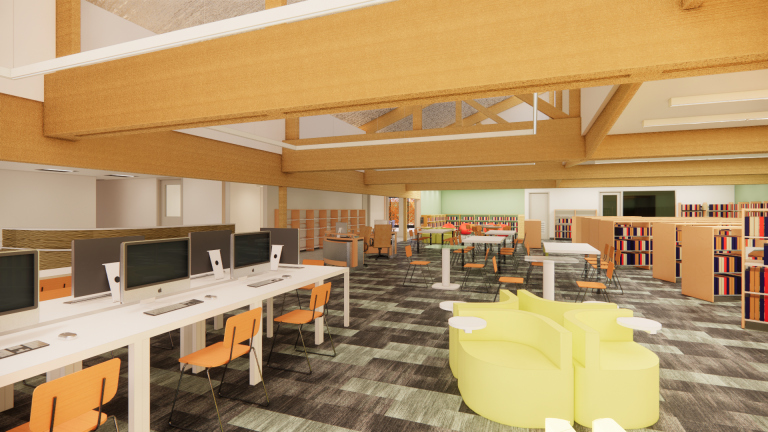 The Newhope Branch Library has lacked significant and critical maintenance repairs since it was built in 1976. Funding will address many needed upgrades and repairs to essential safety and building infrastructure, including electrical, mechanical, plumbing and fire protection systems, interior doors, and storefront entries. These upgrades will also make the building more environmentally sustainable by using newer and more efficient mechanical components.
Newhope Library transformation
---
New clock tower monument unveiled at Flower and 15th streets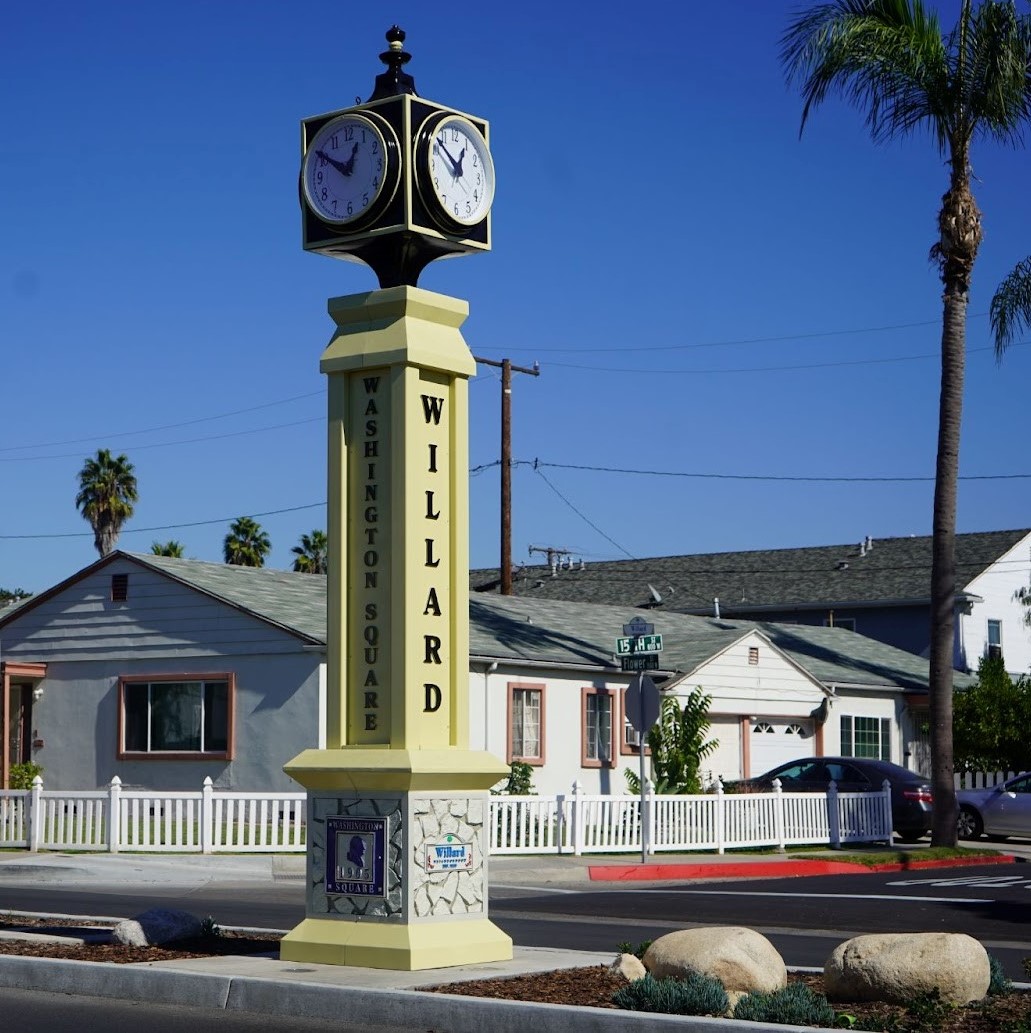 On Oct. 14, the Public Work Agency joined the community to unveil a classic monument clock tower in the median at the intersection of Flower and 15th streets. The clock tower monument commemorates the two adjacent neighborhoods, Washington Square and Willard. The monument resulted from the median reconstruction on these streets following a recent sewer construction project.
The clock tower is 18 feet high, made of steel and aluminum, and is illuminated by LED lights. The clock tower is built to withstand 100-mile-an-hour winds, and is an atomic clock, so it sets itself to automatically adjust to daylight saving time and provide the most accurate time.
---
Ed Caruthers Park is now open!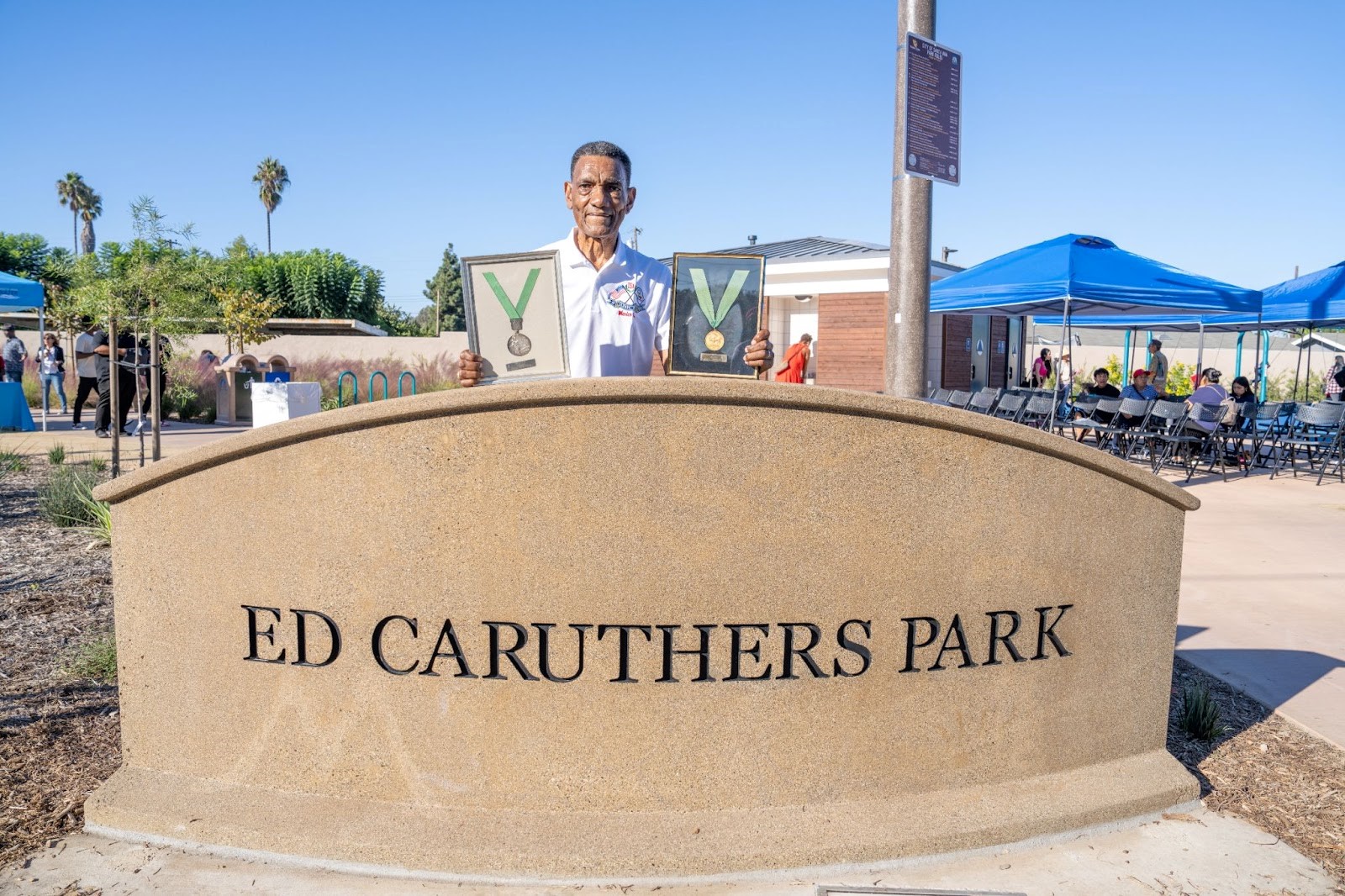 We celebrated the grand opening and ribbon cutting ceremony of Ed Caruthers Park, a vibrant addition to the community, on Oct. 17. The new park, located on the corner of Raitt and Myrtle streets, is named in honor of Edward Julius Caruthers Jr., a long-time Santa Ana athlete and community leader who won the silver medal for the men's high jump in the 1968 Summer Olympics.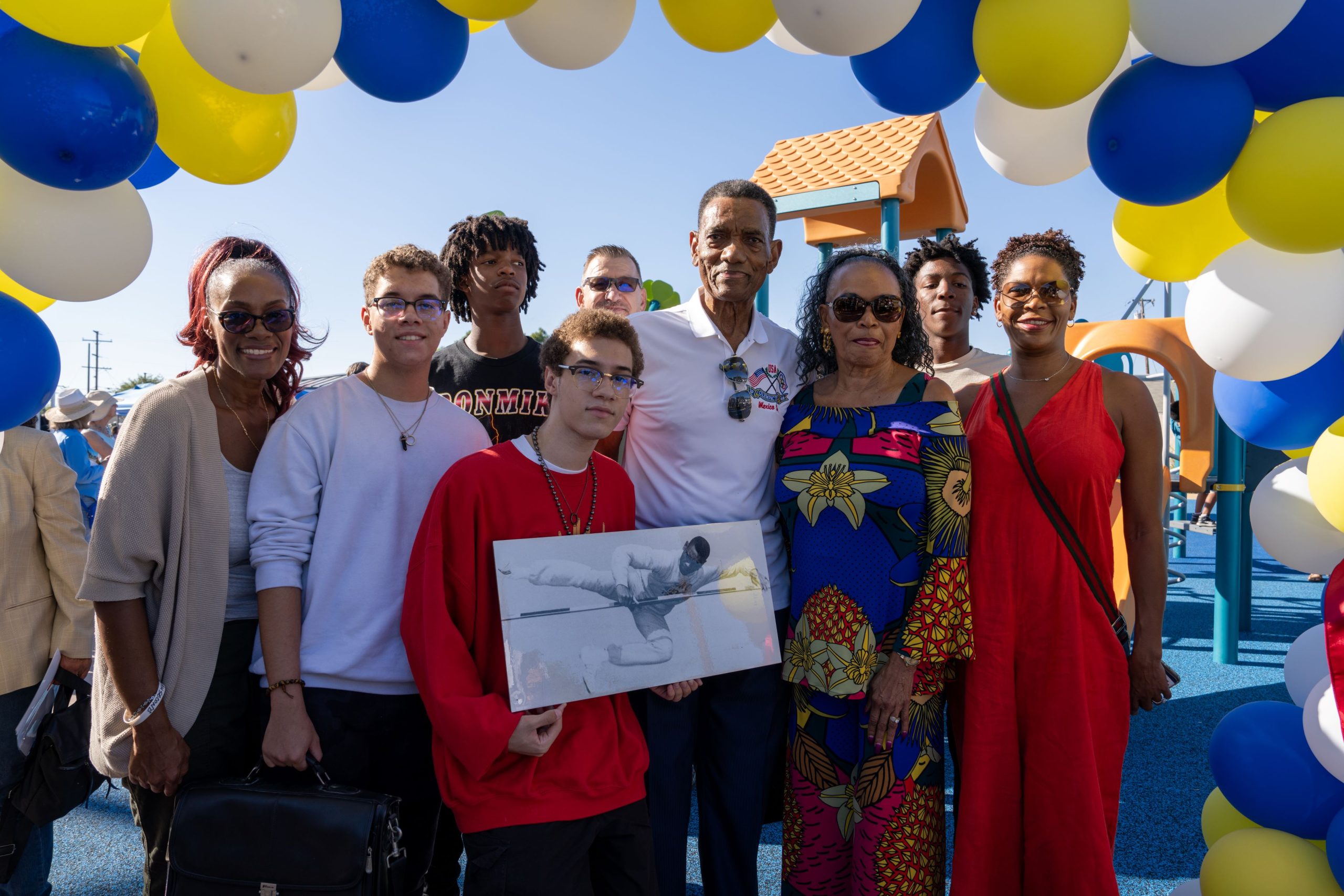 The ribbon-cutting ceremony was a momentous occasion that brought together Mr. Caruthers, his family and the Santa Ana community. The park's $4.4 million development project transformed two city-owned parcels into a 1.18-acre neighborhood park with an emphasis on multi-benefit storm water capture. 
The new Ed Caruthers Park offers a variety of amenities and features designed to serve the diverse needs and interests of the Santa Ana community. Highlights include a playground area, exercise zone, skate park, picnic areas, a new restroom facility, and drought-tolerant landscaping. The project also includes 3,300 square feet of bioretention basins and a subsurface infiltration system designed to efficiently capture and manage stormwater runoff. This eco-friendly feature underscores the City's commitment to sustainability and environmental responsibility.
Read more about Ed Caruthers Park.
---
Take our residential parking survey

The City of Santa Ana Public Works Agency is revamping the permit-parking program and we are seeking your input, comments, and suggestions that will define the new Residential Permit Parking Program for years to come. Take our residential parking survey at the link below. The survey is available in English, Spanish and Vietnamese.
Take the residential parking survey
---
Take the OC Transit Vision Master Plan survey

The Orange County Transportation Authority is updating the OC Transit Vision Master Plan aimed at expanding mobility services for bus, streetcar, and micro transit in the county. Get involved today by providing your input in the survey.
OC Transit Vision Master Plan Survey
---
Build extra housing with the Affordable ADU Loan Program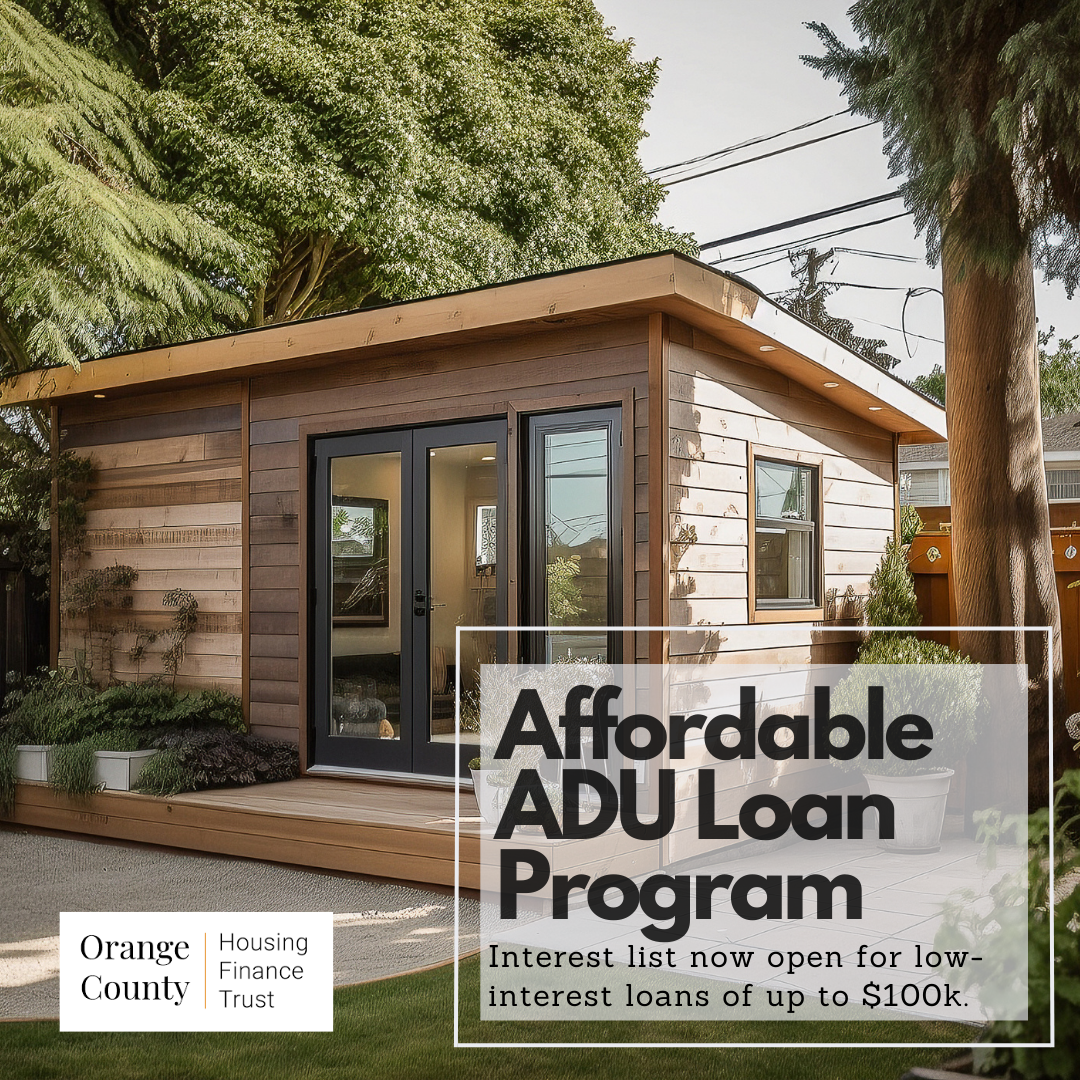 The Affordable ADU Loan Program is now available from the Orange County Housing Finance Trust. Homeowners who are considering building a rental Accessory Dwelling Unit (ADU) shouldn't miss this opportunity to receive a low-interest loan of up to $100,000 to assist with the cost of construction and to be part of the solution for the affordable housing crisis in our community. The City of Santa Ana is proud to be a member of the Trust as part of our long-term commitment to meeting the housing needs of our residents. 
Affordable ADU Loan Program interest list
---
Restrooms to close at 4 parks for renovation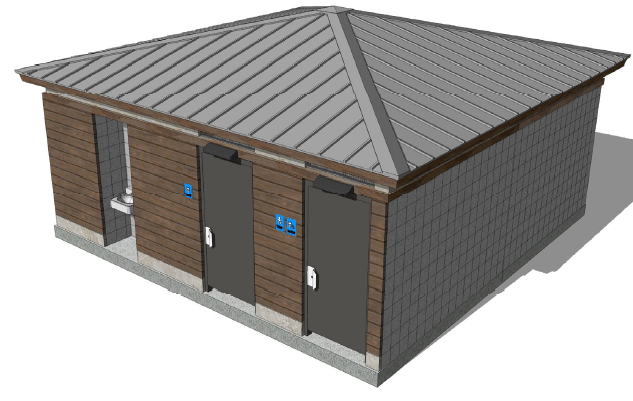 We continue to upgrade the City's park facilities. Therefore, starting on Monday, Nov. 13, the following park structure restrooms will be closed for new construction until various dates in 2024:
Riverview Park, 1817 W. 21st St. – structure restrooms closed through March 2024

Heritage Park, 4812 W. Camille St.- structure restrooms closed through April 2024

Windsor Park, 2915 W. La Verne Ave.- structure restrooms closed through May 2024

Angels Park, 300 N. Flower St. – structure restrooms closed through July 2024
During these closures, portable restrooms will be provided and the restrooms under construction will be fenced off completely.
---
Street closures and permitted events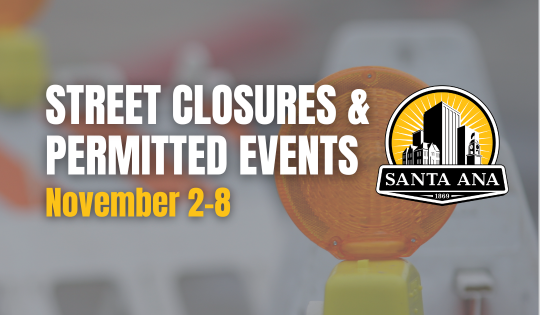 Here are the locations of upcoming permitted events and road closures so you can plan accordingly. Please drive slowly and safely in construction zones and around crowded events.
Street Closures and Permitted Events
---
Tales of the City
Celebrating National Community Planning Month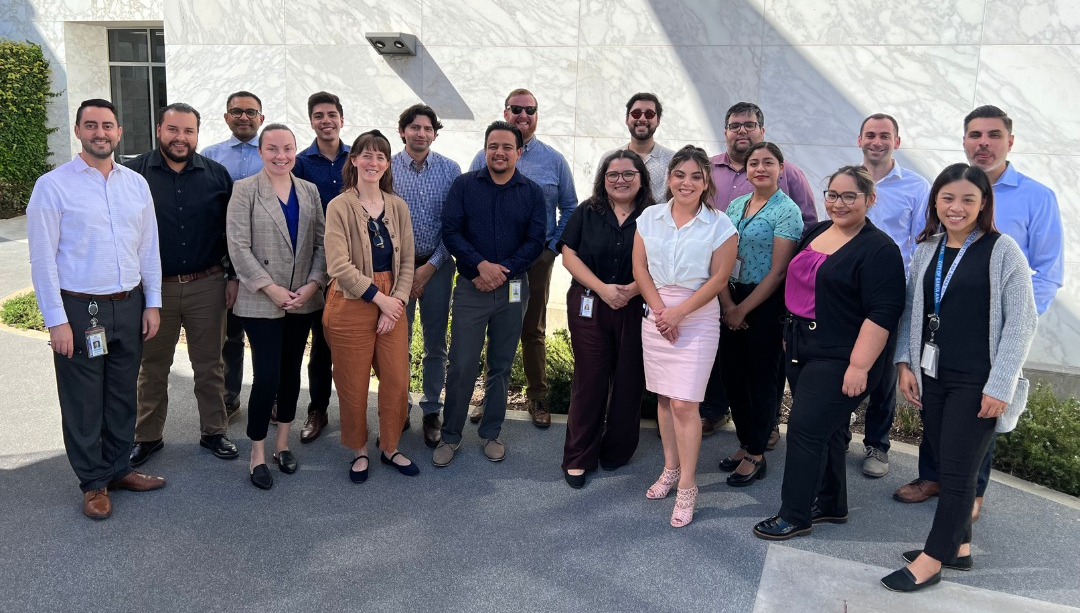 In October we celebrated National Community Planning Month to recognize the hard work of our dedicated staff in the Planning and Building Agency (PBA).  Our PBA plays a critical role in achieving our City Council's goals for the physical development of the community. Their objective is to provide a safe, attractive, and business-friendly community through implementing state and local construction codes, planning and regulating future land uses, and so much more.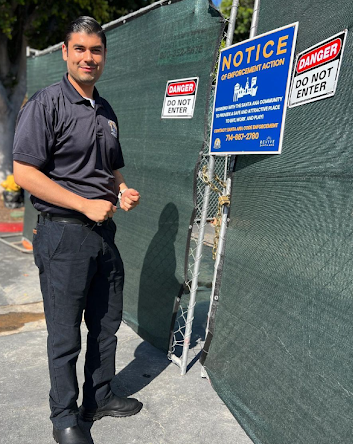 Whether helping an entrepreneur open up their first brick and mortar business, or guiding a family as they build an addition to their home, the process always begins with the assistance of city planners. The PBA has many other important  functions, too.
The Neighborhood Initiatives and Environmental Services team consists of community planners who work closely with our 64 neighborhood associations to present information about City programs, proposed projects and other topics at neighborhood meetings and events. The Code Enforcement Division plays a crucial role in protecting public health, safety and welfare by enforcing City codes related to nuisance and land use violations. Effective planning wouldn't be possible without the support of Code Enforcement officers ensuring that properties remain in compliance.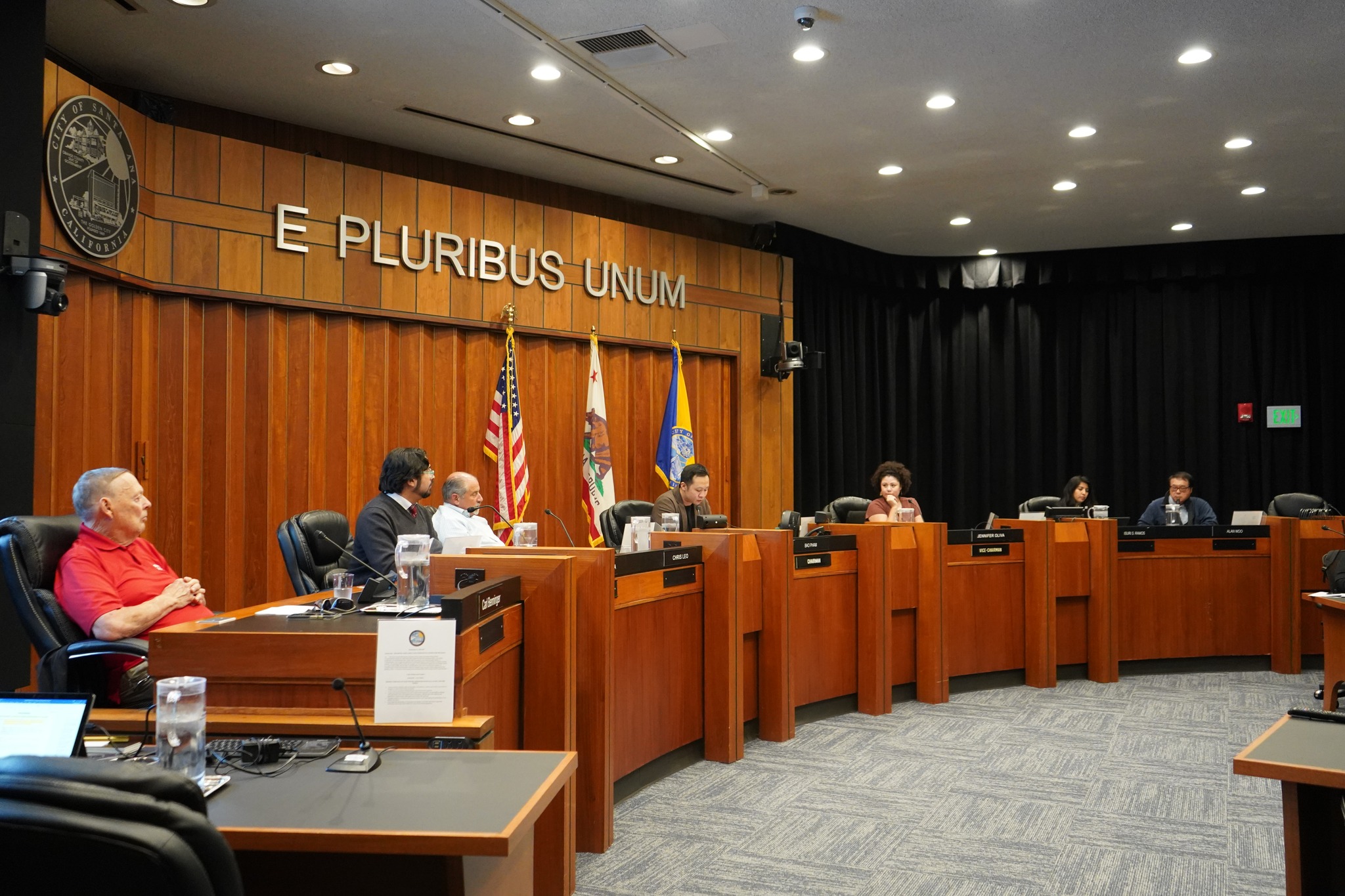 The PBA also supports the Planning Commission, which meets twice a month to review developmental proposals and policies related to land use within the city. The Planning Commission is composed of seven residents appointed by the Mayor and City Council, each representing a specific ward or serving as the citywide representative.
Learn more about Planning and Building Agency
---
City Council Meetings
At their October 17, regular meeting, the Santa Ana City Council:
For the first time, appointed two residents aged 55 or older representing the Santa Ana Senior Center and the Southwest Senior Center to the Parks, Recreation and Community Services Commission.

Adopted a resolution placing a ballot measure before voters in the Nov. 5, 2024, General Municipal Election proposing a Rent Stabilization and Just Cause Eviction Ordinance.

Adopted a resolution to amend the Miscellaneous Fees Schedule for the 2023-24 fiscal year to reduce the Planning and Building Agency review fee for accessory dwelling unit applications and to create a new review fee for accessory dwelling unit applications utilizing pre-approved plans.

Authorized issuance of the fiscal year 2023-24 request for proposals for affordable homeownership opportunities; approved an update to the down payment assistance program guidelines; and allocated additional funds of nearly $2.3 million to the down payment assistance program.

Awarded a $1,899,983 construction contract to All American Asphalt for the 17th Street rehabilitation, with an estimated project delivery cost of $2,374,980.

Awarded a $1,598,202 construction contract to C.S. Legacy Construction, Inc. for the King Street Urban Greening Project, with an estimated construction delivery cost of $1,918,240
Subscribe here to receive City meeting agenda notifications. City Council meetings are typically held on the first and third Tuesdays of each month, with the closed session beginning at 5 p.m. or earlier. The open meeting session begins at 5:30 p.m. Meetings have both in-person and virtual participation and attendance and are live streamed on the City's YouTube channel and our TV channel, CTV3 (channel 3 on Spectrum.) If you'd like to provide public comments on agenda and non-agenda items, you can email, attend in person, or join the Zoom webinar online or by phone.
---
Events
Bowers Museum Day of the Dead – November 5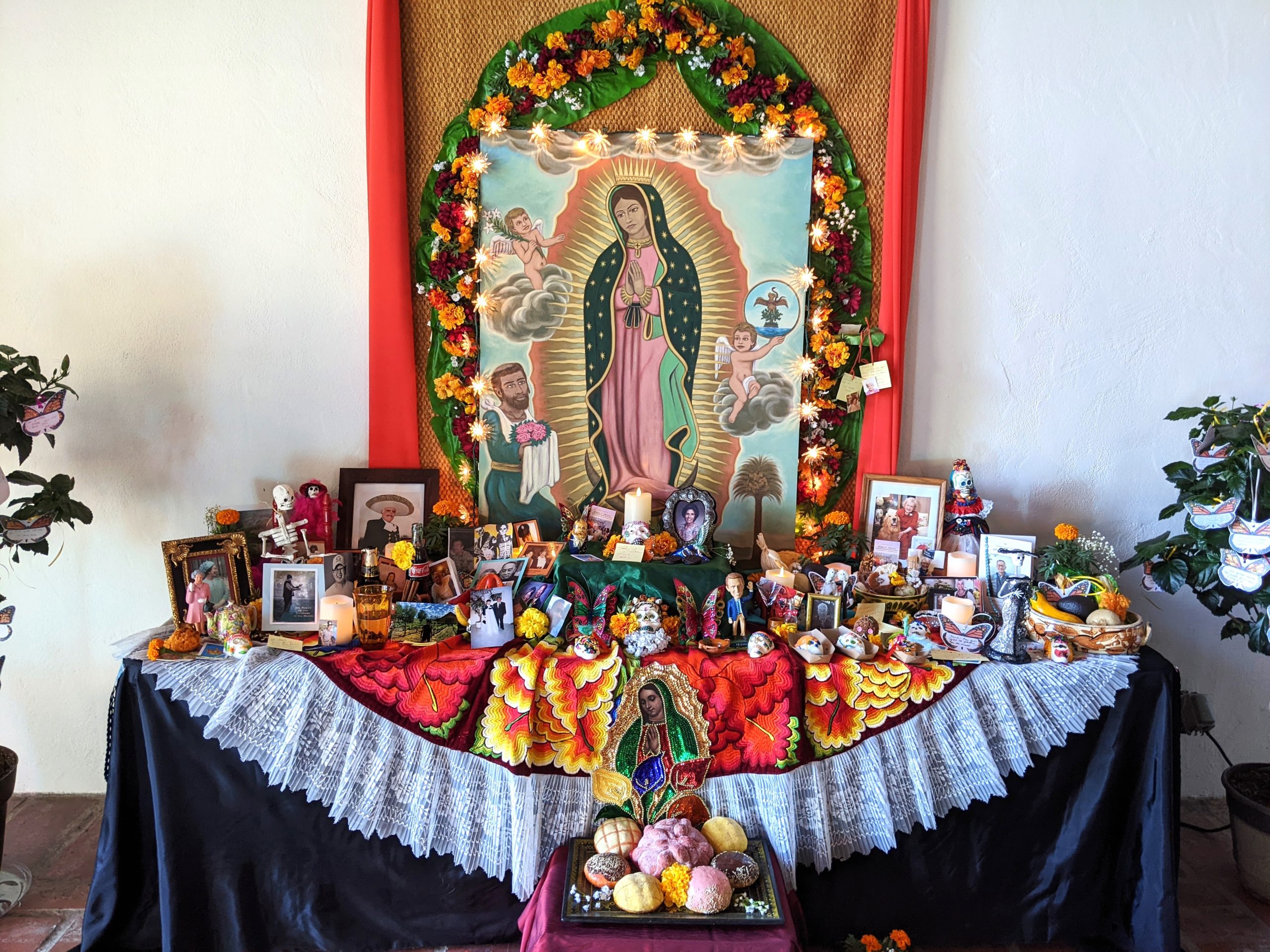 Celebrate Mexican Day of the Dead with a day of creativity, culture and family-friendly activities. Visit the community ofrenda (memorial altar) in the Bowers Museum Historic Courtyard Annex to honor and remember loved ones from Oct. 25 to Nov. 12.
Sunday, Nov. 5

11 a.m.-3 p.m.

Bowers Museum, Key Courtyard, 2002 N. Main St.
---
Santiago Creek Flood Risk Management Project public meeting – November 6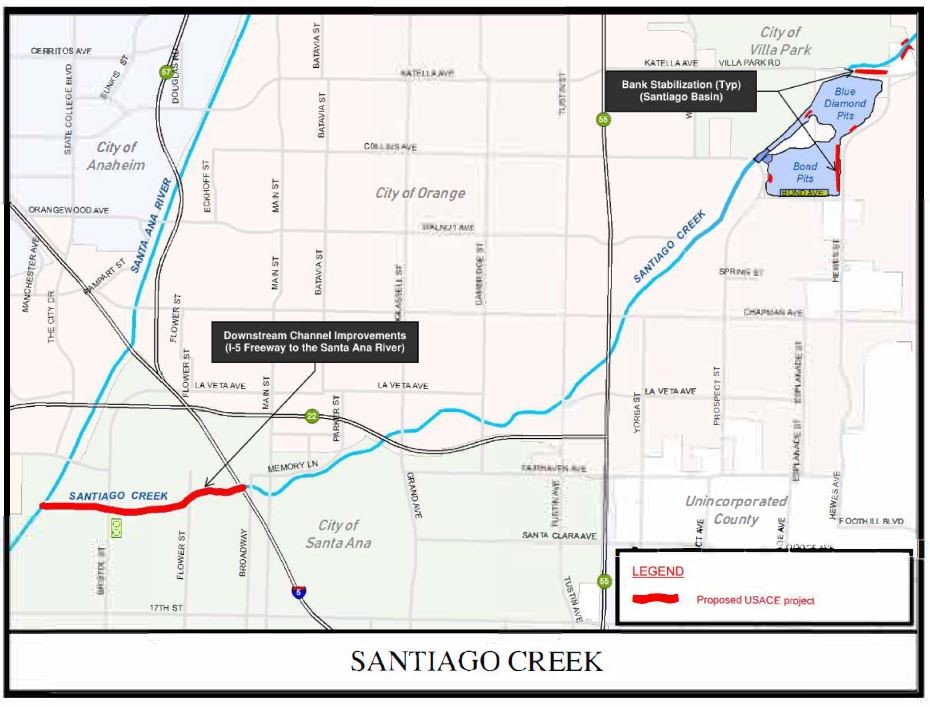 Orange County Public Works and the U.S. Army Corps of Engineers are hosting an in-person and online public meeting about the proposed improvements designed to enhance the flood protection along Santiago Creek in Santa Ana between the Santa Ana 5 Freeway and the Santa Ana River, and upstream at the Santiago Recharge Basins. The project is in partnership with the U.S. Army Corps of Engineers as a component of the Santa Ana River Mainstem Project.
Monday, Nov. 6

6:30-8:30 p.m.

OC Public Works County Conference Center, 601 N. Ross St.

Join the Santiago Creek meeting on

Zoom
Santiago Creek project information
---
Native American Heritage Festival – November 12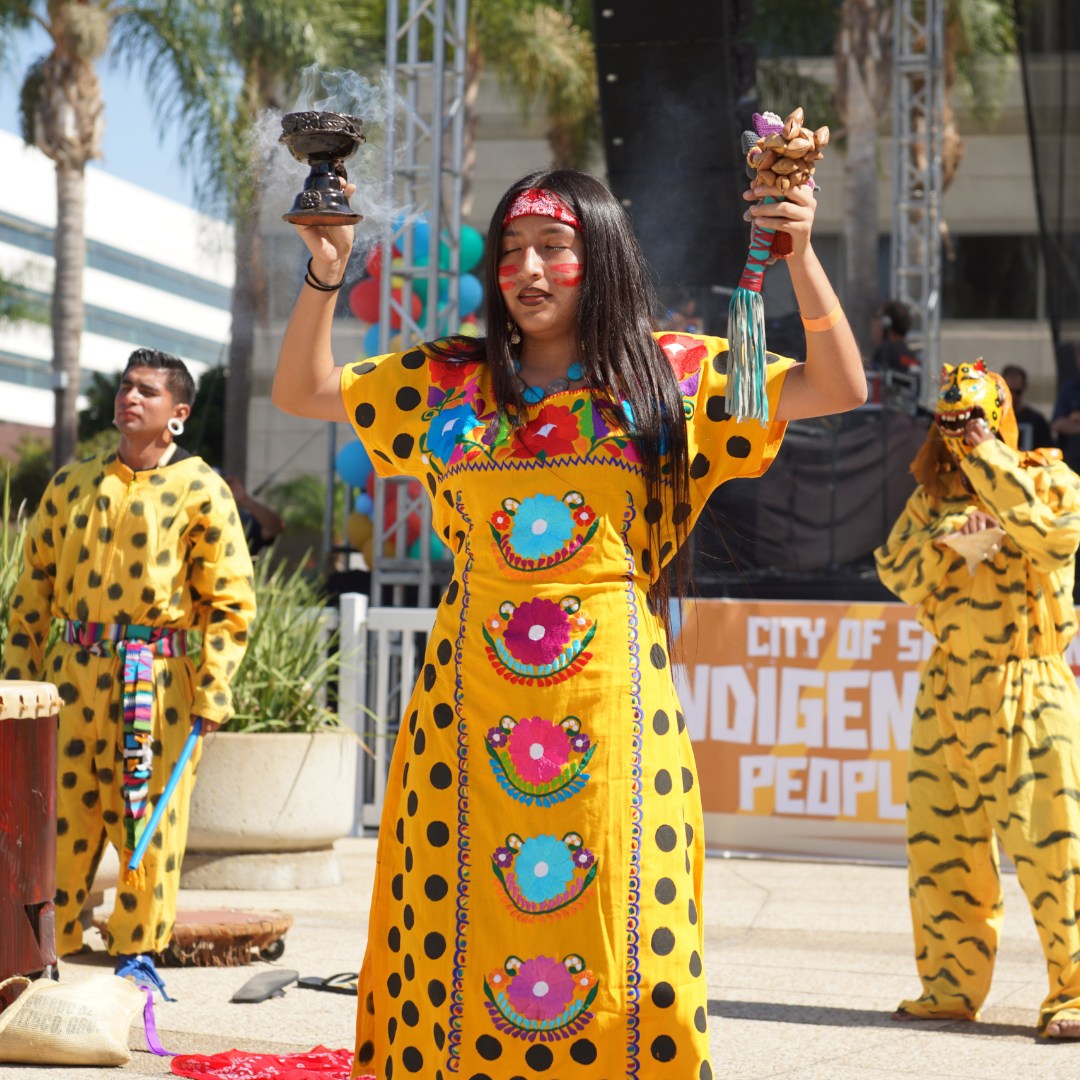 November is Native American Heritage Month and the Native American Heritage Festival will celebrate the rich, diverse cultures and traditions of Native Americans. This is a family-friendly and free event for the public. It is brought to you by All Occasions Services and was selected to coordinate this City of Santa Ana event through a competitive Request for Proposals (RFP) process.
Sunday, Nov. 12
11 a.m. – 5 p.m.
Thornton Park, 1801 W. Segerstrom Ave.
---
Movies at the Library – November 15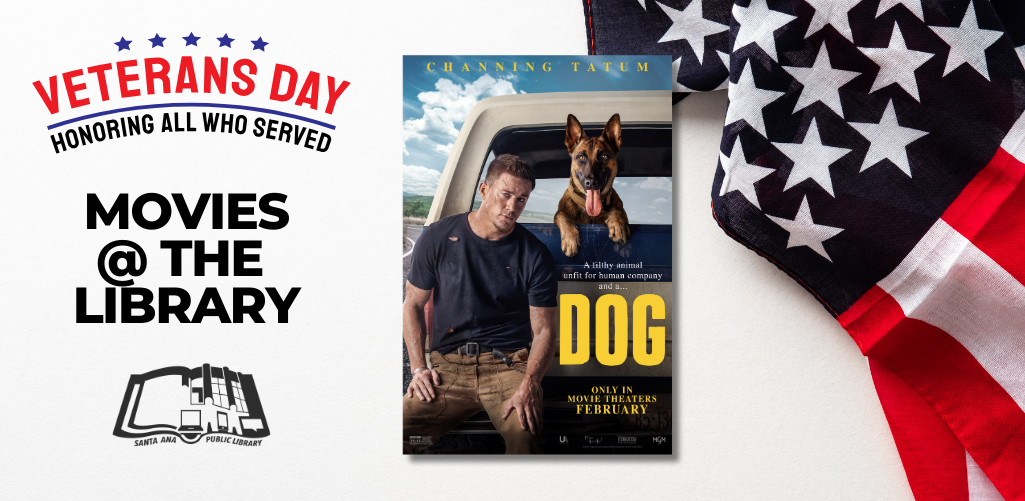 Join us for a special Movie Night at the Main Library and Newhope Branch Library in honor of Veterans Day. Light snacks will be provided while supplies last. 
Wednesday, Nov. 15

6-8 p.m.

Main Library, 26 Civic Center Plaza.

Newhope Branch Library, 122 N. Newhope St.
---
Community Meeting: Construction update for Standard-McFadden Park – November 15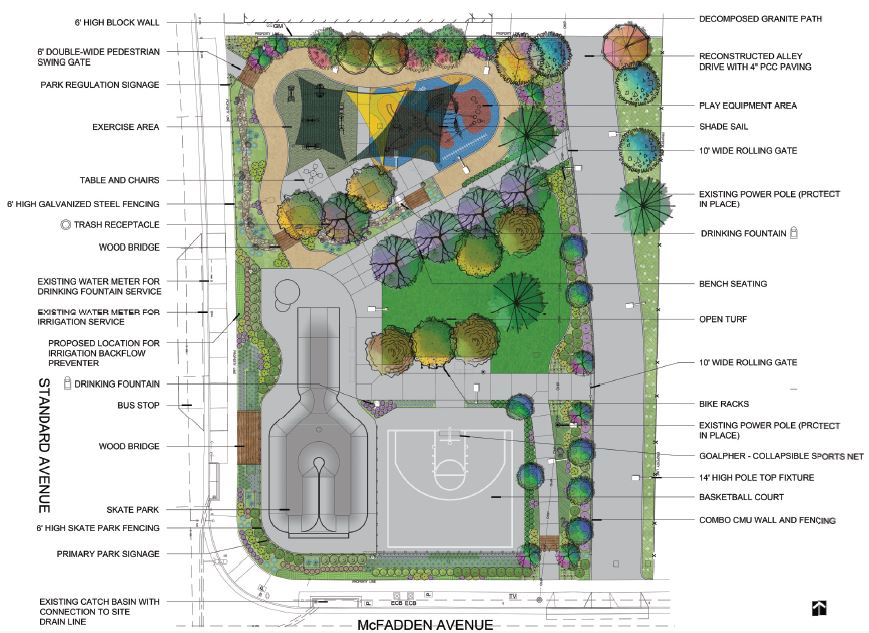 Santa Ana neighbors are invited to an interactive community meeting with the City of Santa Ana Public Works Agency for an update on the construction activity for the new park at the northeast corner of Standard and McFadden avenues. 
Wednesday, Nov. 15

6:30-8:30 p.m.

Kennedy Elementary School, 1300 E. McFadden Ave.
Spanish translation will be available. You can contact Michelle Micallef, Public Works Agency Community Liaison, at (714) 647-5091 or mmicallef@santa-ana.org for more details.
---
Plaza Navideña – November 18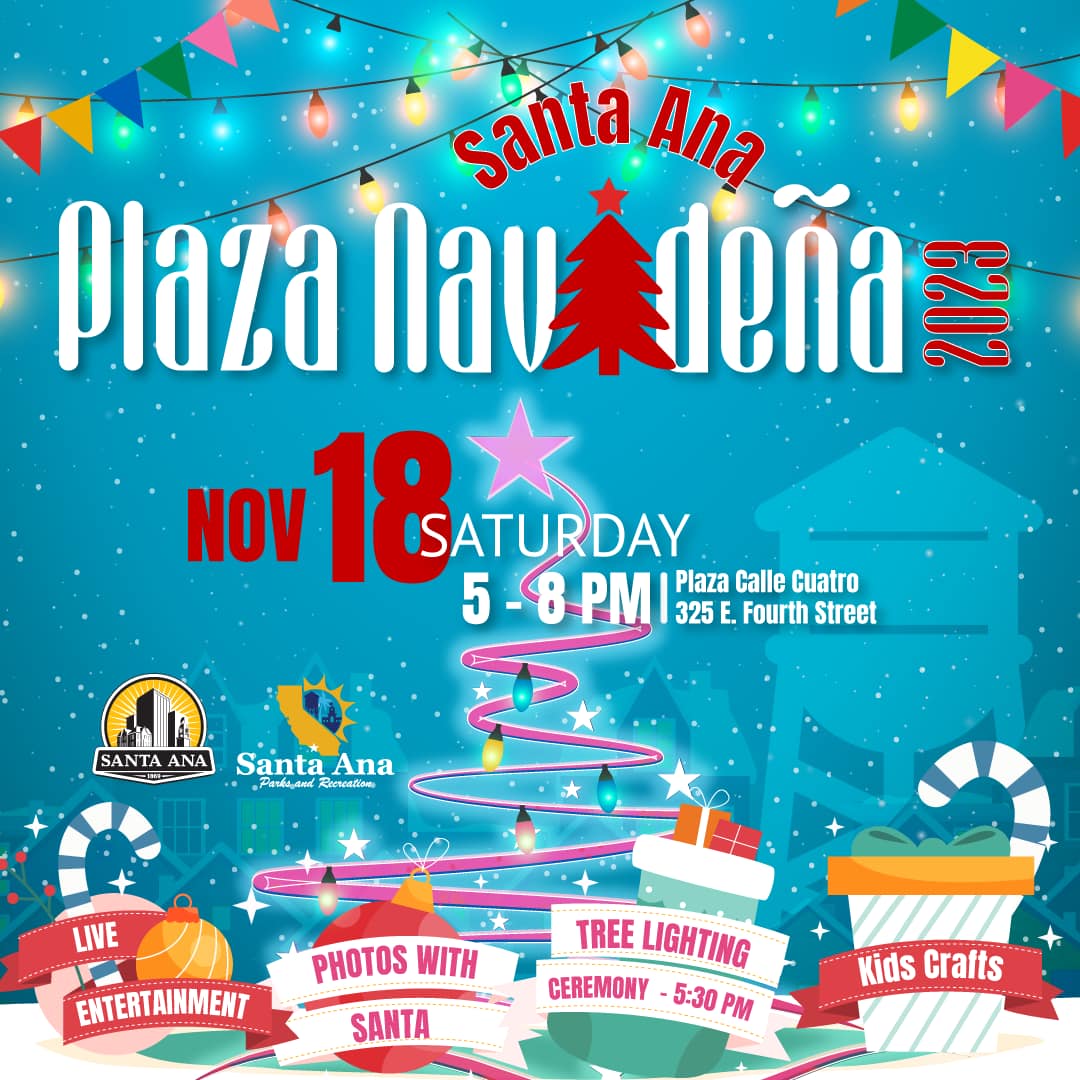 Join us in celebrating the start of the holiday season as Plaza Navideña returns to downtown Santa Ana! During this free event, participants can experience a 30-foot tree lighting ceremony scheduled at 5:30 p.m., photo opportunities with Santa Claus, and live performances.
Saturday, Nov. 18

5-8 p.m.

Intersection of French and E. 4th streets. The approximate address is 325 E. 4th St.
---
Free Resident Day at Santa Ana Zoo – November 19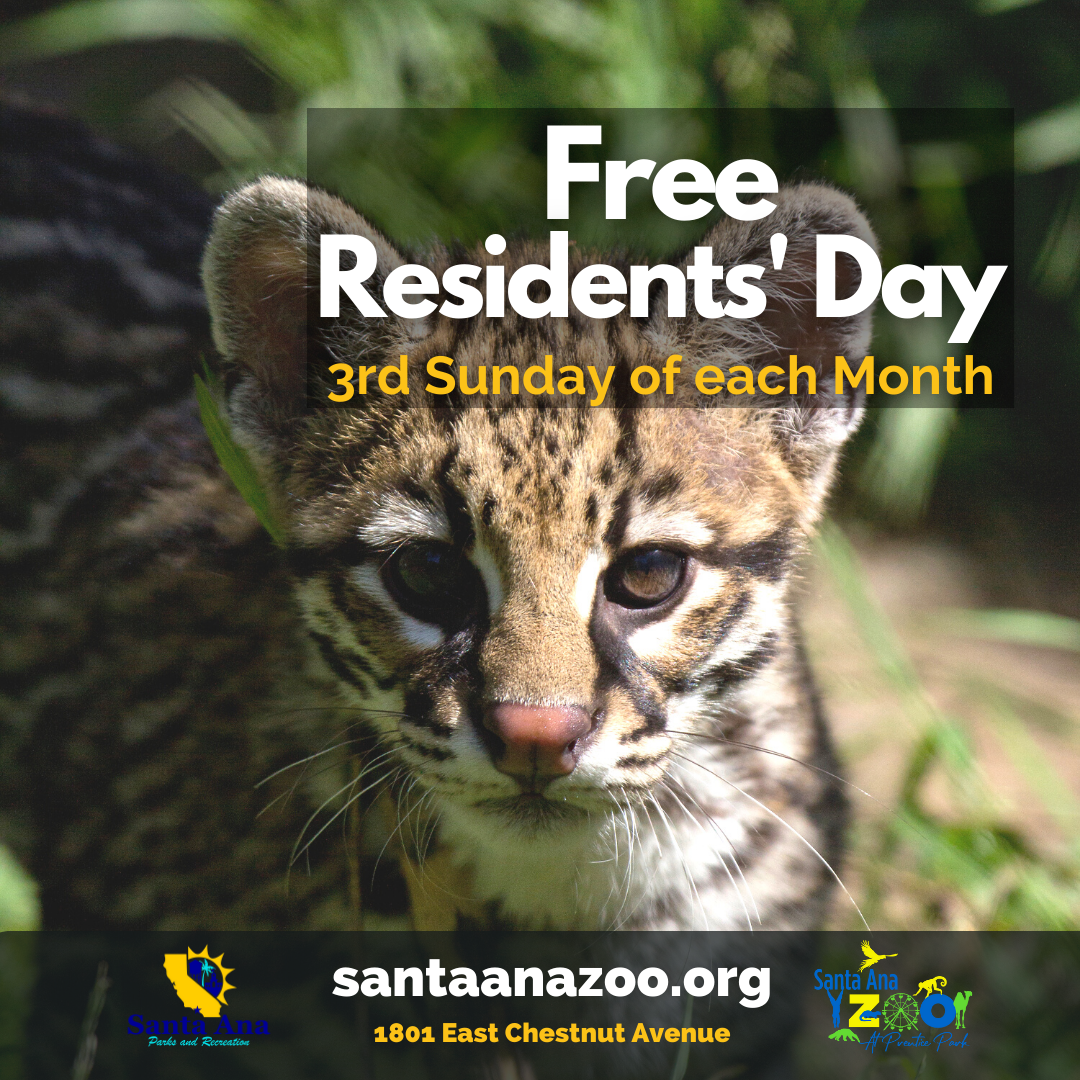 Santa Ana residents receive free admission to the Zoo on the third Sunday of every month. Proof of residency (such as ID or a utility bill) is required.
Sunday, Nov. 19

10 a.m. – 5 p.m. (last admission is at 4 p.m.)

Santa Ana Zoo, 1801 E. Chestnut Ave.
---
Take & Make: Thanksgiving Fun at SAPL – November 20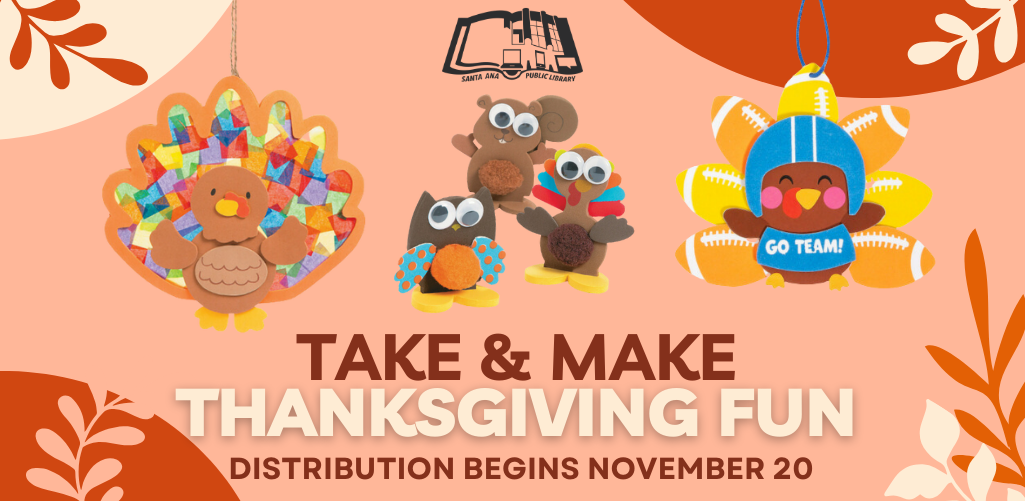 Celebrate all the Thanksgiving fun with some great craft kits from Santa Ana Public Library. Available for youth up to 8th grade while supplies last.
Distribution begins Monday, Nov. 20 

Main Library, 26 Civic Center Plaza

Newhope Branch Library, 122 N. Newhope St.
---
Resources
Report issues with the mySantaAna app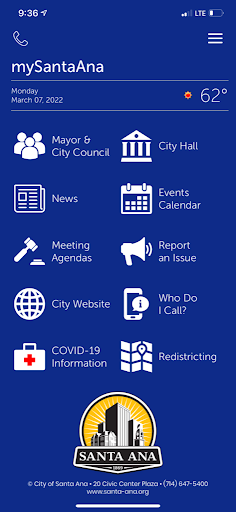 The mySantaAna mobile app puts the power of the City of Santa Ana government in the palm of your hand! Download the app to quickly and easily report issues such as potholes, graffiti, downed trees and much more.
Who do I call at City Hall?
Important phone numbers:
City Hall main line: (714) 647-5400

Code Enforcement: (714) 667-2780

Graffiti Hotline: (877) 786-7824

Emergency Water Services: (714) 953-8026

Public Works dispatch (street sweeping, trees): (714) 647-3380
Find more phone numbers for all City services
Utility services
Starting a small business?
Food assistance