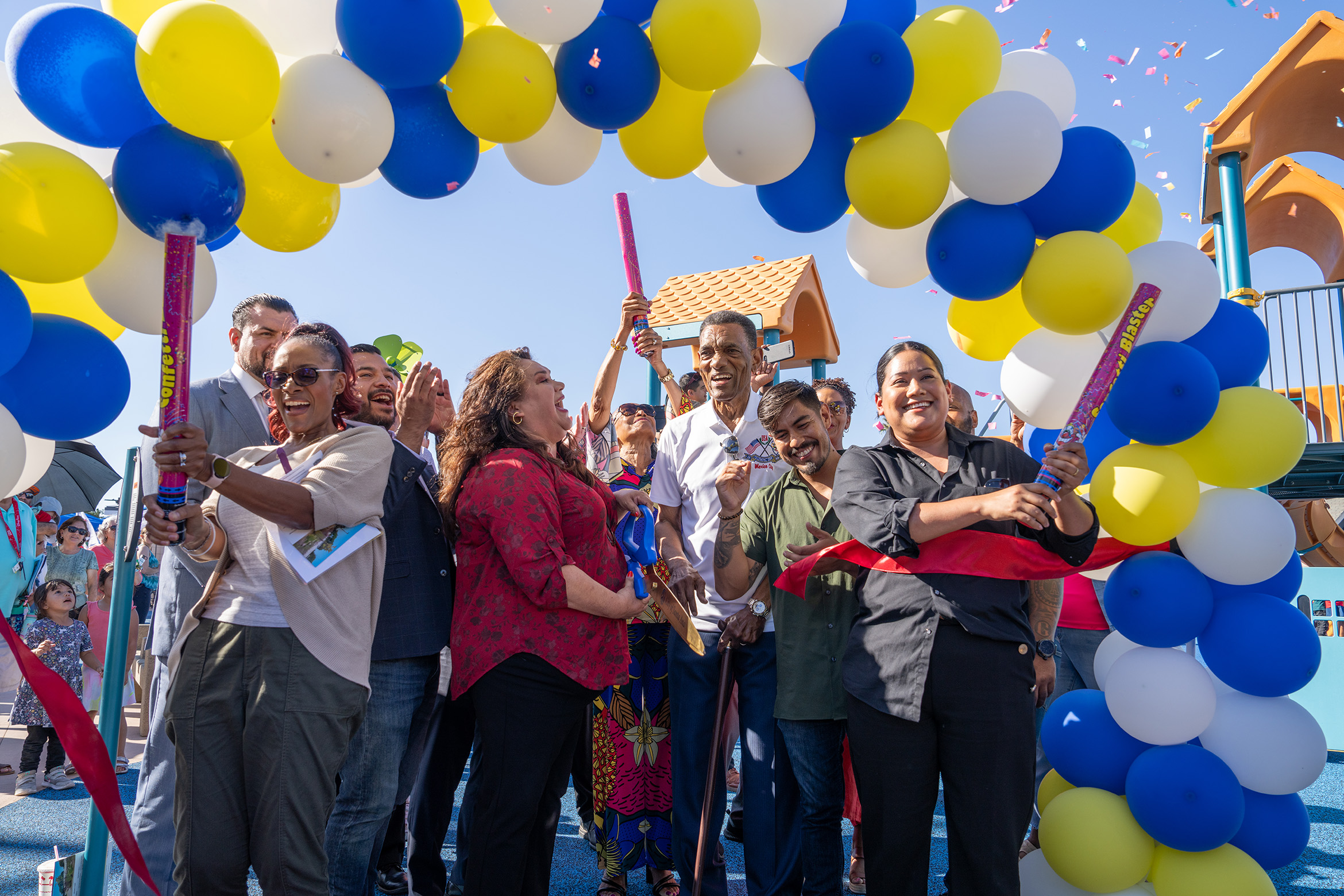 The City of Santa Ana's Parks, Recreation and Community Services Agency celebrated the grand opening and ribbon cutting ceremony of Ed Caruthers Park, a vibrant addition to the community. The new park, located in Ward 5 on the corner of Raitt Street and Myrtle Street, is named in honor of Edward Julius Caruthers Jr., a long-time Santa Ana athlete and community leader who won the silver medal for the men's high jump in the 1968 Summer Olympics.
On October 17, 2023 at 2:30 PM, the ribbon-cutting ceremony was a momentous occasion that brought together Mr. Caruthers, his family, and the Santa Ana community. The park's development project transformed two city-owned parcels into a 1.18-acre neighborhood park with an emphasis on multi-benefit storm water capture.  Speakers highlighted that in 2022, the City of Santa Ana adopted a Parks Master Plan that outlines strategies and goals for the agency to help create a vibrant and livable city with engaging recreation opportunities. The "number one key initiative is to acquire and develop parkland." The grand opening marked a significant step towards achieving this key initiative and underscores the city's commitment to providing its residents with quality park spaces.
The total cost of this project was $4.4 million, funded by a number of sources, including the California Department of Water Resources Proposition 1 Integrated Regional Water Management Grant, California Natural Resources Agency Statewide Park Development & Community Revitalization Grant, U.S. Department of Housing and Urban Development (HUD) 2016 Community Development Block Grant (CDBG), HUD 2018 CDBG, and the City of Santa Ana Cannabis Public Benefit Fund.
The new Ed Caruthers Park offers a variety of amenities and features designed to serve the diverse needs and interests of the Santa Ana community. Its highlights include a playground area, exercise zone, skate park, picnic areas, a new restroom facility, and drought-tolerant landscaping. The project also includes 3,300 square feet of Bioretention Basins and a subsurface infiltration system designed to efficiently capture and manage storm water runoff. This eco-friendly feature underscores the City's commitment to sustainability and environmental responsibility.
The grand opening event was a collective celebration, where Santa Ana's Mayor Valerie Amezcua, Mayor Pro Tem Jessie Lopez, and Councilmembers Johnathan Ryan Hernandez, Benjamin Vazquez, Phil Bacerra, and David Penaloza presented a proclamation to Mr. Caruthers. Assemblymember Avelino Valencia and a representative of Congressman Lou Correa also presented certificates of recognition to Mr. Caruthers. Their presence underscored the significance of Ed Caruthers Park in promoting community engagement, well-being, and healthy living in Santa Ana.