In this issue of the City Manager's newsletter, our Public Works team cleans up after the storm, new trash cans come to our neighborhoods, participate in the City budget process, enjoy Women's History Month activities at the library, and celebrate the Zoo's 71st birthday!
Spotlight photo
Snowy view from Santa Ana City Hall.
Photo Credit: City staff
To submit your own original photo of Santa Ana to be featured in the next newsletter, complete this form.
---
City Manager's highlights
Rain, wind and even snow!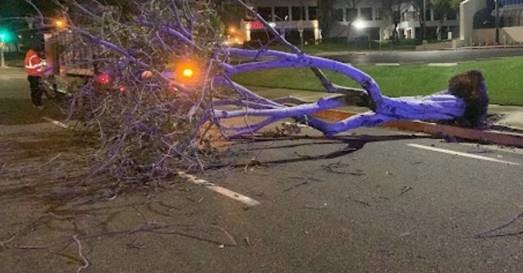 We've had a breezy, rainy and cold week, and even saw a brief snowfall in Santa Ana! Thankfully, we aren't dealing with the state of emergency facing many mountain communities, but I'm sure we're all thinking about those affected by the snowstorm and hoping everyone comes out safe and sound.
Still, it's been a busy time for our Public Works Agency, which between Feb. 24 and March 1 responded to 32 service calls for fallen trees, limbs and debris from the storms. That included 10 fallen trees, which can be a serious public safety and roadway hazard that must be carefully cut and cleared. To report issues, use the mySantaAna app or call Public Works at (714) 647-3380.
---
Community budget meetings kick off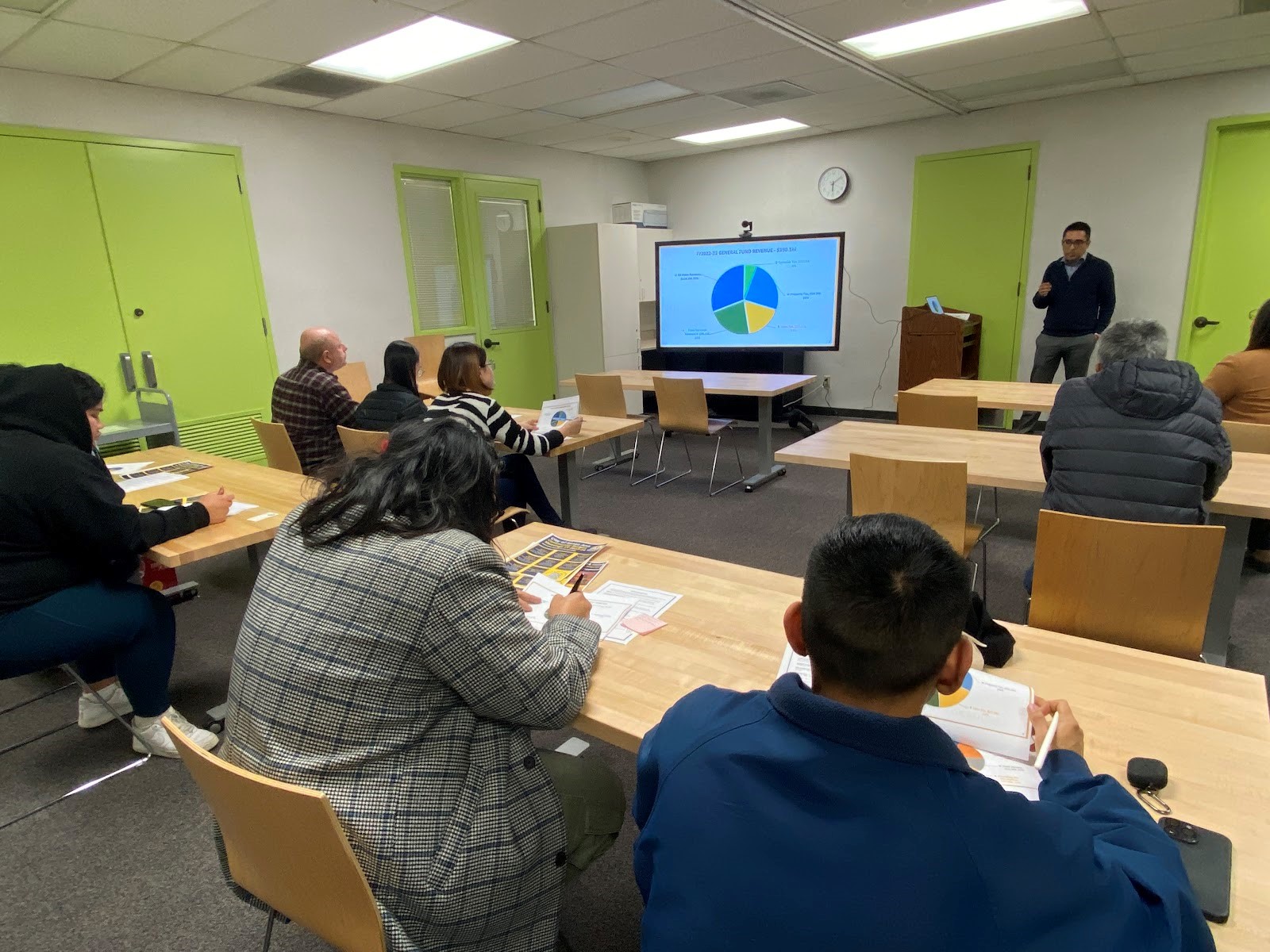 Our Finance and Management Services Agency hosted our first two community budget meetings this week, during the Youth Commission meeting and at Newhope Library. Thank you to all of our engaged residents who attended to learn more about how your local government works and to share your thoughts and ideas about how we should prioritize spending. I encourage everyone to take our budget priorities survey and to attend any of the upcoming community budget meetings. Scroll down to Events to see the dates for all of the budget meetings or go to the link below.
Participate in the budget process
---
News
New trash cans coming to your neighborhood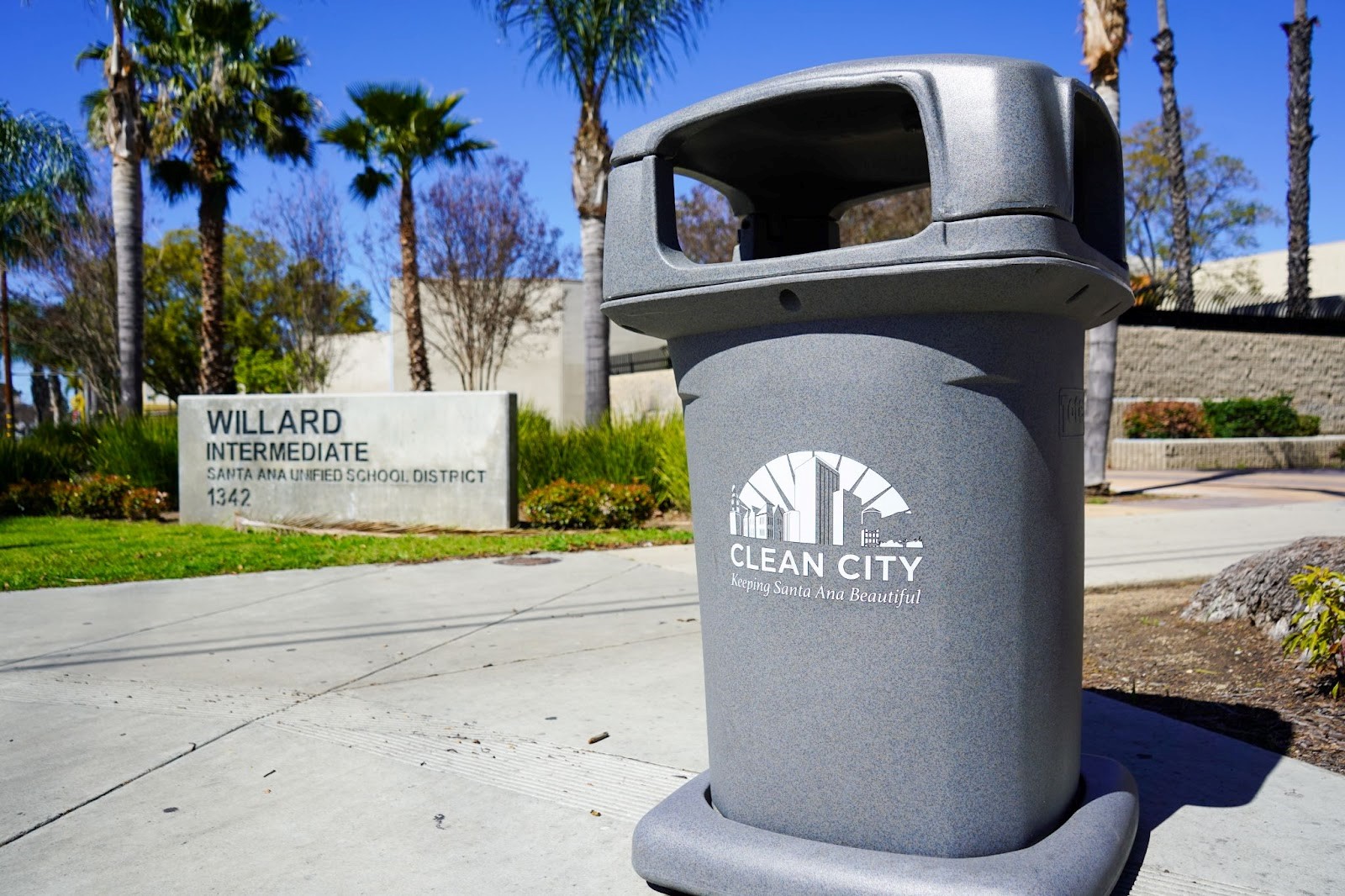 Republic Services has started placing public trash cans in various neighborhoods throughout Santa Ana. This enhanced service is part of the Clean City Initiative program that the City required under its new waste collection contract with Republic Services. City staff reached out to all of our neighborhood associations to let them know of availability of up to 13 trash receptacles for each neighborhood, and more than a dozen have responded so far. Look for these new trash cans in your neighborhood!
---
Second Farmers & Merchants Bank branch opens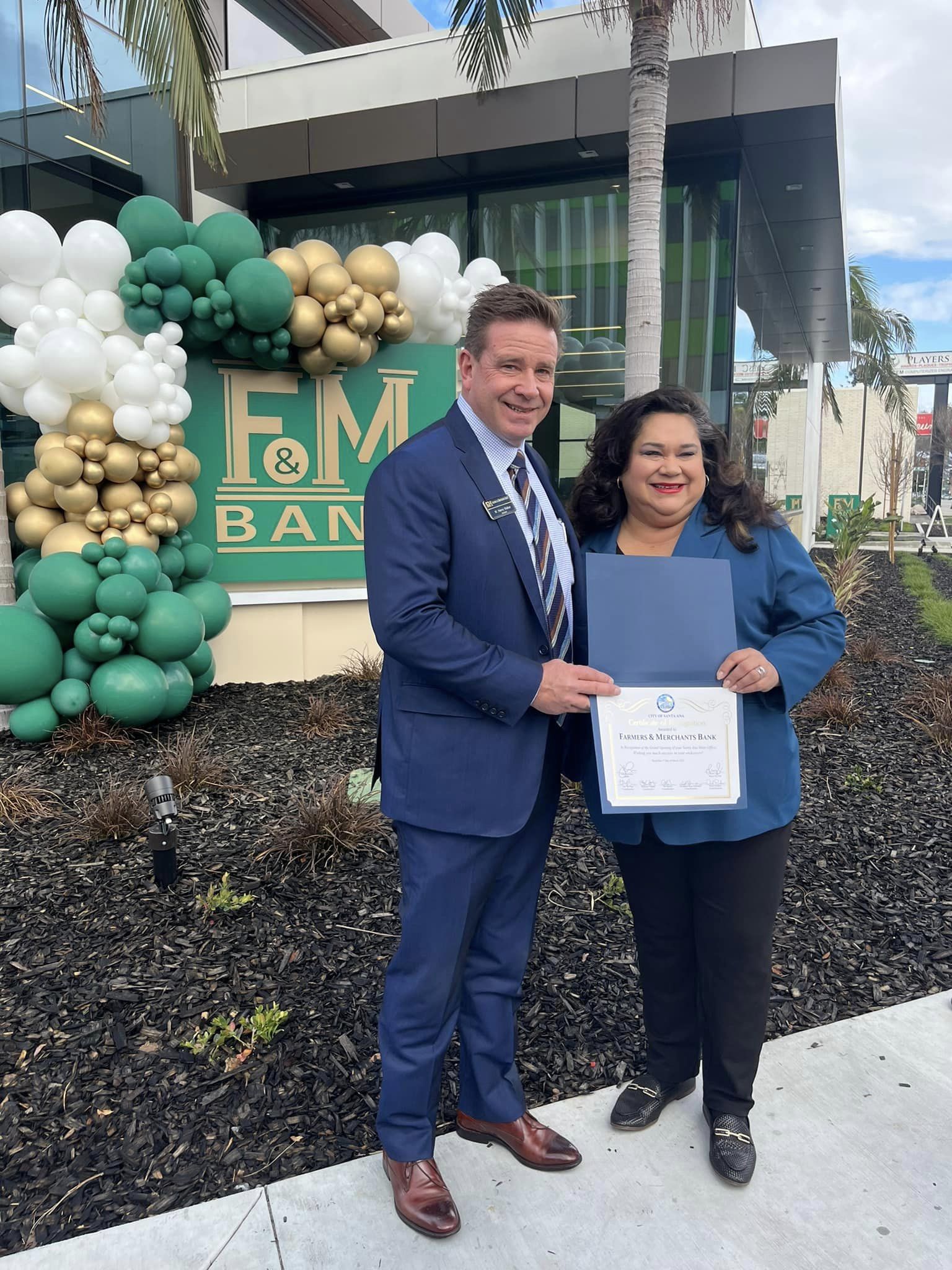 We are thrilled to welcome Farmers & Merchants Bank's second branch location in Santa Ana. The bank celebrated the grand opening this week of this attractive, newly built 6,000-square-foot facility at 1702 N. Main St. that will be a great resource for the community.
Projects like these don't come together by themselves. Our Planning and Building Agency worked with the developer to ensure the site was developed with high-quality architecture and landscaping, taking advantage of the site's location at a prominent intersection. Planning Division staff assisted with the project's design review and Planning Commission approval, and Building Division staff worked diligently through the plan-check and construction phase to resolve unanticipated challenges that arose during construction.
---
Assembly Bill 1600 Development Fee Report for fiscal year 2021‐2022 available for public review
Government Code Section 66006 requires local agencies that collect development impact fees to prepare an annual notice detailing the status of those fees within 180 days after the last day of the fiscal year. This report is being published on the City's website, in accordance with California Assembly Bill No. 1483.
To review the annual report for the City's development impact fees, please visit this page or click the link below. Hard copies of the report are available at the City of Santa Ana's Main Library located at 26 Civic Center Plaza.
Read the Development Fee Report
---
Street closures and permitted events for March 3-13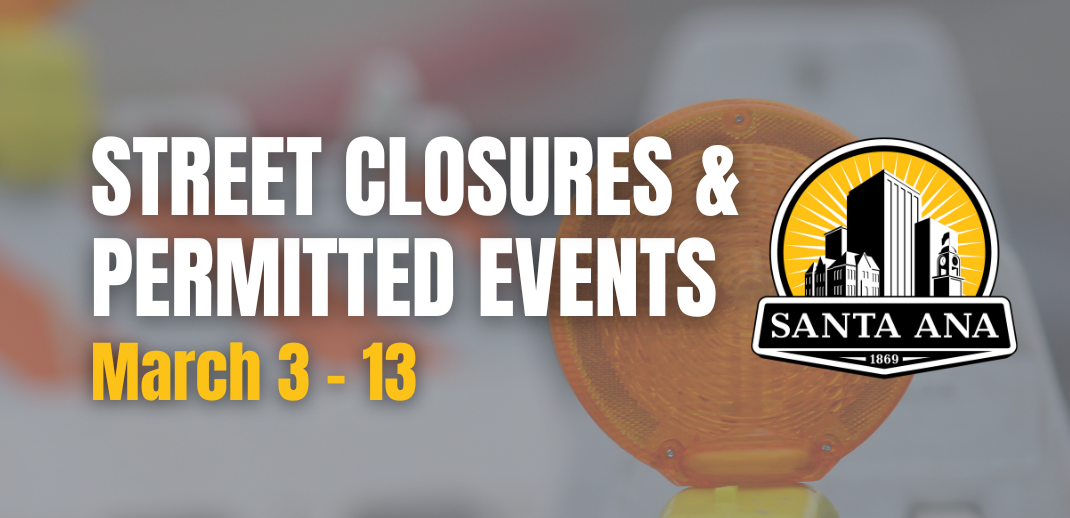 The weekend is almost here and we always have many activities happening around Santa Ana! There are also a few road closures as we continue the hard work of repairing and improving our streets and facilities. Find out which parts of Santa Ana will be affected at the link below.
Street Closures and Permitted Events
---
Tales of the City
Floral Park achieves historic status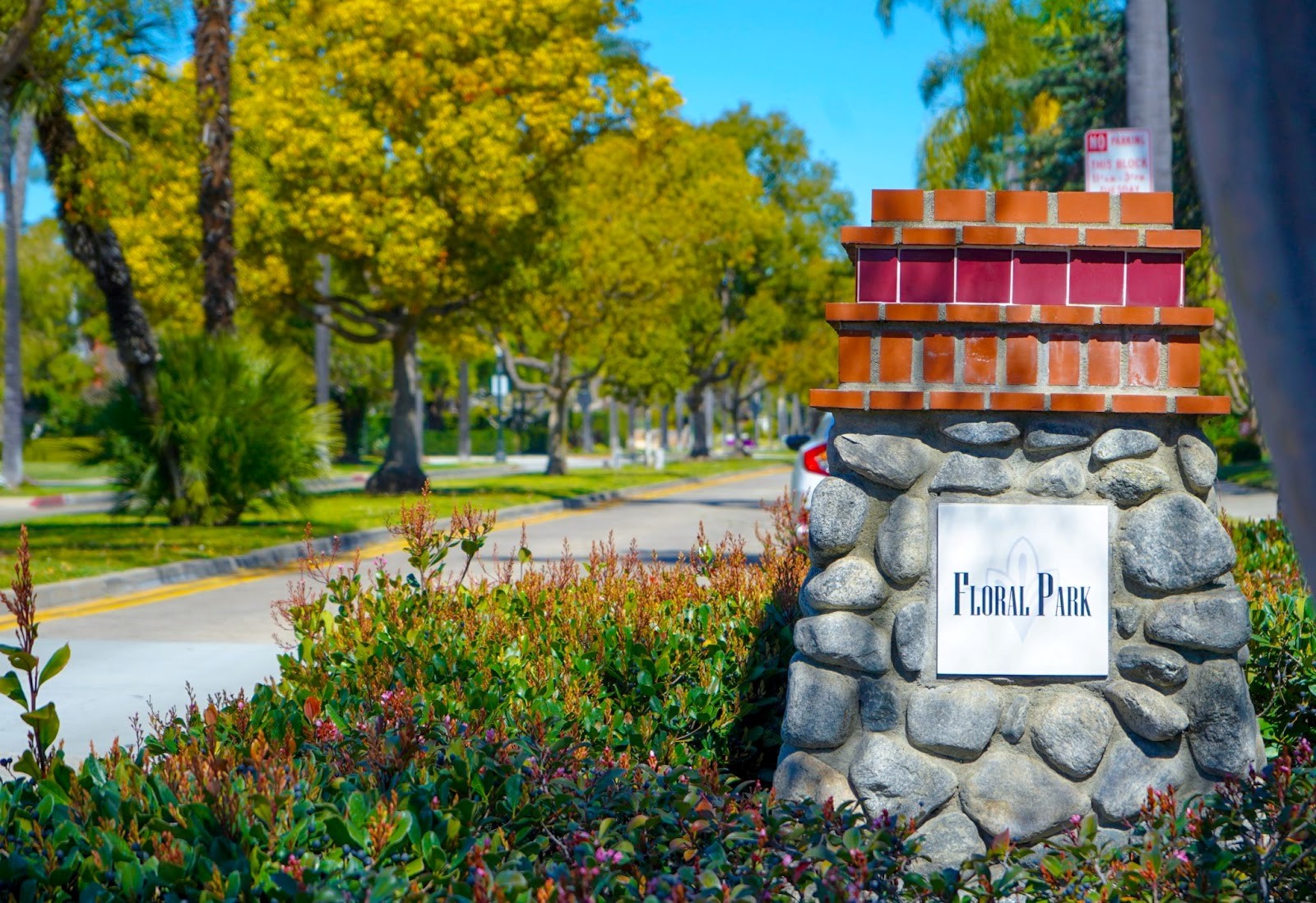 Congratulations to Santa Ana's newest historic district! Last month, the Floral Park neighborhood was officially approved as a federally and state-recognized historic district and is now listed on the National Register of Historic Places by the National Park Service. This is Santa Ana's third recognized historic district, after Downtown Santa Ana (listed in 1984) and French Park (listed in 1999).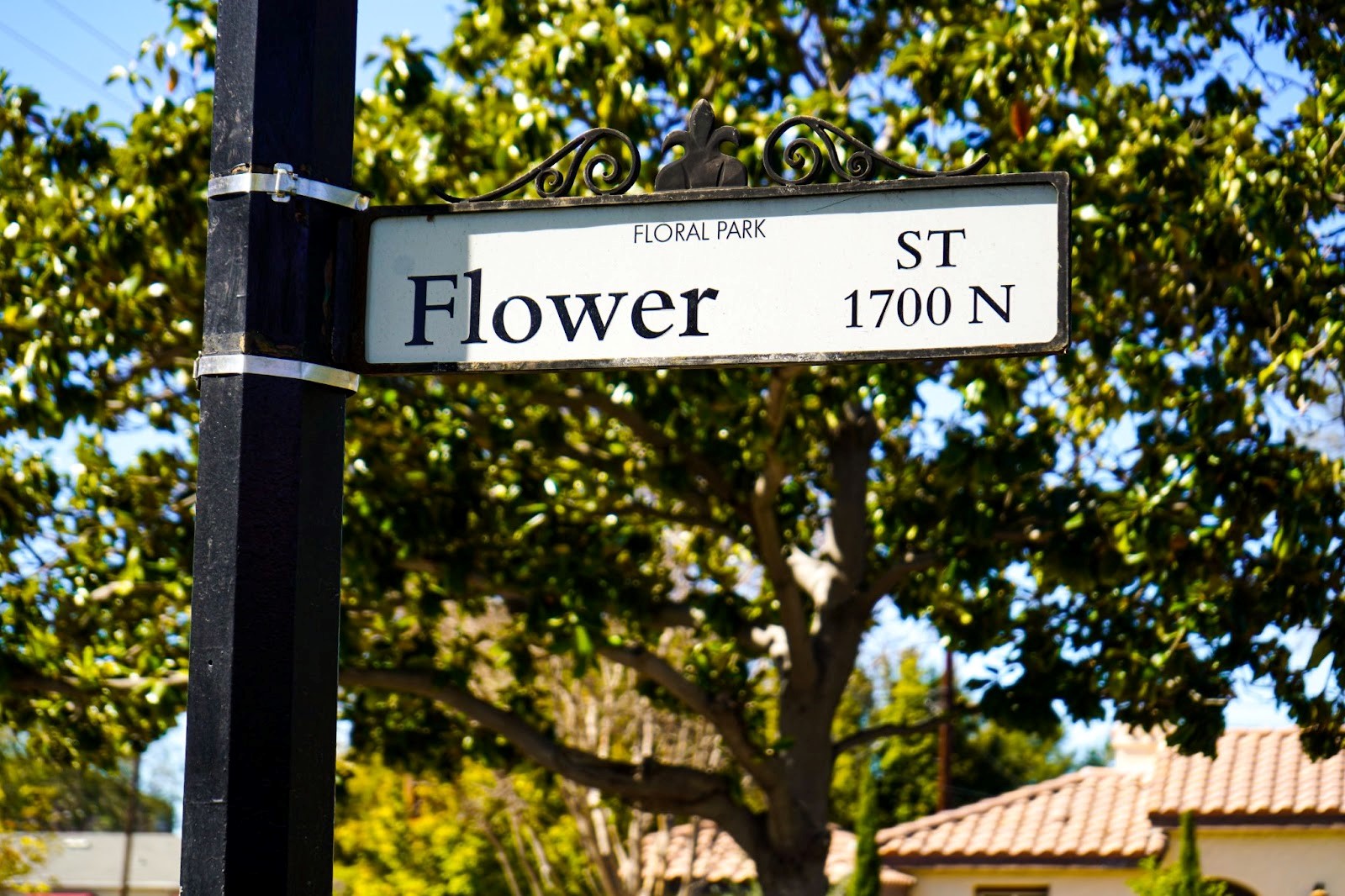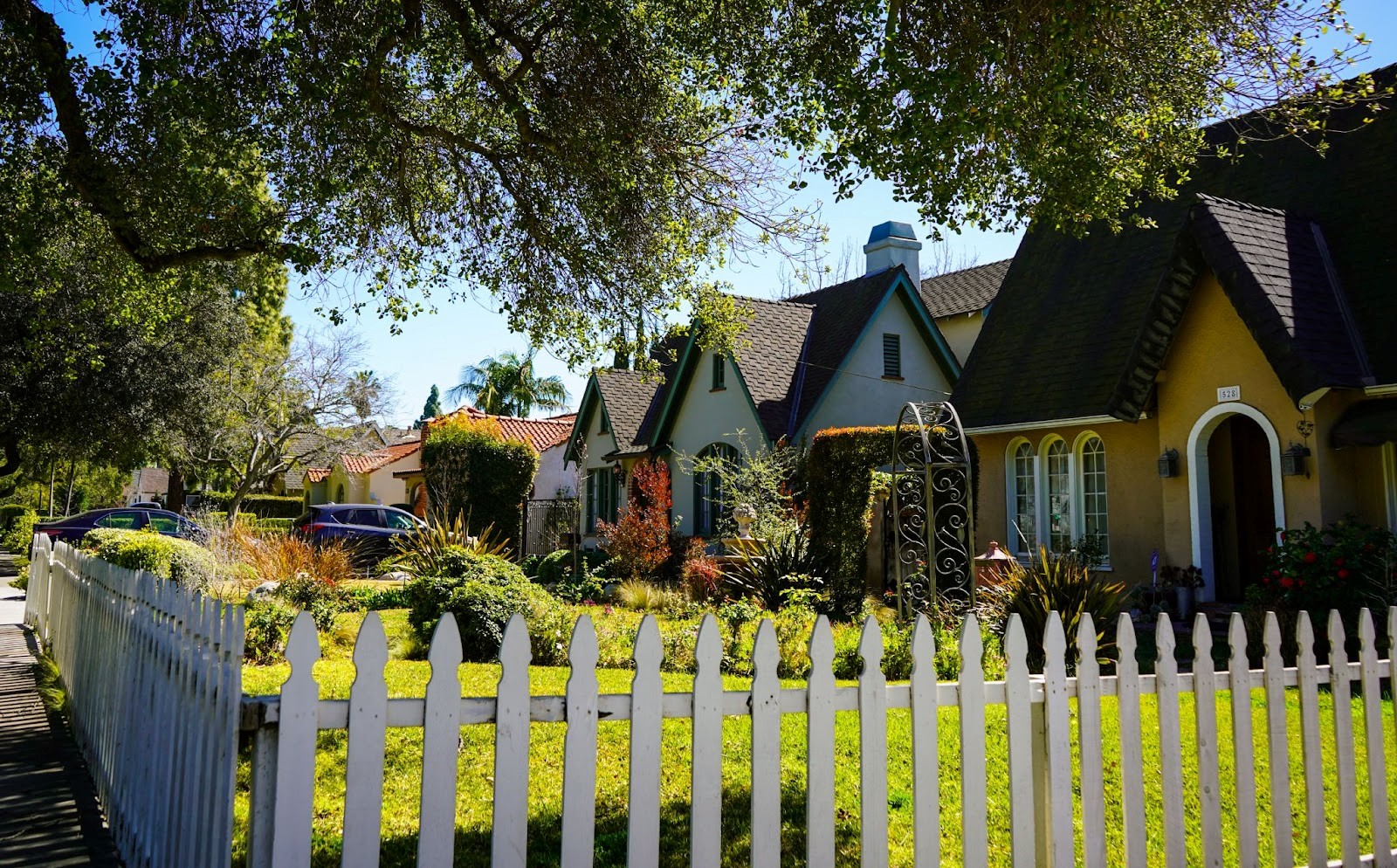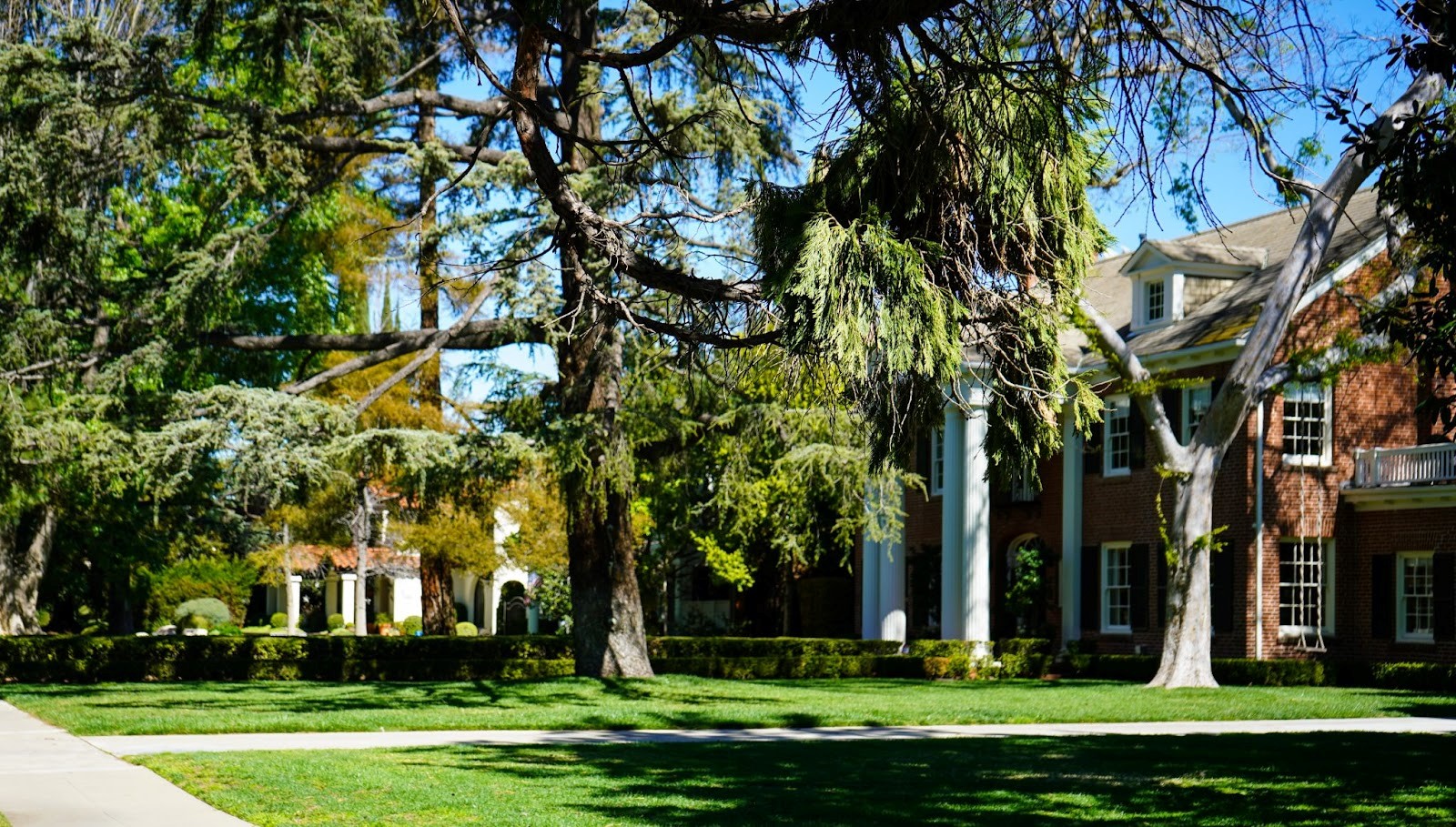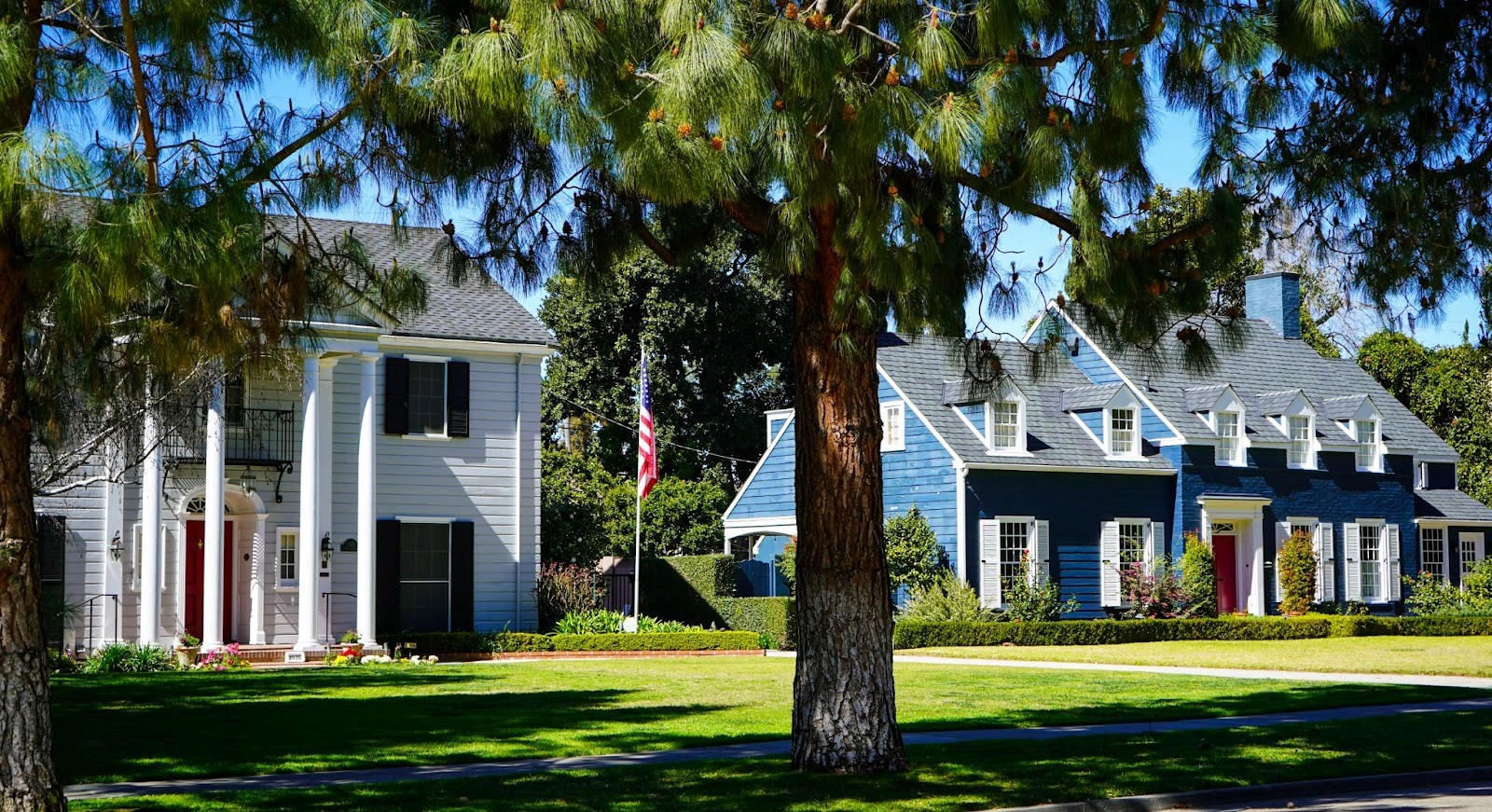 The Floral Park Historic District is roughly bounded by Santiago Creek, Broadway, 17th Street and Flower Street. The Floral Park Neighborhood Association led this effort and says that the new historic district is the largest in Santa Ana and the second largest in Orange County.
The City of Santa Ana provides many resources and guidelines for historic preservation, and we maintain our own Santa Ana Register of Historic Properties. When a property is placed on the state or local historic register, the owners may be eligible for certain incentives, including tax breaks for preservation or rehabilitation.
Learn about Historic Preservation Programs
---
City Council meetings
City Council meetings are typically held on the first and third Tuesdays of each month, with the closed session beginning at 5 p.m. or earlier. The open meeting session begins at 5:45 p.m. Meetings have both in-person and virtual participation and attendance and are live streamed on the City's YouTube channel and our TV channel, CTV3 (channel 3 on Spectrum.) If you'd like to provide public comments on agenda and non-agenda items, you can email, attend in person, or join the Zoom webinar online or by phone.
---
Events
Garage sale weekend – March 4 & 5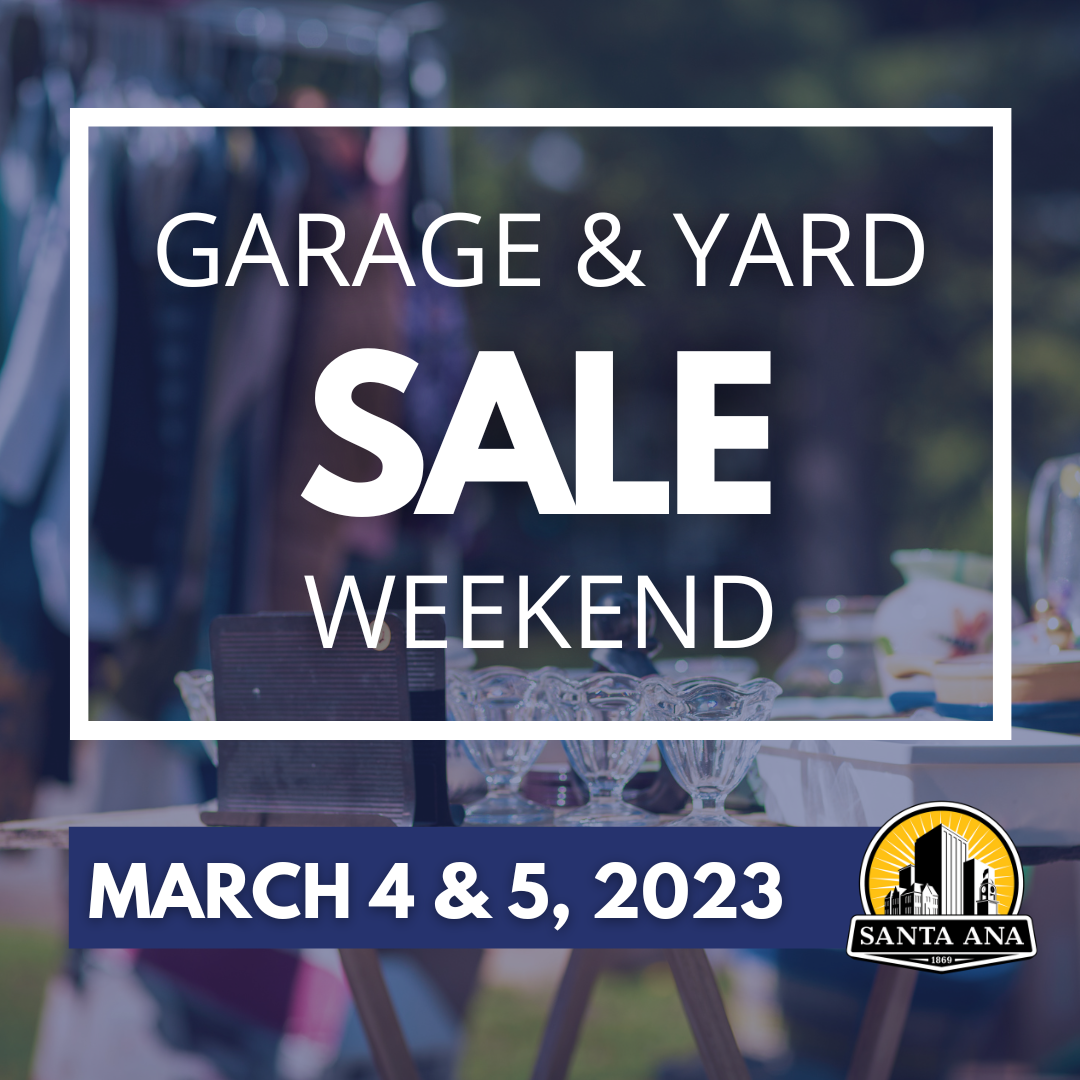 Residential garage and yard sales are allowed this weekend, March 4 and 5, 2023. Sales may begin at 8 a.m. and must end at 5 p.m. each day. Garage and yard sales for residential properties are permitted on the first full weekend of March, June, September, and December of each year. No permit is required.
---
OCFA Open house – March 4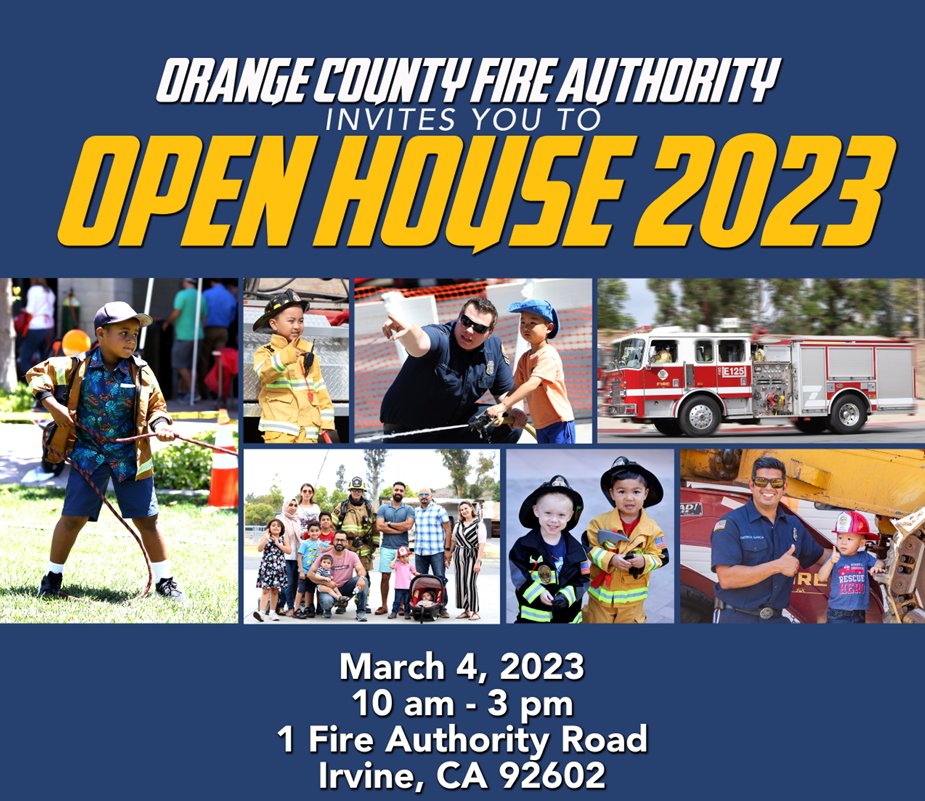 Orange County Fire Authority's 2023 Open House is on Saturday, March 4! This event will be held at OCFA headquarters in Irvine and is a great opportunity for you to meet your local firefighters, learn fire safety, and even put out pretend fires.
Saturday, March 4

10 a.m.

1 Fire Authority Road, Irvine
---
Women's History Month at Santa Ana Public Library – March 4, 14 and 15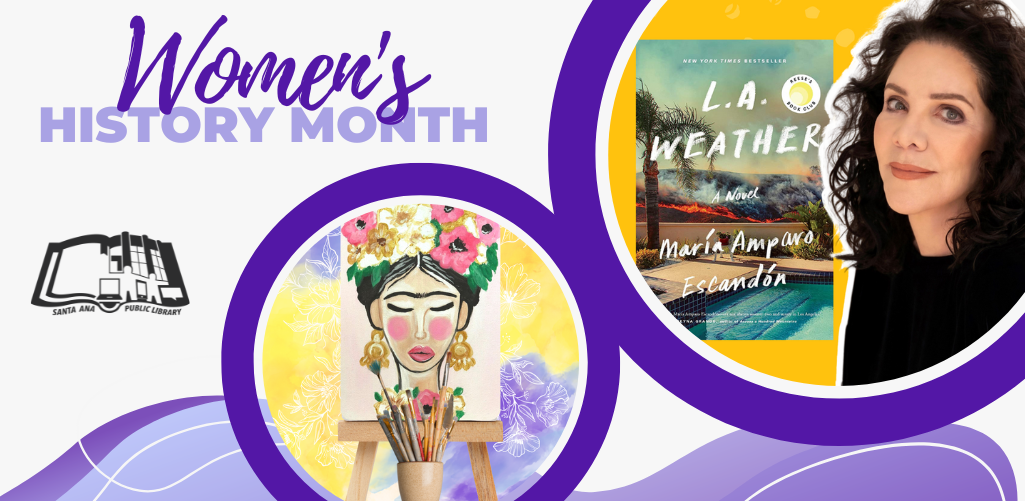 Author Hour – March 4
Join Santa Ana Public Library for an exciting discussion with New York Times best-selling bilingual author María Amparo Escandón. We look forward to discussing womanhood, Latin-American identity, and global warming with her latest novel, "L.A. Weather." Books will be given away on a first-come, first-served basis while supplies last.
Saturday, March 4

1-2:30 p.m.

Main Library, 26 Civic Center Plaza
Hora de C.R.E.A.R: Frida Kahlo Sip & Paint – March 14 and 15
Enjoy a refreshing beverage with Santa Ana Public Library as we celebrate Women's History Month by painting a Frida Kahlo portrait. We'll provide the supplies, you bring your creativity. Teens and adults are welcome.
Tuesday, March 14

3-4:30 p.m.

Newhope Library, 122 N. Newhope St.
Thursday, March 15

6-7:30 p.m.

Main Library, 26 Civic Center Plaza
Visit Santa Ana Public Library
---
Community budget meetings – March 9, 13, 15, 22, 23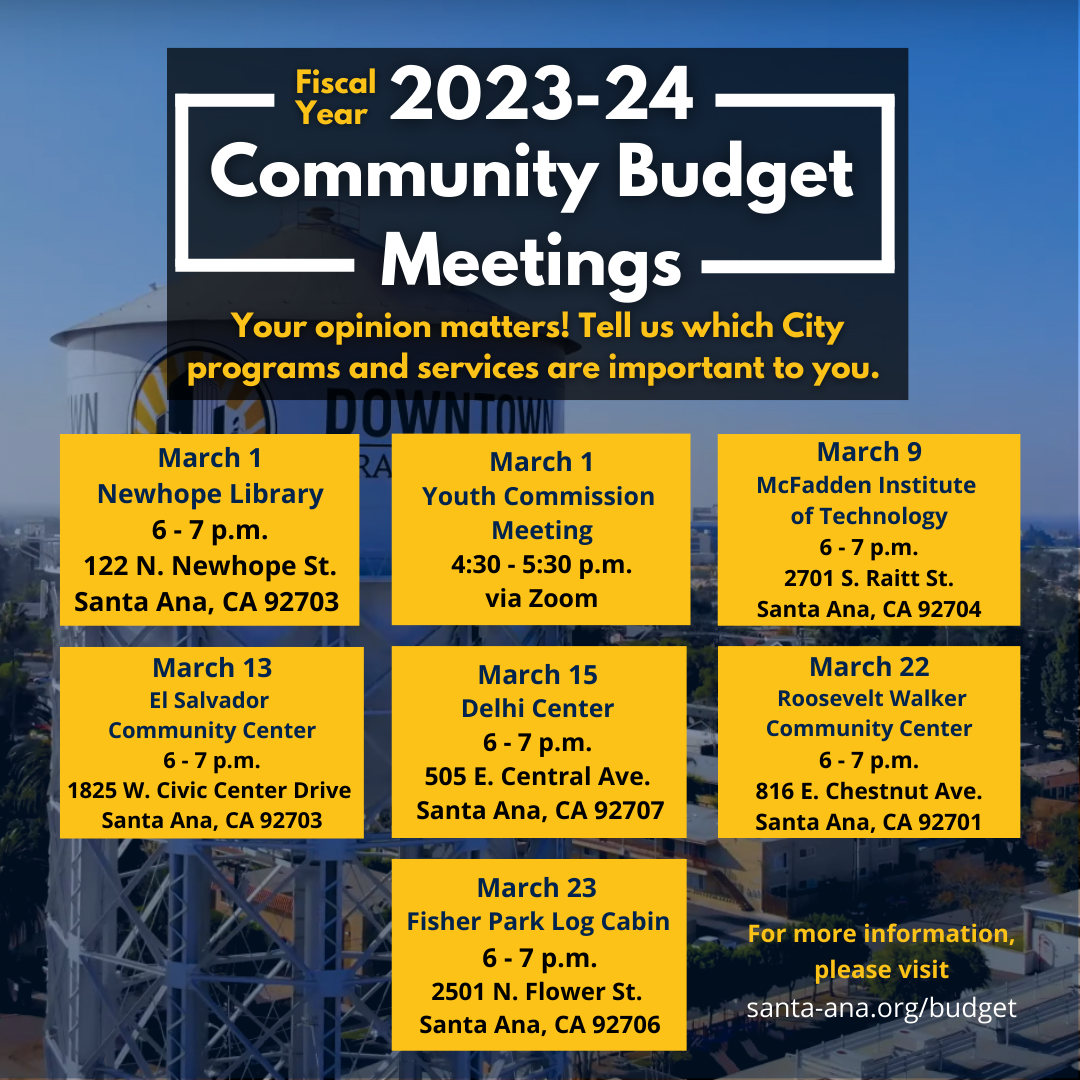 Please join our community budget meetings and take our online survey to share your ideas about how the City should prioritize spending on programs and services. These meetings are hosted by the Finance and Management Services Agency, and everyone is welcome to attend. Spanish and Vietnamese interpreters will be available.
Participate in the City budget process
---
Santa Ana Zoo birthday party and Free 

Resident Day 

– March 19

Join the Santa Ana Zoo at Prentice Park to celebrate the Zoo's 71st birthday. The event takes place on Free Resident Day, when Santa Ana residents get free admission to the Zoo. The birthday celebration includes an all-zoo scavenger hunt with animal education activities and birthday enrichment treats for the animals.
Sunday, March 19

Birthday party 11 a.m. to 2 p.m.; Zoo open 10 a.m. to 5 p.m.

Santa Ana Zoo, 1801 E. Chestnut Ave.
---
Spring Fest Open House and TeenTime opening – March 25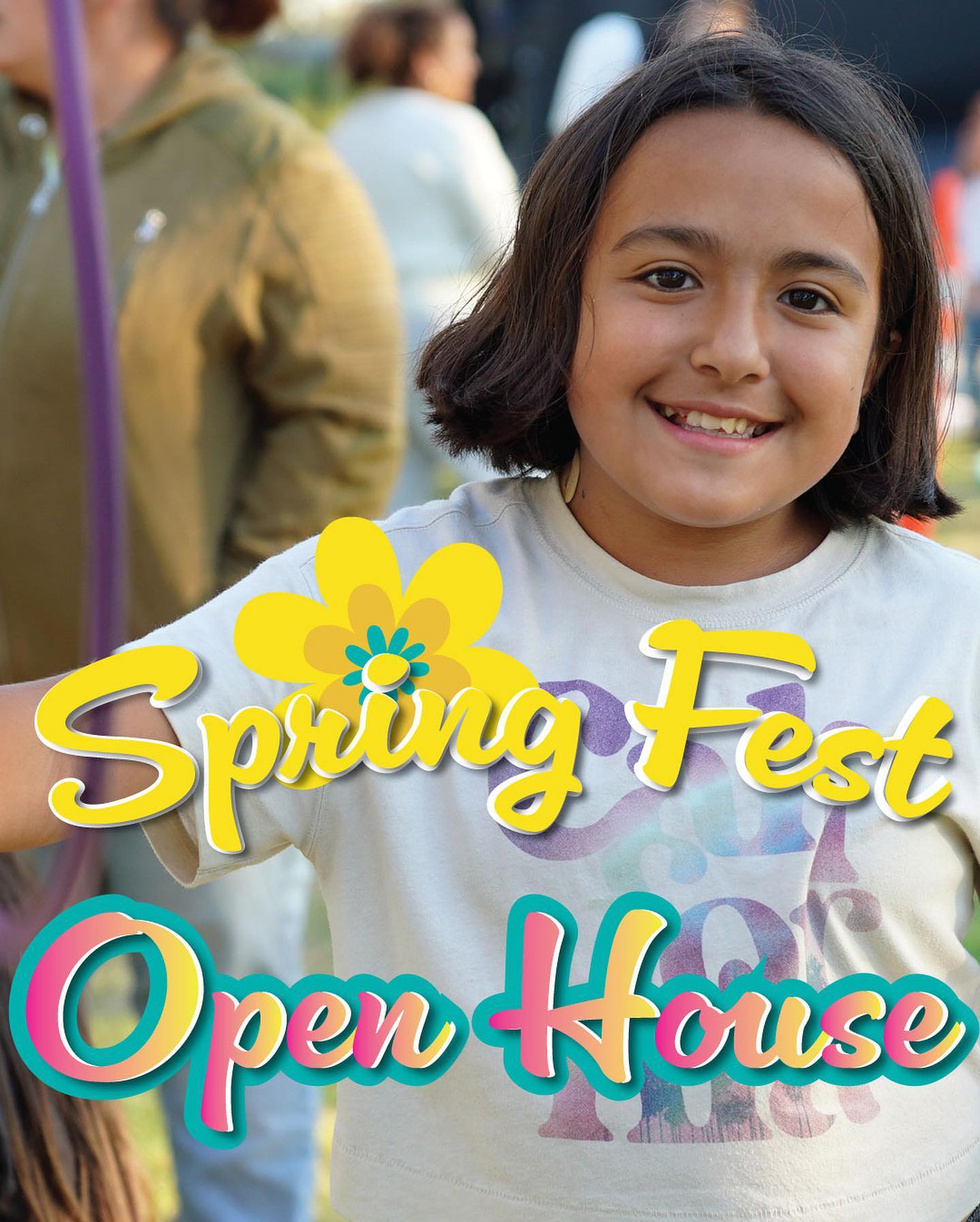 In partnership with Santa Ana Collaborative members, our Parks and Recreation Agency is excited to re-introduce classes and programs at our first ever Spring Fest: Open House. Learn about the many classes, resources and programs that the City of Santa Ana offers. Enjoy live presentations from instructors, a scavenger hunt, ice cream, and much more!
Also, Santa Ana Public Library will celebrate the grand opening of the new TeenTime program at El Salvador Community Center! This special event will feature a preview of this new space for teens with games, food, a STEAM petting zoo and opportunity drawing prizes.
Saturday, March 25

10 a.m. – 1 p.m.

El Salvador Community Center, 1825 W. Civic Center Drive
---
Resources
Who do I call at City Hall?
Important phone numbers:
City Hall main line: (714) 647-5400
Code Enforcement: (714) 667-2780
Graffiti Hotline: (877) 786-7824
Emergency Water Services: (714) 953-8026
Public Works dispatch (street sweeping, trees): (714) 647-3380
Find more phone numbers for all City services.
---
Utility services
---
Starting a small business?
---
Food assistance: 
---