In this issue of the City Manager's newsletter, we have so much great news to share! Learn about the Santa Ana Zoo's new butterfly exhibit, a new assistance program for commercial property owners, the Housing Element Draft, our new park host, and tons of fun events!
---
Spotlight photo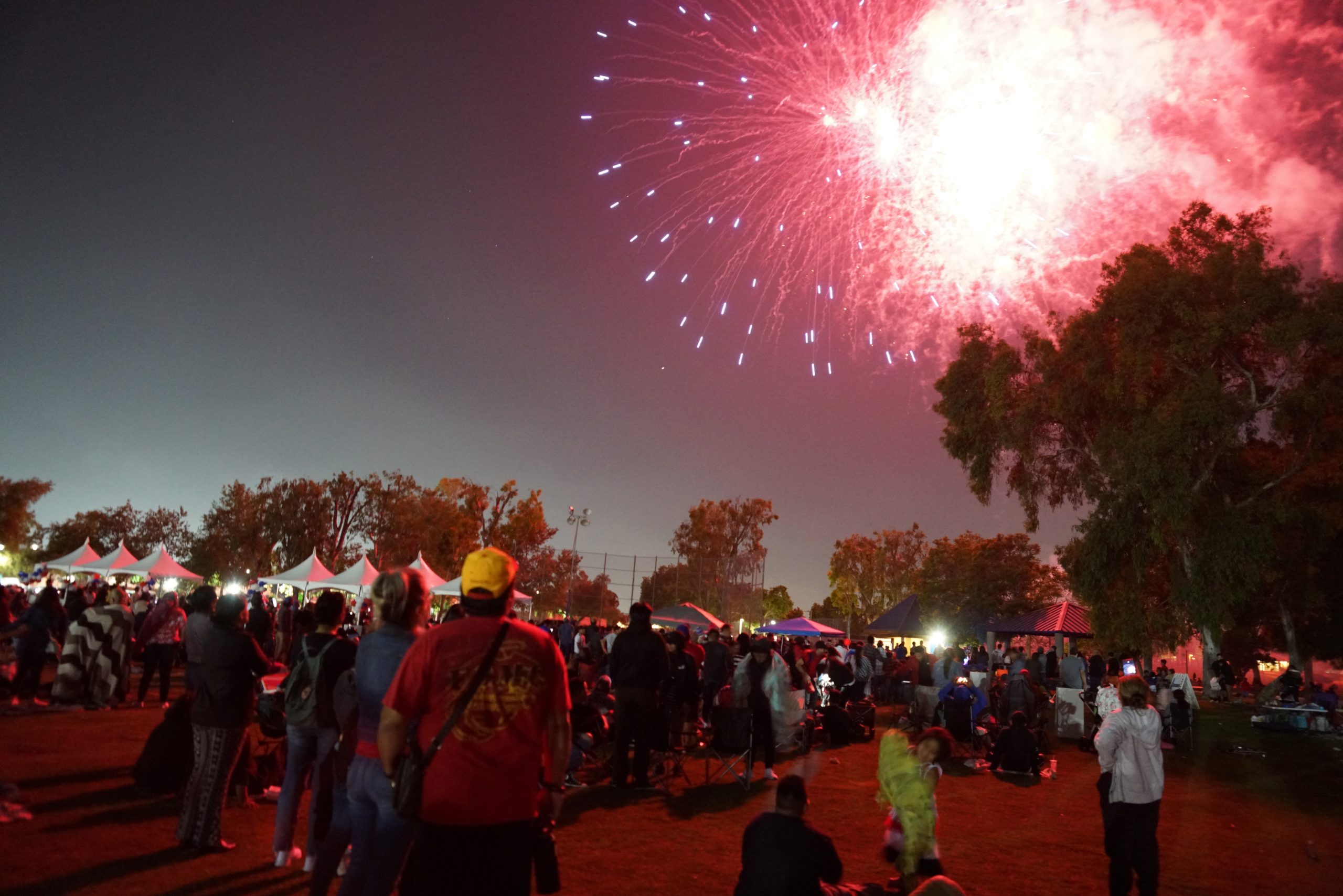 4th of July at Centennial Park
To submit your own original photo of Santa Ana to be featured in the next newsletter, complete this form.
---
City Manager's highlights
New City Budget expands City services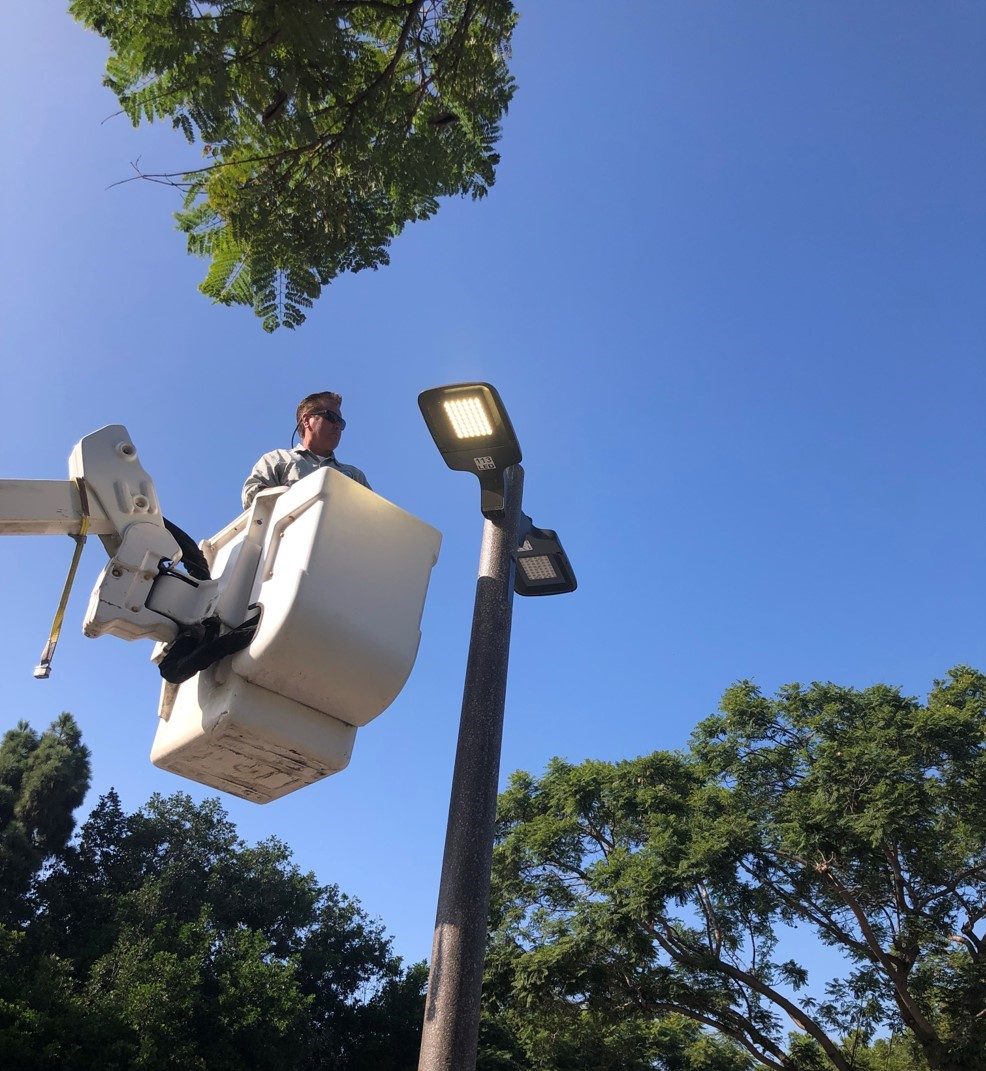 Here at Santa Ana City Hall we have entered the new 2022-2023 fiscal year, and with it comes a new budget that provides many new programs and services for our community. The new budget adopted by the Santa Ana City Council of $760.2 million is an increase of over $40 million from the previous fiscal year. It creates additional parks and outdoor spaces, expands youth programs, improves libraries, fixes more streets and sidewalks, enhances services and adds new staff positions to better serve our residents.
---
4th of July Celebration 2022
I want to thank all the families that attended the 10th Annual Fourth of July Celebration at Centennial Park. I hope you enjoy this highlight video. We look forward to seeing everyone at our many other upcoming events! Find more fun City events below.
---
News
Live butterfly experience opening at Santa Ana Zoo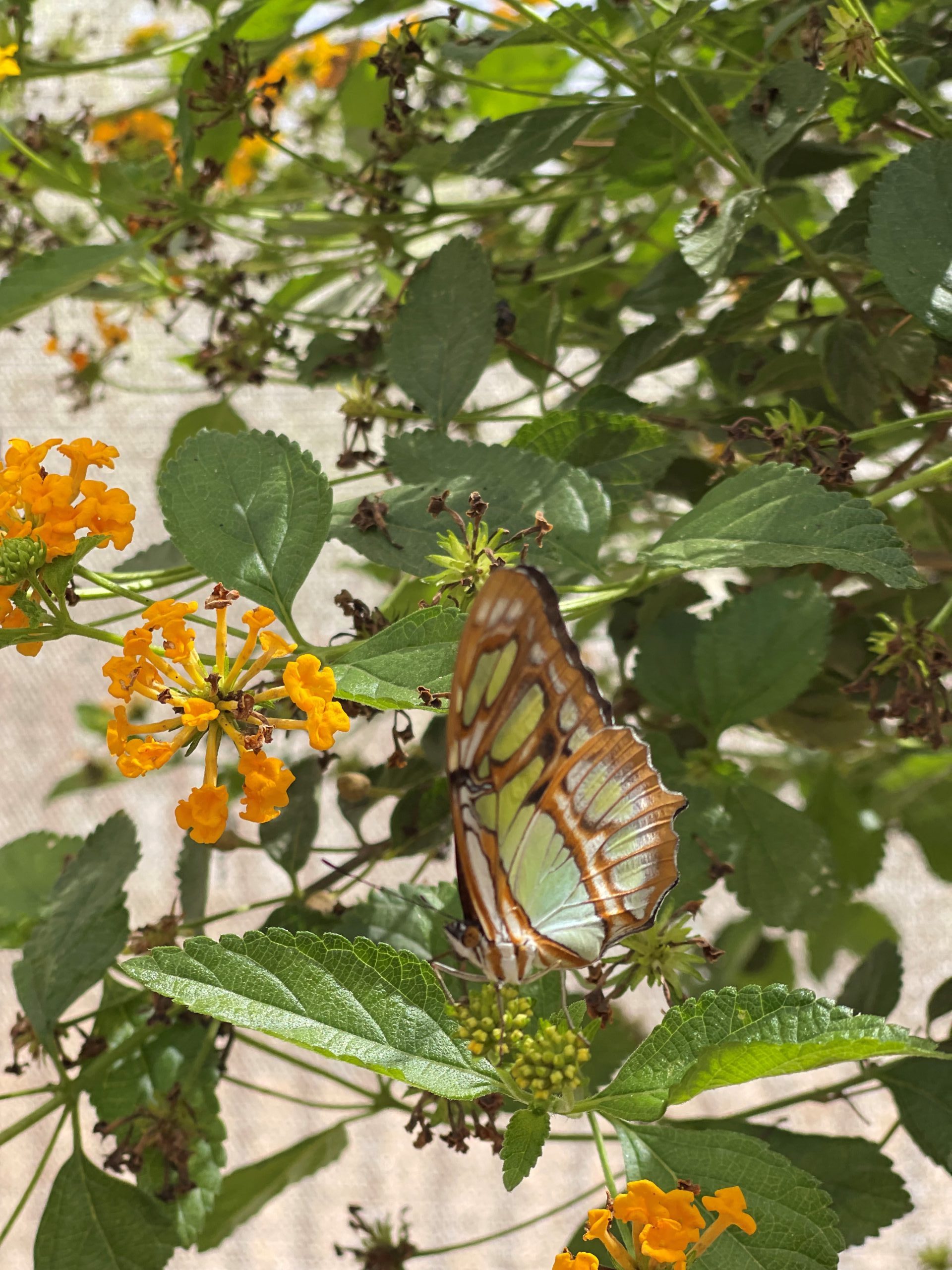 The Santa Ana Zoo will be opening the new, live butterfly experience called Flight! on Monday, July 18! Guests of all ages will be delighted by hundreds of butterflies from North, Central and South America and lush landscaping as they explore inside the Flight Habitat. View chrysalides (hardened, outer protective layer) and watch butterflies emerge and dry their wings in preparation for flight in the emergence chamber just outside the main habitat. Flight! will be open daily, beginning Monday, July 18, from 10 a.m. to 4:30 p.m. and is included in Zoo admission.
---
Revised Housing Element Draft available for public review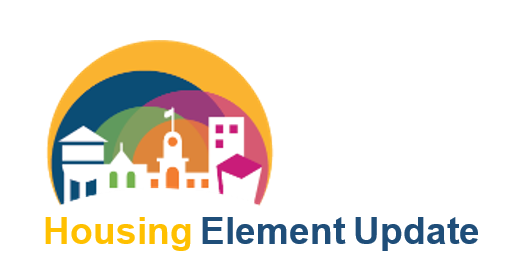 The General Plan Housing Element provides a long-range policy guide on the production, improvement, and preservation of housing for the next eight years (2021-2029 planning period). The revised July 2022 Housing Element Draft is now available for public review on our website. The latest draft includes revisions addressing comments received on the February 2022 Draft by the community and the California Department of Housing and Community Development. The Santa Ana City Council will hold a public hearing to receive public input and consider adoption of the Housing Element On Tuesday, July 19, 2022.
Review the Housing Element Draft
---
Get help fixing up commercial properties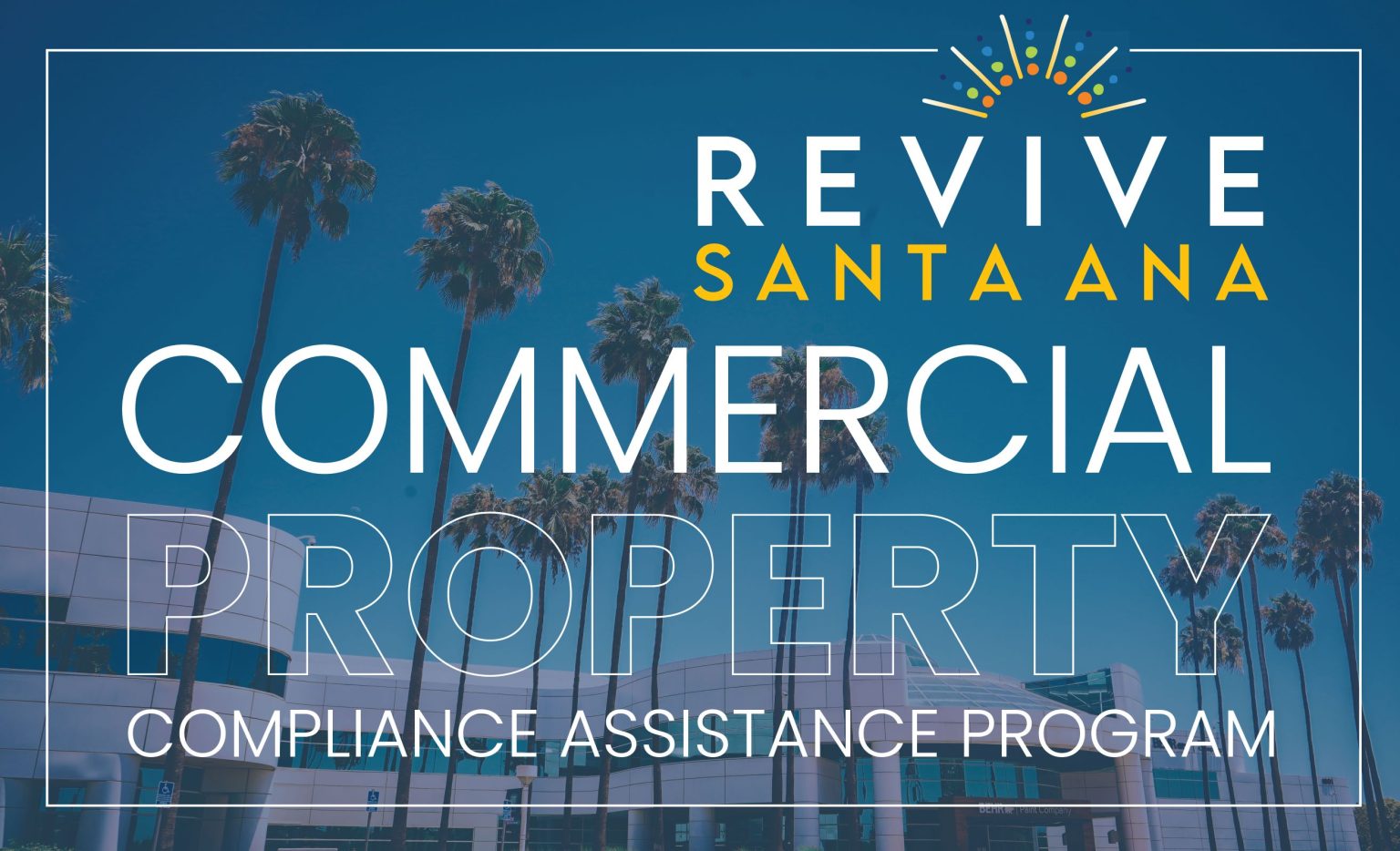 The City of Santa Ana's Planning and Building Agency has developed the Commercial Property Compliance Assistance Program as part of the Revive Santa Ana initiative. The program pays for improvements including signage, awnings, steam cleaning/power washing, fencing, doors, lighting, paint and more. Owners of commercial properties in qualified areas of Santa Ana that were financially impacted by the pandemic could receive up to $50,000 to help you restore, beautify and enhance your property.
Apply for Commercial Property Assistance
---
Renovation of Flower Street Bike Trail to begin this fall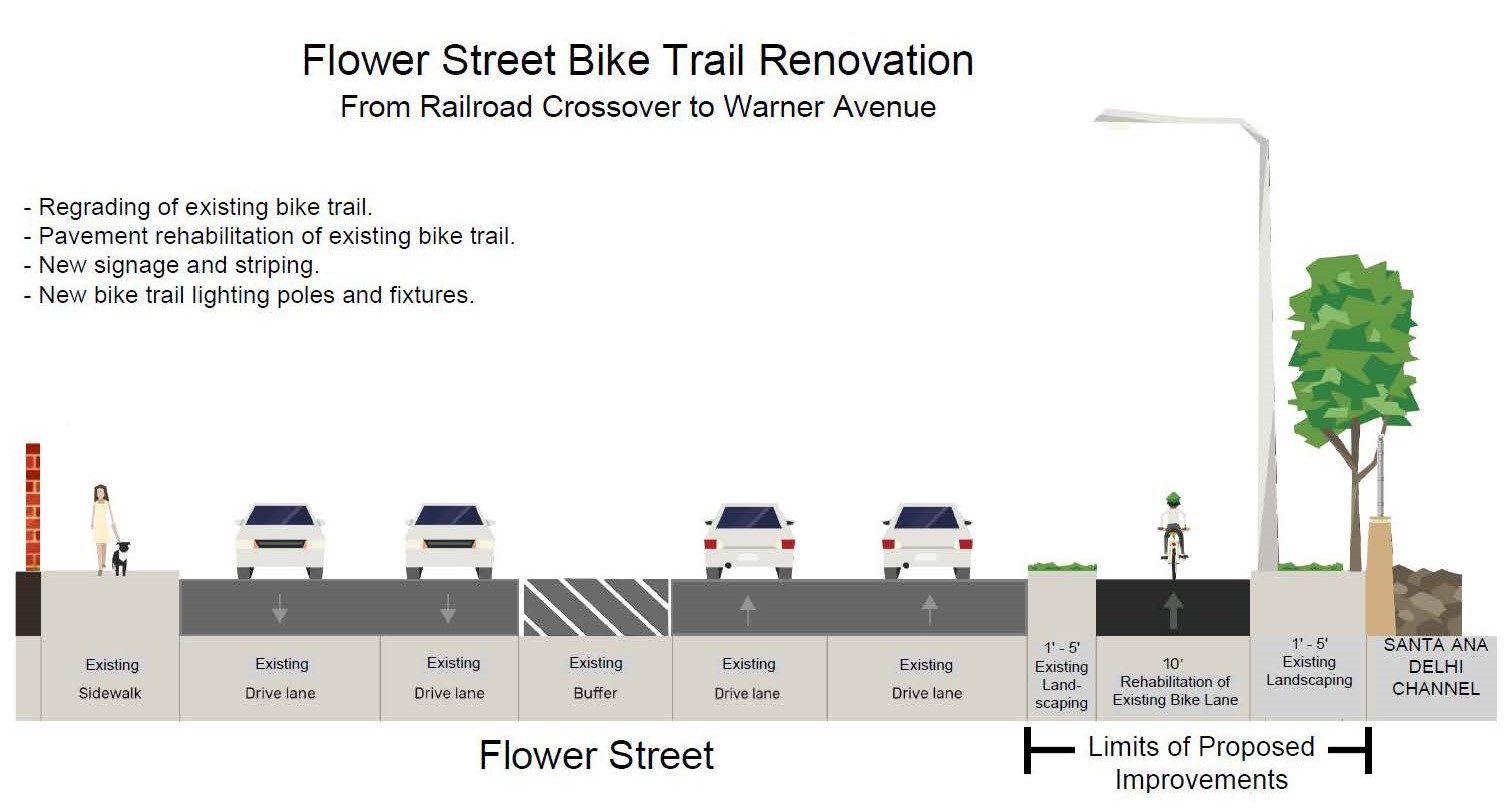 The Flower Street Bike Trail Renovation project is scheduled to begin construction in fall 2022. The project is about 0.5 mile along Flower Street between the railroad crossover south of Dyer Road to Warner Avenue. The proposed improvements along the trail includes re-grading and pavement rehabilitation of the existing bike trail along with new signage and striping. In addition, new lighting poles and fixtures will be installed along the east side of the trail for the entire segment.
---
Santa Ana launches citywide mosquito prevention campaign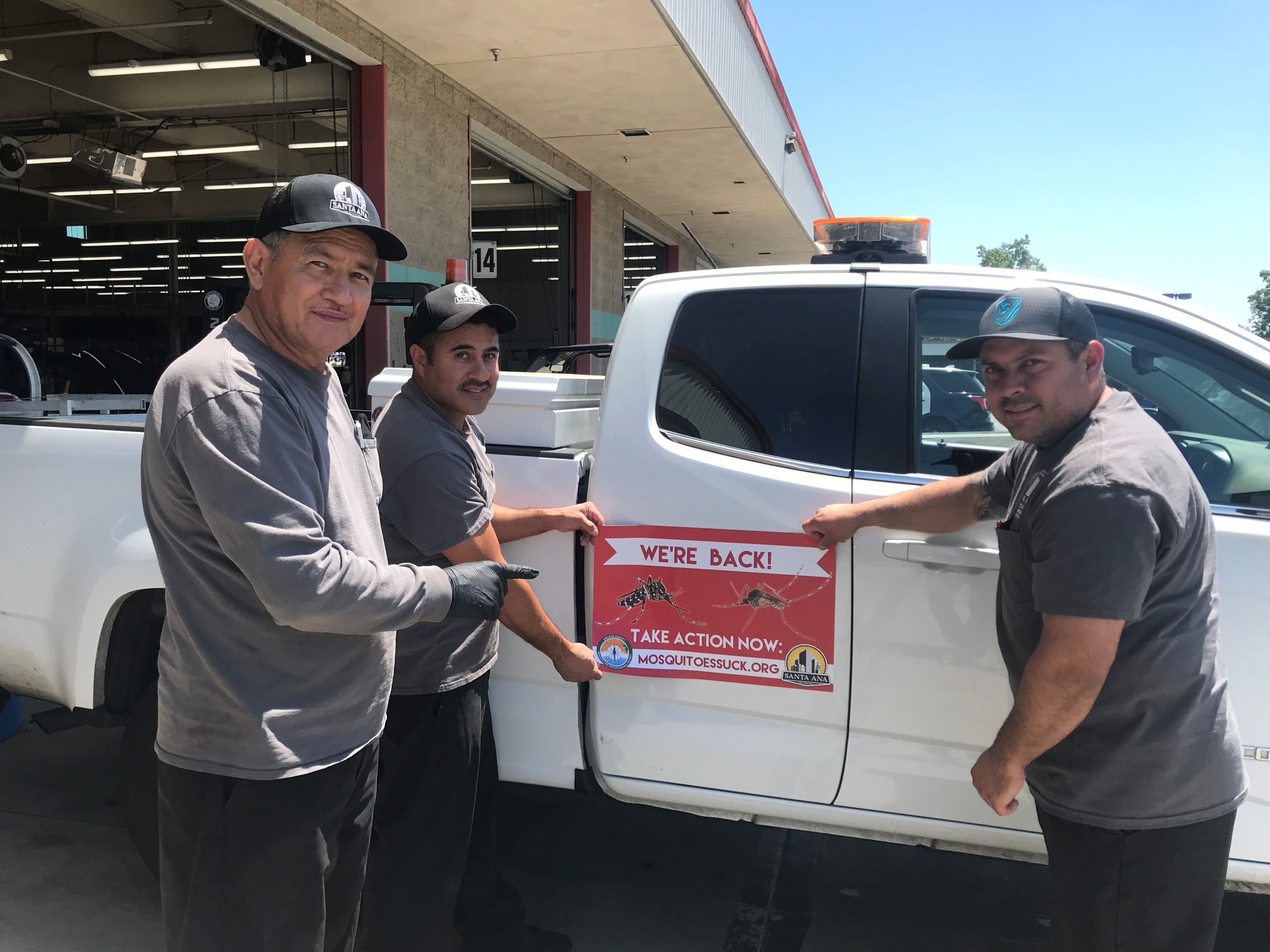 This Summer is anticipated to be another heavy mosquito season. The City is partnering for the third consecutive year with Orange County Mosquito and Vector Control District to educate the Santa Ana community on mosquito prevention. OC Vector Control has provided the City with 200 mosquito prevention magnet signs (10"x20"), which have been placed on our Public Works vehicles to create awareness. The sign reads, "We're Back! Take Action Now: Mosquitoessuck.org."
Mosquito Prevention Information
---
Over 50 participants receive help at WORK Center Career Fair
On June 29, the Santa Ana WORK Center hosted a Career Fair for the Santa Ana community. Twelve trade schools were invited to meet with potential clients for the purpose of enrolling into Workforce Innovation and Opportunity Act funded training. The schools provide training in various fields including truck driving, cosmetology, HVAC, accounting, business skills, medical, IT and many more. Over 50 participants attended and many other participants registered on-line. There are plans to host future career fairs to continue to promote and market the services of the Santa Ana WORK Center to residents!
---
Code Enforcement removes 30 junked cars from residential property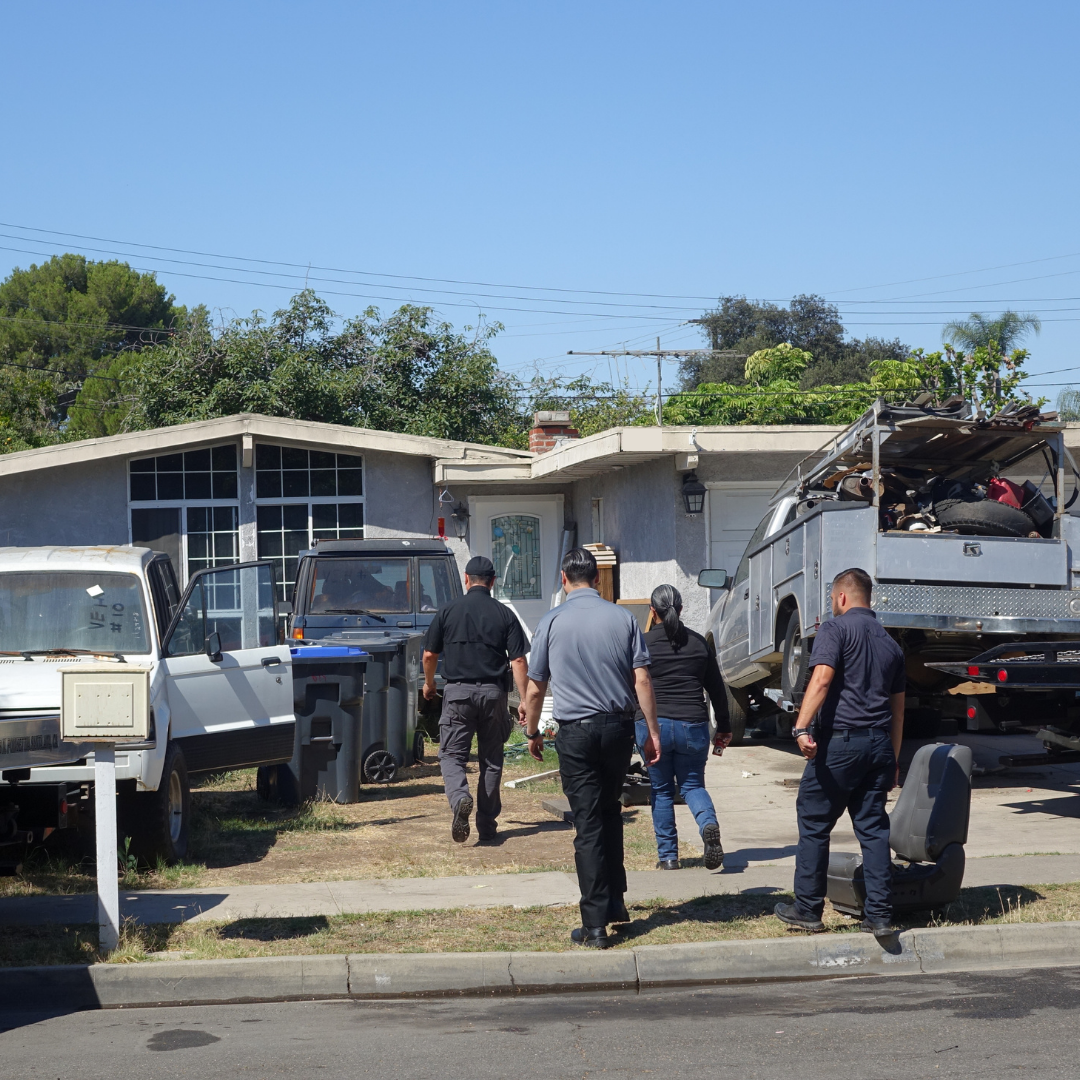 On June 28, 2022, our Code Enforcement Division in conjunction with the Santa Ana Police Department's Traffic Division completed a Public Nuisance Inspection and Abatement warrant for a residential property in Santa Ana. Over $6,700 in fines and numerous complaints and violations due to the property being used as a junkyard and storage facility led to the removal of 30 motor vehicles from the front and rear yards. The Code Enforcement Division provided relief to the neighborhood affected by this case and continues to work closely within the community to protect public health, safety, and welfare.
---
Tales of the City
Meet Katie Rivero, Santa Ana's first park host!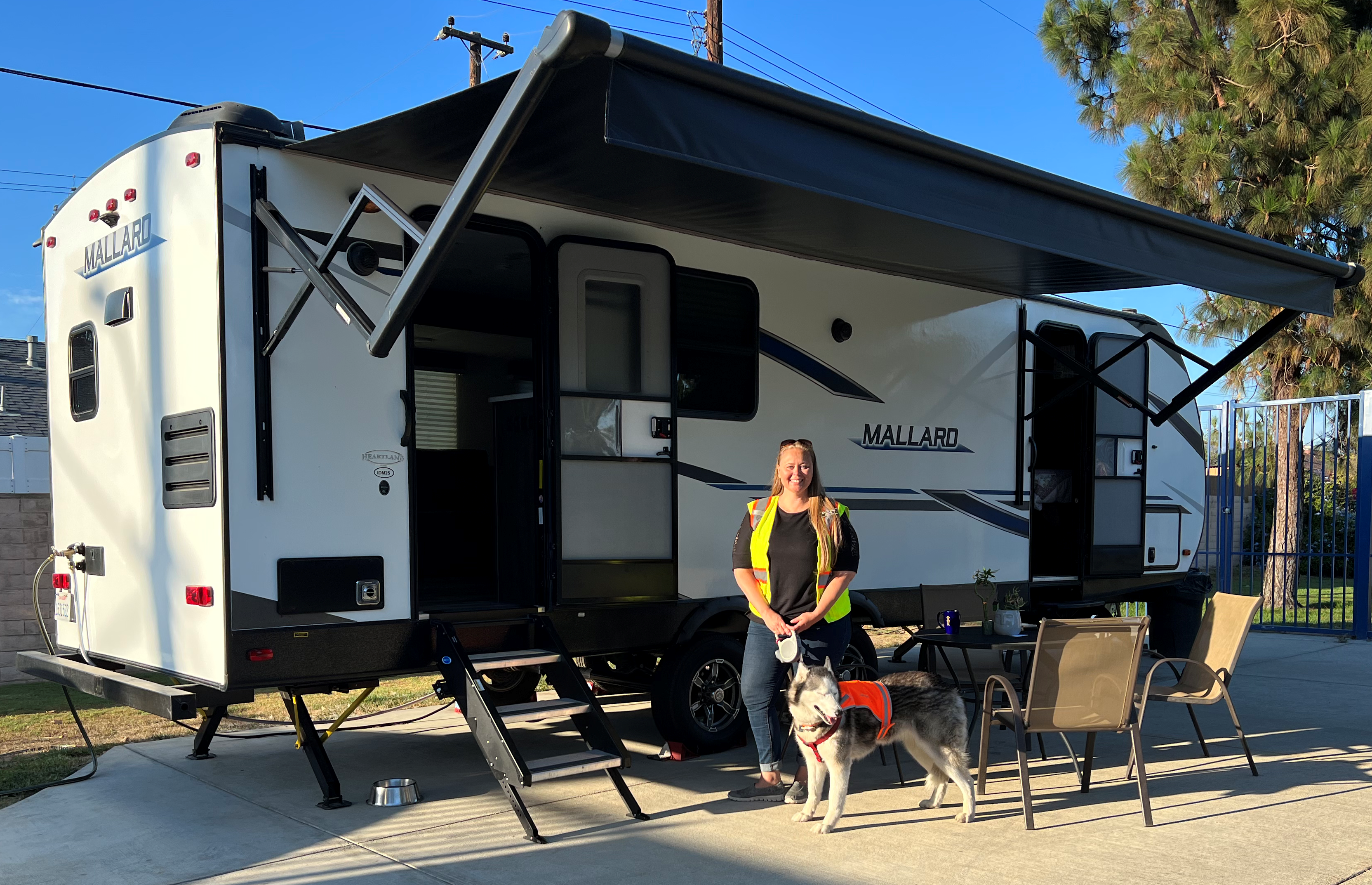 Katie Rivero is the City of Santa Ana's first park host, a program that was approved by City Council in 2020. The park host program is intended to bring a visible, full-time City representative who will help monitor the park, report any issues to authorities, and provide park visitors with information about park facilities, resources, and park rules in exchange for free housing.
Katie lives in a new, one-bedroom trailer at Thornton Park that is just right for her and Nana, her 9-year-old blue-eyed husky. The trailer is equipped with a king-size bed, plumbing and a retractable RV awning, among other features. Located by the north side parking lot, the trailer is surrounded by an 8-foot fence along its entire perimeter, which she can lock when going out for patrol walks or at night when going to bed.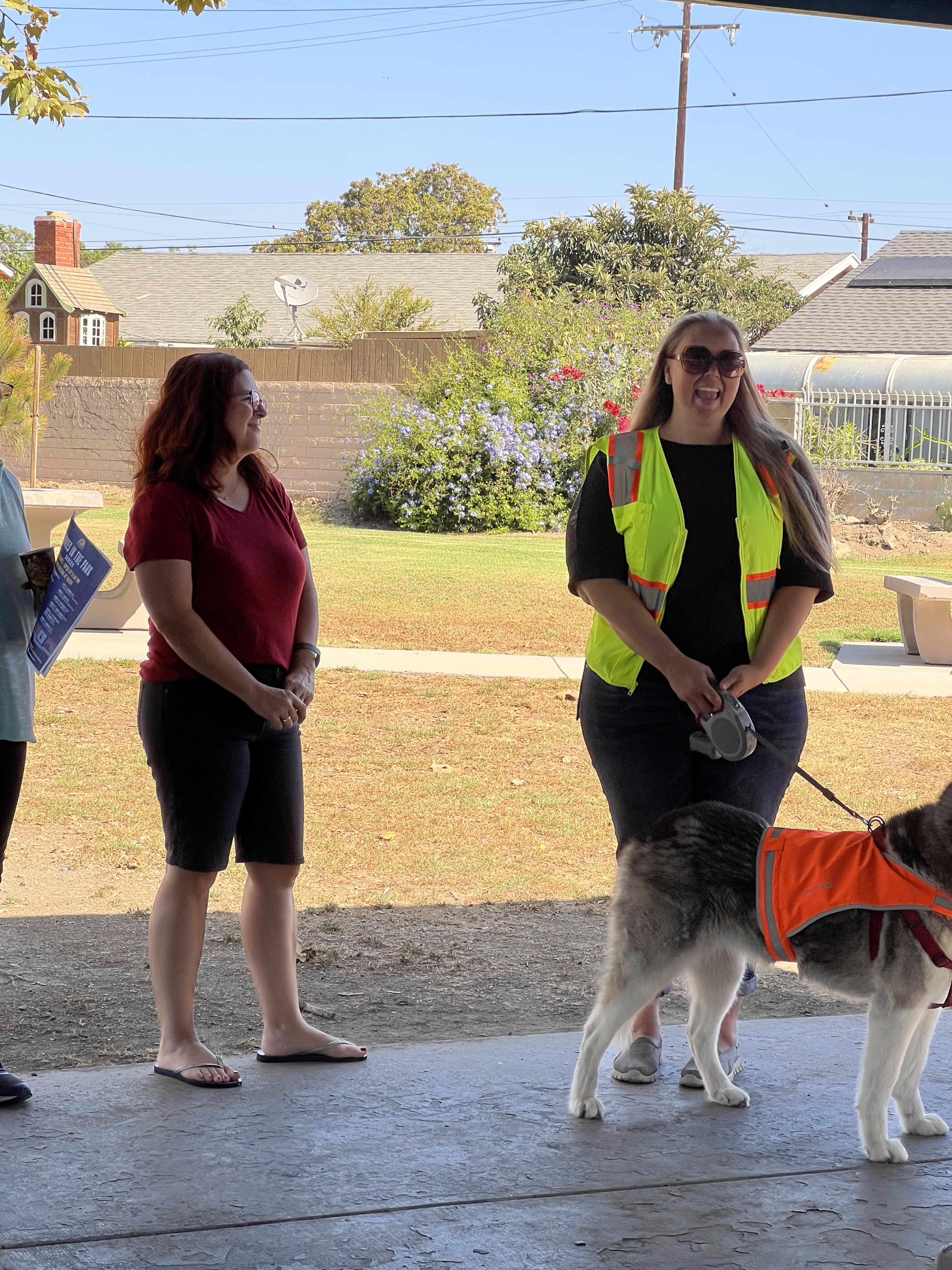 Katie decided to go back to school after losing her job during the pandemic. A single mother, she decided to attend Santa Ana College after her children moved out. After reading about the Park Host position, she immediately knew it was her calling.
Already she has received a warm welcome from the neighborhood. On Saturday, July 9, the Thornton Park Neighborhood Association hosted a welcoming event for Katie, with many neighborhood residents, City staff, and elected officials attending to greet their new host at Thornton Park.
After moving in mid-May, Katie is enjoying being the eyes and ears of the park with Nana. Make sure to stop by and say hello to Katie the next time you visit Thornton Park!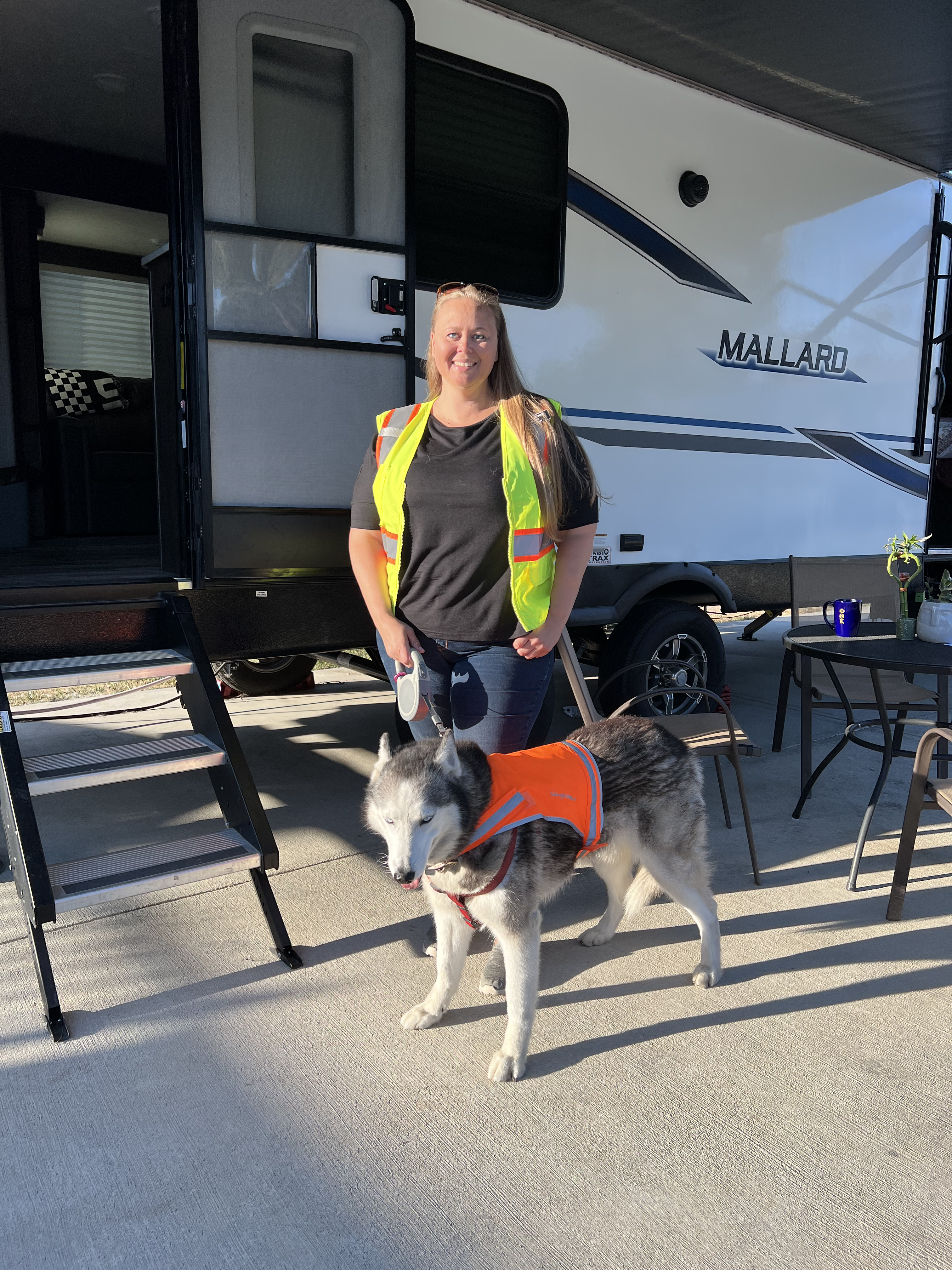 ---
City Council meeting recap
City Council meetings are typically held on the first and third Tuesdays of each month at 5 p.m. Meetings now have both in-person and virtual participation and attendance and are live streamed on YouTube and CTV 3 (channel 3 on Spectrum and channel 99 on AT&T TV). If you'd like to provide public comments on agenda and non-agenda items, you can email, attend in person, or join the Zoom webinar online or by phone.
---
Events
Free Bicycle Basics class – July 16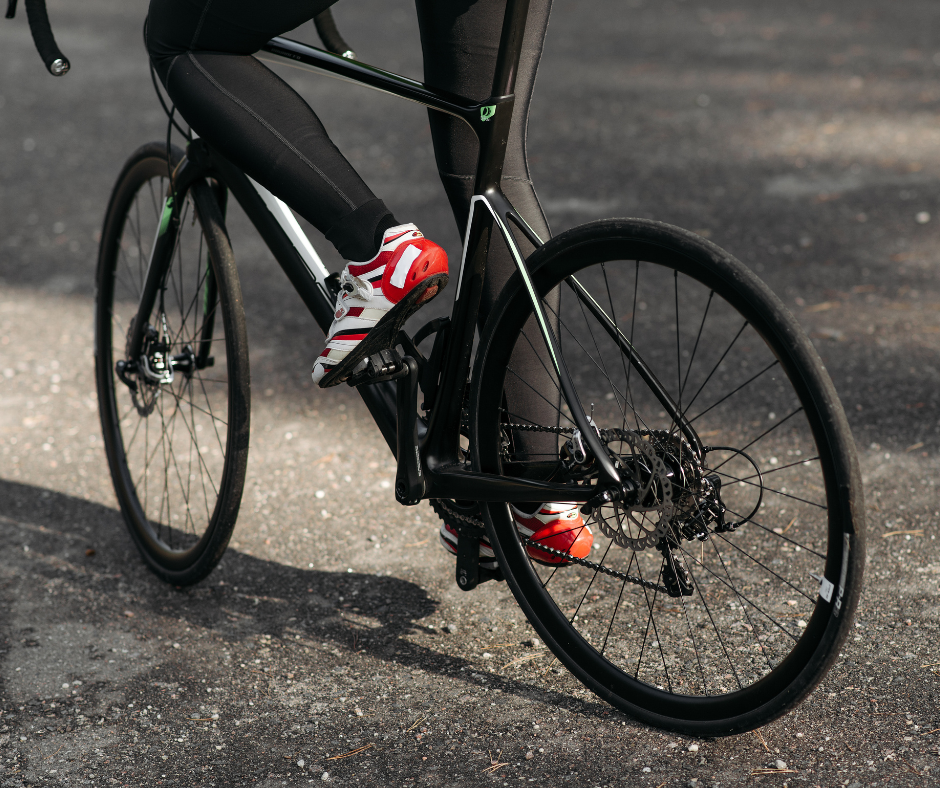 Join Santa Ana Active Streets (SAAS) for their hands-on, free Bicycle Basics class on Saturday, July 16, 2022, from 10 a.m. to 3 p.m. at the Santa Ana Regional Transportation Center. This class is for ages 13 and over, and you can reserve a bike if you do not own one. Lunch is provided to those who register. For more information, contact Dorian Romero at (714) 340-5186.
Saturday, July 16 – 10 a.m. to 3 p.m.
Santa Ana Regional Transportation Center, 1000 E. Santa Ana Blvd.
---
Coffee with a Cop – July 21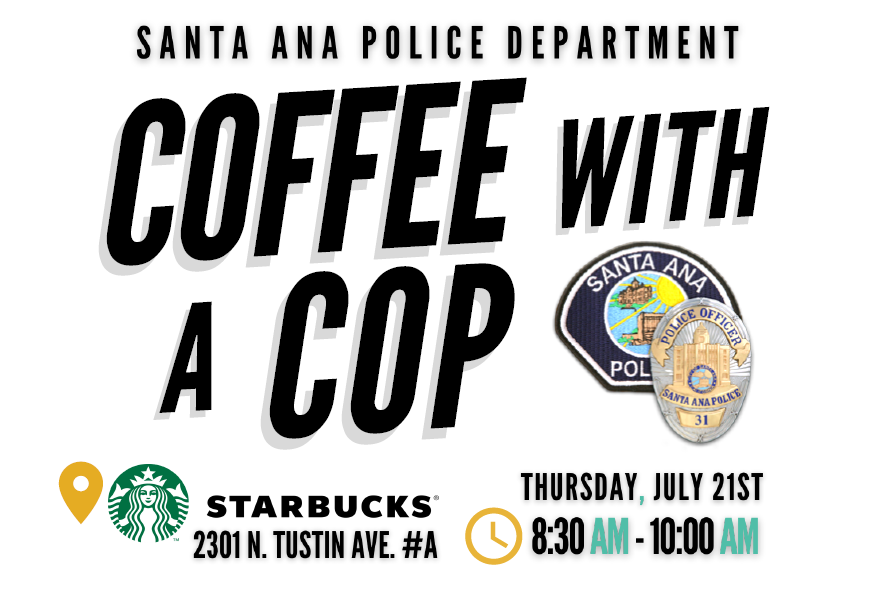 Join the Santa Ana Police Department for complimentary coffee on Thursday, July 21, from 8:30 to 10 a.m. at the Starbucks located at 2301 N. Tustin Ave. #A. Don't miss out on the chance to meet and converse with officers serving your community!
Thursday, July 21, 8:30 to 10 a.m.

Starbucks, 2301 N. Tustin Ave.
---
Rent Stabilization and Just Cause Eviction Ordinances webinars – July 20, August 11 & 25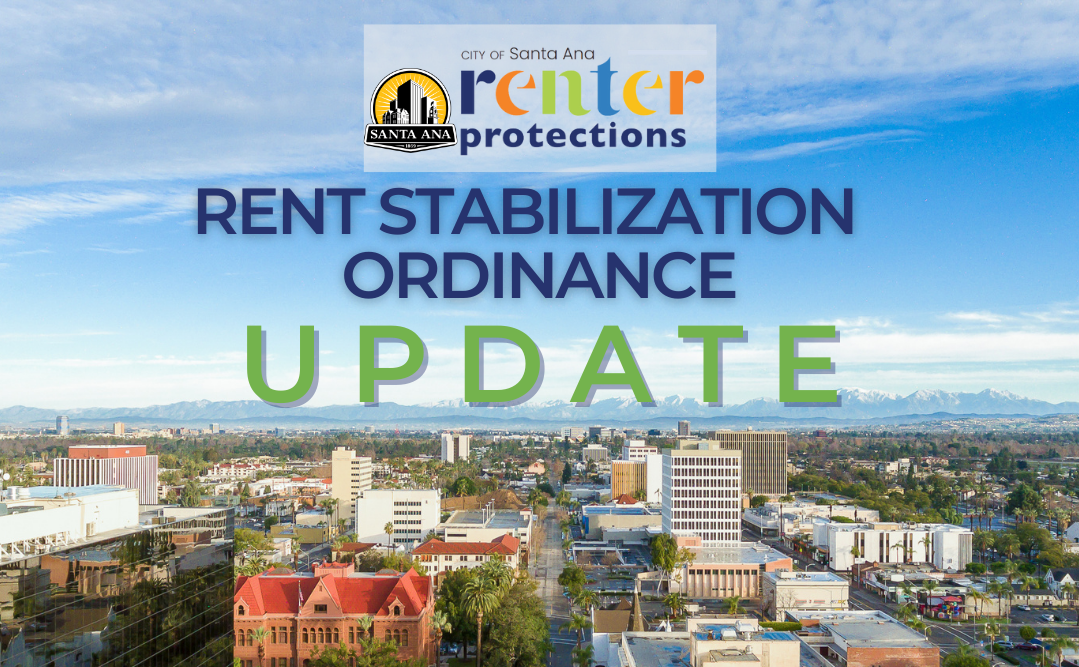 The City of Santa Ana will be hosting an informational webinar via Zoom to discuss the Rent Stabilization and Just Cause Eviction Ordinances, as well as the Notice of Allowable Rent Increase effective September 1, 2022. Spanish and Vietnamese interpretation will be available.
Wednesday, July 20 – 5:30 p.m.
Thursday, August 11 – 5:30 p.m.
Thursday, August 25 – 5:30 p.m.
---
Shakespeare by the Sea Presents: 'Romeo & Juliet' – July 28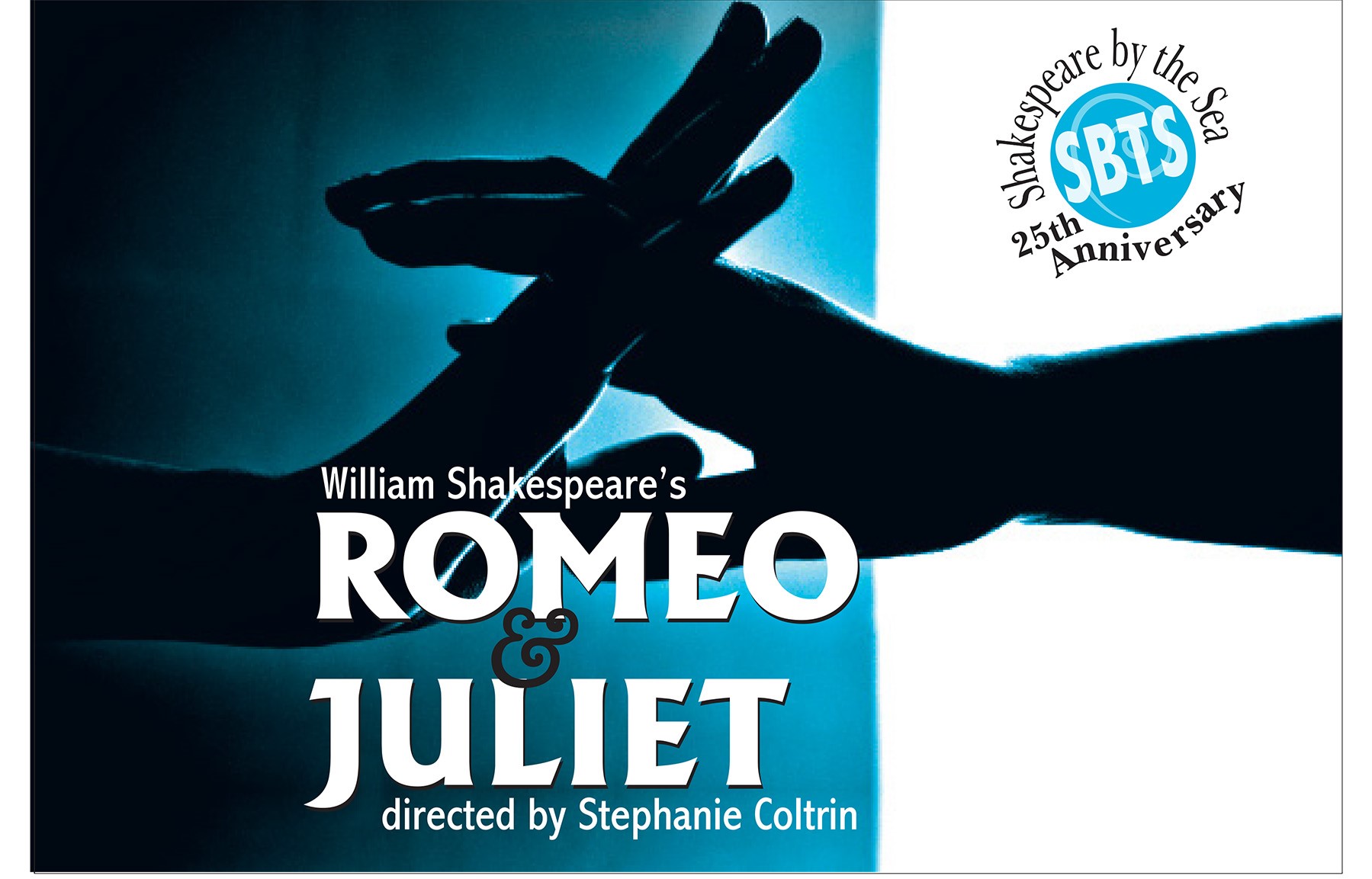 Shakespeare by the Sea, a non-profit professional acting troupe, presents the iconic romantic tragedy, "Romeo & Juliet." Bring your picnic baskets, blankets and lawn chairs and enjoy this special outdoor performance. Admission is free, so arrive early to secure your spot before the 7 pm start time.
Thursday, July 28 – 7 p.m. to 9 p.m.
Birch Park, 210 N. Birch St.
---
Movies in the Park Series – Wednesdays through Aug. 31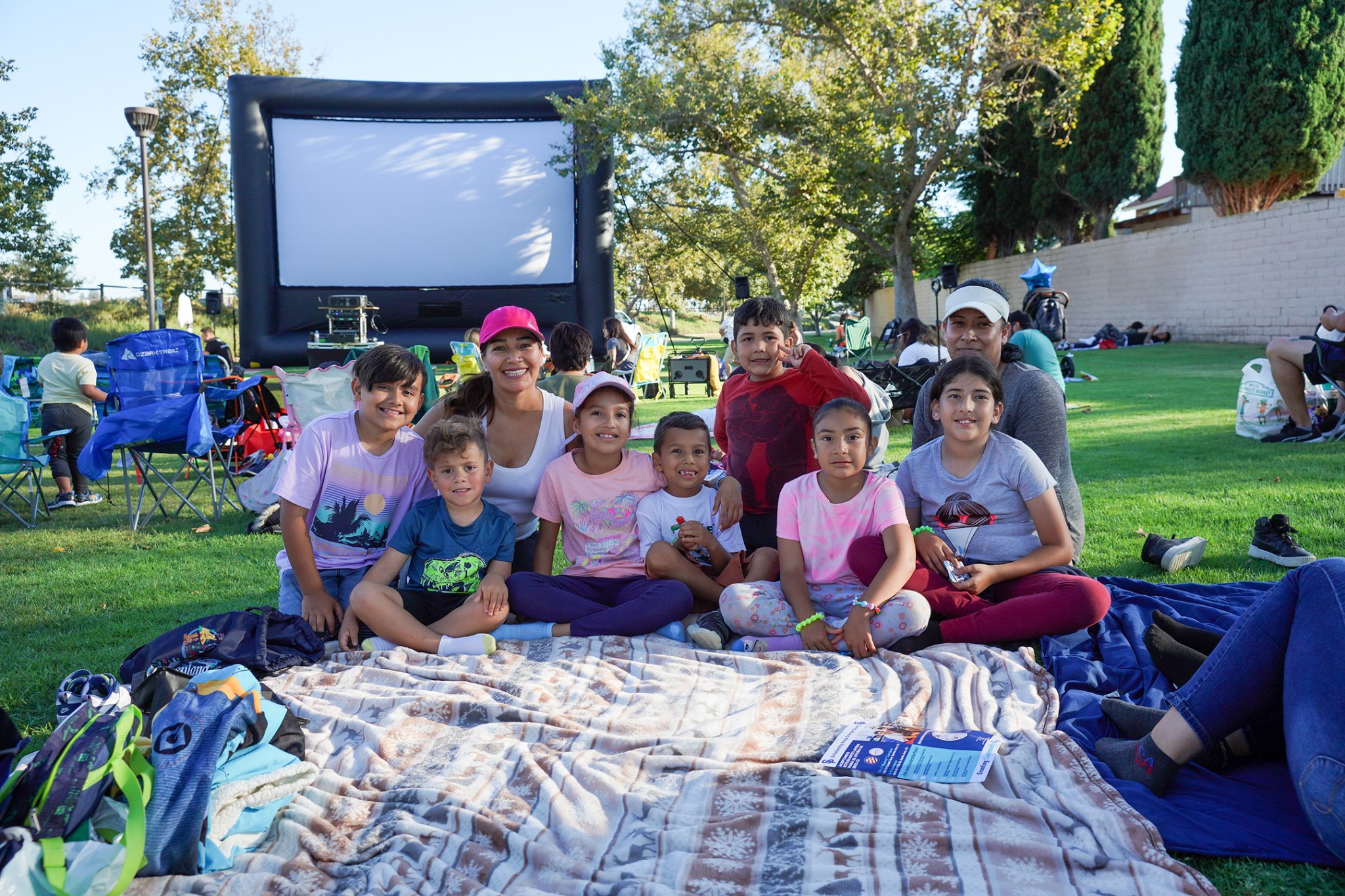 The Santa Ana Movies in the Park series takes place every Wednesday from June 8 through August 31 at City parks throughout Santa Ana. Other activities include exhibitors, jumpers, and arts and crafts for kids. Get free popcorn while supplies last.
---
Concerts in the Park – Every Thursday in August

The Santa Ana Concerts in the Park Series takes place every Thursday in August at a different location each week: Windsor Park, Portola Park, Jerome Park, or Thornton Park. Each concert will have live music, food trucks and kids activities. Doors open at 5:30 p.m.
---
National Night Out – August 2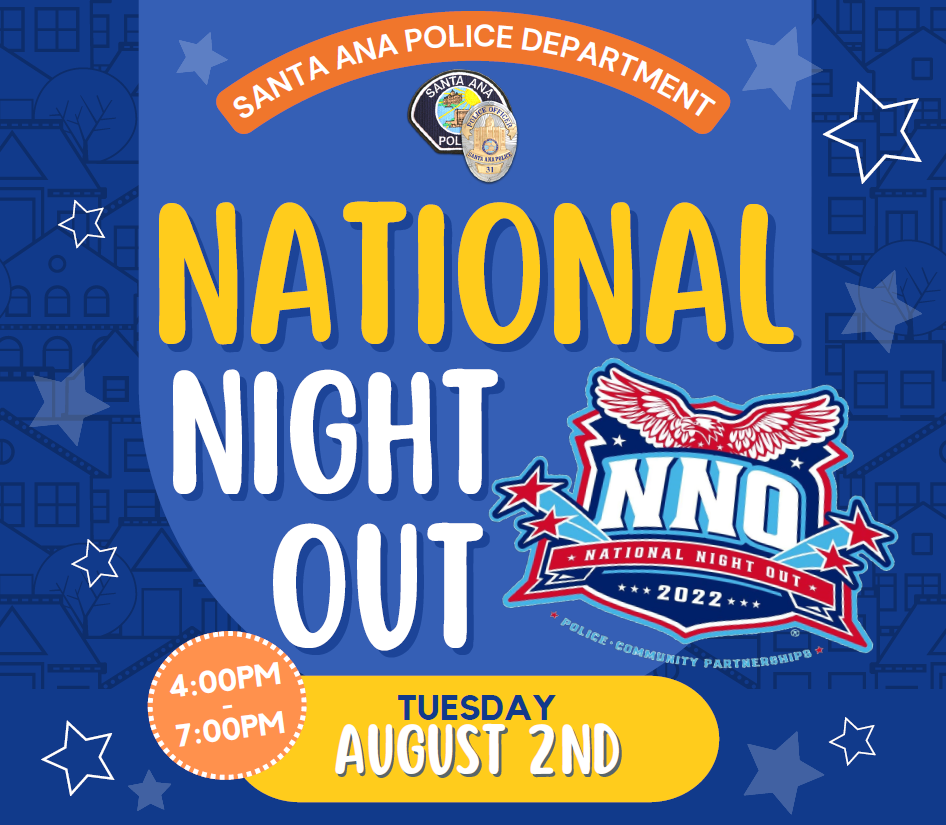 Celebrate with the Santa Ana Police Department on Tuesday, August 2, at National Night Out! This free community event is filled with fun activities, giveaways, personal safety education, hands-on display of emergency vehicles, and much more!
Tuesday, August 2, 4-7 p.m.
Thornton Park, 1801 W. Sergerstrom Ave.
---
Birch Summer Series – Every Friday in August
Join us for the Birch Summer Series taking place every Friday beginning August 5 – 26, 2022 at Birch Park. The series will showcase a free, family-friendly classic film every Friday night beginning at dusk. Pre-show activities begin at 5:30 p.m. and will include exhibitors and fun kids' activities. Concessions will also be available for purchase. More details coming soon!
Every Friday in August
Activities begin at 5:30 p.m.
Birch Park, 210 N. Birch St.
---
Food distributions – ongoing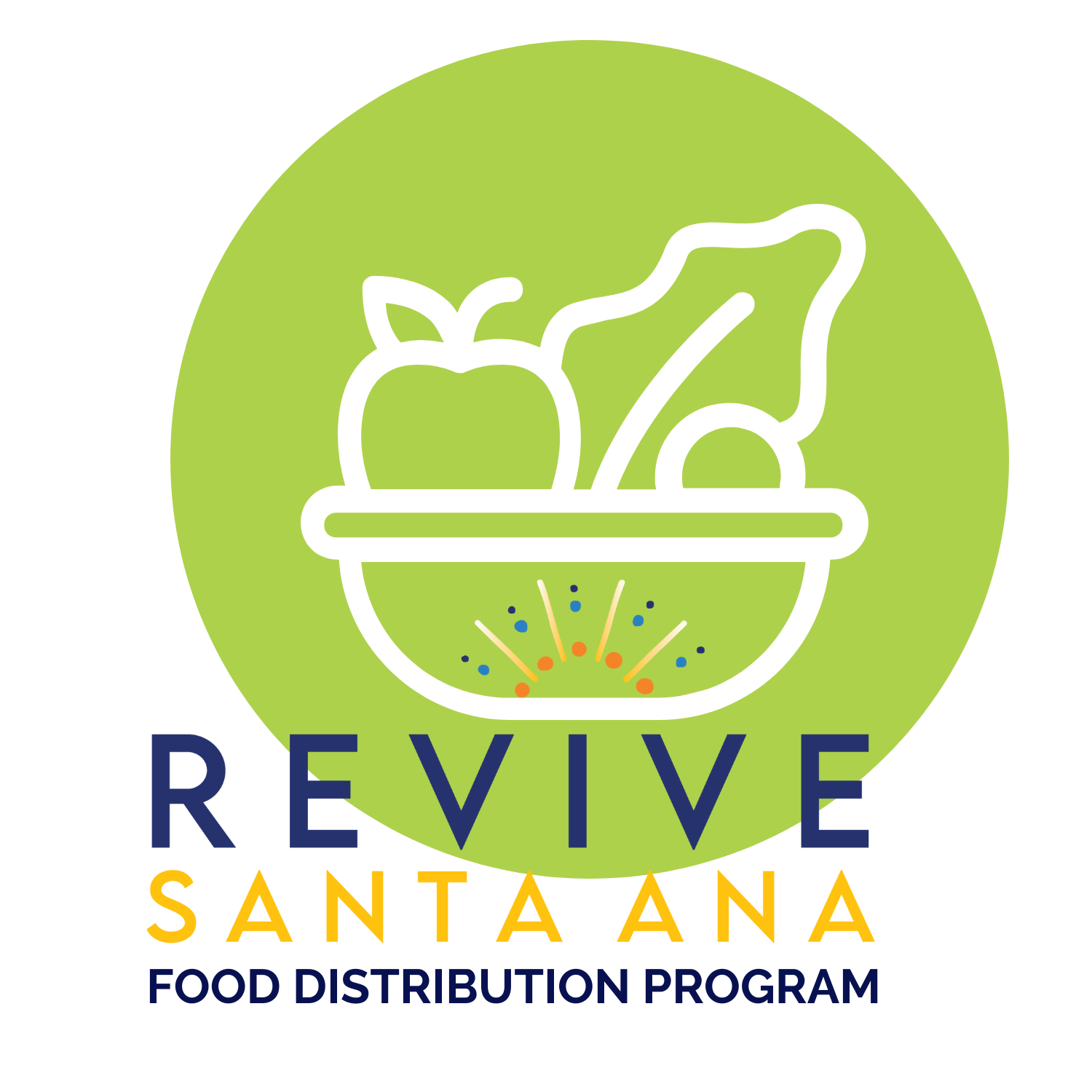 As part of one of our ongoing Revive pandemic recovery initiatives, we have partnered with various local organizations to host free food distributions throughout Santa Ana. The free food distributions are available for anyone in need, and no registration is required. The food is distributed on a first-come, first-served basis, while supplies last. Visit them on the following days:
Revive Santa Ana Distributions:
Delhi Center – Mondays, 10-11:30 a.m.
Santa Ana Elks Lodge (for seniors) – Mondays, 12-2 p.m.
Latino Health Access – Fridays, 12-1 p.m. (walk-in), 2-4 p.m. (drive-in)
Other Food Distributions:
OC First Assembly – Thursdays, 10 a.m.
Seva Collective – Saturday, July 23, 9-11 a.m.