In this edition of COSAS, see the proposed City budget, celebrate Public Works Week, learn how we are helping foster youth, and read about our recent awards for housing, library and bike lane projects!
---
Spotlight Photo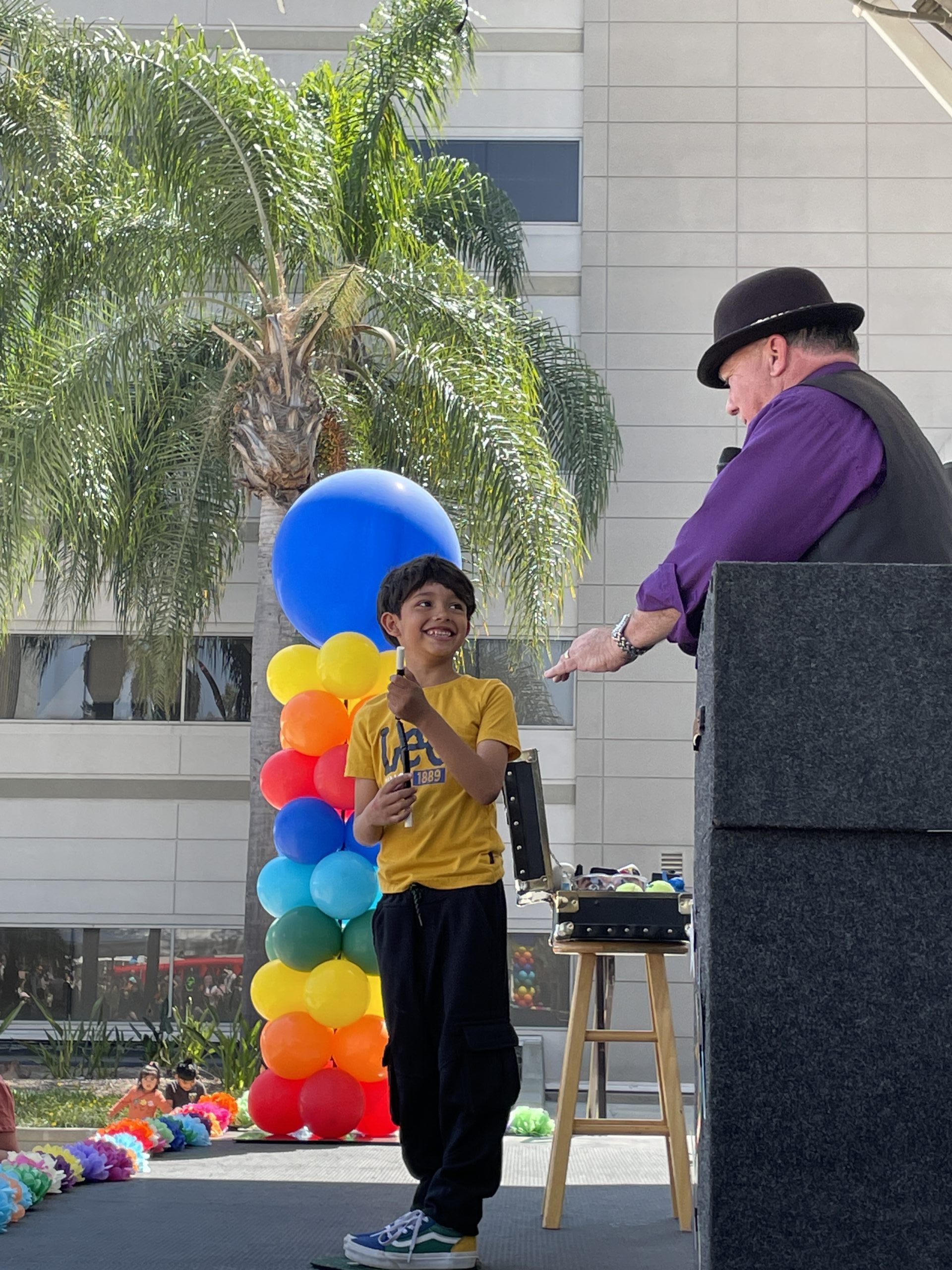 Día de los Niños Magic
Photo Credit: Tani N.
To submit your own original photo of Santa Ana to be featured in the next newsletter, complete this form.
---
City Manager's Highlights
Celebrating Public Works Week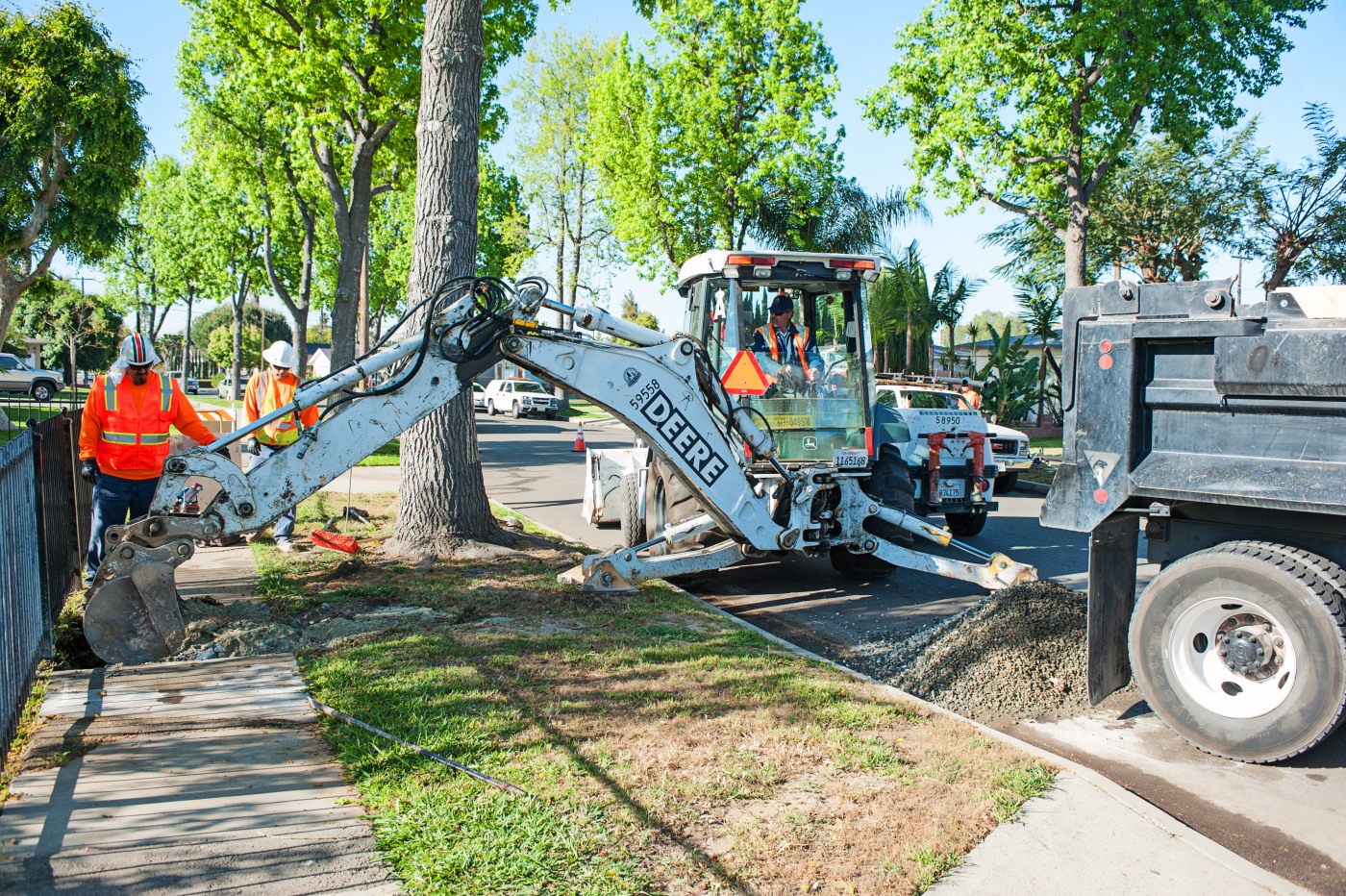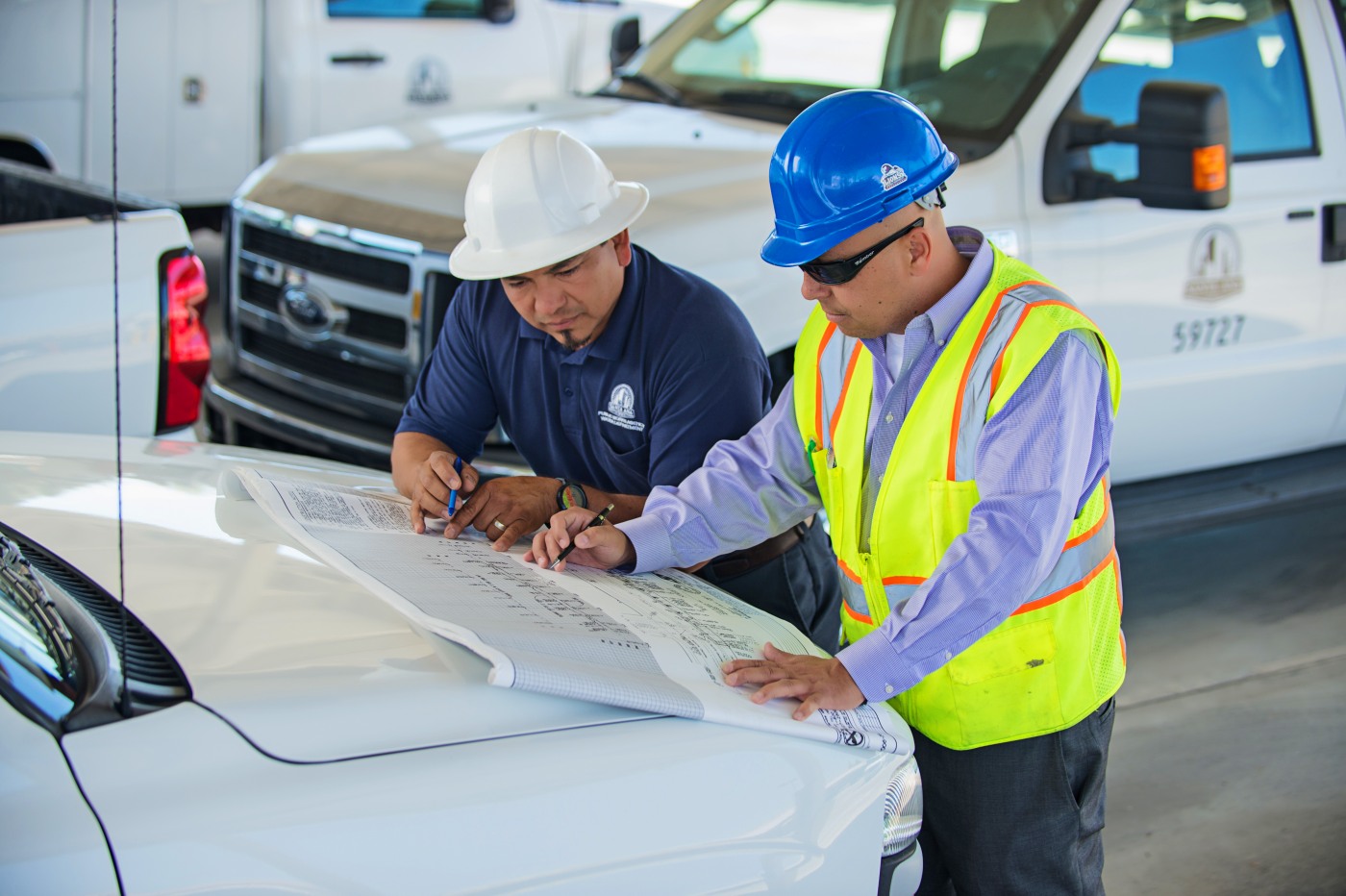 Our Public Works Agency provides many essential services to Santa Ana residents, from maintaining roads, water lines and sewer lines, to building new park facilities and bike lanes. May 21-27 is Public Works Week, when we recognize all that they do, and the community is invited to a celebration on Saturday, May 20 (details in Events.) PWA also received two recent awards (read more in News.)
Did you know that in 2022, our PWA completed 15,000 feet of water main projects and 8,500 feet of sewer mains, responded to 151,124 graffiti removal requests, removed over 188,000 pounds or 94.4 tons of trash, debris and sediment from storm drains, and serviced over 2,000 potholes and over 1,900 trees? Thank you to our PWA staff!
Videos: Fun Run and Día de los Niños
In case you missed our recent events, check out these highlight videos of the Santa Ana Fun Run and Día de los Niños, Día de los Libros at the Main Library! We have many more fun activities coming up, including the Public Works Family Event on May 20, Viet Book Fest on June 3, and the Juneteenth Festival on June 17. Read more below in Events.
---
News
See the proposed 2023-24 City budget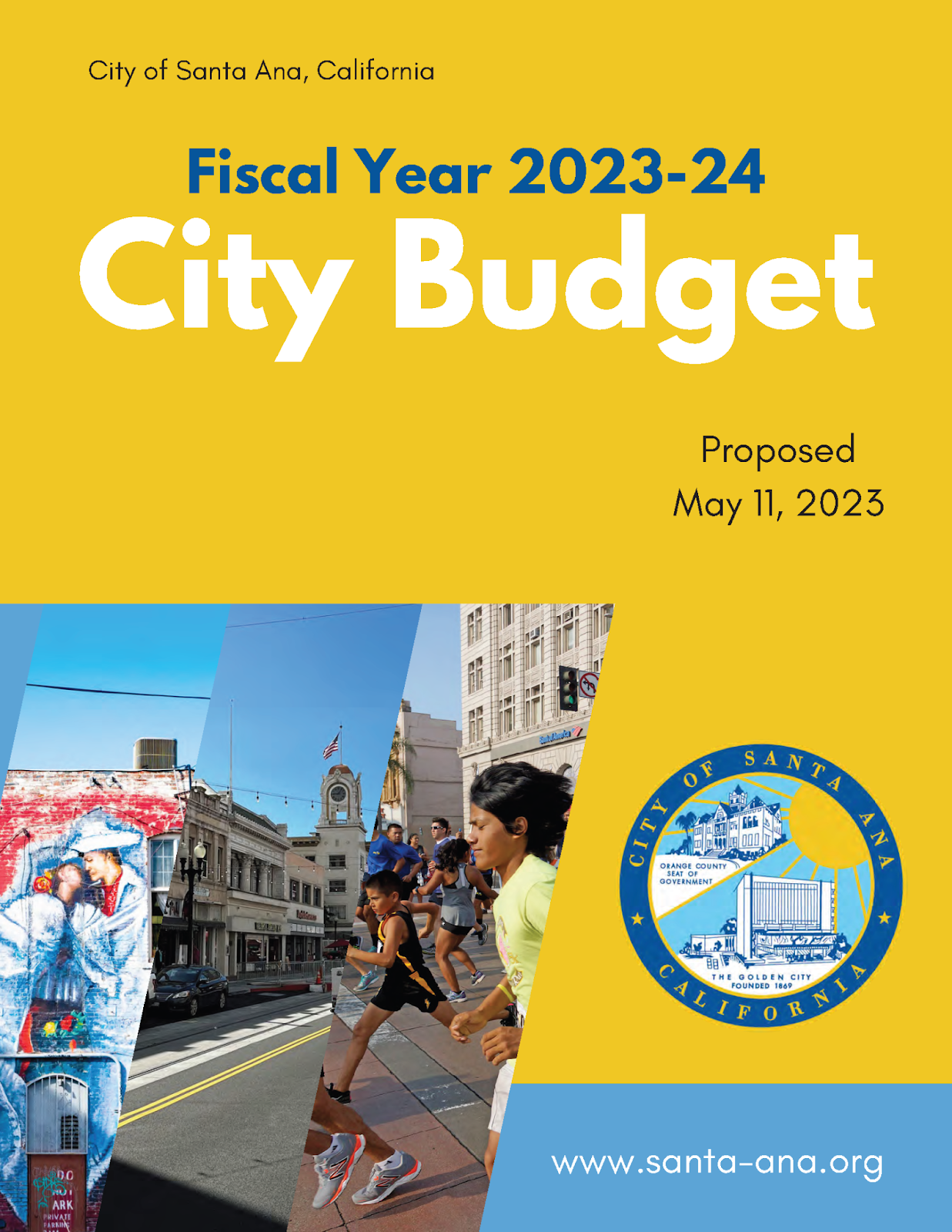 As we continue to work on building the budget for the new fiscal year, which begins July 1, 2023, draft budget documents are now available on our City website. The documents provide information to help you understand the City's budget process and results with a timeline. Our Finance and Management Services Agency has been working diligently with the community over the last several months, collecting valuable community input about the programs and services that are important to them.
The City Council will meet at 4 p.m. today, May 11, in a special meeting for a budget workshop in the City Council Chambers. Residents have until this Sunday, May 14, to take the Budget Priorities Survey to share your ideas. Take the survey in English, Spanish or Vietnamese and view the proposed budget documents at the links below.
---
OC Health Care Agency offers free lead testing and removal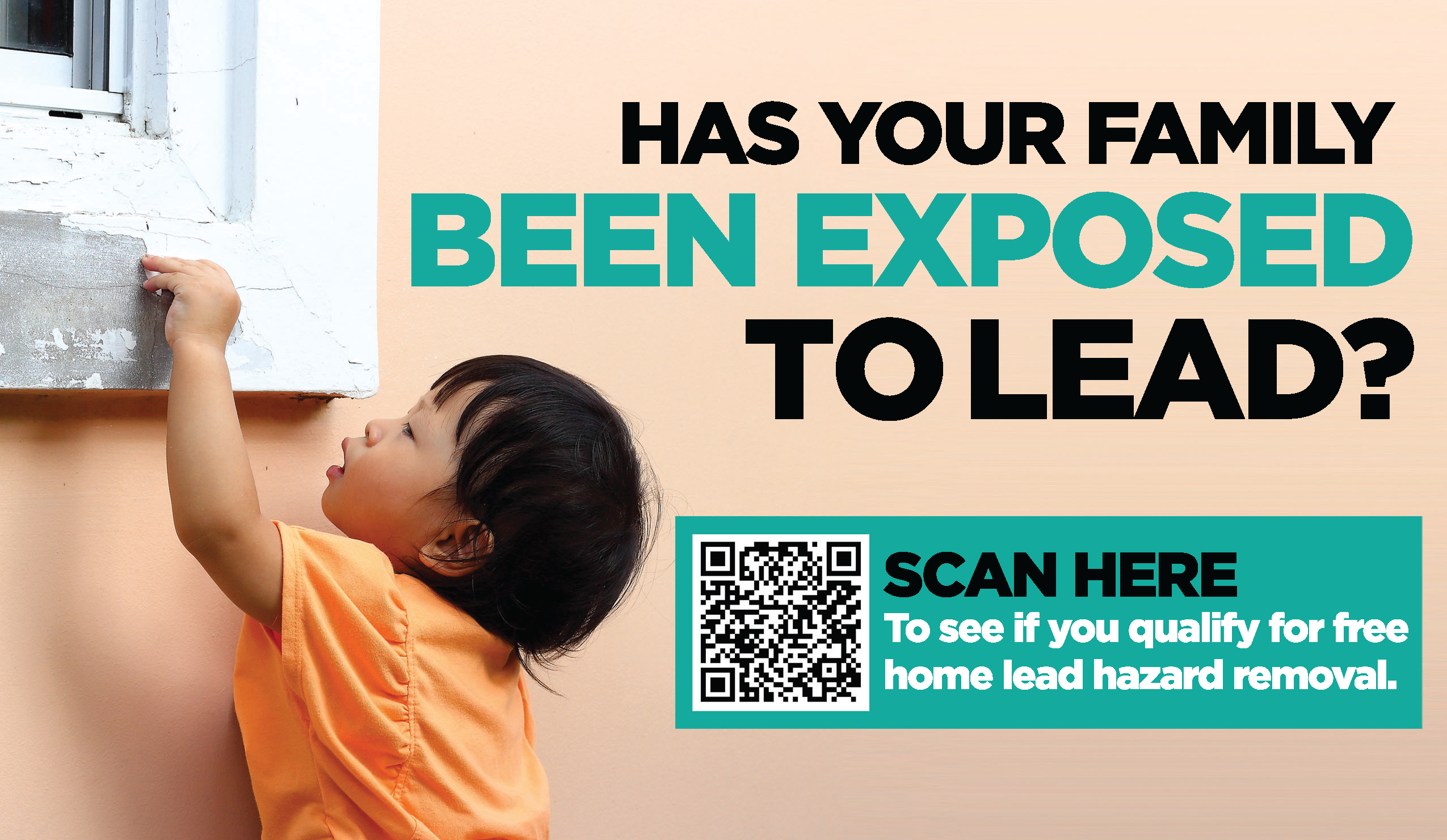 The Orange County Health Care Agency is offering a free lead testing and removal program that is available to qualified Santa Ana households. Priority is given to families with a child under 6 years old or with a pregnant woman who might have been exposed to lead in the home. Program participants must be low income, and the properties must be located in Orange County and built before 1978.
Complete a pre-screening questionnaire through the link below. If you have questions, call (323) 477-1160 or email info@azuredevelopmentco.com.
---
Residential Parking Permit Study and Survey
Our Public Works Agency is revamping the Residential Permit Parking Program and we are seeking your input, comments, and suggestions to define the program for years to come. The study will consist of tasks and objectives to develop a citywide permit parking program to provide balanced parking to support residents' quality of life, visitors, businesses, and commuters. 
The survey is available in three different languages. Take the parking survey and learn more about the program through the links below.
---
City wins 2023 Sustainability Award for Legacy Square affordable apartments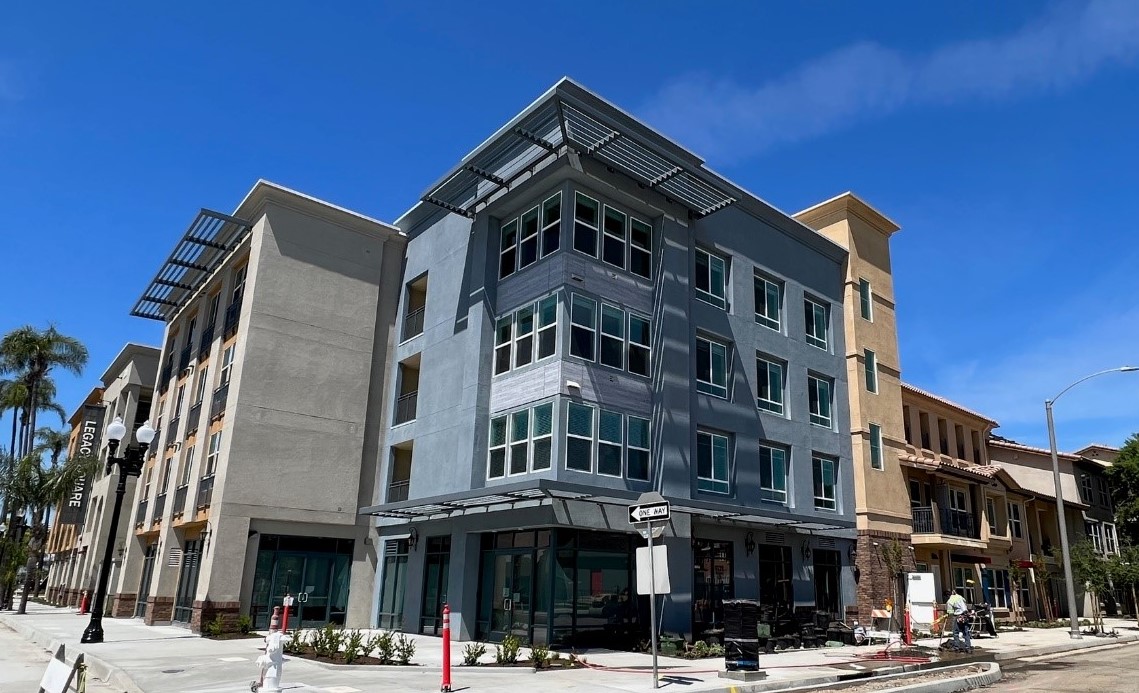 The City of Santa Ana was honored with a 2023 Sustainability Award by the Southern California Association of Governments (SCAG) for the Legacy Square apartments project. Legacy Square is a new affordable, multifamily apartment community that offers 93 high-quality apartment homes – 30 one-bedrooms, 39 two-bedrooms, and 24 three-bedrooms. The transit-oriented development replaced two underutilized buildings owned by the Santa Ana Methodist Church in the downtown area.
Offsite improvements include almost $10 million in sustainable transportation improvements that boast bicycle lanes and pedestrian safety improvements for safer routes to school, urban greening components including a pocket park and street trees, and funding for programs to promote the use of local public transportation. The waitlist to apply to live at Legacy Square is closed.Read more about the 2023 SCAG Sustainability Awards https://scag.ca.gov/news/scag-honors-seven-innovative-projects-its-2023-sustainability-awards.
---
Public Works Agency receives engineering awards for outstanding projects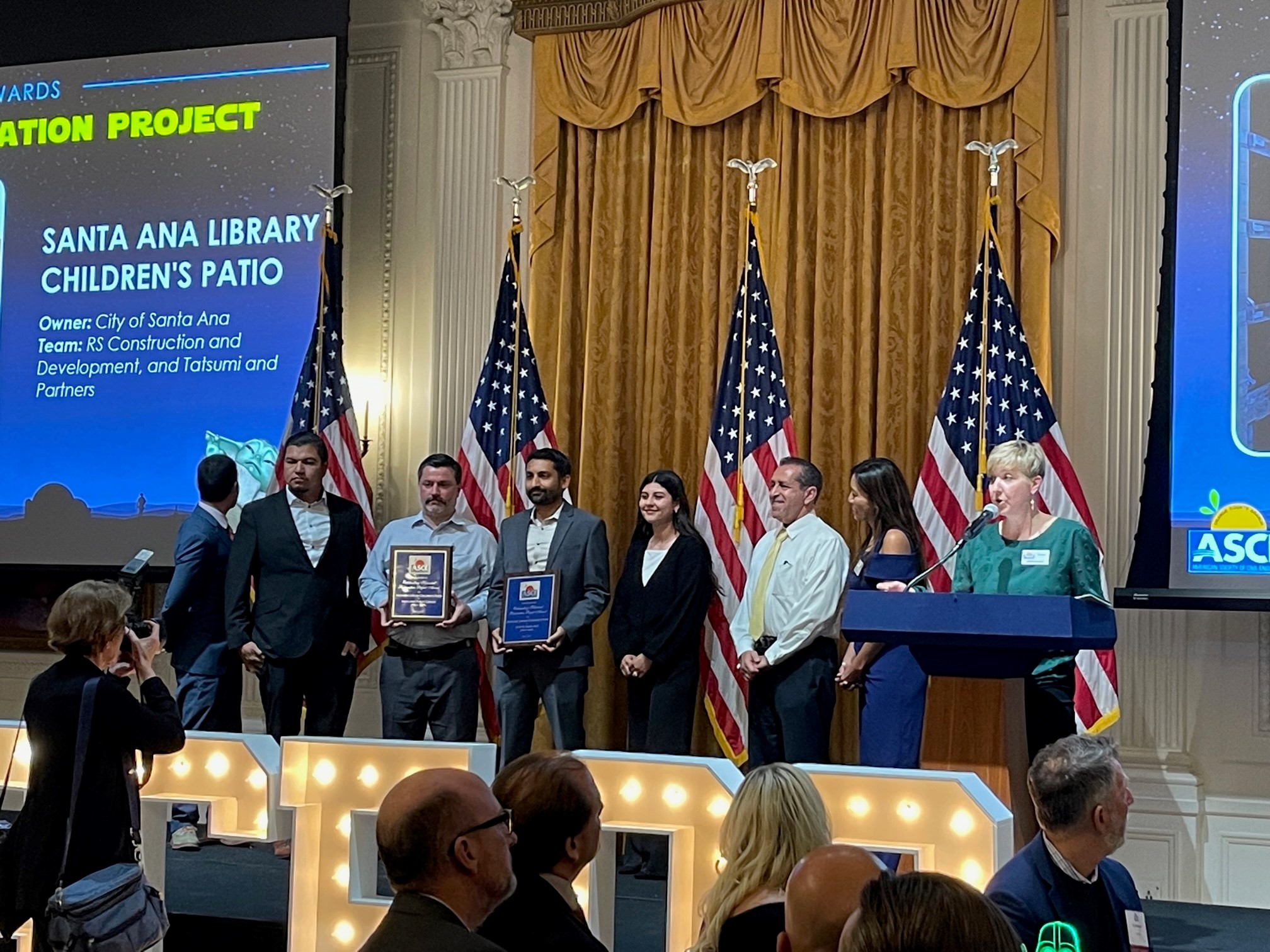 Our Public Works Engineering Team was presented with two awards from the American Society of Civil Engineers, Orange County on May 4.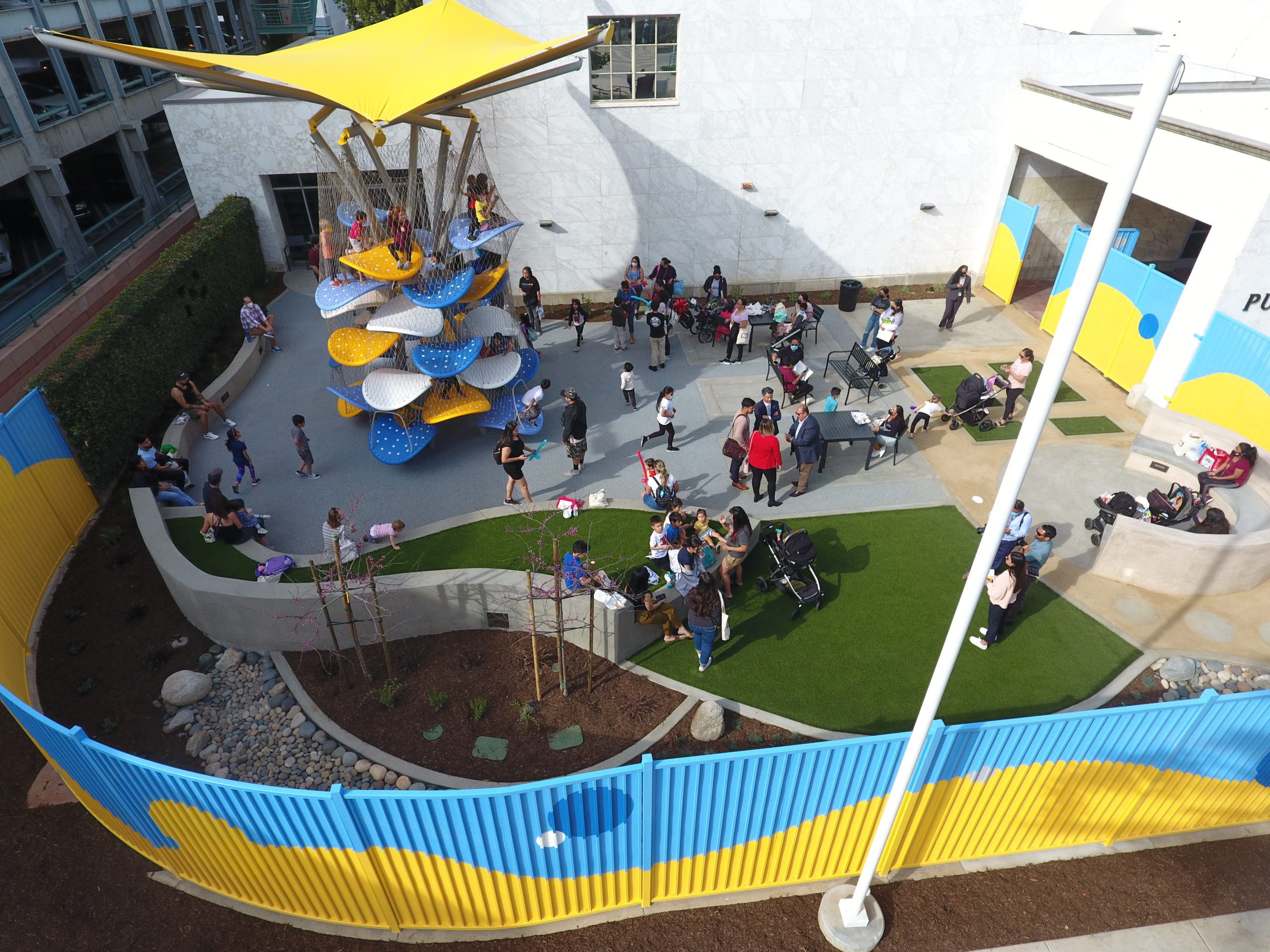 The Santa Ana Library Children's Patio Project received the 2022 Outstanding Historical Renovation Project Award. The children's patio includes a Luckey Climber made of rotationally molded plastic climbing platforms that are suspended by steel pipes and cables and is as much of a work of art as it is a jungle gym.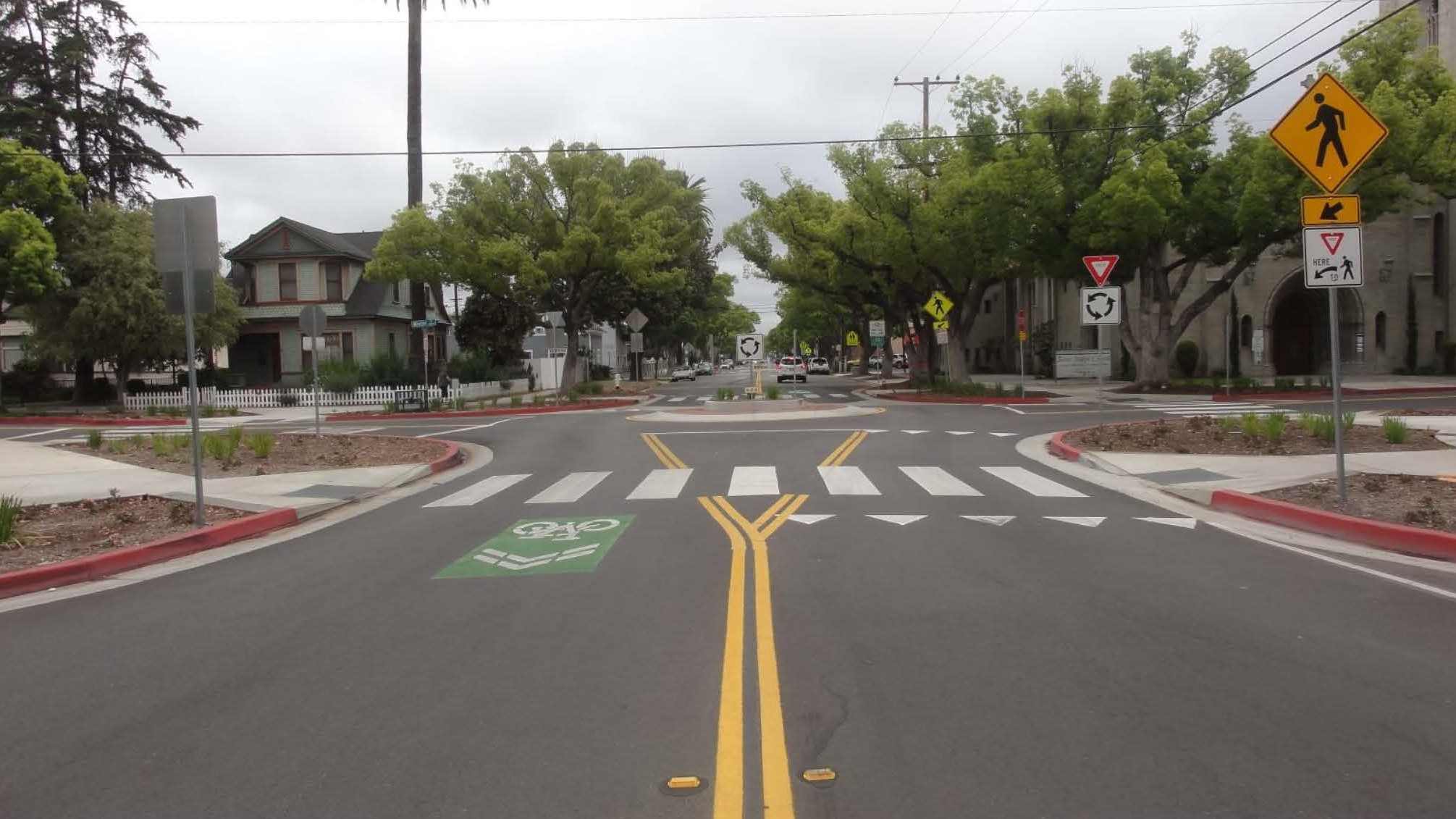 The Civic Center Boulevards & Safe Routes to School Enhancements for Sepulveda Project received the Outstanding Transportation Project Award and is the largest traffic circle corridor in Santa Ana.
Congratulations to our Santa Ana Public Works Engineering Team!
---
Permitted events and street closures May 11-17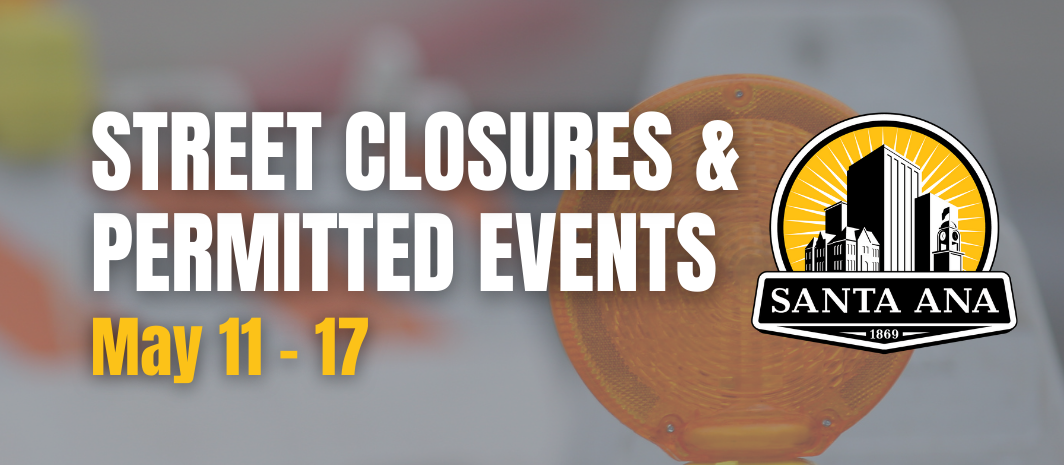 Here are the locations of upcoming permitted events and road closures so you can plan accordingly. Please drive slowly and safely in construction zones and around crowded events.
Street Closures and Permitted Events
---
Tales of the City
Keeping foster youth from homelessness
Foster youth are at a significantly higher risk of homelessness than other youth. Researchers have found that between 31% and 46% of youth exiting foster care experience homelessness by age 26. The reasons for this high risk of homelessness among foster youth include a lack of support networks, limited financial resources, a lack of affordable housing options, mental health issues, and difficulties accessing education and employment opportunities.
To prevent foster youth from falling into homelessness, the Santa Ana Housing Authority provides housing assistance for foster youth through HUD's Foster Youth to Independence (FYI) initiative. Since 2019, we have taken part in this unique opportunity to support foster youth in our community; we were even recognized by the Secretary of HUD as one of the first Housing Authorities nationwide to participate in the program. In partnership with organizations like the Orange County United Way, Orangewood Foundation, and the Orange County Social Services Agency, we have housed over 60 foster youth so far.
As a partner with the Orange County United Way in the United to End Homelessness initiative, we wanted to share this video about the experiences of former foster youth who have been served with our FYI vouchers.
Every year we continue to apply for more FYI vouchers from HUD, and surrounding communities often look to us as an example of best practices. We are proud to work alongside our partners to assist foster youth in Santa Ana and prevent them from experiencing homelessness.
---
City Council Meetings
At their May 2, 2023, regular meeting, the Santa Ana City Council:
Approved $2 million for the installation of a universally accessible playground at Thornton Park (Cannabis Public Benefit Fund)

Approved a $410,000 agreement for landscape architectural design services for a new park at 10th and Flower streets

Accepted the donation and installation of Science, Technology, Engineering, and Mathematics (STEM) focused amenities at Madison Park and Angels Community Park from the UCI School of Education

Adopted a resolution recognizing $9 million of state grant funds for the modernization of the Santa Ana Civic Center

Approved the Fiscal Year 2023-24 Annual Action Plan and Budgets for the Community Development Block Grant, HOME Investment Partnerships Grant, and Emergency Solutions Grant
City Council meetings are typically held on the first and third Tuesdays of each month, with the closed session beginning at 5 p.m. or earlier. The open meeting session begins at 5:45 p.m. Meetings have both in-person and virtual participation and attendance and are live streamed on the City's YouTube channel and our TV channel, CTV3 (channel 3 on Spectrum.) If you'd like to provide public comments on agenda and non-agenda items, you can email, attend in person, or join the Zoom webinar online or by phone.
---
Events
City Council budget workshop – May 11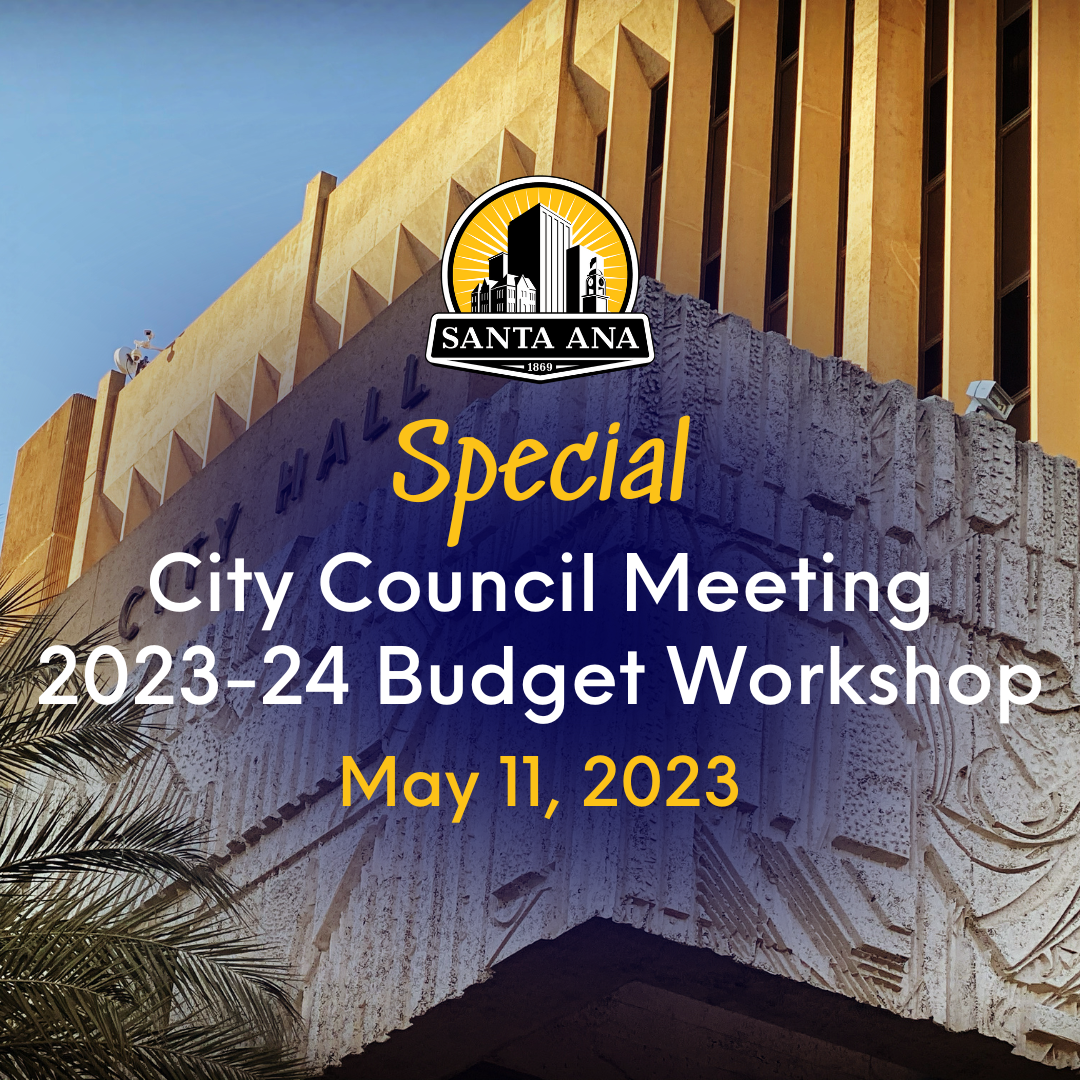 The Santa Ana City Council will hold a special meeting on Thursday, May 11, 2023, at 4 p.m. for the Fiscal Year 2023-24 Budget Workshop.
Thursday, May 11 

4 p.m.

City Council Chambers, 22 Civic Center Plaza, Santa Ana
---
OCTA Bike Rally to Celebrate Bike Month – May 18

Orange County Transportation Authority (OCTA) invites all of Orange County to celebrate National Bike Month in May! National Bike Month promotes the benefits of cycling, sharing safety tips, and offering digital toolkits to encourage everyone to promote Bike Month.
Thursday, May 18

7:30-9:30 a.m.

Orange Metrolink Station, 194 N. Atchison St., Orange
---
Public Works free community event – May 20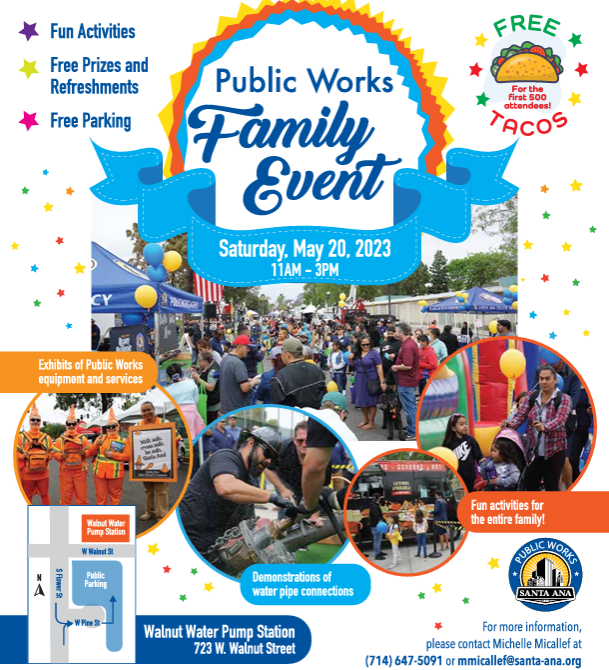 To celebrate National Public Works Week, our Public Works Agency is hosting a free community event. Highlights of the event include free tacos to the first 500 guests, prizes, tours of the state-of-the-art water pump station, a water pipe connection competition, and exhibits from City departments. Free event parking is available in the lot at Flower and Pine streets.
Saturday, May 20

11 a.m. – 3 p.m.

Walnut Water Pump Station, 723 W. Walnut St., Santa Ana
---
Polynesian Pacific Islander Performance – May 20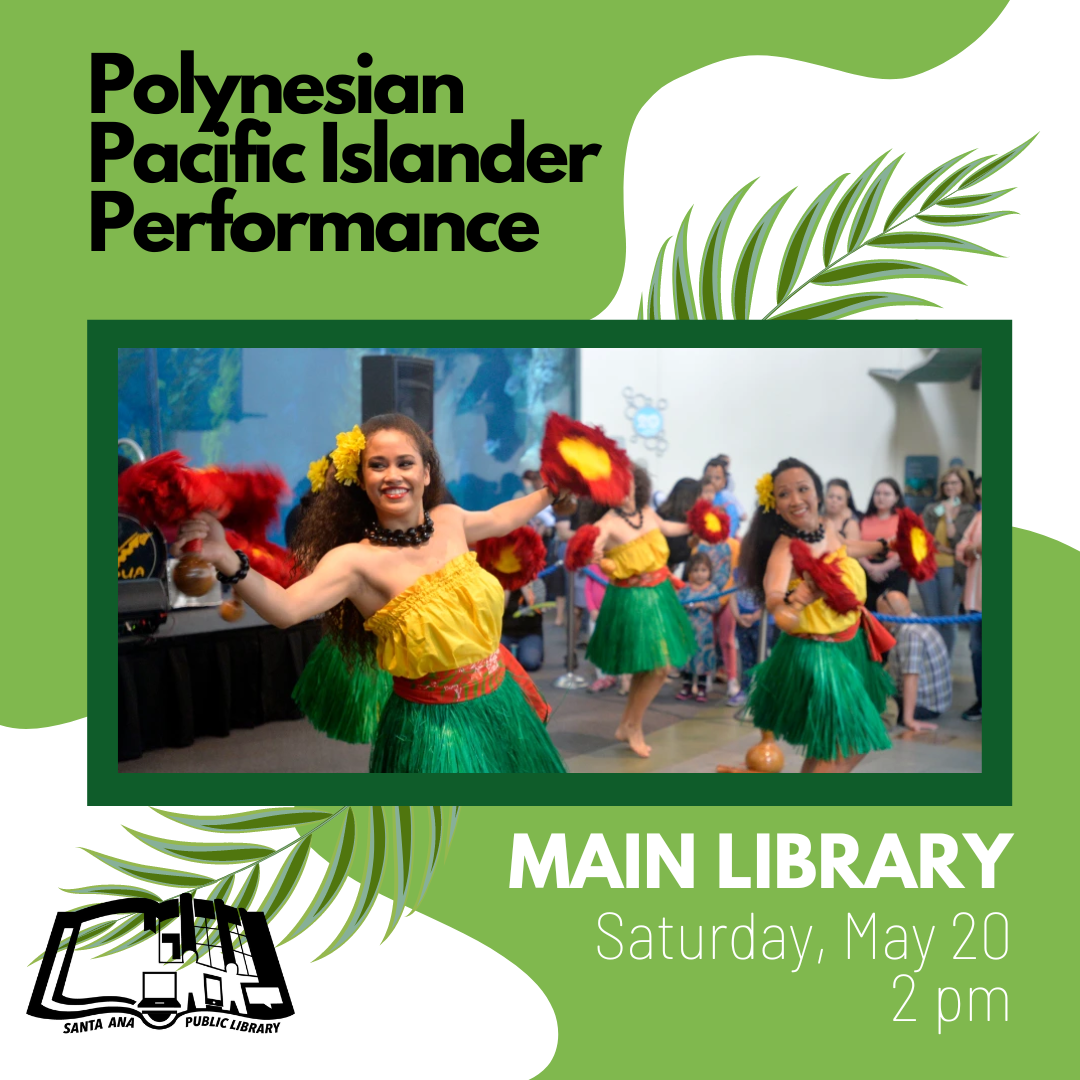 Celebrate Asian Pacific American Heritage month with Santa Ana Public Library by enjoying a special Pacific Islander dance performance by Tupua Productions and learn more about Pacific Islanders and their diverse cultures.
Saturday, May 20

2-3 p.m.

Main Library, 26 Civic Center Plaza, Santa Ana
---
Free Resident Day at Santa Ana Zoo – May 21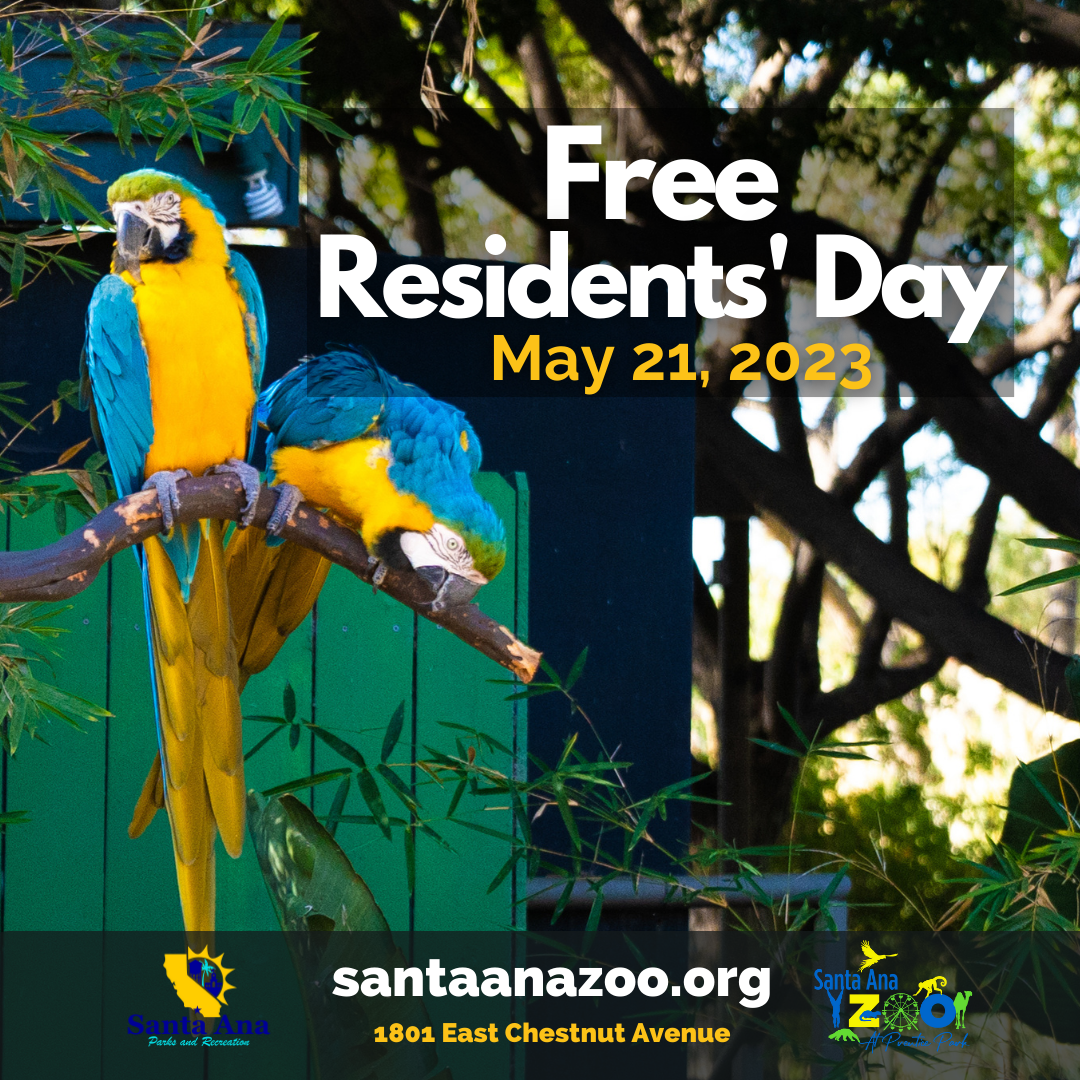 Santa Ana residents receive free admission to the Zoo on the third Sunday of every month. Proof of residency (such as ID or a utility bill) is required.
Sunday, May 21

10 a.m. – 5 p.m. (last admission is at 4 p.m.) 

Santa Ana Zoo, 1801 E. Chestnut Ave., Santa Ana
---
OC Streetcar Public Meeting – May 23

The OC Streetcar team will be hosting a public meeting to review construction activities and system power requirements on 4th Street. A brief presentation will be followed by a Question & Answer session. This meeting will be held in English and Spanish.
Tuesday, May 23

8-9 a.m.

Perla Mexican Cuisine, 400 W 4th Street, Second Floor, Santa Ana
---
Author Talk with Jackie Bong Wright – May 27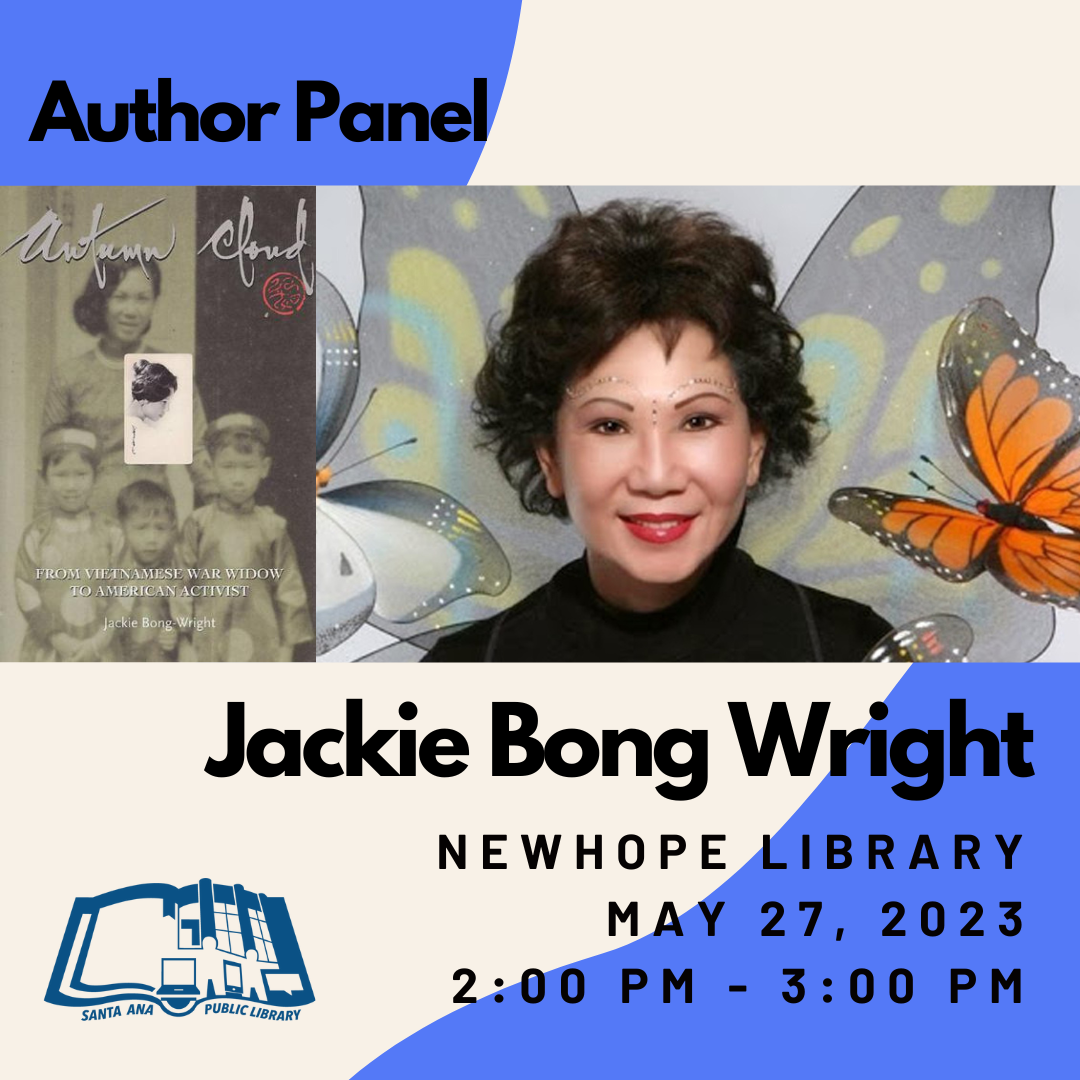 Come meet Jackie Bong Wright, acclaimed author of "Autumn Cloud,"  as she tells the story of her family's divided loyalties during the Vietnam war, her husband's assassination, and her journey from being a Vietnamese refugee to an American activist.  Contact us at 714-647-6992 for more information.
Saturday, May 27

2-3 p.m.

Newhope Library, 122 N. Newhope St., Santa Ana
---
Free Family Cycling Event – May 27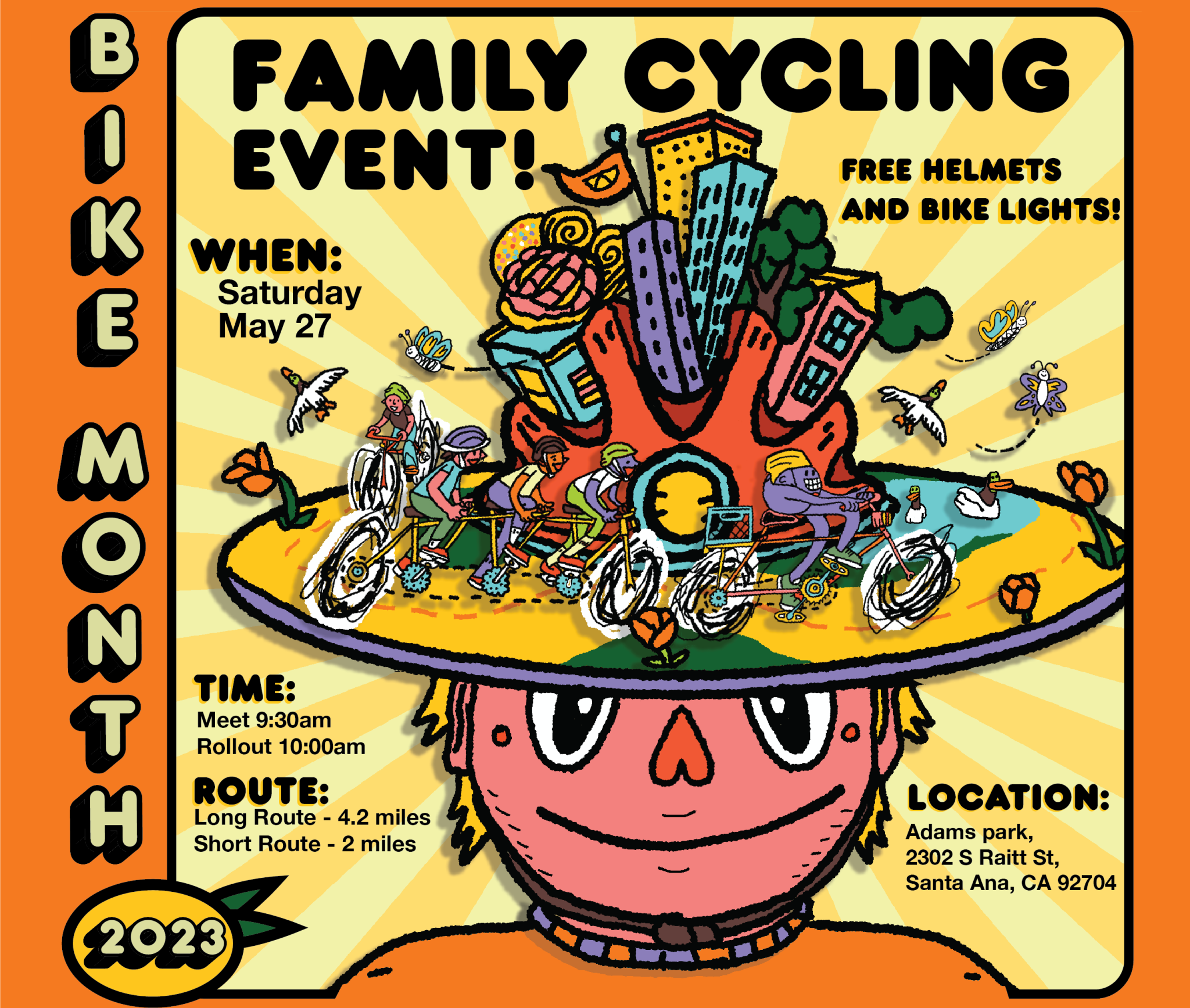 Join Santa Ana Active Streets (SAAS) for a free community cycling event to celebrate National Bike Month. There will be free helmets and bike lights for anyone who needs them and lunch for the first 50 people who register.
Saturday, May 27

9:30 a.m. – 12:30 p.m.

Adams Park, 2302 S. Raitt St., Santa Ana
Register for the family cycling event
---
Viet Book Fest: Author Panel – June 3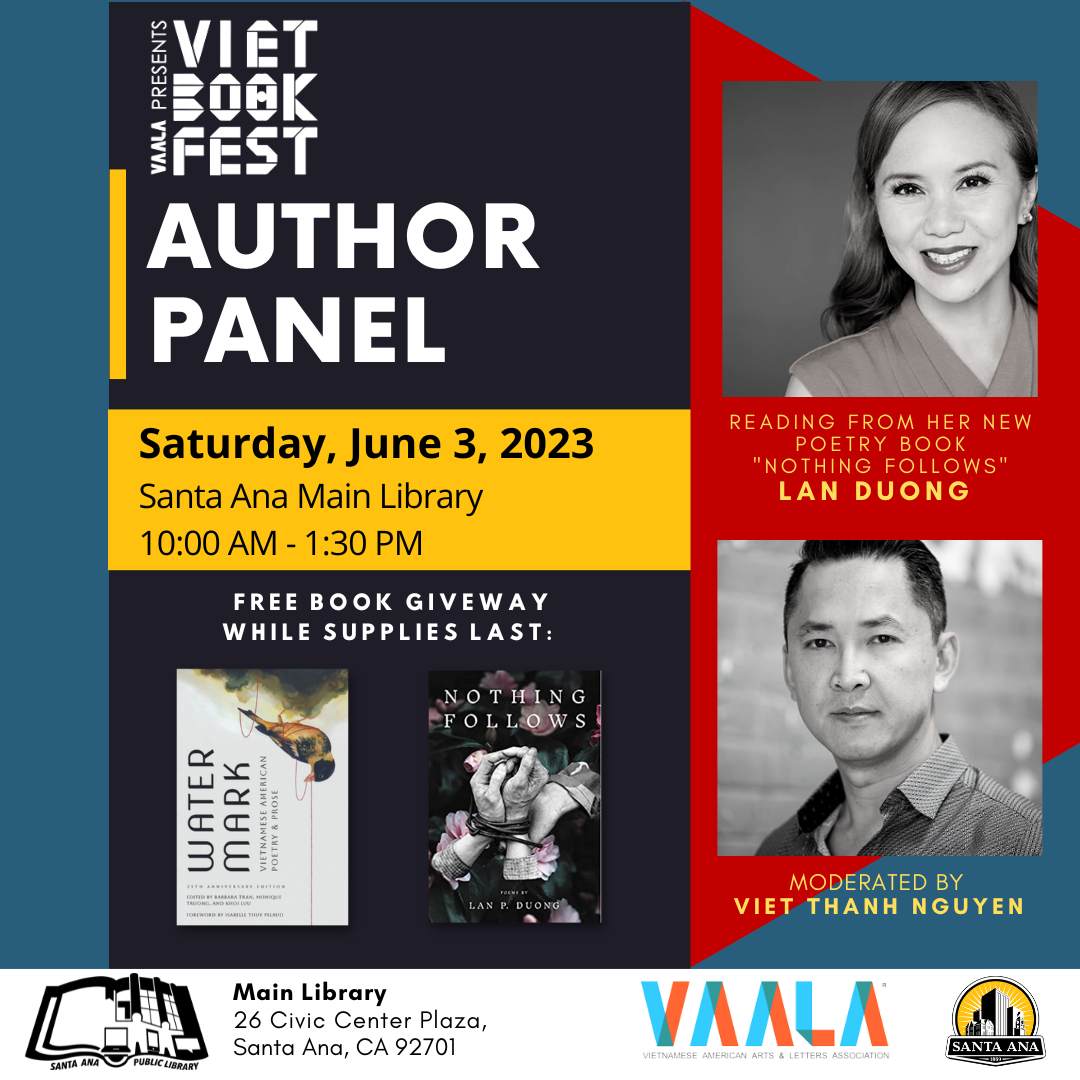 In collaboration with the Vietnamese American Arts and Letters Association (VAALA), the Santa Ana Public Library presents an author panel and book-signing. Authors will be discussing and celebrating Vietnamese American poetry, with Viet Thanh Nguyen, 2016 Pulitzer Prize winner, as moderator. The event is free and open to the public.
Saturday, June 3

10 a.m. – 1:30 p.m.

Main Library, 26 Civic Center Plaza, Santa Ana
---
Roosevelt Walker Community Center Open House – June 3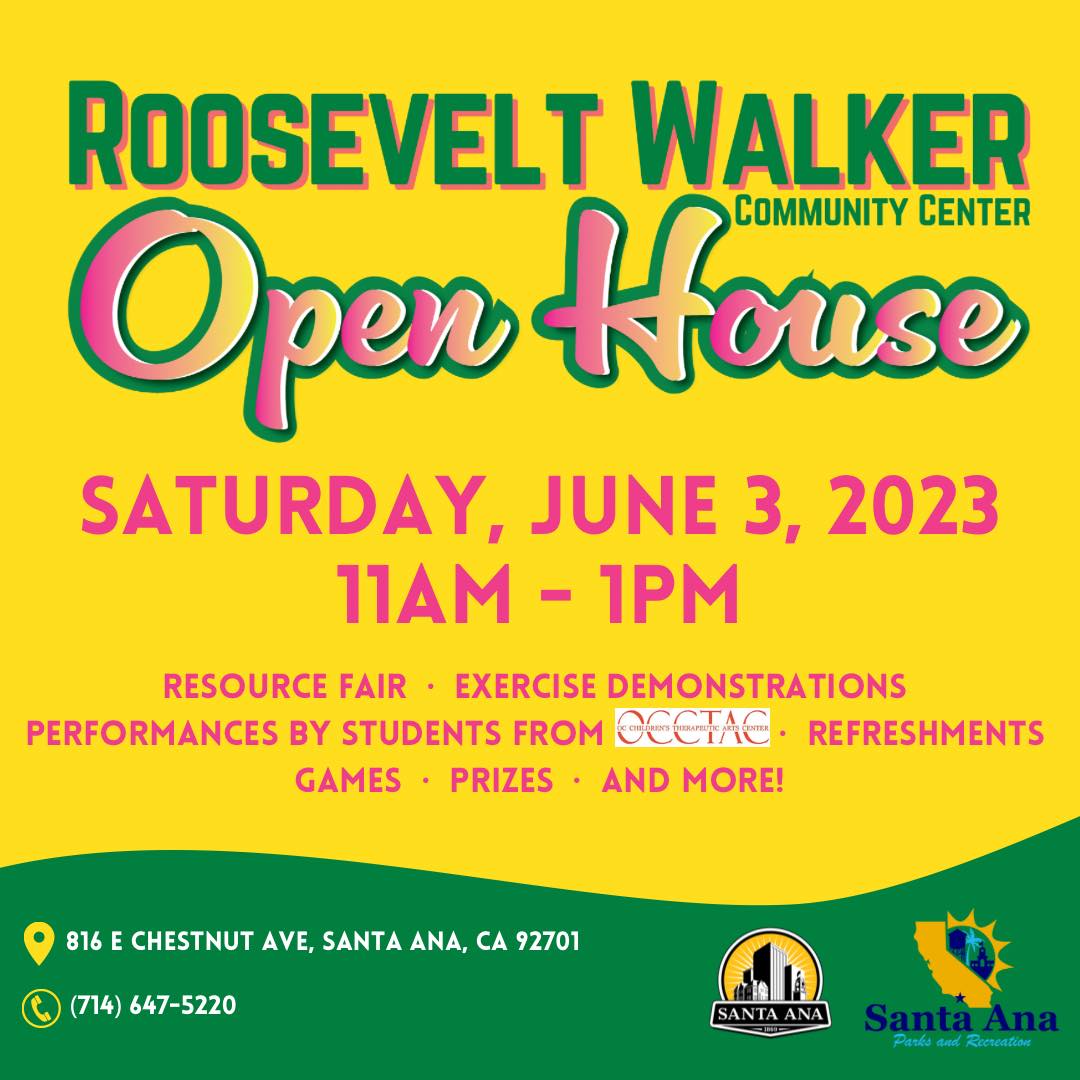 Santa Ana's Parks and Recreation, Health and Wellness Section invites you to the Roosevelt Walker Community Center Open House where you will learn more about the amenities and programs they offer while enjoying a community resource fair. This event is free and open to all ages. 
Saturday, June 3

11 a.m. – 1 p.m.

Roosevelt Walker Community Center, 816 E. Chestnut Ave., Santa Ana
---
Coffee and Donuts with OCFA – June 3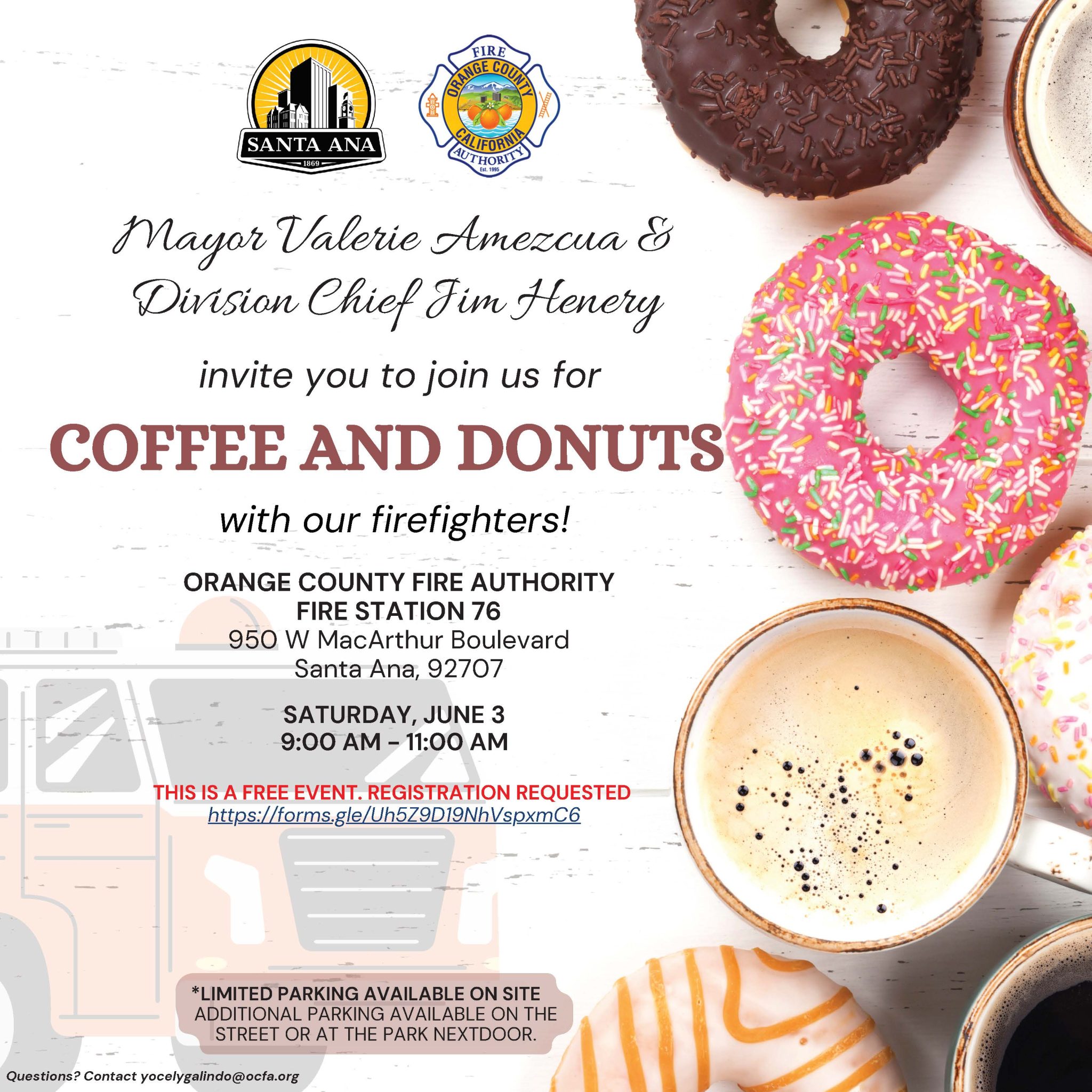 Come meet Orange County Fire Authority firefighters serving the Santa Ana community over coffee and donuts! Meet OCFA Division Chief Jim Henery and Mayor Valerie Amezcua. Fire and Water Safety information will be available. Fire Cadets will also be on hand with information on the Cadet Program for those ages 14-21 who are interested in careers in the fire service. Limited parking on site. Street parking is available.
Saturday, June 3

9-11 a.m.

950 W. MacArthur Blvd., Santa Ana
RSVP for OCFA Coffee and Donuts
---
Juneteenth Festival – June 17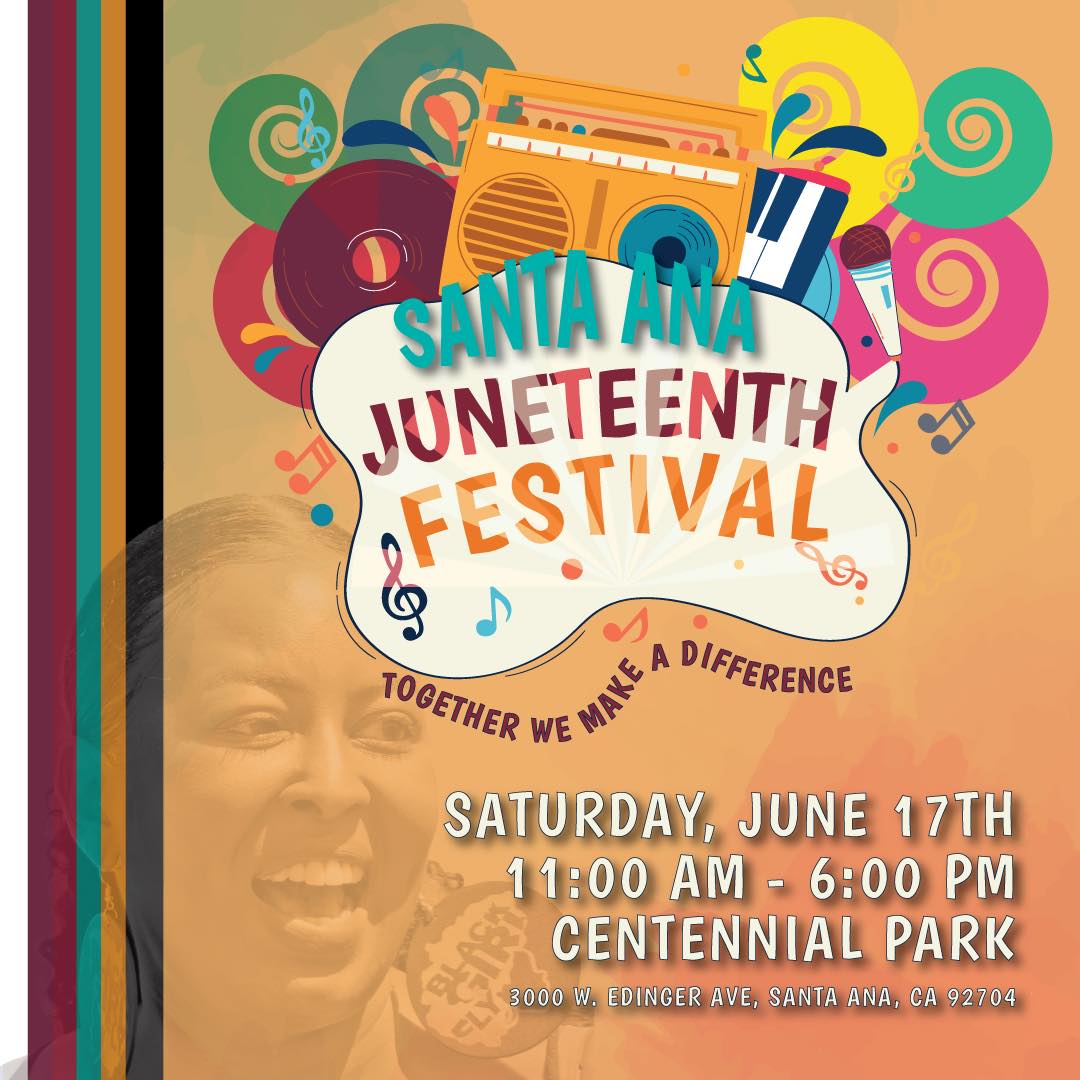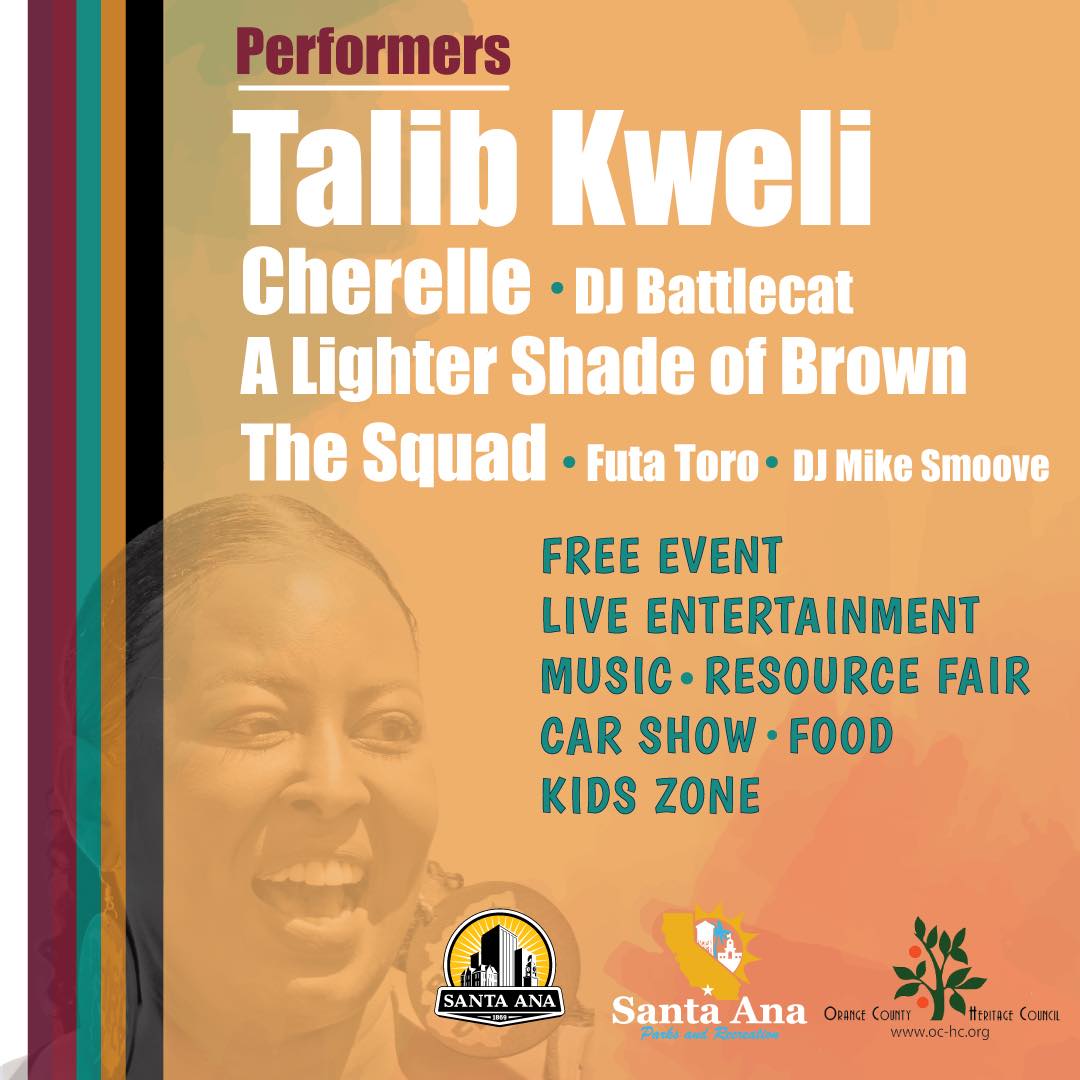 Save the date! Join us for a historical celebration at the Santa Ana Juneteenth Festival! This free, family-friendly event will have live entertainment, food, guest speakers, kids' activities, and more.
Saturday, June 17

11 a.m. – 6 p.m.

Centennial Park, 3000 W. Edinger Ave., Santa Ana
Learn more about the Juneteenth Festival
---
Resources
Report issues with the mySantaAna app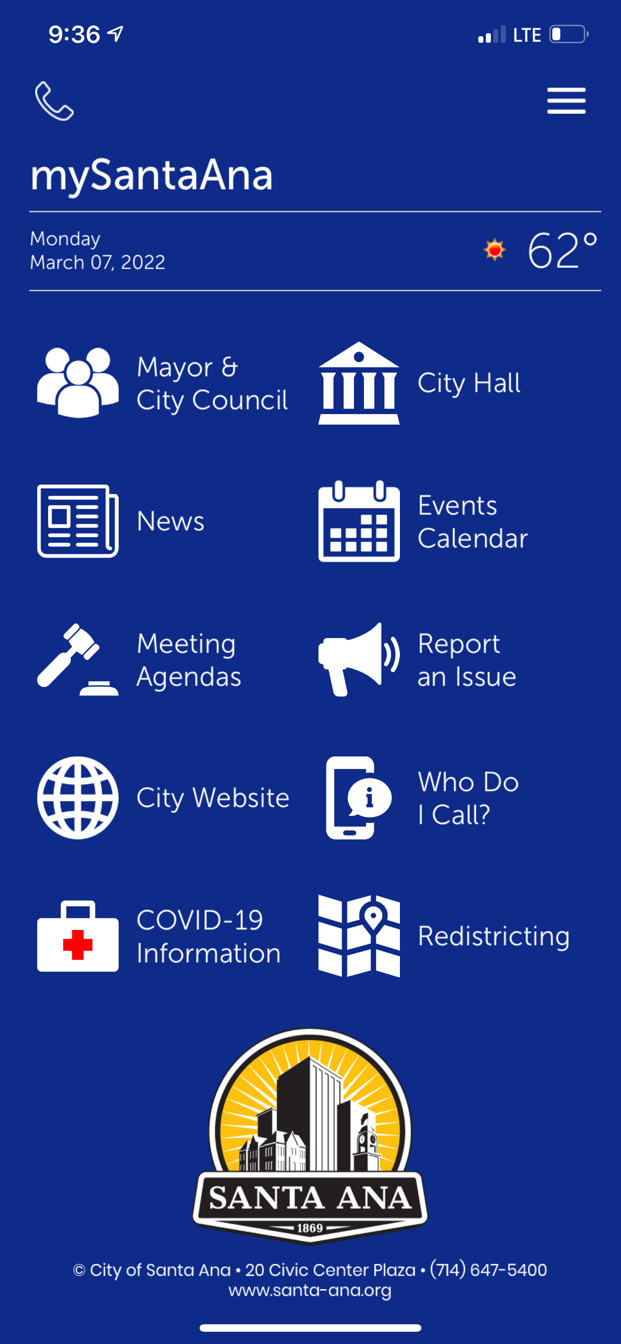 The mySantaAna mobile app puts the power of the City of Santa Ana government in the palm of your hand! Download the app to quickly and easily report issues such as potholes, graffiti, downed trees and much more.
---
Who do I call at City Hall?
Important phone numbers:
City Hall main line: (714) 647-5400

Code Enforcement: (714) 667-2780

Graffiti Hotline: (877) 786-7824

Emergency Water Services: (714) 953-8026

Public Works dispatch (street sweeping, trees): (714) 647-3380
Find more phone numbers for all City services
---
Utility services
---
Starting a small business?
---
Food assistance