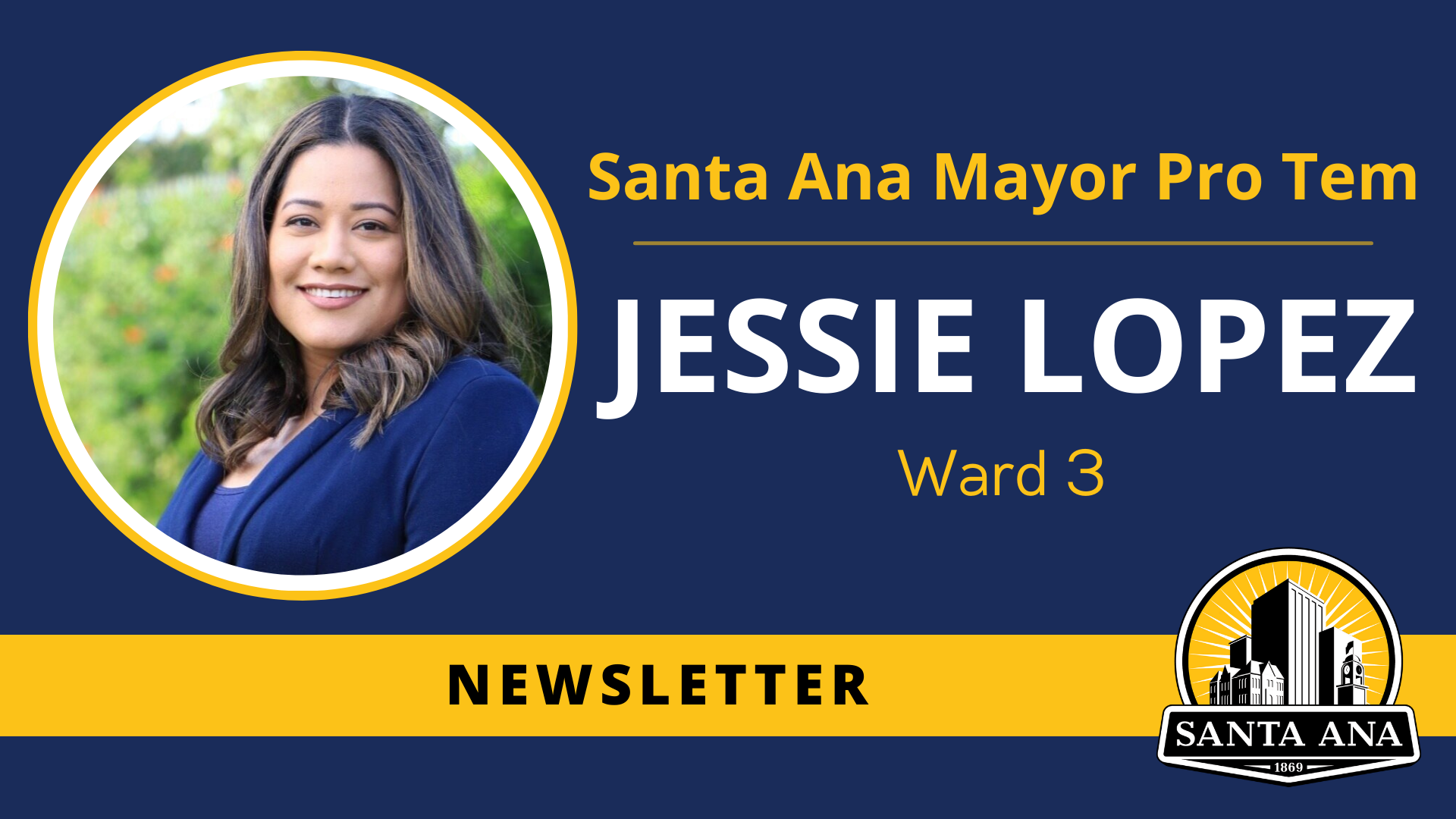 May 2023
Dear Ward 3 residents,
As we welcome the month of May, I want to take a moment to reflect on the positive work that we have accomplished so far. Through hard work and a united effort, we have achieved much for Ward 3, but we must acknowledge that there is still much work to be done.
Despite the challenges we face, I remain committed to protecting taxpayer money, improving our quality of life, and working together toward our common goals. These values have always been at the forefront of my priorities, and they will continue to guide my actions moving forward.
As we move through this month, let us remember the progress we have made and use it as motivation to continue our efforts. By staying focused and working together, we can create a brighter future for our community.
Thank you for your dedication and hard work. Let's continue to push forward with optimism and determination.
Best regards,
Your Mayor Pro Tem, Jessie Lopez
Subscribe to the Ward 3 Newsletter
---
Ward 3 highlights
Santiago Park Phase III design made possible with $400K Coastal Conservancy grant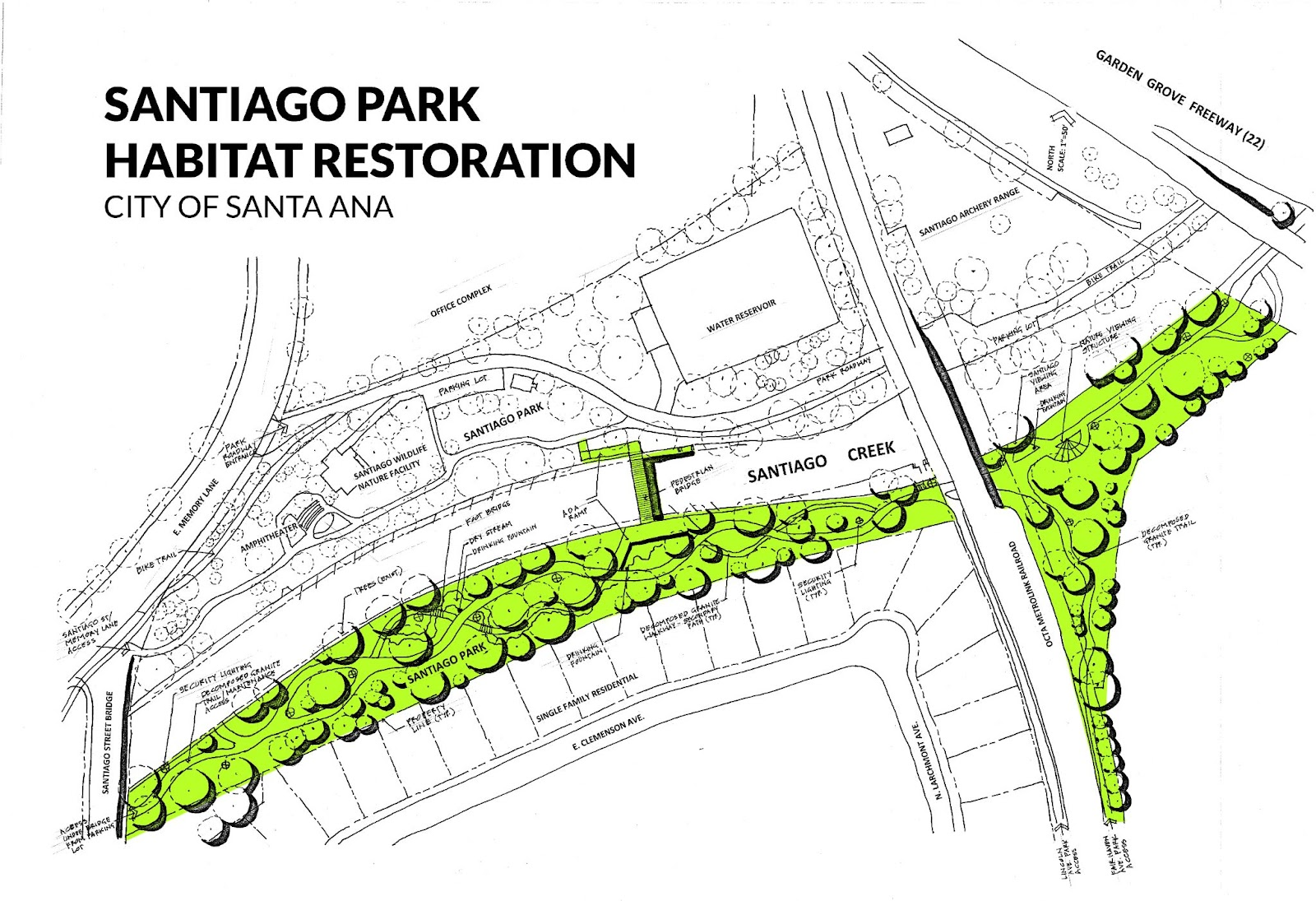 The City of Santa Ana has received a $400,000 grant from the California Coastal Conservancy for habitat restoration as part of our ongoing improvements at Santiago Park. This funding will help pay for a walking path, a pedestrian bridge over the creek connecting north and south sides of Santiago Park, new security lighting, security cameras, landscaping and irrigation, amenities including a fountain and benches, and interpretive signage.
---
Santiago Gashouse project update
Work is continuing on the $6 million Santiago Gashouse improvements that will transform and beautify this important Ward 3 park. Currently the City is doing landscaping and renovations of the historic gashouse and restroom buildings. Entry sign monuments have been completed and we are waiting for the remainder of playground equipment to be delivered. Estimated completion is June 2023. This major renovation project will remove a portion of Valencia Street and connect this area with the existing Oak Grove picnic area, adding an outdoor natural amphitheater, picnic facilities/tables, ADA accessible concrete walkways, decomposed granite jogging trail connections, security lighting, irrigation, and landscaping. The project will also renovate the existing park restroom to relocate the doorway for better visibility to the log cabin and play equipment area.
---
Santiago Park Fairhaven Trail upgrades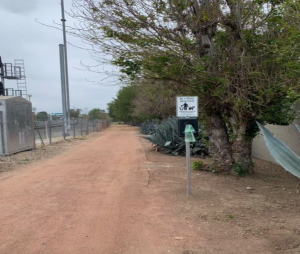 Our Public Works Agency recently re-graded the Santiago Park Fairhaven Trail and installed a new doggie bag dispenser. It looks so much better and I can't wait to see our neighbors out on the trail!
---
Santa Clara and Bristol Street Traffic Signal Upgrades
Plans to upgrade the traffic signal to all-four turn signals at the intersection of Santa Clara Avenue and Bristol Street are complete. The project is going out to bid and construction will start in about April of next year. This project was requested by both West Floral Park and Riverview Neighborhoods.
---
Santa Clara Bike Lane and Pedestrian Improvement Project
Our Public Works Agency is working to make Santa Clara Avenue safer for bicyclists and pedestrians! The project involves bike lane striping, installation of ADA ramps, bulb outs at street crossings, new traffic signals, upgrade of existing traffic signals, and slurry paving from Lincoln Avenue to Pasadena Street along Santa Clara.
---
Supporting DTSA Art Walk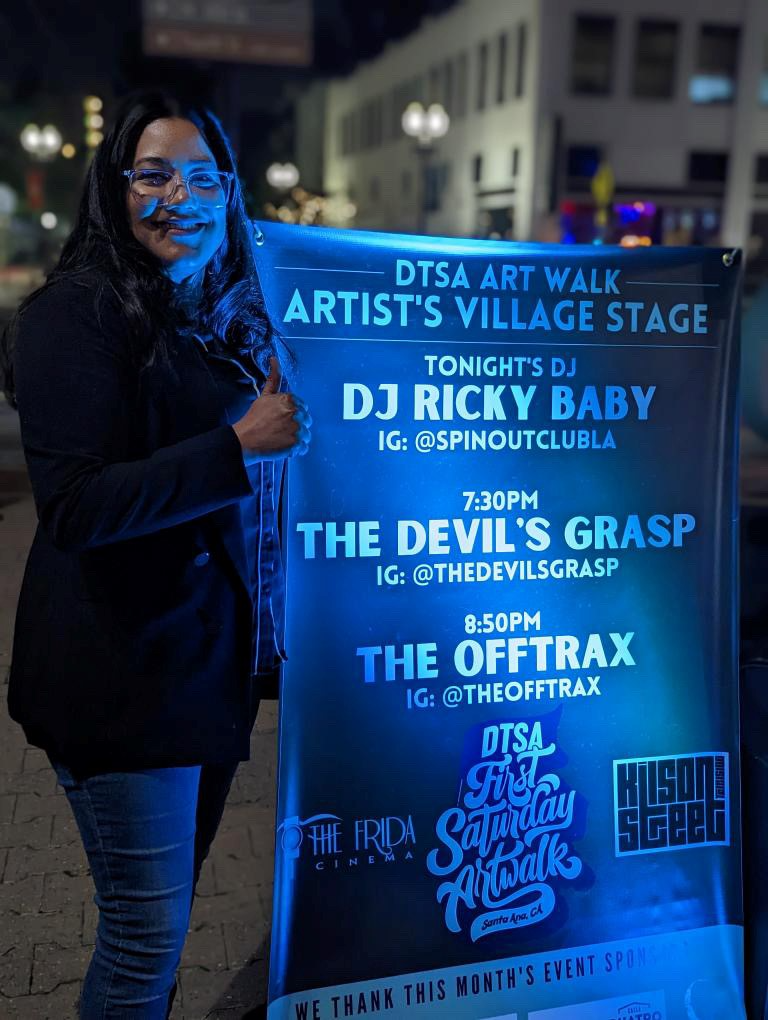 As a strong supporter of the arts in Santa Ana, I am proud to support downtown's monthly Art Walk and the Grand Central Art Center. I encourage all of our residents to come out on the first Saturday of each month to enjoy DTSA Art Walk, where you can find live art and music, outdoor vendors, local galleries, dancing, and many other activities.
---
Caltrans unveils freeway beautification project near zoo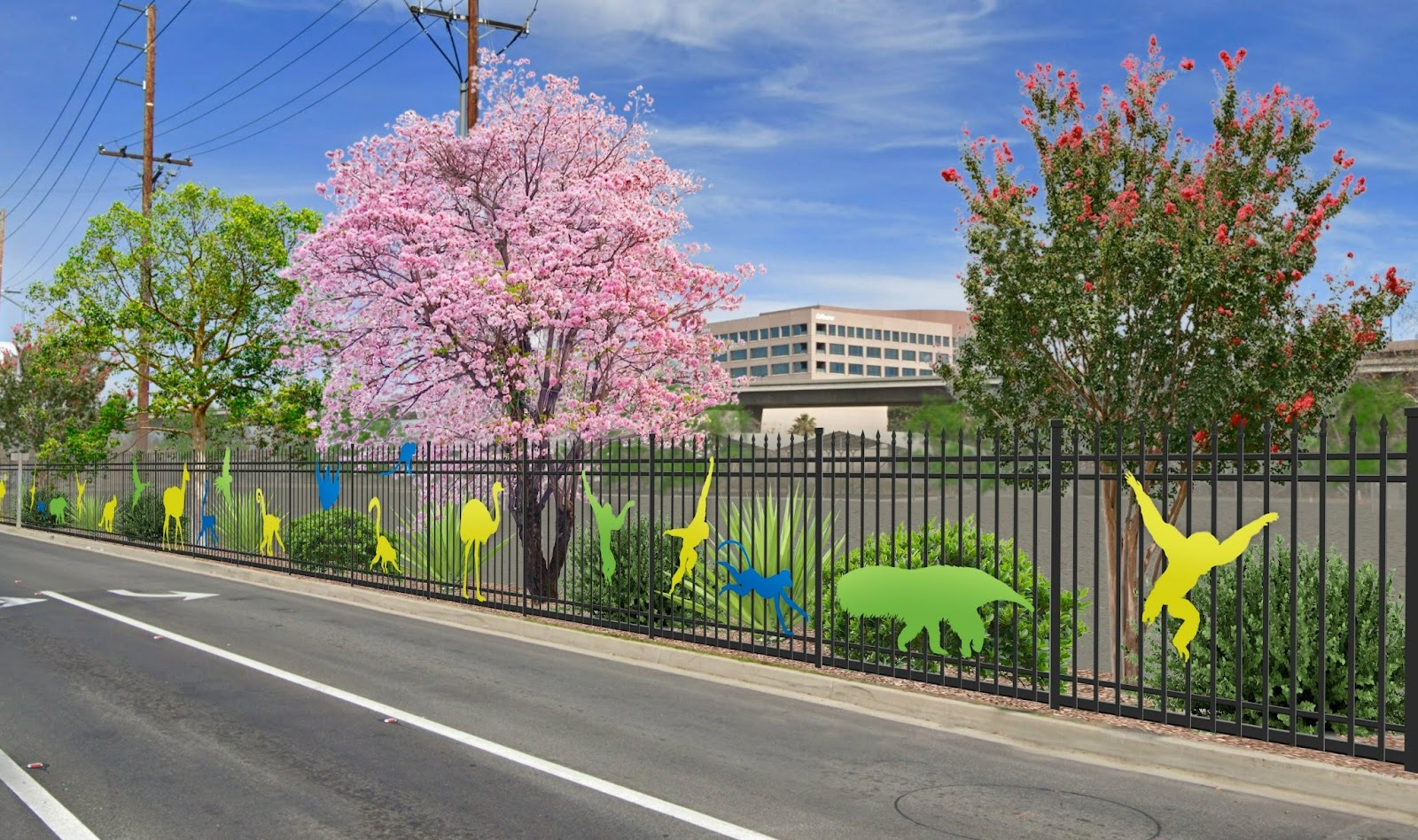 I worked with the Saddleback View Neighborhood Association and our public works staff to provide feedback to Caltrans on their beautification project at the I-5 and SR-55 freeways. I couldn't be happier with the results! Caltrans unveiled these designs for decorative paving and incorporating fun animal-themed icons near the Santa Ana Zoo. This project will add a colorful and appealing touch to our freeway corridors in Ward 3.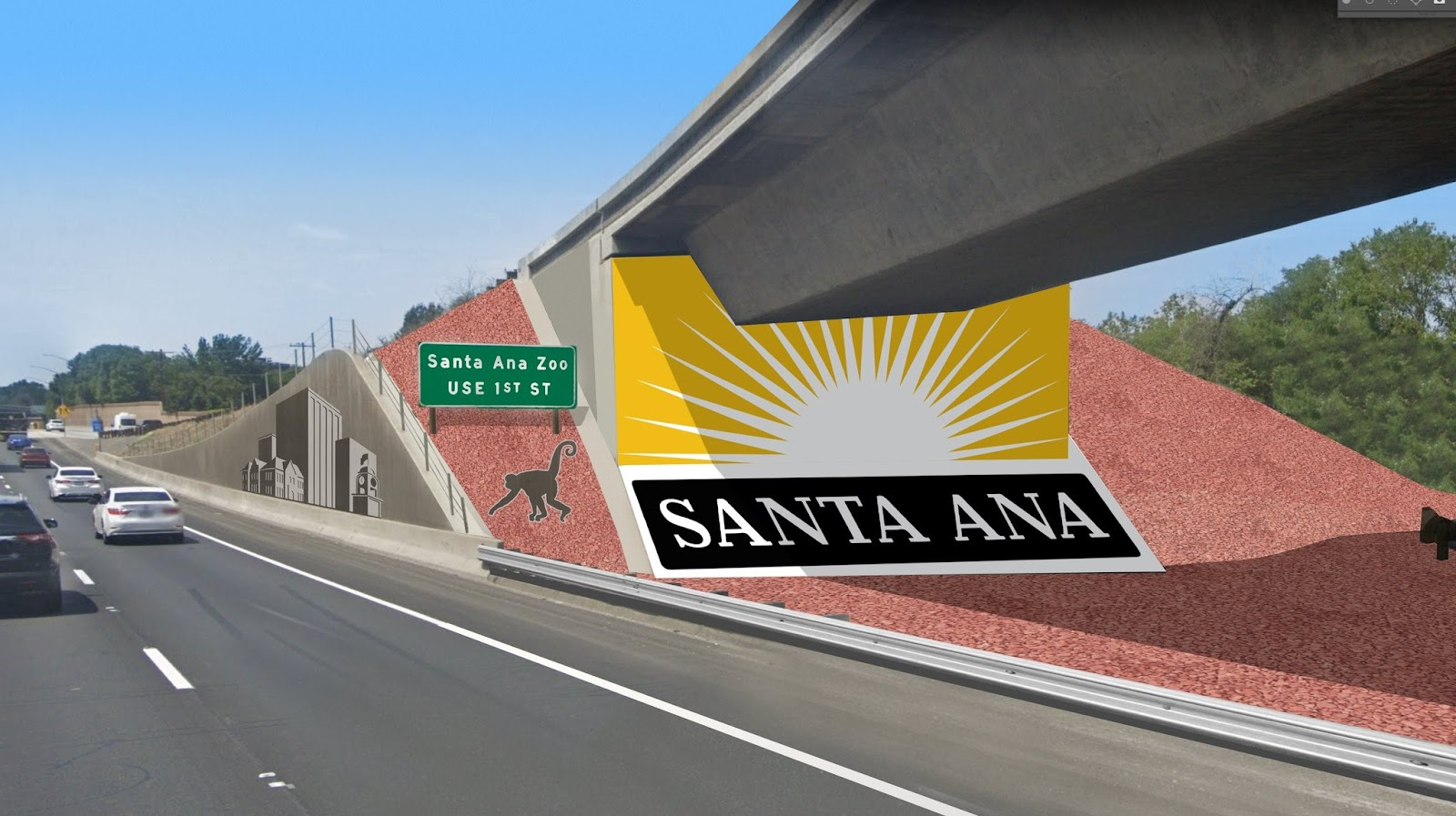 ---
OCTA: Recognizing employees and supporting downtown businesses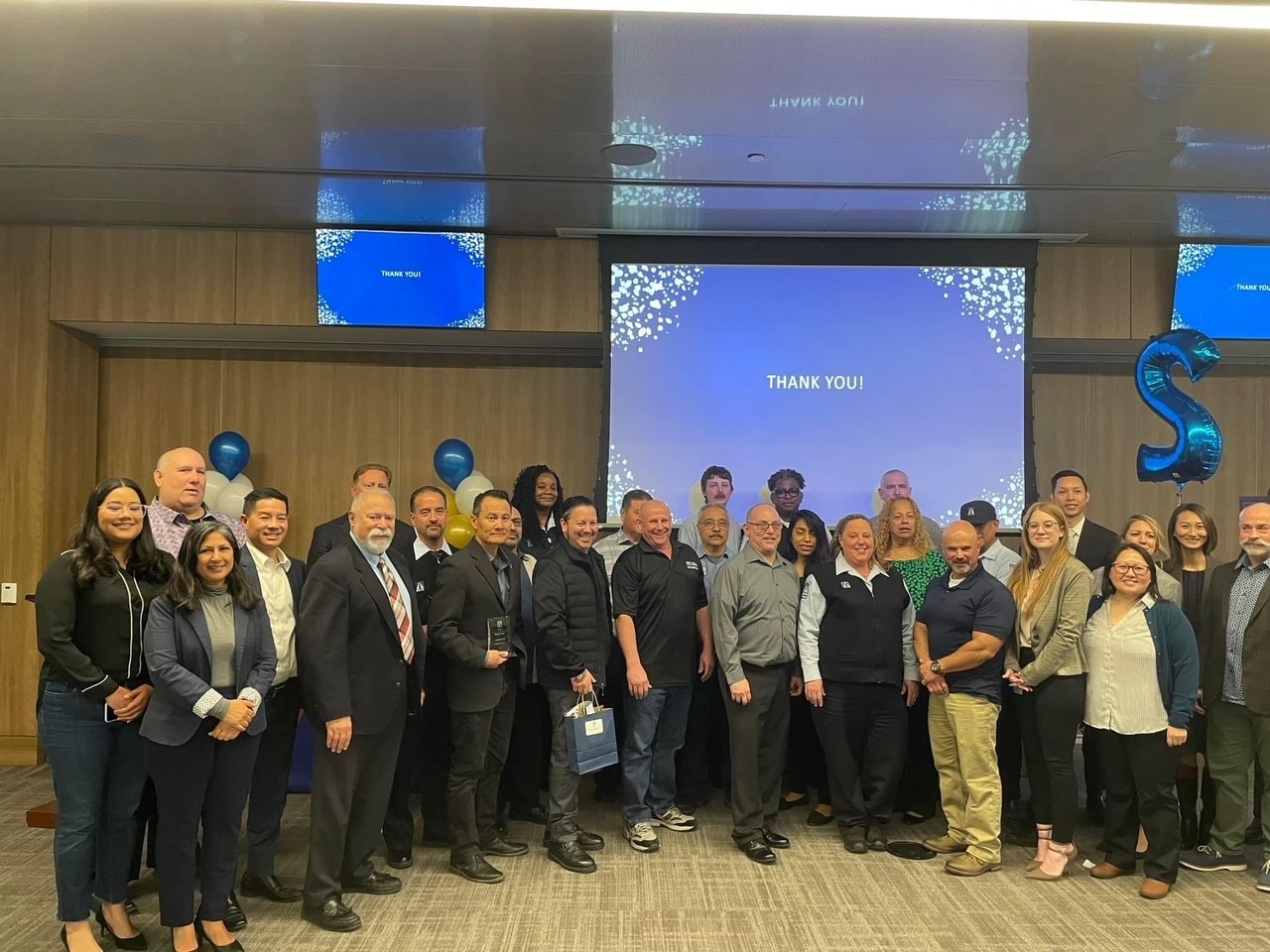 As a member of the Orange County Transportation Authority board, appointed by the Santa Ana City Council, I attended an employee recognition event for our OCTA workers. OCTA provides an essential service for all of Orange County, but especially Santa Ana where many of our residents depend on public transportation. OCTA couldn't do it without dedicated employees working days, nights and weekends, whether driving buses, keeping the vehicles running or in any of OCTA's many other important jobs.
I'm also continuing to work with OCTA in its efforts to support downtown businesses affected by the OC Streetcar construction. OCTA has been providing marketing assistance for individual businesses and all of downtown, signage to direct visitors to parking garages, and other support.
---
18th Street curbs repaired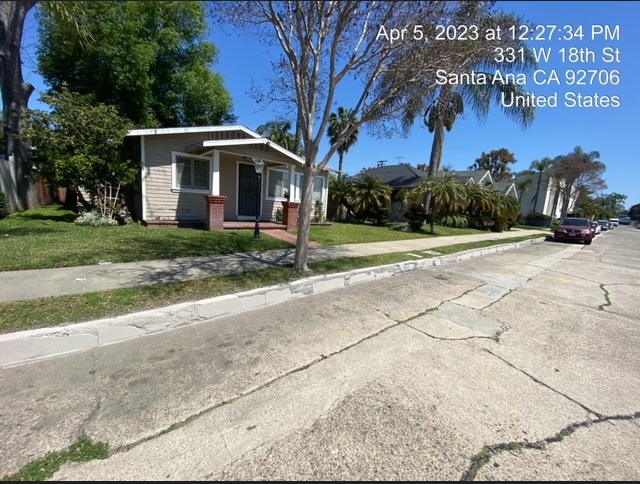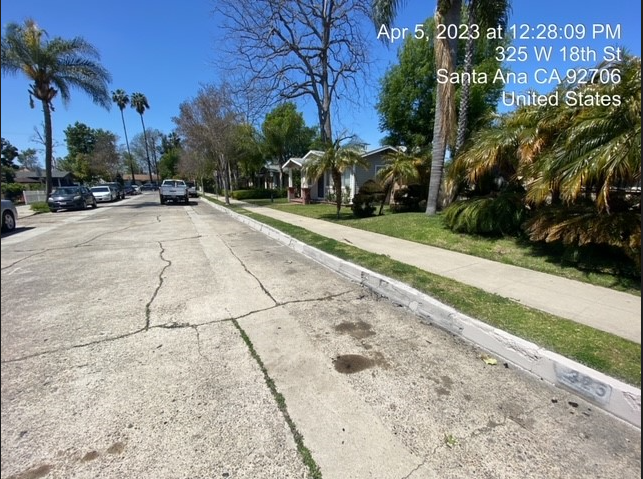 Thanks to our Public Works Agency staff, the curb along 18th Street has been repaired. Fixing our curbs, sidewalks and streets is a high priority to make our neighborhoods safer and more beautiful.
---
Addressing traffic concerns at Bonnie Brae/Santa Clara near Broadway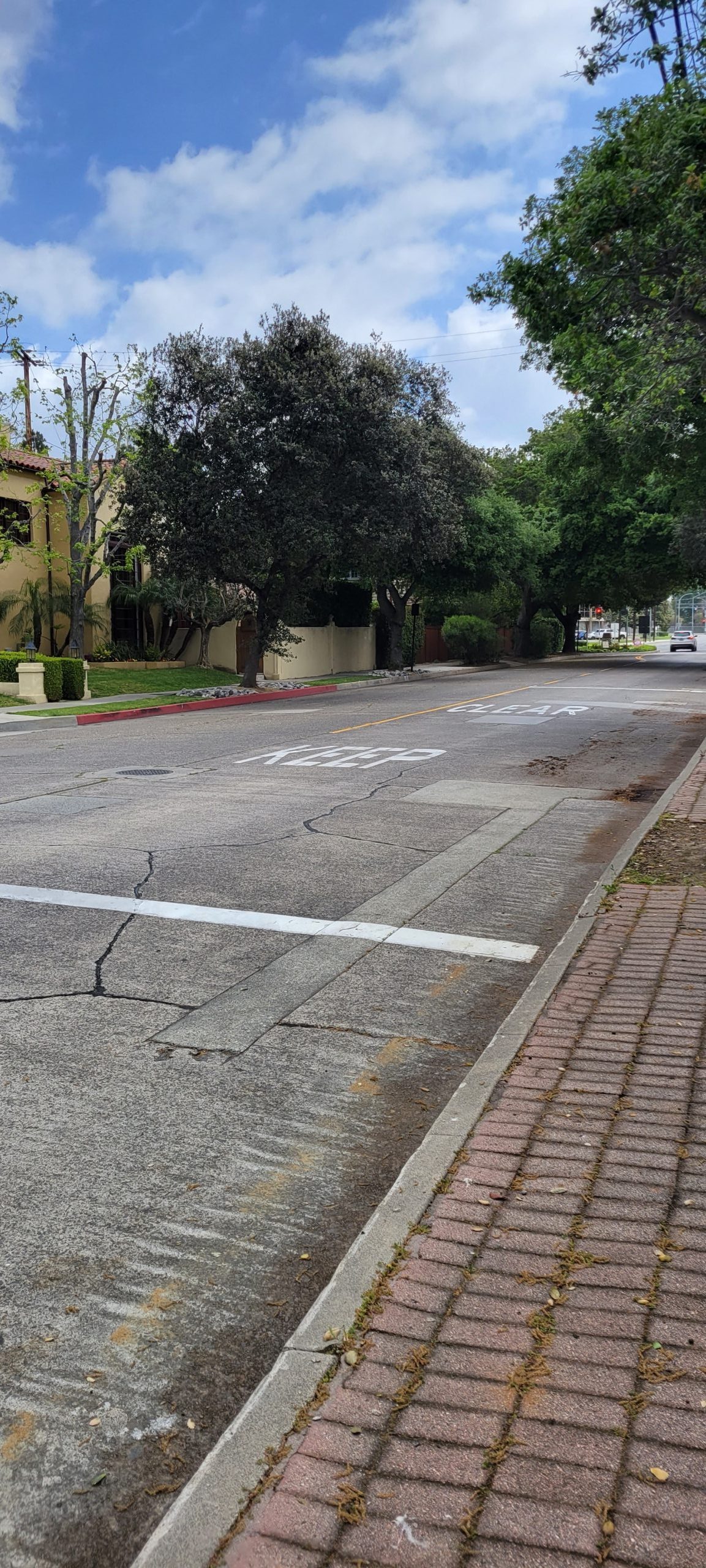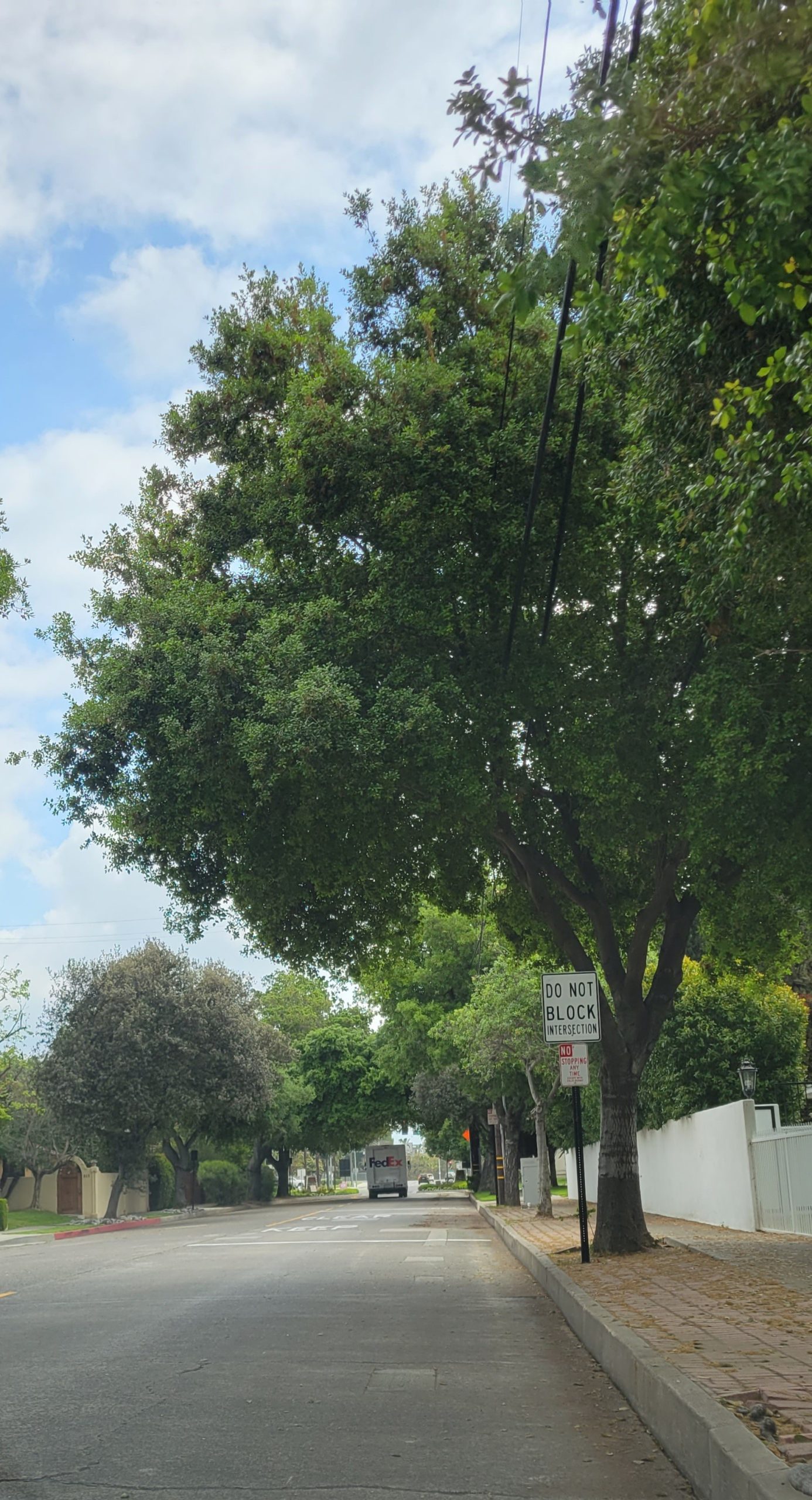 I am very happy to work with our Public Works Agency to address the traffic concerns at Bonnie Brae/Santa Clara near Broadway by re-striping the "KEEP CLEAR" pavement marking and installing a "DO NOT BLOCK INTERSECTION" sign on W. Santa Clara. These will help the traffic flow as well as public safety. Thank you to the Floral Park residents who highlighted this issue for the City. Please let us know if there's anything else we can do to improve the neighborhood!
---
Reappointment to Joint School Subcommittee
Recently the Santa Ana City Council reappointed me to serve on the Joint School Collaboration City Council Subcommittee. In this role, I represent the City in our important efforts to collaborate and work with the Santa Ana Unified School District so together we can better serve our youths and our community. The committee is composed of two City Councilmembers and two SAUSD board members. We discuss important issues such as literacy programs and providing crossing guards to keep our students safe.
---
Tethos recognized for contributions to community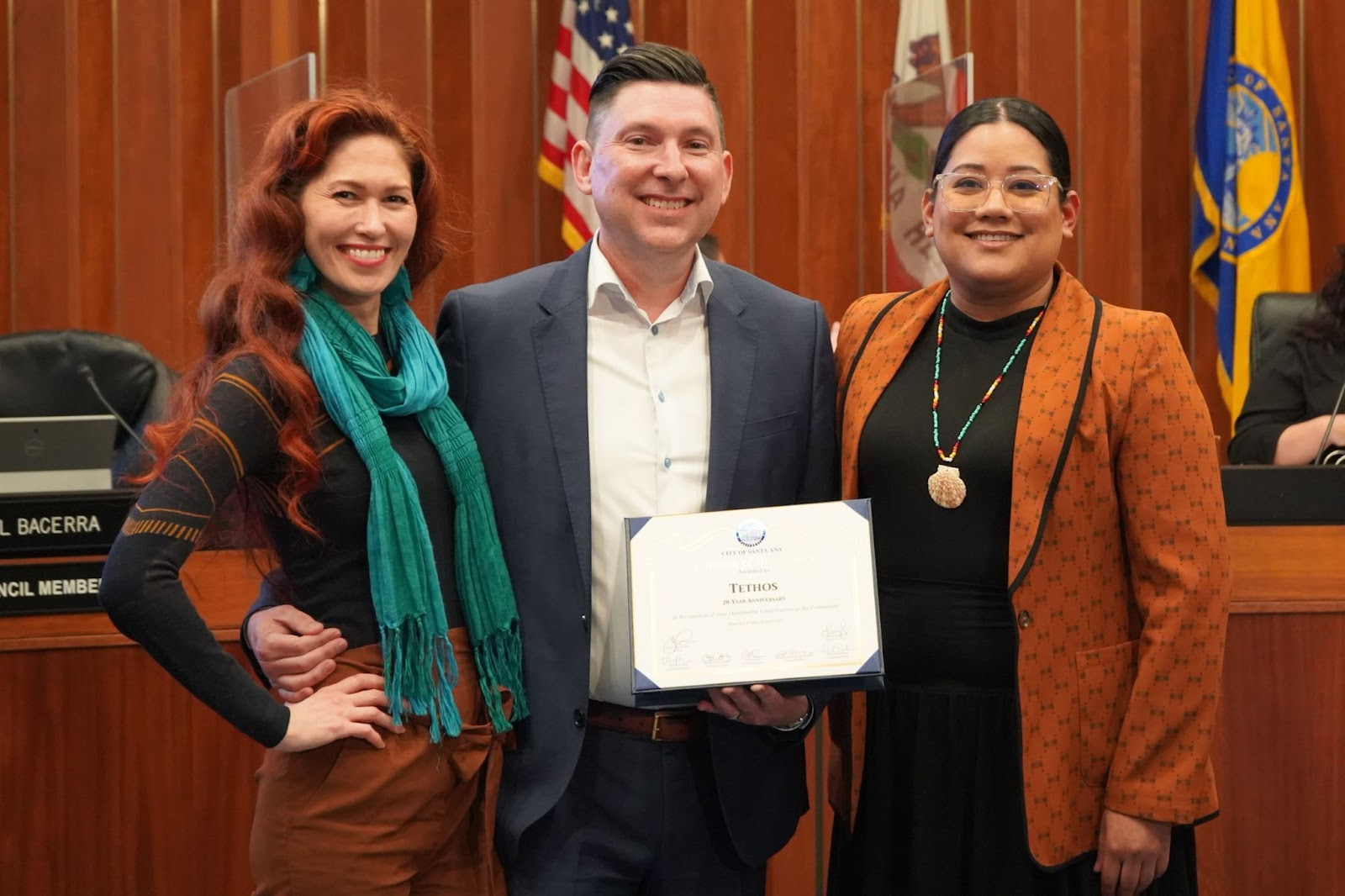 I was proud to present a Certificate of Recognition to local business Tethos for 20 years of outstanding contributions to the community. Tethos is a strategic communications and design company that dedicates a portion of its work to helping non-profit organizations.
---
Proclamation for We Care Month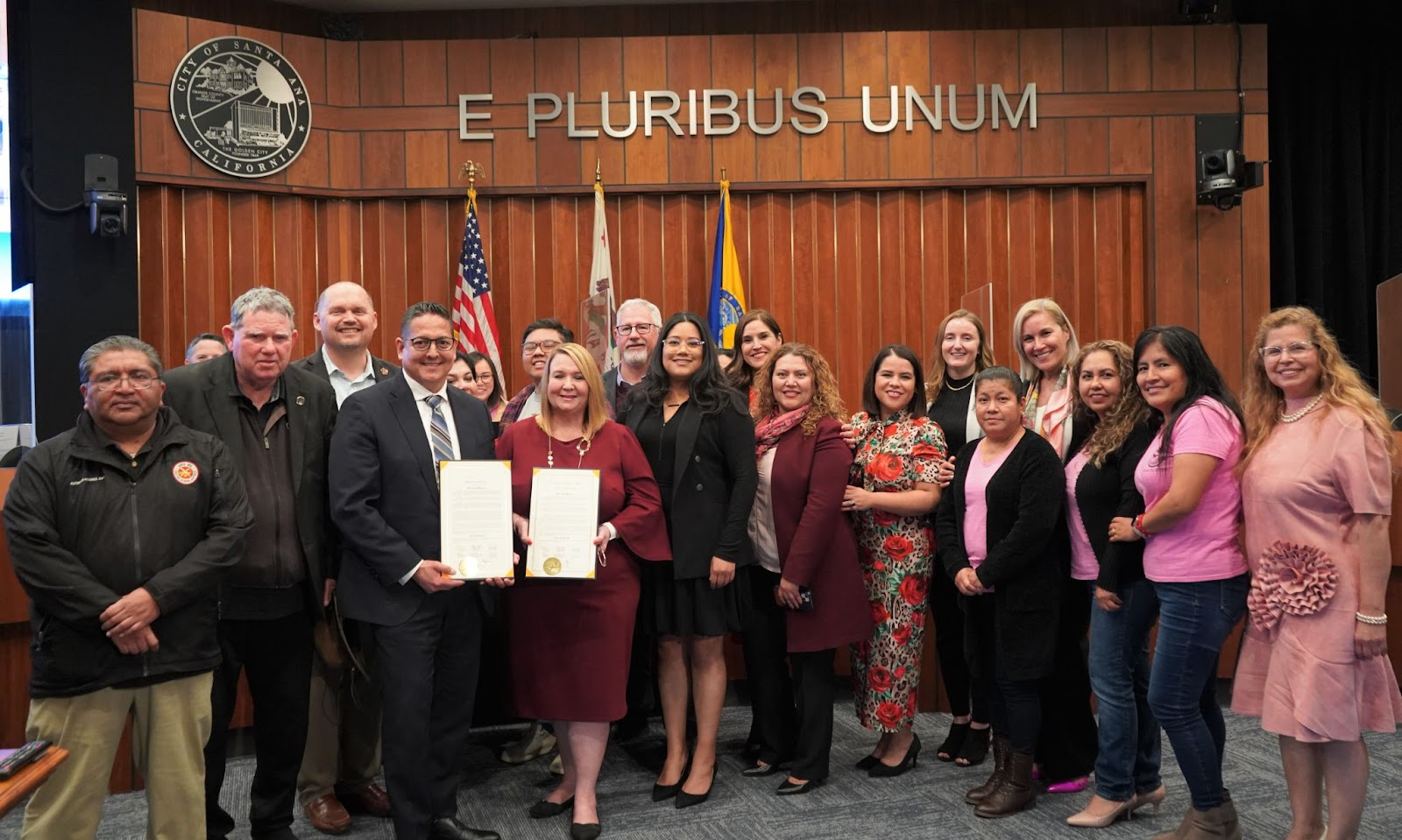 I presented a proclamation to the Santa Ana Unified School District and the Santa Ana Youth Mental Health Sub-Committee declaring February 2023 as We Care Month. This incredible program from SAUSD provides resources and education to address students' mental and emotional health, with a focus on suicide prevention.
---
City news
New basketball court unveiled at Portola Park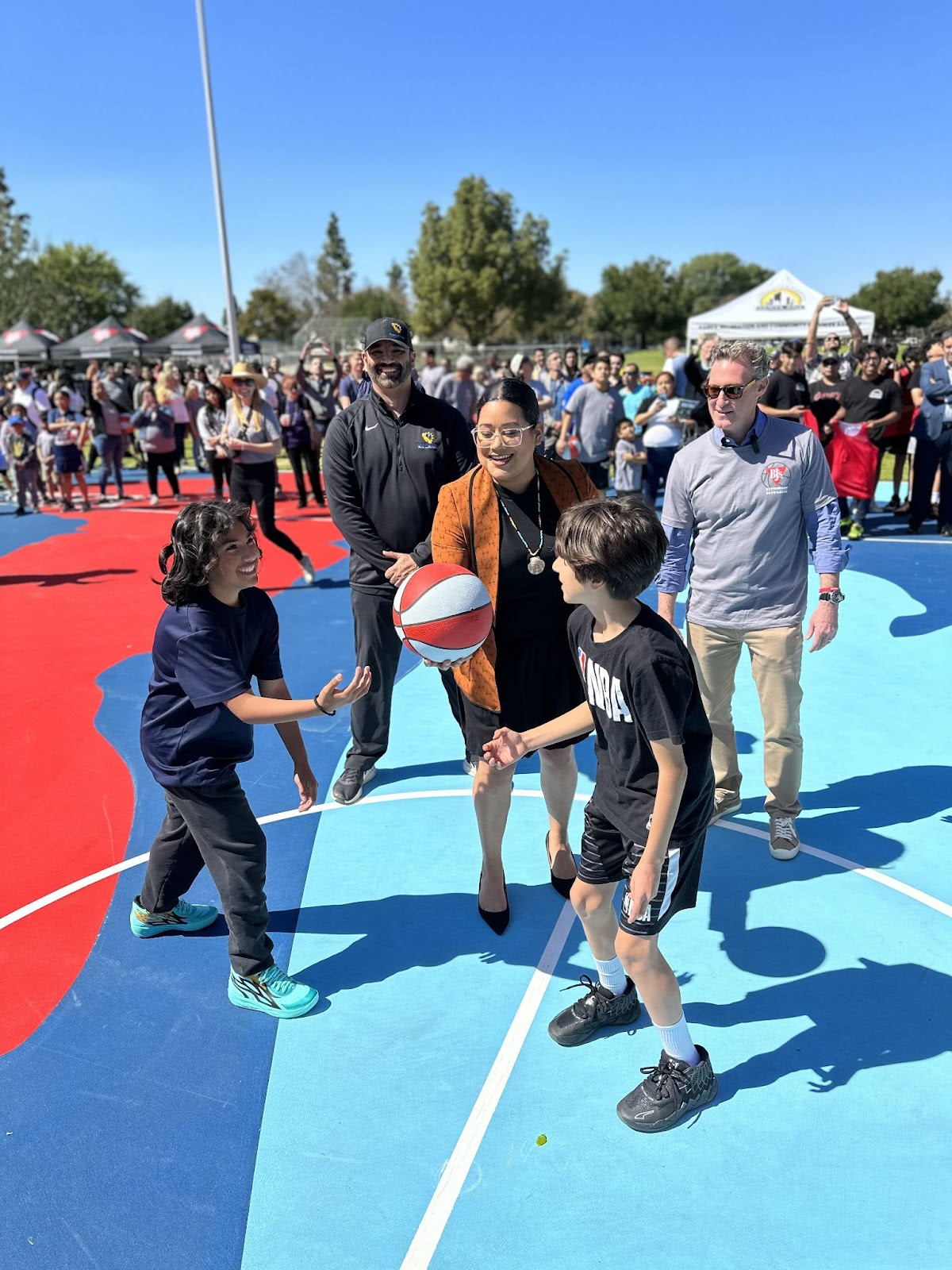 I had the honor of throwing the ball for the ceremonial tip-off to unveil a refurbished basketball court with a beautiful new mural at Portola Park on Tuesday, April 4. In collaboration with BJ's Restaurant and Brewhouse and Project Backboard, our Parks, Recreation and Community Services Agency, worked to bring this project to fruition. BJ's funded the court refurbishment at an estimated value of $75,000, and Project Backboard created the artwork and design. The event was well attended by the community and featured free food from BJ's, a slam dunk exhibition and a youth basketball game.
---
Riverview Park getting new restrooms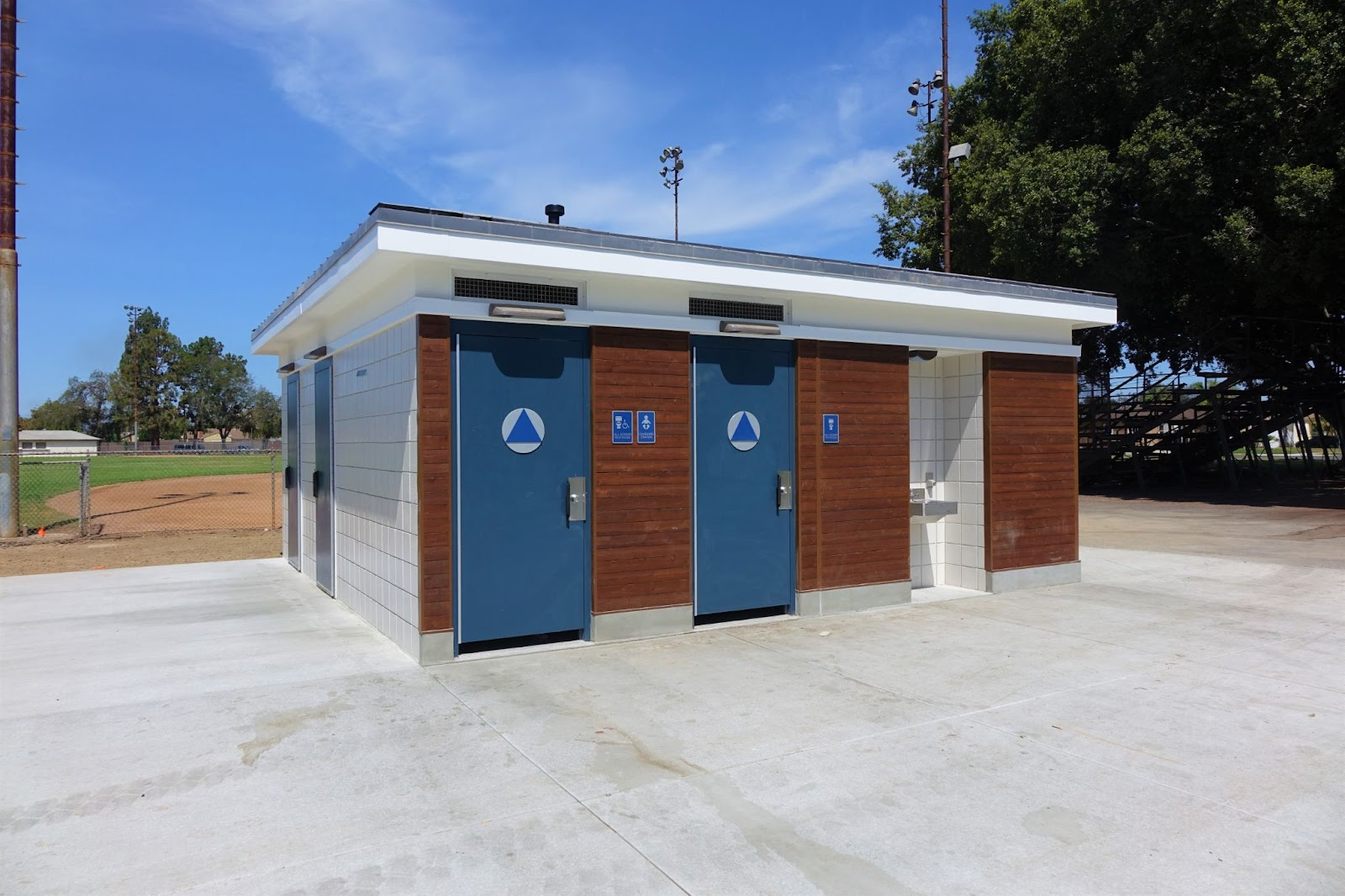 The City Council recently awarded a contract to demolish the restrooms at Riverview Park and build brand new ones. This is one of several new park restrooms being built citywide through our federally funded Revive Santa Ana pandemic recovery program, such as the one pictured here at Memorial Park.
---
Join OCTA's Teen Council!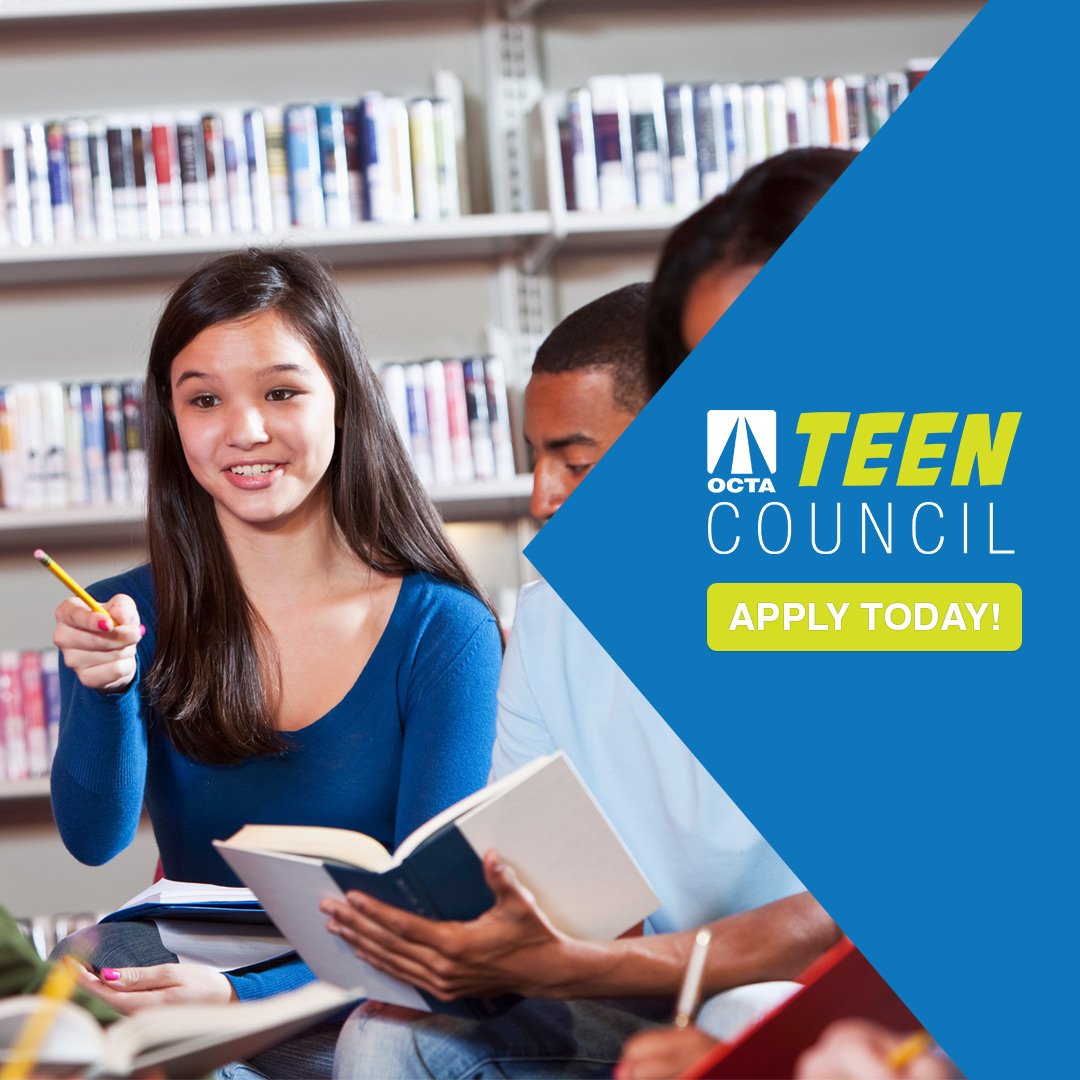 The Orange County Transportation Authority has created a new Teen Council that Santa Ana youth can now apply to join. High school students can develop leadership skills and make a difference in public transportation through their involvement on the Teen Council. Empower your teen to have an active voice and create a better commuting experience for all!
---
Get services
SCE and SoCalGas offer utility bill assistance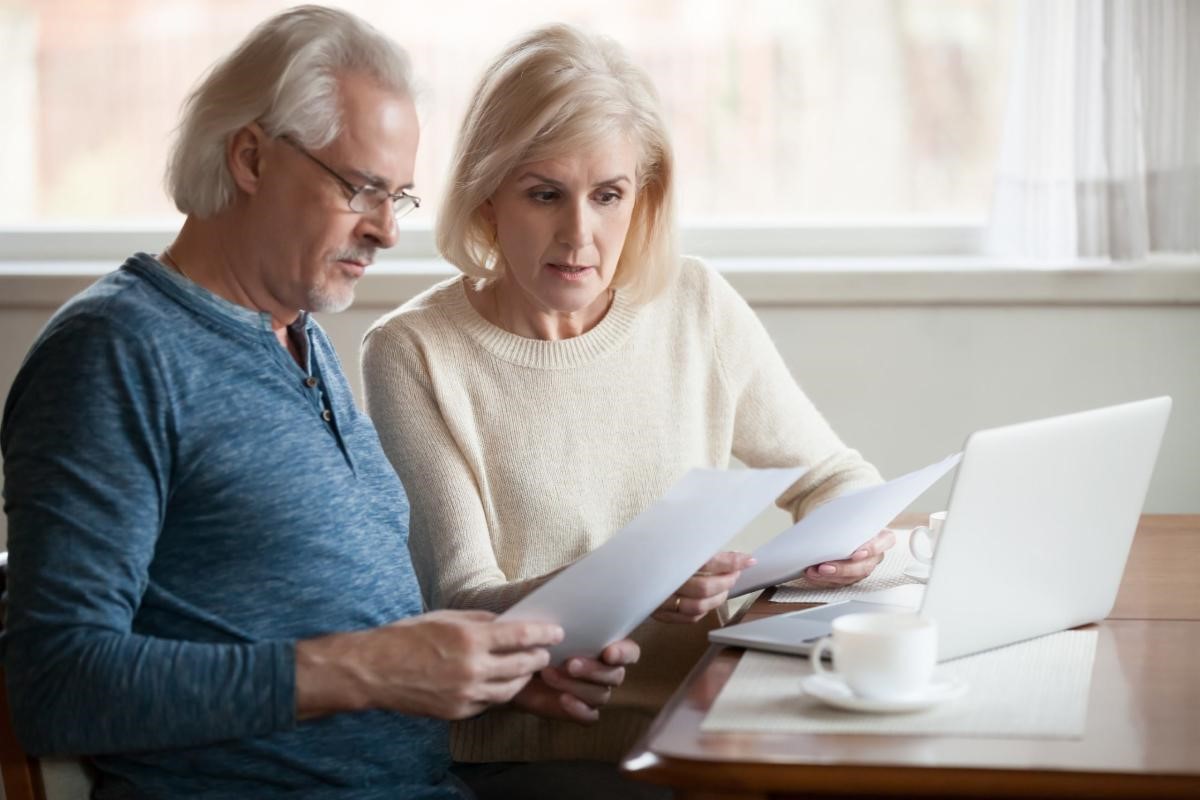 Southern California Edison and SoCalGas both offer assistance programs for residents who may be struggling to pay their bills during the recent surge in utility prices. SoCalGas programs include energy-efficient home upgrades at no cost, past-due bill forgiveness, 20% monthly discounts, a one-time bill grant, and federal bill assistance. SCE offers payment arrangements and extensions, one-time bill assistance, debt forgiveness for qualified residential customers and more.
---
Events & Meeting
OCTA Bike Rally to Celebrate Bike Month – May 18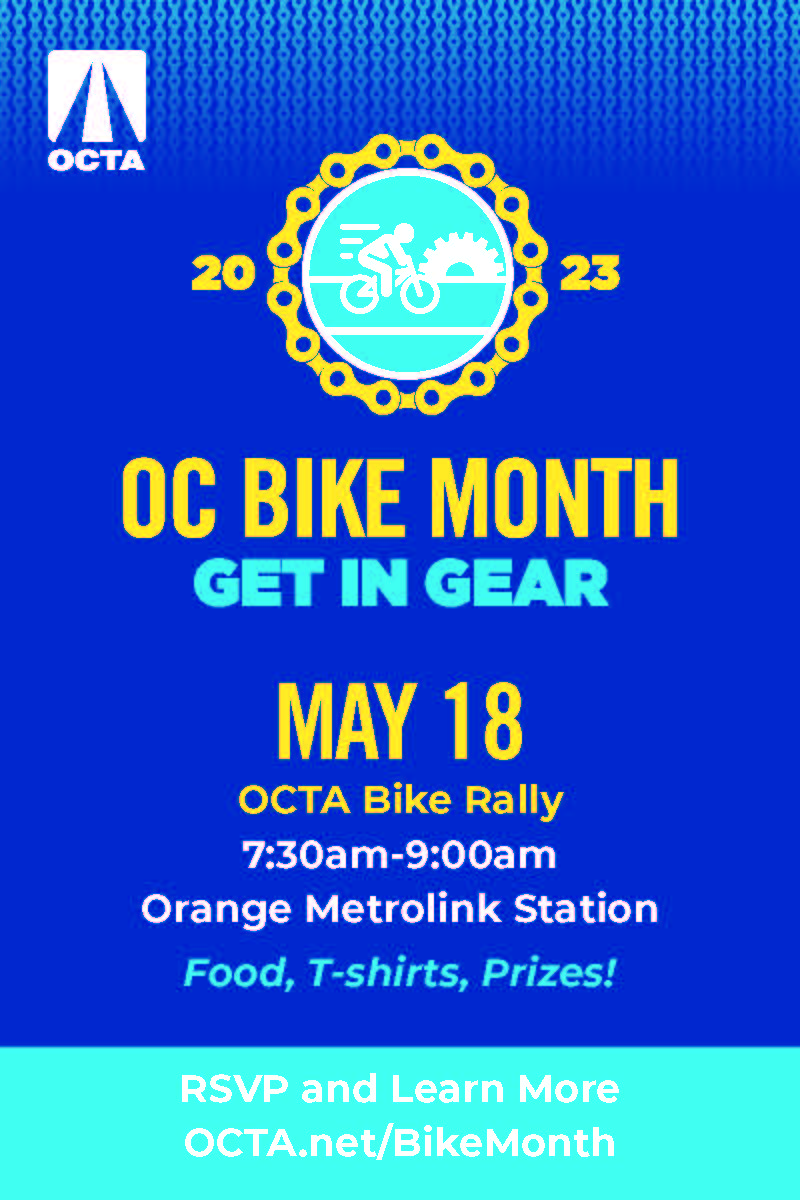 Orange County Transportation Authority (OCTA) invites all of Orange County to celebrate National Bike Month in May! National Bike Month promotes the benefits of cycling, sharing safety tips, and offering digital toolkits to encourage everyone to promote Bike Month.
Thursday, May 18

7:30-9:30 a.m.

Orange Metrolink Station, 194 N. Atchison St., Orange
---
Public Works free community event – May 20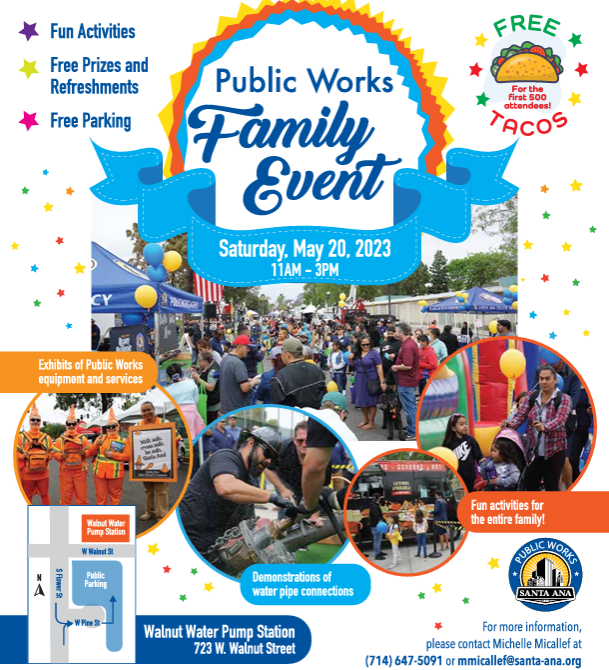 To celebrate National Public Works Week, our Public Works Agency is hosting a free community event on Saturday, May 20, 2023, from 11 a.m. to 3 p.m. at the Walnut Water Pump Station located at 723 W. Walnut St. Free event parking is available in the lot at Flower and Pine streets.
Saturday, May 20

11 a.m. – 3 p.m.

Walnut Water Pump Station, 723 W. Walnut St.
---
Polynesian Pacific Islander Performance – May 20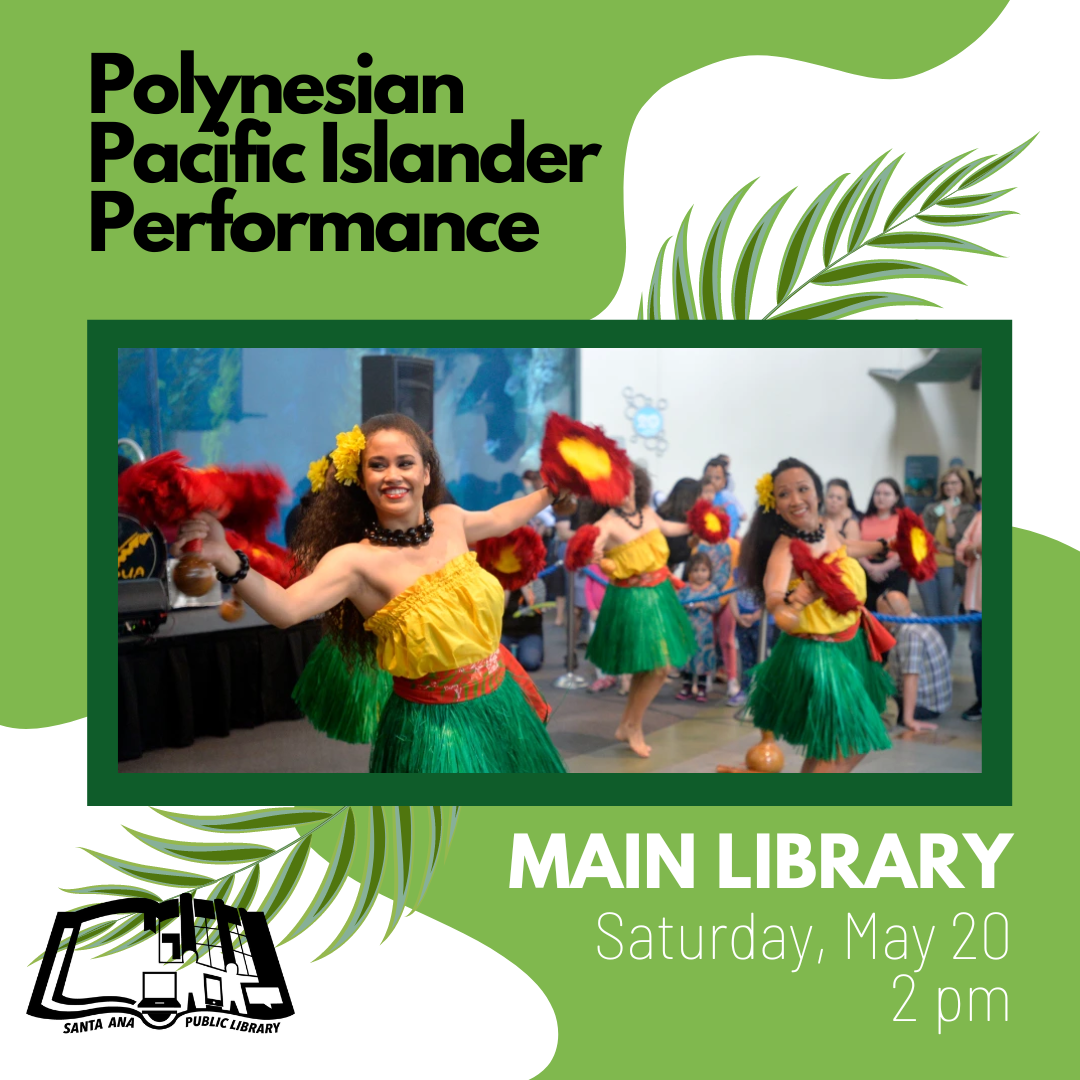 Celebrate Asian Pacific American Heritage month with Santa Ana Public Library by enjoying a special Pacific Islander dance performance by Tupua Productions and learn more about Pacific Islanders and their diverse cultures.
Saturday, May 20

2-3 p.m.

Main Library, 26 Civic Center Plaza
---
Free Resident Day at Santa Ana Zoo – May 21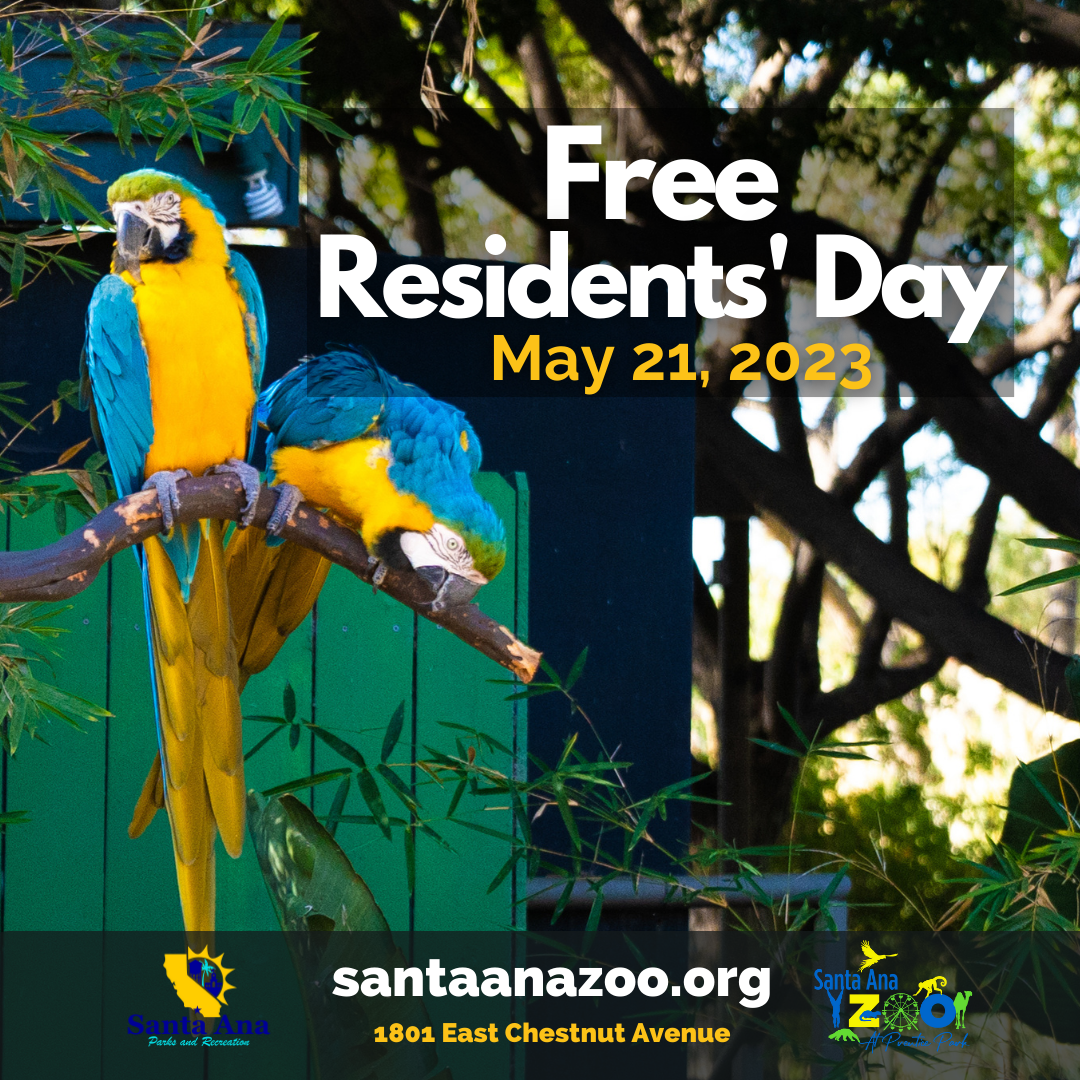 Santa Ana residents receive free admission to the Zoo on the third Sunday of every month. Proof of residency (such as ID or a utility bill) is required.
Sunday, May 21

10 a.m. – 5 p.m. (last admission is at 4 p.m.) 

Santa Ana Zoo, 1801 E. Chestnut Ave.
---
OC Streetcar Public Meeting – May 23 and 24

The OC Streetcar team will be hosting two public meetings to review construction activities and system power requirements. Brief presentations will be followed by Question & Answer sessions and both meetings will be held in English and Spanish.
Tuesday, May 23
8-9 a.m.
Perla Mexican Cuisine, 400 W. 4th St., Second Floor, Santa Ana
Wednesday, May 24
5:30 to 6:30 p.m.
Santa Ana Regional Transportation Center, 1000 E. Santa Ana Boulevard, Suite 100, Santa Ana
---
Author Talk with Jackie Bong Wright – May 27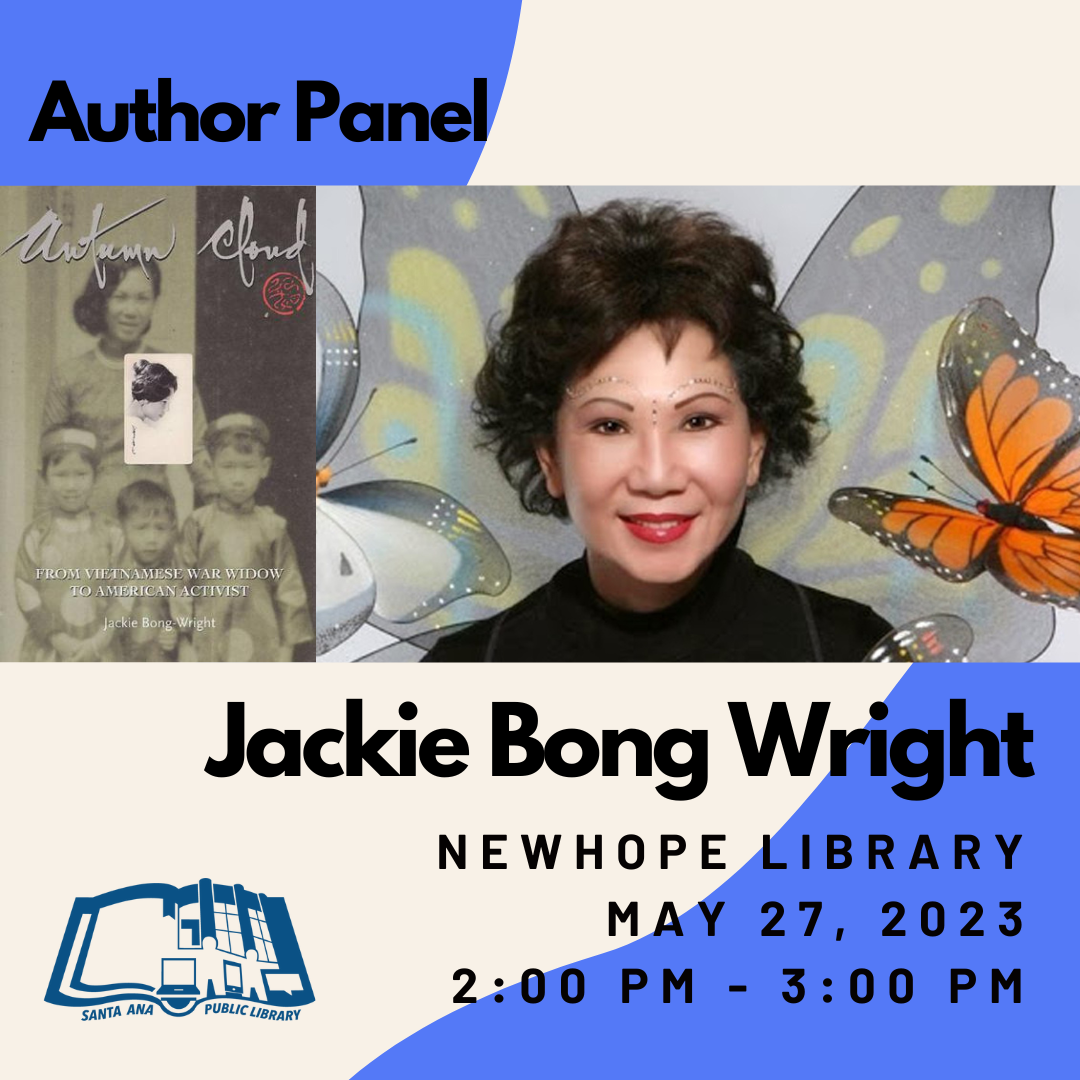 Come meet Jackie Bong Wright, acclaimed author of "Autumn Cloud,"  as she tells the story of her family's divided loyalties during the Vietnam war, her husband's assassination, and her journey from being a Vietnamese refugee to an American activist.  Contact us at 714-647-6992 for more information.
Saturday, May 27

2-3 p.m.

Newhope Library, 122 N. Newhope St.
---
Free Family Cycling Event – May 27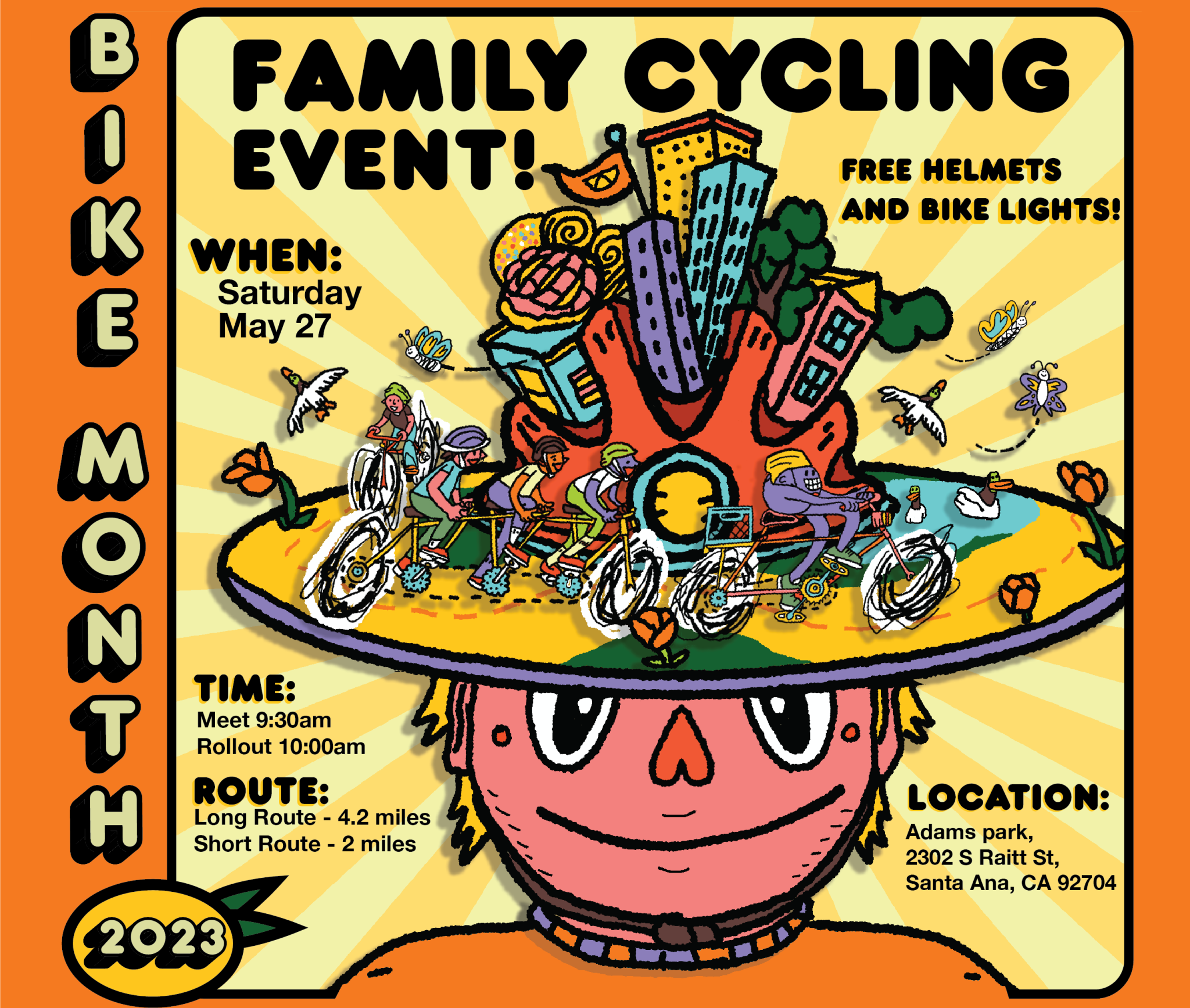 Join Santa Ana Active Streets (SAAS) for a free community cycling event to celebrate National Bike Month. There will be free helmets and bike lights for anyone who needs them and lunch for the first 50 people who register.
Saturday, May 27

9:30 a.m. – 12:30 p.m.

Adams Park, 2302 S. Raitt St.
Register for the family cycling event
---
Viet Book Fest: Author Panel – June 3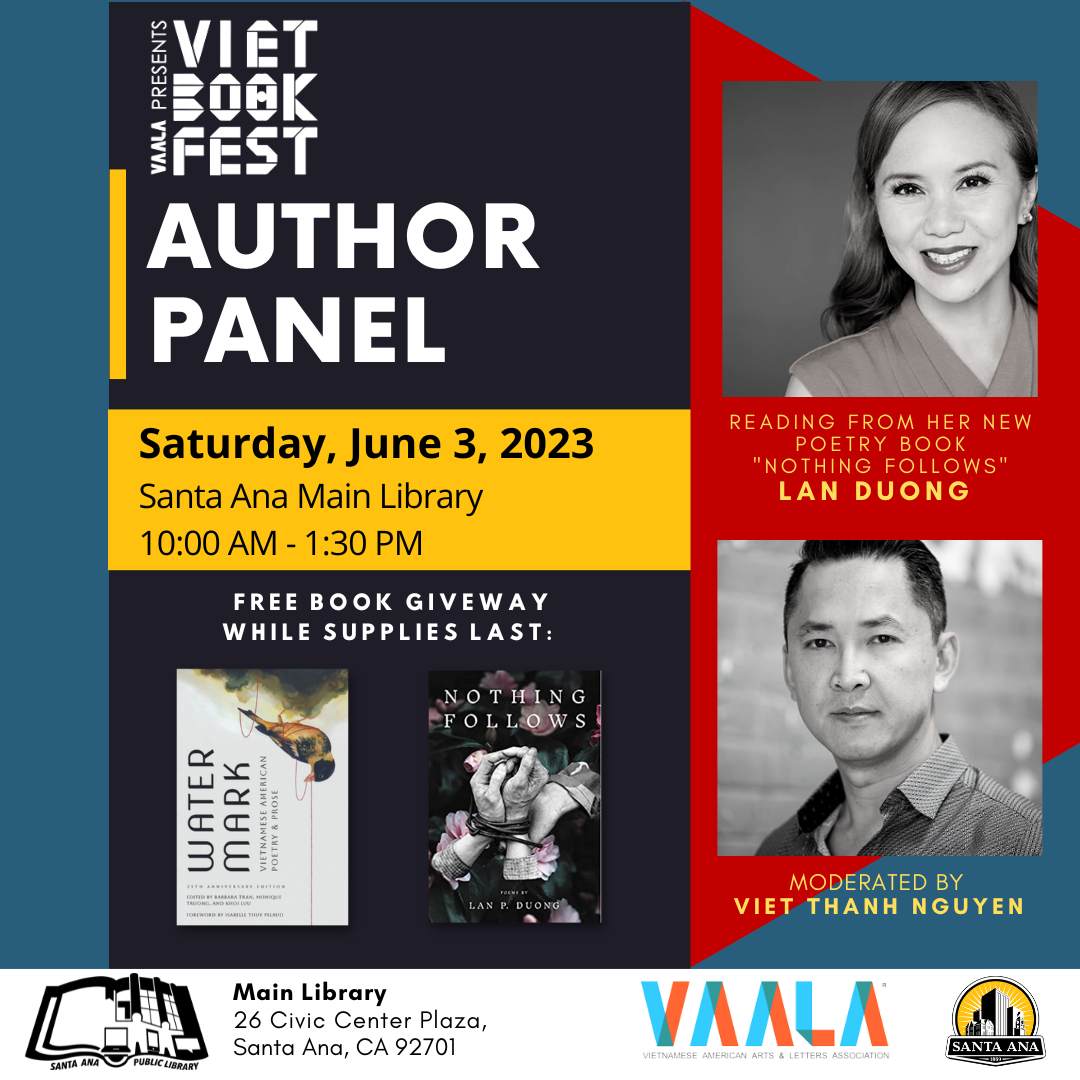 In collaboration with the Vietnamese American Arts and Letters Association (VAALA), the Santa Ana Public Library presents an author panel and book-signing. Authors will be discussing and celebrating Vietnamese American poetry, with Viet Thanh Nguyen, 2016 Pulitzer Prize winner, as moderator. The event is free and open to the public.
Saturday, June 3

10 a.m. – 1:30 p.m.

Main Library, 26 Civic Center Plaza
---
Juneteenth Festival – June 17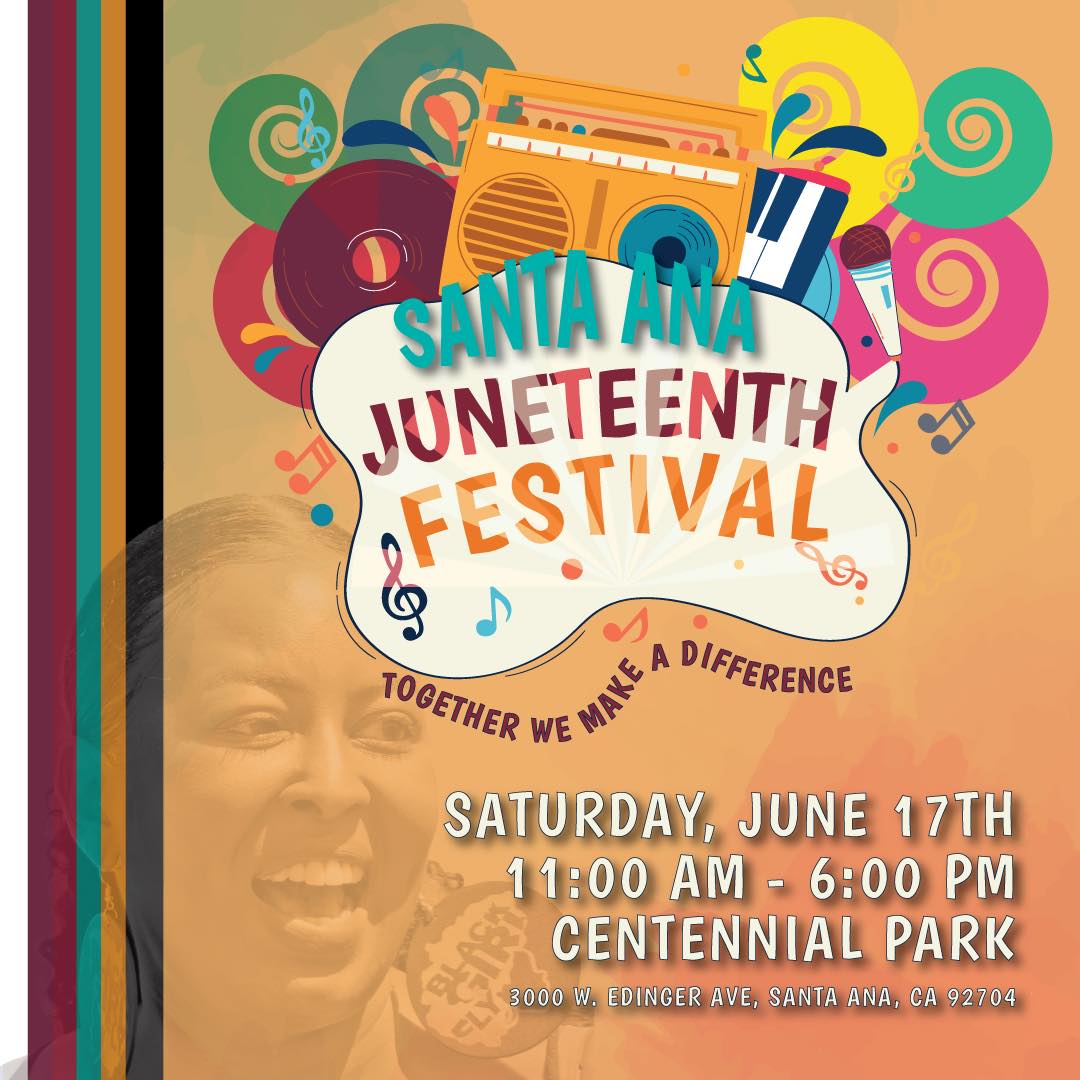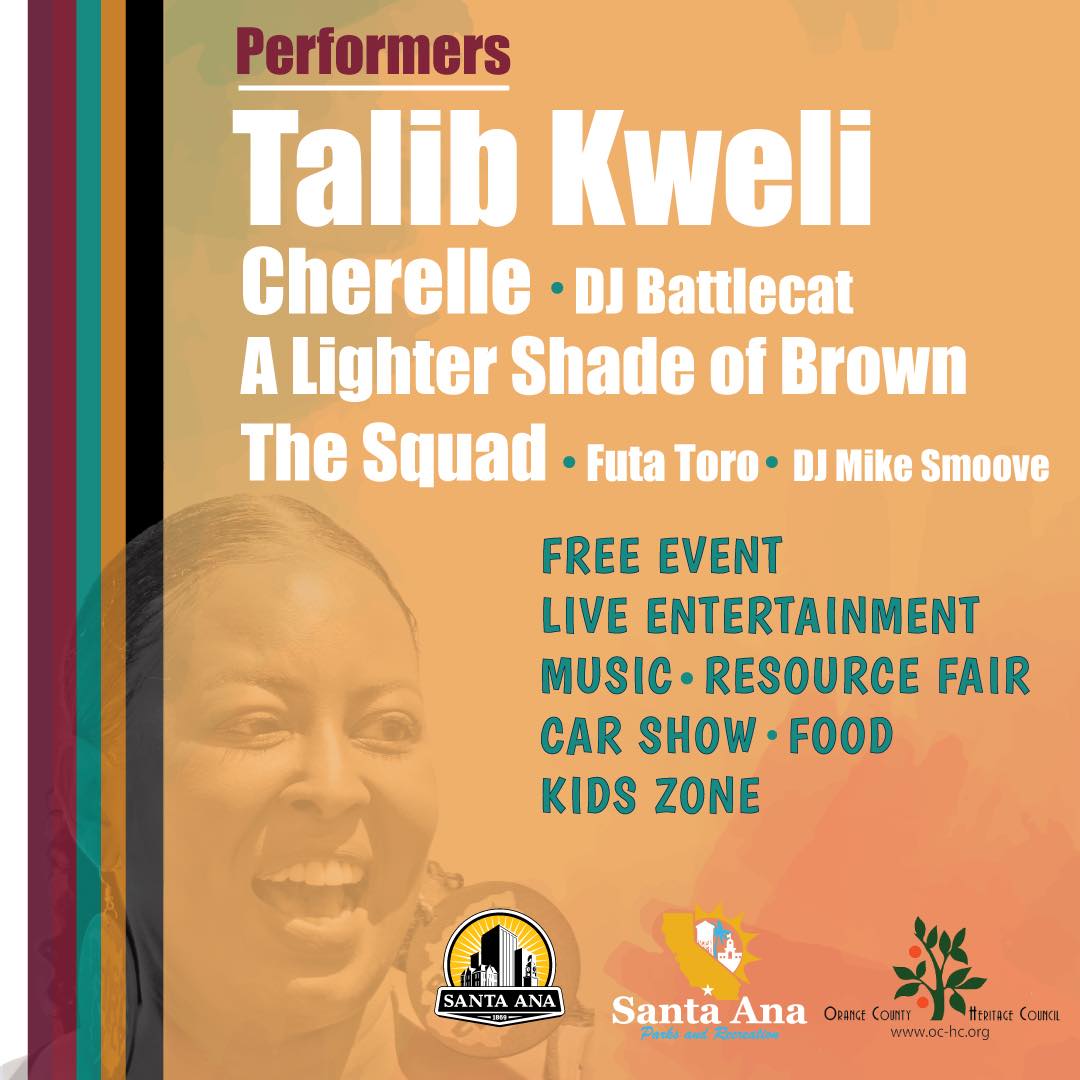 Save the date! Join us for a historical celebration at the Santa Ana Juneteenth Festival! This free, family-friendly event will have live entertainment, food, guest speakers, kids' activities, and more.
Saturday, June 17

11 a.m. – 6 p.m.

Centennial Park, 3000 W. Edinger Ave.
Learn more about the Juneteenth Festival
---
Local Events
Resident Days at the Zoo • Third Sunday of each Month (https://www.santaanazoo.org/)
Bowers Museum free Sundays • Santa Ana residents get in free each Sunday (http://bowers.org/images/pdf/Bowers_Museum_Free_Programs.pdf) 
Discovery Cube Waste Free Days • Santa Ana residents get free admission to the Discovery Cube on the first Tuesday of the month (https://www.discoverycube.org/promotions/)
---
Common services
Police non-emergency line: (714) 245-8665
SMART homelessness response: (714) 242-3706
24/7 Public Works hotline: (714) 647-3380