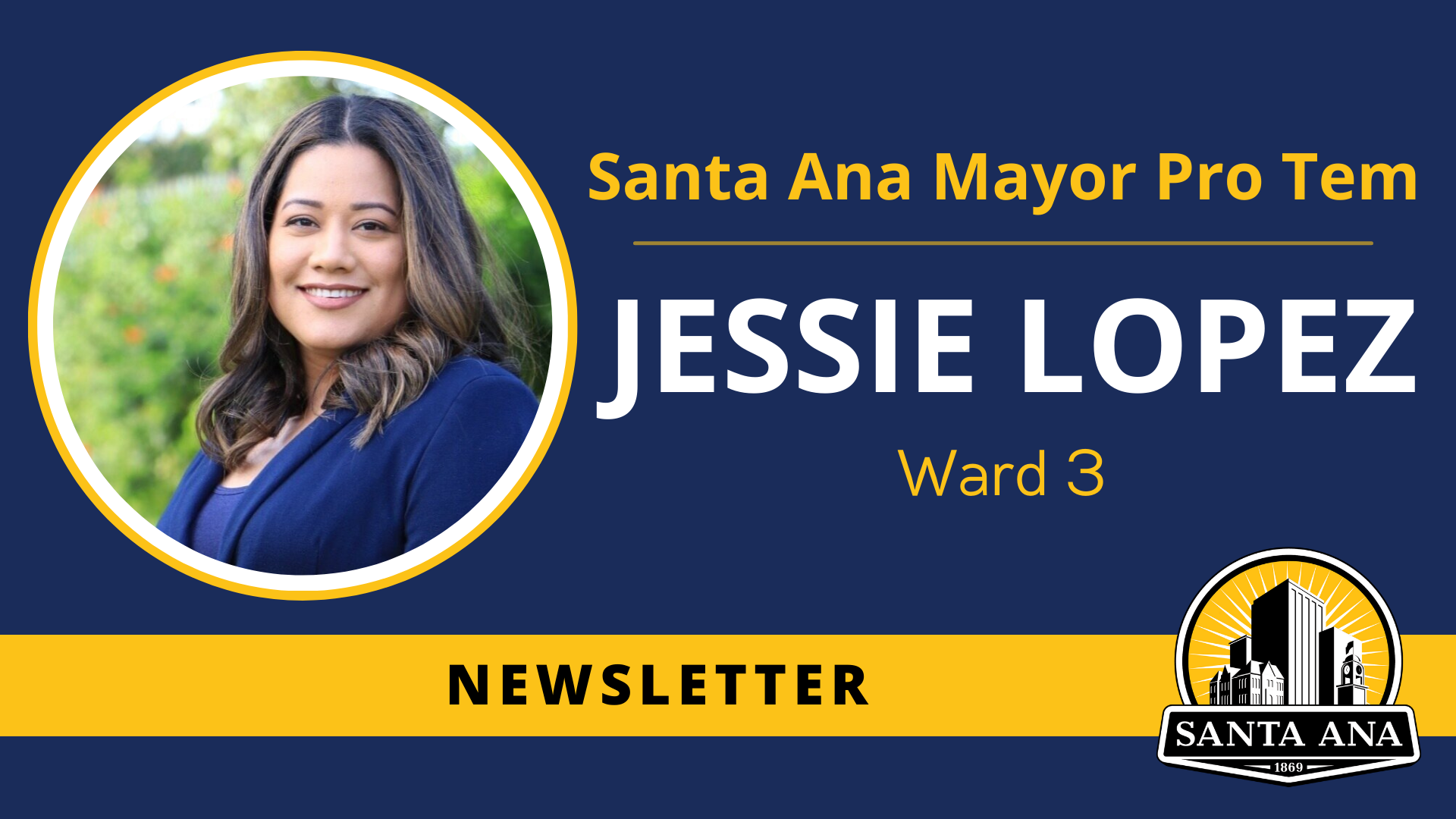 August 2023
Dear Ward 3 residents,
As August unfolds and the humid days of summer begin to wane, I hope this newsletter finds you well and in good spirits. As we gear up for a new season, there's an undeniable feeling of change in the air – the anticipation of students returning to school, the hum of energy in the community, and the shared optimism for what lies ahead. In this month's newsletter, you'll find a wealth of information about our community's recent events and policy highlights.
As we transition into the back-to-school season, I'd like to remind everyone to exercise extra caution and mindfulness while sharing the road. The streets will soon be bustling with students and parents, and it's crucial that we all contribute to creating a safe environment for everyone. Whether walking, cycling, or driving, let's make a conscious effort to be vigilant, patient, and considerate of one another's safety. Let's also take a moment to extend our heartfelt gratitude to our teachers – the dedicated individuals who play an essential role in shaping the future of our community. Your unwavering commitment to nurturing young minds doesn't go unnoticed, and we are immensely grateful for your tireless efforts.
Lastly, we have an exciting lineup of upcoming community events designed to bring us all together. These gatherings offer us the chance to connect, share stories, and strengthen the bonds that make our community truly special. Be sure to explore the newsletter for details on these events.
Thank you for your continued involvement and dedication to our community. Together, we can overcome challenges, celebrate victories, and foster a spirit of unity that will carry us forward.
In Service,
Your Mayor Pro Tem, Jessie Lopez
Subscribe to the Ward 3 Newsletter
---
In This Issue…
Local Updates: 

Santa Clara bike lane and pedestrian improvements

Well 32 project at Morrison Park

Tree planting at Portola Park

Clean City initiative

Honoring local artists
---
Save the Date:
---
Ward 3 highlights
Tree planting at Portola Park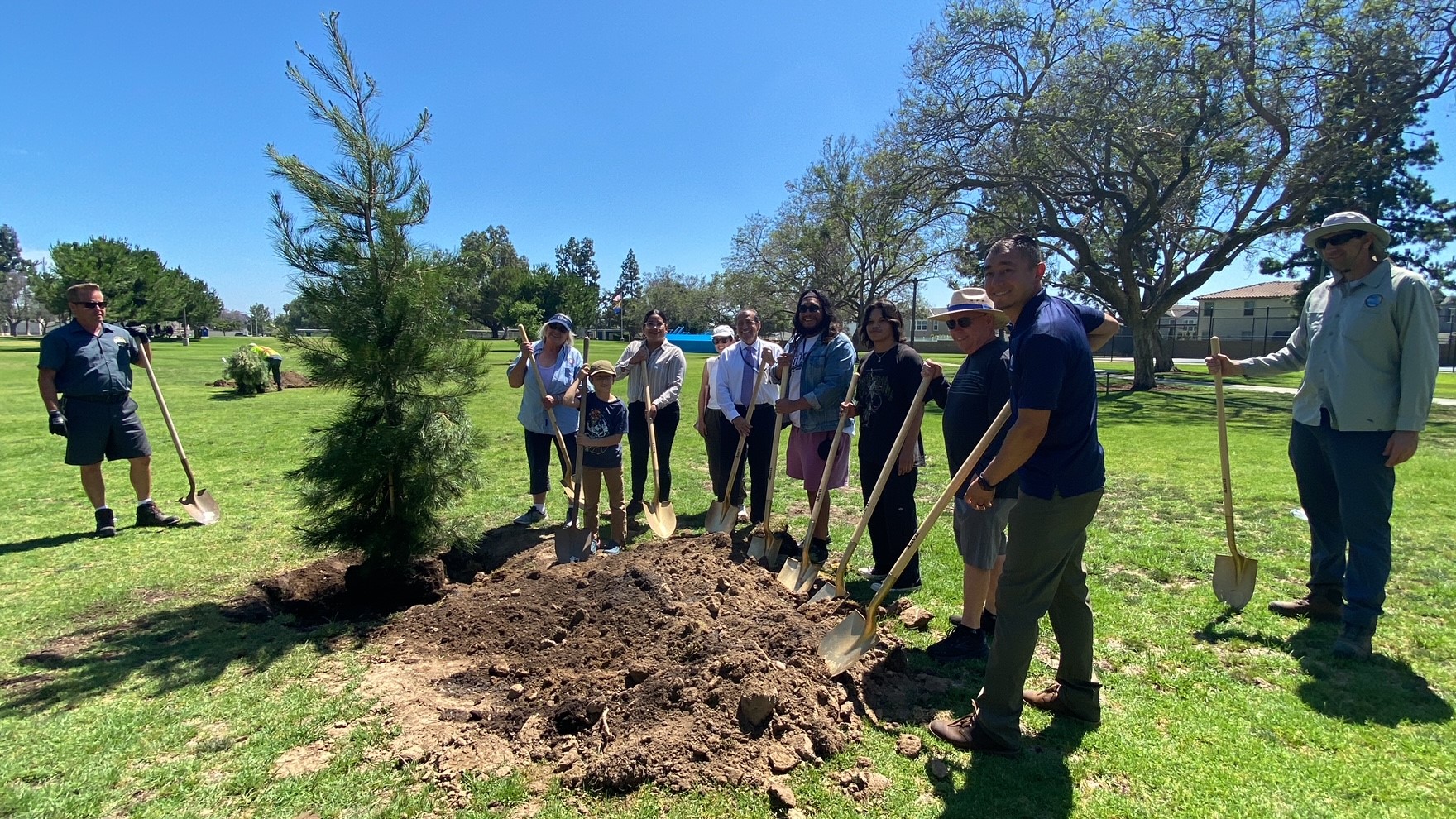 Four fantastic trees have been planted at Portola Park! We've got the resilient Chinese Pistache and the mighty Eldarica Pine, ready to conquer the heat and thrive even in dry conditions.
Just imagine, in 5 to 15 years (depending on the species), these trees will have grown into magnificent beauties, providing shade and benefits for everyone to enjoy. It's absolutely heartwarming to see nearby resident's come help us plant these trees.
Hats off to the passionate residents who advocated for these trees, replacing the one that was there before. And let's not forget to thank our hardworking public works department for making this request a reality! This is a true testament to our commitment to environmental stewardship. Way to go, everyone!
---
Santa Clara Bike Lane and Pedestrian Improvement Project is ongoing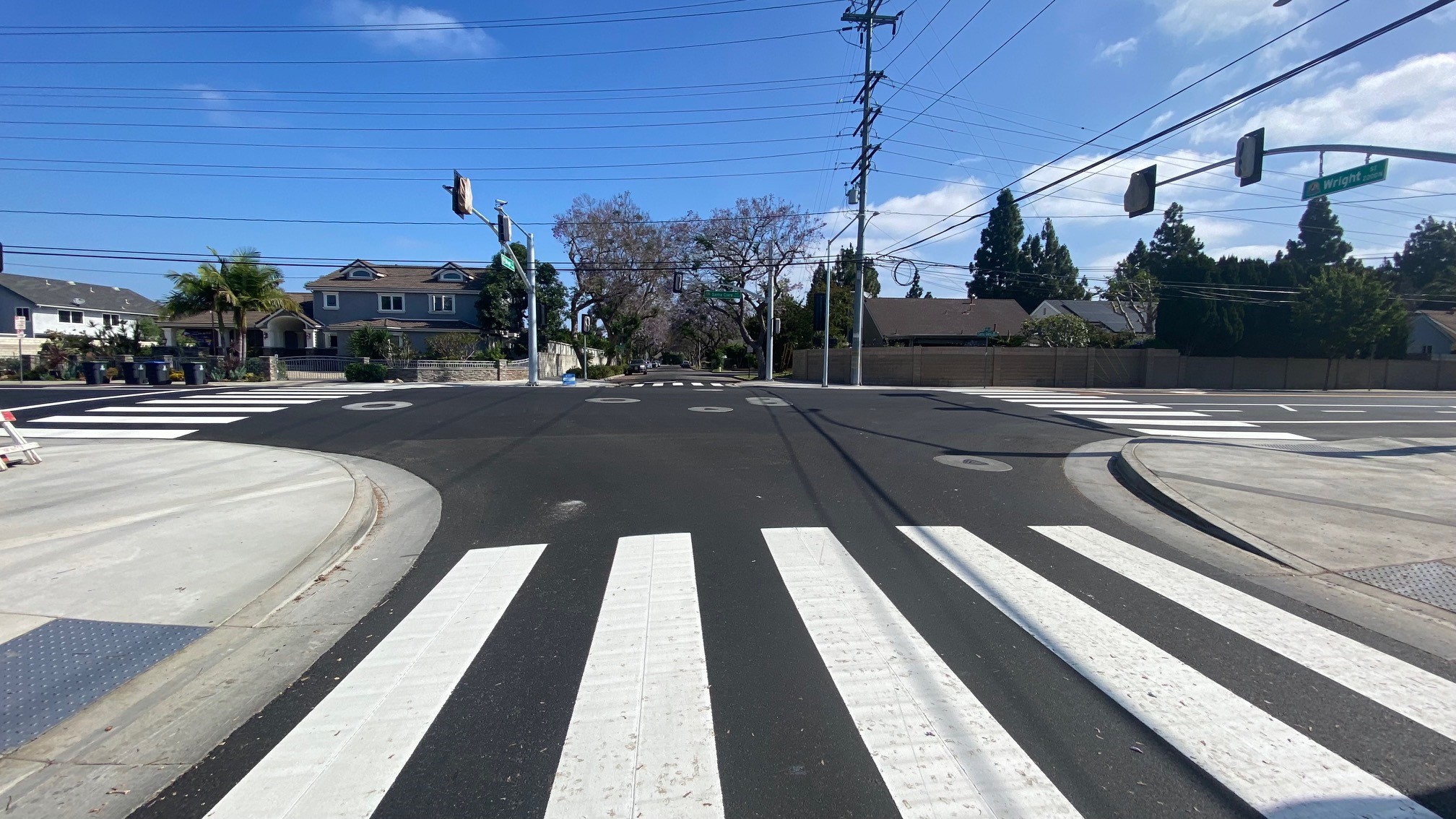 We're working to make Santa Clara Avenue safer for bicyclists and pedestrians! The project involves bike lane striping, installation of ADA ramps, bulb outs at street crossings, new traffic signals, upgrade of existing traffic signals, and slurry paving from Lincoln Avenue to Pasadena Street along Santa Clara. Moreover, we will be planting trees east of Lincoln.
---
Movies in the Park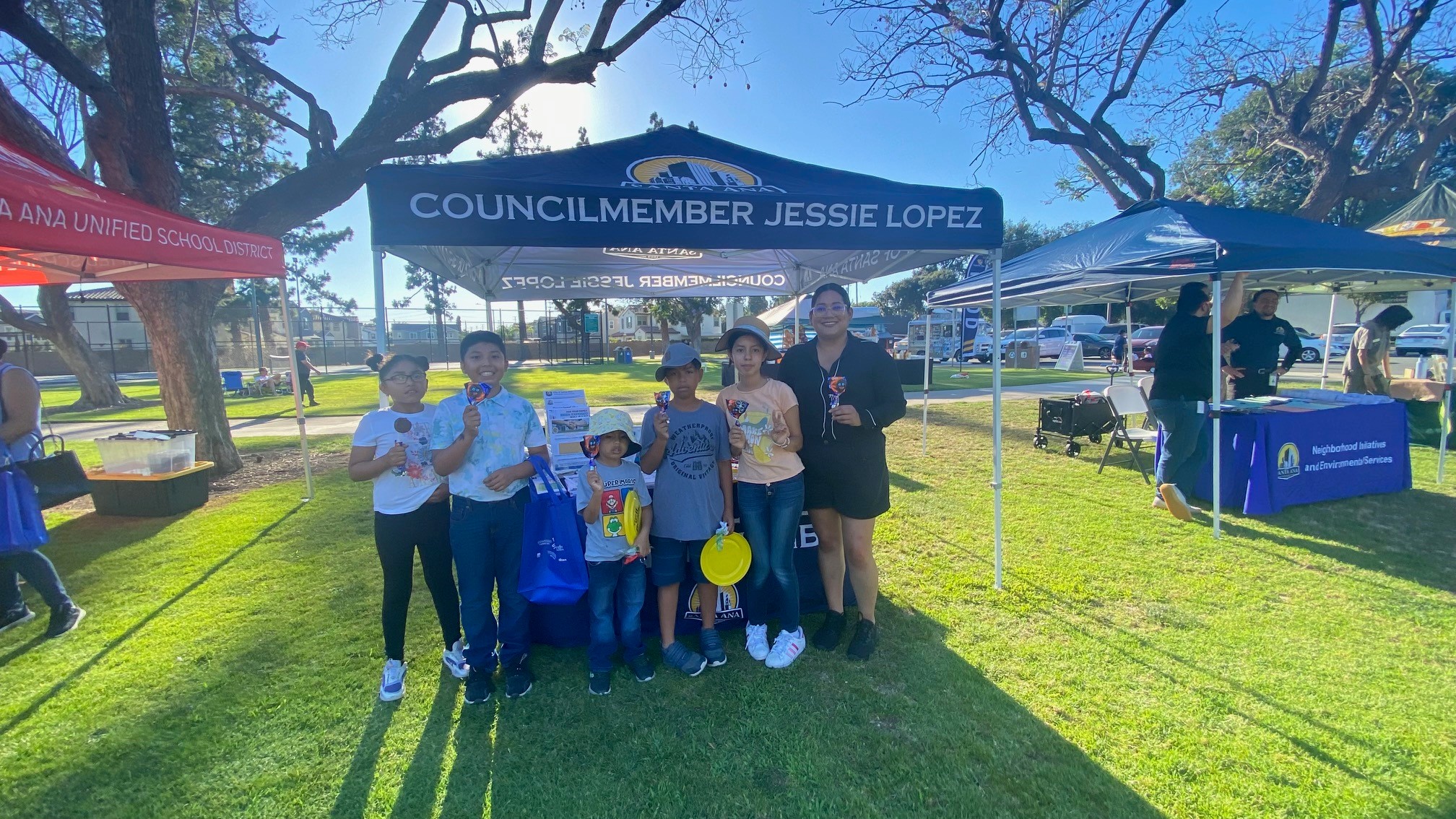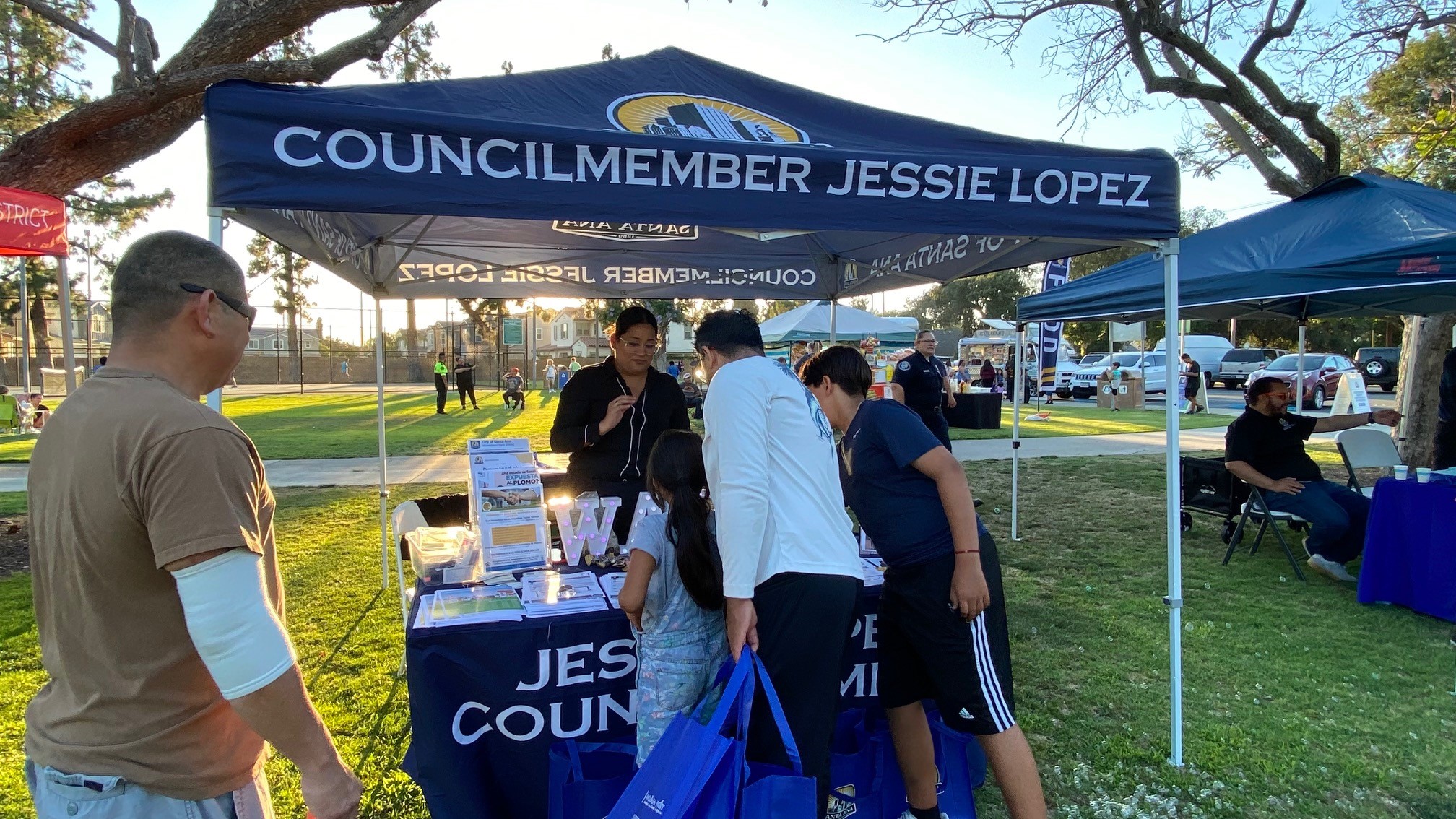 During our public events, we always share information relevant to the needs of Santa Ana residents, and I also answer the questions presented to me. Additionally, I personally respond to the queries raised during these events. Frequently, individuals inquire about job prospects, services for young people, and housing options. Our team comprehends the significance of disseminating this information through our interactions, and I am continuously accessible to handle any questions regarding City services, Council undertakings, and my upbringing in Santa Ana.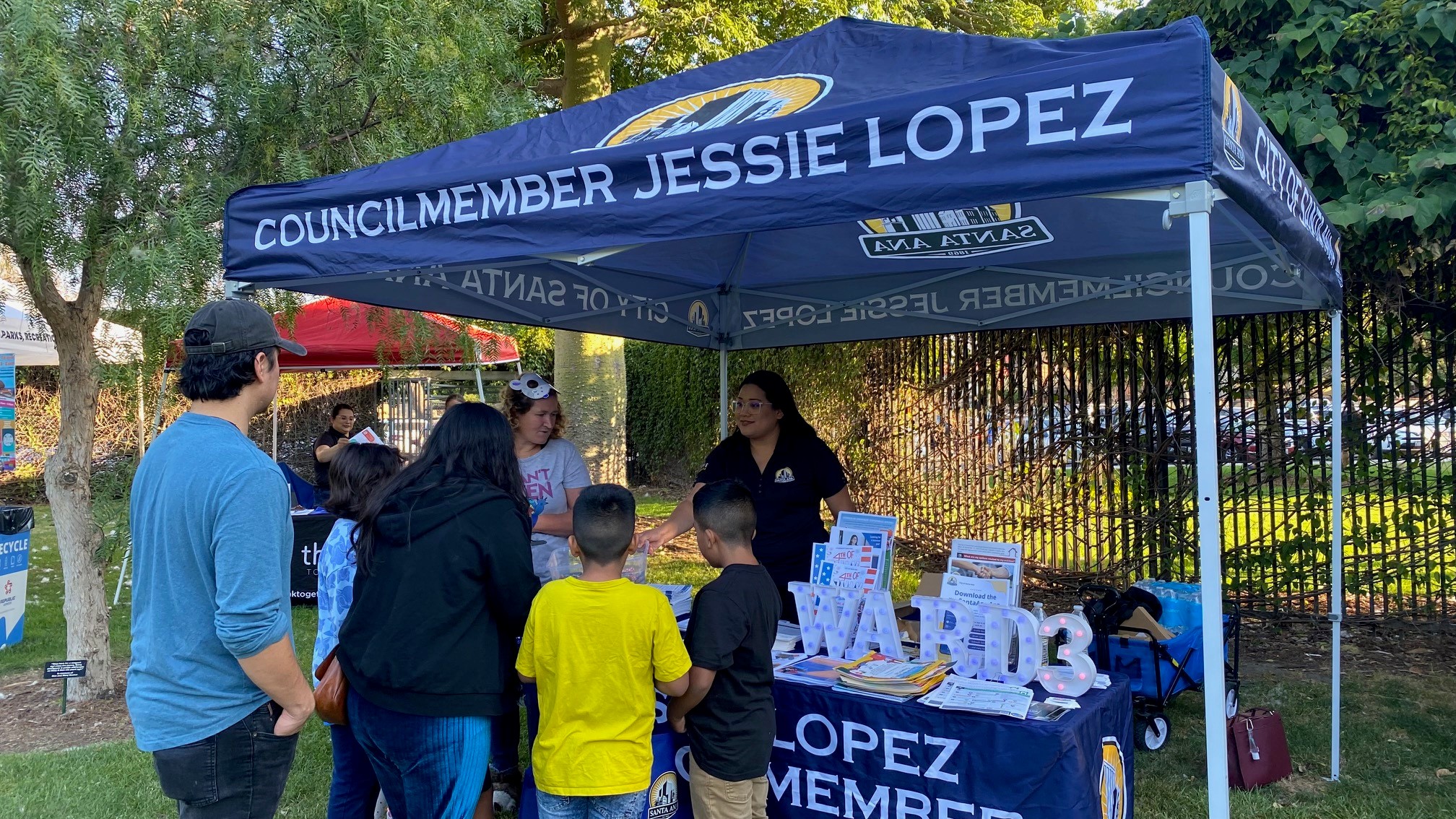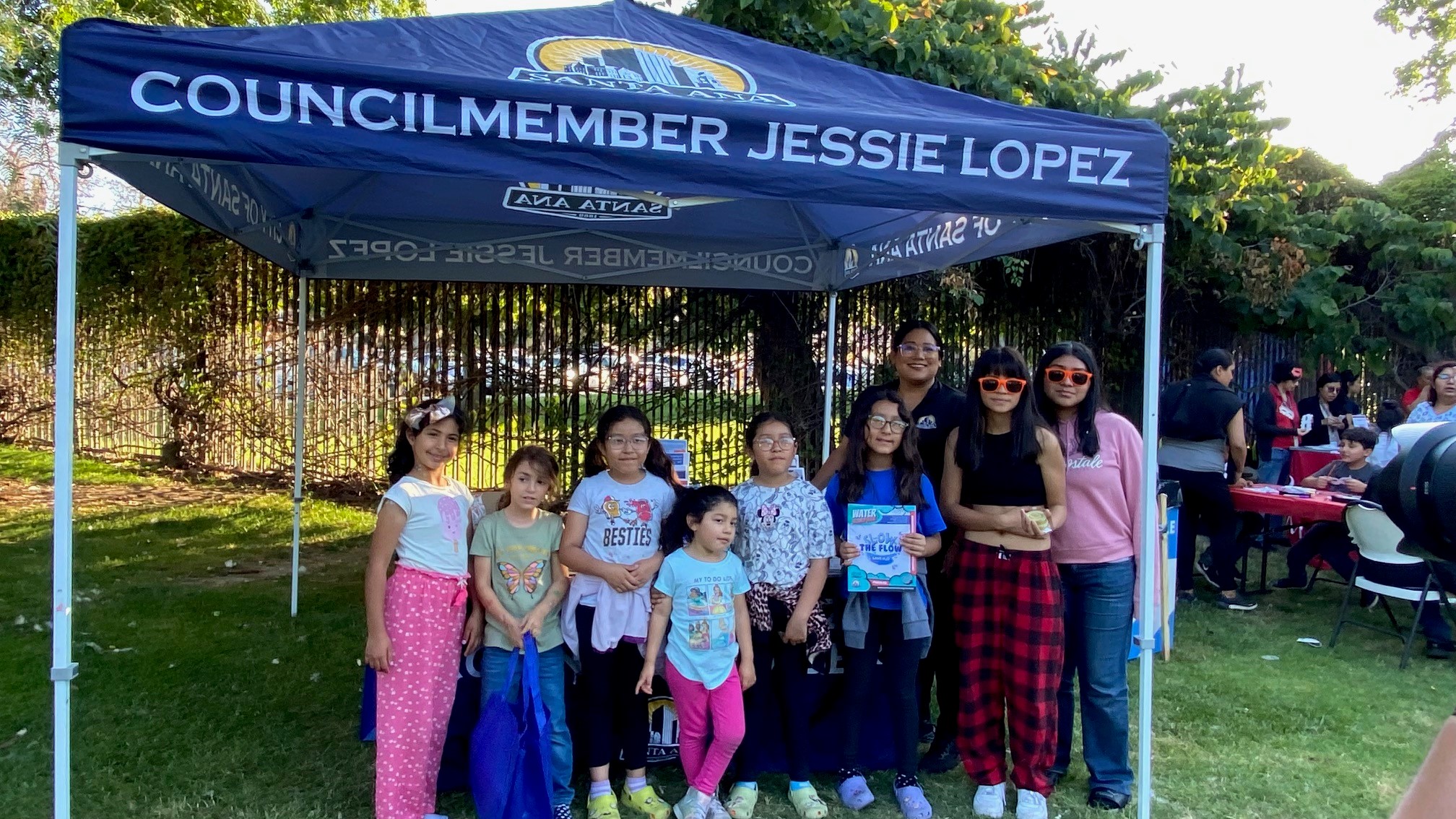 For the inaugural time this summer, we organized Movies in the Park at the Santa Ana Zoo. In my role as a councilwoman, I recognize the diverse needs within our Ward. Introducing these events to neighborhoods that haven't previously had the chance to enjoy them holds just as much significance as maintaining accessibility for all Ward 3 residents. The event received a positive turnout, motivating us to persist in providing community gatherings in various corners of Ward 3.
---
Celebrating 4th of July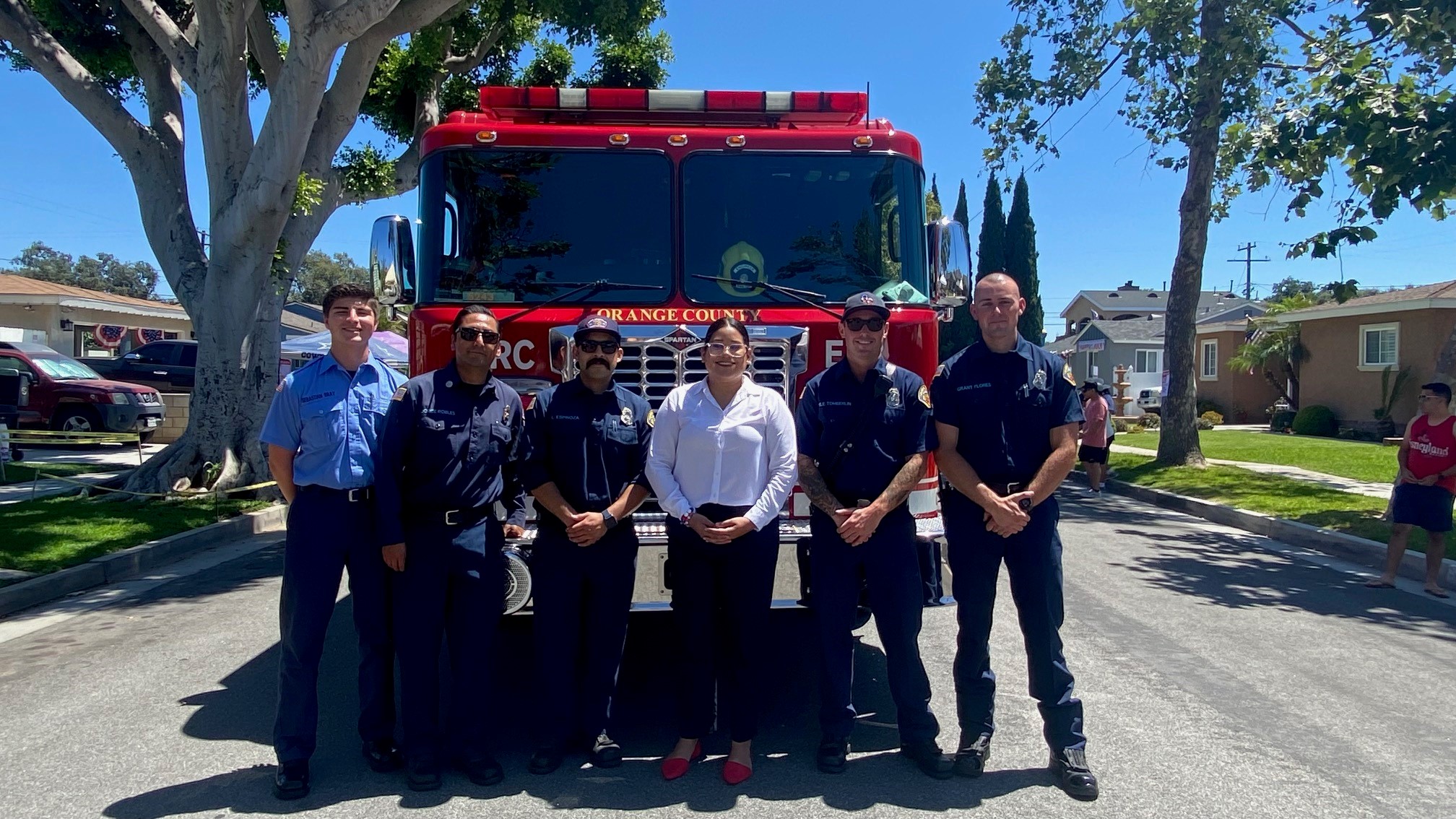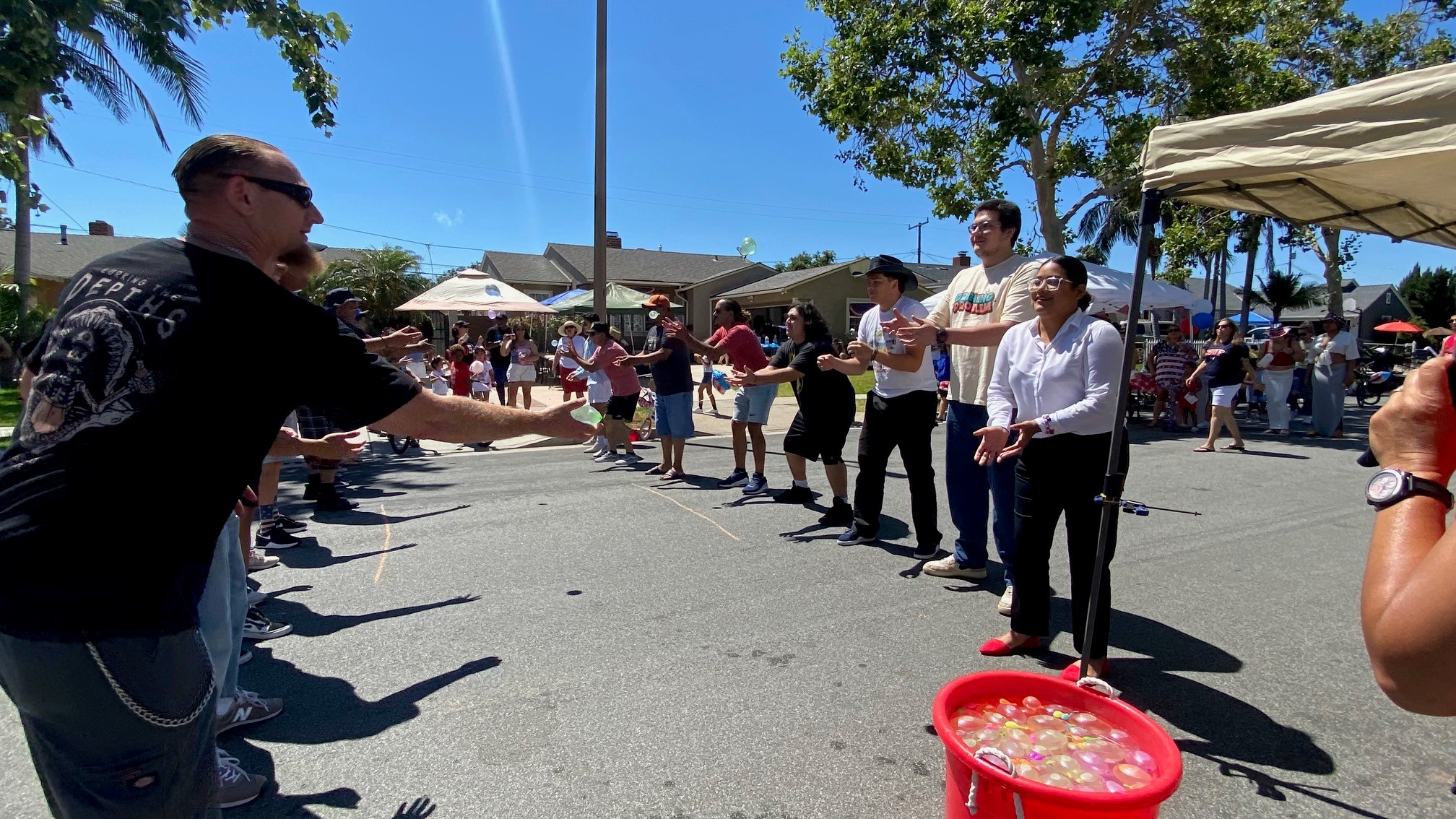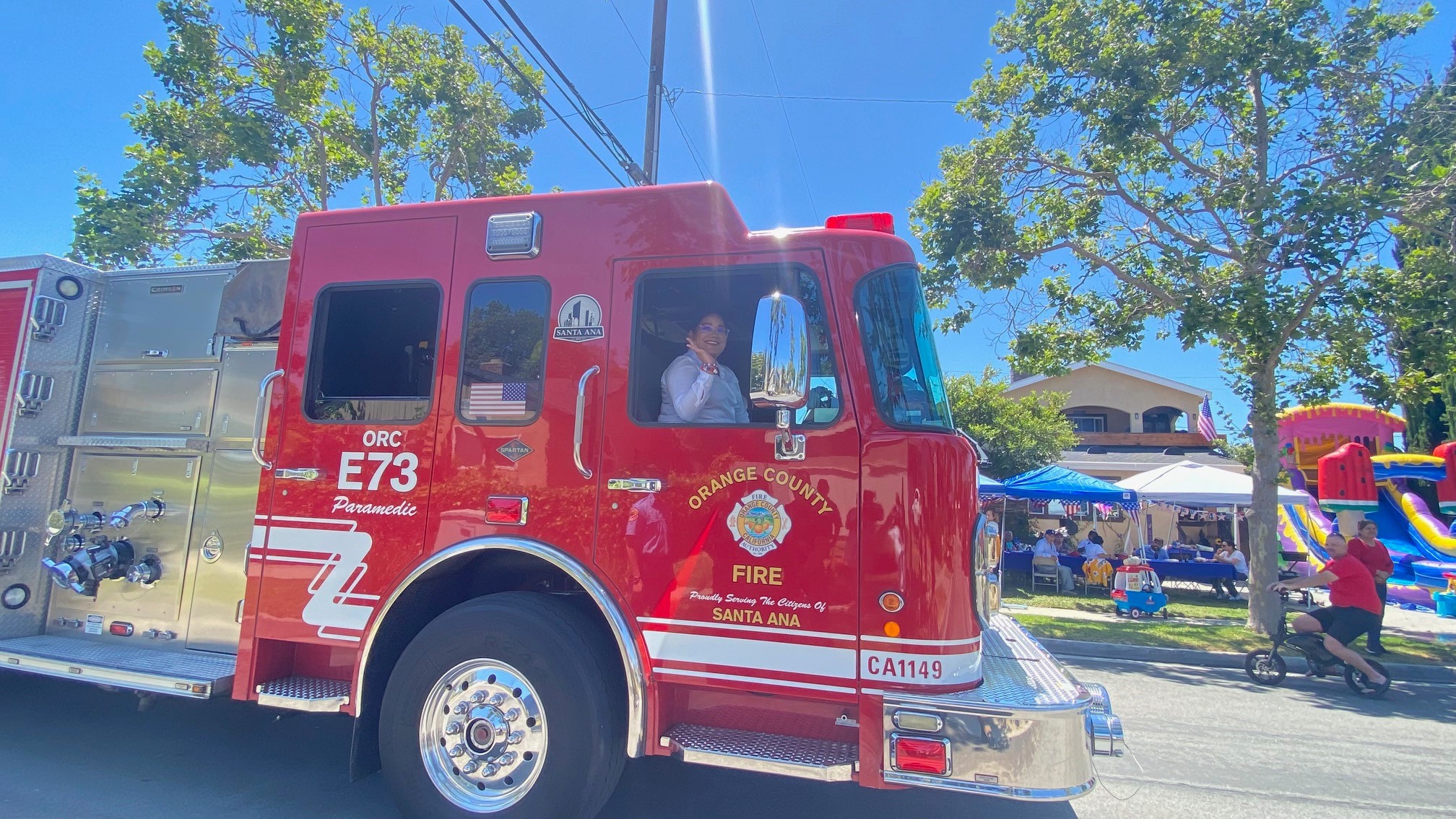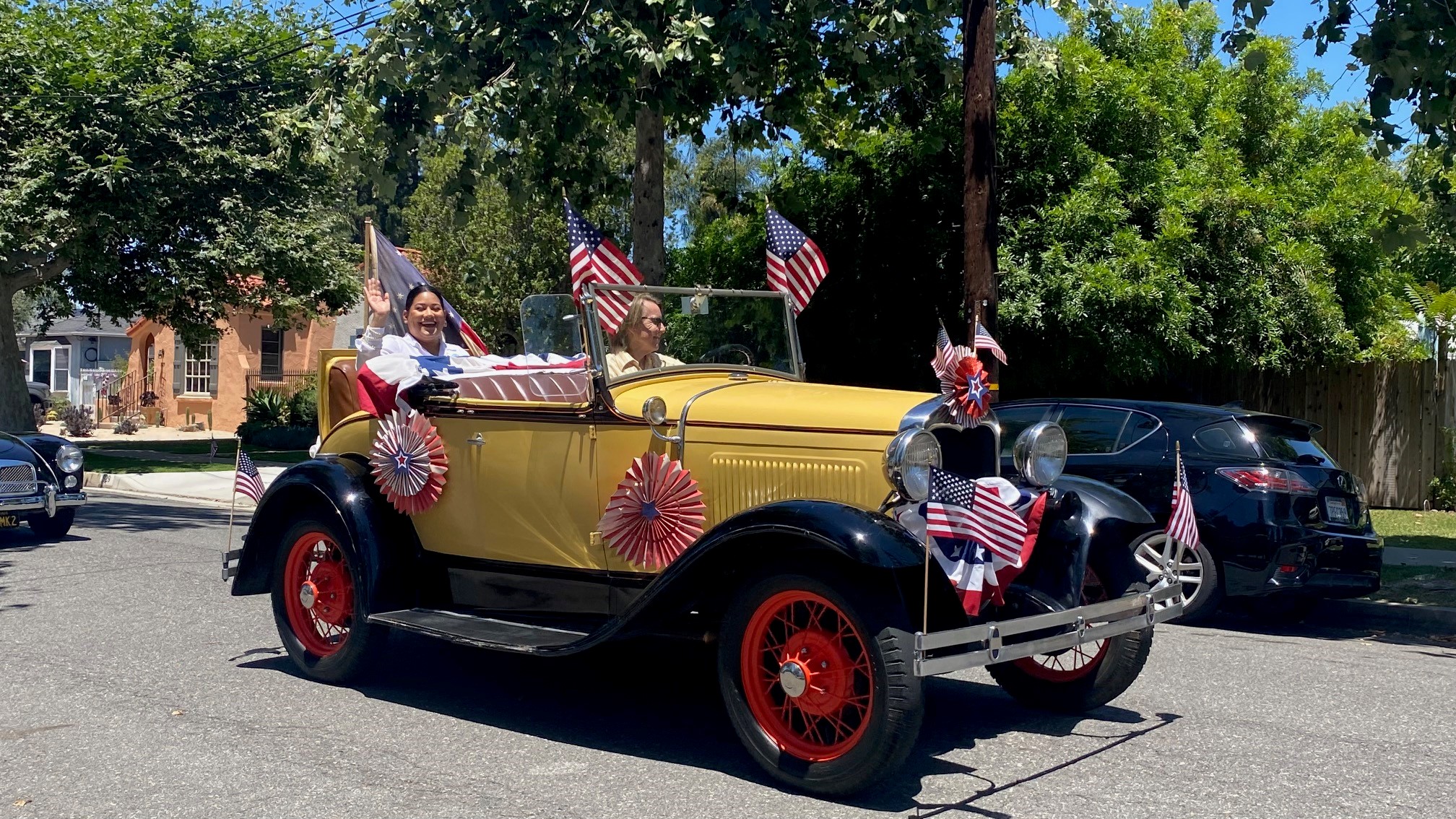 I enjoyed celebrating Independence Day with the Riverview neighborhood, participating in the Park Santiago parade and at our citywide event at Centennial Park. Thanks you to all the neighborhoods that hosted events and helped create more beautiful memories. And thanks to Gary for letting me ride in his cool classic car!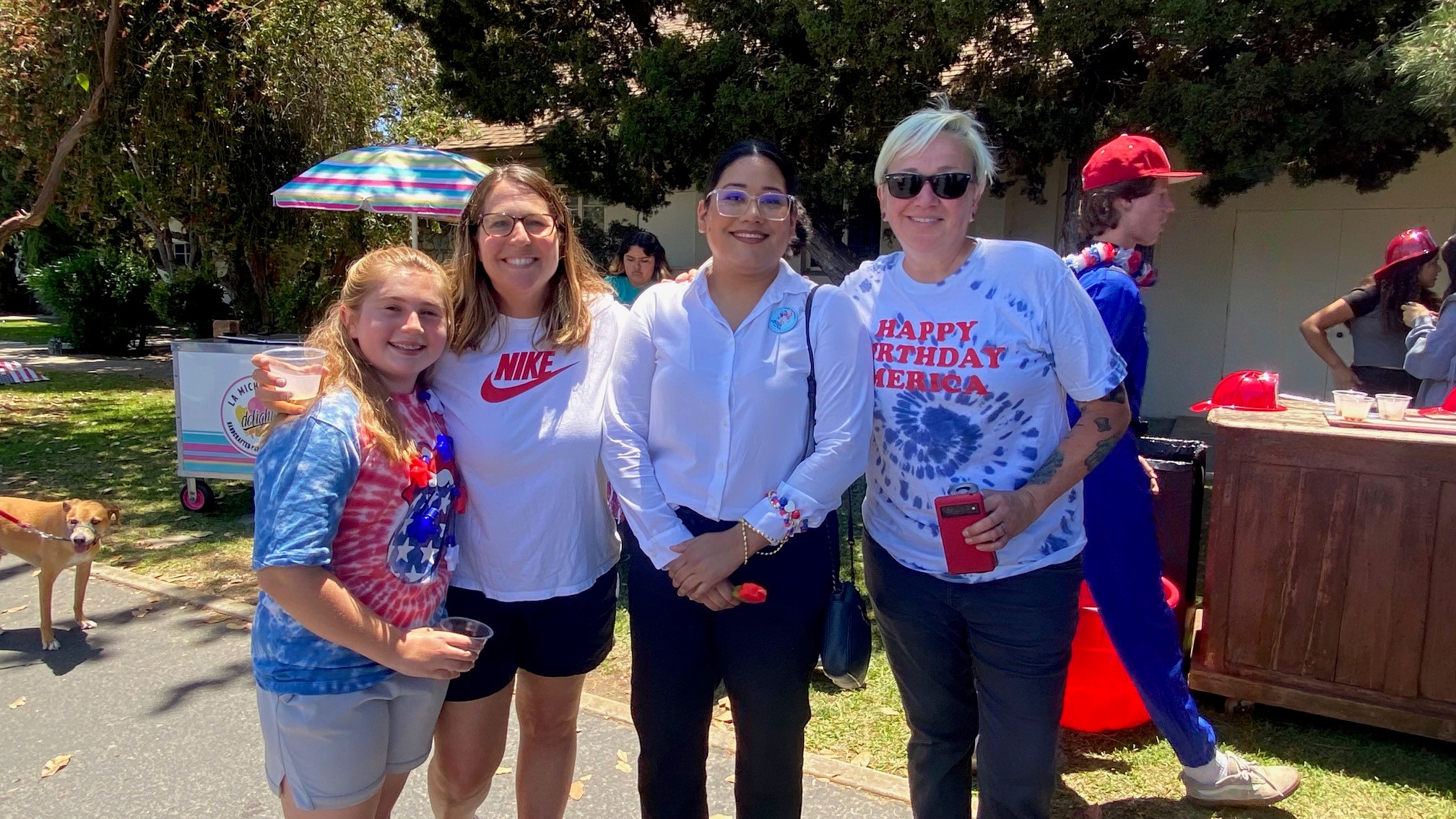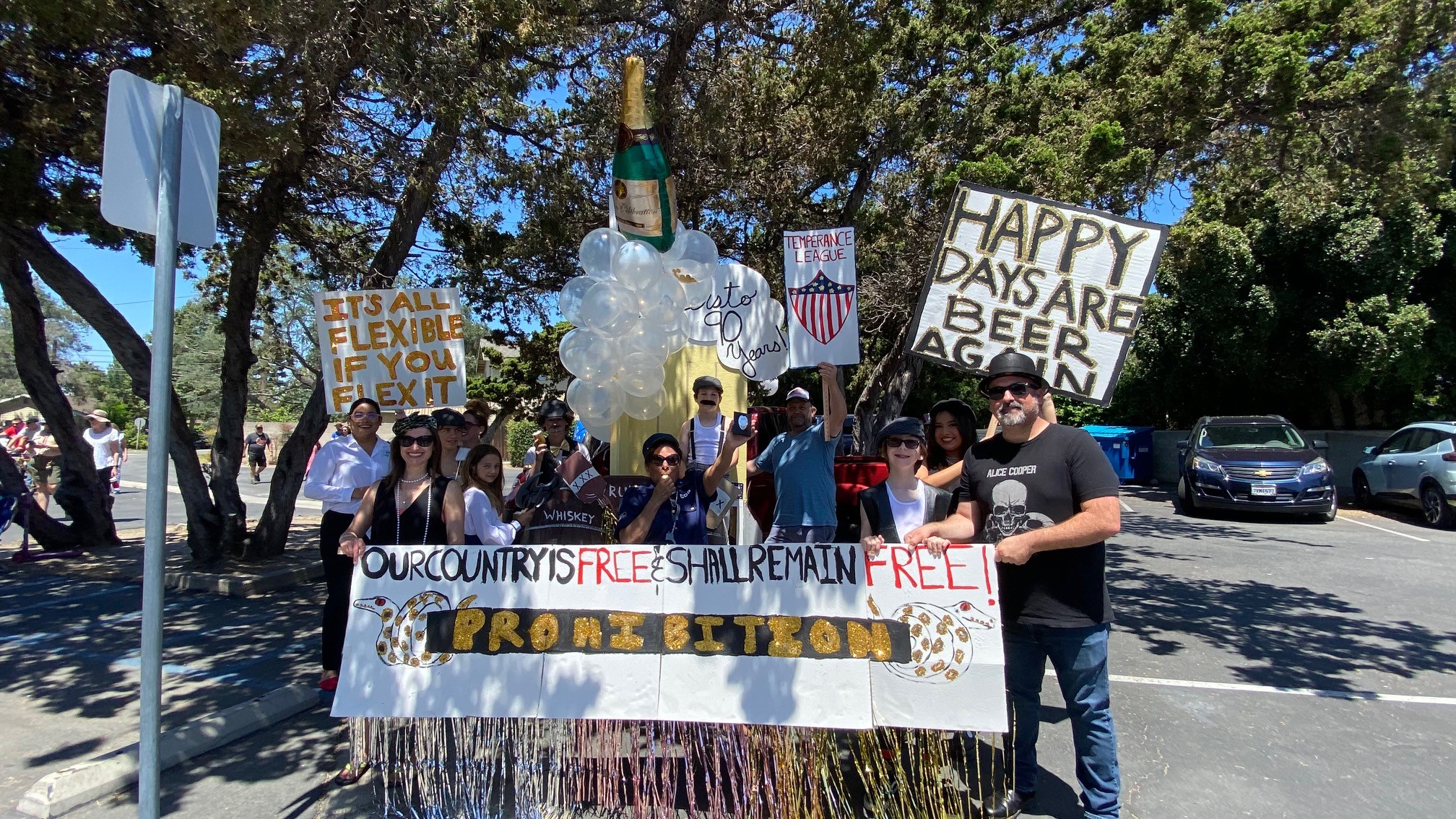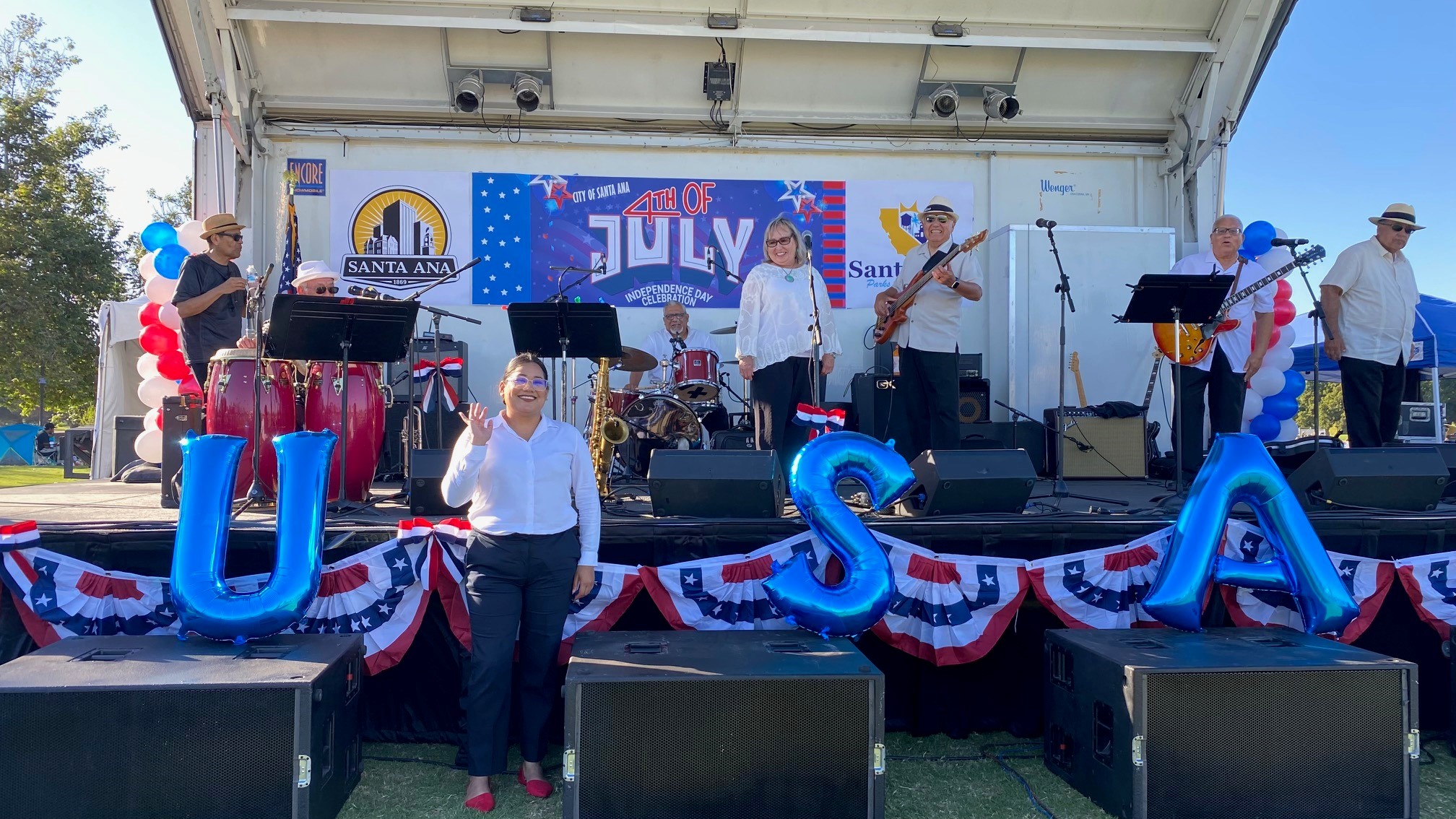 ---
Well 32 project at Morrison Park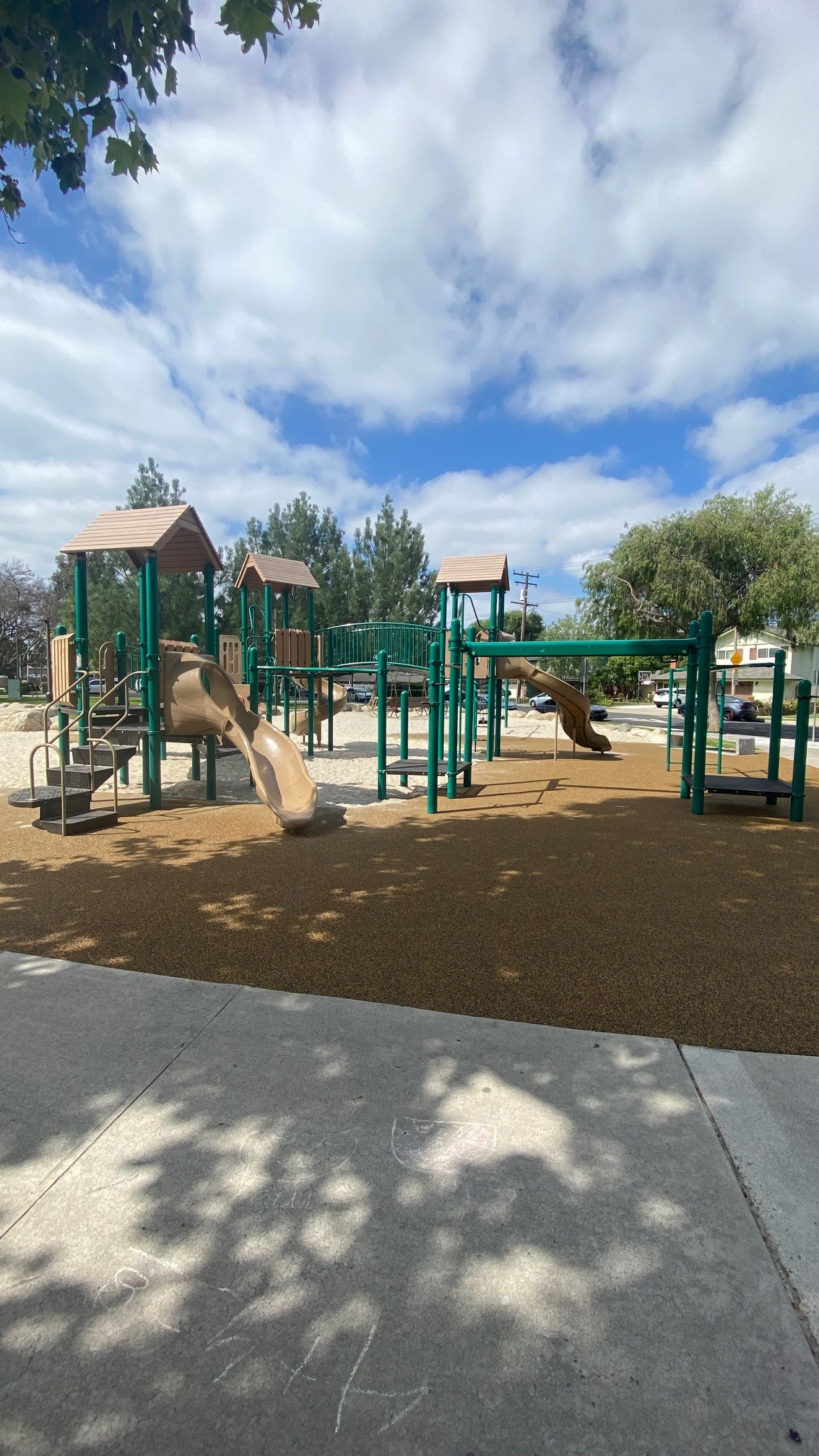 The Public Works Agency awarded a construction contract to Pacific Hydrotech Corp. for the Well 32 Rehabilitation Project. Pacific Hydrotech Corp. is the lowest responsible bidder, meaning they have offered the lowest cost while meeting the necessary qualifications. 
The rehabilitation project will ensure that the City of Santa Ana can continue to provide safe drinking water and meet the demands of the Santa Ana community. The Well 32 Rehabilitation Project is located at Morrison Park and includes construction at the following three locations: Morrison Park; within the City street rights-of-way along Westwood Avenue, Memory Lane, and Bristol Street; and at the John Garthe Reservoir site. The scope of work includes the demolition of the existing underground well vault and appurtenances, building a new above-ground well building with a pump and electrical room, site improvements; Morrison Park improvements consisting of the repair and resurfacing of the basketball and tennis courts, replacement of the tennis court fence enclosure, and replacement of the court lighting and corresponding electrical facilities. It is worth noting that the project is funded through a non-general fund.
---
Discovery Cube Sea Lab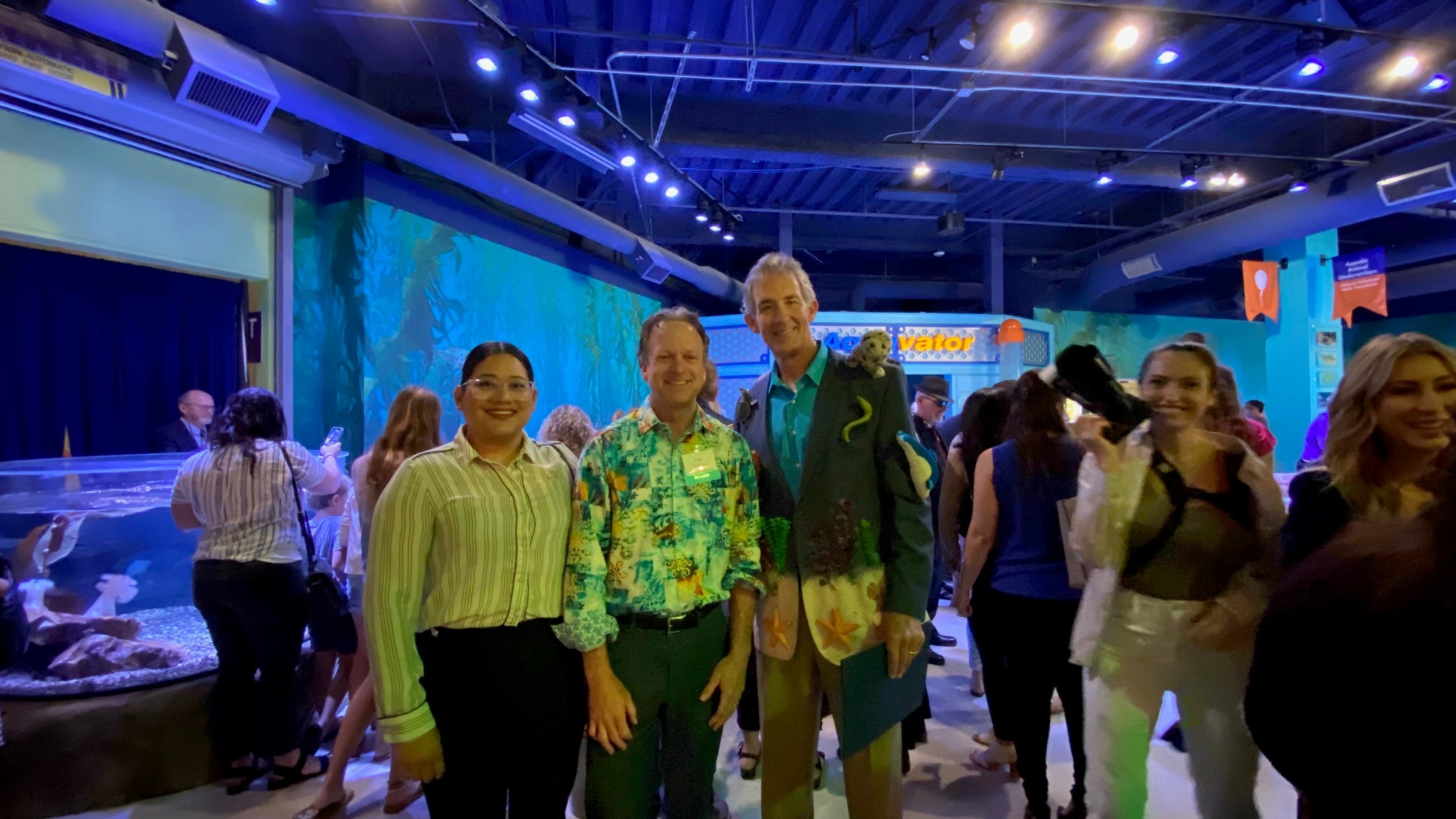 Great news! Congratulations to the Discovery Cube on the grand opening of their new Sea Lab and Ocean Encounter exhibit. It is a privilege for us to join hands as trusted partners, and we eagerly anticipate working together to enhance their educational initiatives. This exciting development promises to immerse countless young minds into the wonders of exploration, igniting a passion for the ocean and environment among future generations.
---
Floral Park Annual Scholarships Celebration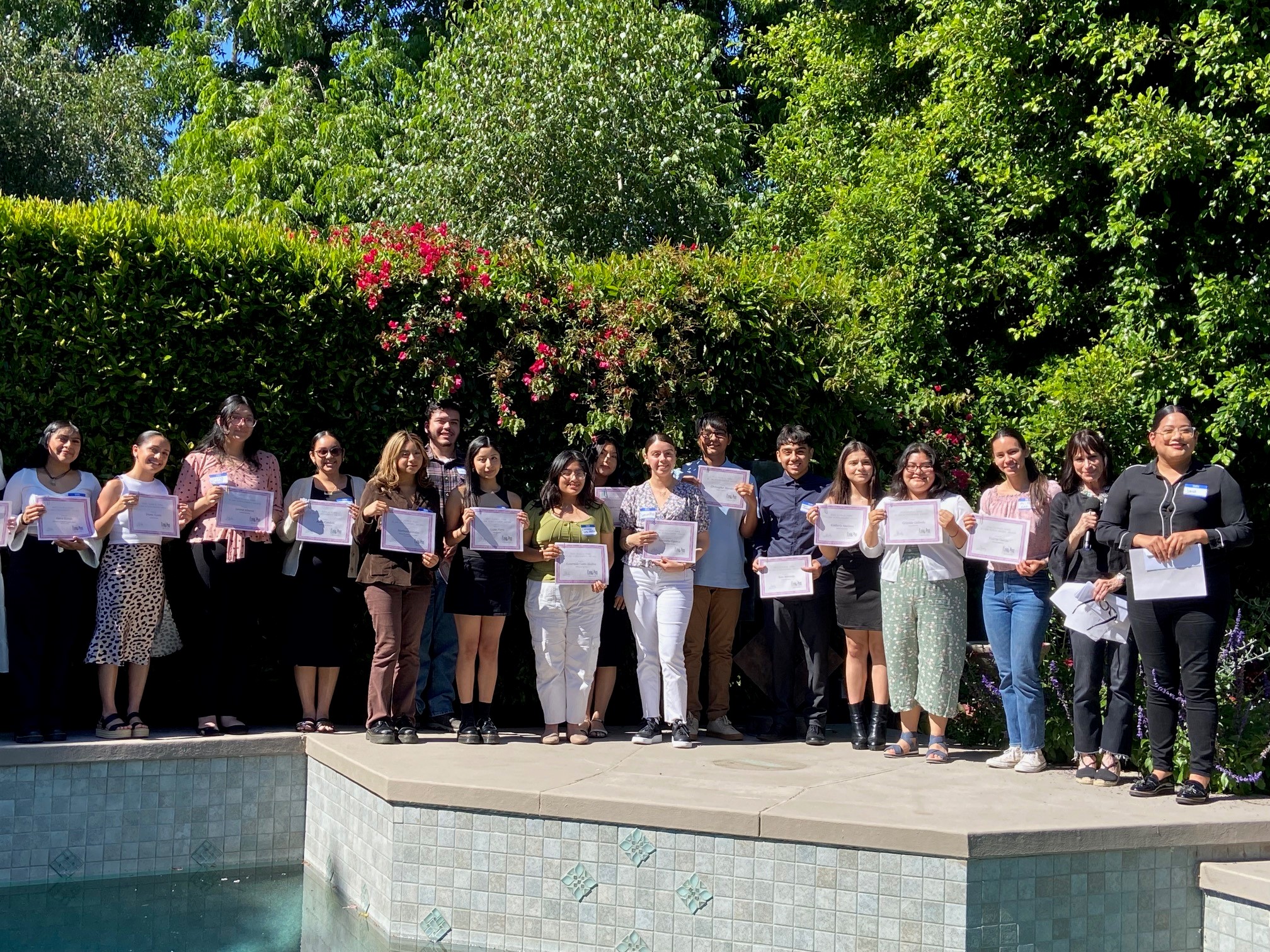 I am immensely grateful for the dedication and support of the historic Floral Park Neighborhood in helping our first-generation students achieve their academic goals. As a first-generation college student myself who had to work two jobs to pay for college, I understand firsthand the significance of scholarships and community support. Thank you for continuing to make a difference in the lives of our students and for your commitment to providing this invaluable resource year after year!
Congratulations to all the students and nonprofits!
---
OC Habitats comes to Santa Ana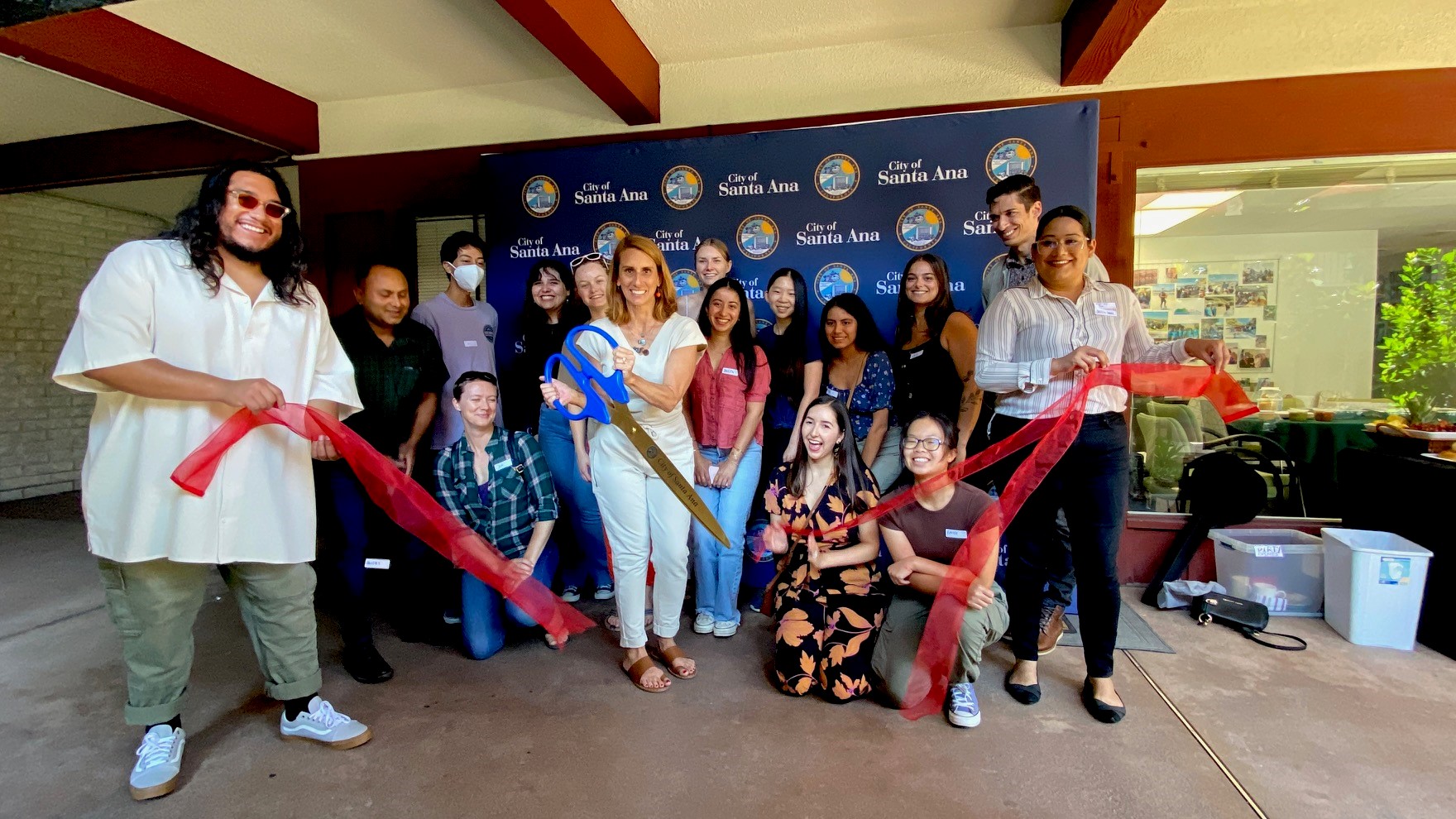 Congratulations to OC Habitats on celebrating their 6th anniversary and for choosing to relocate to Santa Ana, Ward 3! We are thrilled to welcome another valuable partner to our city and express our gratitude for the numerous park and creek cleanups they have organized in collaboration with my office. We hold a common enthusiasm for safeguarding our environment, acting as responsible caretakers, and upholding the cleanliness of our local parks.
---
City news
Clean City Initiative rolls out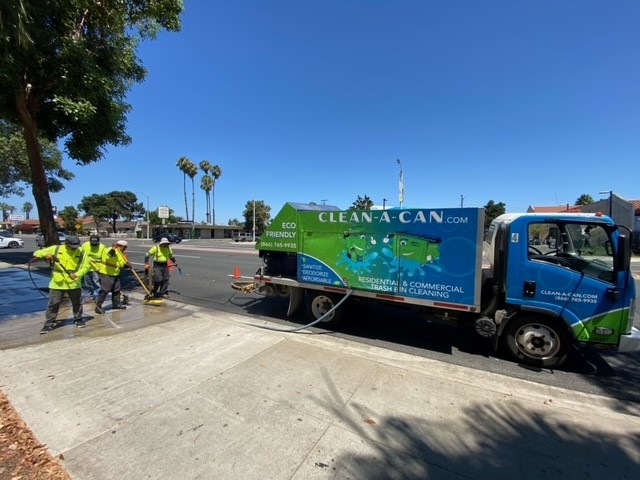 The City's waste collection contract with Republic Services included provisions for Clean City Initiatives, sidewalk, curb, and gutter power-washing. On July 1, Republic Services started this program and has done outstanding quality work cleaning our sidewalks. Recently they cleaned the two sides of 17th Street from Main Street to the 55 Freeway, as well as East 1st Street. For this service, the contract with Republic specifies that a two-person crew and one truck will clean our sidewalks from 8 am to 5 p.m. six days per week.
---
Library transformation in the news
The Orange County Register highlighted the expansion and improvements being made to our library system, including a complete restoration of our historic Main Library, a first ever Outdoor Public Library in Jerome Park, a new and larger Knowledge Mobile, a refurbished Newhope Library and a new branch at the Delhi Community Center. I am confident these improvements will have a positive impact on our current residents and future generations of people that will call Santa Ana home. Expanding our library network has always been part of the vision I've advocated for in our City.
---
City Council presentations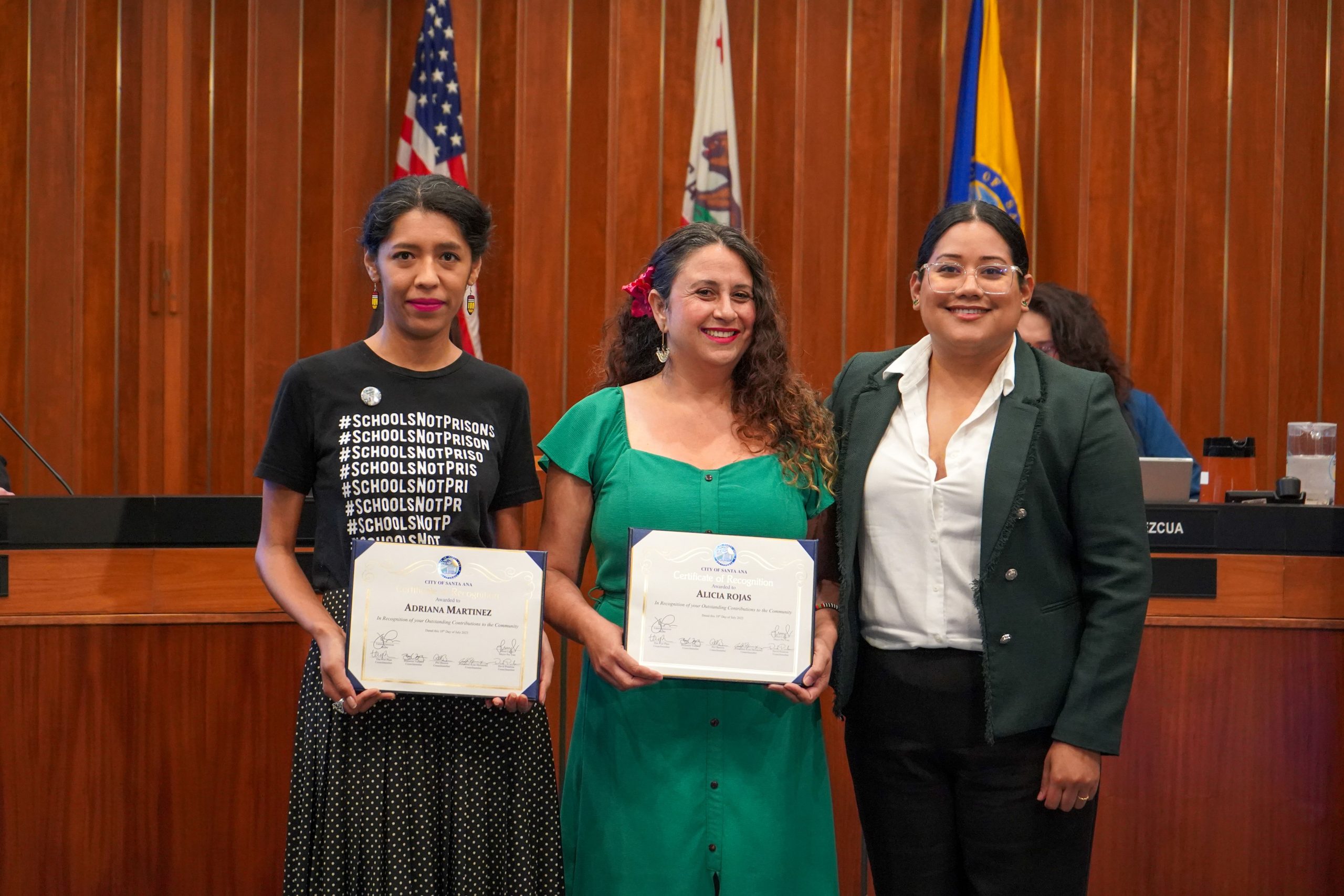 I was proud to honor local artists Adriana Martinez and Alicia Rojas at a City Council meeting. Alicia's exhibition With Honey in the Mouth – Con Miel en la Boca is on display through Sept. 10 at the Grand Central Art Market and I encourage you to see it. 
Adriana's exhibit ended, but it was a beautiful play on the artist's immigration status, the American Dream, and the dreamer in all of us.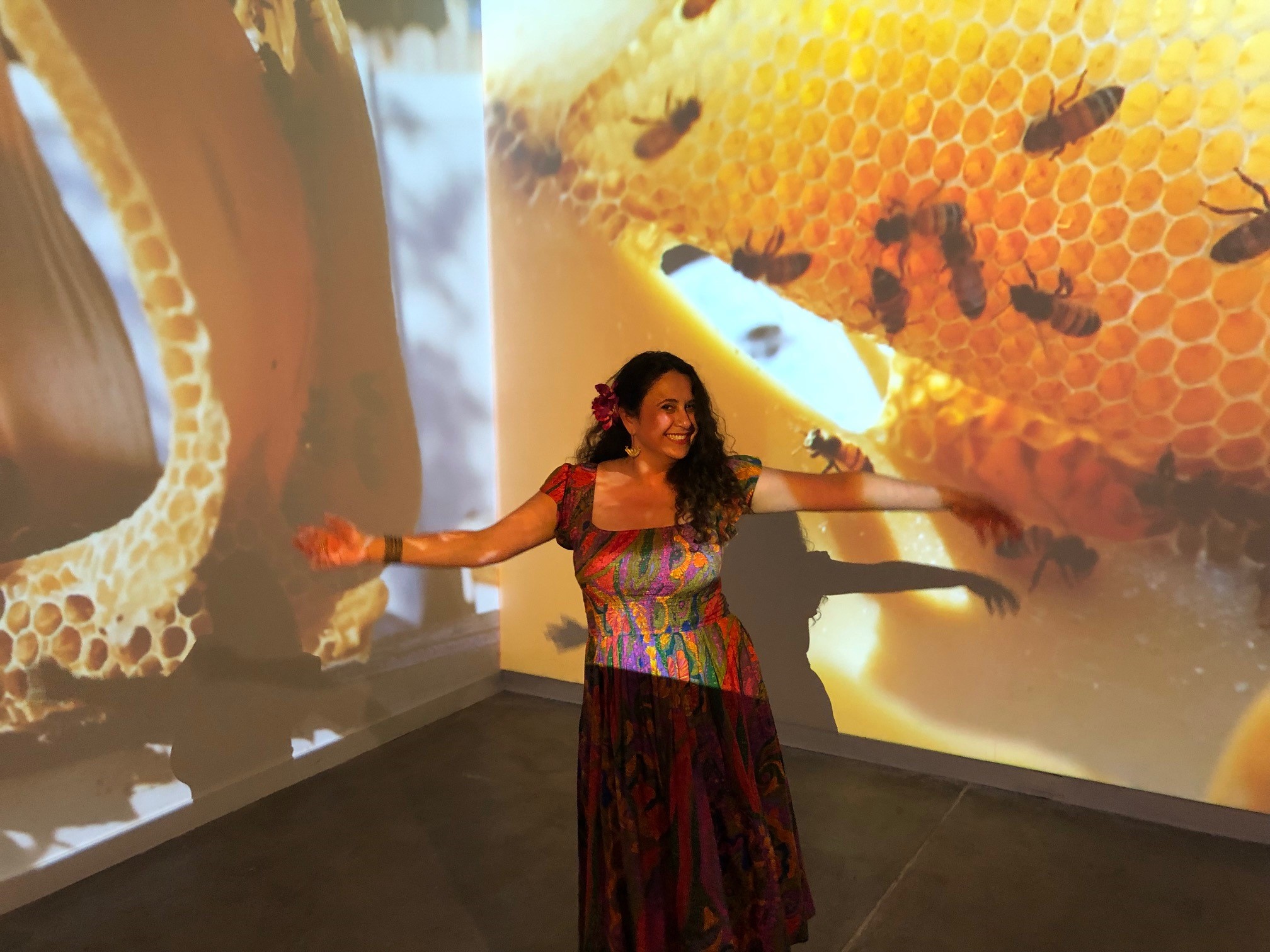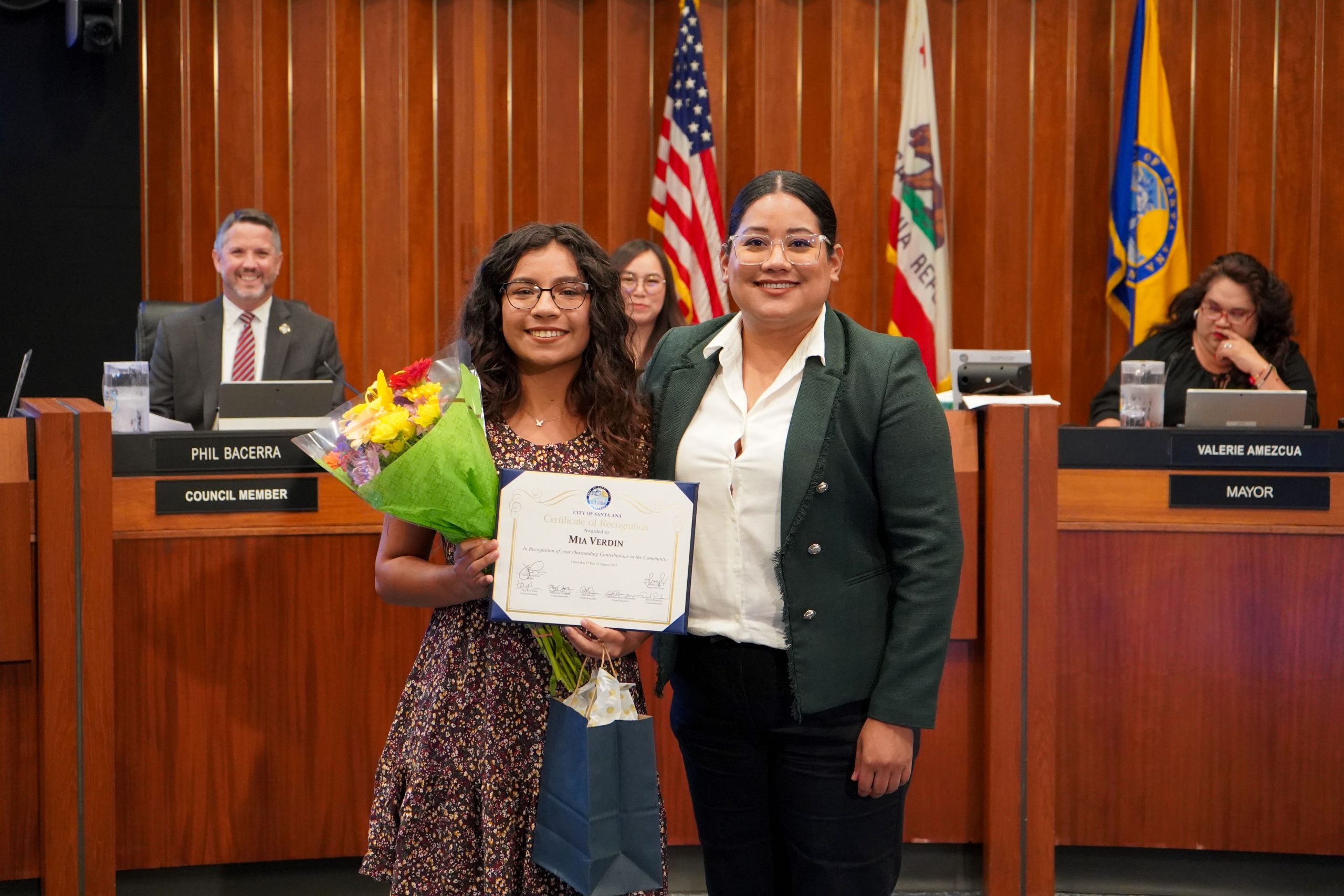 I also took a special moment to acknowledge Mia Verdin, a dedicated member of the Youth Commission who is embarking on her journey to UC Berkeley for college. Congratulations, Mia! My connection with Mia began in 2021 when I was in the process of recruiting students to apply for the youth commission. Initially, I had reservations about Mia's readiness, but I reminded myself that certainty wouldn't come unless both Mia and I were granted the opportunity for her to assume a leadership role on the youth commission. And indeed, Mia defied my initial expectations. 
I have been a direct witness to her extraordinary diligence. Balancing a full-time student load, her involvement in the band, where she not only participates but also takes on a leadership role during football games and other events, her role as a devoted daughter, and her active engagement as a young advocate within the city, particularly in her recent efforts to champion a youth center. Mia also served as an intern in Supervisor Sarmiento's district office, attending numerous community events and meetings.
Mia, your accomplishments fill me with immense pride. Best of luck as you pursue your double majors at Berkeley! We can't wait for you to come home.
---
WISEPlace housing breaks ground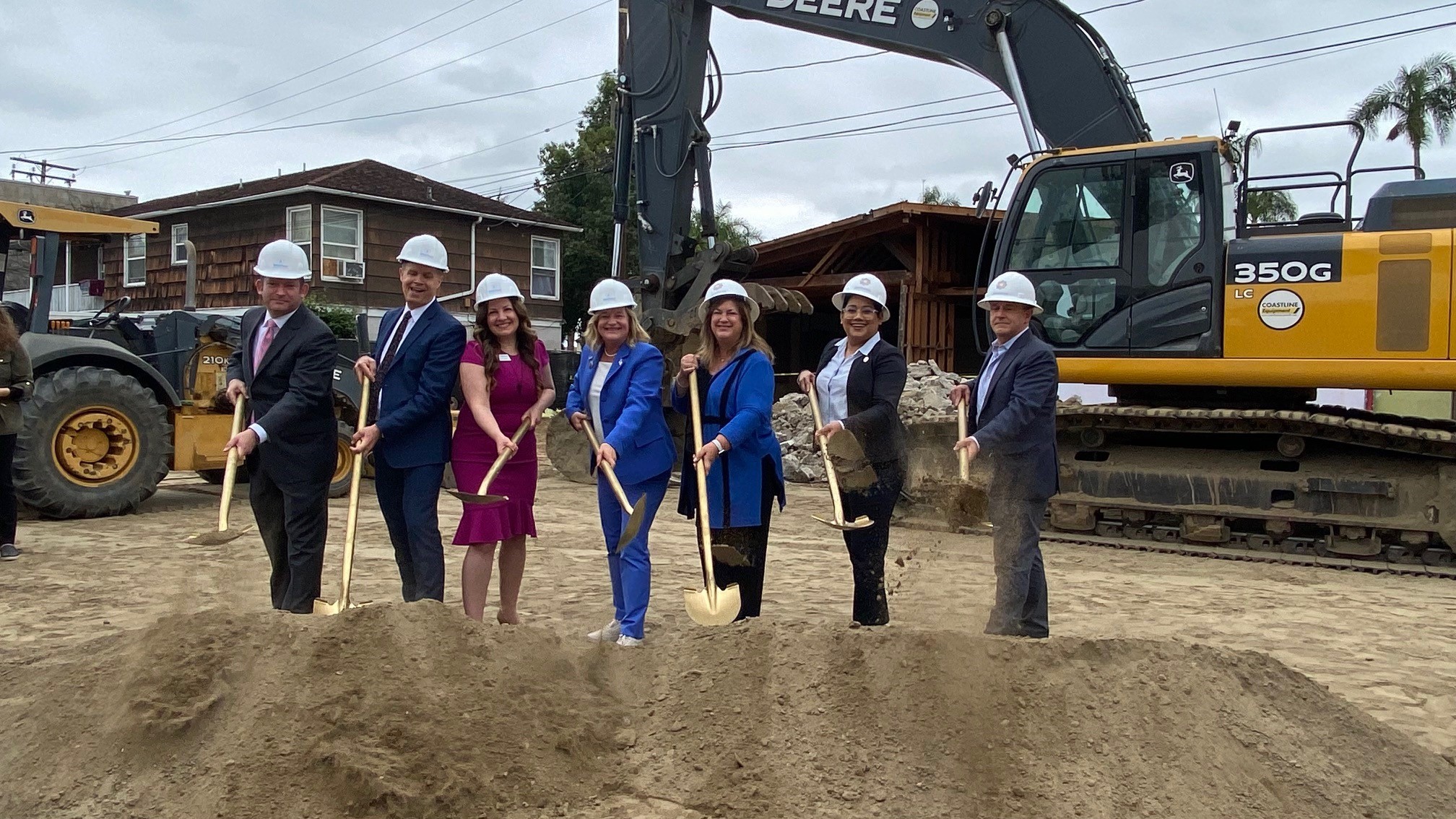 In June I joined WISEPlace, The Orange County Housing Finance Trust, and Jamboree to break ground on their 47-unit permanent supportive housing project at a former YWCA site at 1411 N. Broadway. The project will provide formerly homeless women with housing and services. 
As a high school student at Santa Ana High School, I had the privilege of participating in the ROP program. It was through this program that I first stepped foot into WISEPlace. I vividly remember walking over to this location, where I would sort mail, perform typical office duties, and even have the responsibility of closing the front and back office. It was during that time that I truly grasped the significance of this place, the meaning it held for the women who sought shelter there.
I'm proud to continue supporting the efforts of WISEPlace.
---
Take me out to the ball game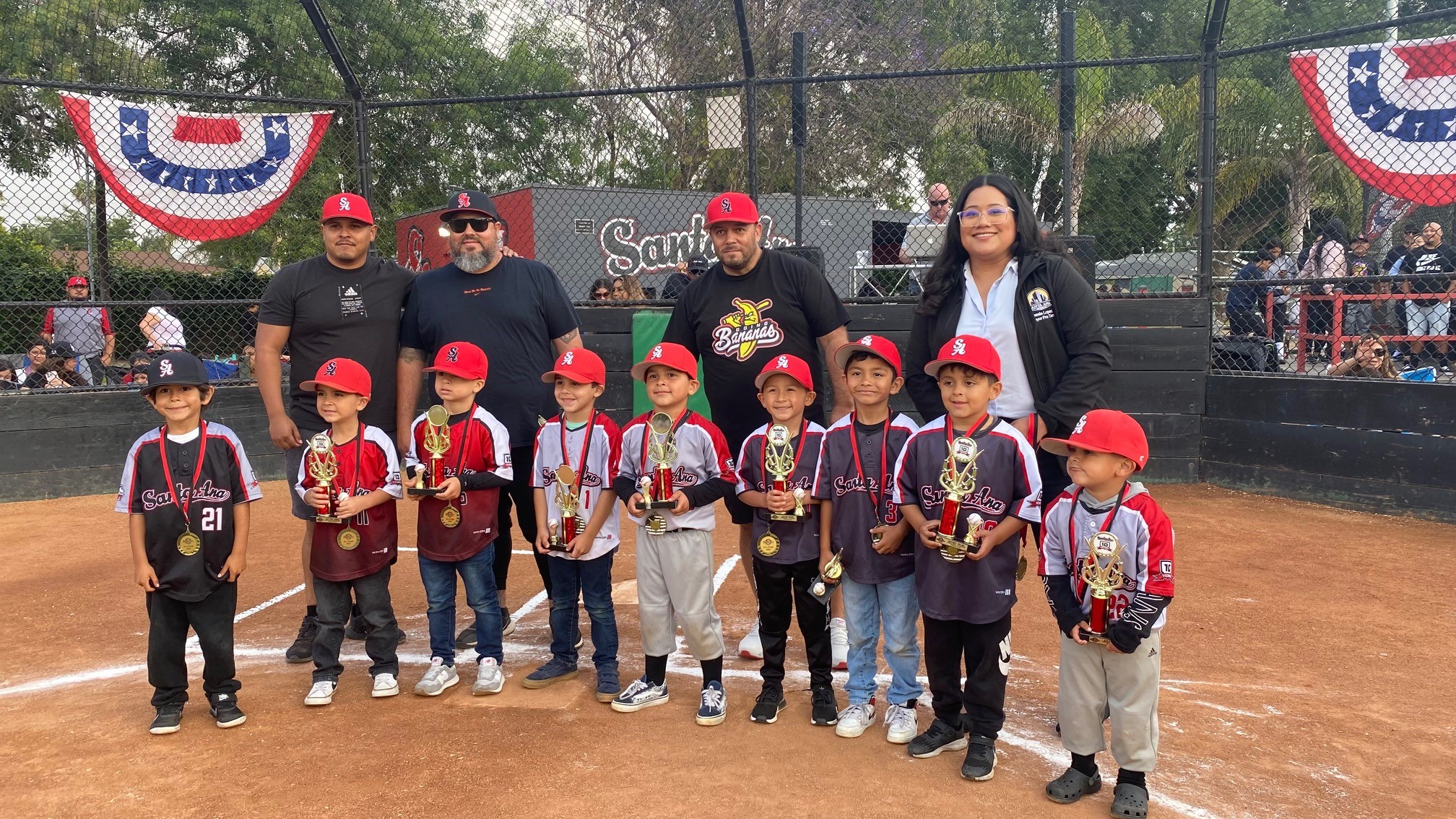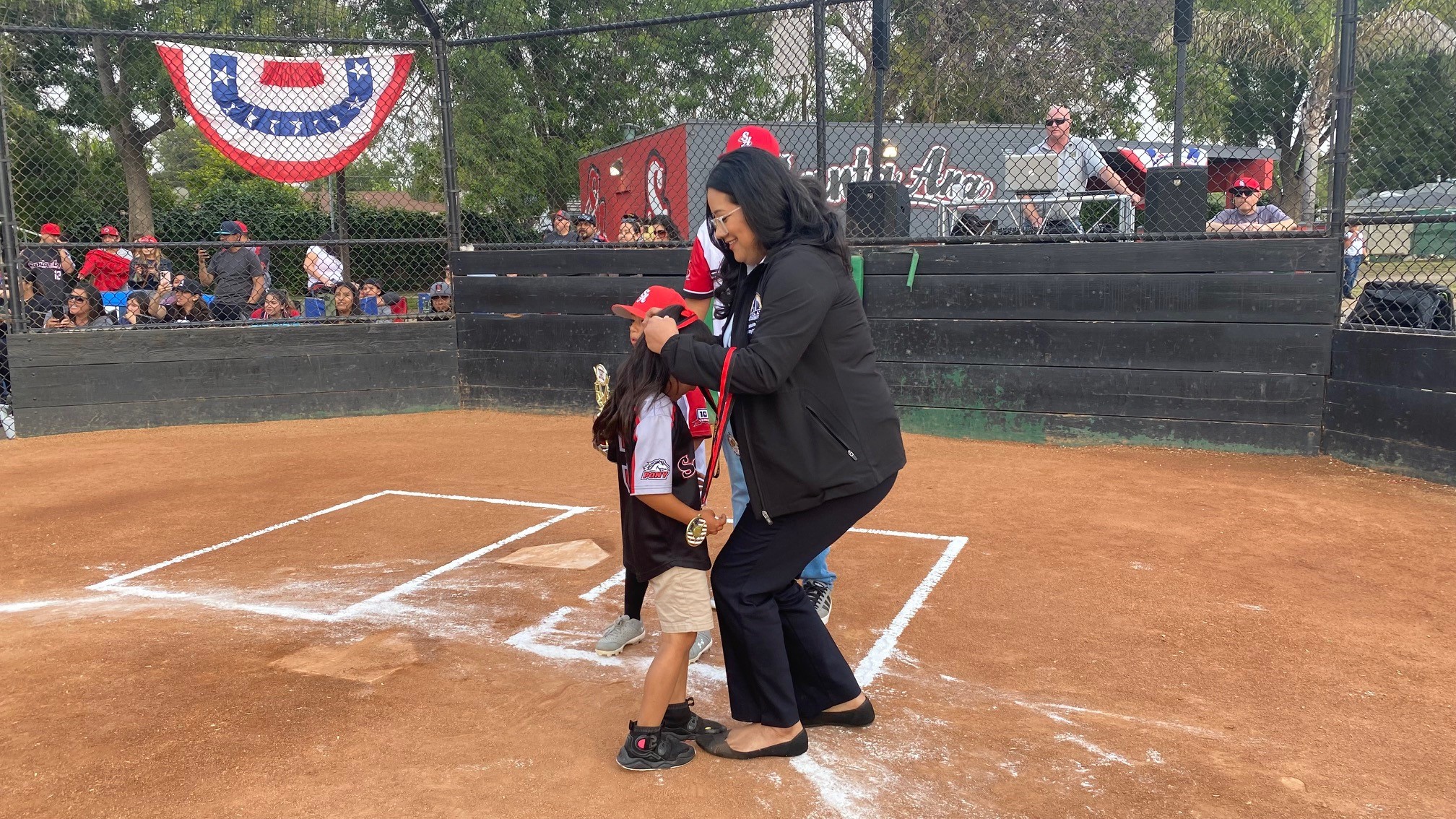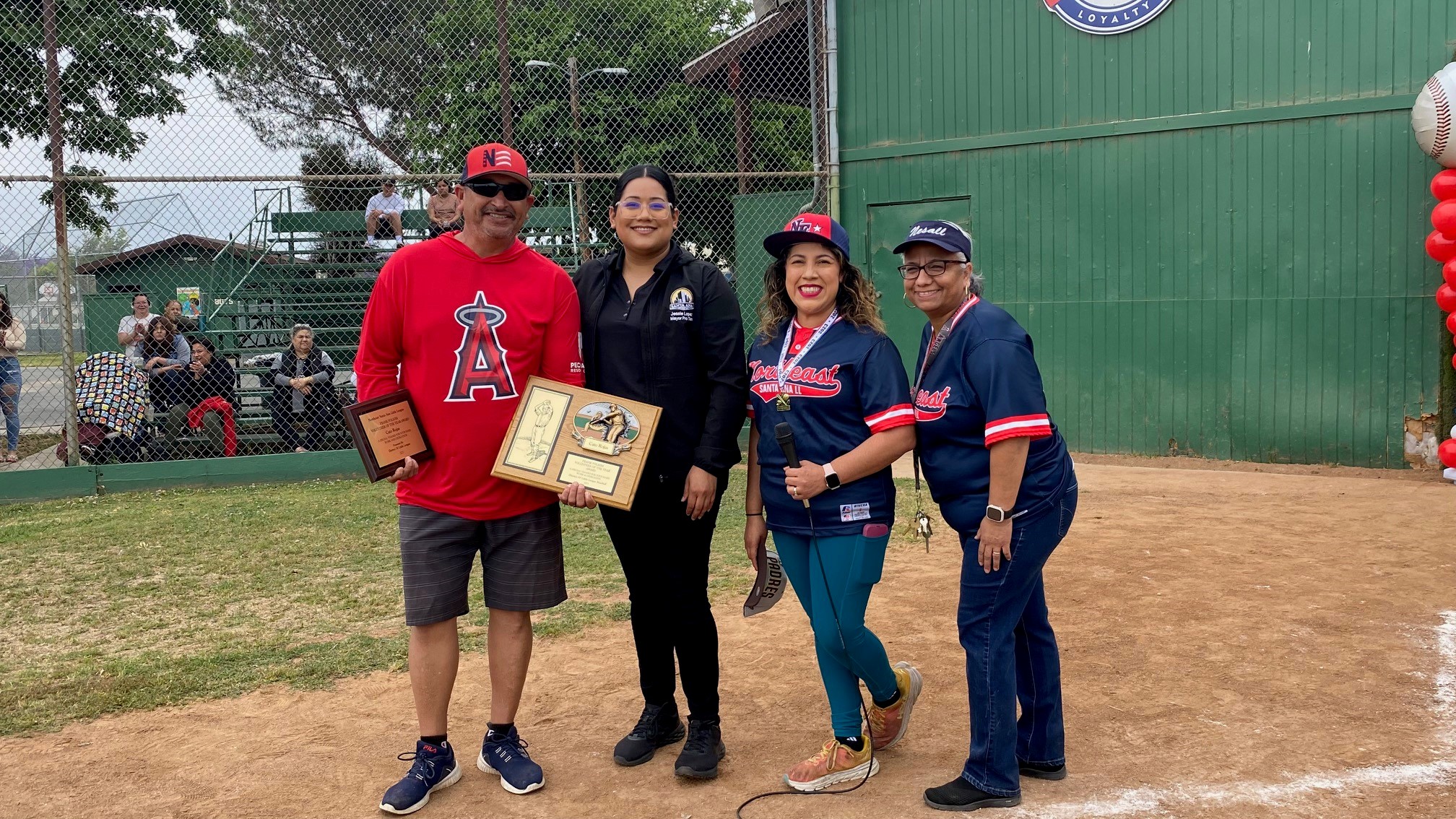 I took the field to join in the Santa Ana Pony League closing ceremony and the North East Santa Ana Little League. Congratulations to all the kids on a successful season! Your hard work and dedication have paid off, especially for those that won the City of Santa Ana Tournament. I am so proud of all the little league families for their commitment and support. Keep up the great work!  
---
City Council actions
I've been busy at our City Council meetings! Here are just a few of the items we recently approved that will benefit the Santa Ana community:
---
Get services
Internships at Board of Supervisors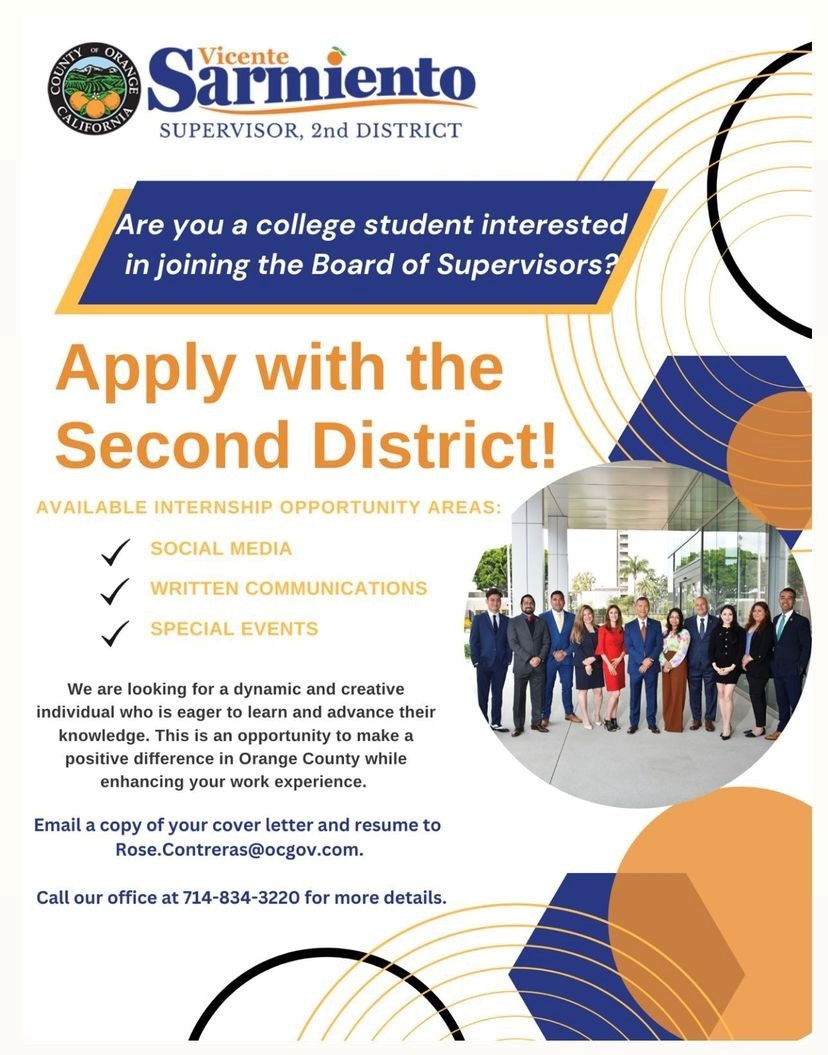 I encourage anyone looking for a career in government or just great job experience to apply for an internship at the Second District Office of the Board of Supervisors. Email Rose.Contreras@ocgov.com or call 714-834-3220.
---
Events & Meeting
Chicano Heritage Festival – August 27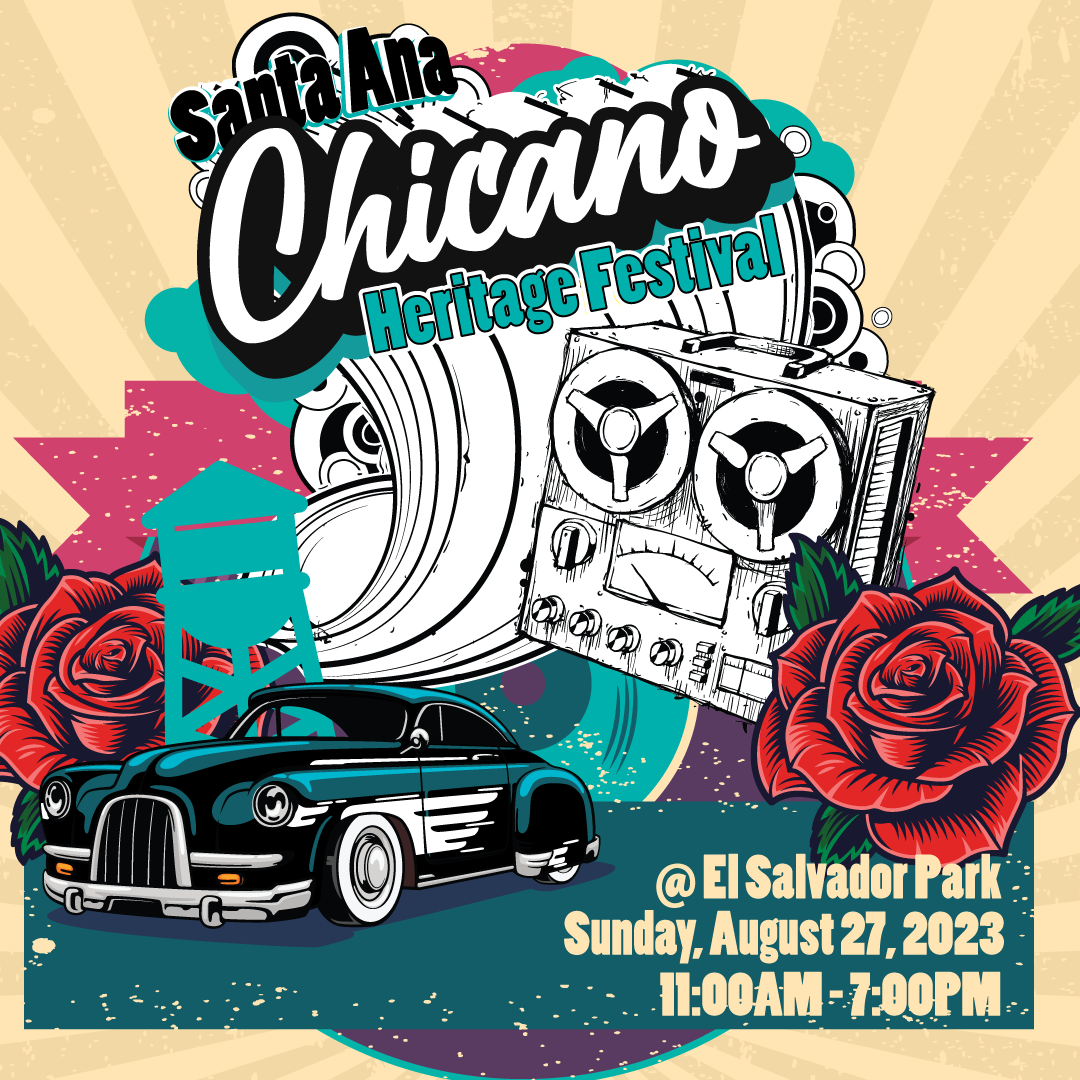 The City of Santa Ana's Chicano Heritage Festival is back! Join us for a day full of celebrating our community's Chicano culture. Admission is free and the event is open to the public. This second annual special event will include festivities celebrating all aspects of Mexican American culture and more.
Sunday, Aug. 27

11 a.m. – 7 p.m.

El Salvador Park, 1825 W. Civic Center Drive
---
Fiestas Patrias Festival and Parade – September 16-17

Fiestas Patrias returns Sept. 16-17 with the traditional parade on Sunday, Sept. 17! Learn more at the link below. More details are coming soon!
---
Local Events
Resident Days at the Zoo • Third Sunday of each Month (https://www.santaanazoo.org/)
Bowers Museum free Sundays • Santa Ana residents get in free each Sunday (http://bowers.org/images/pdf/Bowers_Museum_Free_Programs.pdf) 
Discovery Cube Waste Free Days • Santa Ana residents get free admission to the Discovery Cube on the first Tuesday of the month (https://www.discoverycube.org/promotions/)
---
FREE Food Distributions
Weekly food distributions are available for those in need.
---
Common services
Police non-emergency line: (714) 245-8665
SMART homelessness response: (714) 242-3706
24/7 Public Works hotline: (714) 647-3380