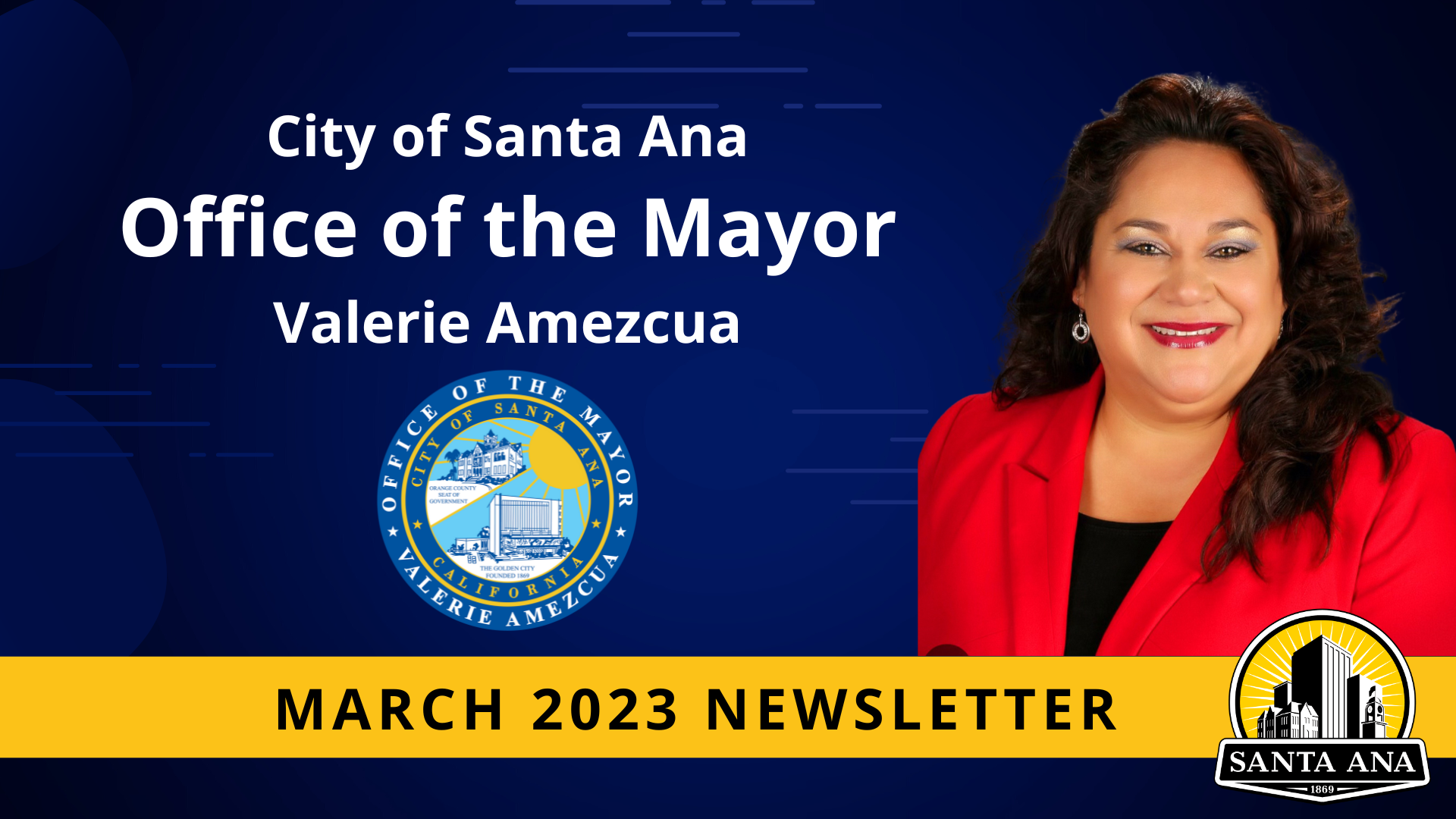 Dear community,
Spring is upon us, and our city is brimming with activities. My office has been very busy, and we are happy to share our latest news and updates about what's happening in our community.
During this month I attended and participated in several community events. The Farmers & Merchants Bank ribbon cutting, the Santa Ana Memorial Park Little League opening night, and OCBC Installation Dinner, to name a few. I also had the honor to speak at the Rotary Club, OC Women's Summit, the Santa Ana Chamber of Commerce Vision Makers Breakfast, the Com-Link meeting, and the CADEM Woman Making History event. All wonderful opportunities to engage with stakeholders, share about our city and support our community.
March 22, 2023, marked my 100th day serving as your mayor. I had the honor to be interviewed by Spectrum TV where I honored my grandmothers as my greatest influences and shared how proud I am to be Santa Ana's first woman mayor.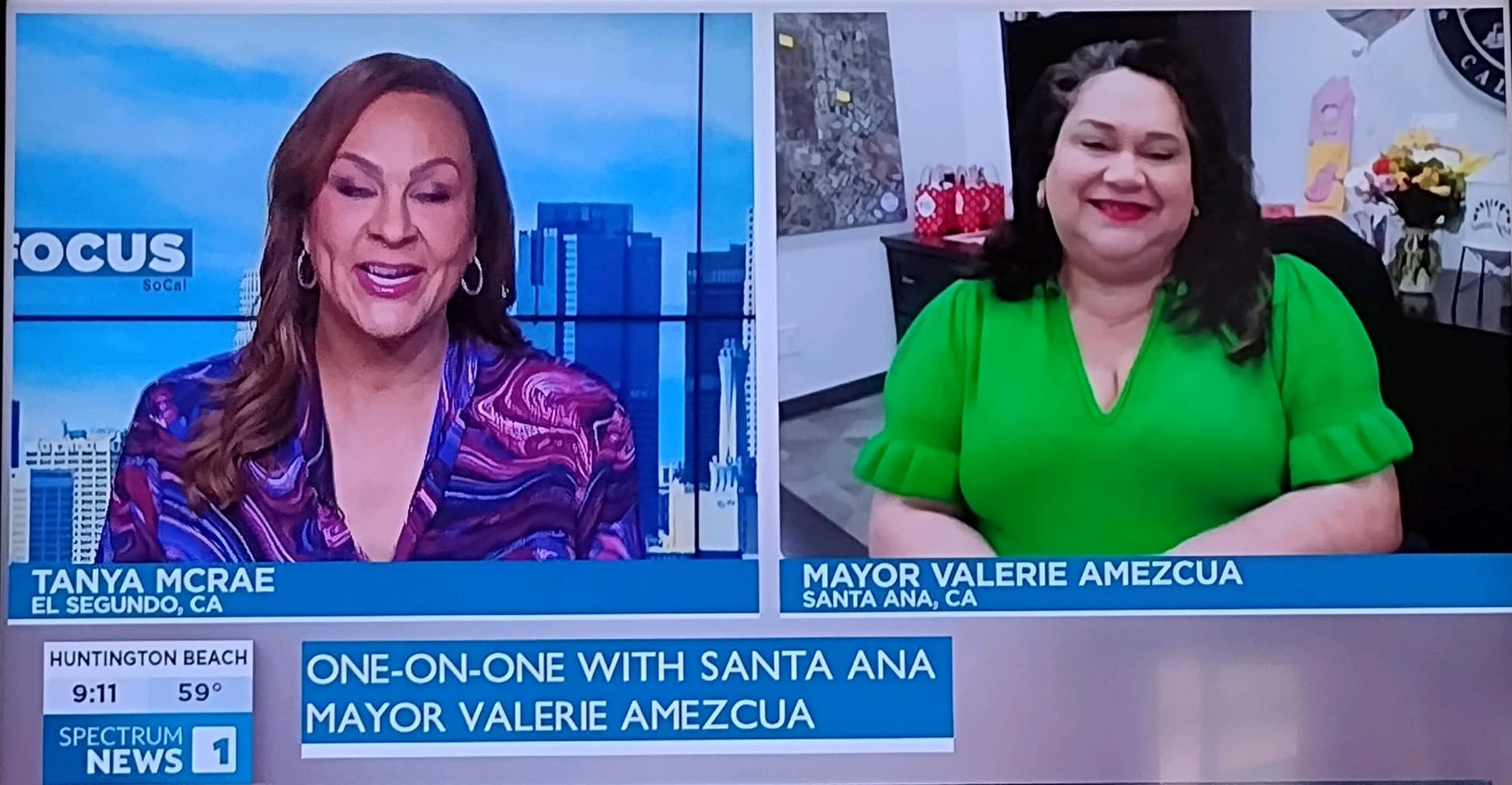 Finally, I invite you to attend the 2023 Mayor's Prayer Breakfast hosted by the Chamber of Commerce. This event will be on Tuesday, May 9, from 7:30 a.m. to 9 a.m. at Templo Calvario Church, 2501 W. 5th St., Santa Ana. For more information, please visit the Chamber's website.
I'm already excited for what the next few months will unfold, and I hope you'll join me as we build a stronger, more prosperous Santa Ana.
Sincerely,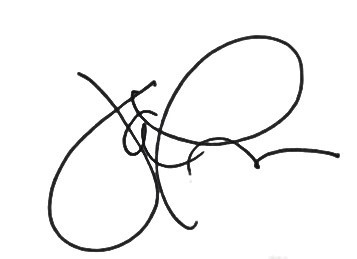 Mayor Valerie Amezcua
---
City Hall
Upcoming Holiday and Closed Friday schedule: (City Hall non-essential offices are closed on alternating Fridays throughout the year.)
Friday, April 14, 2023 – City Hall closed

Friday, April 28, 2023 – City Hall closed
The next City Council meeting will be held on Tuesday, April 4, at 4:30 p.m. at Santa Ana Council Chamber, 22 Civic Center Plaza, Santa Ana. Official City meetings are open to the public and I encourage you to participate. Council agendas and minutes may be accessed here.
---
City resources
It's tax season! If you made less than $60,000 last year, you may be eligible for FREE tax prep assistance. Click here to find a place near you.
Homeless Services: SMART program for non-emergency homeless-related issues: (714) 242-3706

mySantaAna app

to report issues or call the mayor's office (714) 647-6900.

Project Hope Alliance

: Homelessness support for families and children.

City Hall main line: (714) 647-5400

Code Enforcement: (714) 667-2780

Graffiti Hotline: (877) 786-7824

Emergency Water Services: (714) 953-8026

Public Works dispatch (street sweeping, trees): (714) 647-3380
Starting a small business?
Graffiti Arts Program
The City of Santa Ana's Arts & Culture Office is seeking a Santa Ana-based organization to design and implement a pilot for Bridging the G.A.P. (Graffiti Arts Program), a year-long interactive, multi-disciplinary public arts program that will inspire civic leadership and community pride in youth through the creation of murals across the city. A panel will review completed proposal submittals and award one organization for their proposal. Applications are accepted online only and are due by Thursday, April 6, 2023 at 4 p.m.
Submit a Graffiti Arts Program proposal: https://www.santa-ana.org/bridging-the-g-a-p/
---
Highlights from March City Council meetings:
Approved FieldTurf USA to provide and install synthetic turf at fields 1 and 3 at the Dan Young Sports Complex at Centennial Park for $2.9 million
Approved funding to complete the Lincoln Avenue Water and Sewer Main Improvements Project
Awarded a $4.6 million construction contract to GMZ Engineering, Inc. for the Downtown Flood Reduction and Stormwater Infiltration Project
Authorized an agreement with Dunbar Architecture to provide architectural design services for the rehabilitation of the historic Cypress Fire Station
Awarded a construction contract for the Saddleback View Neighborhood Street Lighting Project to International Line Builders, Inc. for $601,977, with an estimated project delivery cost of $752,471
Awarded a $1.79 million construction contract to Excel Paving Co. to build protected bike lanes on West Willits Street from Fairview to Raitt streets
Approved a loan agreement of $5.2 million with North Broadway Housing Partners LP for the development of the WISEPlace Permanent Supportive Housing Project at 1411 North Broadway
Accepted a donation from Project Backboard for the repair and resurfacing of the basketball court at Portola Park, valued at $75,000.
Approved a resolution affirming the City's priority to protect public health in the enforcement of state sidewalk vendor regulations and urging the state Legislature to allow local sidewalk regulation.
---
Mayor on the move
Save the date and join me at:
Coffee with the Mayor: El Salvador Park, 9 a.m. Saturday, April 15.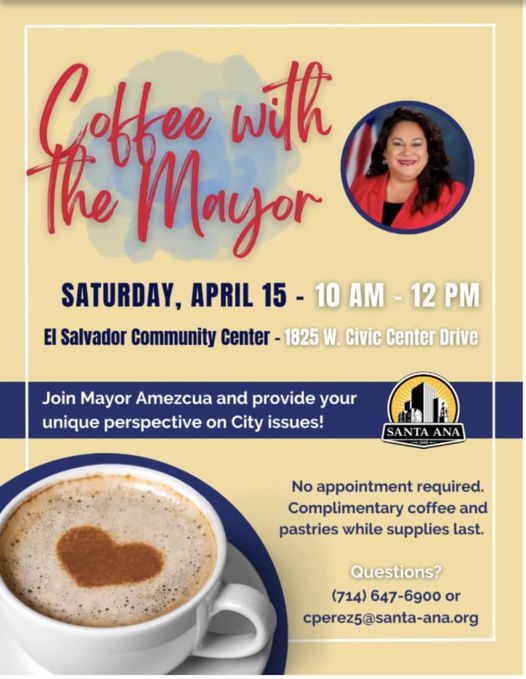 Walk with the Mayor: Wilshire Square neighborhood walk, 10 a.m. to 12 p.m. April 29. Meet at the corner of Birch Street and Wilshire Avenue.
Mayor's Prayer Breakfast: Templo Calvario Church,

7:30 a.m. – 9:00 a.m.,

Tuesday, May 9
Santa Ana State of the City: Santa Ana Elks Lodge, Thursday, June 22
---
Non-Profit highlight: Working Wardrobes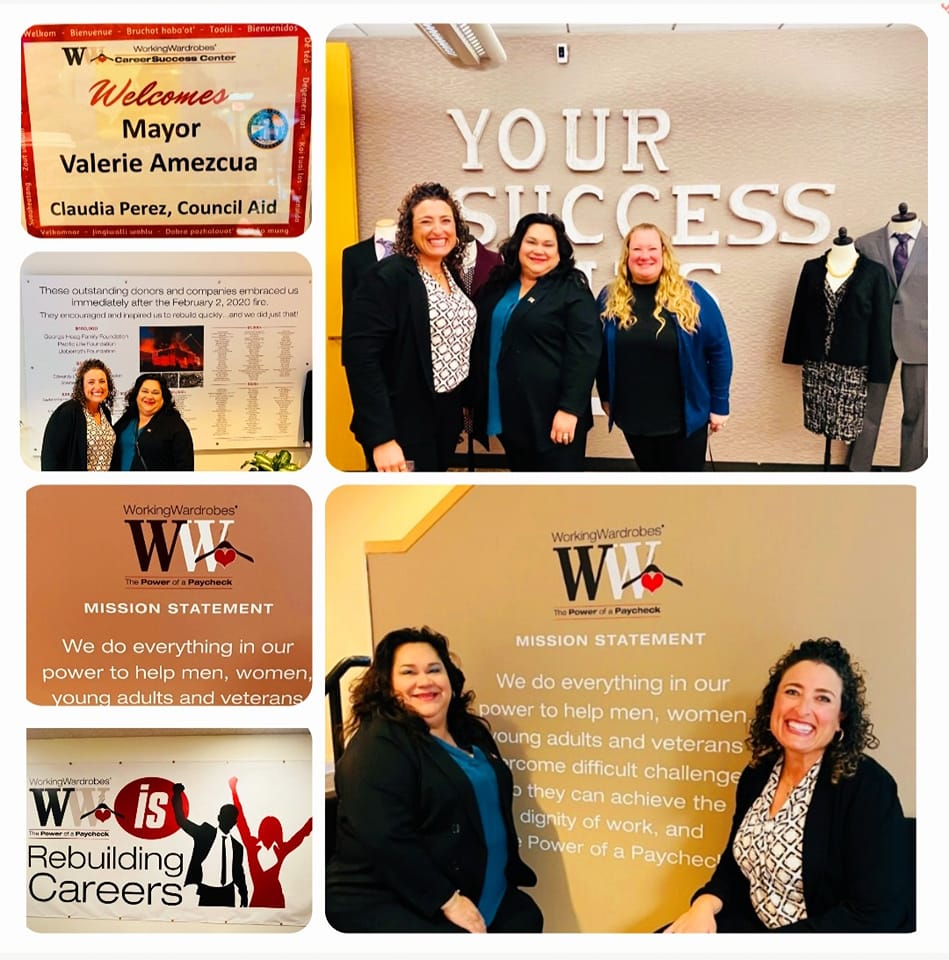 I had the pleasure of meeting Working Wardrobes CEO Bonni Pomush, at their headquarters in Santa Ana.  She shared their mission to help men, women, young adults, and veterans overcome difficult challenges on their journey to meaningful employment. We are so proud to have their headquarters in Santa Ana. Learn more here
---
Small business spotlight: Centro Naturista / Gigi's Dance Studio, 310 N. Broadway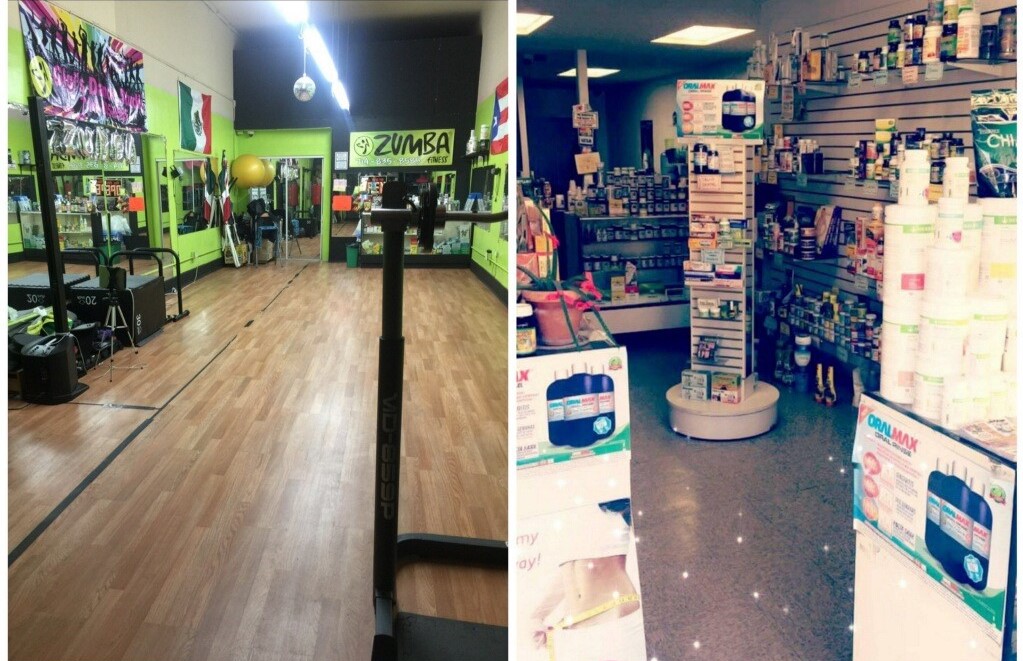 Gigi Sanchez owns and operates two Downtown Santa Ana businesses. Centro Naturista is Downtown Santa Ana's go-to place for your health supplement needs, and Gigi's Dance Studio offers fitness and dance classes.
Gigi shared with me that her vision for opening two businesses is for our community to be healthy and have a longer life. For more information, please call: 714-835-8585.
---
Grand opening of Farmers & Merchants Bank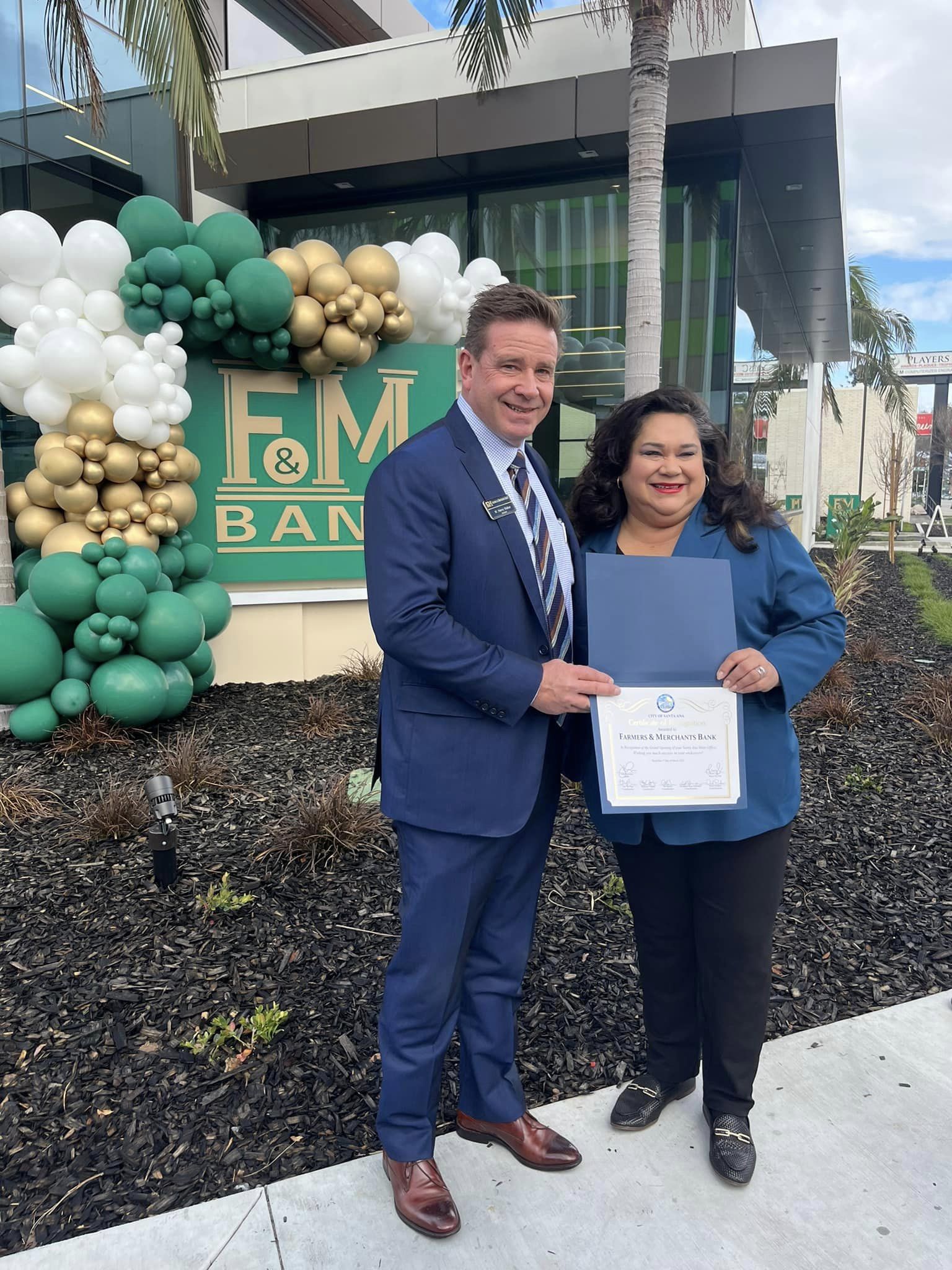 ---
Johnson Chapel A.M.E. Church 90th Anniversary Celebration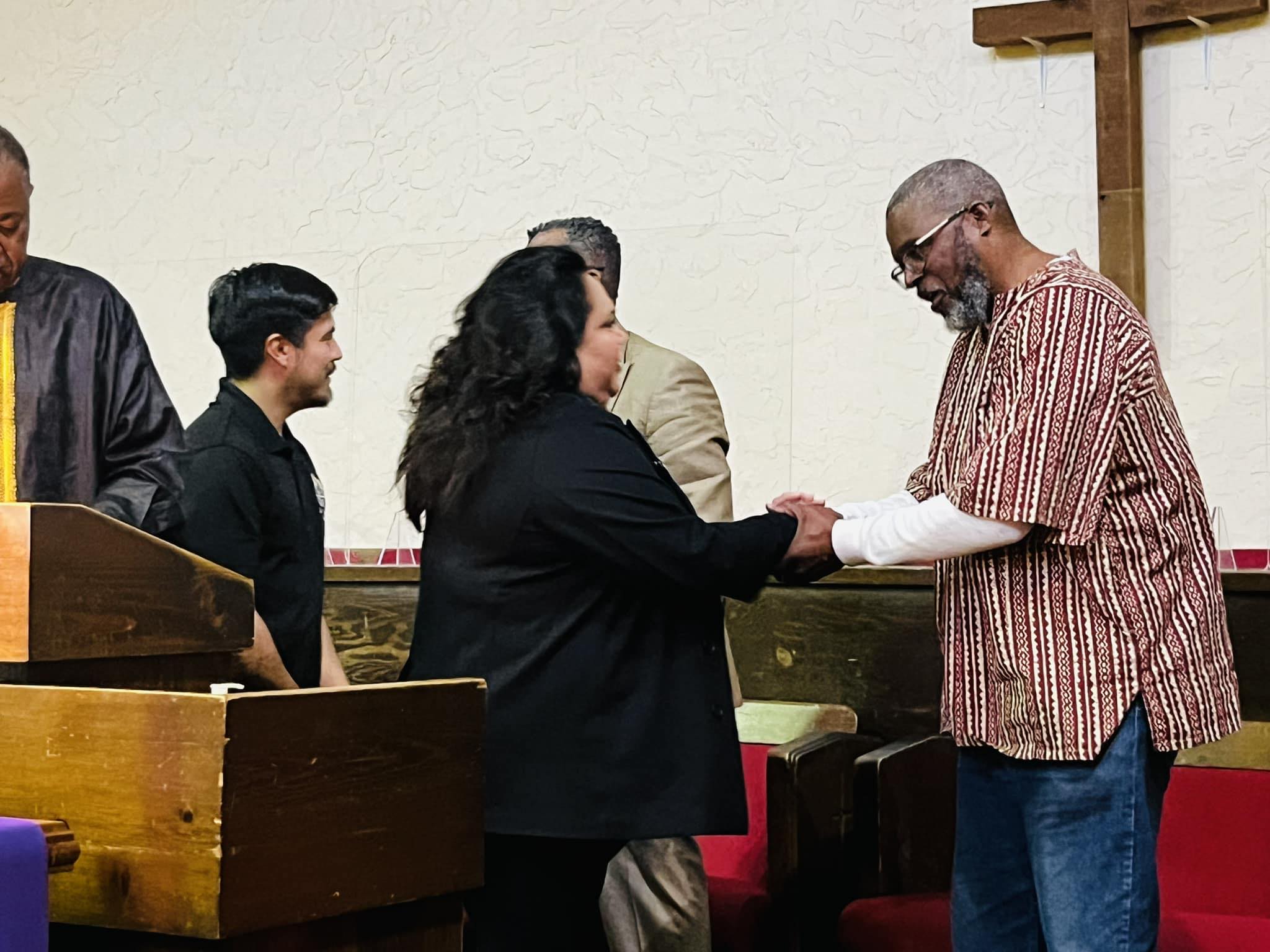 ---
Read Across America @ Franklin Elementary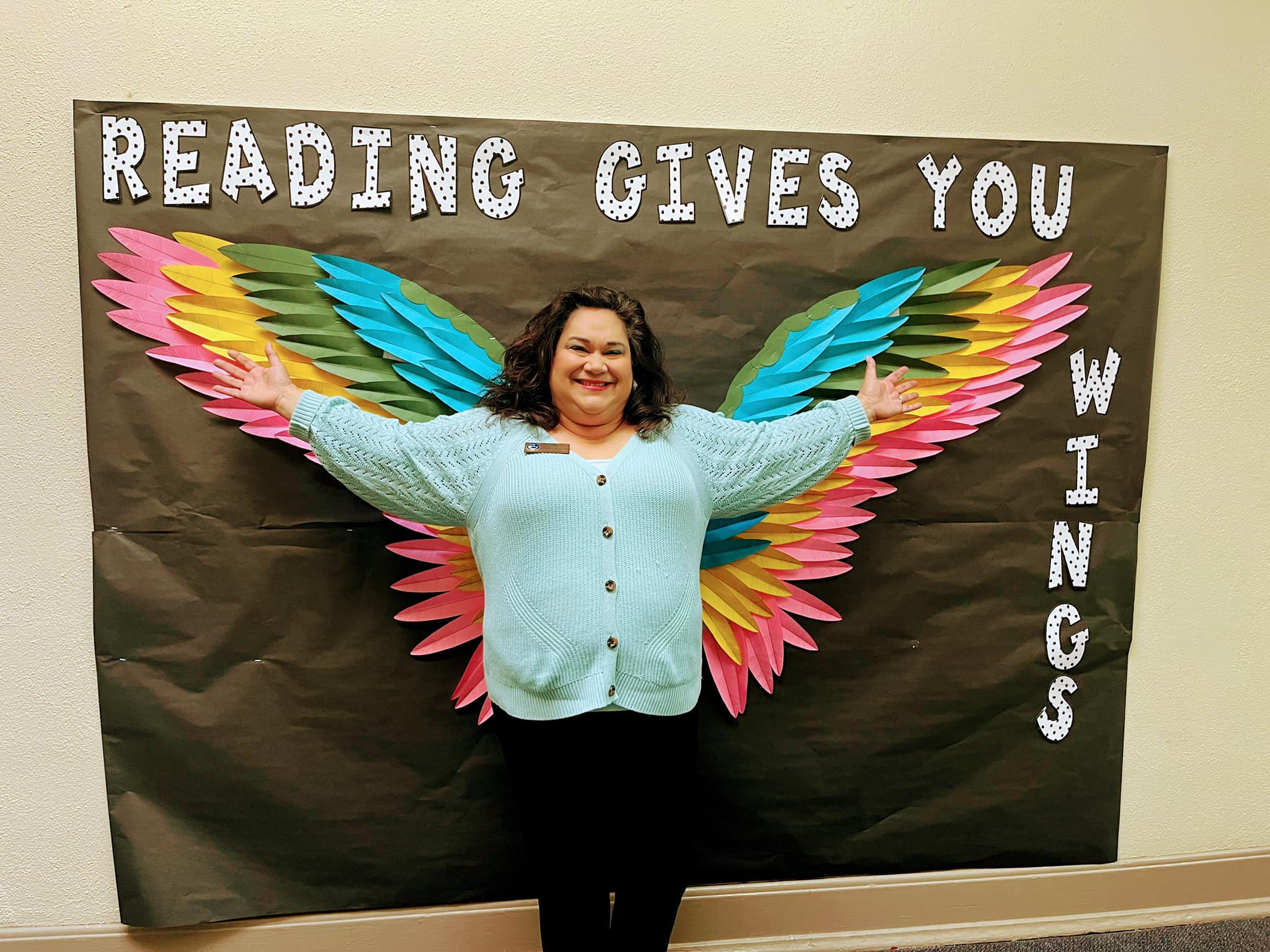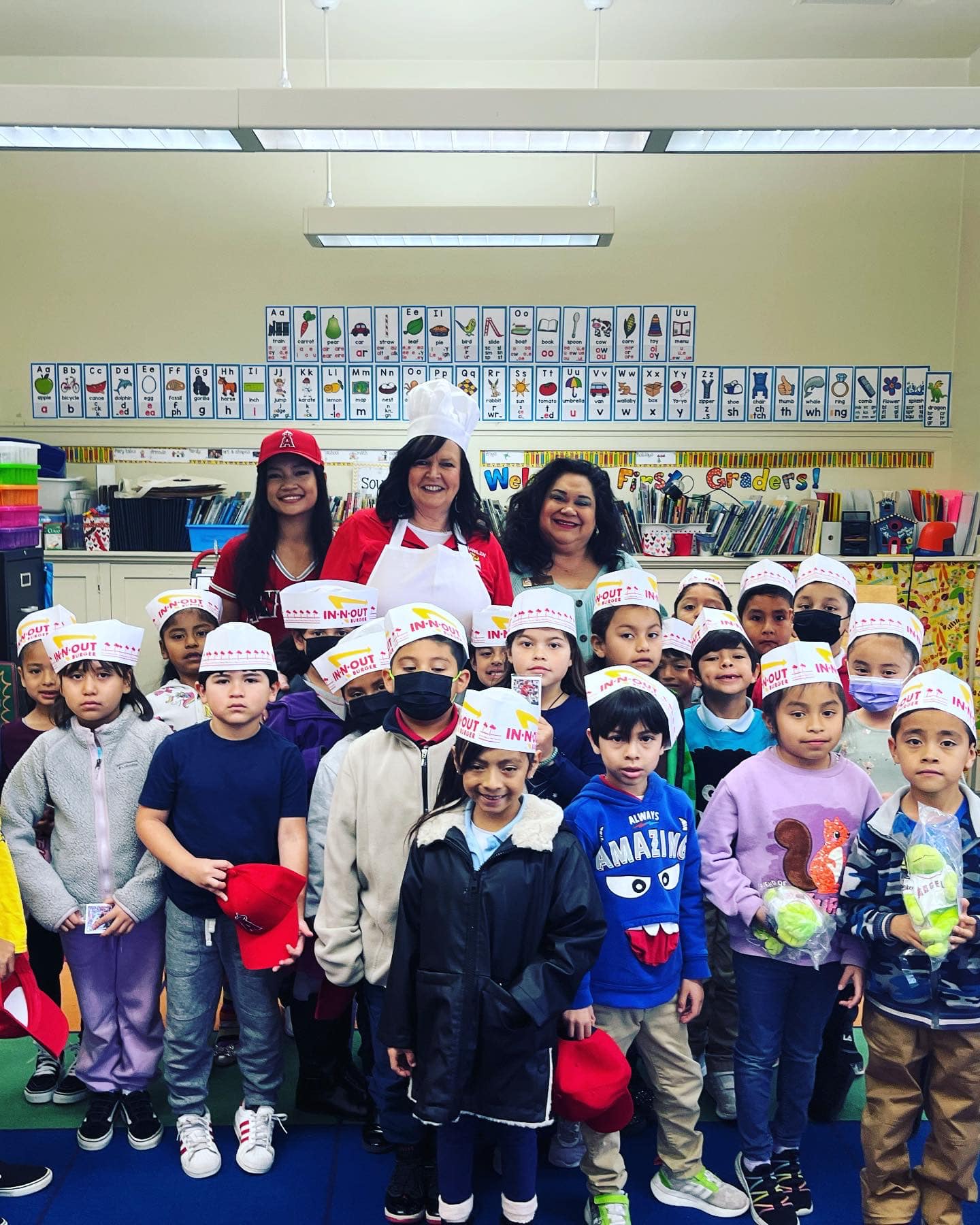 ---
Guest speaker at Santa Ana Chamber of Commerce Vision Makers Breakfast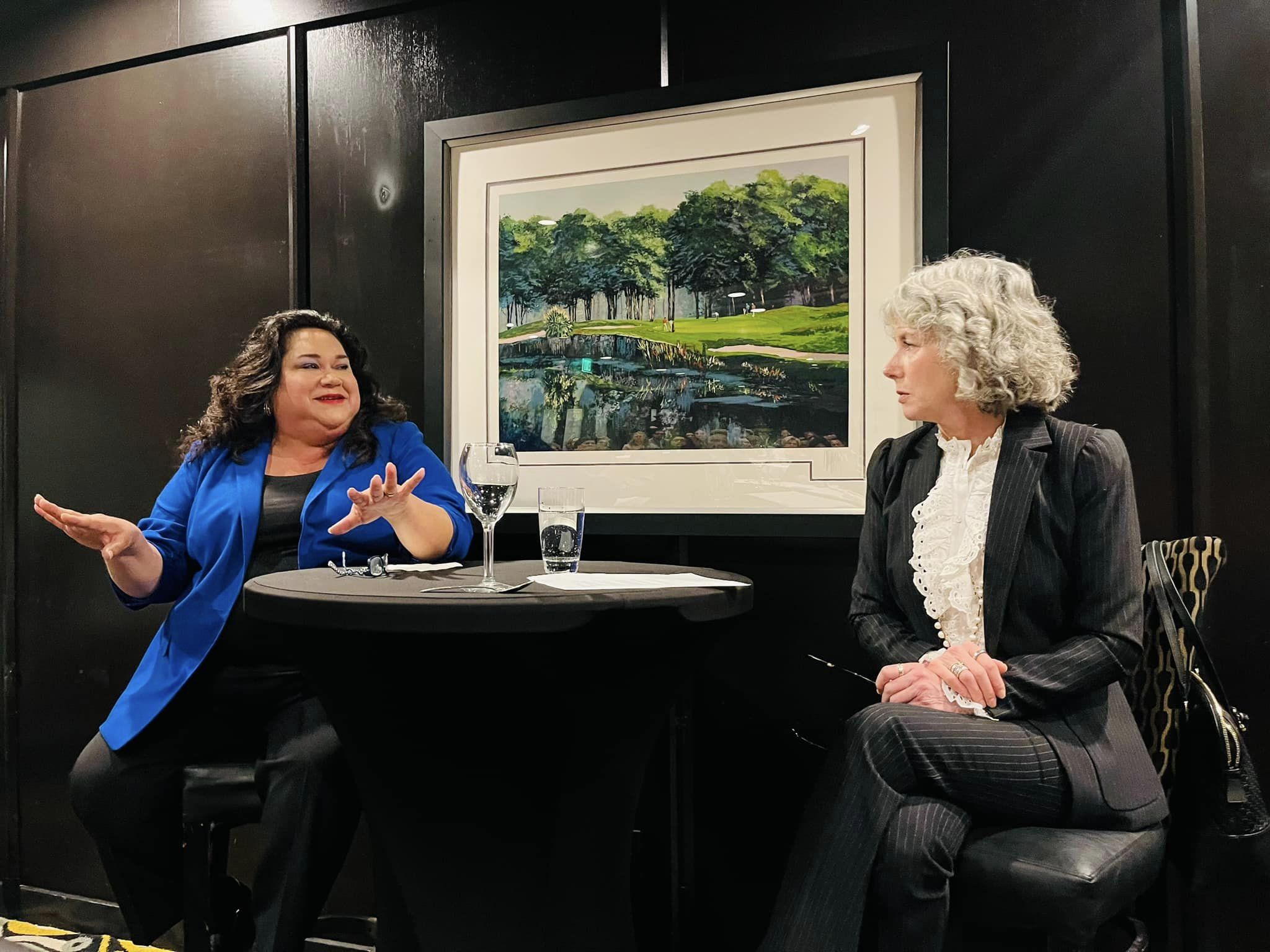 ---
Visiting Santa Ana Police Department PAAL program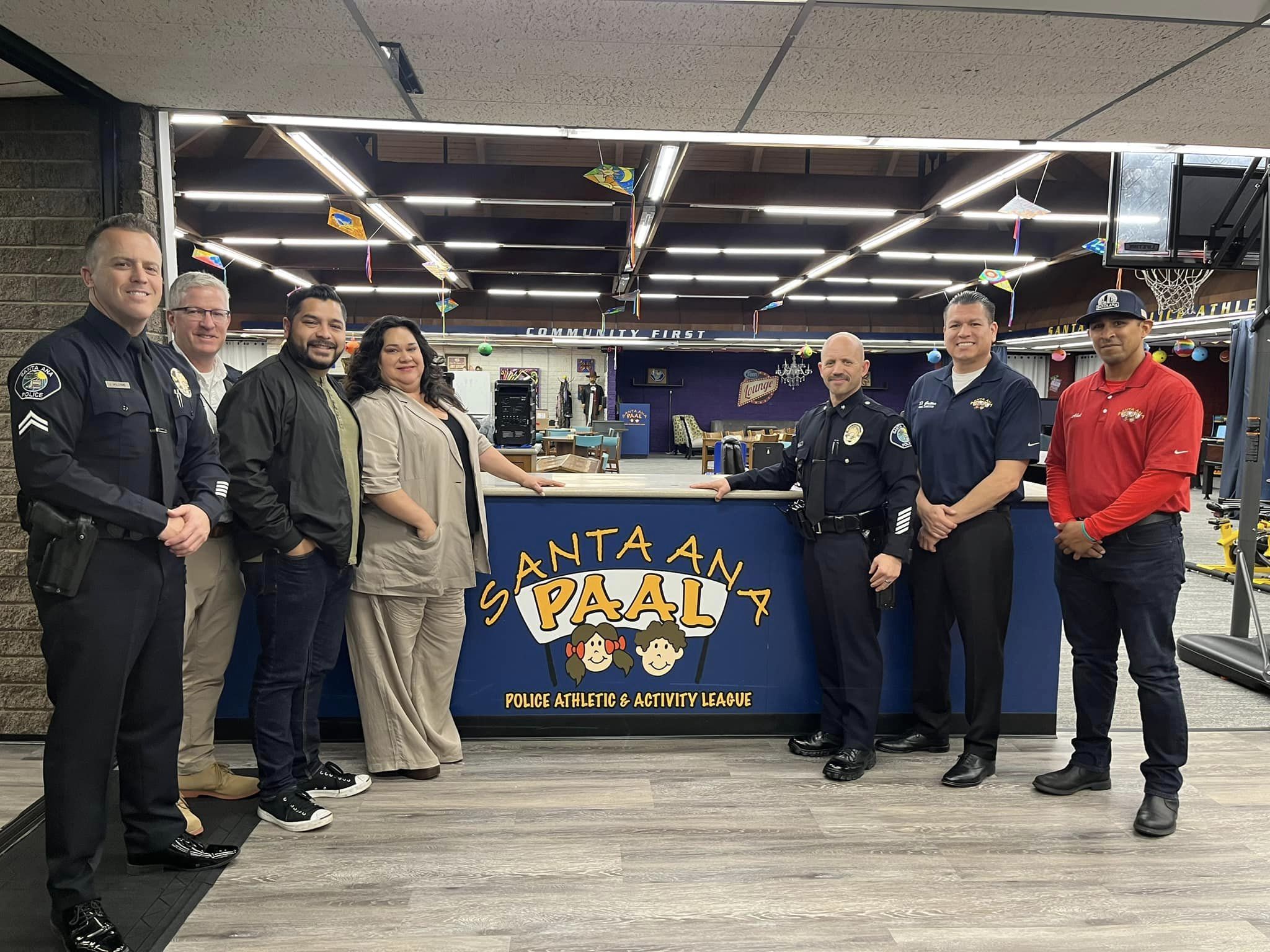 ---
Northgate Market's Cooking Up Change event!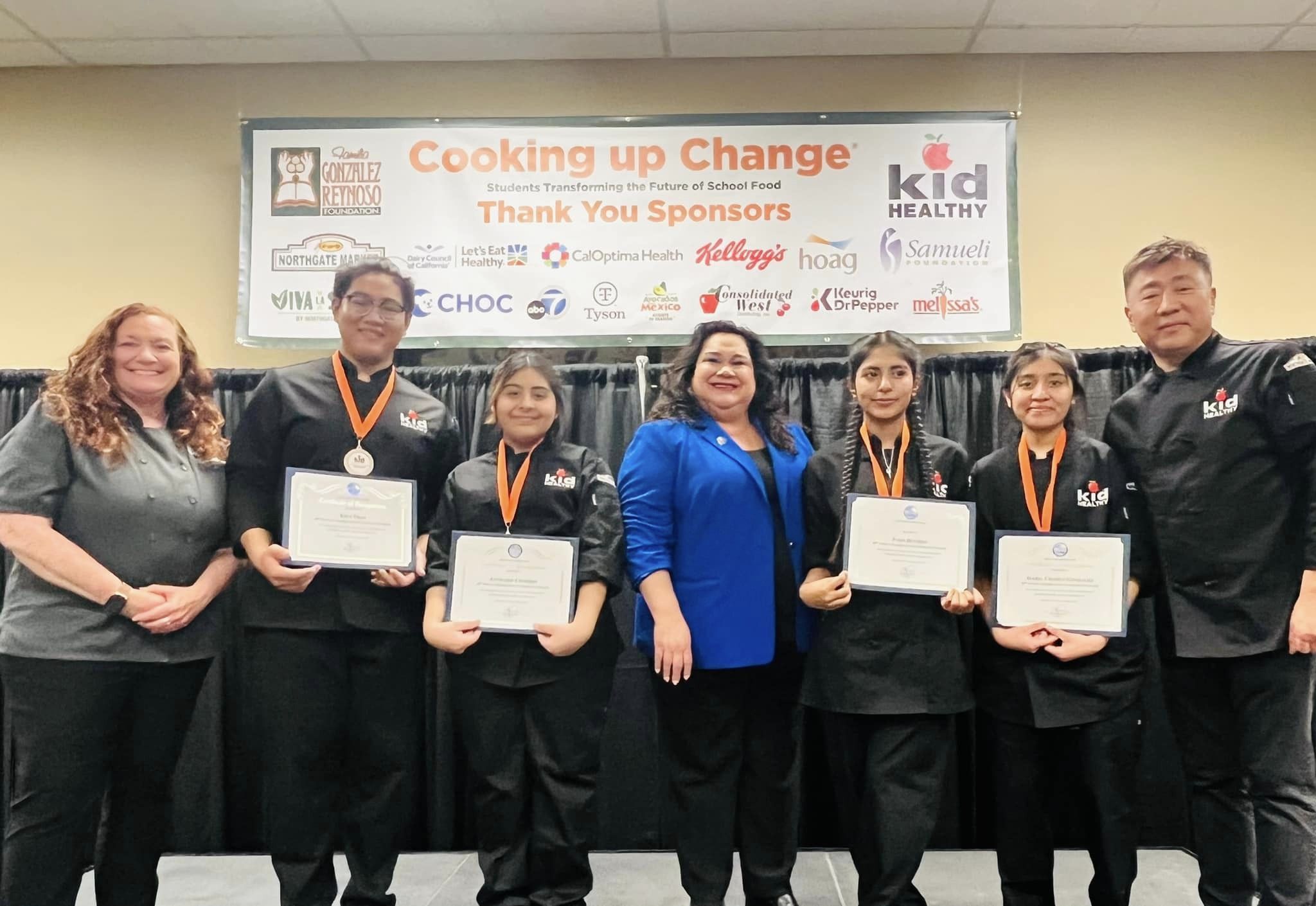 Great job Valley High School! So proud of our students!!
---
Santa Ana Memorial Park Little League opening night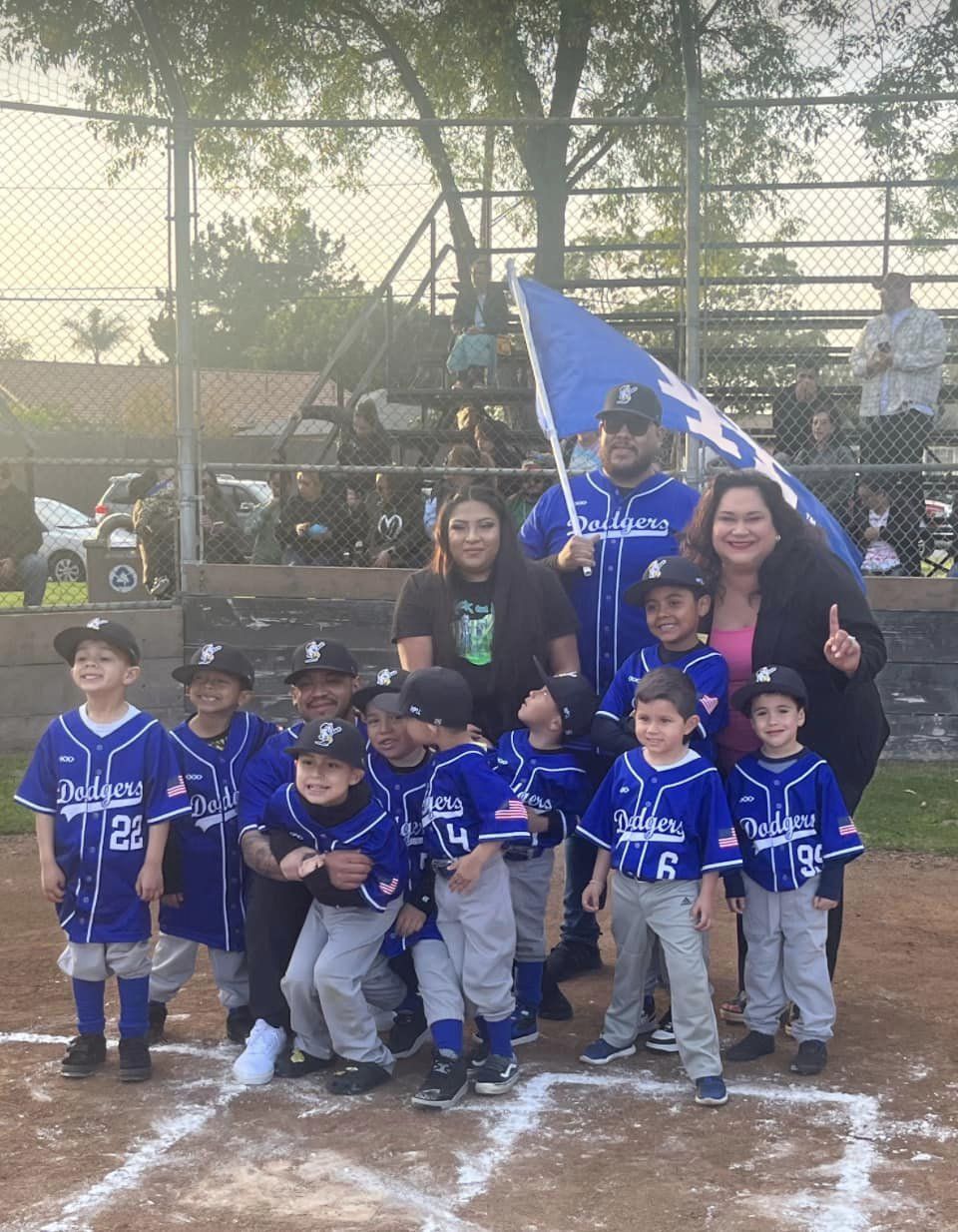 ---
Upcoming events
For a full list of City events, visit our website.
---
Victoria's Corner
This new section was created after meeting with Eva Barrios, a Santa Ana resident whose daughter Victoria Barrios was killed in 2019. With Eva's support, the goal of Victoria's Corner is to bring additional attention to Victoria's case. Anyone with information about Victoria's case or any other homicide should call these phone numbers:
Victoria Barrios case –

714-245-8334

Homicide line –

714-245-8390
---
Invite me!
If you'd like to invite me to attend an event in your neighborhood or in connection with your organization, please feel free to make that request.  Use this form to contact me.
---
Follow the City on Social media and online.