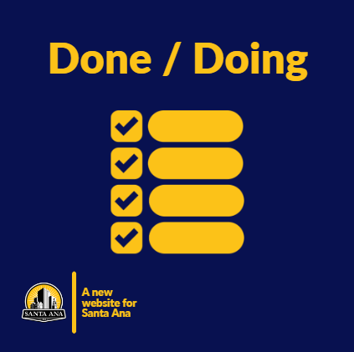 Welcome to our done/doing update for the City of Santa Ana website. This is a recap of what we've done July 13, 2023, to August 14, 2023 and what we're working on next.
Done
The commendation form documents were not working on the Police department site. We re-uploaded, and now the commendation form can be downloaded in English or Spanish.
The Santa Ana WORK Center page was updated with contact information and events.
The order for the side menu on the Public Works page was incorrect, so we
organized the menu to prioritize the main topics.
The Animal Services contact email was not working. The IT staff has corrected the issue.
Doing
Homeless Services is developing an FAQ page to answer common questions people ask.
Planning and Building is creating new pages for information about accessory dwelling units.
Planning and Building is updating the information for the pet clinics.
Public Works is working on a page to allow for Electronic Plan Review requests.
Arts and Culture is updating the Public Art Projects page by adding photos of the art and a map.