In this issue of the City Manager's newsletter, see the design for Santa Ana's first new dog park, learn about our new stormwater capture system, Habitat for Humanity breaks ground on two unique homes, and find lots of fun events and other news.
Spotlight photo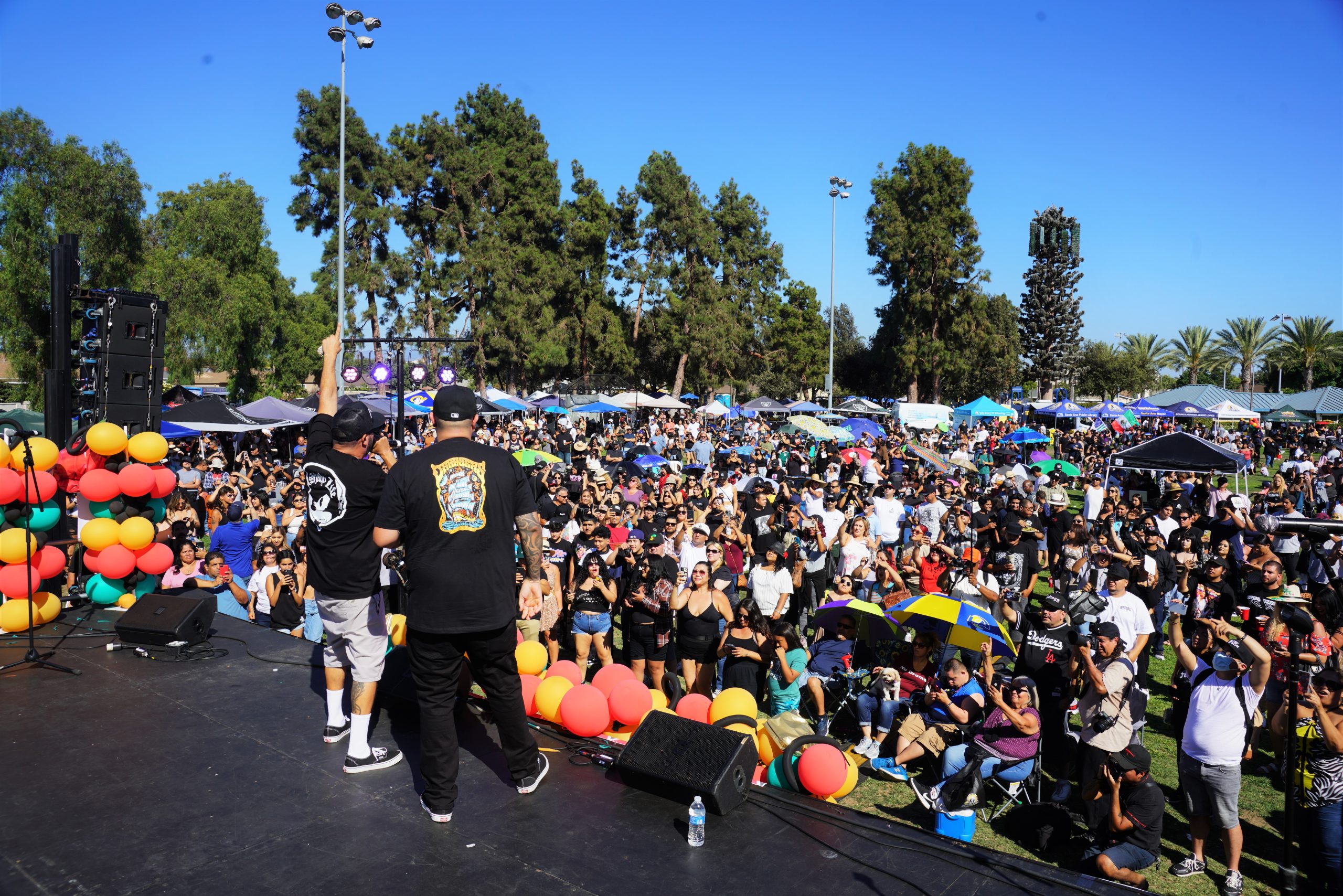 Inaugural Chicano Heritage Festival
Photo Credit: Hiram U.
To submit your own original photo of Santa Ana to be featured in the next newsletter, complete this form.
---
City Manager's highlights
Chicano Heritage Festival a success
As you can see from our spotlight photo, our summer events are in full swing, including a few new ones. An estimated 5,000 people came out last Sunday for our first Chicano Heritage Festival in El Salvador Park, where we had some classic Chicano bands, DJs, a car show, children's activities, food trucks and more.
Fiestas Patrias returns
Our next big event is Fiestas Patrias on Sept. 17-18, back after a two-year absence due to the pandemic. We've just announced the headliners and more details are to come. Learn about this and other events below.
Read the Fiestas Patrias announcement
Labor Day closure
Don't forget, City Hall is closed and street sweeping is canceled on Monday, September 5, in observance of Labor Day. It's going to be a hot weekend, so see below to find the cooling centers we're providing.
---
Dog park gets a design!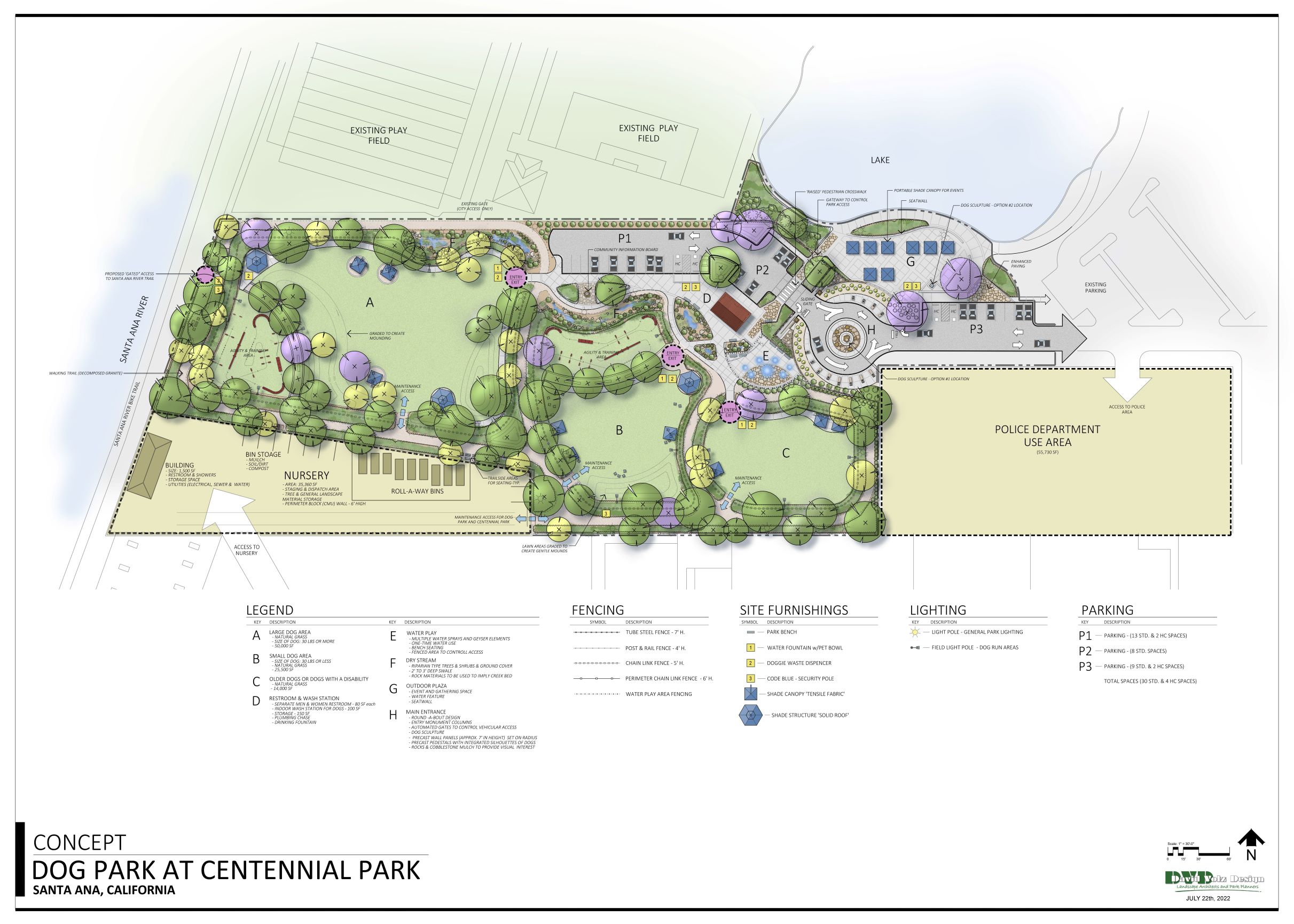 Our first Dog Park Concept Plan is out! This is one of several steps in the process for building a brand new park, which can take a couple of years to complete. We are proposing to develop the city's first public dog park on an undeveloped 3.5-acre site located in the southwest corner of Centennial Park, adjacent to the Santa Ana River.
The project will include three separate off-leash spaces for large, small and elderly dogs. Additional improvements will include agility course features, dog water play area, restroom with dog washing station, event area, walking track, information kiosk, site furnishings, landscaping and an automated irrigation system. Two access points are incorporated, from both Centennial Park and the Santa Ana River. The project will also include additional parking, turnaround, and drop off area. This new development is to be utilized citywide by dog owners, families with children and by various programs conducted or coordinated by the Santa Ana Parks, Recreation & Community Services staff.
---
New Raitt & Myrtle Park to include stormwater system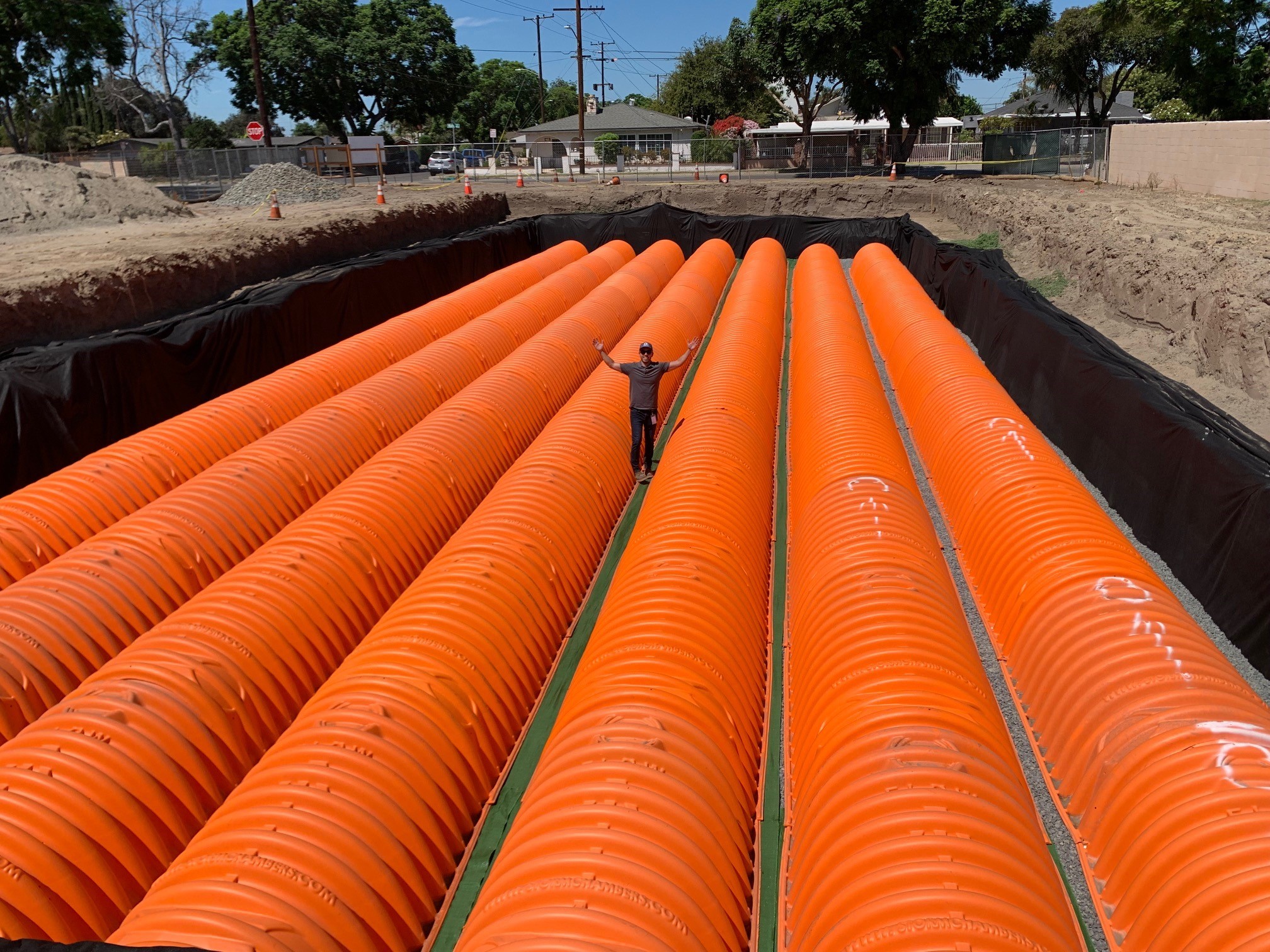 Did you know that stormwater runoff is not treated and it carries pollutants such as trash, chemicals, bacteria, and oil through our local watersheds and out to the ocean? The Raitt & Myrtle Park Project includes a large underground stormwater infiltration system and bioretention basins. The picture above illustrates the size of the underground system, which is approximately 100 feet long by 50 feet wide. The Project treats stormwater as a resource by capturing runoff and infiltrating it back into the ground to replenish our water supplies and improve water quality. This is especially important in Southern California's drought prone climate. Our Public Works Agency is managing the construction of the project and it's anticipated to be complete in spring 2023.
---
Cooling Centers open through Labor Day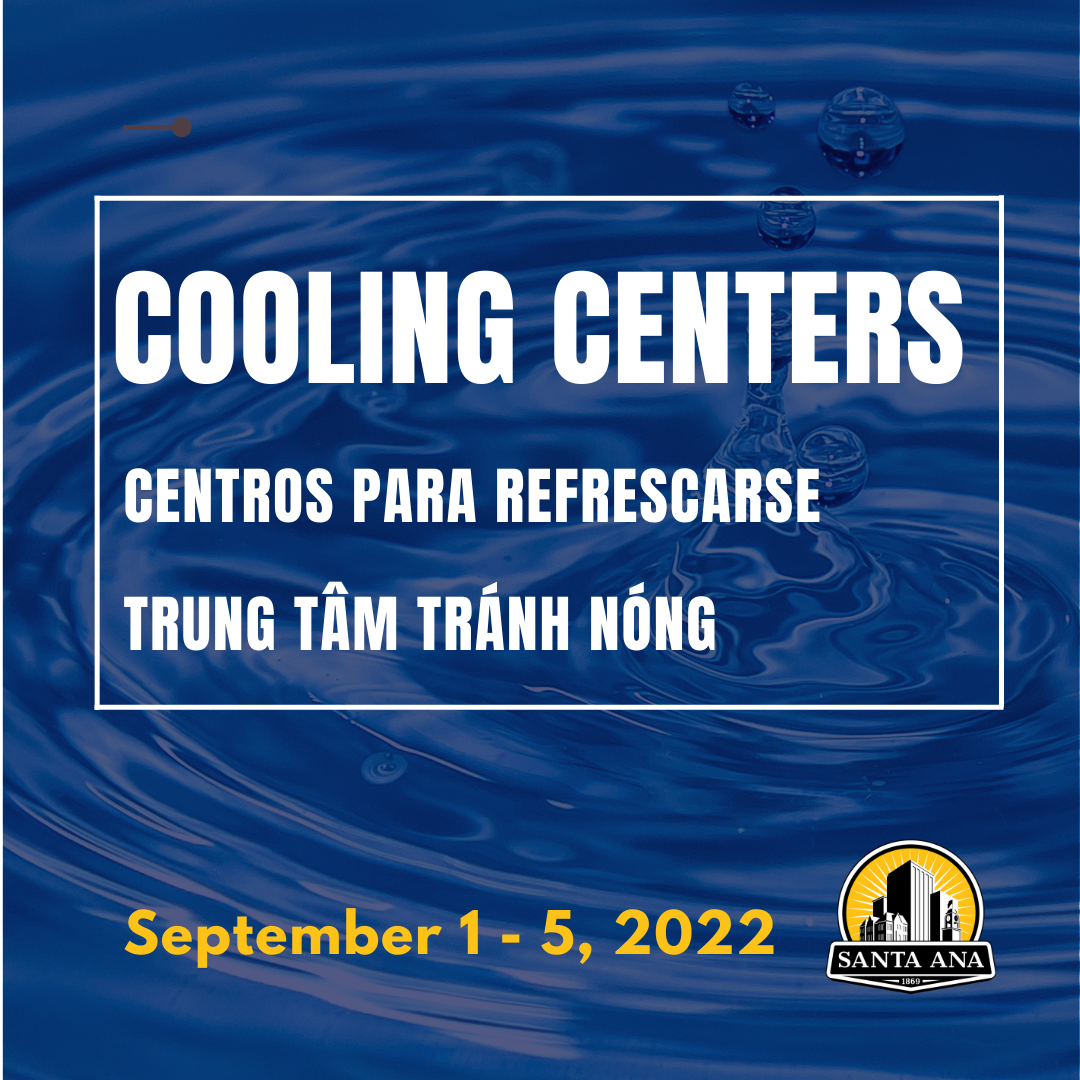 The National Weather Service issued an excessive heat warning for Southern California through the Labor Day Weekend. Dangerously hot conditions with temperatures projected in the triple digits are expected here in Orange County. We will have cooling centers open and available for the community throughout the City. The National Weather Service recommends staying indoors and seeking air-conditioned buildings, drinking more than your usual amount of water, and to dress lightweight. If engaging in outdoor activities, make sure to take longer and more frequent breaks and avoid the hottest hours of the day.
---
Habitat for Humanity of OC breaks ground for two new affordable homes
Habitat for Humanity of Orange County (HFHOC) hosted a groundbreaking ceremony on Friday, August 26,for two new affordable homes to be built in Santa Ana. The areas of land will become two future houses for Orange County working residents who qualify for the HFHOC program. Architects for HFHOC will accommodate the historical design guidelines of the historic French Park Neighborhood the homes are located in. HFHOC is a nonprofit housing organization that aims to build quality, affordable homes for workers in Orange County.
View the renderings of the homes
---
New commercial property signage requirements

Every commercial center in Santa Ana is now required to post a sign at each entrance and exit providing 24-hour contact information of the property owner/property management company. The City Council approved an ordinance amending the Municipal Code to add this requirement on Aug. 2. This will allow members of the public to easily report any concerns about a property's maintenance or appearance directly to the owner.
---
Santa Ana WORK Center joins #CaliforniansForAll campaign

The City of Santa Ana's WORK Center has created a Youth Jobs Corps Employment Program as part of the statewide #CaliforniansForAll initiative that aims to help train and develop young people for public service careers. The employment program will provide paid work experience to Santa Ana youth residents ages 16-30. Selected youth participants will work 20-29 hours per week at $17 per hour. For additional details and to apply online, click on the link below.
---
Tales of the City
Historic Pacific Park fire station to be preserved as new PAAL center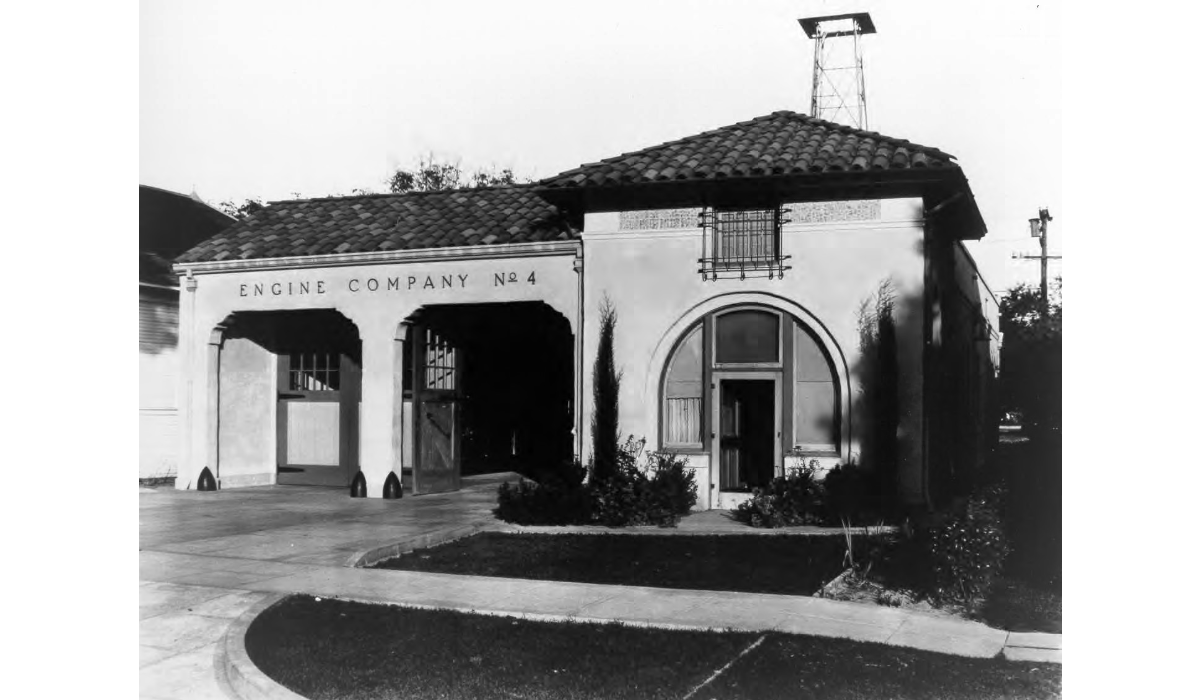 A historic former fire station will soon be transformed into a new Santa Ana Police Athletic & Activity League (PAAL) center to serve youth and seniors.
The Santa Ana City Council directed City staff to convert the vacant 1928 fire station at 625 S. Cypress Ave. in the Pacific Park neighborhood into a PAAL facility. The new center will include a large multi-use open space, classrooms, exercise rooms and a police substation. The City Council allocated $1 million in December to renovate and repurpose the historic structure, which is expected to take about 18 months to complete.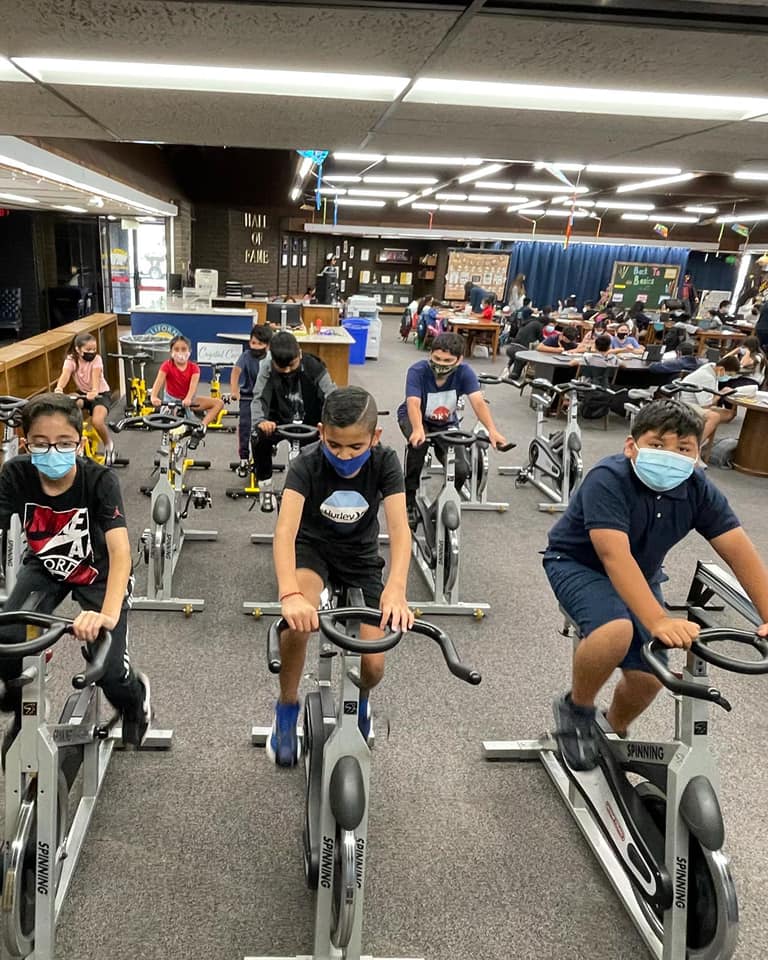 PAAL is an amazing community program run by the Santa Ana Police Department that focuses on building a bond between kids and police officers through education, fitness and activities. It offers tutoring, sports teams, field trips and much more. The new PAAL center is unique in that it will also serve seniors.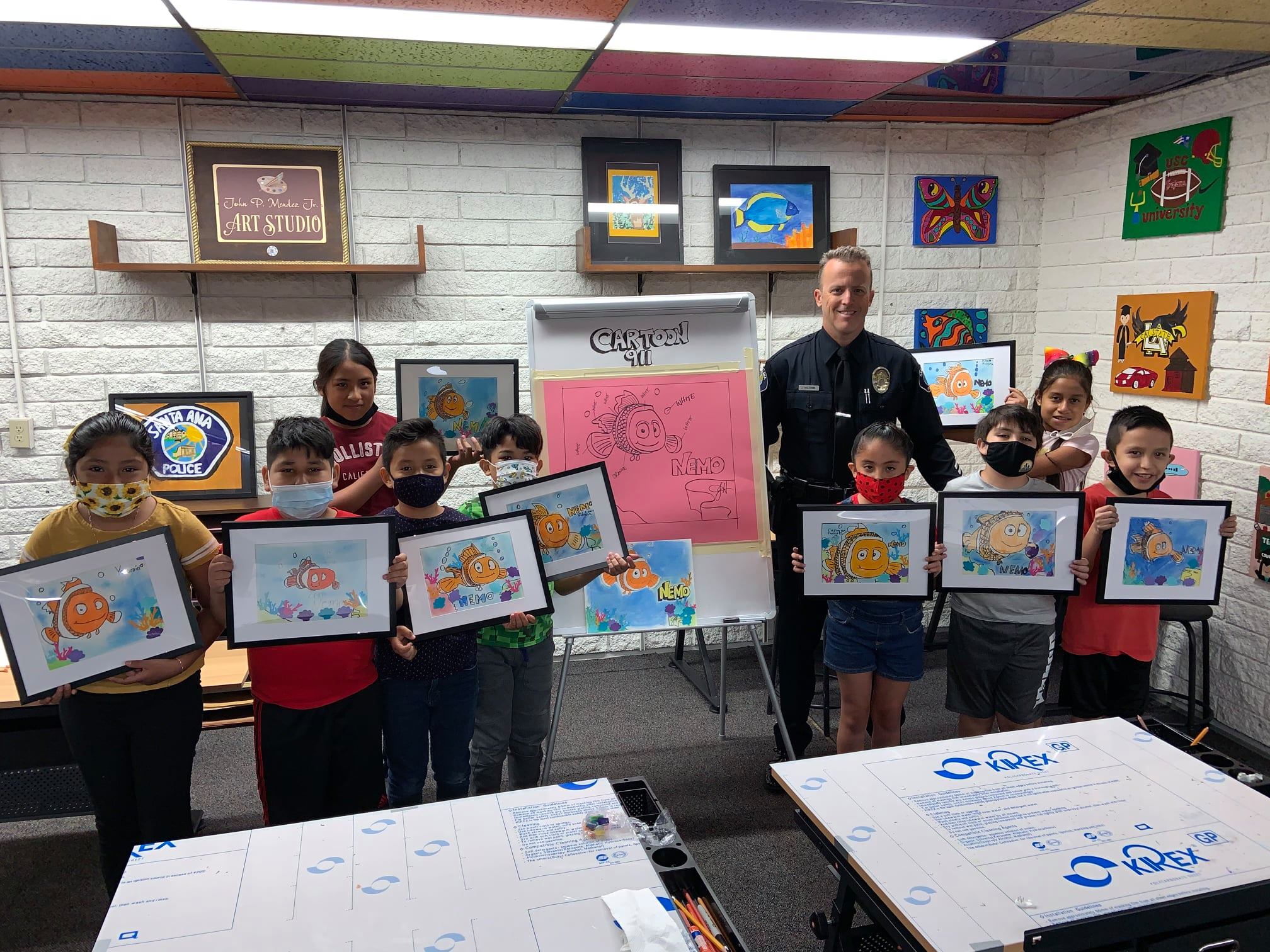 This is the second planned PAAL expansion by the City of Santa Ana, with a new program starting soon at the Roosevelt-Walker Community Center in partnership with the Parks, Recreation and Community Services Agency. The original PAAL center at 2627 W. McFadden Ave. was recently renovated.
---
City Council meetings
City Council meetings are typically held on the first and third Tuesdays of each month at 5 p.m. Meetings now have both in-person and virtual participation and attendance and are live streamed on YouTube and CTV 3 (channel 3 on Spectrum and channel 99 on AT&T TV). If you'd like to provide public comments on agenda and non-agenda items, you can email, attend in person, or join the Zoom webinar online or by phone.
---
Events
Garage and Yard Sale Weekend – September 3 & 4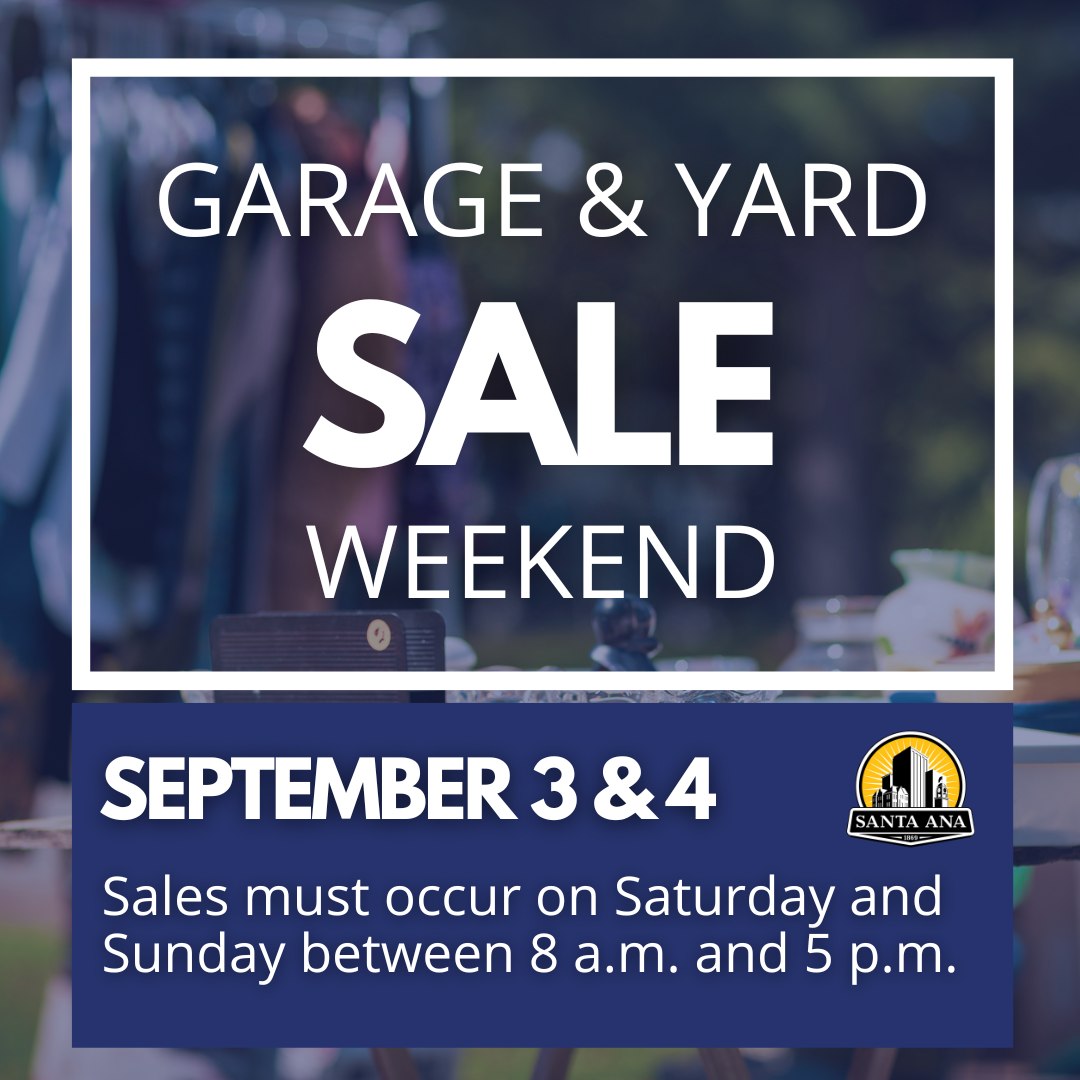 Residential garage and yard sales are allowed this weekend, September 3 and 4, 2022. Sales may begin at 8 a.m. and must end at 5 p.m. each day. Garage and yard sales for residential properties are permitted on the first full weekend of March, June, September, and December of each year. No permit is required.
---
Author Hour with Marytza K. Rubio at SAPL – September 3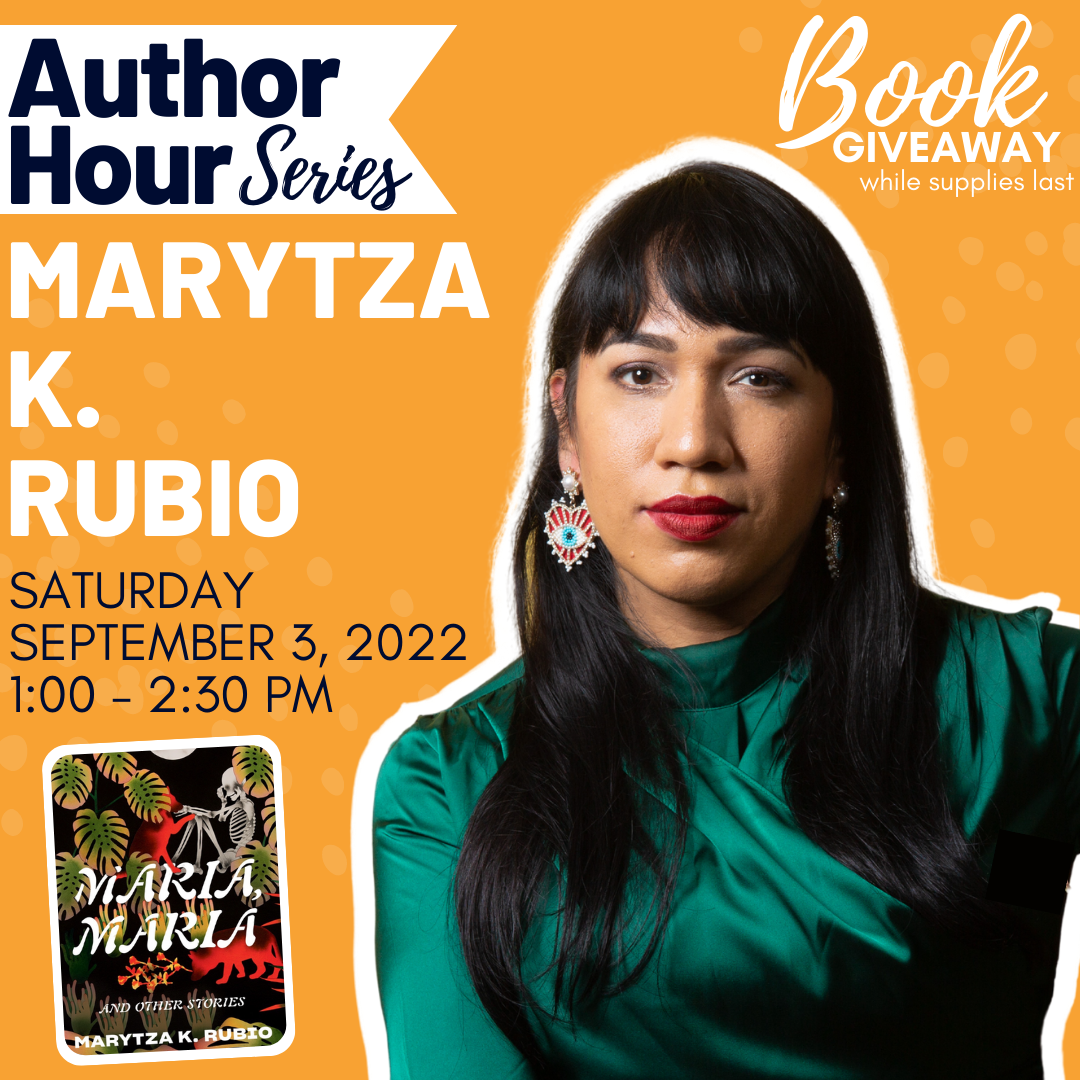 Santa Ana native Marytza K. Rubio will discuss her debut collection of short stories, "Maria, Maria & Other Stories." Join us for a conversation about how Marytza's Latin American heritage inspires her work and shapes her unique voice. Books will be given away while supplies last.
●      Saturday, September 3, 2022
●      1-2:30 p.m.
●      Main Library, 26 Civic Center Plaza, Meeting Room A
---
Celebrate National Grandparents' Day – September 6

Join us at the library as we celebrate grandparent figures with stories, crafts, and an X-STREAM activity. Children of all ages, grandparents, and families are welcome.
Main Library, 26 Civic Center Plaza

September 6, 2022 | 10:30 a.m. – Preschool Storytime
September 9, 2022 | 3:00 p.m. – X-STREAM Grandparents' Day Mugs

Newhope Library, 122 N. Newhope St.

September 8, 2022 | 10:30 a.m. – Storytime Adventures for Babies and Toddlers
September 10, 2022 | 10:30 a.m. – GRAND Hug Craft
---
Savor Santa Ana Food Festival – September 8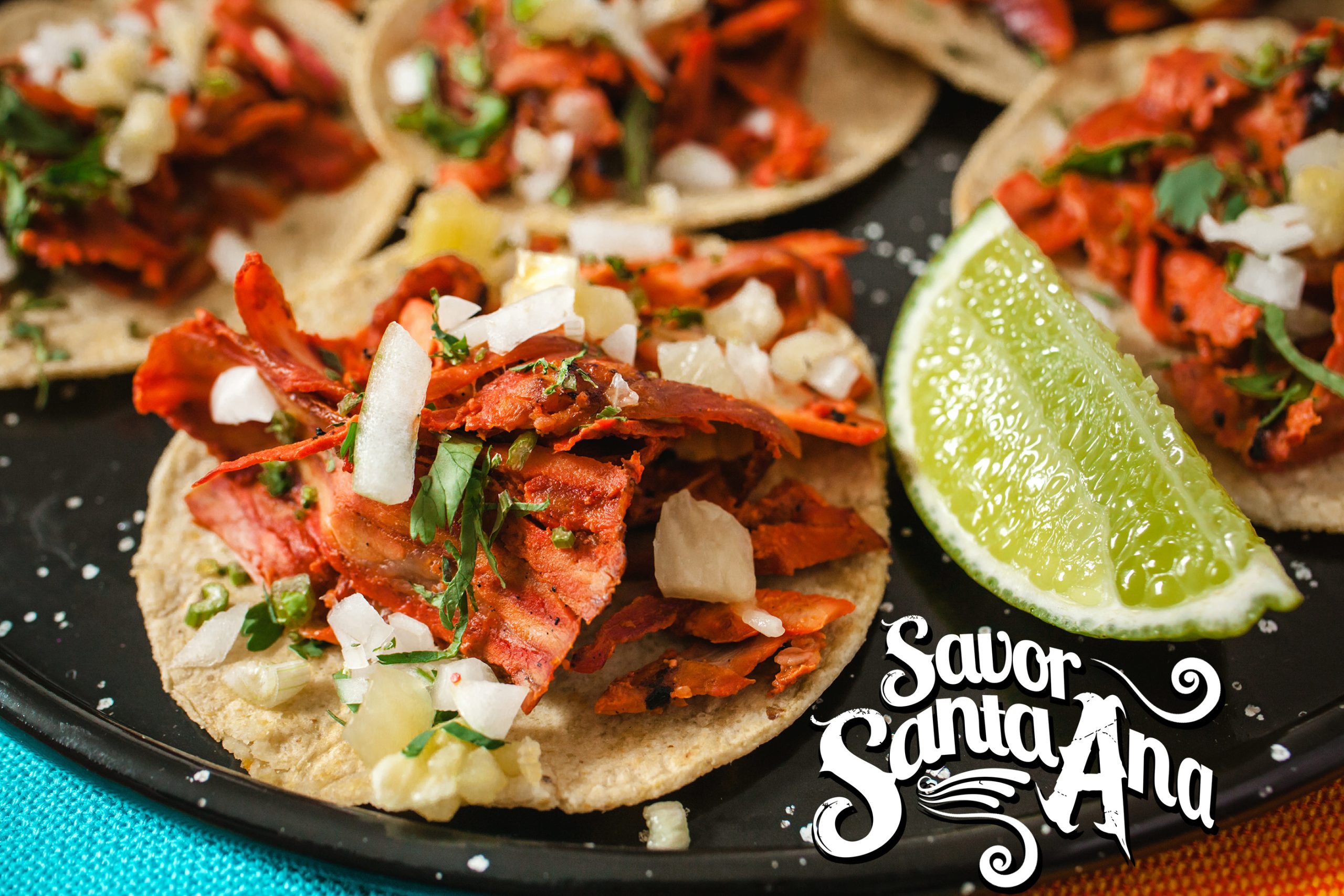 Savor Santa Ana is back in downtown Santa Ana! It lets you sample a diversity of DTSA restaurants  – from Michelin-rated to Mom & Pops, all in one glorious epicurean evening with your family and friends, fun and food.
September 8
4th and Spurgeon to 4th and Broadway
---
Mid-Autumn festival at Newhope Library – September 17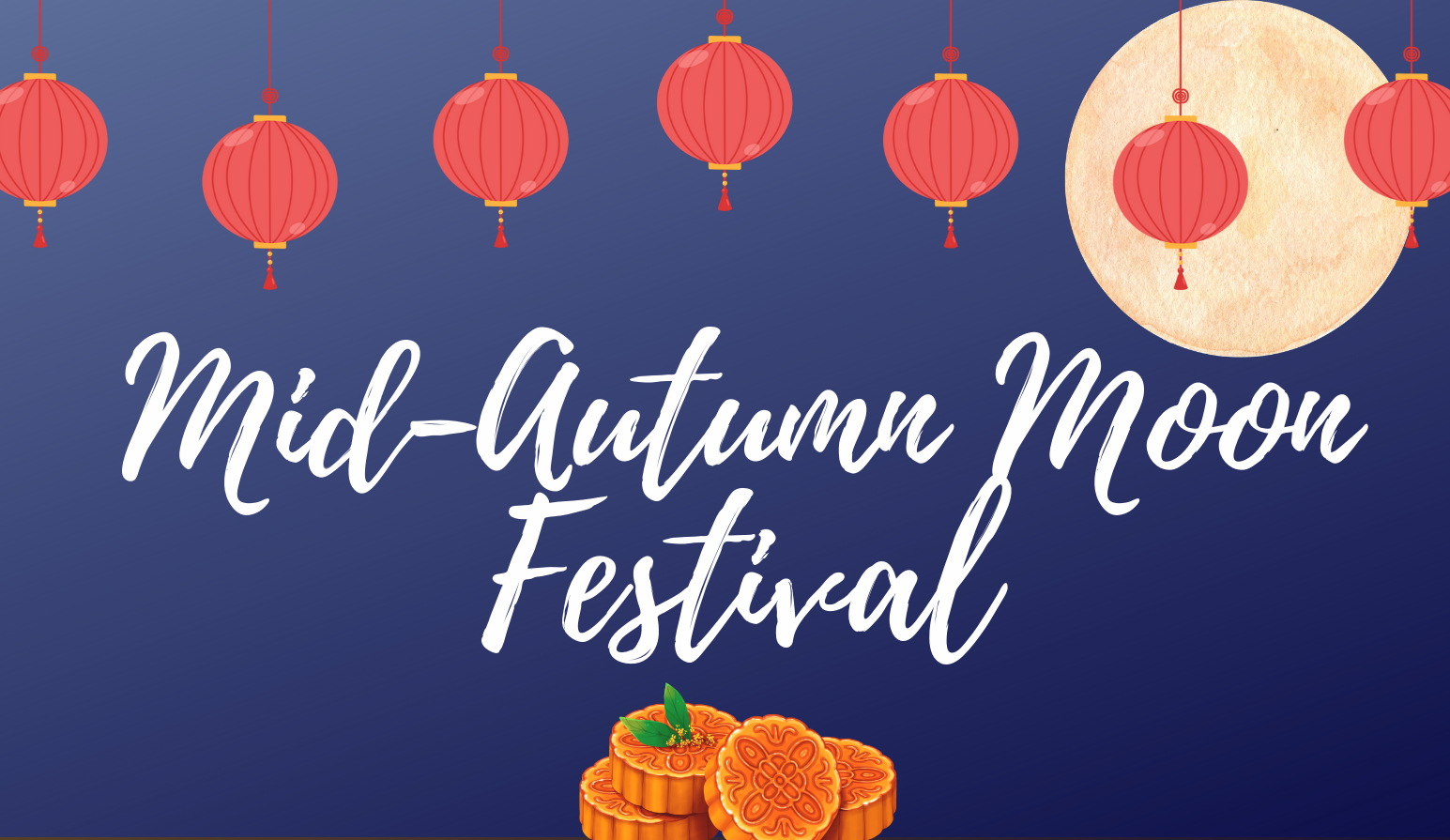 Join the Santa Ana Public Library to celebrate and learn about the Mid-Autumn Moon festival, featuring dragon dance performance, crafts, lantern decoration and more. All participants will get free pre-wrapped moon cake while supplies last.
September 17, 2022
2-4:30 p.m.
Newhope Library, 122 N Newhope St.
---
Fiestas Patrias – September 17 & 18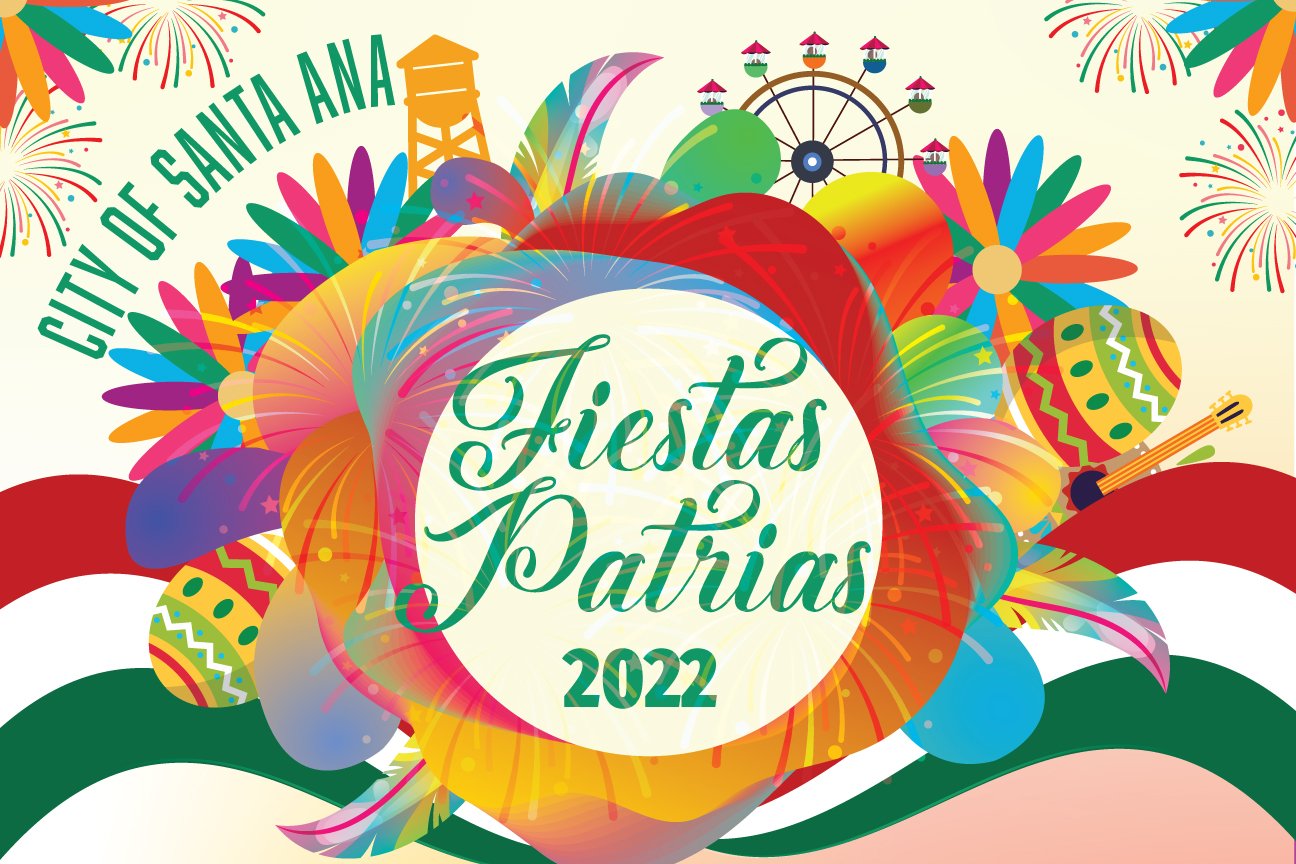 Join us on September 17 and 18 to celebrate Fiestas Patrias, a series of holidays that mark the independence of various Latin American countries and celebrate our Hispanic and Latino culture in Santa Ana. Headlining performers are Beatriz Adriana on Sept. 17 and El Chapo de Sinaloa on Sept. 18. We'll be celebrating with street fair festivities that include live music, food, cultural exhibitors, carnival rides, and more.
September 17 & 18
12-8 p.m.
Flower Street between Civic Center Drive and Santa Ana Boulevard