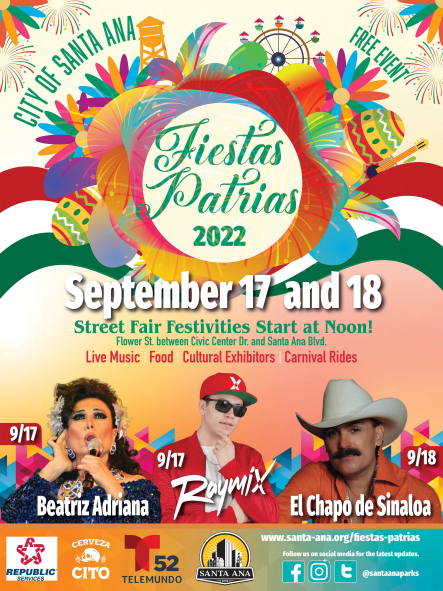 Musicians Beatriz Adriana , Raymix, and El Chapo de Sinaloa are headlining.
SANTA ANA, Calif. – The City of Santa Ana's 42nd annual Fiestas Patrias festival celebrating our community's vibrant Latino and Hispanic culture is back after a two-year absence during the pandemic.
Fiestas Patrias is taking place on Saturday, September 17, and Sunday, September 18, 2022.  The festivities begin at 12 p.m. each day on Flower Street between Civic Center Drive and Santa Ana Boulevard. This annual tradition celebrates Santa Ana's vibrant Hispanic and Latino culture with musical performances, delicious food, vendors, activities, exciting carnival rides for children of all ages, and a beer garden for those 21 and over.
On Saturday, September 17, the City of Santa Ana with the Consulate of Mexico will host the annual El Grito Ceremony on the festival's main stage located on Flower Street beginning at 7 p.m. The ceremony, which will be a replay of the Consulate of Mexico's official El Grito Ceremony from September 15, honors the traditional call to arms on the eve of Mexican Independence Day. It is a massive, synchronized call that dates back to 1810 and celebrates the anniversary of the fight for Mexican Independence.
Performers
Saturday, September 17
Mexican singer Beatriz Adriana will be performing on the festival's main stage. Beatriz Adriana is best known as a ranchera singer. She has a recognized artistic trajectory in Mexico and Latin America. At the age of 13, she signed her first record contract, and two years later, she made her debut on the big screen by appearing in the film "La Comadrita." She shot to fame after obtaining first place at the first Ranchera Song Festival in 1982, with the theme "El cofrecito" by musician and composer Juan Zaizar. In 2007, she participated in the Azteca Television program called Disco de Oro, hosted by José Luis Rodríguez ("El Puma") and María Inés Guerra. Her most recent album, "Que No Me Faltes", was released earlier this year.
Raymix will be co-headlining Saturday night at 9:15 p.m. Raymix is a Mexican musician and aerospace engineer. Nicknamed El Rey de la Electrocumbia (or "The King of Electrocumbia" in English), Raymix started his music career in the early 2010s when he joined a trance project called Light & Wave with two other Mexican musicians.
Sunday, September18
El Chapo de Sinaloa will take the stage on Sunday. As a Regional Mexican singer and actor, el Chapo de Sinaloa started out professionally as a Norteño singer but has since been primarily focused on Banda, as well as some Mariachi songs. He began in the 1990s and since released over a dozen romantic albums, which have been successful both in Mexico and the United States.
The 2022 Fiestas Patrias event is being produced by the City of Santa Ana. For more information, please visit https://www.santa-ana.org/fiestas-patrias/ or contact the Special Events Office at (714) 571-4220.
# # #
About Santa Ana
Santa Ana is downtown for the world famous Orange County, California. It is the County Seat, the second-most populous city in Orange County, and is home to a vibrant evening scene and arts community. Over 1,400 City employees work hard every day to deliver efficient public services in partnership with our community to ensure public safety, a prosperous economic environment, opportunities for our youth, and a high quality of life for residents. Learn more at www.santa-ana.org.