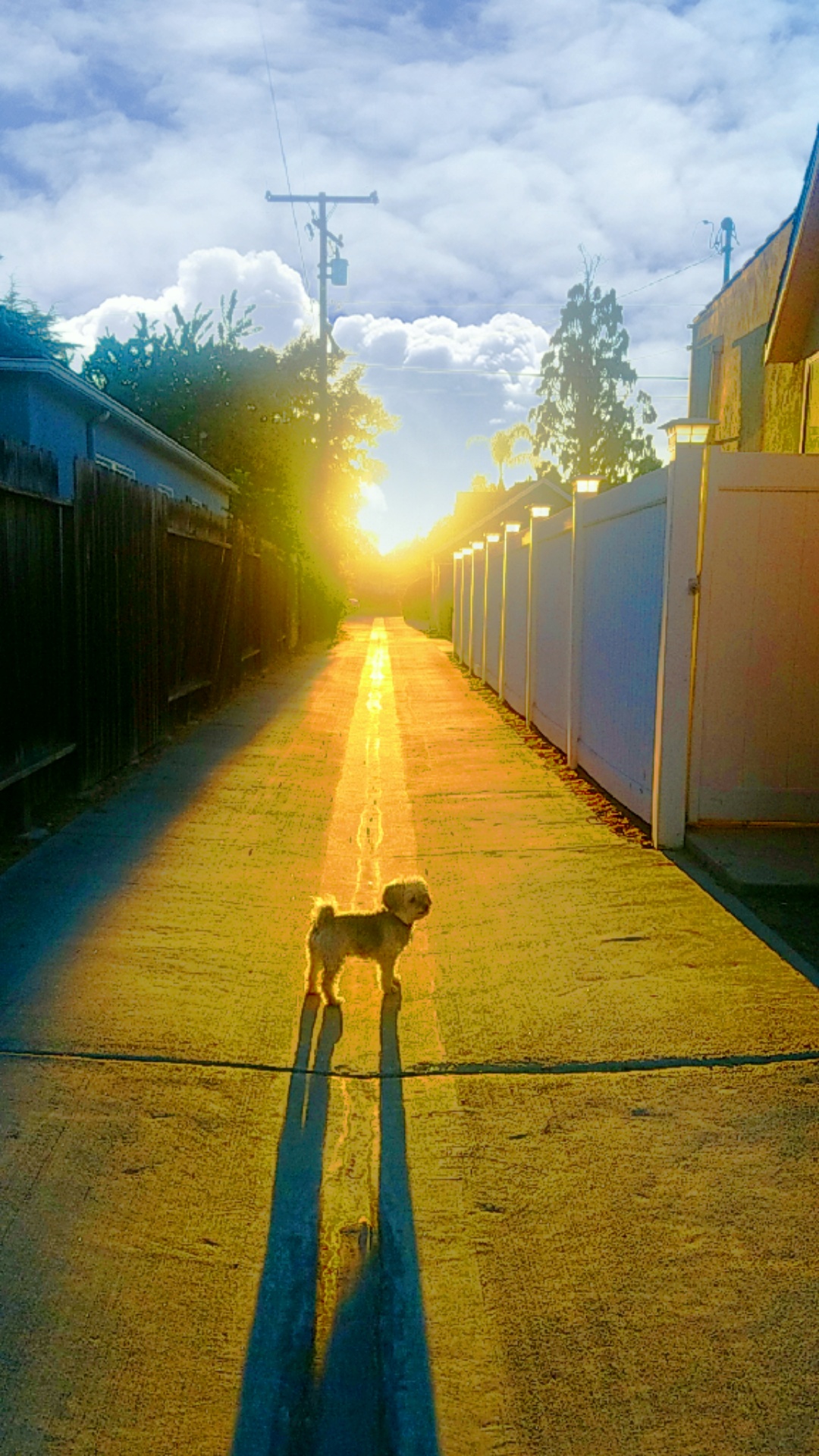 In this issue of the City Manager's newsletter, we have so much great news to share! Learn about the library's new Knowledge Mobile that will be rolling into your neighborhood, upcoming movies in the park, who to call for water emergencies and illegal fireworks, and tons of fun events for Pride, Juneteenth, Fourth of July and more.
---
Spotlight photo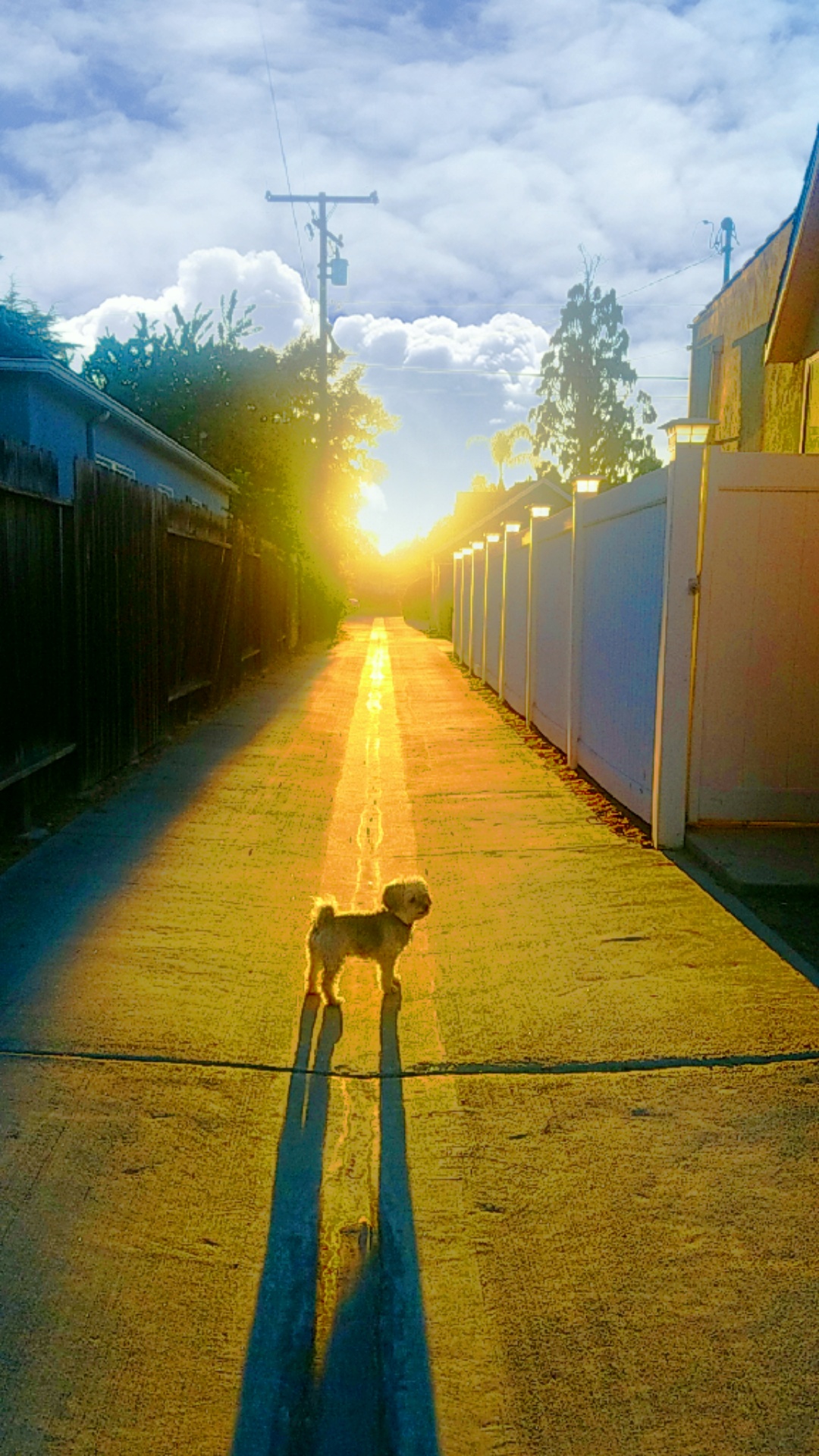 Pebbles takes a shortcut home!
Photo credit: Brooke M. (@pebblesthefpdog)
To submit your own original photo of Santa Ana to be featured in the next newsletter, complete this form.
---
City Manager's highlights
A City for all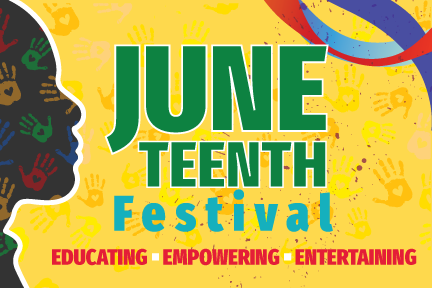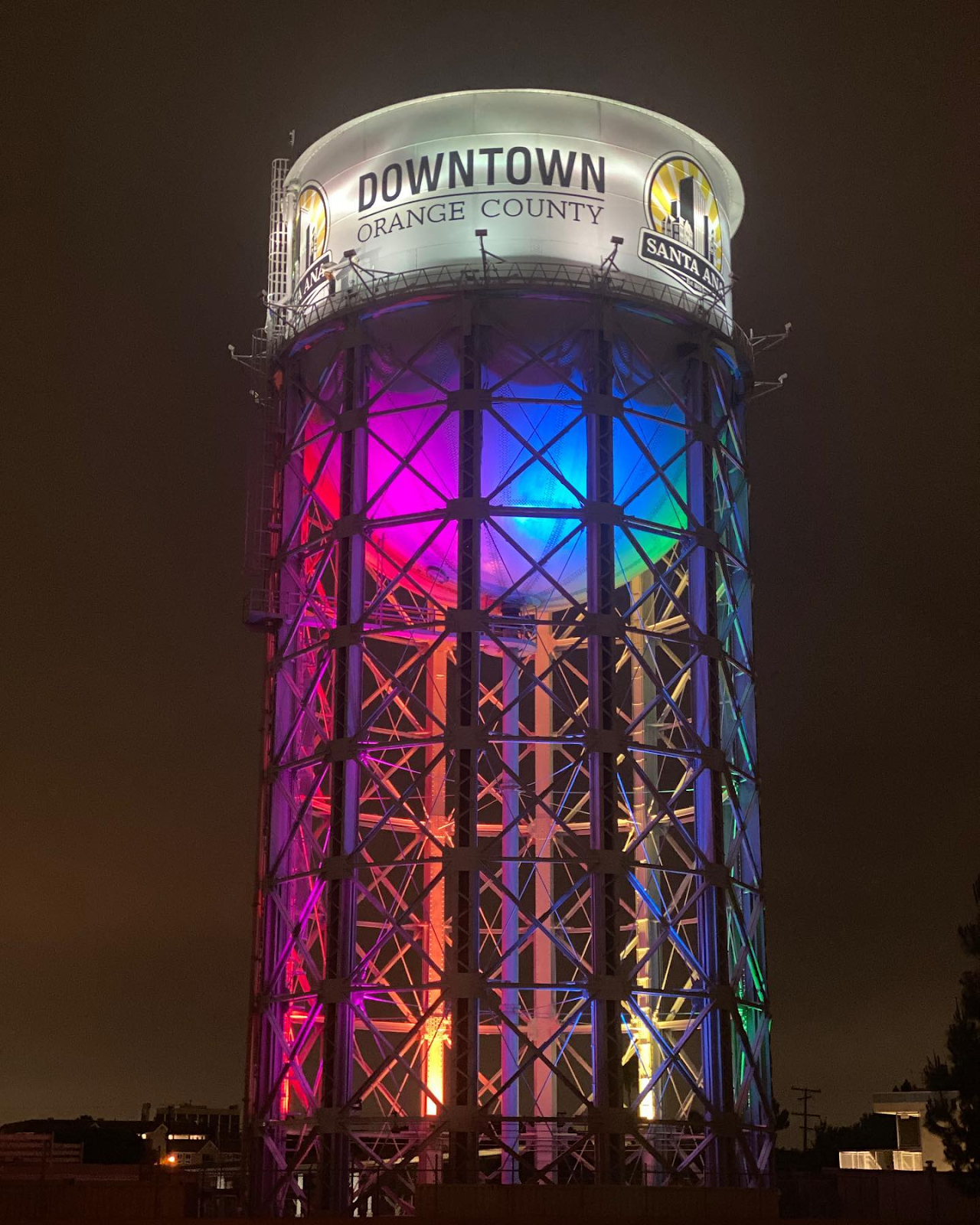 In Santa Ana, we embrace diversity and inclusion. The Santa Ana City Council has made it a priority to celebrate and recognize the many cultural backgrounds that make up our community. On June 19, we are having the first Santa Ana Juneteenth Festival at Centennial Park. We're also celebrating LGBTQ Pride Month by flying the Pride flag at City Hall, lighting up our water tower in rainbow colors, and with the return of the Orange County Pride Parade and Festival on June 25. Scroll down to Events to learn more about these events. Many other cultural activities are coming this year, including celebrations of Latino culture, Asian culture, Chicano heritage and indigenous people!
Happy Independence Day!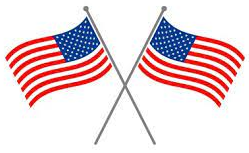 Of course, Santa Ana loves to celebrate one cultural event that ties us all together, Independence Day! This year the annual Fourth of July celebration returns to Centennial Park. Read more below in Events. This is also a good time to remember that only "safe and sane" fireworks are legal in Santa Ana. Find out what's allowed and how to report illegal and dangerous fireworks below in News.
---
News
Tighten the tap during drought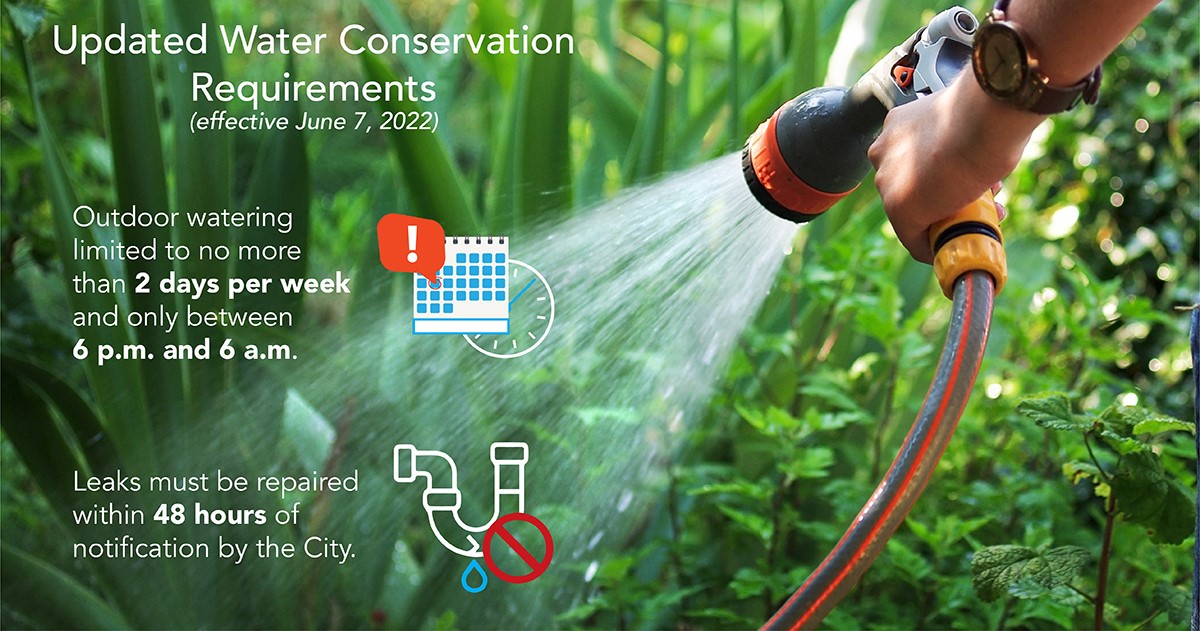 California is experiencing historic water shortages. While there is no current water supply emergency for Santa Ana, the Santa Ana City Council approved reduction actions for a Level 2 Water Supply Shortage in order to comply with the State's requirements and help protect future water supplies. We are asking all Santa Ana residents and businesses to conserve water so we can all do our part.
Santa Ana's water rules limit outdoor watering to no more than two days per week and only between 6 p.m. and 6 a.m., among other restrictions. Find all of the new requirements and get water conservation tips at the link below.
---
Movies in the Park makes its debut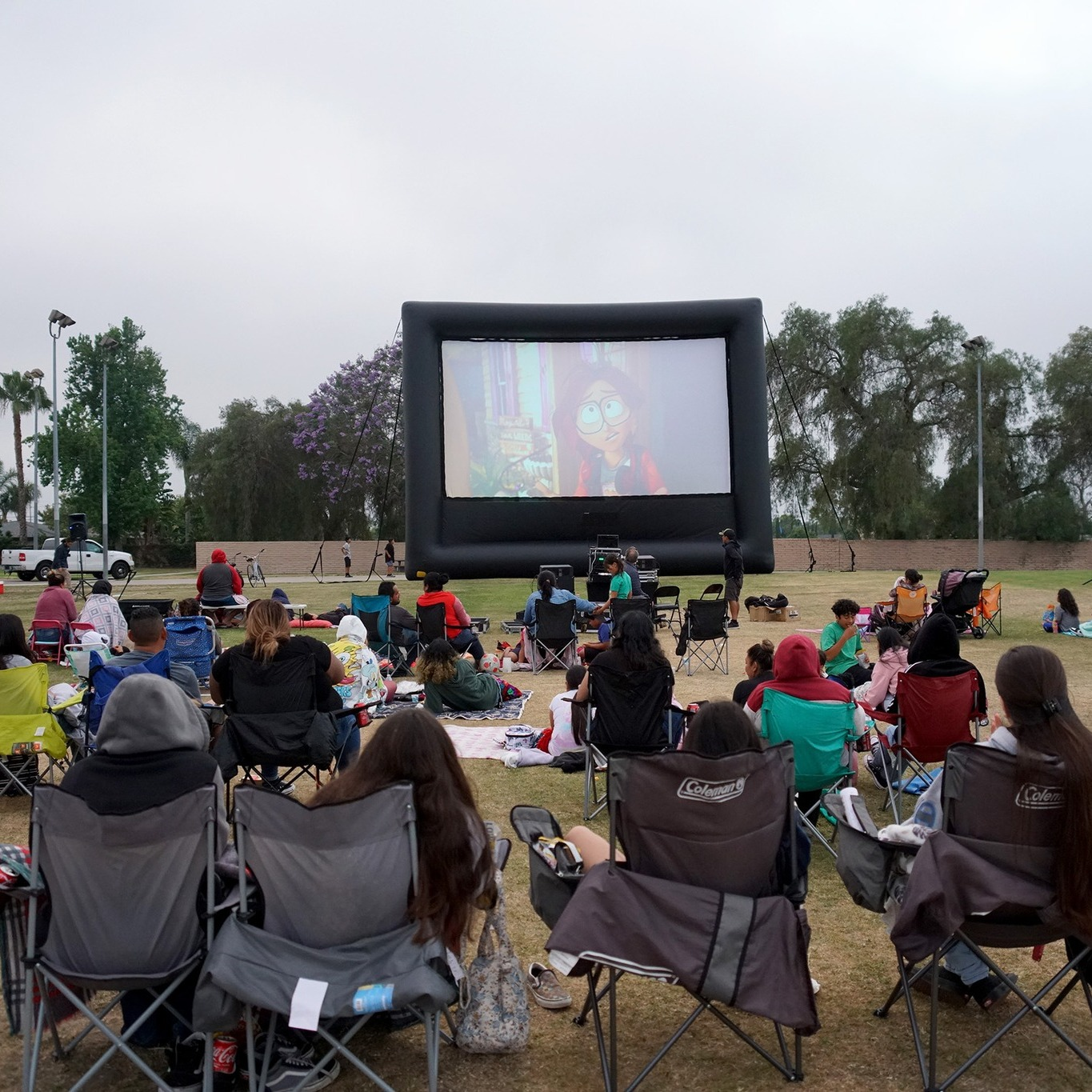 Our first two Movies in the Park are a wrap! Check out these great photos of happy movie-goers who attended the kickoff event at Cesar Chavez Campesino Park. Join the Santa Ana Parks, Recreation, and Community Services Agency at the next one on Wednesday, June 22, at Thornton Park, 1801 W. Segerstrom Ave. The featured movie is "Sing 2." Gates open at 5:30 p.m., and there will be lots of other fun activities, plus free popcorn while supplies last!
---
Celebrating Public Works Week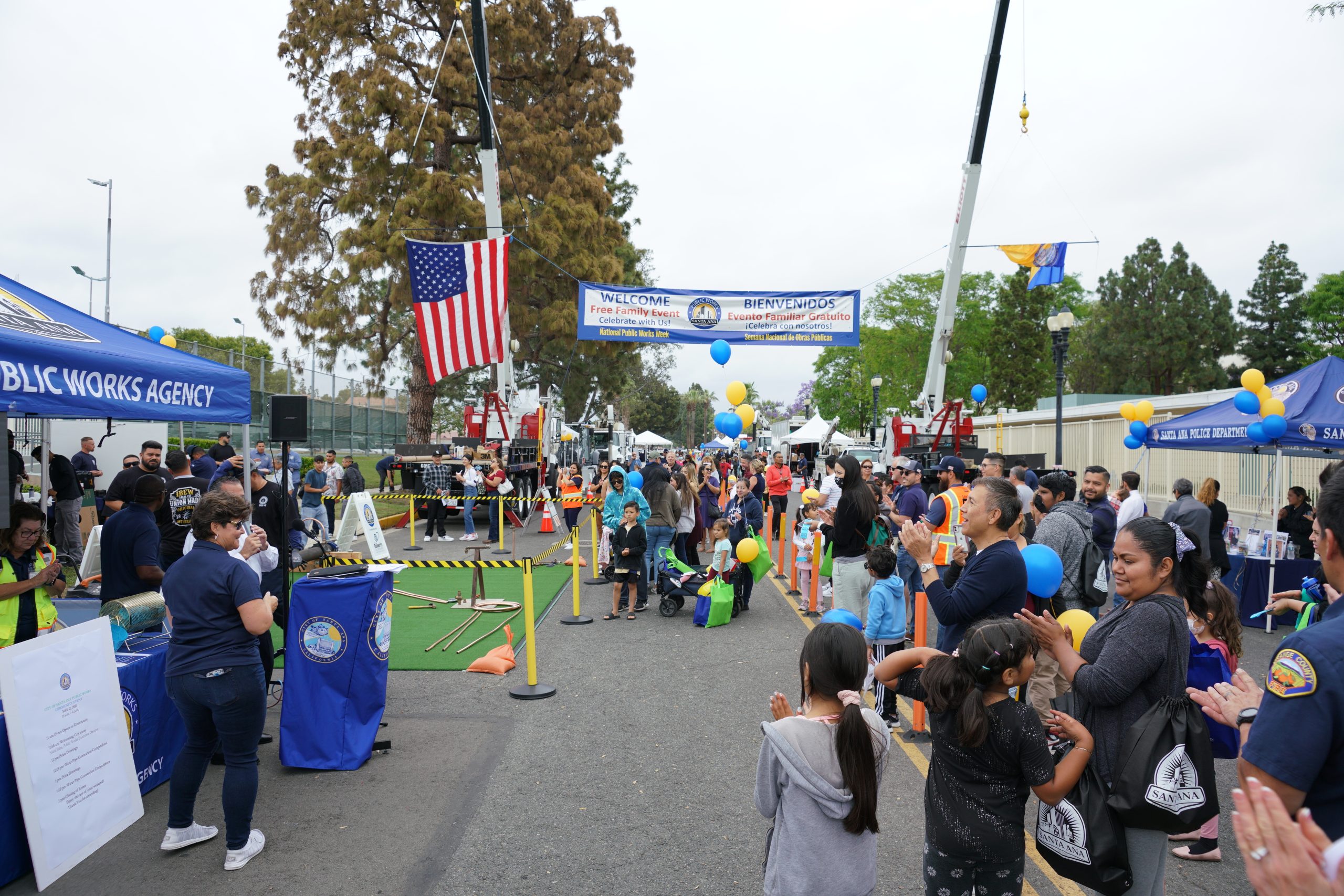 On Saturday, May 21, the City of Santa Ana Public Works Agency held their first family community event at the Walnut Water Pump Station located at 723 W. Walnut St. Highlights of the event included free tacos for the first 500 guests, prizes, tours of the state-of-the-art water pump station, a water pipe connection competition, various Public Works exhibits, and large equipment displays.
If you, your family, or friends missed this year's Public Works community event, please save the date to attend next year's free event on Saturday, May 20, 2023. For highlights of last month's event, check out the short video below.
Public Works Community Event Highlights
---
Help us reimagine the library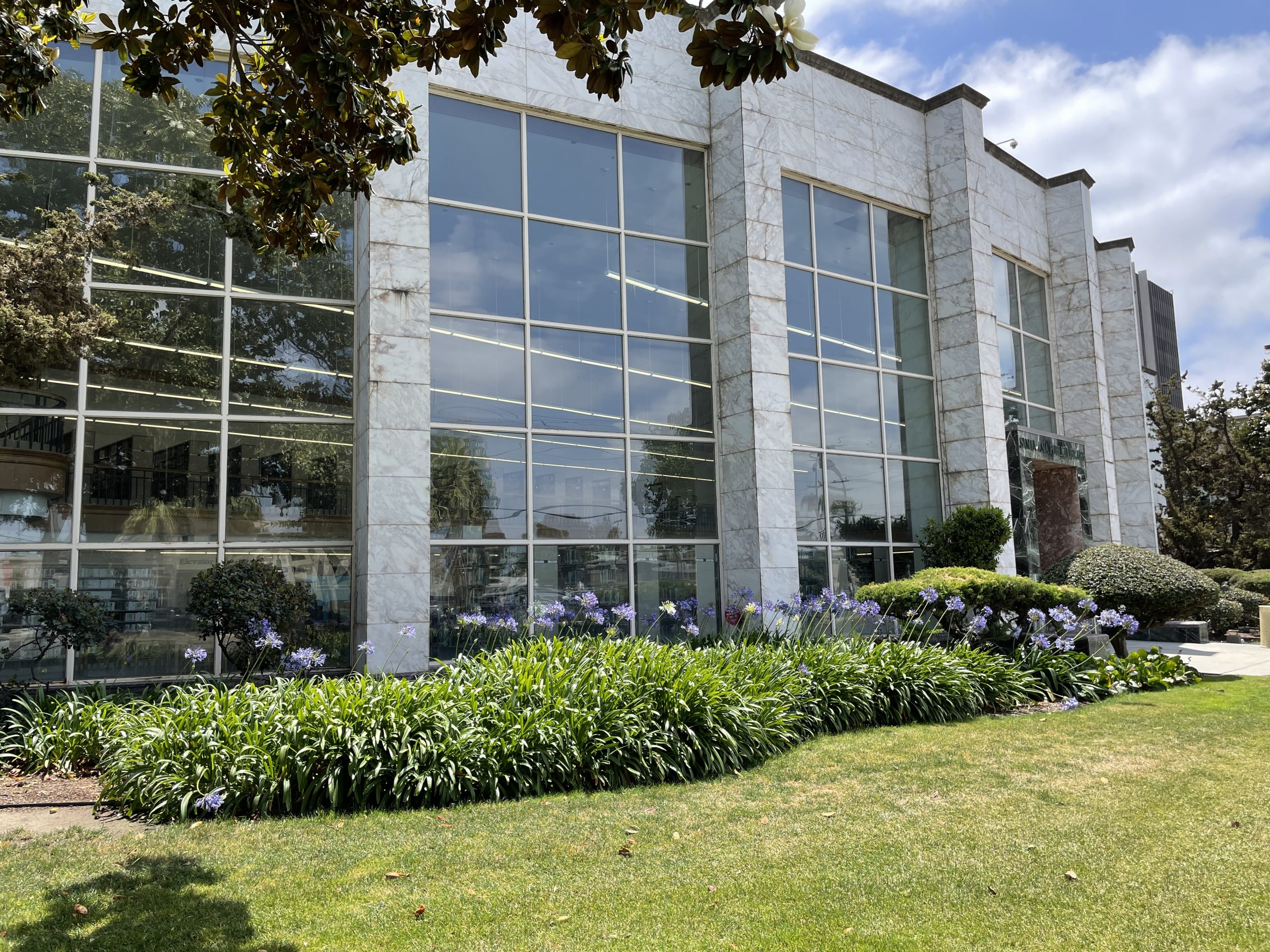 The City of Santa Ana is planning the restoration and modernization of the existing Main Library. To make sure it has the best resources, services and spaces, we would like to hear from residents about what you value.
---
Police Athletic and Activity League gets new look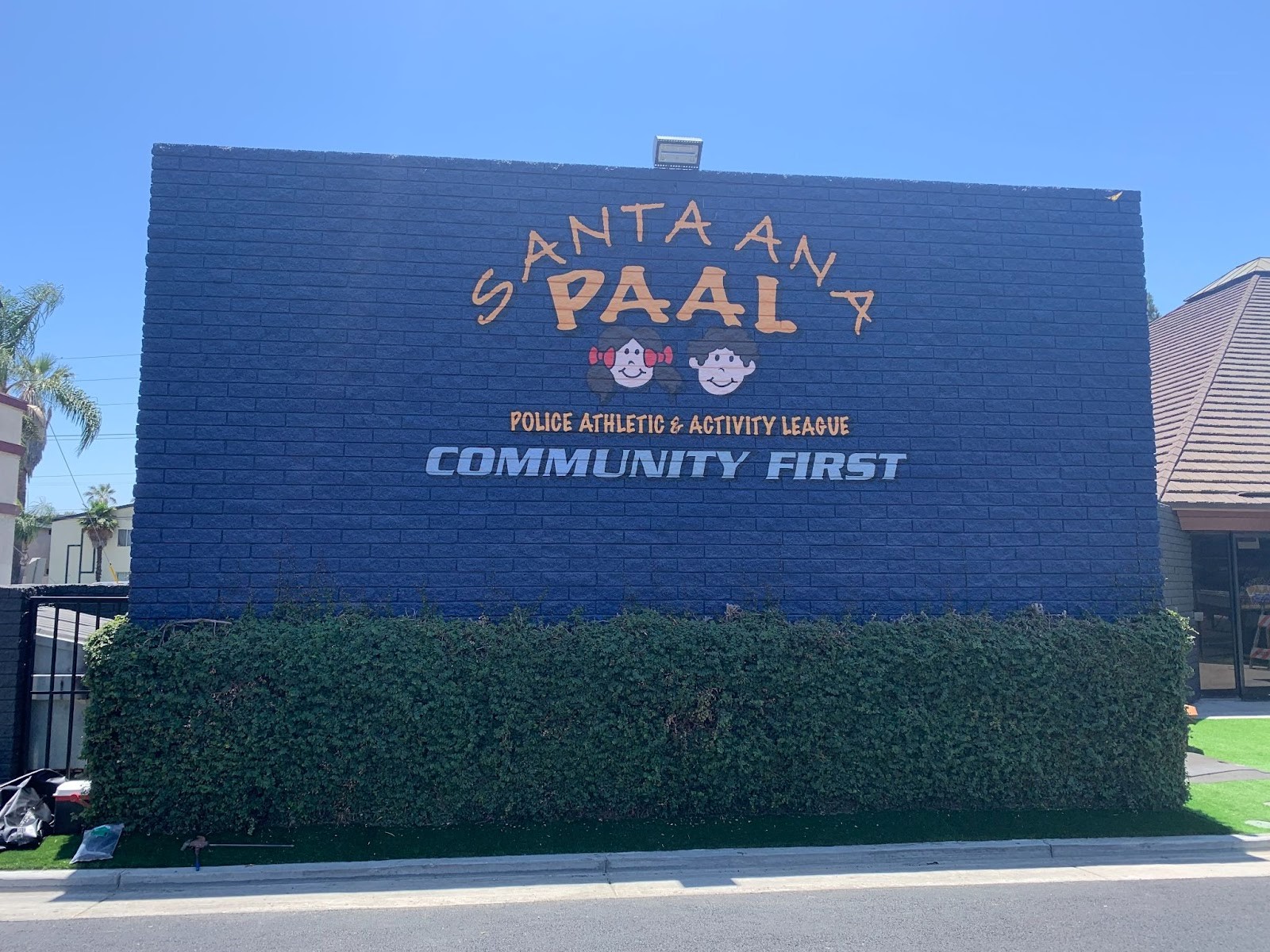 The Police Athletic & Activity League ("Santa Ana PAAL" or "PAAL" for short) is a comprehensive community program that focuses on building a bond between kids and police officers through education, fitness and activities. Santa Ana Police Department painted a new "COMMUNITY FIRST" slogan on the side of the PAAL building this month to make it easier for residents to identify the building.
The installation of the exterior branding is part of an effort to enhance the PAAL facility with federal pandemic recovery funds under Revive Santa Ana. The facility will soon have batting cages alongside a pitching machine for the PAAL youth. In addition, a half-court basketball court is almost complete in the parking lot.
---
Celebrate safely: Don't use illegal fireworks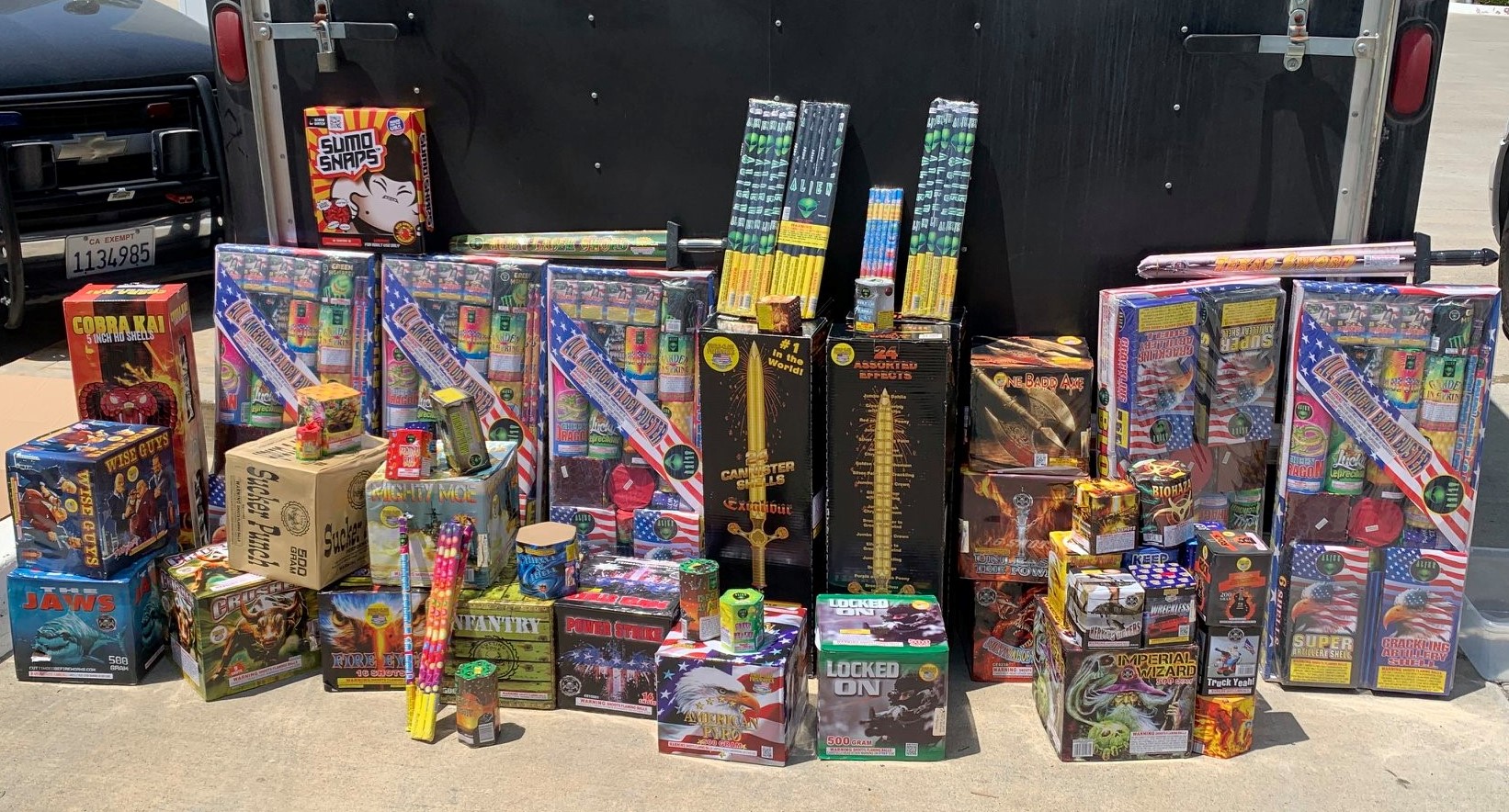 The possession or use of illegal fireworks is a crime. Only fireworks labeled "safe and sane" are legal in Santa Ana from July 1 to July 4. Violators may be subject to a $1,000 fine and up to 1 year in jail. Report the use of illegal fireworks to Santa Ana Police Department at (714) 245-8771, via email to reportfireworks@santa-ana.org, with the mySantaAna app, or with the form in the link below.
---
Trash cart replacement underway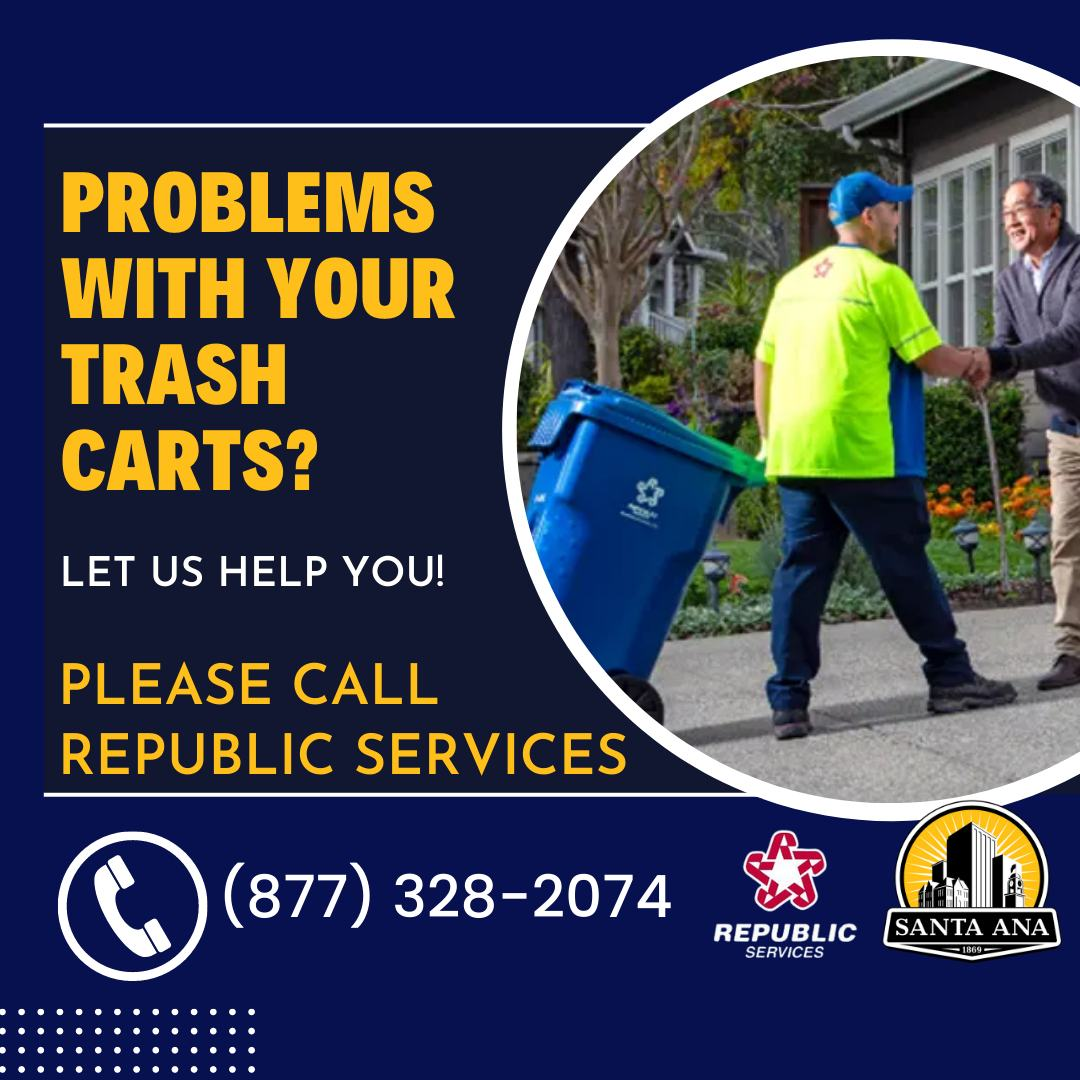 Residential trash cart removal and replacement is continuing through June 30, 2022, as we transition to a new service provider. Republic Services will take over residential trash services citywide on July 1, 2022. If you are still waiting to receive your Republic Services carts, visit the link below to see when your exchange is scheduled or contact Republic Services at (877) 328-2074.
---
Public Works hotline available 24/7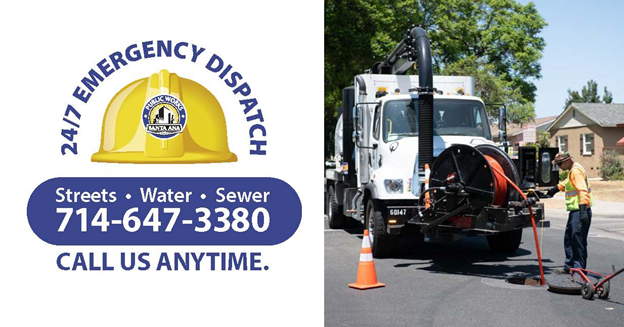 For sewer, street and water emergencies, please immediately call Public Works Dispatch at (714) 647-3380. You can call 24 hours a day, seven days a week. For less urgent matters, you can report many issues such as fallen tree branches, graffiti and potholes by using the mySantaAna app.
---
Mortgage Relief Program expands eligibility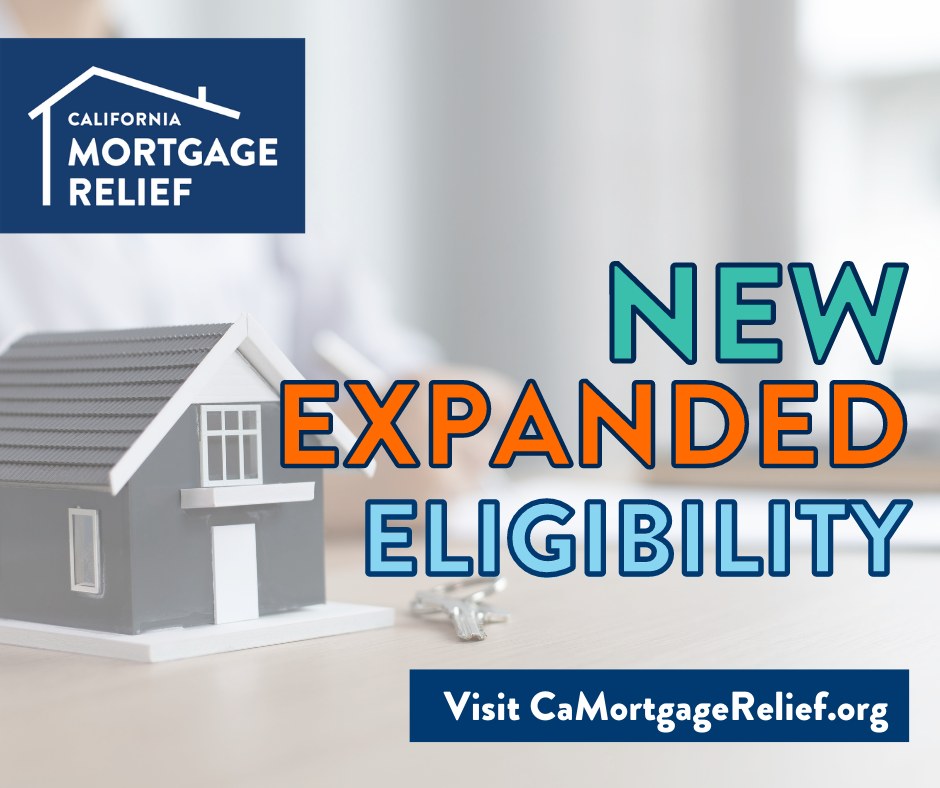 The California Mortgage Relief Program is broadening eligibility for the program by now covering past-due property taxes for more homeowners, expanding the income eligibility and modifying the past-due requirement to include homeowners who missed payments in 2022. For more information and resources on how to receive assistance, please visit www.CaMortgageRelief.org. You can also email info@camortgagerelief.org or call 1-888-840-2594 for assistance.
California Mortgage Relief Program
---
Tales of the City
Library's Knowledge Mobile rolls out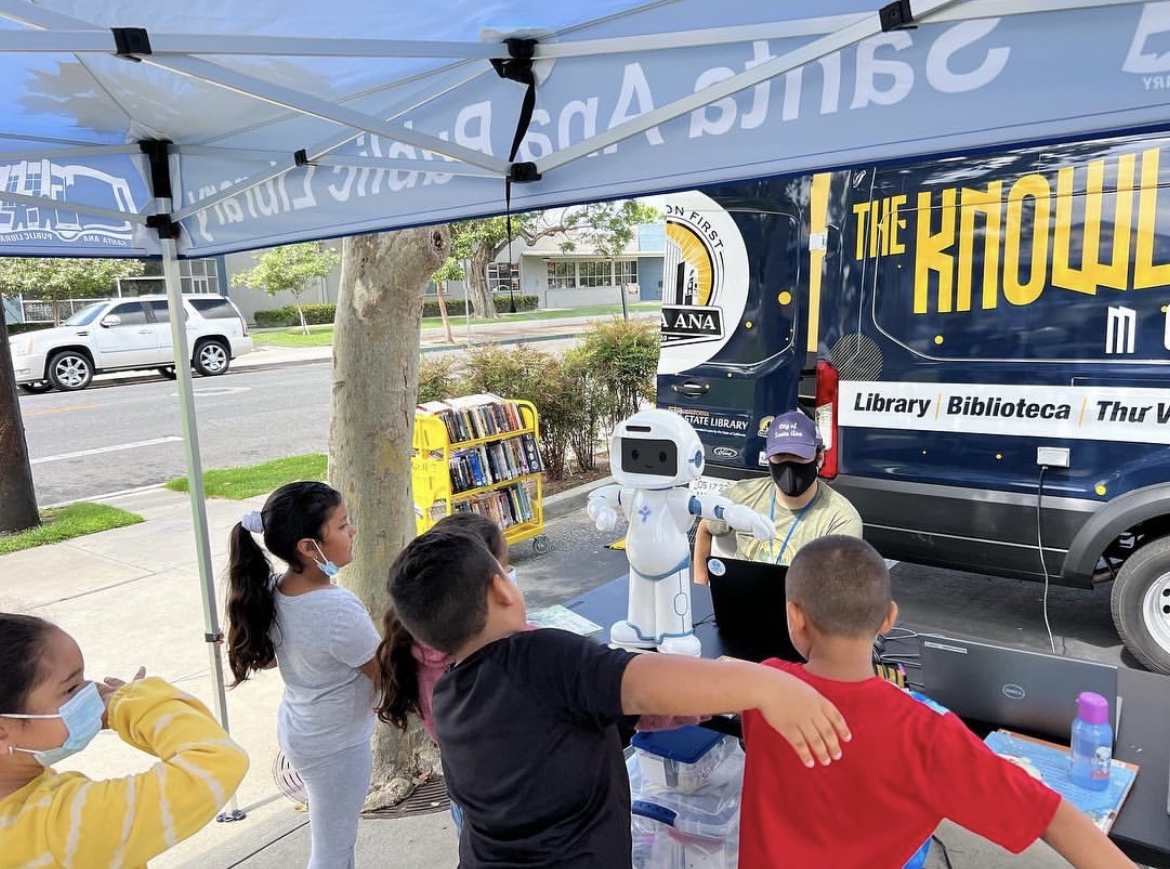 The Santa Ana Public Library's Knowledge Mobile (Know-Mo) has officially hit the streets of Santa Ana! It will be visiting schools, parks, and community centers, bringing needed services and programs to residents! The Know-Mo is a combination of a traditional bookmobile and techmobile, featuring free public Wi-Fi, computers, gaming, STEAM technologies and much more.
The Knowledge Mobile will allow community members, especially youth and young adults, to connect, create and learn with the latest technology, computers, arts, crafts, music, games, audiovisual materials, electronic resources and, of course, books in print and digital format. Featured programs will also be designed for neurodiverse youth and include low-sensory play and specialized robots that provide assistive learning and behavioral support. For more information about the Knowledge Mobile and schedule of stops visit the link below.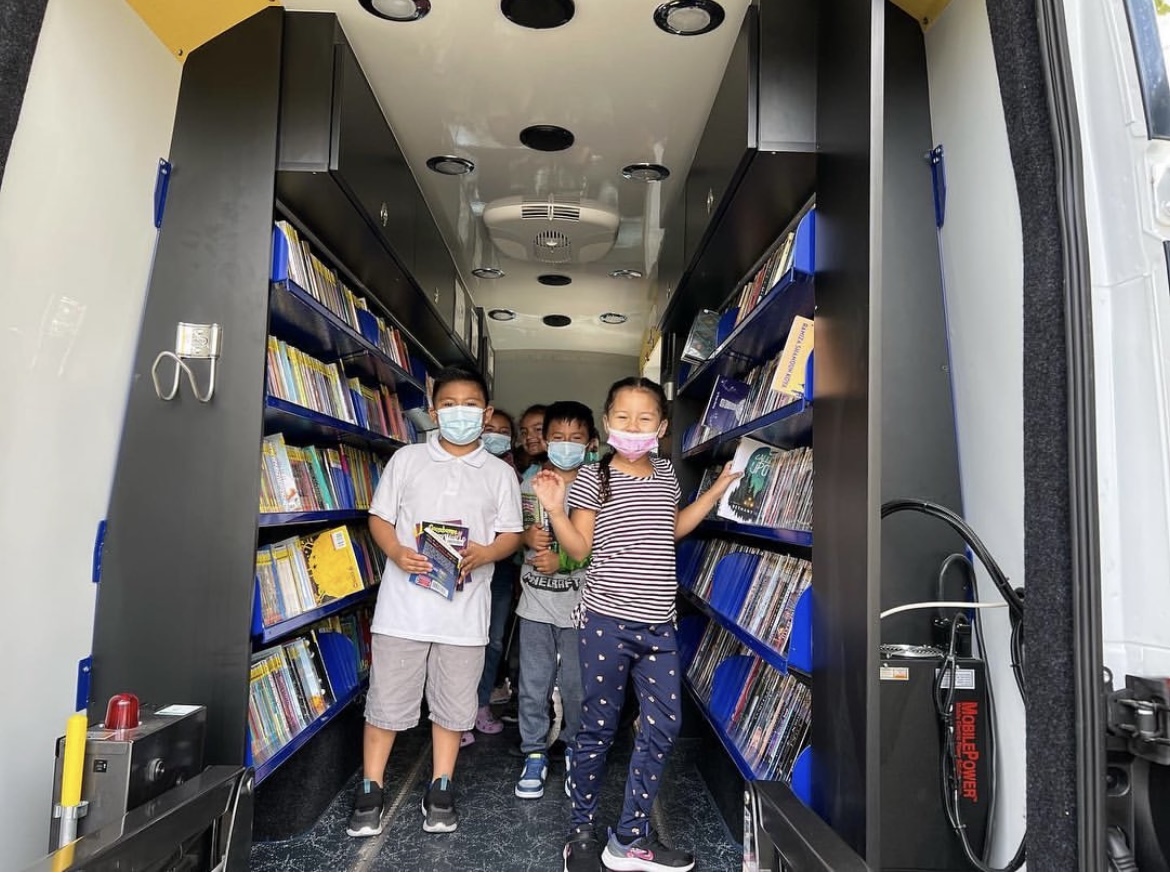 ---
City Council meeting recap
At their June 15 meeting, the Santa Ana City Council approved the first reading of the 2022-2023 City budget, which includes many programs and services that were requested by residents through our extensive public outreach. The new budget includes allocation funds for youth services; library improvements and a second Knowledge Mobile; new parks and more park maintenance security; affordable housing and supportive housing for homeless residents; street pavement; sidewalk and traffic calming improvements; grants to support downtown businesses affected by OC Streetcar construction, and much more. The budget will return to the City Council for a final vote on Tuesday, June 21.
City Council meetings are typically held on the first and third Tuesdays of each month at 5 p.m. Meetings now have both in-person and virtual participation and attendance and are live streamed on YouTube and CTV 3 (channel 3 on Spectrum and channel 99 on AT&T TV). If you'd like to provide public comments on agenda and non-agenda items, you can email, attend in person, or join the Zoom webinar online or by phone.
---
Events
Teen Celebration and Teen Hub opening – June 17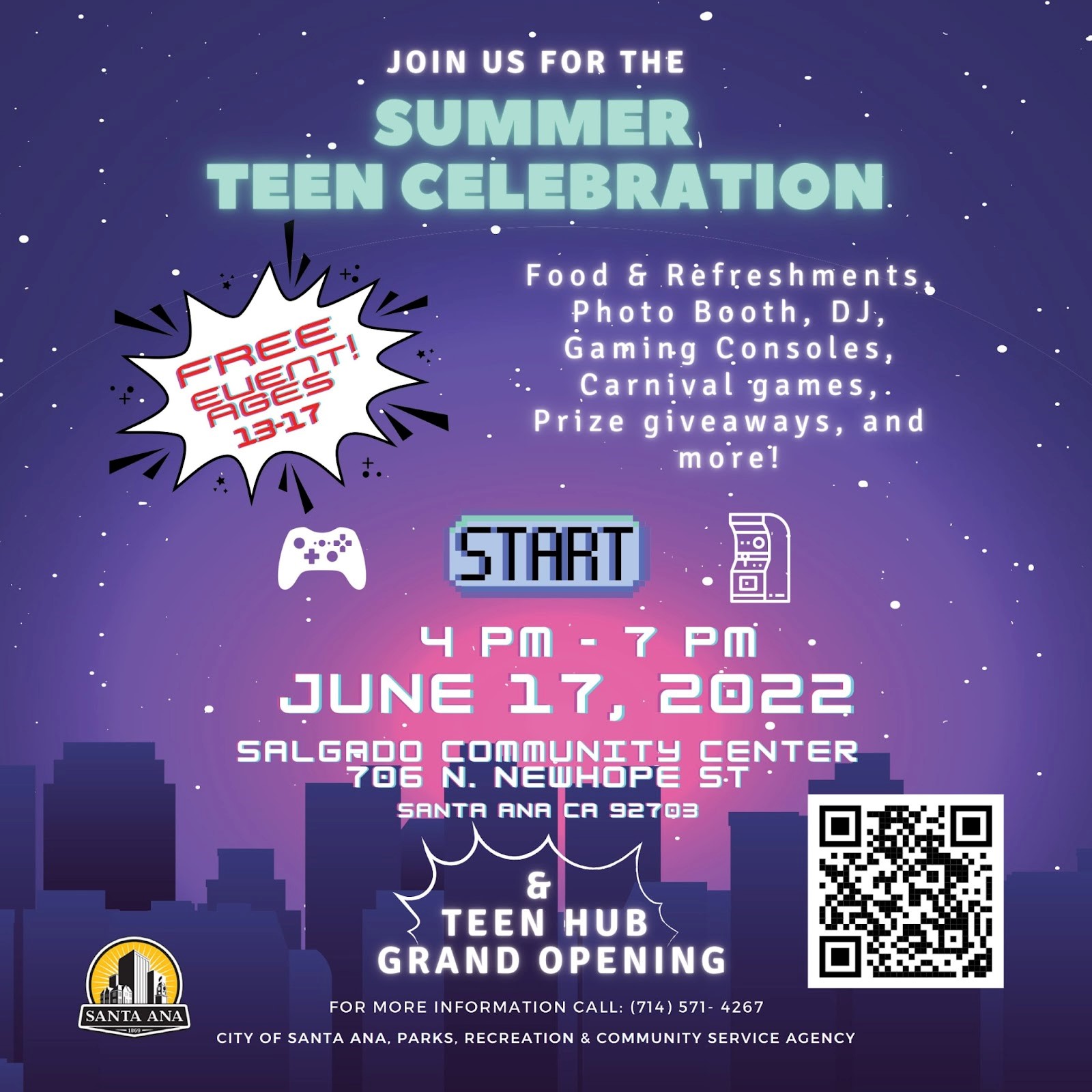 Teens, please  join us for the grand opening of the Teen HUB at the Salgado Community Center. Prize giveaways, carnival games and gaming consoles. To participate, complete this Liability and Waiver form and bring it with you.
4-7 p.m. June 17
Salgado Community Center, 706 N. Newhope St., Santa Ana
---
Santa Ana Juneteenth Festival – June 18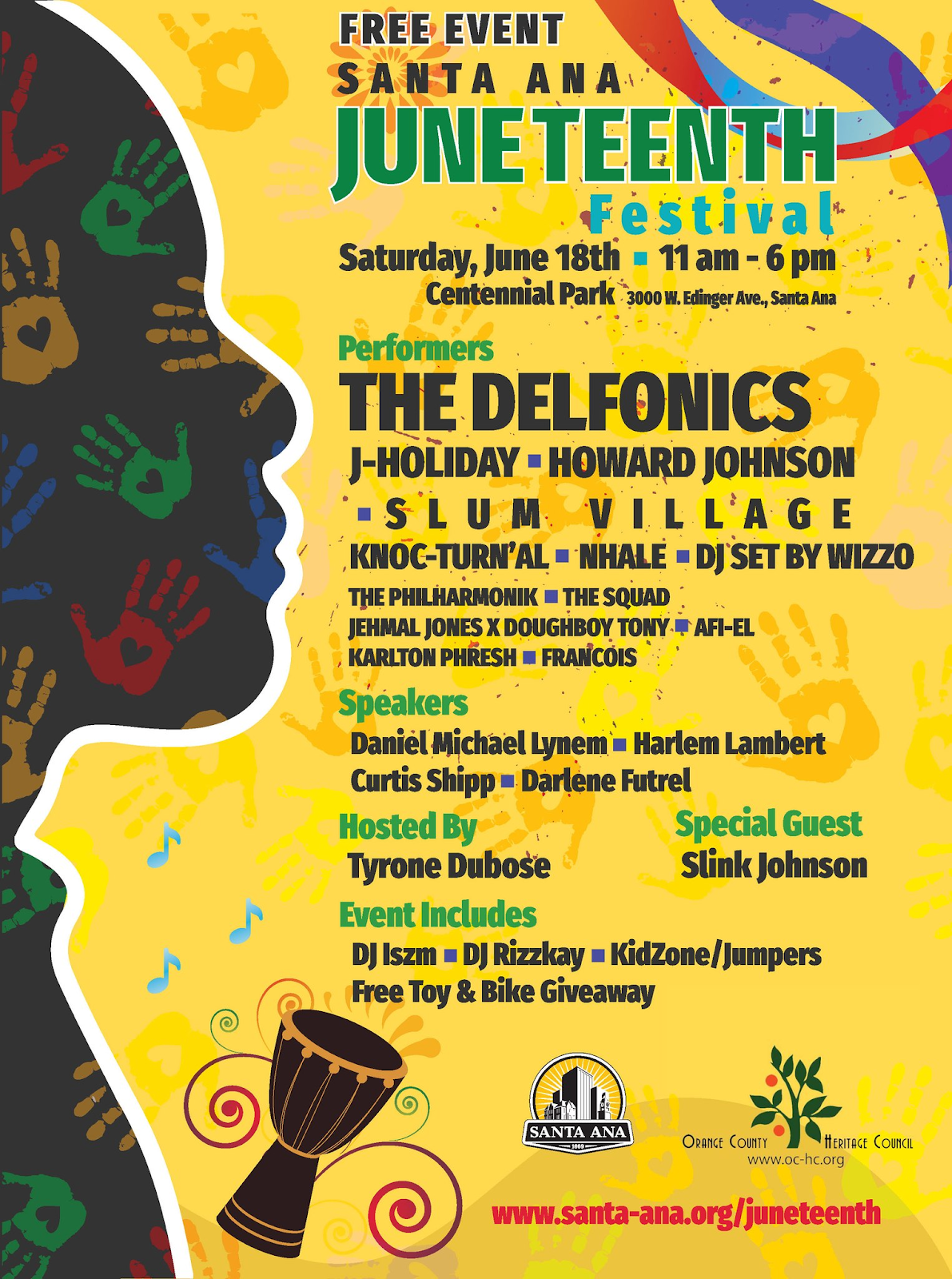 Santa Ana's first Juneteenth Festival will have music, speakers, food and activities. Juneteenth celebrates the end of slavery in the United States and also is a celebration of African-American culture. The Santa Ana Juneteenth Festival is presented by the City of Santa Ana and the Orange County Heritage Council.
The free, all ages event will be headlined by Classic R&B group The Delfonics. There will be a Kidzone and a free toy and kids bicycle giveaway (while supplies last).
11 a.m. to 6 p.m. June 18
Centennial Park, 3000 W. Edinger Ave., Santa Ana
---
Summer Solstice Festival at Bowers Museum – June 19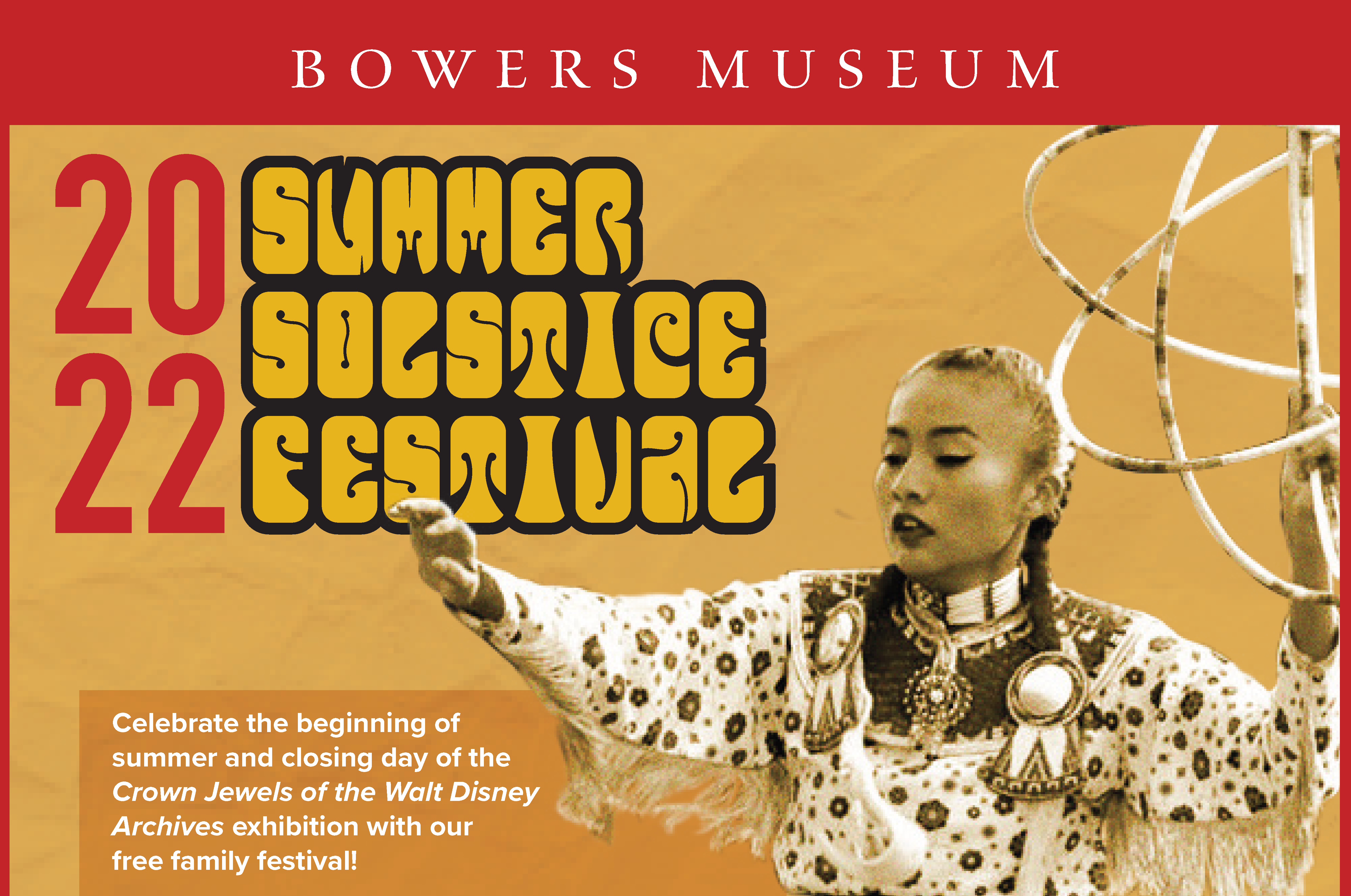 Enjoy a free family festival at the Key Courtyard of Bowers Museum. The event will celebrate the beginning of summer and the closing day of the Crown Jewels of the Walt Disney Archives exhibition. Visit www.bowers.org for more information.
11 a.m. to 3 p.m., June 19
Bowers Museum, 2002 N. Main St., Santa Ana
---
Neighborhood Heroes Awards (Com-Link) – June 23

The Santa Ana Communication Linkage Forum (Com-Link) is having its general meeting and annual awards night. The Com-Link Board and Most Beautiful Yard Committee will be joined by City Council members and staff from the Offices of Supervisor Katrina Foley, Senator Tom Umberg, Assemblymember Tom Daly, and Congressmember Lou Correa to present the 34th Annual Most Beautiful Yard award to winners from homes in 14 neighborhoods and to 14 Neighborhood Heroes (volunteers) from 11 neighborhood associations. The Board of Com-Link will also honor posthumously two members of the community for their outstanding service.
7 p.m. June 23
Santa Ana College, 1530 W. 17th St., Santa Ana (Parking is available at no cost in parking lot #1.)
---
OC Pride Parade and Festival – June 25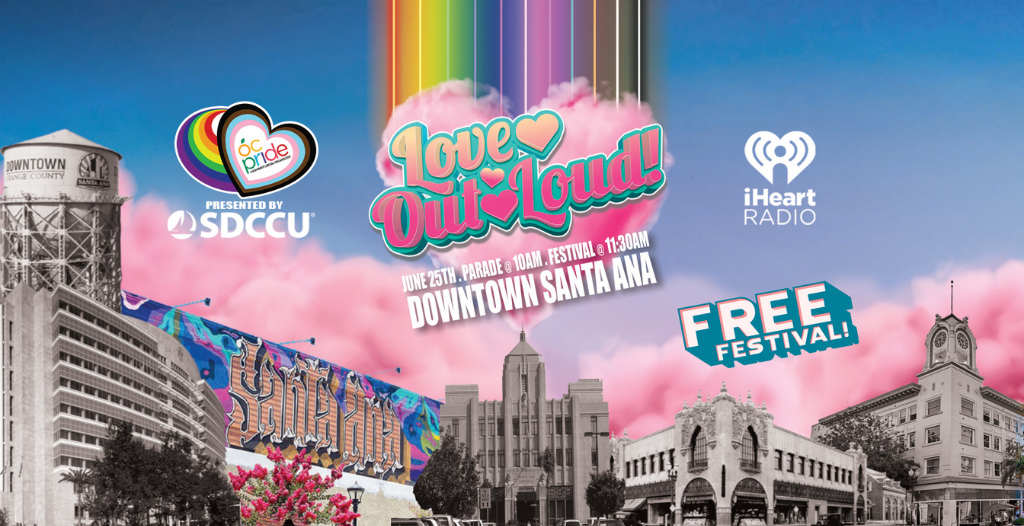 After a two year hiatus, The Orange County Pride Parade and Festival returns to downtown Santa Ana in celebration of LGBTQ Pride Month.
Parade is 10:30 a.m., Festival is 11:30 a.m. to 10 p.m.
Downtown Santa Ana, 253 E. 3rd St.
---
Sunset at the Zoo Summer Concerts – June 26 and July 10

Friends of the Santa Ana Zoo (FOSAZ) are presenting two summer concerts among the animals of the Santa Ana Zoo. Bring a picnic and join us for drinks and live music. Cost is $25 per person for general admission, $15 per person for FOSAZ members.
5:30-7:30 p.m. June 26 and July 10
Santa Ana Zoo, 1801 E. Chestnut Ave., Santa Ana
---
Expo Morelense – June 26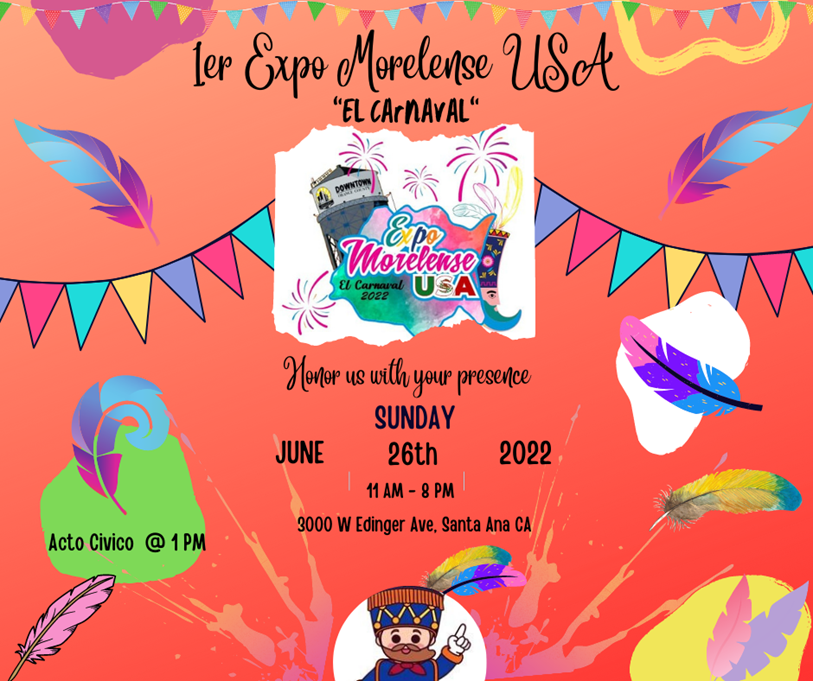 Expo Morelense USA is a festival showcasing an ancient indigenous tradition of the central region of Mexico that is influenced by Lebanese immigration to Mexico in the late 1800s, including the culture, art, and dance of "chinelos."
Centennial Park
3000 W. Edinger Ave.
11 a.m. – 8 p.m.
---
CPR class for Santa Ana residents – June 27
June is CPR Awareness Month. The Orange County Fire Authority (OCFA) will offer a free, non-certified, hands-only CPR and Stop the Bleed training course to Santa Ana residents. Participants will have the opportunity to learn crucial lifesaving skills.
6-8 p.m. June 27
Near Santa Ana City Hall (TBA)
---
Neighborhood Association Meetings – June 27, 28, 30
The City of Santa Ana has 64 distinct neighborhoods, and our Neighborhood Initiatives program supports dozens of active neighborhood associations. Join one of the upcoming meetings!
Bella Vista, Central City, New Horizons, and Casa Bonita Joint Neighborhood Associations meeting: Monday, June 27, 6 p.m. at Southwest Senior Center, 2201 W. McFadden Ave.
Delhi Neighborhood Association and OC Water District Virtual and In-Person meeting: Tuesday, June 28, 6 p.m. at Delhi Center, 505 E. Central Ave.
Downtown Neighborhood Association meeting: Thursday, June 30, 6 p.m. at Santa Ana Senior Center, 424 W. 3rd St.
Join a Neighborhood Association
---
WORK Center Career Fair – June 29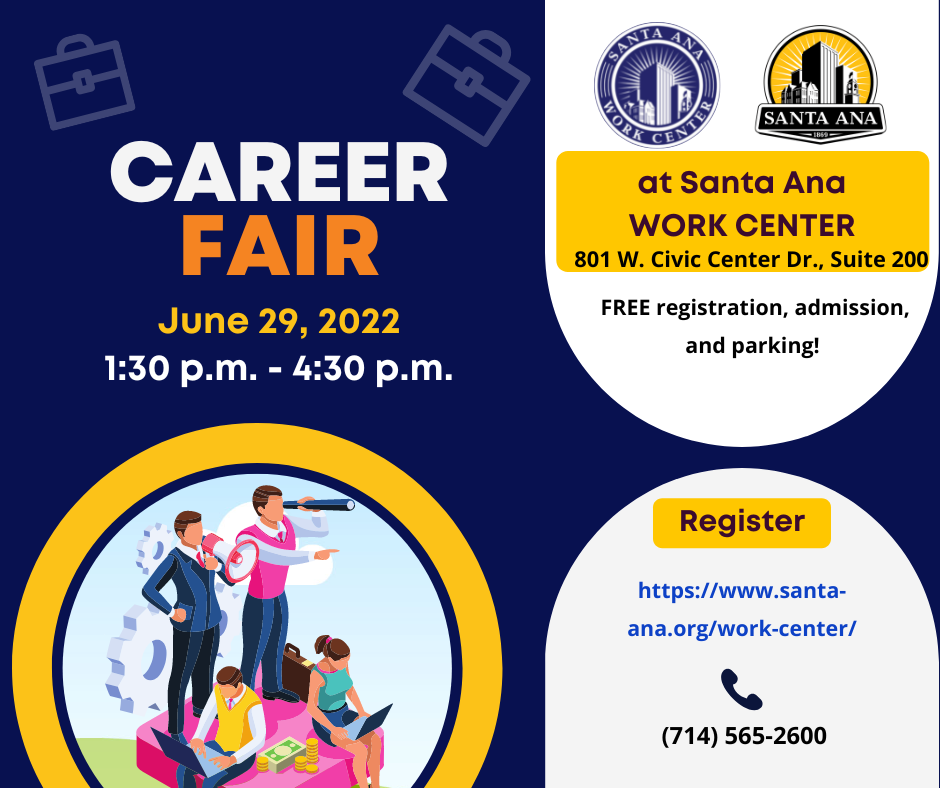 Are you interested in learning a new skill or changing careers? The Santa Ana WORK Center is hosting a career fair where attendees will meet with schools and learn about different careers. Scholarship opportunities are available. Sign up at the link below or call (714) 565-2600.
1:30-4:30 p.m. June 29
Santa Ana WORK Center, 801 W. Civic Center Drive, Suite 200, Santa Ana
---
Independence Day Celebration – July 4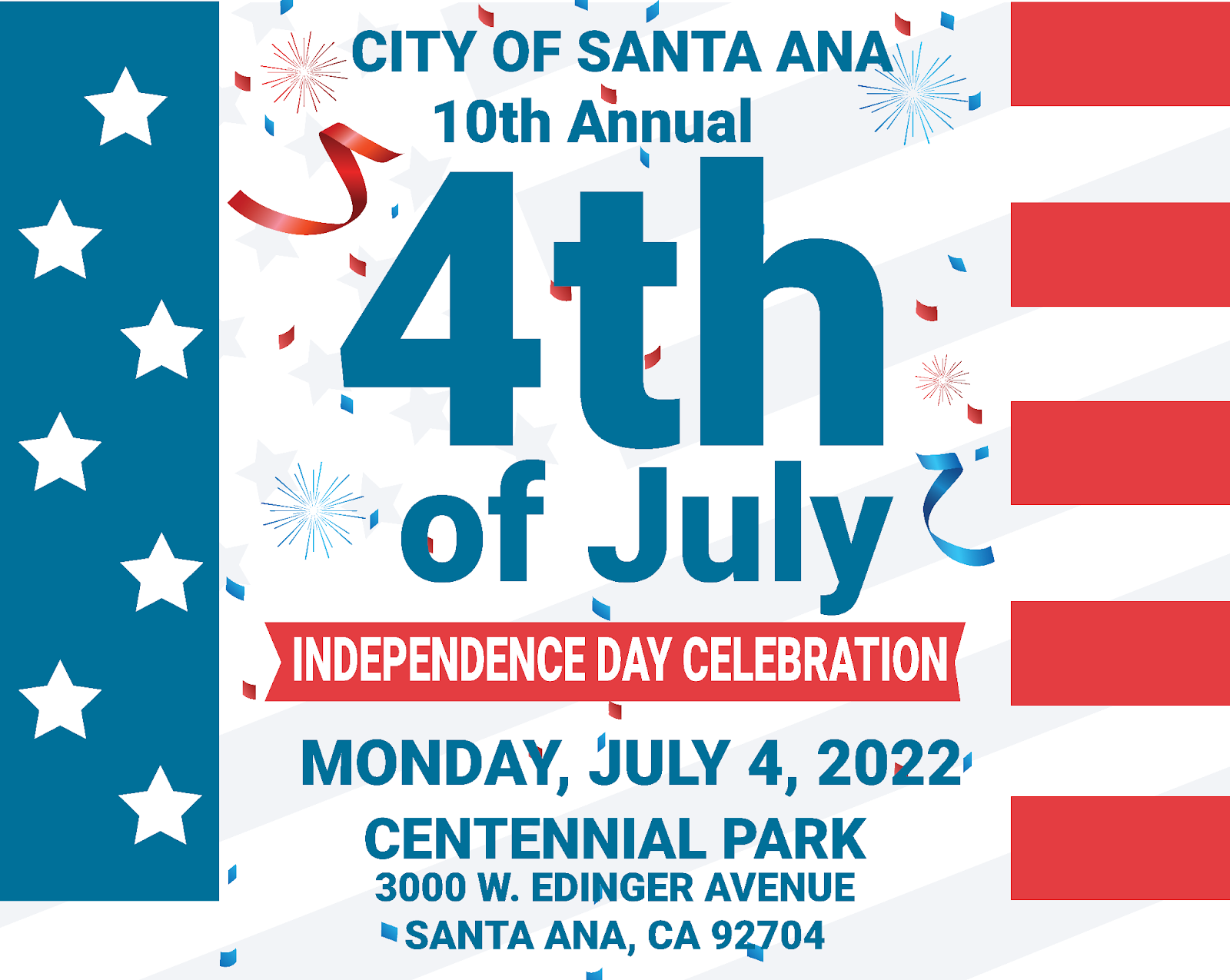 The Santa Ana Fourth of July celebration has been a long-standing tradition that brings thousands of residents, families and businesses together. The 10th annual 4th of July Independence Day Celebration will feature live music, food, a kids zone, exhibitors and of course, a fireworks show at 9 p.m. Guests are encouraged to arrive early and bring a lawn chair, blanket and picnics. Dogs may attend but must remain on leashes. Alcohol is not allowed. Parking is free.
5-9:30 p.m. July 4
Centennial Park, 3000 W. Edinger Ave., Santa Ana
---
Movies in the Park – Wednesdays through Aug. 31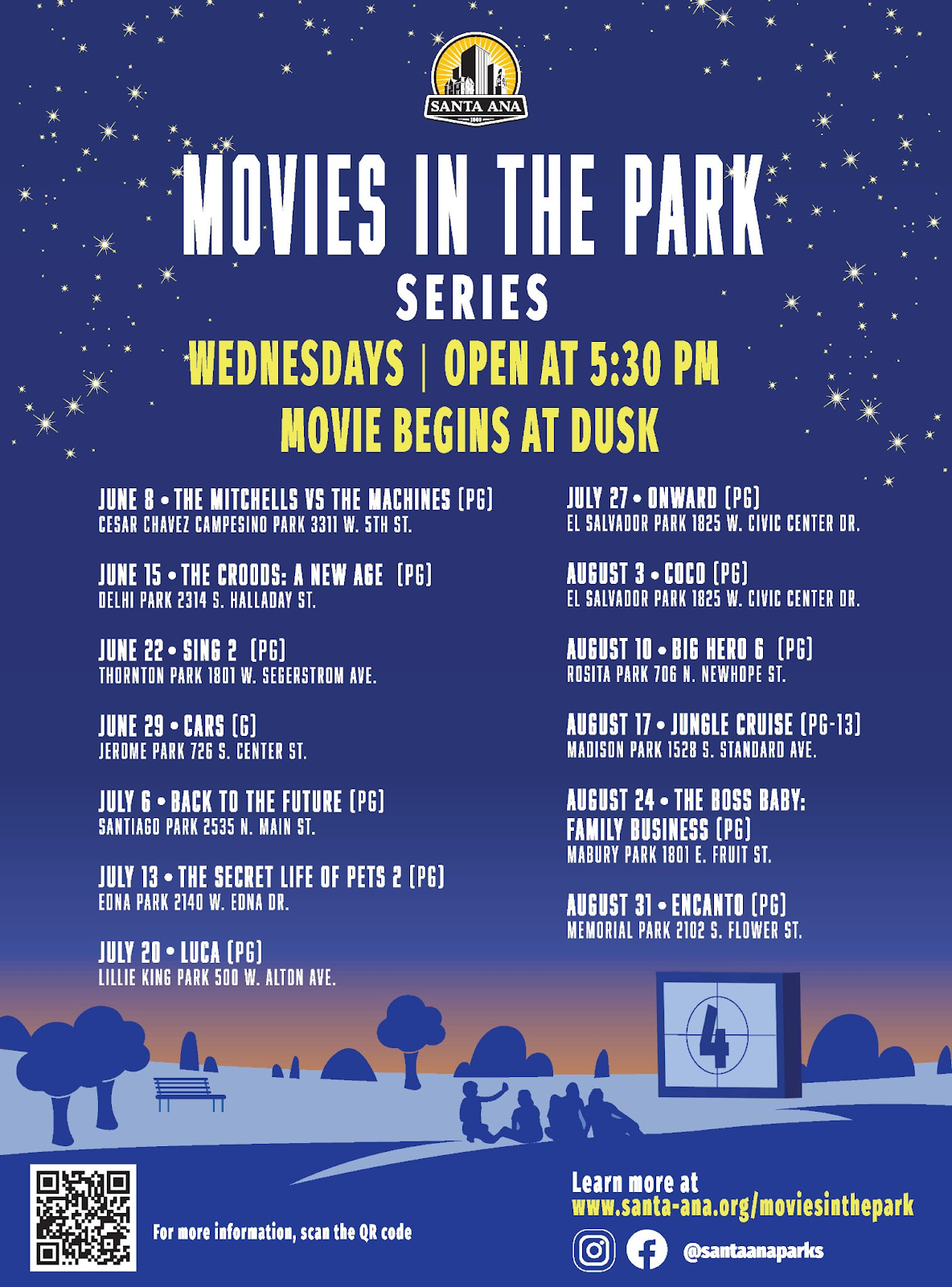 The Santa Ana Movies in the Park series takes place every Wednesday from June 8 through August 31 at City parks throughout Santa Ana. Other activities include exhibitors, jumpers, and arts and crafts for kids. Get free popcorn while supplies last.
---
Food distributions – ongoing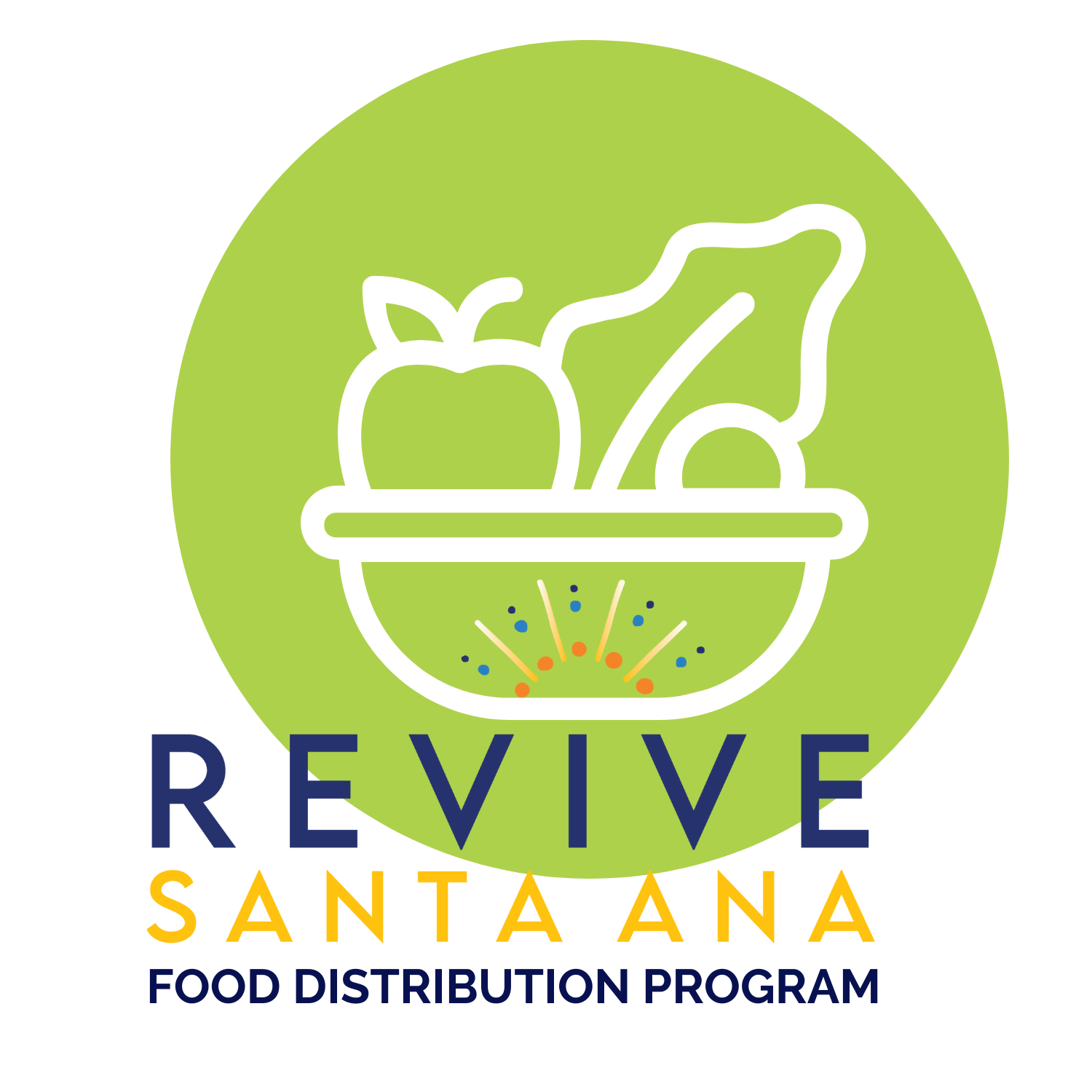 As part of one of our ongoing Revive pandemic recovery initiatives, we have partnered with various local organizations to host free food distributions throughout Santa Ana. The free food distributions are available for anyone in need, and no registration is required. The food is distributed on a first-come, first-served basis, while supplies last. Visit them on the following days:
Revive Santa Ana Distributions:
Delhi Center – Mondays, 10-11:30 a.m.
Santa Ana Elks Lodge (for seniors) – Mondays, 12-2 p.m.
Latino Health Access – Fridays, 12-1 p.m. (walk-in), 2-4 p.m. (drive-in)
Other Food Distributions:
OC First Assembly – Thursdays, 10 a.m.
Seva Collective – Saturday, June 25, 9-11 a.m.
---