Councilmember Mendoza's welcome message:
I am happy to announce that our ward redistricting process has been completed. I am now your new Ward 2 council representative. I am in the process of coordinating a meeting where I may introduce myself personally to all the neighborhood associations within Ward 2. I am asking that you make a list of issues that are of importance to your respective neighborhoods.
Please send that list to my email at nmendoza@santa-ana.org. It would be helpful if you would include photographs to have a visual reference of your concern. Once I review your list, I will ask appropriate staff to attend the meeting to address such issues and to answer your questions. I would also like to know what makes you happy to live in your neighborhood. What do you love about your community?
It seems that the summer heat is upon us and I would like to remind you to take extra care as you enjoy outdoor activities. Be sure to protect your skin with sun block, wear a hat, drink plenty of water and keep a watchful eye on your children when at the pool or at the beach. Enjoy your summer and take advantage of all the planned city activities and events. A great outing would be to your local libraries:
Santa Ana Main Library
Hours:
Monday & Wednesday, 12 p.m. – 8 p.m.

Tuesday & Thursday, 10 a.m. – 6 p.m.

Friday & Saturday, 9 a.m. – 5 p.m.
Phone Number: (714) 647-5250
Newhope Library
Hours:
Monday & Wednesday, 12 p.m. – 8 p.m.

Tuesday & Thursday, 10 a.m. – 6 p.m.

Friday & Saturday, 9 a.m. – 5 p.m.
Phone Number: (714) 647-6992
For information on library services and events, check their website at https://www.santa-ana.org/departments/library/.  When the Knowledge Mobile is in your area, plan to take your children for a great time of learning, fun and excitement.
I am looking forward to meeting you in the near future.
Sincerely,
Nelida Mendoza
Councilmember, Ward 2
Save the date:
News you can use:
New City Budget adds programs, services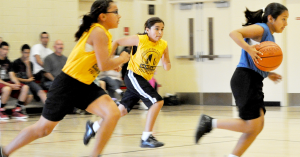 The Santa Ana City Council has approved the 2022-2023 City budget, which adds many programs and services requested by our residents. I'm proud that we are able to add more youth services, street and sidewalk repairs, public safety, and much more, while also maintaining a $70 million rainy day reserve fund to protect the City's finances. The budget includes:
More than $26 million – a $5.5 million increase – for youth services, including after-school programs, youth employment and internships, and youth sports

Library improvements and a second Knowledge Mobile

Many community events, including the City's first Chicano heritage celebration

New parks and more park maintenance and security

The total number of budgeted police officer positions was raised to 400

Over $24 million for affordable housing and supportive housing for homeless residents

Over $15 million – a $6 million increase – for street pavement, sidewalk and traffic calming improvements

Another $1.5 million of economic assistance for downtown businesses affected by the OC Streetcar construction

More Code Enforcement officers and resources to address public nuisance issues

$1 million for police oversight

An Environmental Justice Section in the Planning and Building Agency
See the City Budget: https://www.santa-ana.org/budget
New City Council Ward map approved
Meet your new Ward 2 Councilmember – me!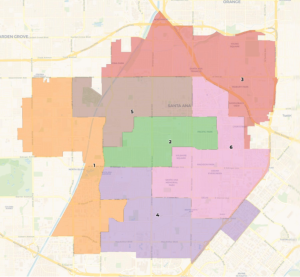 On April 5, the Santa Ana City Council approved a new Council ward boundaries map as required by law following the Census. The new map went into effect immediately, which means I now represent Ward 2. The seats for Wards 2, 4 and 6 will be on the November 2022 ballot, and Councilmembers for Wards 1, 3 and 5 will be elected in November 2024. You can find an interactive map that allows you to locate which of the new wards your address is in at the link below.
Find Your Council Ward: https://santa-ana.maps.arcgis.com/apps/webappviewer/index.html?id=fb230cb61bbc4462b1e350a8d0a29867
Revive Santa Ana programs rolling out

Last year, the Santa Ana City Council approved the first half – $80 million – of the Revive Santa Ana pandemic recovery initiative funded by the federal American Rescue Plan Act (ARPA). Since then, City staff has been working hard to roll out many new and exciting programs. We have been distributing $300 gift cards to 20,000 households in need through the $6 million Resident Stimulus Program. Our library has created new technology and digital literacy programs and added dozens of new events, and the Police Athletic & Activity League (PAAL) has started youth softball and baseball teams and a running club.
We also have created a digital marketing seminar with a $1,000 grant for local businesses and are funding our Investing in the Artist Grant Program. The City Council also approved up to $900,000 for agreements with five local nonprofits to provide food distributions in Santa Ana to help those still feeling the financial effects of the pandemic or hurt by the rapidly rising inflation.
Conserve water during drought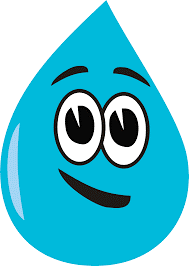 California is experiencing a severe drought. While there is no current water supply emergency for Santa Ana, the Santa Ana City Council approved reduction actions for a Level 2 Water Supply Shortage in order to comply with the State's requirements and help protect future water supplies. Santa Ana's water rules limit outdoor watering to no more than two days per week and only between 6 p.m. and 6 a.m., among other restrictions. Find all of the new requirements and get water conservation tips at the link below.
Let us work together as a city to help conserve our precious water. As an individual and as a family, here are some things you can do to reduce your household's water use:
At restaurant, do not ask for water unless you will be drinking it

Take shorter showers

Sweep your driveways instead of washing them down

Water your lawn every other week only between 6 p.m. and 6 a.m.
Water Conservation Rules and Tips: https://www.santa-ana.org/water-conservation/
Council approves $3.7 million for nonprofits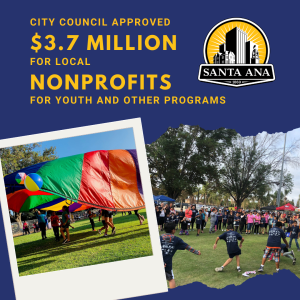 Over 30 local nonprofits will receive $3.7 million in federal funding approved by the Santa Ana City Council for a variety of programs that will benefit the community. They include youth violence prevention, youth sports, early childhood support, daycare, support for survivors of domestic violence, mentoring for homeless youth, literacy, and much more! These programs are part of the Revive Santa Ana initiative (funded by the federal American Rescue Plan Act), or funded through federal Community Development Block Grants.
Helping out downtown businesses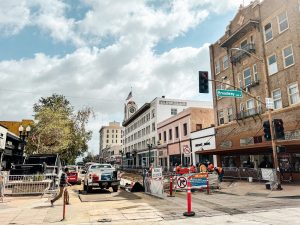 As work on the OC Streetcar continues on 4th Street, the City is working with the project manager, OCTA, and taking its own steps to support local businesses that are being impacted. This is a high priority for the City Council, which approved $1.5 million in grants to help the affected businesses earlier this year. The Council approved another $1.5 million in support as part of the new budget, and the County of Orange has set aside another $1.2 million to help our local businesses as well.
The City has also extended our parking assistance, not only providing free parking from 7 a.m. to 5 p.m. Monday through Friday at four City-owned parking structures, but also adding two hours of free parking after 5 p.m. and on the weekends. Please help out these local businesses by eating, shopping and playing in downtown Santa Ana!
Celebrate safely: Don't use illegal fireworks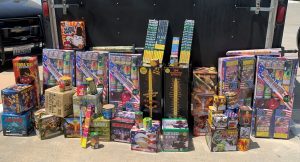 The possession or use of illegal fireworks is a crime. Only fireworks labeled "safe and sane" are legal in Santa Ana from July 1 to July 4. Violators may be subject to a $1,000 fine and up to 1 year in jail. Report the use of illegal fireworks to Santa Ana Police Department at (714) 245-8771, via email to reportfireworks@santa-ana.org, with the mySantaAna app, or with the form in the link below.
Report Illegal Fireworks: https://www.santa-ana.org/fireworks/
Public Works hotline available 24/7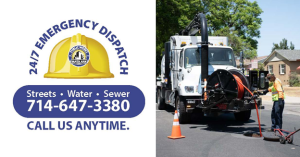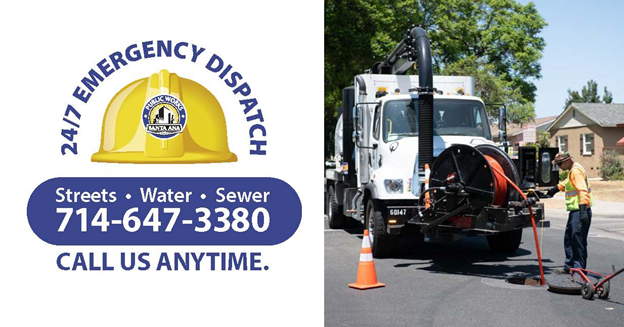 For sewer, street and water emergencies, please immediately call Public Works Dispatch at (714) 647-3380. You can call 24 hours a day, seven days a week. For less urgent matters, you can report many issues such as fallen tree branches, graffiti and potholes by using the mySantaAna app.
Download mySantaAna App: https://www.santa-ana.org/mysantaana-app/
Check out a State Parks Pass at Santa Ana Public Library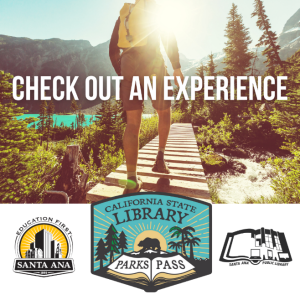 The Santa Ana Public Library (SAPL) has partnered with the California State Library to provide free vehicle day-use entry to over 200 participating state park sites to library card holders! When you check out a California State Library Parks Pass from the Santa Ana Public Library, you can visit any of the 200 participating state park units during a period of three weeks. The SAPL currently offers six passes ready for check out.
Reserve a State Parks Pass: https://sapl.tlcdelivers.com/#section=resource&resourceid=1413197248&currentIndex=0&view=allCopiesDetailsTab
Learn More About the Parks Pass: https://www.parks.ca.gov/?page_id=30806
Get help building a backyard home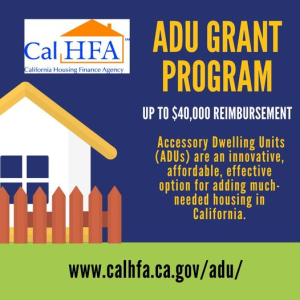 The California Housing Finance Agency is offering a grant program for Accessory Dwelling Units (ADUs). ADUs have been known as granny flats, in-law units, backyard cottages, secondary units and more. The ADU Grant Program provides up to $40,000 to reimburse pre-development and non-reoccurring closing costs associated with the construction of the ADU. Eligible homeowners with low or moderate income can apply today.
Apply for ADU Grant: https://www.calhfa.ca.gov/adu/.
My First Home Program helps new homebuyers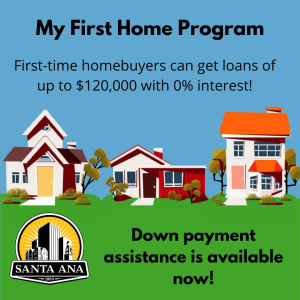 Are you trying to buy your first home? The City of Santa Ana's My First Home Program offers down payment assistance loans of up to $120,000 with 0% interest rate to first-time home buyers purchasing a home in Santa Ana. 
Apply for My First Home: https://www.santa-ana.org/my-first-home/
Help for small businesses and independent contractors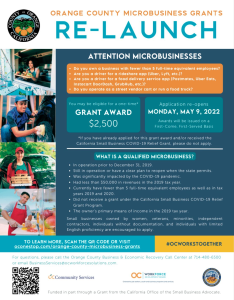 The Orange County Microbusiness Grants program has relaunched! Owners of small businesses, drivers for Uber and other services, street vendors and other qualified businesses can receive grants of up to $2,500 grant are below.
Microbusiness Grants: https://www.oconestop.com/orange-county-microbusiness-grants
Free food distributions in Santa Ana

As part of one of our ongoing Revive pandemic recovery initiatives, we have partnered with various local organizations to host free food distributions throughout the City. The free food distributions are available in Santa Ana for anyone in need, and no registration is required. The food is distributed on a first-come, first-served basis, while supplies last.
Partnering organizations currently include Delhi Center, Santa Ana Elks Lodge 794 and Latino Health Access. Other local organizations are also distributing free food, including Orange County First Assembly and Seva Collective.
Find Food Distributions: https://www.santa-ana.org/food-distributions/
Check out the new City website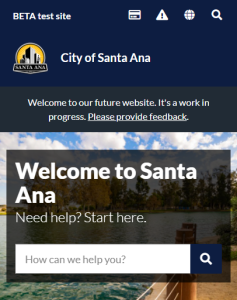 The City of Santa Ana has launched a redesigned website that is made to be more user friendly and make it easier to find the services and information you need. The website is a work in progress and we will be making regular updates and improvements to better serve the community. Please check out the website and click "Please provide feedback" to share your thoughts.
New City Website: https://www.santa-ana.org/
Councilmember's projects
Meeting my new constituents in Ward 2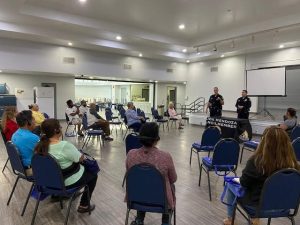 On June 27th, Bella Vista, Casa Bonita, Central City and New Horizons Neighborhood Associations had a joint meeting to personally meet their new Council Representative for Ward 2, Nelida Mendoza. Support and attend your local neighborhood association meetings. These are our police officers providing much needed updates on public safety issues.
Proclamation declaring June 2022 as LGBTQ Pride Month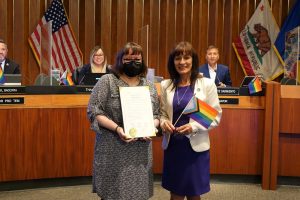 In Santa Ana, we embrace diversity and inclusion. The Santa Ana City Council has made it a priority to celebrate and recognize the many cultural backgrounds that make up our community. We're celebrating LGBTQ Pride Month by flying the Pride flag at City Hall, lighting up our water tower in rainbow colors. It was my pleasure to award Stephanie Camacho-Van Dyke, Director of Advocacy and Education of LGBTQ Center OC, the proclamation to recognize June as Pride Month.
Certificate of Recognition: SAPD Homicide Unit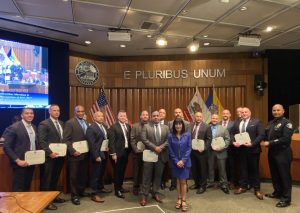 It was my honor to recognize Santa Ana Police Department's Homicide Unit detectives for solving a challenging homicide case that was selected by the Orange County Homicide Investigators Association (OCHIA) as the 2021 Homicide Case of the Year. OCHIA selected the complex case involving the torture and murder of Manuel Ramos. This case was extremely complicated and involved collaboration not only with the SAPD Gang Unit, Career Criminal Unit, and Orange County Violent Gang Task Force, but also reached across borders involving Mexican law enforcement authorities.
Certificate of Recognition: Fred Flores, Medica Talent Group and Andre Roberson, Power of One Foundation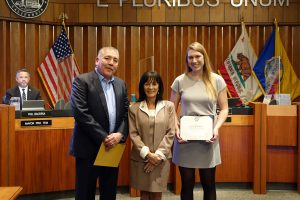 Fred Flores from Medica Talent Group and Andre Roberson from Power of One Foundation were extremely instrumental in ensuring a successful Winter Wonderland Holiday Toy Giveaway on December 19, 2021, at Centennial Regional Park. The holiday season tends to be the worst time of the year for families struggling financially trying to provide gifts for their little ones; but thanks to Medica Talent Group and Power of One Foundation, as many as 1,100 children in Santa Ana received toys. It was my pleasure to award the certificate of recognition to Fred Flores and Shawnee Witt – on behalf of Andre Roberson – for their Outstanding Contributions to the Community.
Certificate of Recognition: Micaela Andrade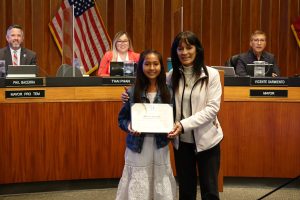 Micaela Andrade is an 11-year-old 5th grader attending Santiago Elementary School. I recognized her for being an outstanding young community member and contributing to the efforts to keep her neighborhood clean and advocate for recycling.
Meeting with the fans of "Cars" at the Movie in the Park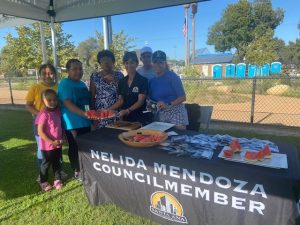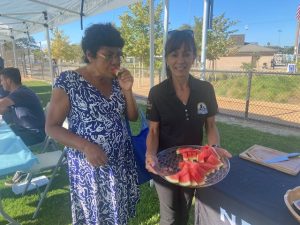 On June 29, Jerome Park held its first movie featuring the wonderful story of "Cars".  Councilmember Mendoza greeted the eager youngster with delicious and sweet watermelon. Even the adults enjoyed the movie and the watermelon.  Thank you to our volunteers:  Sylvia Ortiz, Laura Morfin and Christina Ruiz.
Please join us next time.
Concert in the Park at the Pacific Electric Neighborhood Association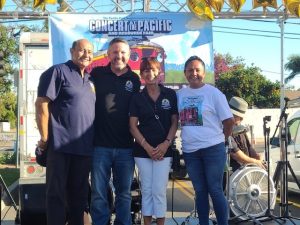 Pacific Electric Neighborhood Association held its first Concert in the Park on June 25th.  It was a great success all thanks to the efforts of the association leader, Selica Diaz.  We were honored to have the presence of our very own Luis Correa, Congressmember.  Pictured also is my colleague and fellow community activist, Phil Bacerra (Ward 4).  Please join us for all the fun concerts in the parks that are planned throughout Santa Ana.
Gun violence awareness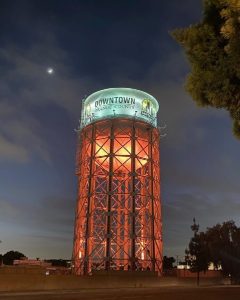 I requested that the Santa Ana Water Tower be illuminated orange for National Gun Violence Awareness Day and Wear Orange Weekend on June 3-5. Gun violence continues to harm our community and our nation. I urge everyone to practice gun safety and to report illegal gun activity to the police.
Ceremonial signing of Chinatown Apology Resolution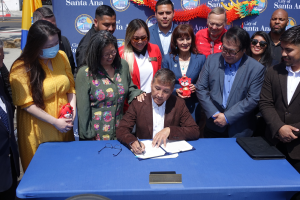 On May 17, I was proud to join the City Council in approving a resolution apologizing to Chinese immigrants and their descendants for acts of fundamental injustice and discrimination, seeking forgiveness and committing to the rectification of past policies and misdeeds. This was a response to the horrible events of May 25, 1906, when the City of Santa Ana burned down its Chinatown in an act of racism and xenophobia.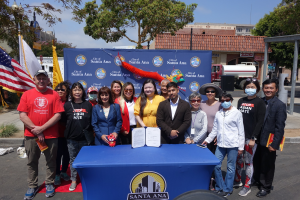 We commemorated the signing of this historic resolution with a ceremony across the street from the original Chinatown site at 3rd and Bush streets (now a parking lot behind the old City Hall). I joined Mayor Vicente Sarmiento, members of the City Council, nearly 100 community members, leaders of Chinese cultural organizations from throughout the region, and other supporters gathered for the ceremony. The event featured a Chinese lion dance performance and a traditional altar.
Stay connected!
Follow the City on social media
Get involved in our City! Follow the City of Santa Ana on Instagram, Facebook, and Twitter, get community alerts on Nixle, and join your neighborhood community on Nextdoor.