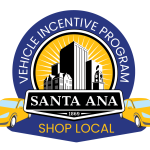 As a means to spur growth of the local tax base and to encourage Santa Ana residents to shop local , we developed the Resident Vehicle Incentive Program (VIP) that incentivizes Santa Ana residents and businesses to purchase a car or truck from one of 10 franchised Santa Ana auto dealers.
How it works
the VIP provides a $500 rebate to Santa Ana residents or business owners who purchase a new or pre-owned car or truck from a franchised Santa Ana auto dealer.
Participating dealerships
Eligibility
Any Santa Ana resident or business owner who purchases or leases a new or pre-owned automobile or truck from one of the eligible dealerships listed above is eligible to receive the $500 rebate.
Qualified residents must be able to provide proof of Santa Ana residency to dealership by registering their new purchase in Santa Ana and one of the following:

Valid California driver's license
Utility bill
Property tax bill
Proof of insurance
Bank statement

Qualified businesses must provide proof of valid Santa Ana business license.
Qualified residents and businesses must sign a Santa Ana Resident/Business Rebate Form verifying residency and operation of business in Santa Ana.
$500 rebate will be applied towards the agreed upon purchase/lease price in the final sales contract.
Minimum used car purchase is subject to a final sales price of $15,000 (after all manufacturer rebates and dealer incentives).
Qualifying vehicles
All new purchases of new or pre-owned cars or trucks are eligible.
All new leases of a new or pre-owned cars or truck are eligible.
Motorcycles, off-road vehicles or watercraft are not eligible purchases under this program.
Questions
Call (714) 647-5445