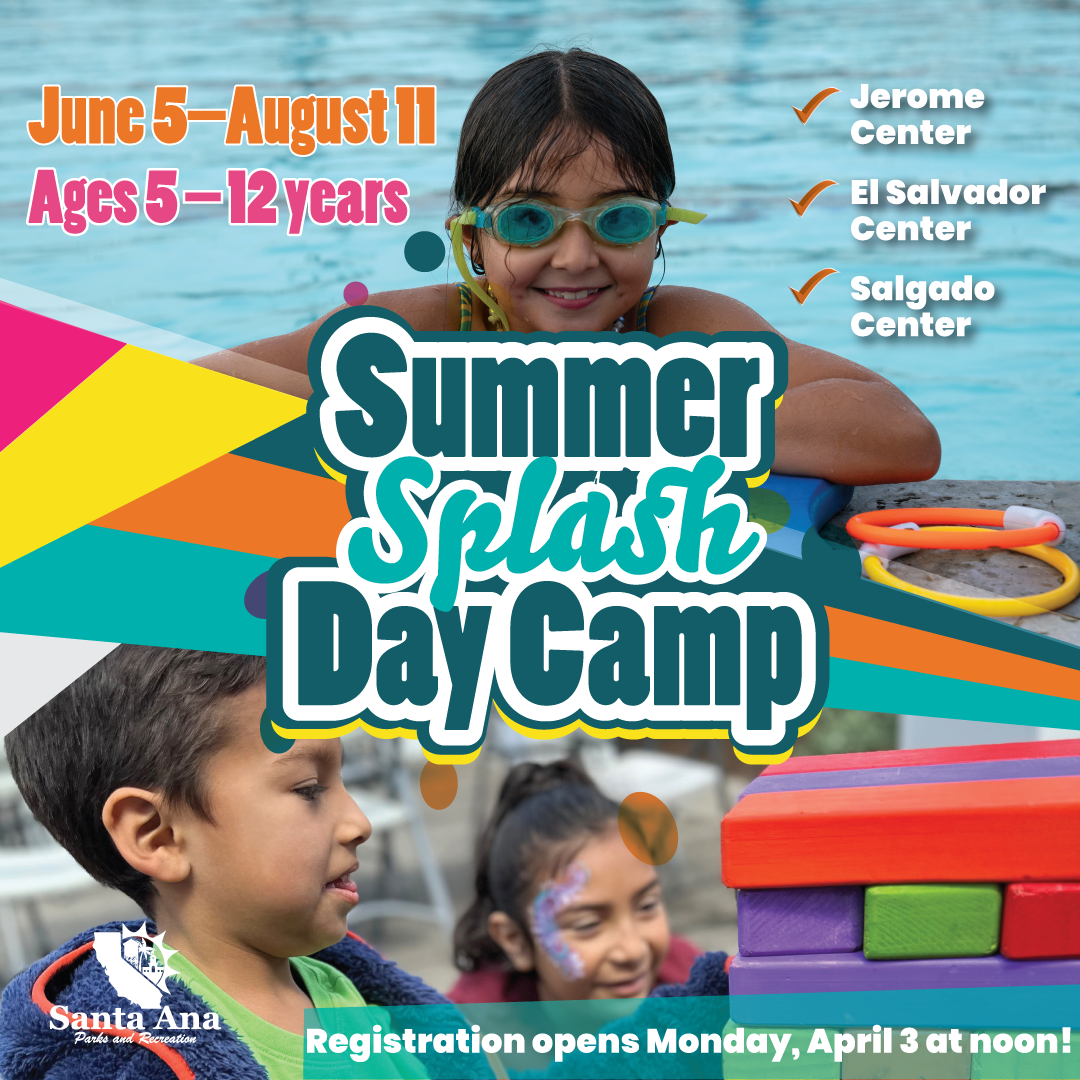 Get ready to jump into summer and enjoy the reimagined summer camp program.  Registration is now open for the Summer Splash Day Camp.
Campers will enjoy ten weeks of fun and creative summer programming, with weekly off-site excursions planned every Thursday. The program is focused on fostering personal growth for youth by providing safe, enjoyable, and engaging outdoor activities. Each week's excursions were selected as a destination to match the activities of the week, and further provide access to cultural enrichment opportunities.
Participants will experience summer activities based on weekly themes like science, crafts, and animals. Campers can look forward to games, crafts, group activities, as well as lunches provided through Santa Ana Unified School District. One new and exciting element of this camp, is the introduction of swimming lessons as a part of  regular camp programming. Santa Ana Parks & Recreation is excited to be bringing back aquatic programs in house for the first time in eight years and as a result of this decision, city staff will be bringing Red Cross Learn to Swim program to all campers Monday – Wednesday. Campers can also look forward to recreation swim opportunities under the supervision of certified city lifeguards.
Guardians and parents can enroll their campers in individual weeks at one of three available sites: El Salvador Center, Jerome Center, or Salgado Center. The weekly all-inclusive fees for residents are $110, with a rate of $70 per additional family participant. Non-residents are also welcomed to enroll in our exciting camps for $130 weekly, with a rate of $90 per additional family participant. These weekly fees will include all activities, lunches, excursions, and one Summer Splash Day Camp shirt.
Registration is now open online for all weeks and an early bird $10 discount is available for any registrants enrolling prior to July 1st. We look forward to making your camper's summer extra special
Visit www.santa-ana.org/summer-splash-day-camp/ on the Parks and Recreation Youth and Teens website for more information on the Summer Splash Day Camp