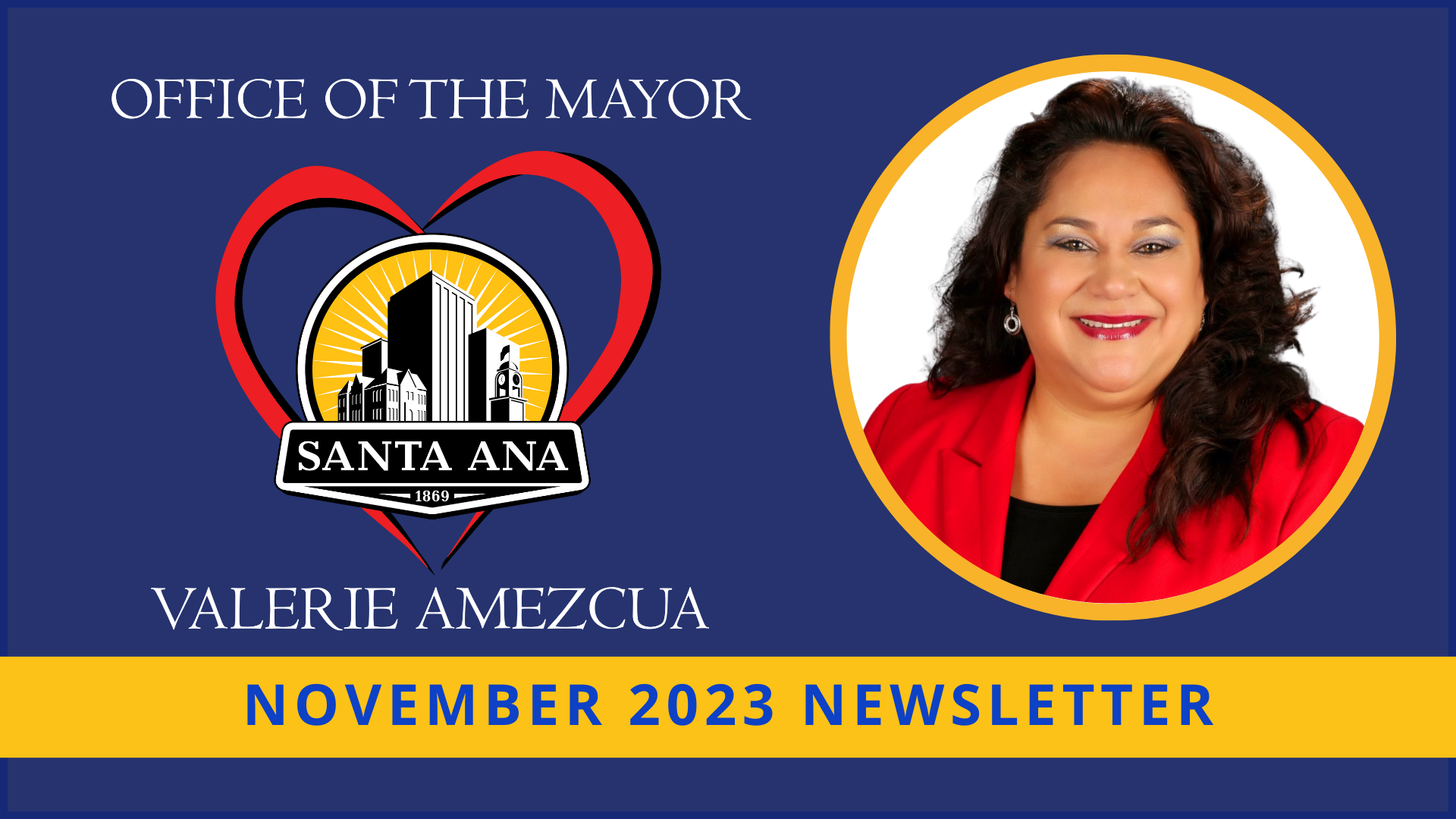 Official newsletter of Santa Ana Mayor Valerie Amezcua.
Keeping the community informed about local events, City news, and resources.
Dear neighbors,
November brings the opportunity to show our appreciation and gratitude for those around us. One of the best parts about fall is participating in the amazing activities and events that happen around this time of year. Veterans Day is November 11, and I would like to thank all the veterans in our community for their service to our country.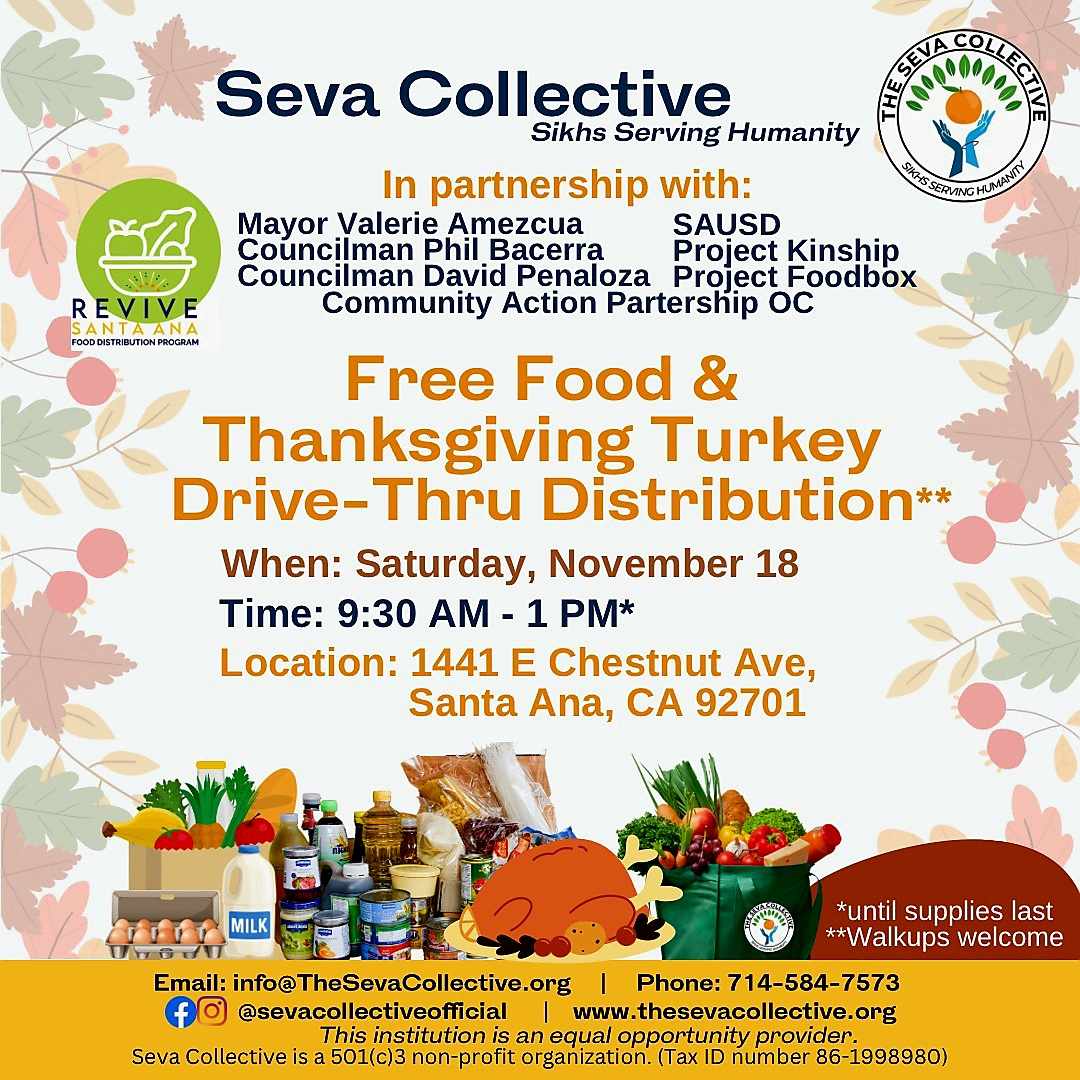 We will soon be celebrating Thanksgiving with family and friends. This brings in a season of giving thanks and a time for us to recommit ourselves to service and to helping others, especially those who are in need. If you can carve out a portion of your time, please consider volunteering at your favorite organization.
In the spirit of giving, I invite you to join me, the SEVA Collective, Councilmember Phil Bacerra, Councilmember David Penaloza, Project Kinship, Project Foodbox, Community Action Partnership OC and SAUSD for a free turkey giveaway. We will be giving away 500 turkeys and produce boxes to families in our community. The giveaway will take place on Saturday, November 18, at 1441 E. Chestnut Ave. in Santa Ana between 9:30 a.m. and 1 p.m. Drive up, pop your trunk and we'll load your car; a walk-up line will be available. (No registration needed, while supplies last.)
This season I am thankful for my loving family and so appreciative of the opportunity to serve as the mayor of our wonderful city.
I wish you and your family a safe and happy Thanksgiving.
Sincerely,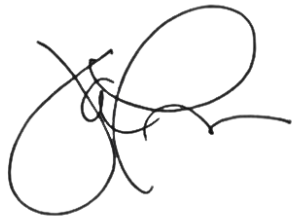 Mayor Valerie Amezcua
Email: vamezcua@santa-ana.org
---
Mayor in the News
The City of Santa Ana installed a new clock tower by the …
Mayor Valerie Amezcua along with Councilmembers Phil Bacerra, Johnathan Ryan Hernandez, Benjamin Vazquez and David Penaloza did the honor of unveiling the clock…
Steven A. Mendoza to serve as Santa Ana's Acting City Manager
"Steven Mendoza has the professional and leadership experience that we need for the Acting City Manager position during this transition," Mayor Valerie Amezcua…
Santa Ana City Council moves to protect city's rent control and eviction ordinances
Mayor Valerie Amezcua joined them in their opposition Tuesday night. "This is standing up and saying it is important for us to do everything that we can to…
Santa Ana May Expand Voting Rights To Noncitizens
Mayor Valerie Amezcua was a staunch opponent. "We should be doing up here … Amezcua also said that the ballot measure would violate California law and…
Lowe and Centennial Announce Grand Opening of Paloma, New Residential Component at MainPlace in Santa Ana
Santa Ana Mayor Valerie Amezcua joined MainPlace General Manager Cory Sams and Lowe Senior Vice President Rob Reitenour to address the gathering and…
On Sept. 30, volunteers and sponsors of Habitat for Humanity of Orange County came together with community members and local leaders, including Valerie Amezcua,...
---
City Hall
Upcoming Holiday and Closed Friday schedule: (City Hall non-essential offices are closed on alternating Fridays throughout the year):
Friday, November 10, 2023 – City Hall closed and no street sweeping in observance of Veterans Day. Regular trash schedule.

Thursday, November 23, 2023 – City Hall closed and no street sweeping in observance of Thanksgiving. Trash collection will be delayed by one day.

Friday, November 24, 2023 – City Hall closed and no street sweeping. Regular trash schedule.
The next City Council meeting will be held on Tuesday, November 7, at 5 p.m. at Santa Ana Council Chamber, 22 Civic Center Plaza, Santa Ana. Official City meetings are open to the public and I encourage you to participate. Council agendas and minutes may be accessed here.
---
City resources
City Hall main line

Code Enforcement

Emergency Water Services

Graffiti Hotline

mySantaAna app

Report various issues: (714) 647-6900

Public Works dispatch (street sweeping, trees)

Homeless Services

SMART program for non-emergency homeless-related issues
(714) 242-3706

The city will offer down payment assistance loans to first-time home buyers to aid in the purchase of a home within the City of Santa Ana.

Employment Opportunities
Have you downloaded the mySantaAna app?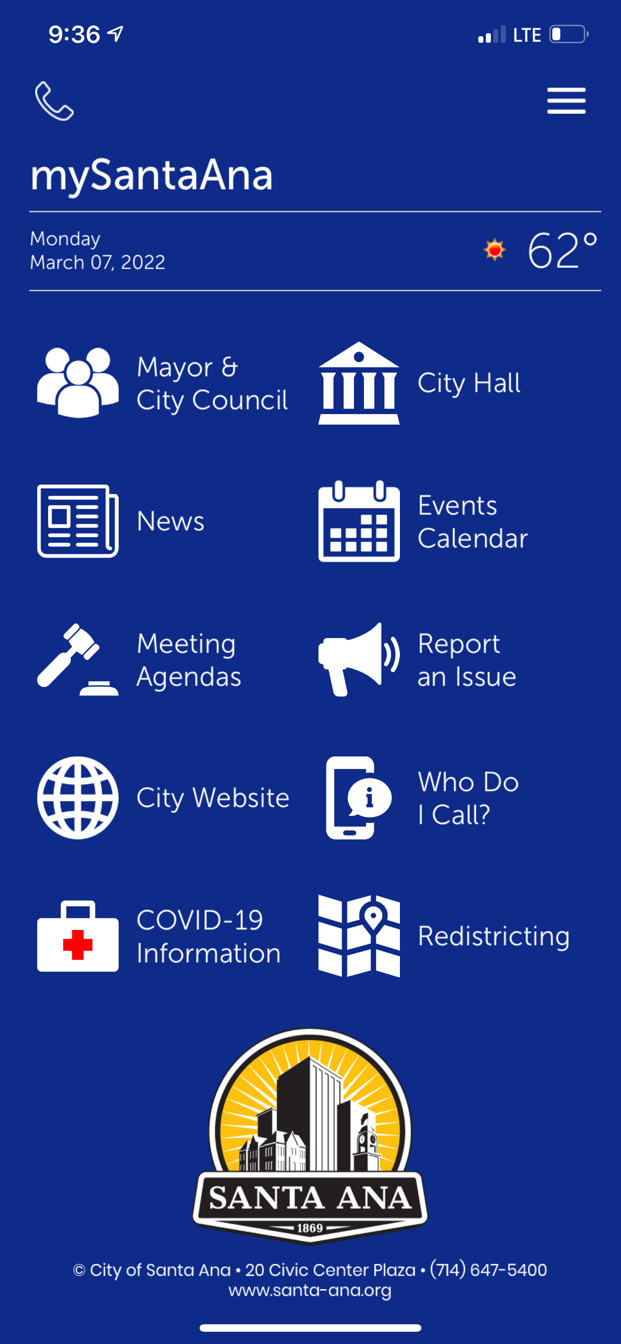 Report issues like:
illegal dumping, graffiti removal
homeless encampments
trash and recycling missed pickups
park issues
potholes
and more!
Community Resources
Homelessness support for families and children.

Provides assistance with housing placement.

Free Drive Through Food Pantry

Provides and ships nutritious, farm fresh produce to communities who need it most.

LIHEAP is a federally funded program that helps low-income households pay for heating or cooling in their homes.
---
City Council Meetings Highlights
Highlights of the October City Council meetings:
For the first time, appointed two residents aged 55 or older representing the Santa Ana Senior Center and the Southwest Senior Center to the Parks, Recreation and Community Services Commission.
Adopted a resolution (opposed by Mayor Amezcua) placing a ballot measure before voters in the Nov. 5, 2024, General Municipal Election proposing a Rent Stabilization and Just Cause Eviction Ordinance.
Adopted a resolution to amend the Miscellaneous Fees Schedule for the 2023-24 fiscal year to reduce the Planning and Building Agency review fee for accessory dwelling unit applications and to create a new review fee for accessory dwelling unit applications utilizing pre-approved plans.
Authorized issuance of a request for proposals for affordable homeownership opportunities with total funding of $7.7 million and allocated additional funds of nearly $2.3 million to the down payment assistance program.
Awarded a $1.9 million construction contract to All American Asphalt for the 17th Street rehabilitation, with an estimated project delivery cost of $2.3 million.
Awarded a $1.6 million construction contract to C.S. Legacy Construction, Inc. for the King Street Urban Greening Project, with an estimated construction delivery cost of $1.9 million.
Approved the first reading of an ordinance to prohibit spectators who knowingly attend or assist with illegal speed contests and reckless driving exhibitions.
Approved the first reading of an ordinance (opposed by Mayor Amezcua) amending the Rent Stabilization and Just Cause Eviction Ordinance to require two-thirds approval by the City Council for certain future amendments, and directed staff to return with necessary documents to consider placing a ballot measure amending the ordinance on the November 5, 2024, election ballot.
Denied an appeal application and upheld the Planning Commission's decision to deny a modification to a Conditional Use Permit for a new service station at 2230 N. Tustin Ave.
Approved an appeal application and overturned the Planning Commission's approval of a mixed-use development known as Cabrillo Town Center at 1901 and 1971 E. Fourth St. and 515 and 525 N. Cabrillo Park Drive.
Subscribe here to receive City meeting agenda notifications. City Council meetings are typically held on the first and third Tuesdays of each month, with the closed session beginning at 5 p.m. or earlier. The open meeting session begins at 5:30 p.m. Meetings have both in-person and virtual participation and attendance and are live streamed on the City's YouTube channel and our TV channel, CTV3 (channel 3 on Spectrum.) If you'd like to provide public comments on agenda and non-agenda items, you can email, attend in person, or join the Zoom webinar online or by phone.
---
Community Spotlights
Non-profit Spotlight: National Hispanic Business Women Association (NHBWA)
The National Hispanic Business Women Association (NHBWA) is a non-profit organization in OC. NHBWA's purpose is to empower and encourage women and business owners to develop and increase their business through educational seminars and speakers. Their goal is to provide specialized information in business development, provide their members with informational resources, and offer opportunities to students who wish to pursue higher education and a career in business.
National Hispanic Business Women Association
---
Small business spotlight: The Great Greek Mediterranean Grill Santa Ana, 3305 S. Bristol St. Unit B, Santa Ana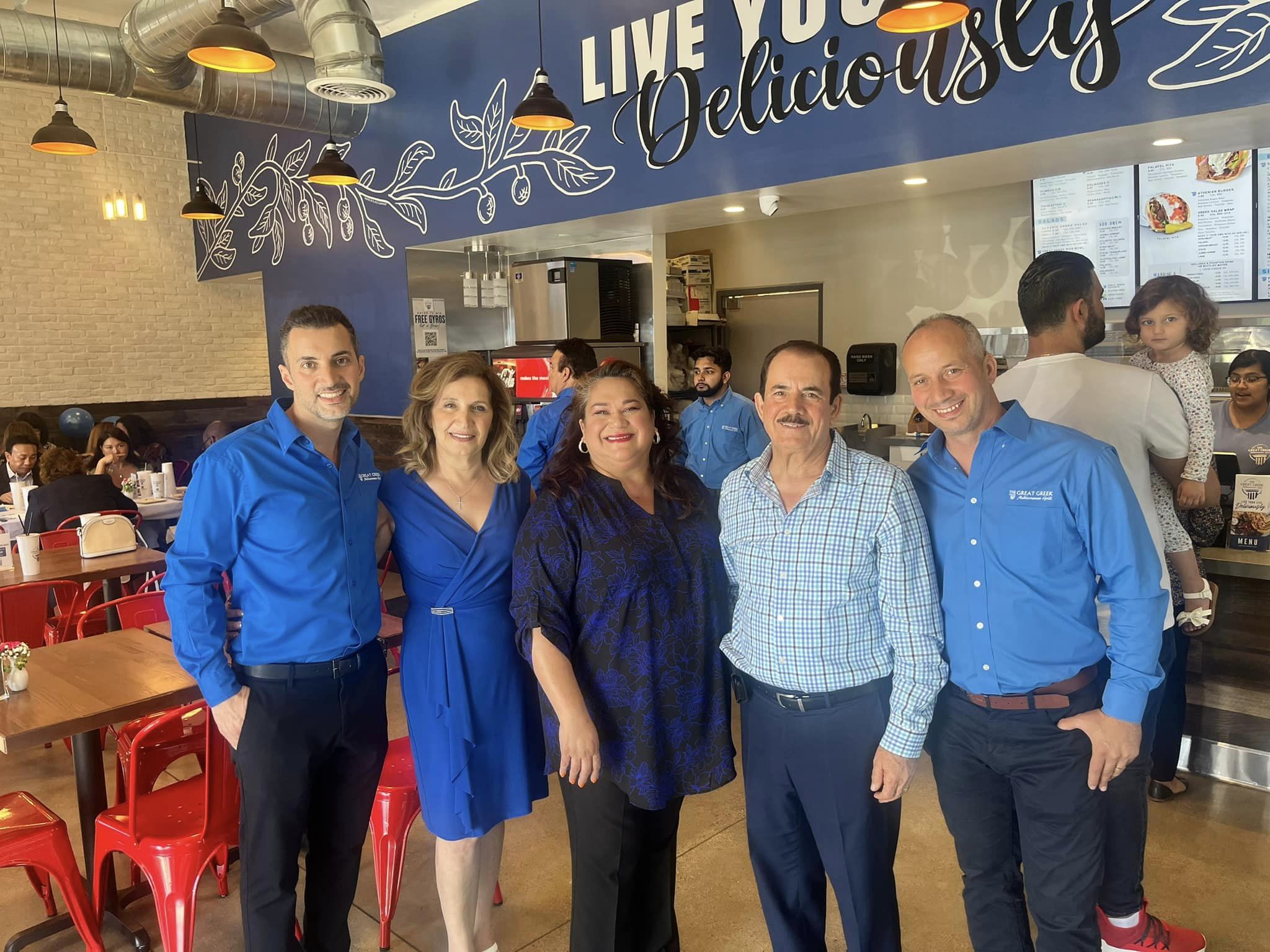 The Great Greek Mediterranean Grill Santa Ana location is the first of its kind to open in Orange County under the leadership of franchise owner Dany Askar. Everything is prepared in-house with fresh ingredients that bring traditional flavors from recipes that have been used for generations.
Great Greek Mediterranean Grill
---
City News and Recognitions
$1.086 million grant to fund Newhope Branch Library upgrades

The City of Santa Ana's Library Services Agency has been awarded $1.086 million from the California State Library "Building Forward" grant program to fund a variety of critical maintenance and infrastructure needs at the Newhope Branch Library.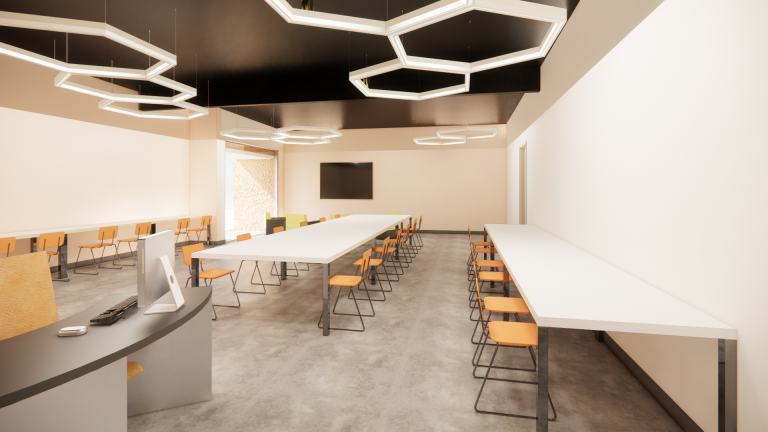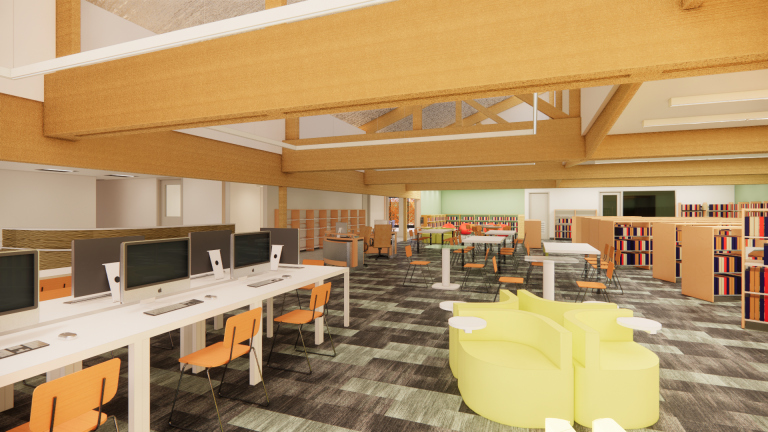 The Newhope Branch Library has lacked significant and critical maintenance repairs since it was built in 1976. Funding will address many needed upgrades and repairs to essential safety and building infrastructure, including electrical, mechanical, plumbing and fire protection systems, interior doors, and storefront entries. These upgrades will also make the building more environmentally sustainable by using newer and more efficient mechanical components.
Newhope Library transformation
---
Ed Caruthers Park is now open!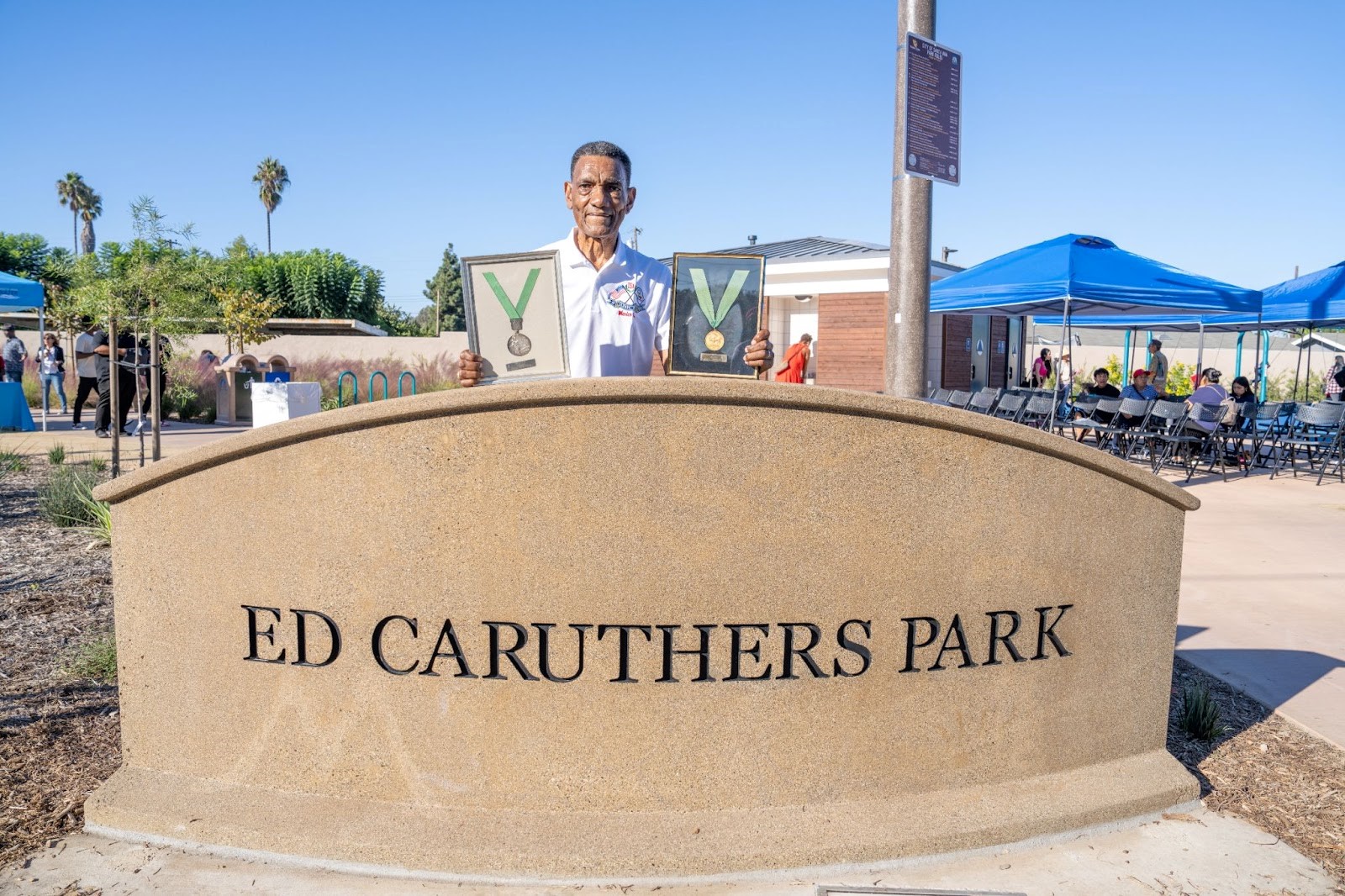 We celebrated the grand opening and ribbon cutting ceremony of Ed Caruthers Park, a vibrant addition to the community, on Oct. 17. The new park, located on the corner of Raitt and Myrtle streets, is named in honor of Edward Julius Caruthers Jr., a long-time Santa Ana athlete and community leader who won the silver medal for the men's high jump in the 1968 Summer Olympics.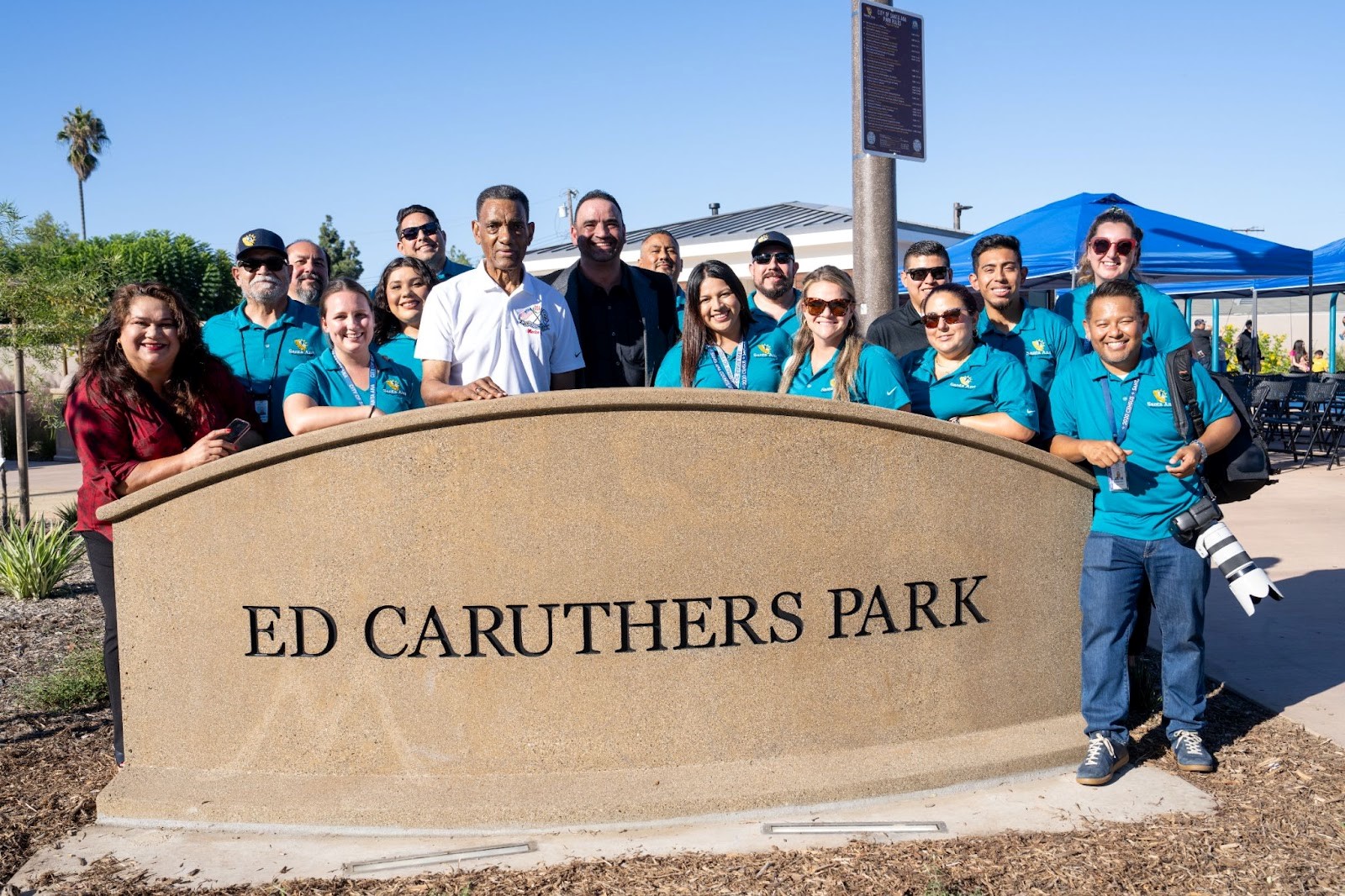 The ribbon-cutting ceremony was a momentous occasion that brought together Mr. Caruthers, his family and the Santa Ana community. The park's $4.4 million development project transformed two city-owned parcels into a 1.18-acre neighborhood park with an emphasis on multi-benefit storm water capture.
The new Ed Caruthers Park offers a variety of amenities and features designed to serve the diverse needs and interests of the Santa Ana community. Highlights include a playground area, exercise zone, skate park, picnic areas, a new restroom facility, and drought-tolerant landscaping. The project also includes 3,300 square feet of bioretention basins and a subsurface infiltration system designed to efficiently capture and manage stormwater runoff. This eco-friendly feature underscores the City's commitment to sustainability and environmental responsibility.
Read more about Ed Caruthers Park.
---
Take our residential parking survey

The City of Santa Ana Public Works Agency is revamping the permit-parking program and we are seeking your input, comments, and suggestions that will define the new Residential Permit Parking Program for years to come. Take our residential parking survey at the link below. The survey is available in English, Spanish and Vietnamese.
Take the residential parking survey
---
Take the OC Transit Vision Master Plan survey

The Orange County Transportation Authority is updating the OC Transit Vision Master Plan aimed at expanding mobility services for bus, streetcar, and micro transit in the county. Get involved today by providing your input in the survey.
OC Transit Vision Master Plan Survey
---
Upcoming Community Events
Native American Heritage Festival – November 12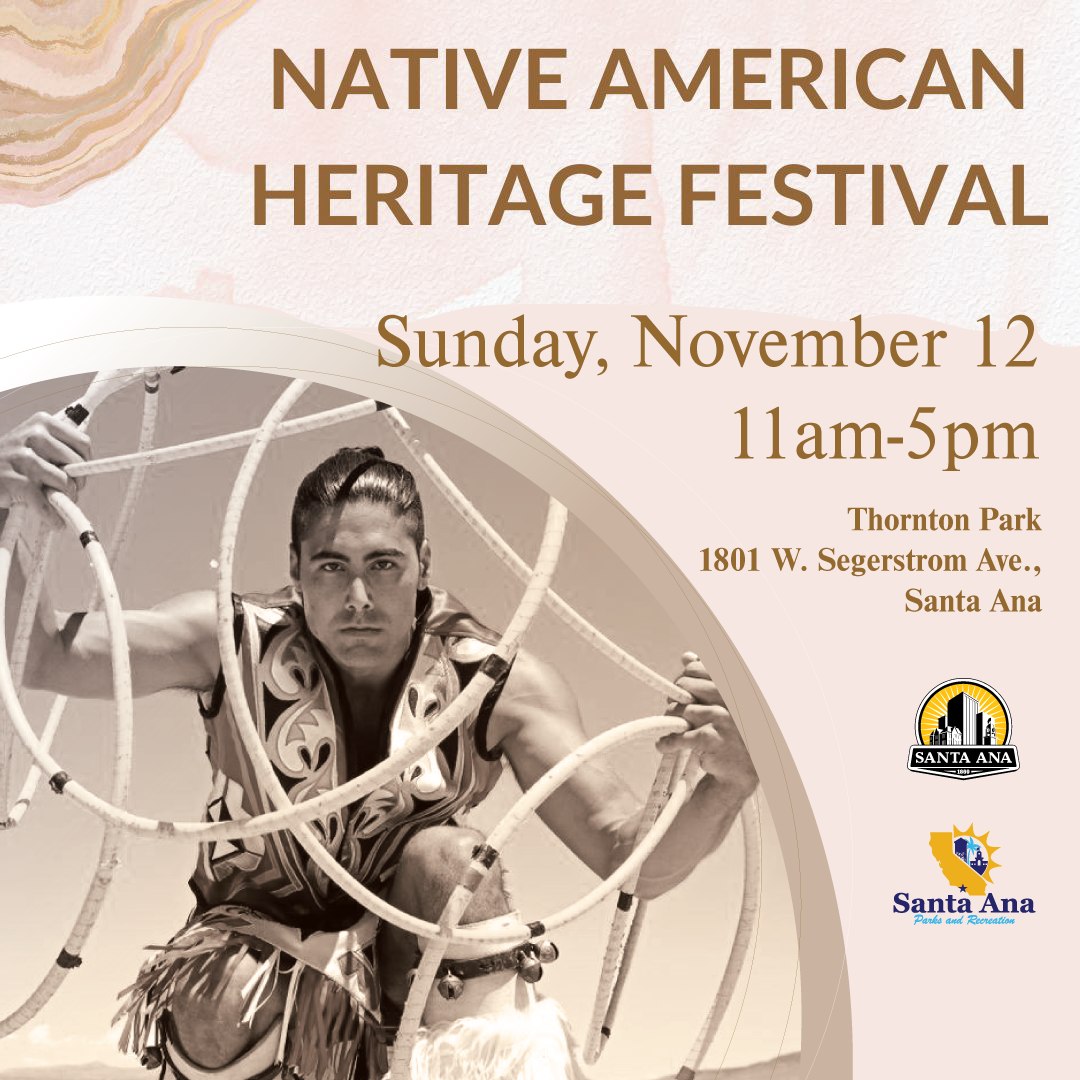 November is Native American Heritage Month and the Native American Heritage Festival will celebrate the rich, diverse cultures and traditions of Native Americans. This is a family-friendly and free event for the public. It is brought to you by All Occasions Services and was selected to coordinate this City of Santa Ana event through a competitive Request for Proposals (RFP) process.
Sunday, Nov. 12
11 a.m. – 5 p.m.
Thornton Park, 1801 W. Segerstrom Ave.
---
Movies at the Library – November 15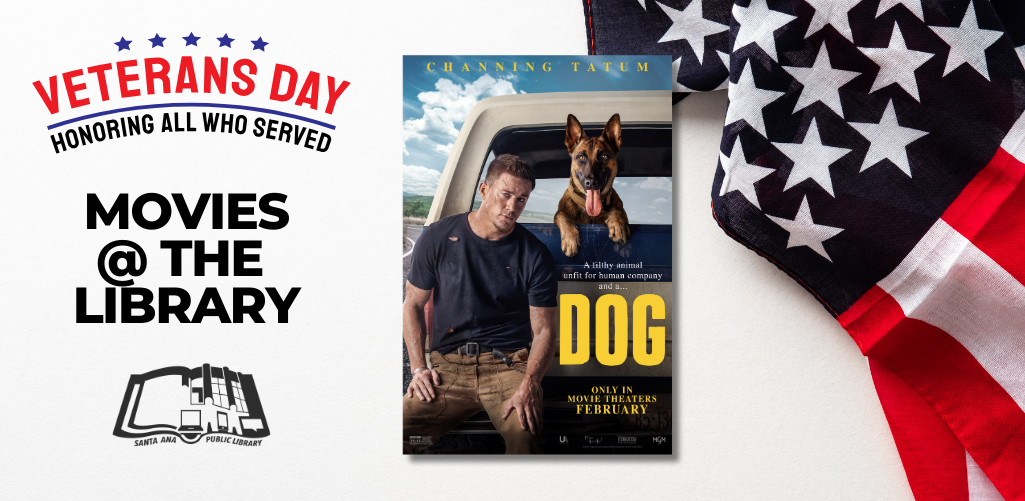 Join us for a special Movie Night at the Main Library and Newhope Branch Library in honor of Veterans Day. Light snacks will be provided while supplies last.
Wednesday, Nov. 15
6-8 p.m.
Main Library, 26 Civic Center Plaza.
Newhope Branch Library, 122 N. Newhope St.
---
Community Meeting: Construction update for Standard-McFadden Park – November 15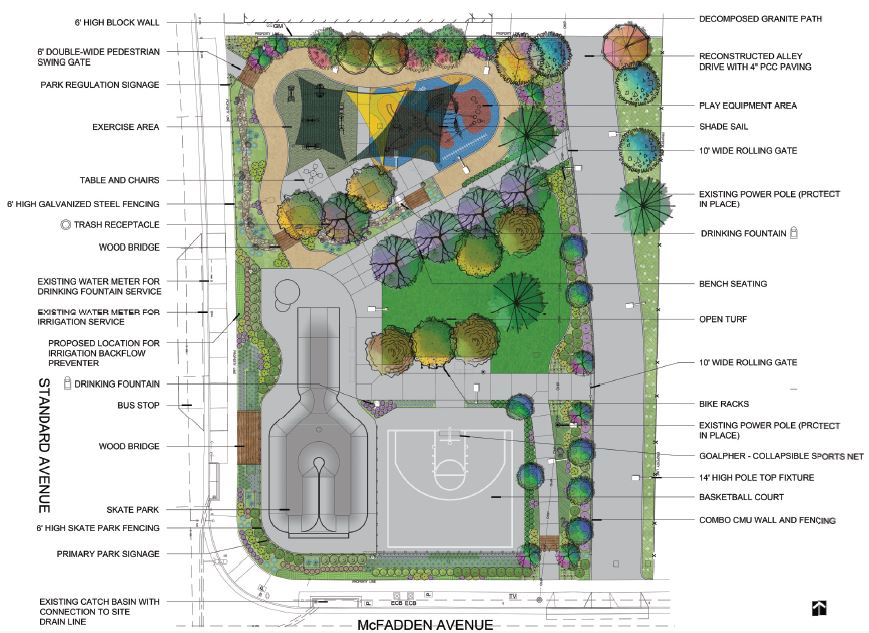 Santa Ana neighbors are invited to an interactive community meeting with the City of Santa Ana Public Works Agency for an update on the construction activity for the new park at the northeast corner of Standard and McFadden avenues.
Wednesday, Nov. 15
6:30-8:30 p.m.
Kennedy Elementary School, 1300 E. McFadden Ave.
Spanish translation will be available. You can contact Michelle Micallef, Public Works Agency Community Liaison, at (714) 647-5091 or mmicallef@santa-ana.org for more details.
---
Plaza Navideña – November 18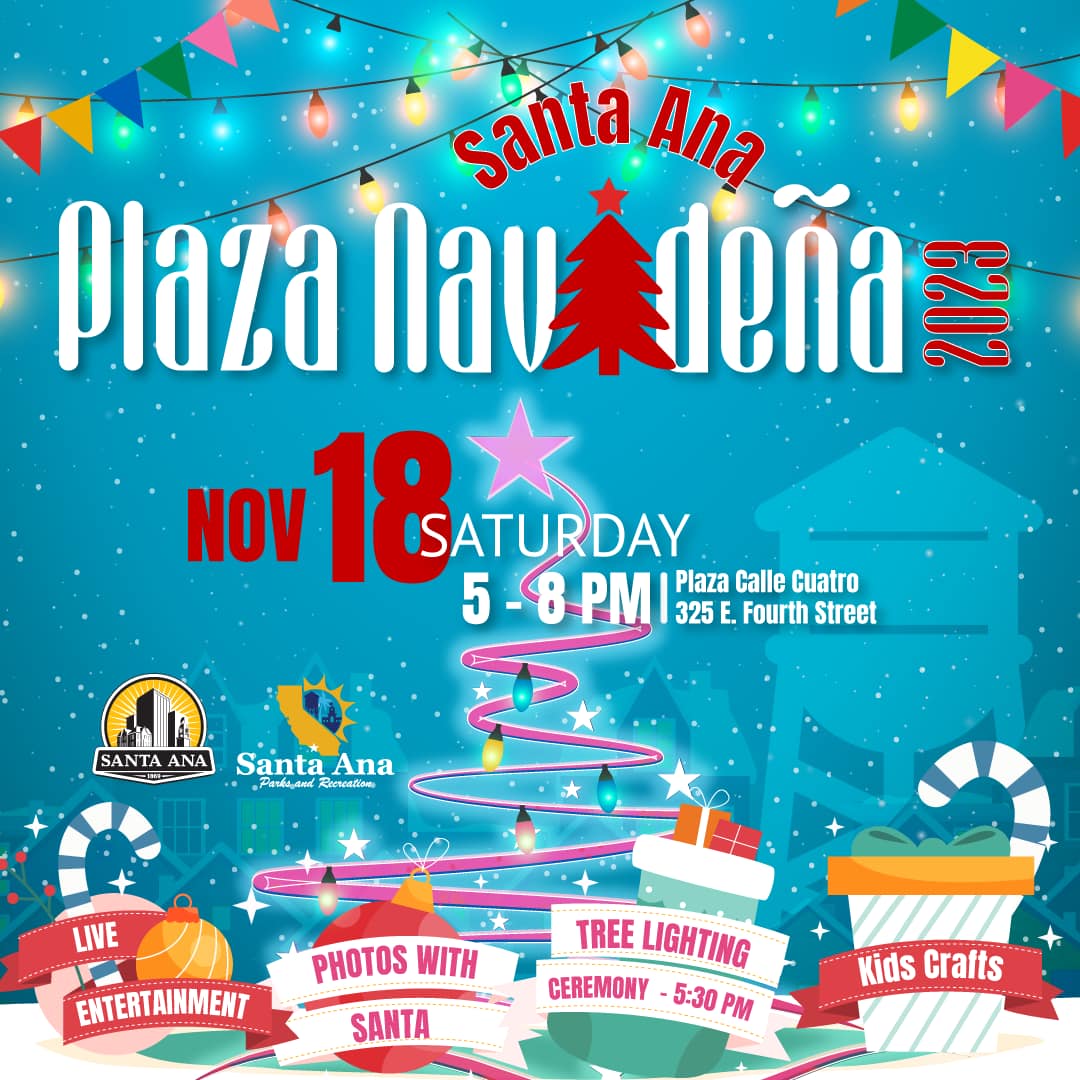 Join us in celebrating the start of the holiday season as Plaza Navideña returns to downtown Santa Ana! During this free event, participants can experience a 30-foot tree lighting ceremony scheduled at 5:30 p.m., photo opportunities with Santa Claus, and live performances.
Saturday, Nov. 18
5-8 p.m.
Intersection of French and E. 4th streets. The approximate address is 325 E. 4th St.
---
Free Resident Day at Santa Ana Zoo – November 19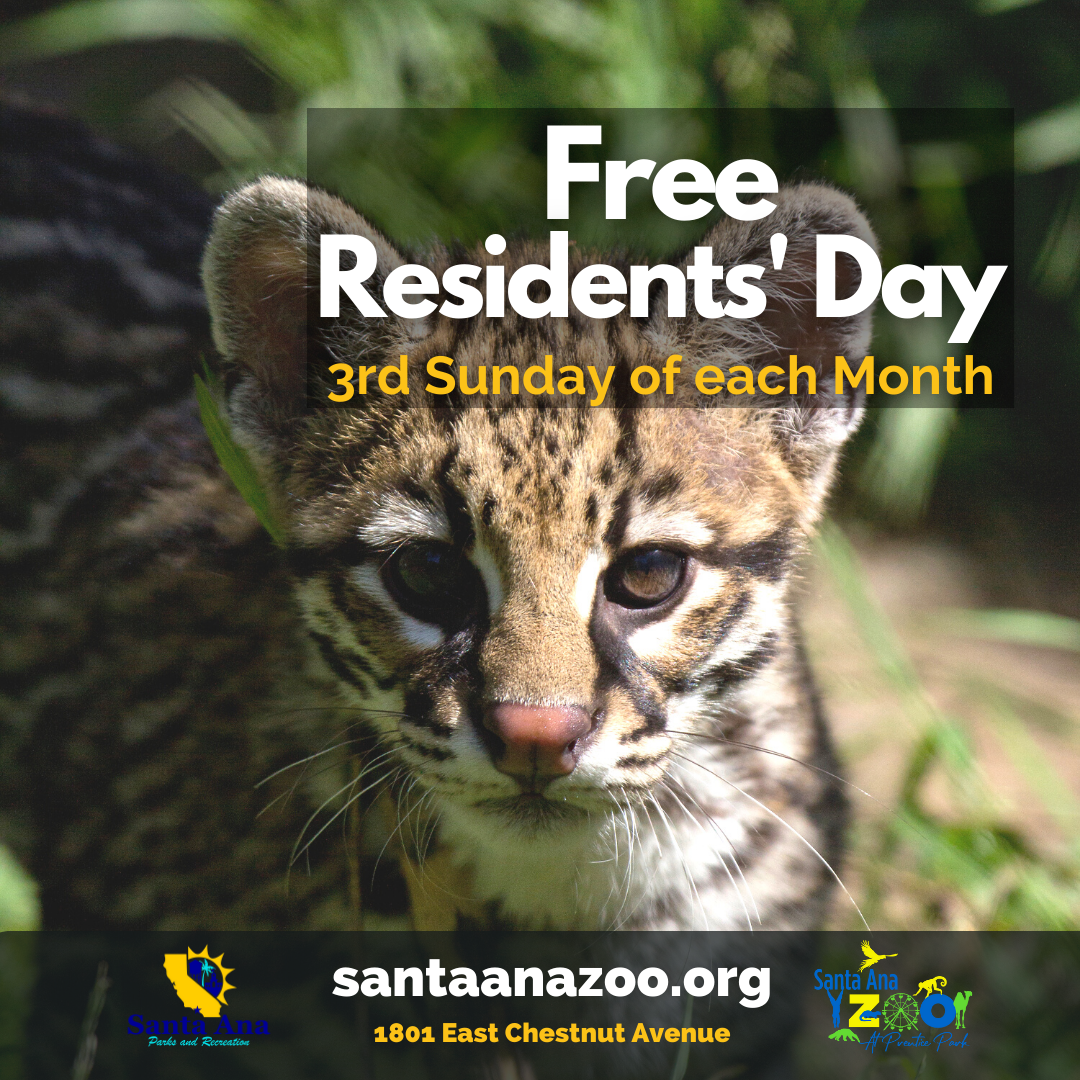 Santa Ana residents receive free admission to the Zoo on the third Sunday of every month. Proof of residency (such as ID or a utility bill) is required.
Sunday, Nov. 19
10 a.m. – 5 p.m. (last admission is at 4 p.m.)
Santa Ana Zoo, 1801 E. Chestnut Ave.
---
Take & Make: Thanksgiving Fun at SAPL – November 20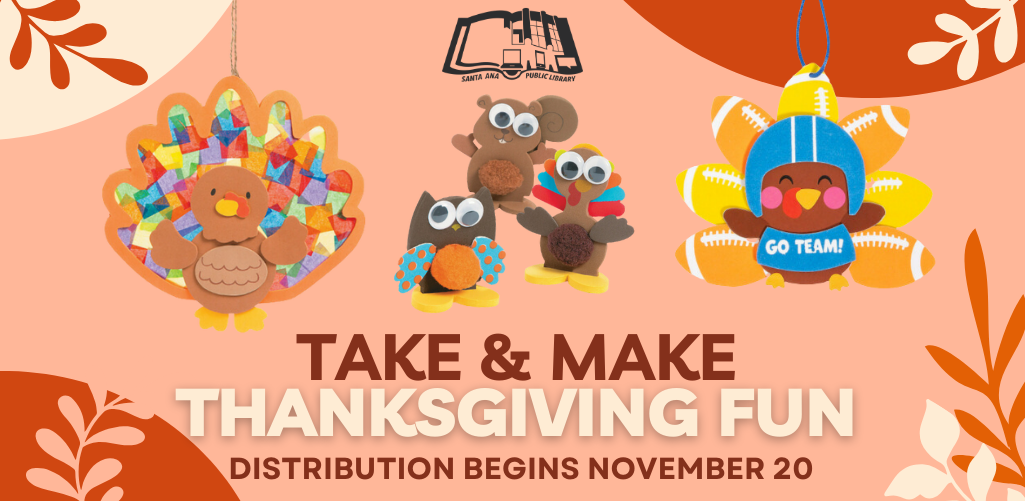 Celebrate all the Thanksgiving fun with some great craft kits from Santa Ana Public Library. Available for youth up to 8th grade while supplies last.
Distribution begins Monday, Nov. 20
Main Library, 26 Civic Center Plaza
Newhope Branch Library, 122 N. Newhope St.
---
Mayor on the Move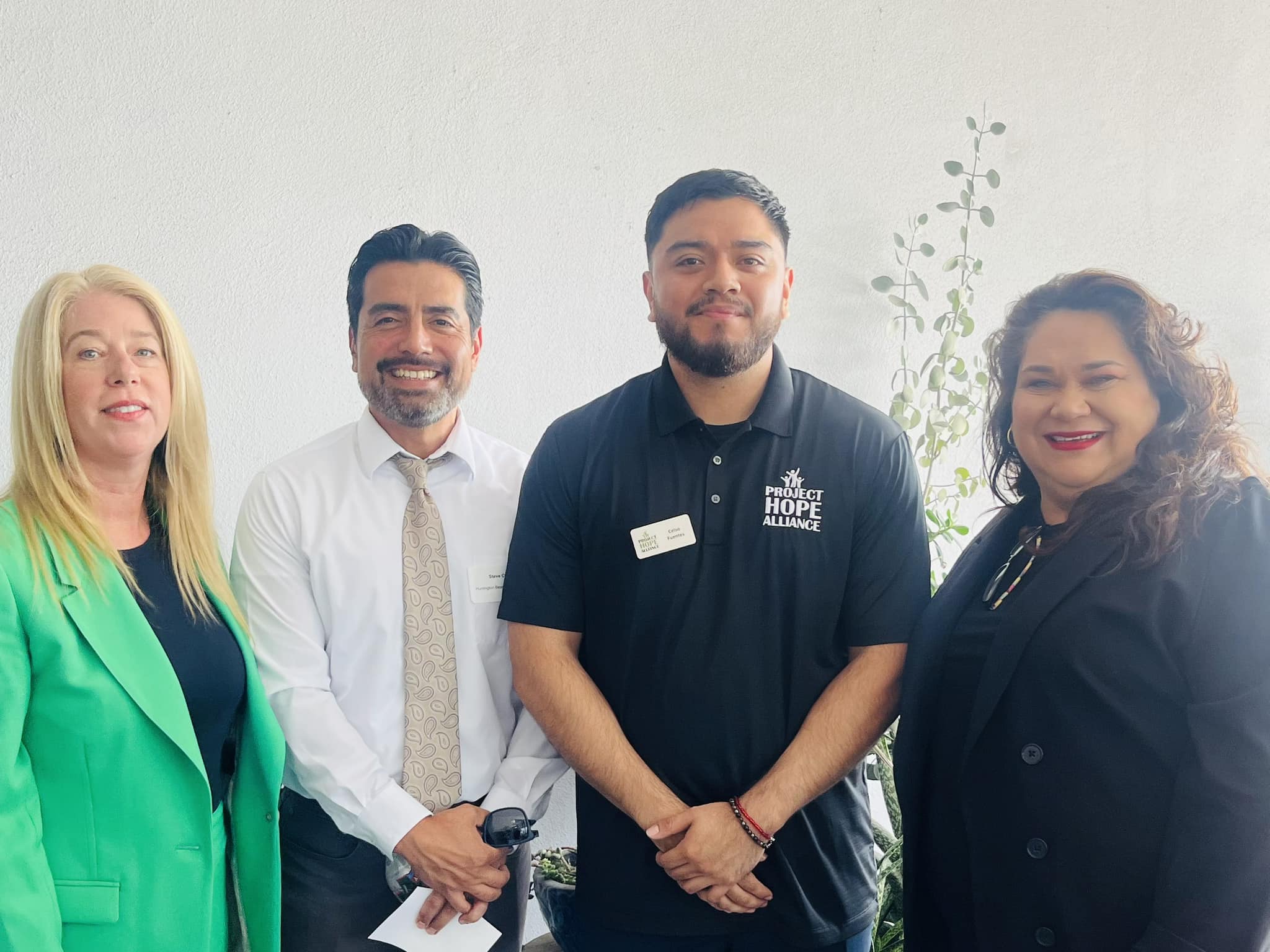 Thank you, Project Hope Alliance, for inviting me to your Open House event. If you haven't heard of all the amazing work this organization does for our community I invite you to learn more here: www.projecthopealliance.org.
---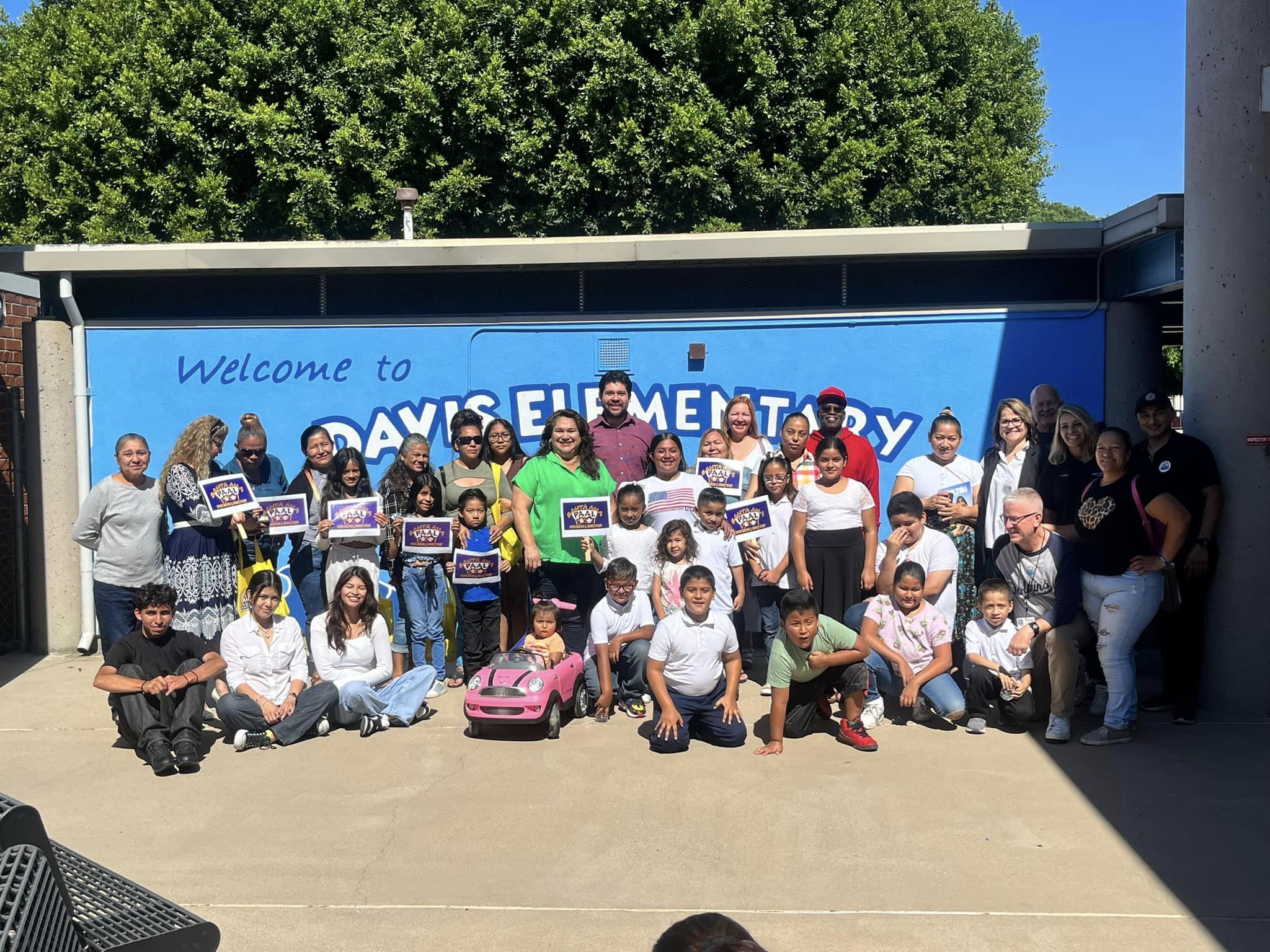 Coffee with the Mayor at Davis elementary. Full house of parents, businesses and our children. The children were advocating for a PAAL program at their school, and I reminded them to let their voices be heard at the next budget cycle. We discussed parks, safety, homeless, PAAL and so much more.
---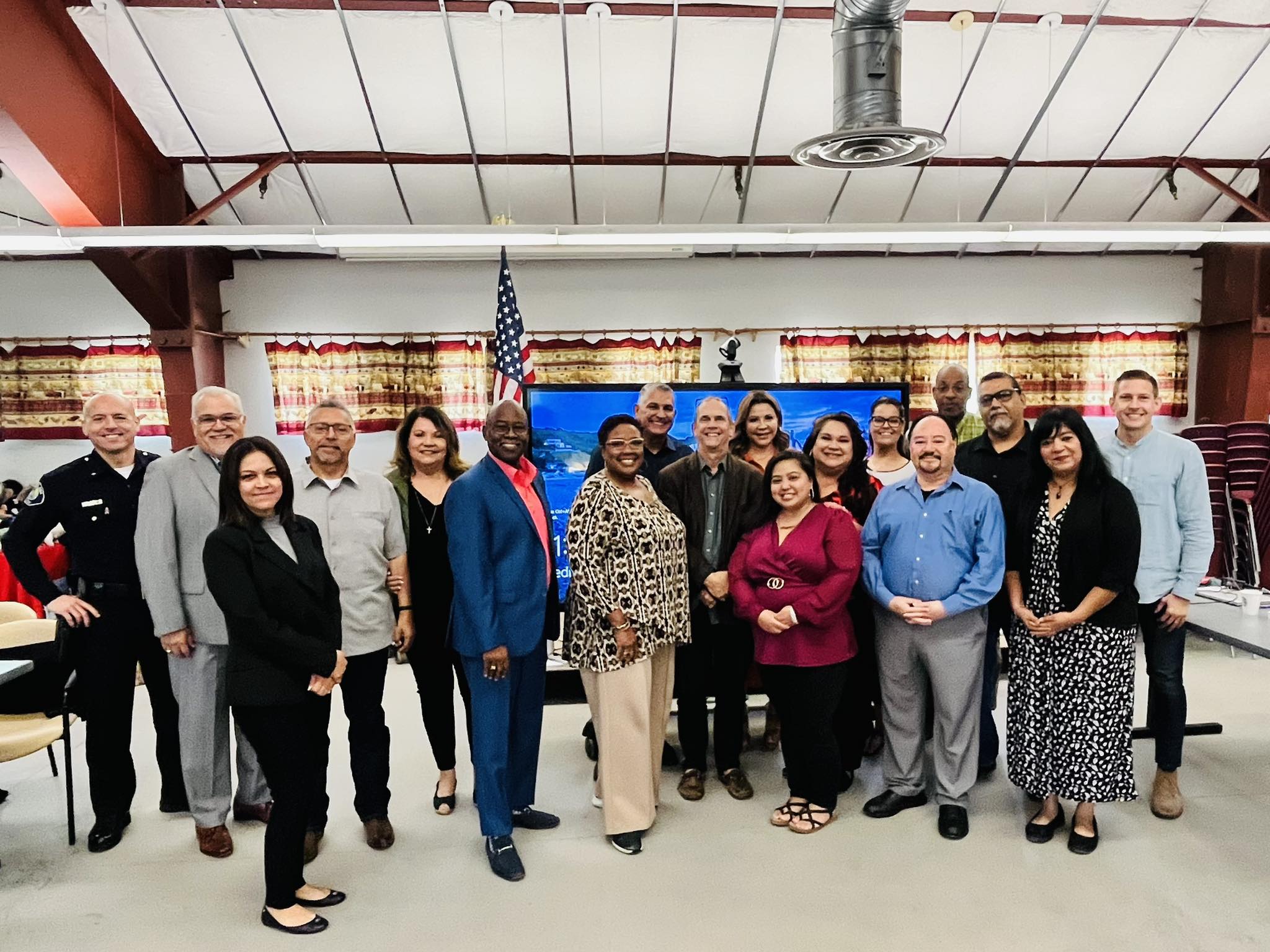 Hosted my inaugural Interfaith meeting with church leaders. Working together to benefit our community and city.
---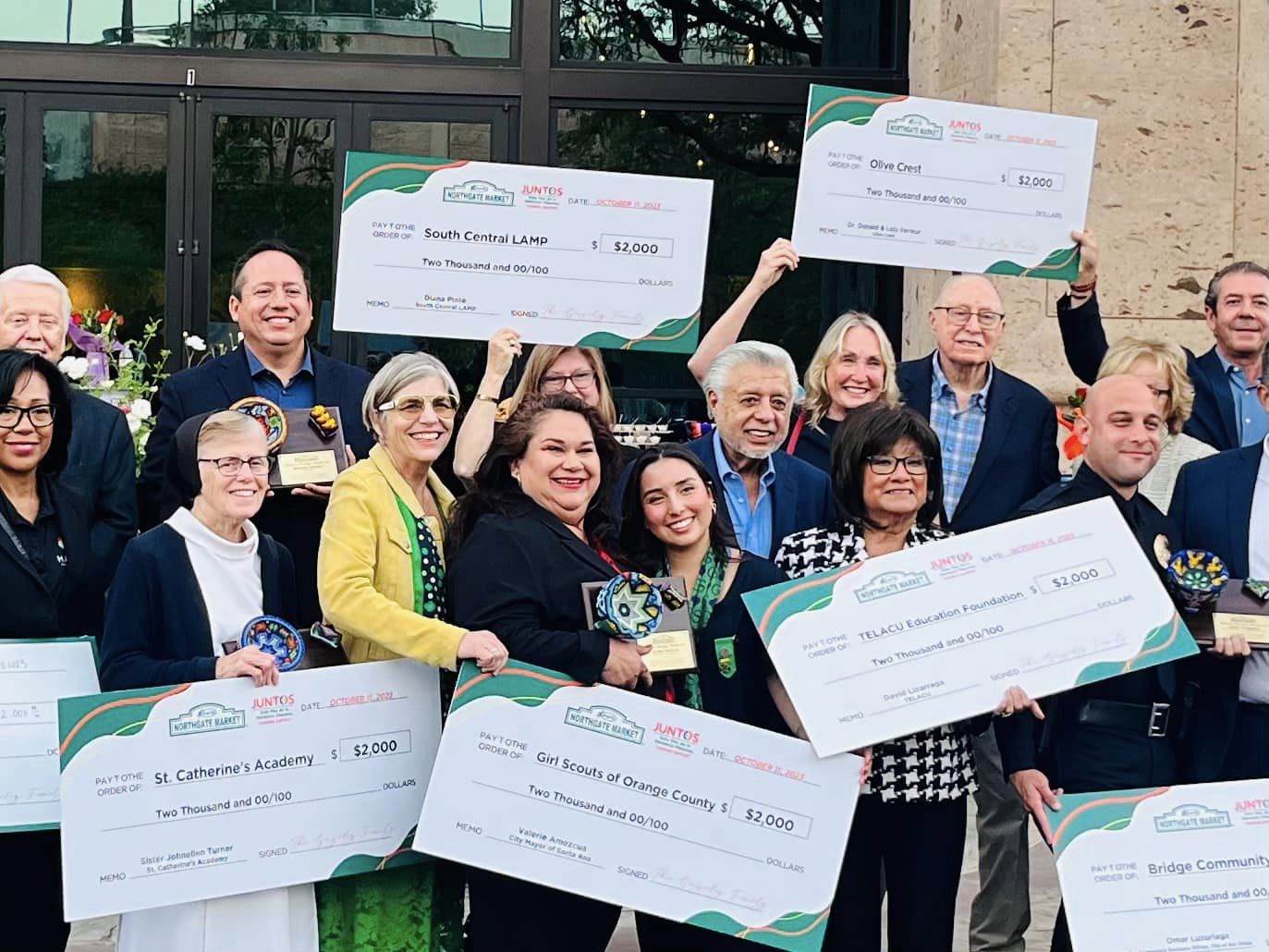 Thank you, Northgate Market, for honoring me at your JUNTOS event. Awardees were able to donate $2000 to the non-profit of their choice. My donation went to our very own Santa Ana Girl Scouts!
---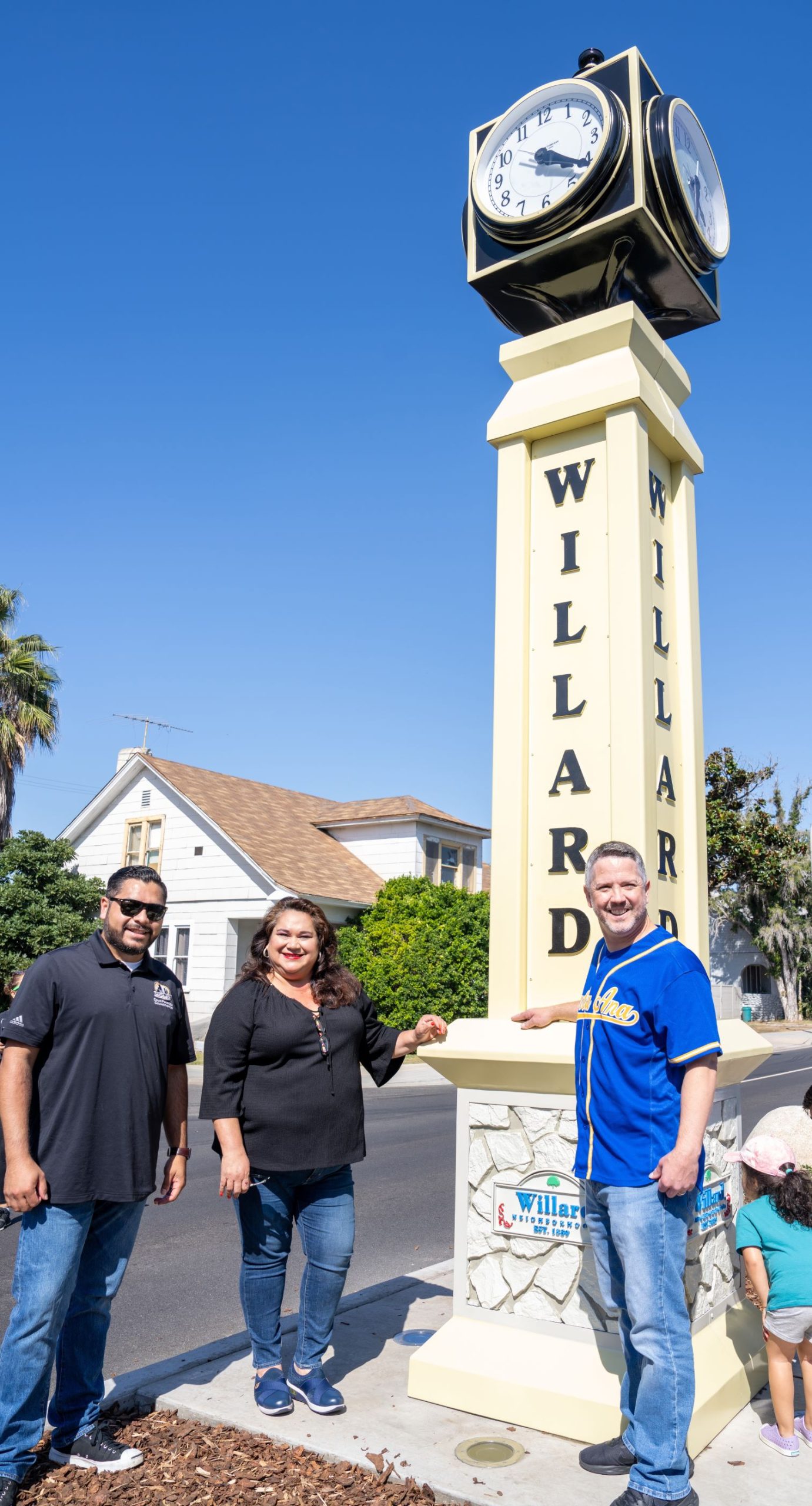 Clock Tower Unveiling Ceremony on Flower St Washington Square and Willard neighborhoods came together to celebrate the beautiful clock. This clock is a symbol of two neighborhoods unifying. It was wonderful to see so many community members join us in celebration of this new project. Every time you drive down Flower St, you will see the clock! We are always better together.
---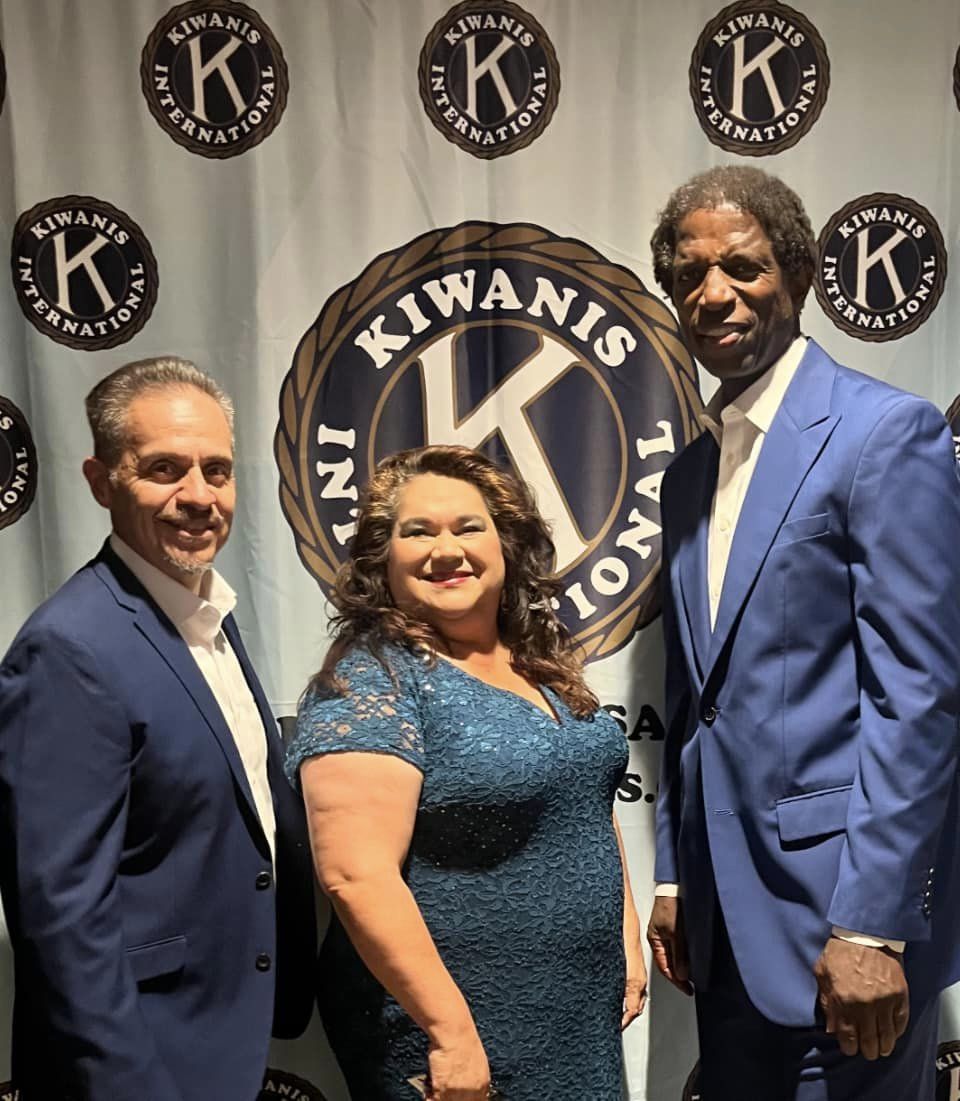 Thank you, Kiwanis Club of Santa Ana, for awarding me the Heart of Gold Award. It was an honor to be recognized along with A.C. Green, the legendary Lakers basketball player.
---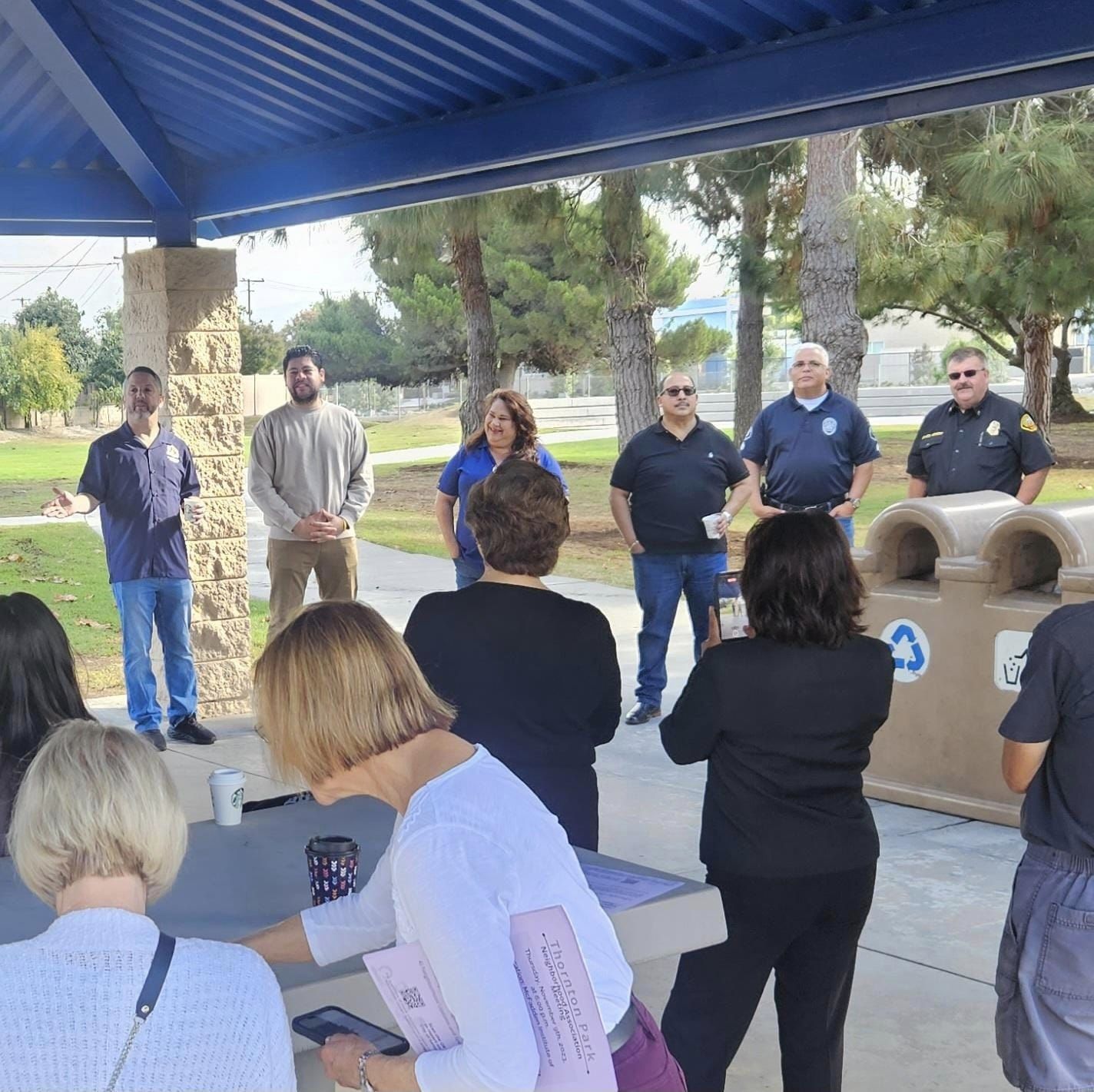 Coffee with the Mayor in Thornton Park in Ward 4. I joined residents in discussions about important issues facing our city.
---
Invite me
If you'd like to invite me to attend an event in your neighborhood or in connection with your organization, please feel free to make that request. Use this form to contact me.
For more City news, please follow the City of Santa Ana on Facebook, Twitter and Instagram, and share my newsletter with friends and family.
Share my newsletter with family and friends
---