Related Bristol Specific Plan Project Public Scoping Meeting
---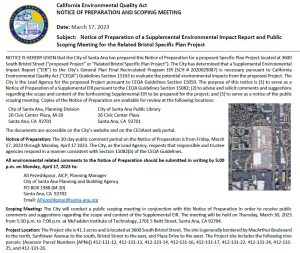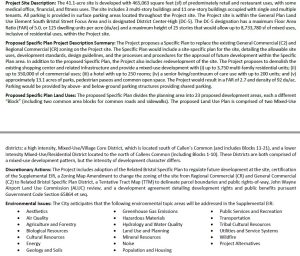 The City will conduct a Public Scoping Meeting in conjunction with the Notice of Preparation in order to receive public comments and suggestions regarding the scope and content of the Supplemental Environmental Impact Report (EIR) regarding the Related Bristol Specific Plan Project, located at 3600 South Bristol Project.
Related Bristol Specific Plan Public Scoping Meeting Information:
Thursday, March 30, 2023, 5:30 p.m. – 7:00 p.m.  at  McFadden Institute of Technology – Multipurpose Room, located at 2701 South Raitt Street, Santa Ana, CA 92704
Notice of Preparation: The 30-day public comment period on the Notice of Preparation is from Friday, March 17, 2023 through Monday, April 17 2023. The City, as the Lead Agency, requests that responsible and trustee agencies respond in a manner consistent with Section 15082(b) of the CEQA Guidelines.
All environmental related comments to the Notice of Preparation should be submitted in writing by 5:00 p.m. on Monday, April 17, 2023 to:
Ali Pezeshkpour, AICP, Planning Manager
City of Santa Ana Planning and Building Agency
PO BOX 1988 (M-20)
Santa Ana, CA 92702
Email: APezeshkpour@santa-ana.org
The Related Bristol Project page is located on the City's website here:
https://www.santa-ana.org/related-california-bristol-specific-plan/#:~:text=Project%20description,acres%20of%20onsite%20open%20space.