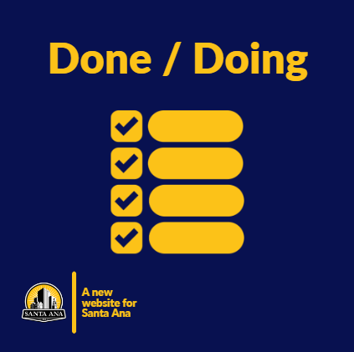 Welcome to our done/doing update for the City of Santa Ana website. This is a recap of what we've done May 10, 2023, to June 13, 2023 and what we're working on next.
Done
The Public Works department validated that all their webpages are mobile accessible.
The Parks and Recreation department updated the Aquatics page by adding information about swimming lessons and recreational swimming.
The Parks and Recreation department added a new page with information on Summer Splash Day Camp.
The Cultura Summer edition has been added.
Doing
Public Works is collaborating with Parks and Recreation to create a parks maintenance page.
Google Analytics will be migrating to an updated version on July 1 staff is working to make the transition efficient.
The Parks and Recreation department will explore a new design for the navigation button to return to the department homepage.