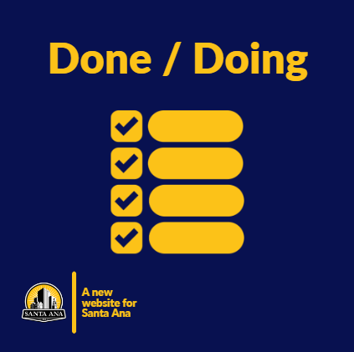 Welcome to our done/doing update for the City of Santa Ana website. This is a recap of what we've done from April 17, 2023, to May 10, 2023, and what we're working on next.
Done
Separated Parks and Recreation from the Library in the Service Center to create more helpful categories of questions and answers.
Used analytics to update questions and categories in the Service Center to make most viewed pages more accessible.
Updated the video on the Public Works department page to reflect and highlight National Public Works Week event.
Doing
Public Works is collaborating with Parks and Recreation to create a parks maintenance page.
Planning and Building are exploring different naming conventions for the Specific Development list.
Updating the Services page to make it more relevant to the needs of the residents.