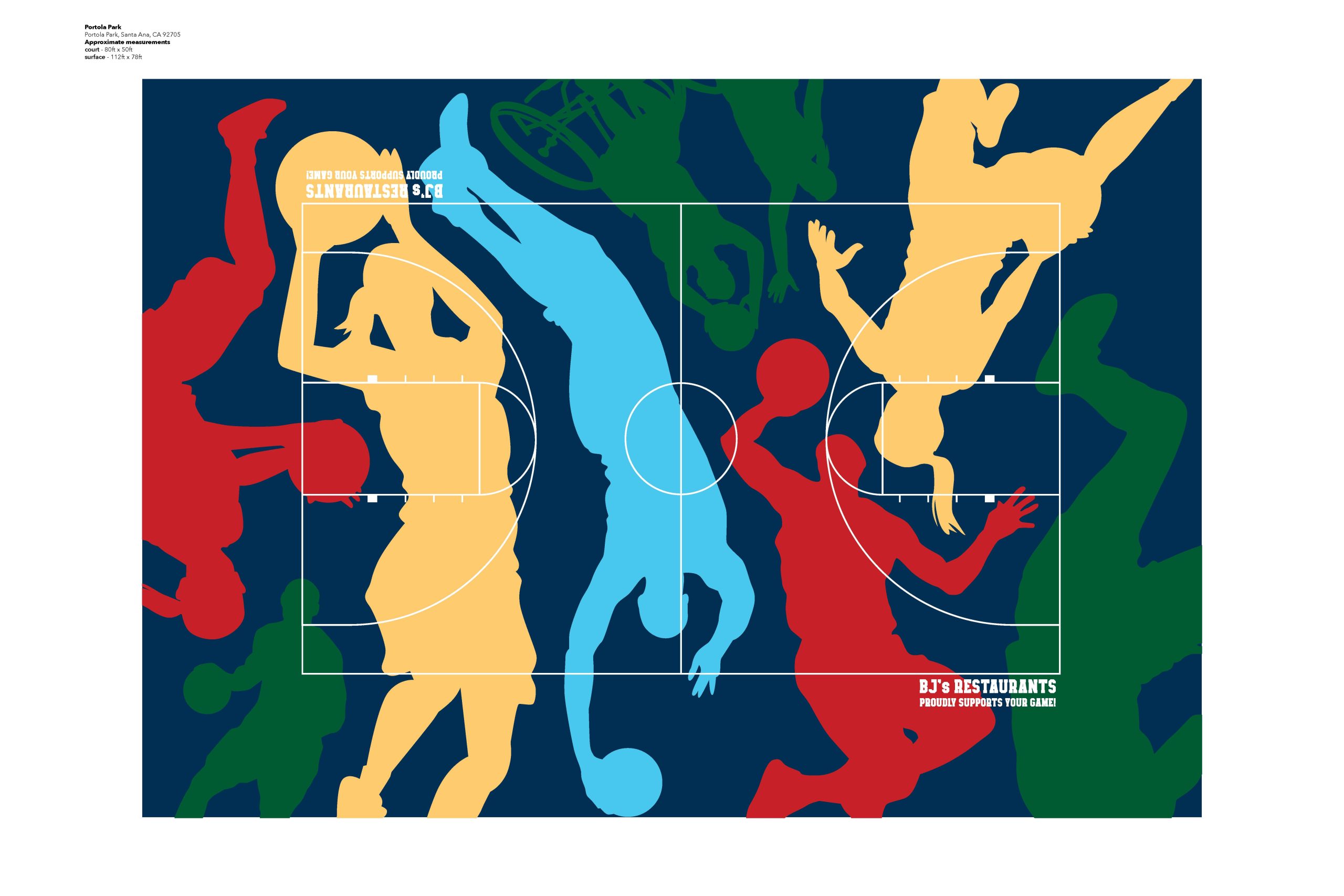 The new court with a colorful mural in Portola Park will be unveiled at a community celebration on April 4.
SANTA ANA, Calif. – The Santa Ana community is invited to celebrate the unveiling of a fully refurbished basketball court decorated with a vibrant, large-scale mural created through a partnership between BJ's Restaurant & Brewhouse®, Project Backboard and the City of Santa Ana.BJ's is hosting a can't-miss afternoon of shooting hoops, BJ's delicious refreshments, and giveaways including BJ's basketballs and free Pizookies®, on April 4, 2023, from 2 to 4:30 p.m. at Portola Park, 1700 E. Santa Clara Ave. From an unveiling ceremony and City all-star game to a slam dunk exhibition and a Santa Ana girls youth basketball practice, fans are guaranteed a game day they will never forget!
BJ's is funding the project, which has an estimated value of about $75,000. The artwork and design are being created by Project Backboard, a nonprofit organization who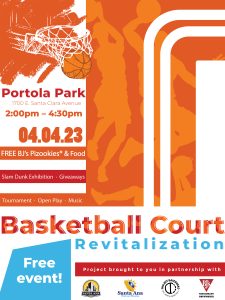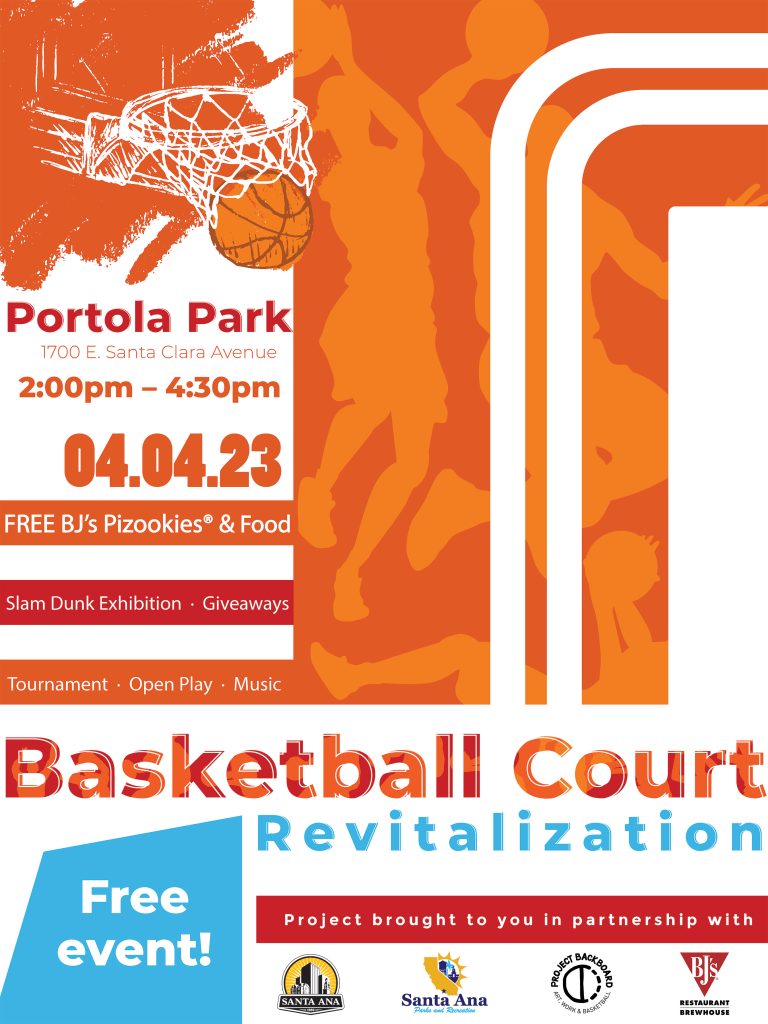 se mission is to renovate public basketball courts and install large-scale works of site-specific art.
Inspired by the excitement of March Madness and to foster creativity and community participation in its own backyard, BJ's is fully refurbishing the existing court with new blacktop, nets and backboards. The project focuses on activating community spaces with art, and brought new collaboration with Media.Monks and Project Backboard artists to create an inspiring mural in Santa Ana. Designed to motivate locals of all ages to hit the hoops, the mural transforms the court into a colorful oasis featuring silhouettes of a diverse group of basketball players with pop art-inspired color blocks.
BJ's Restaurants has been based in Southern California since opening its first restaurant in Santa Ana in 1978, and believes in not only serving as a destination for guests to enjoy great food and brews but is also committed to giving back to the communities outside of its walls.
"I want to thank BJ's Restaurant & Brewhouse® and Project Backboard for making this magnificent basketball court possible," Mayor Valerie Amezcua said. "I love that it serves not only as a recreational resource that will be greatly enjoyed by the community, but also a work of art that will beautify the neighborhood."
"BJ's Restaurant & Brewhouse® is all about giving our guests a memorable, magical experience," said Heidi Rogers, Senior Vice President of Marketing at BJ's Restaurants, Inc.® "This March Madness season, we are excited to bring that same passion and love of sports to our local community by creating an inspiring, inclusive community hub inspired for locals to enjoy for years to come."
"At Project Backboard, we believe everyone, in all communities, deserve a safe and inviting place to play basketball," said Dan Peterson, Founder of Project Backboard. "This particular project is special for us because, similar to BJ's Restaurant and Brewhouse, Project Backboard is based in Orange County. The inspired design came from a collaboration between Project Backboard, the City of Santa Ana and Media.Monks."
For more details, please visit the event webpage.
Media Contacts:
BJ's Restaurant & Brewhouse®
Larissa Heatley, 714-500-2790
Murphy O'Brien, Inc. 
Ali Burns, 916-802-7620
Courtney Perkins, 214-676-1362
City of Santa Ana
Paul Eakins, Public Affairs Information Officer
(714) 647-5224, peakins@santa-ana.org
# # #
About BJ's Restaurants, Inc.®
BJ's Restaurants, Inc. ("BJ's")® is a national brand with brewhouse roots and a menu where Craft Matters®. BJ's broad menu has something for everyone: slow-roasted entrees, like Prime Rib, BJ's EnLIGHTened Entrees® including Cherry Chipotle Glazed Salmon, signature deep-dish pizza and the often imitated, but never replicated world-famous Pizookie® dessert. A winner of the 2023 Vibe Vista Award in the Best Spirits Program category and the most decorated restaurant-brewery in the country, BJ's has been a pioneer in the craft brewing world since 1996 and takes pride in serving BJ's award-winning handcrafted beers, brewed at its brewing operations in five states and by independent third-party craft brewers. The BJ's experience offers high-quality ingredients, bold flavors, moderate prices, sincere service, and a cool, contemporary atmosphere. Founded in 1978, BJ's owns and operates over 200 casual dining restaurants in 30 states. All restaurants offer dine in, take out, delivery, and large-party catering. For more information on BJ's Restaurant & Brewhouse, visit http://www.bjsrestaurants.com.
About Project Backboard 
Project Backboard is a 501(c)(3) organization, founded in 2015, whose mission is to renovate public basketball courts and install large scale works of site-specific art on the surface in order to strengthen communities, improve park safety, encourage multi-generational play, and inspire people to think more critically and creatively about their environment. For more information on Project Backboard, visit projectbackboard.org.
About Santa Ana
Santa Ana is downtown for the world-famous Orange County, California. It is the County Seat, the second-most populous city in Orange County, and is home to a vibrant evening scene and arts community. Over 1,400 City employees work hard every day to deliver efficient public services in partnership with our community to ensure public safety, a prosperous economic environment, opportunities for our youth, and a high quality of life for residents. Learn more at www.santa-ana.org.