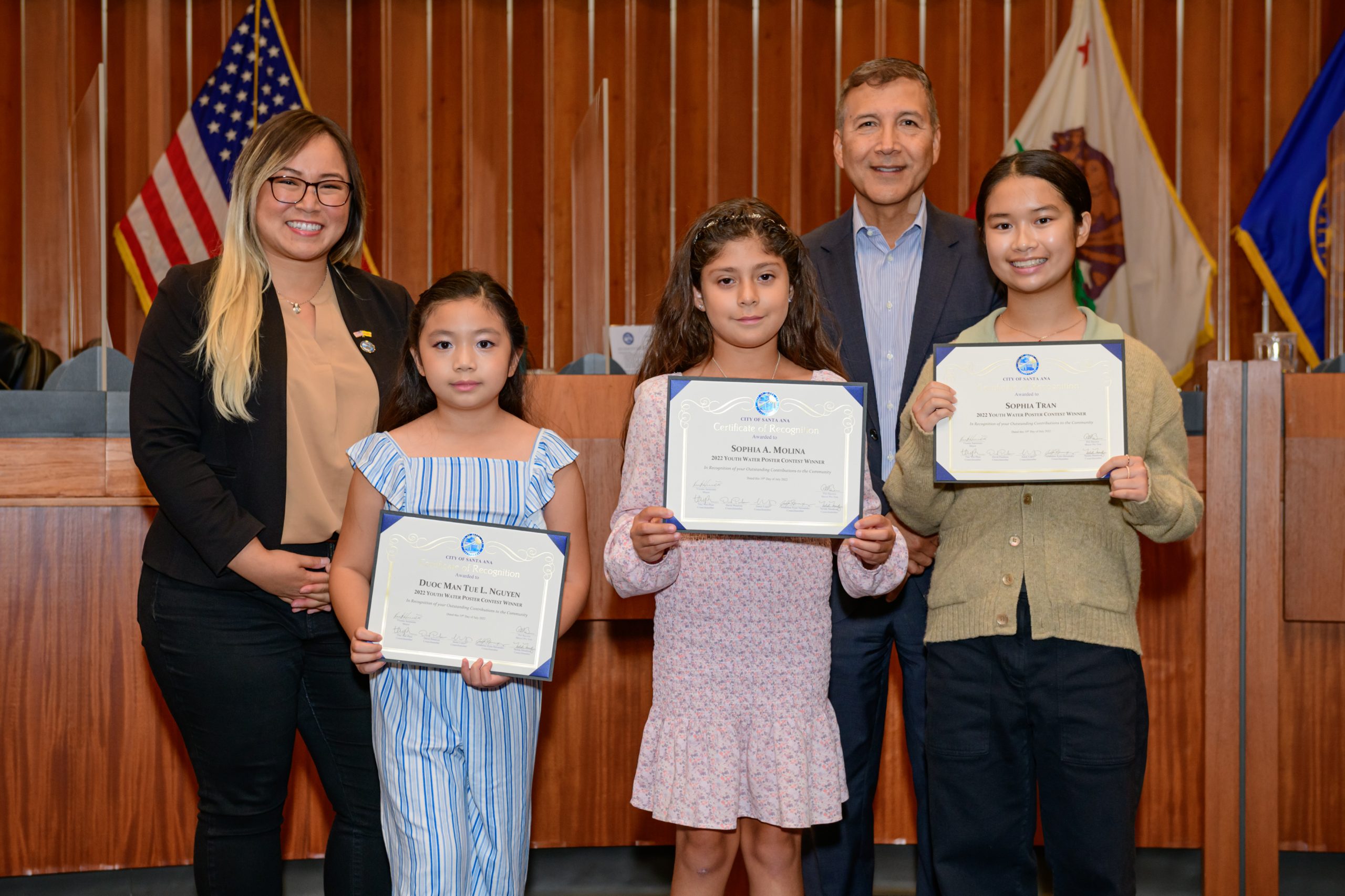 12 winners selected out of more than 260 entries from 45 participating schools
SANTA ANA, Calif.— The Santa Ana City Council celebrated the winners of the 2022 Youth Water Poster Contest at a special awards ceremony yesterday. The ceremony, which was attended by the winners and their family members, was held during the Council's regular meeting at City Hall.
"We congratulate the 12 outstanding young artists who won this year's contest for their creative accomplishments," Mayor Vicente Sarmiento said. "We also want to thank Santa Ana Unified School District, other participating schools, and our judges for making this year's contest such a success."
Out of 260 entries from 45 schools, judges from the City of Santa Ana chose 12 winning posters: two finalists and a grand prize winner in four different age categories. They used four scoring criteria, which included level of originality, visual and word clarity, and adherence to the water conservation theme "Every Drop Counts: Use It Wisely!"
"The Youth Water Poster Contest is an important educational initiative sponsored by the Public Work's Water Resources Division each year," said Nabil Saba, Executive Director of Santa Ana Public Works. "This year's theme underscores the importance of water conservation now that we are facing another serious drought and educates students about smart water use habits."
Past themes have included water quality, drinking water safety, protecting our groundwater, and the health benefits of drinking water. Following are the names of this year's winners:
Ages 5-8
Duoc Man Tue L. Nguyen, grand prize winner
Brian A. Cano, 2nd place finalist
David L. Cobian, 3rd place finalist
Ages 13-14
Juliana Gallardo, grand prize winner
Kimberly Barajas, 2nd place finalist
Michelle Perez, 3rd place finalist
Ages 9-12
Sophia Tran, grand prize winner
Sophia A. Molina, 2nd place finalist
Rolando Regalado, 3rd place finalist
Ages 15-18
Laisha Echegoyan, grand prize winner
Sofia Sevilla, 2nd place finalist
Asheley Flores, 3rd place finalist
Winning posters will be on display at City Hall, 20 Civic Center Plaza, through August 3, and are featured in this year's annual Water Quality Report. Visit SantaAnaCCR.org to view and download the report. To request a printed copy, call 714-647-3320 or email info@SantaAnaCCR.org.
The annual contest was launched in 2015 to offer Santa Ana youth the opportunity to explore water-related themes through creative expression. Additional information about the contest including all rules and judging criteria is available online at http://santaanawater.org/contest. For more information about the contest and awards ceremony or to inquire about becoming a community partner for next year's contest, please email conservewater@santa-ana.org or call (714) 647-3500.
# # #
About the City of Santa Ana Public Works Agency
The City of Santa Ana Public Works Agency, with its four divisions and professional staff of more than 200 employees, is responsible for the city's infrastructure and quality of life. The agency builds and maintains all public streets, storm drains, sewers, and water facilities, as well as coordinates refuse collection and recycling, street sweeping, public right-of-way landscaping, and graffiti removal. It also ensures the community enjoys high quality drinking water and is able to travel around the City efficiently through the use of a state-of-the-art traffic management system, and collaboration with neighborhood associations and developers to resolve speeding, parking, and traffic problems.