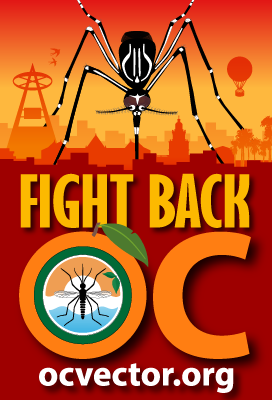 The Orange County Mosquito and Vector Control District (OCMVCD) has confirmed the presence of West Nile virus in mosquitoes in Santa Ana. Inspectors will check known sources for mosquito breeding and try to identify unknown sources. West Nile virus advisory posters will be placed in affected areas.
You can check Vector Control's West Nile virus map for the latest updates.
OCMVCD will administer residential mosquito control applications via truck this week to reduce the number of mosquito-borne diseases in the community. The treatment area will be located in a neighborhood at East 5th and North Bush streets. 
OCMVCD will continue to inspect the area in the coming weeks. Additional treatments may be scheduled based on surveillance data. Residents in treatment areas will be notified via door hangers. Santa Ana residents can check if they reside in a treatment area by entering their address into the interactive mosquito control map.
Treatment Application Dates and Times:
When: Aug. 10 , 11 and 12
Time: 2-5 a.m.
Treatment: Truck applications with DeltaGard
At the application rate, this product will not harm:
People or pets, even if present during the application

Fruit trees, vegetable gardens, or fish ponds

There is no need to turn off air conditioning systems during the application

The product is applied at a time when bees are not active
Tips for protecting against mosquitoes:
Apply insect repellent to bare skin. Products that contain DEET work best.

Remove standing water. Leaking faucets make standing water perfect for mosquitoes. Fix all leaking plumbing.

Your pet's outdoor water bowl should be emptied daily. Even better, keep their water indoors.
Find more tips on how to protect yourself from and prevent mosquitoes at the OCMVCD website.