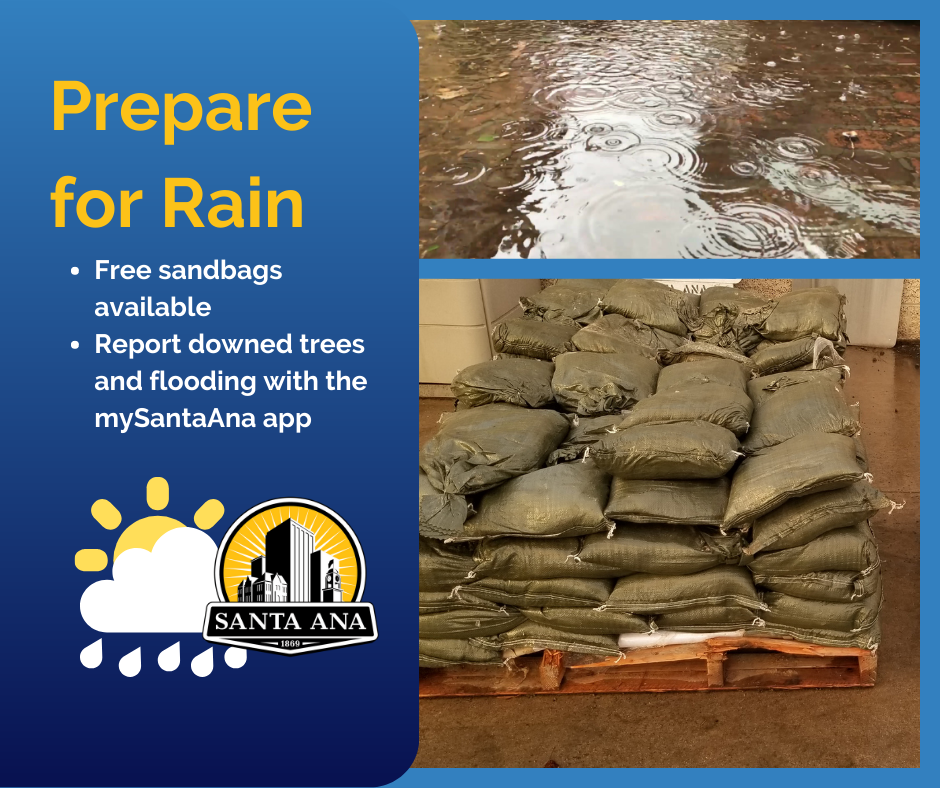 Updated at 5 p.m. Aug. 20.
Continuing our commitment to community safety, City of Santa Ana staff have been working through the storm to continue to provide free sandbags to the public and to monitor and respond to any storm-related issues.
Fortunately, we have not observed or received reports of major flooding in streets, parks or City facilities. Sports field reservations and park restrooms were closed today. We are monitoring water, sewer and flood control systems and clearing catch basins.
Sandbags are still available at the City Corporate Yard, 215 S. Center St. Staff will be providing assistance until 8 p.m. tonight, Aug. 20, and the yard will be open all night for self-service sandbag filling. So far, we have distributed over 200 tons of sand, providing 11,000 sandbags to over 1,100 households.
Report flooding, downed trees and blocked catch basins to Public Works dispatch at 714-647-3380 or report issues on the mySantaAna app.
The City Corporate Yard is open 7 a.m. to 5 p.m. every day. Orange County Fire Authority also has free sand available but recommends that the public take their own bags.
Sand/sandbag locations:
City of Santa Ana Corporate Yard, 215 S. Center St., Santa Ana (normal hours are 7 a.m. to 5 p.m. every day)

OCFA Fire Station 79, 1320 E. Warner Ave., Santa Ana
It's recommended to secure or remove loose items outside of homes, remove loose tree branches, clear storm gutters, and do shopping before the storm. Stay home if possible during heavy rain or flooding and avoid driving through flooded streets.